Air fryer mushrooms marinated in balsamic vinegar, olive oil and garlic – you may never cook mushrooms any other way again!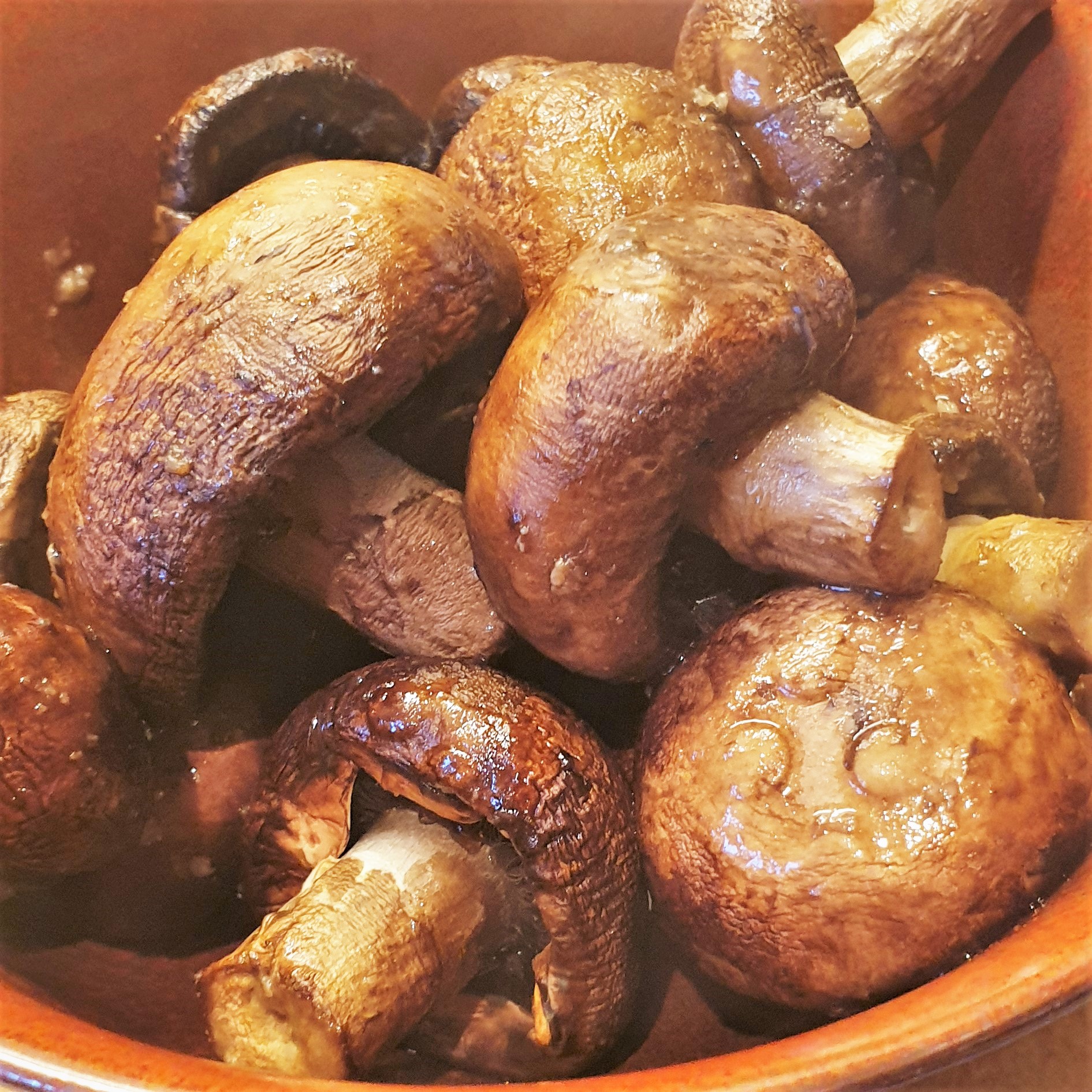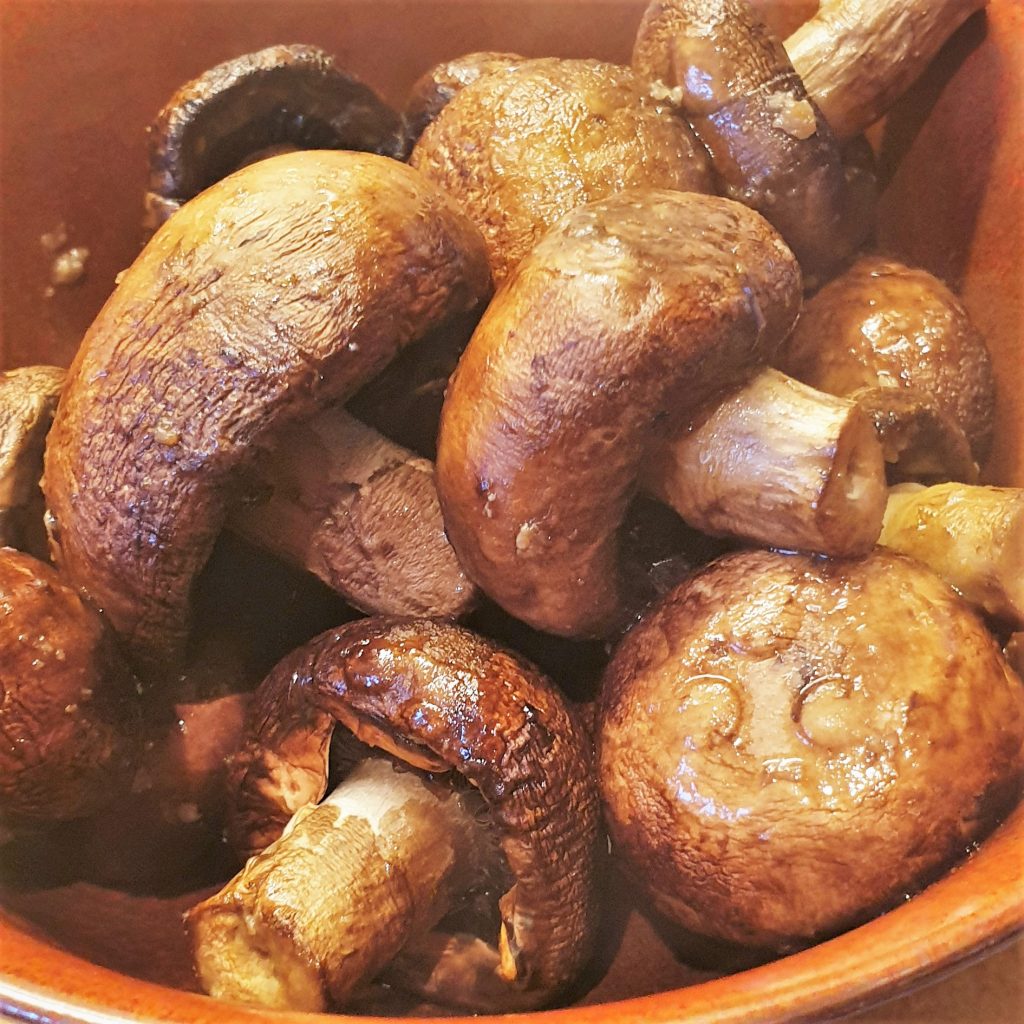 **As an Amazon affiliate, I earn from qualifying purchases.**
Air-fryer mushrooms
I've just acquired an Air Fryer. When I got it home I couldn't wait to try it out, so I made these mushrooms, marinated in balsamic vinegar, olive oil and garlic. They were super delicious – the delicate flavour of the mushrooms perfectly enhanced by the balsamic and garlic.
This is such an easy fried mushroom recipe. I love the way I can just put the mushrooms in the air fryer, set the timer and leave them to cook themselves. And because you set the timer, there's no danger of the mushrooms burning. Try it for yourself, I'm sure you'll agree this is the perfect way to cook mushrooms.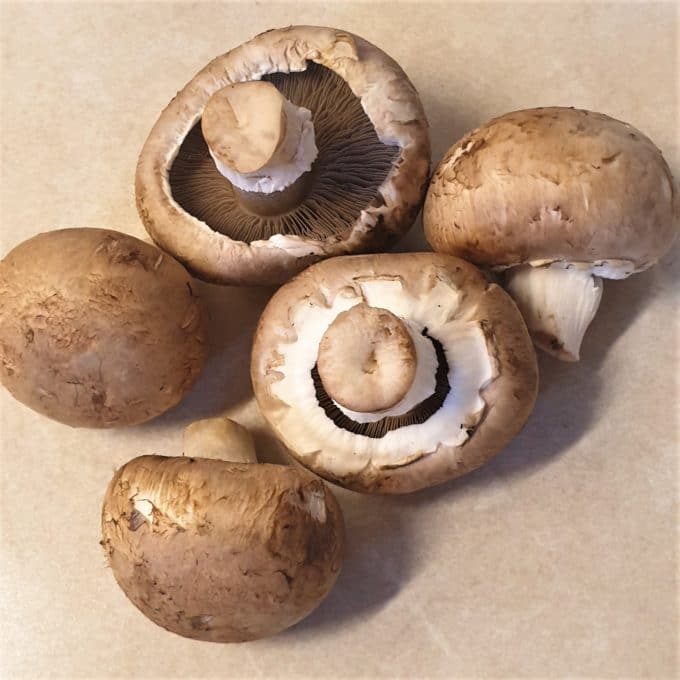 How to cook mushrooms in an air fryer
For detailed instructions see the printable recipe card at the bottom of this post.
Gather your ingredients. You will need
Mushrooms – I like to use firm chestnut or white button mushrooms. They don't contan too much moisture and the texture is perfect for air frying. You could also use large flat-cap portobello mushrooms, but you would have to slice them first.
Olive Oil – this is for the marinade, along with Balsamic Vinegar
Garlic – garlic and mushrooms pair so well together
Salt – as with all my recipes, salt is optional. If you choose to use it, you will only need the smallest pinch.
What to do
Mushrooms can sometimes be a bit dirty. You can either wipe them clean with a damp cloth, or rinse then under running water and then pat dry with a paper towel. Whatever you do, don't leave them standing in water. Mushrooms are like little sponges and they will absorb water if left to stand in it, and the last thing we want are soggy mushrooms.
If your mushrooms are quite small, you could leave them whole, otherwise just halve or quarter them. We want the mushroom pieces to be quite large for this recipe. If you are using large flat portobello mushrooms, slice them into 1cm slices. The aim is to get all the mushrooms to be approximately the same size.
Place the mushrooms in a glass bowl with the balsamic vinegar, olive oil, and garlic. Give them a stir so they are well-coated and leave for half an hour or so to marinate.
The marinade will be inclined to drain to the bottom of the bowl, so just stir them every 10 minutes or so to re-distribute the marinade over the mushrooms.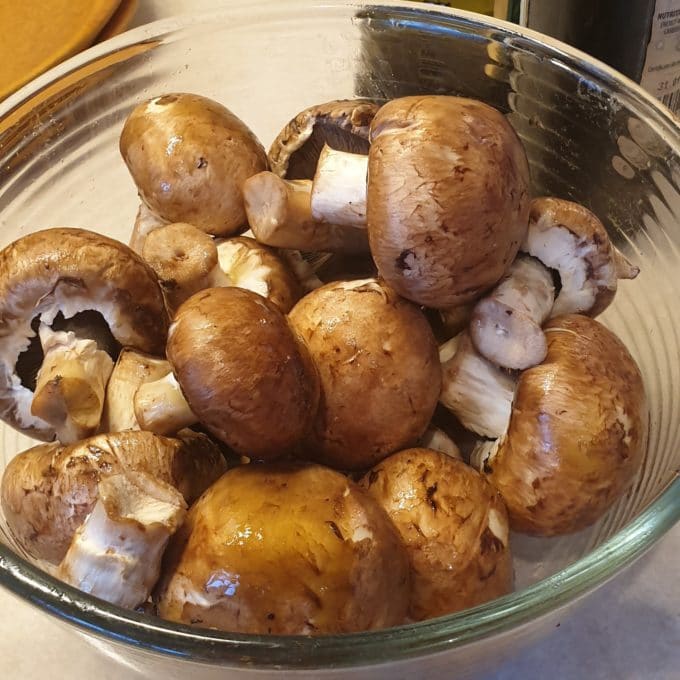 Once you are ready to cook them, pre-heat the air fryer to 200°C, then tip the mushrooms (along with the marinade) into the basket. Because there is olive oil in the marinade you won't need any extra oil.
Cook for 5 minutes. After 5 minutes take the basket out and give the mushrooms a stir. Replace and cook for a further 3 minutes.
Depending on the size of your mushrooms, this should be sufficient time to get them nice and soft and juicy. If they are not quite done after this time, just put them back in the air fryer for a minute at a time until they are cooked to your liking.
I don't have an air fryer – can I still make them?
No air-fryer? No problem! Just follow the recipe for the marinade then tip the mushrooms along with the marinade into a saucepan. Cover and leave them to simmer gently (on a very low heat) for 10 – 12 minutes, giving them an occasional stir, until they are done.
If you'd like to be notified of any new recipes, why not subscribe to my newsletter? As a thank-you gift, you will receive a free recipe e-book containing some of my most popular cakes and desserts.
Can I freeze Air Fryer Mushrooms?
No, unfortunately these don't freeze very well. However, they are so quick to cook, it would probably be faster to cook them from scratch than to defrost and reheat.

Pin for later
Why not pin this recipe for air-fryer mushrooms to your pinterest board so you can make it later. Just click the image below.
Recipe – Air Fryer Mushrooms with Balsamic and Garlic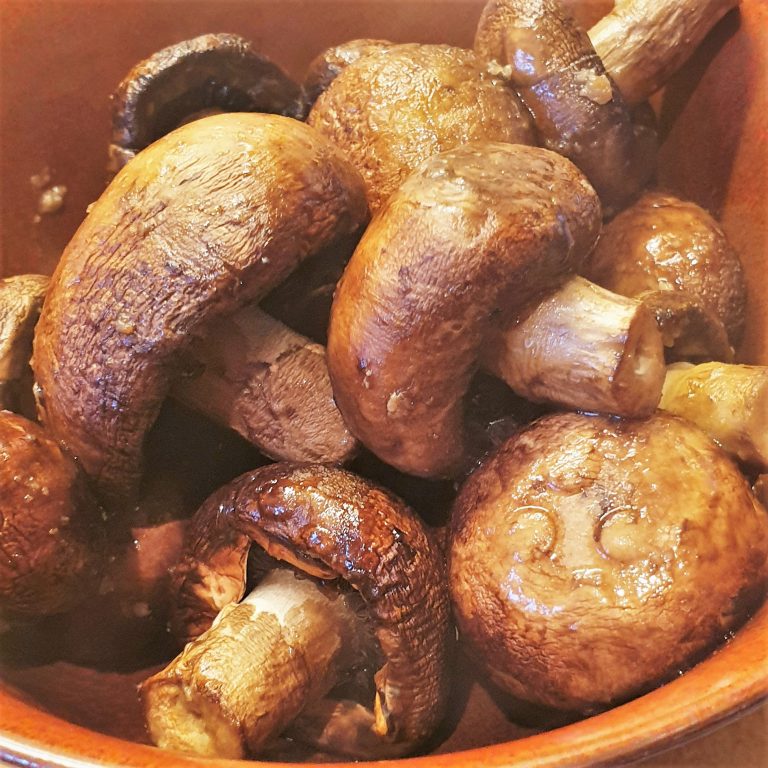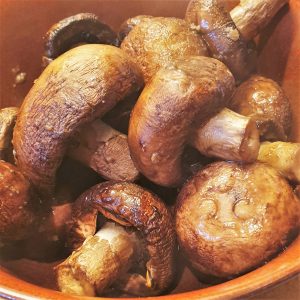 Air Fryer mushrooms with Balsamic and Garlic
Air fryer mushrooms marinated in balsamic vinegar, olive oil and garlic – you may never cook mushrooms any other way again!
Servings:
4
people as a side dish
Print
Pin
Comment
Bookmark
Saved!
(Click the stars to rate this recipe)
Ingredients
1

punnet

Mushrooms

(Chestnut or white button)

1

Tablespoon

Olive Oil

2

Tablespoons

Balsamic Vinegar

2

cloves

Garlic – finely chopped

or you could use a sprinkle of garlic salt
Instructions
Mix all the ingredients together in a glass bowl and allow to marinate for at least half-an-hour, stirring occasionally

Pre-heat air fryer to 200C

Tip the mushrooms into the basket and cook at 200C for 5 minutes

Give the mushrooms a stir and then continue to cook for a further 3 minutes
Notes
Cooking times may vary, depending on how many mushrooms you have in the basket.   If the mushrooms are not completely cooked after the second cooking time, just continue cooking for 1 minute at a time until they are done. If you don't have an air fryer you can just tip the marinated mushrooms (with the marinade) into a saucepan and let them simmer gently for a few minutes, giving them a stir now and then, until they are done.
Nutrition
Calories –
47
kcal
|
Carbohydrates –
2.6
g
|
Protein –
2.1
g
|
Fat –
3.7
g
|
Saturated Fat –
0.5
g
|
Sodium –
4
mg
|
Potassium –
210
mg
|
Fiber –
0.7
g
|
Sugar –
1.1
g
|
Calcium –
3
mg
|
Iron –
2
mg
I am not a nutritionist. The nutrition information has been calculated using an on-line calculator, and is intended for information and guidance purposes only. If the nutrition information is important to you, you should consider calculating it yourself, using your preferred tool.
Unless otherwise stated, a cup is the standard US cup containing 240 ml. In all my recipes this cup is assumed to hold 140g of flour. For help converting other ingredients between cups, grams, ounces and other measures, see my recipe conversion calculator.
All my recipes are developed and tested at sea-level. For tips on adjusting recipes for high altitudes see my post on baking at high altitudes.
Tried this recipe?
If you made this recipe I'd love it if you could leave me a comment and let me know how it went!
Share on Facebook
Share on Twitter
If you made this recipe and enjoyed it, I'd love it if you could give me a star rating in the comments below. And if you'd like to get in touch, you can email me at [email protected]. I'd love to hear from you. And don't forget to subscribe to my mailing list so you can grab yourself a copy of my FREE COOKBOOK!
If you'd like to continue browsing, just click on this link to all my recipes.