They say 'life is too short to stuff a mushroom'. I say if you want to taste these delicious garlic stuffed mushrooms with ham and cheese then you need to find the time! (And to be quite honest, they don't take long to make at all).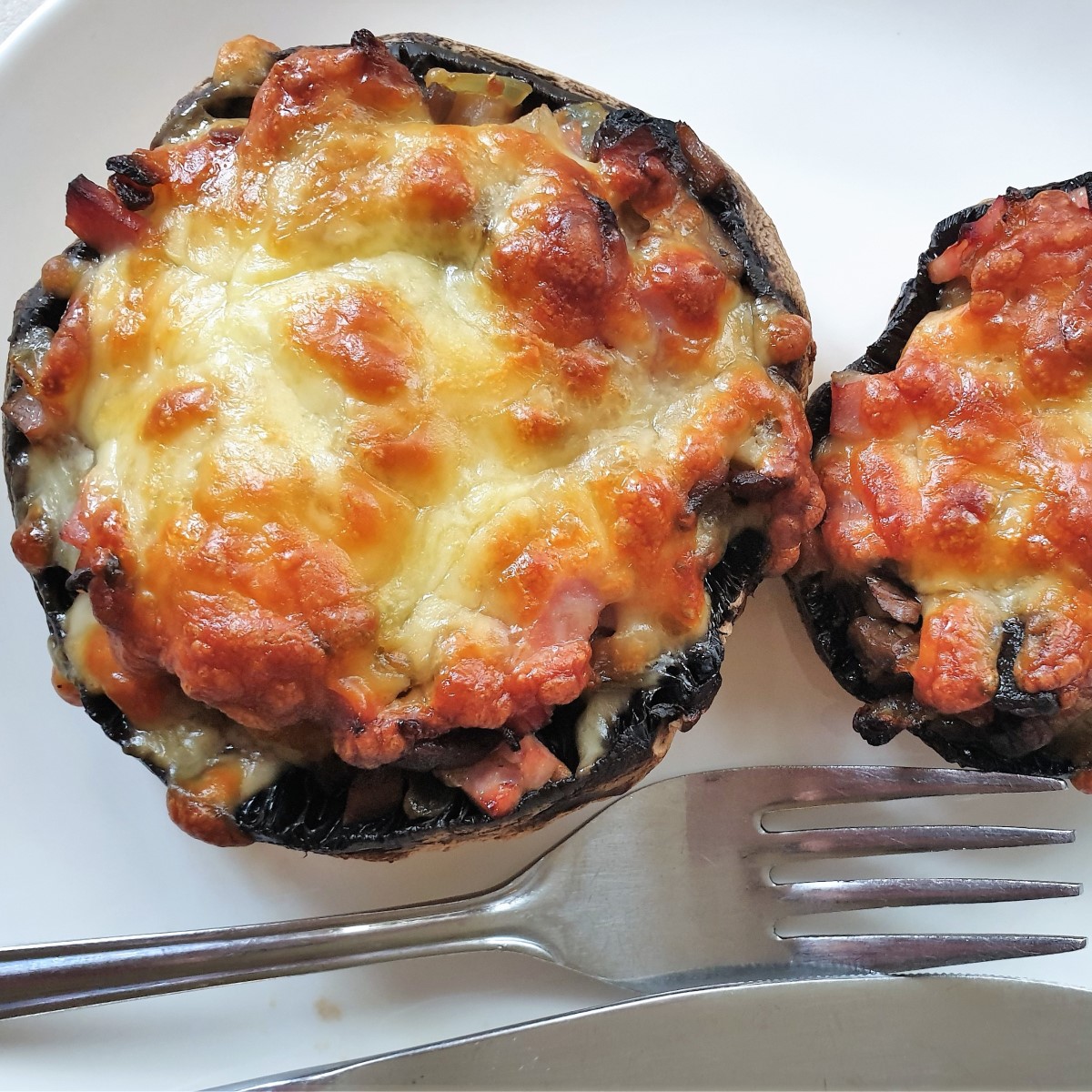 **As an Amazon affiliate, I earn from qualifying purchases.**
Garlic stuffed mushrooms with ham and cheese
Lovely meaty Portobello mushrooms, filled with a mixture of garlic butter, ham, and onions and smothered with delicious melted cheese. Grill them on the barbeque or bake them in the oven and serve with a juicy steak and a pile of golden chips or french fries.
Whenever we had a barbeque in South Africa (which was often), we always made a plate of these garlicky ham and cheese stuffed mushrooms to hand around as a starter. They were always a big hit.
Unfortunately, the UK weather doesn't always co-operate, and as barbeques are not as much fun in the pouring rain, I compromise and bake these stuffed mushrooms in the oven instead.
Either way, they taste amazing. With melted cheese oozing over the ham and onion filling, and the garlic butter covering the inside of the mushrooms – how can you resist?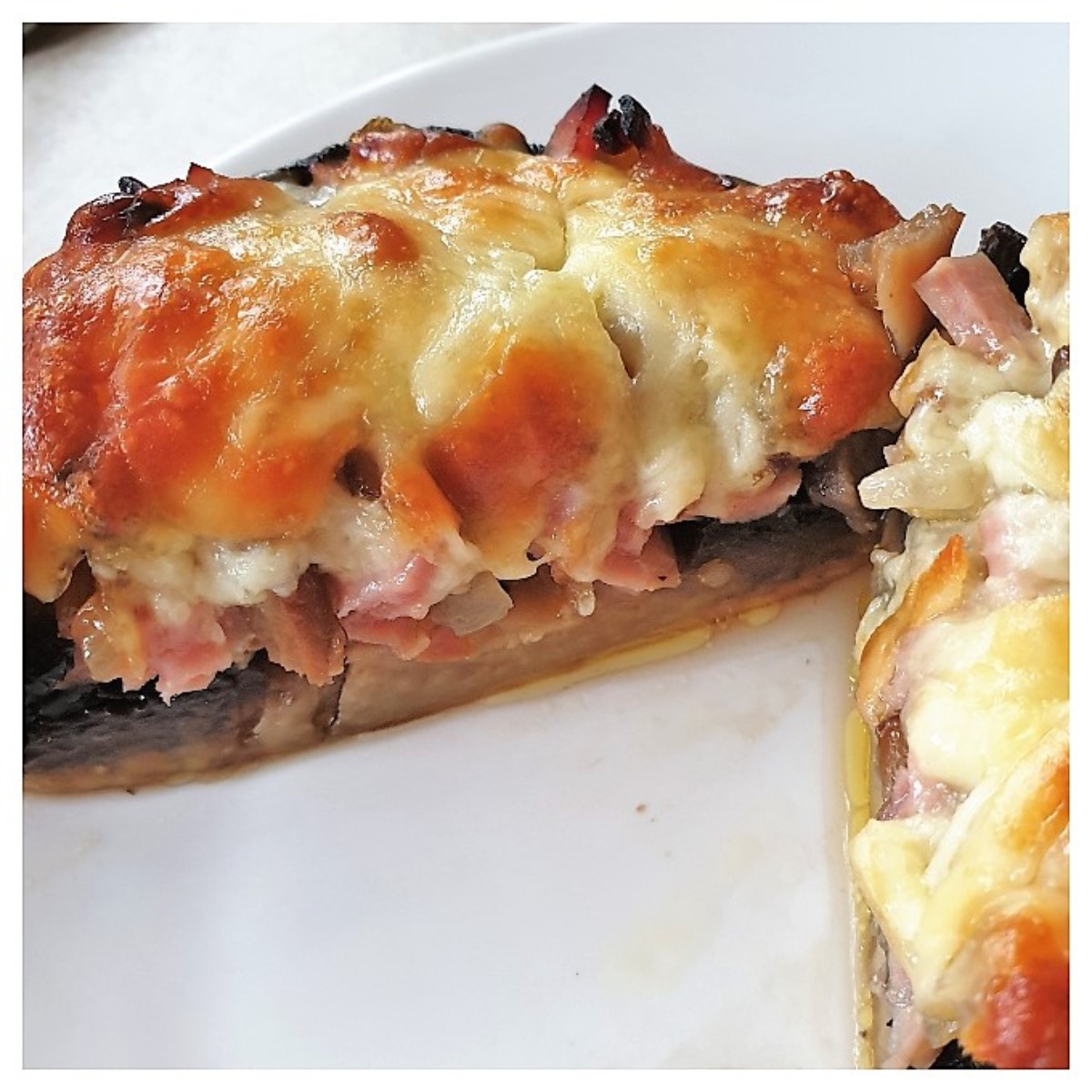 Ingredients for ham and cheese stuffed mushrooms
Whenever I read a recipe I like to have a look at the ingredients to see whether I have everything I need. To make it easy for you – I've listed the ingredients below. You can get the complete list of ingredients and full instructions for making these garlic ham and cheese stuffed mushrooms on the printable recipe card at the end of this post.
Large Portobello mushrooms – stalks removed and chopped
Chopped ham – I use sandwish ham from the local deli
Onion – very finely chopped, but don't grate it as it oozes too much moisture
Garlic – garlic and mushrooms are so good together
Cheddar cheese – grated, for sprinkling over the top
Butter – for frying the onions and garlic
Salt (optional)
The quantities of ham and onion are approximate only. You may need more or less depending on the size of your mushrooms.
Please use your own judgement when making this dish. If your mushrooms are quite small then you will need less filling.
This recipe allows for 1/2 cup of cooked filling per mushroom.
How to make ham and cheese stuffed mushrooms
The time to make these stuffed mushrooms is about 40 minutes, and includes making the filling, stuffing the mushrooms and baking in the oven.
Times for barbeque cooking will vary depending on how hot your fire is.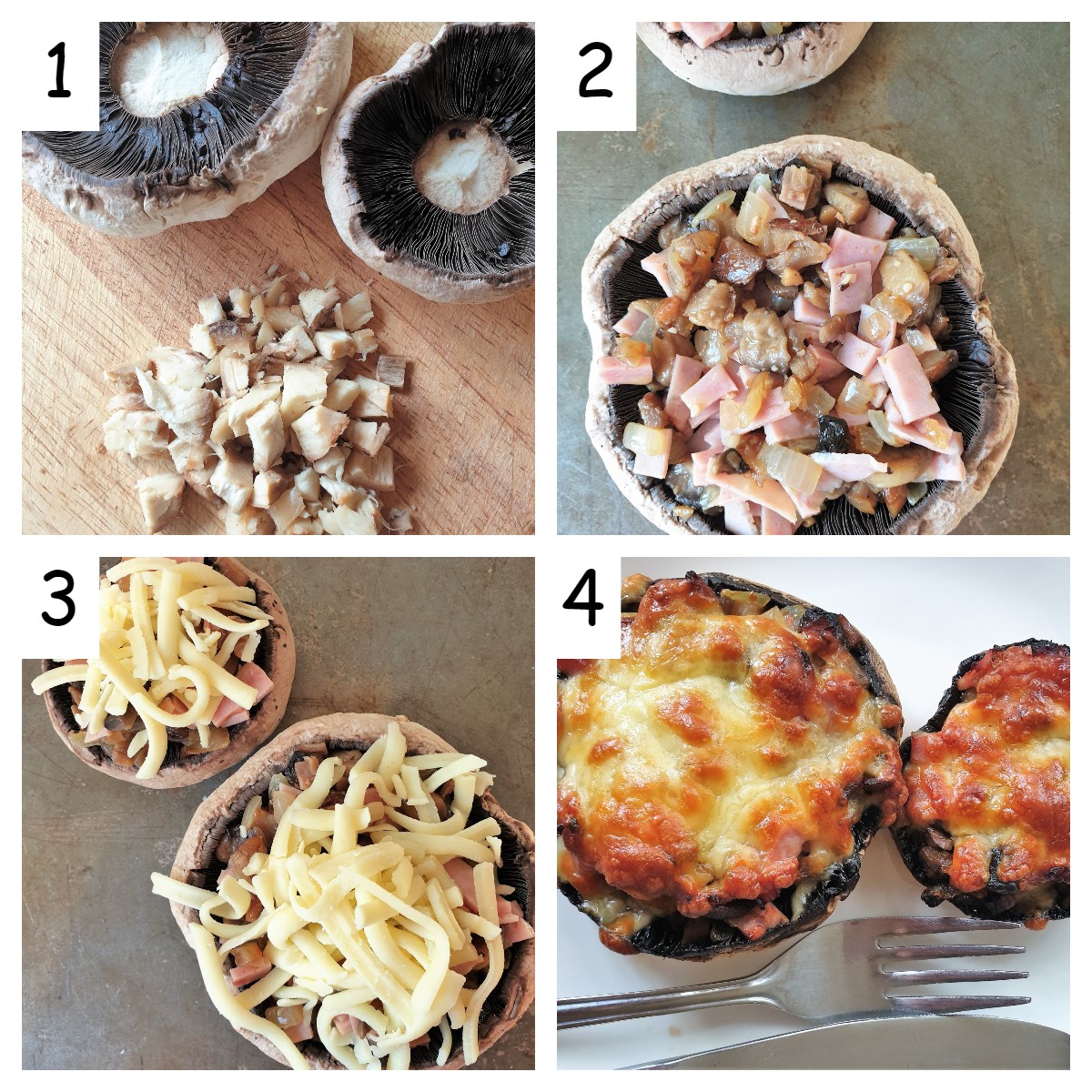 Prepare the mushrooms
Peel the skin off the mushrooms and remove the stems.
Chop the stems into small pieces – these make a delicious addition to the filling (image 1 above).
Season each mushroom with a sprinkling of salt (this is optional).
Prepare the filling
Melt the butter in a saucepan and add the chopped onions and garlic. Saute gently for a couple of minutes until the onions are translucent.
Add the chopped mushroom stems and the ham and continue to fry on a very low heat, stirring continuously, until the onions are soft and the juice from the mushrooms has evaporated.
Spoon the filling into the mushrooms, making sure that each mushroom gets a share of the garlic butter that is in the filling (image 2 above).
Top with cheese
Top each mushroom with grated cheese (image 3 above). I like to use a mixture of grated cheddar and mozzarella, but you can use whatever cheese you have handy.
Bake or Barbeque
To bake in the oven – place the mushrooms on a tray lined with baking parchment and bake at 180C / 375F for 15 minutes or until the cheese is golden and bubbling (image 4 above).
To barbeque – place the mushrooms on a baking tray and cover with tinfoil. Place on the grill at the side of the barbeque until the mushrooms are soft and the cheese has melted. Timing for this will depend on the heat of the barbeque fire – so keep your eye on them. Don't place the mushrooms directly over the coals or they may burn.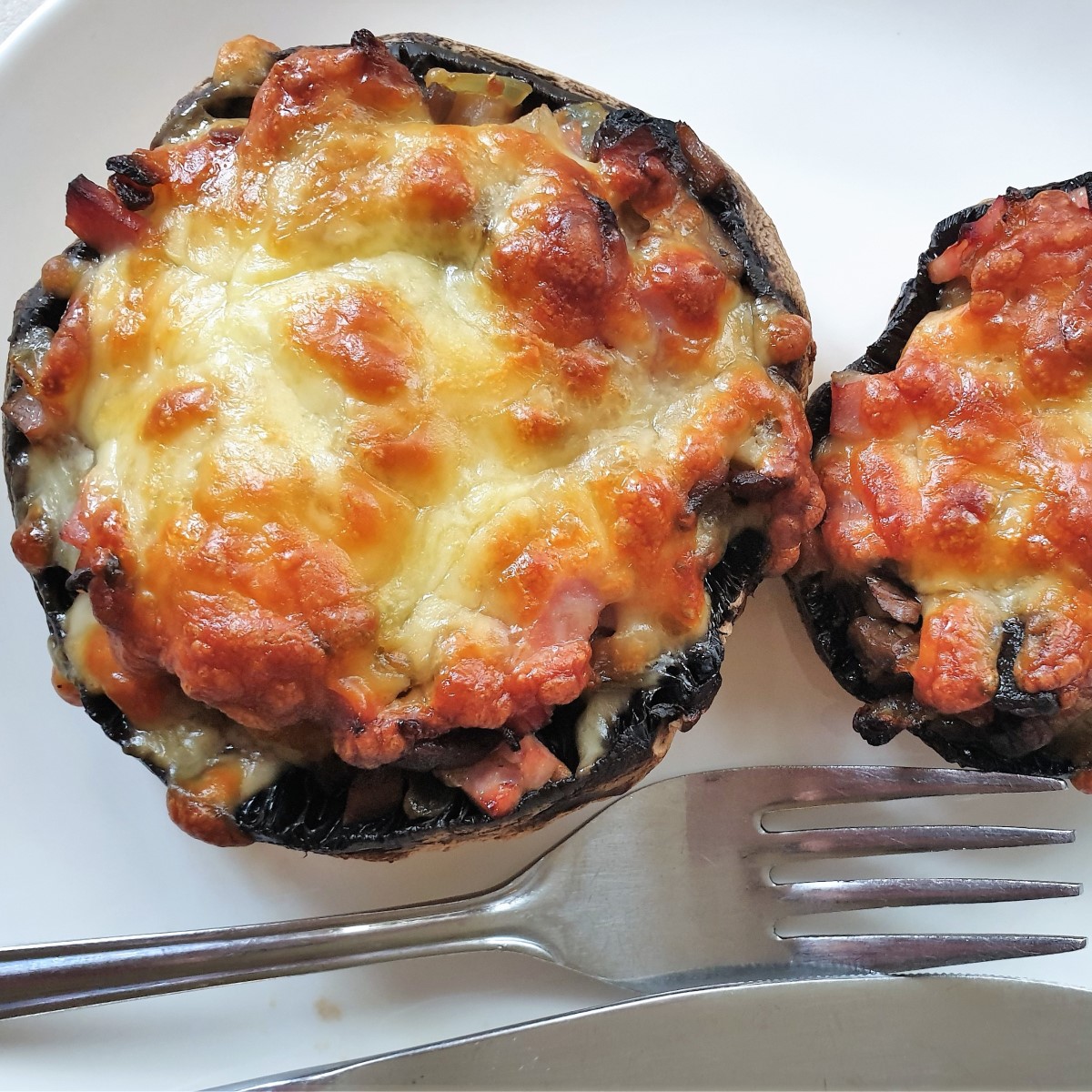 What to serve with ham and cheese stuffed mushrooms
These mushrooms make a delicious starter at a dinner party, served with a little chopped tomato and lettuce and a slice of crispy garlic bread.
If you are having them at a barbeque, why not try serving them with chicken and bacon skewers?
Or if you are looking for a light lunch, serve with a bowl of Orzo Pasta Summer Salad.
If you are looking for a different way of serving mushrooms, why not try air fryer mushrooms with balsamic and garlic. I promise you – they are delicious.
If you'd like to be notified of any new recipes, why not subscribe to my newsletter. As a thank-you gift, you will receive a free recipe e-book containing some of my most popular cakes and desserts.
Pin for later
Why not pin this recipe so you can make these ham and cheese stuffed mushrooms later.
Recipe – Ham and Cheese Stuffed Mushrooms
If you made this recipe and enjoyed it, I'd love it if you could give me a star rating in the comments below. And if you'd like to get in touch, you can email me at [email protected]. I'd love to hear from you. And don't forget to subscribe to my mailing list so you can grab yourself a copy of my FREE COOKBOOK!
If you'd like to continue browsing, just click on this link to all my recipes.