Tender slices of potato dipped in batter and then fried to golden perfection. Scalloped potatoes in batter are perhaps not the healthiest dish on the menu, but they are certainly one of the tastiest!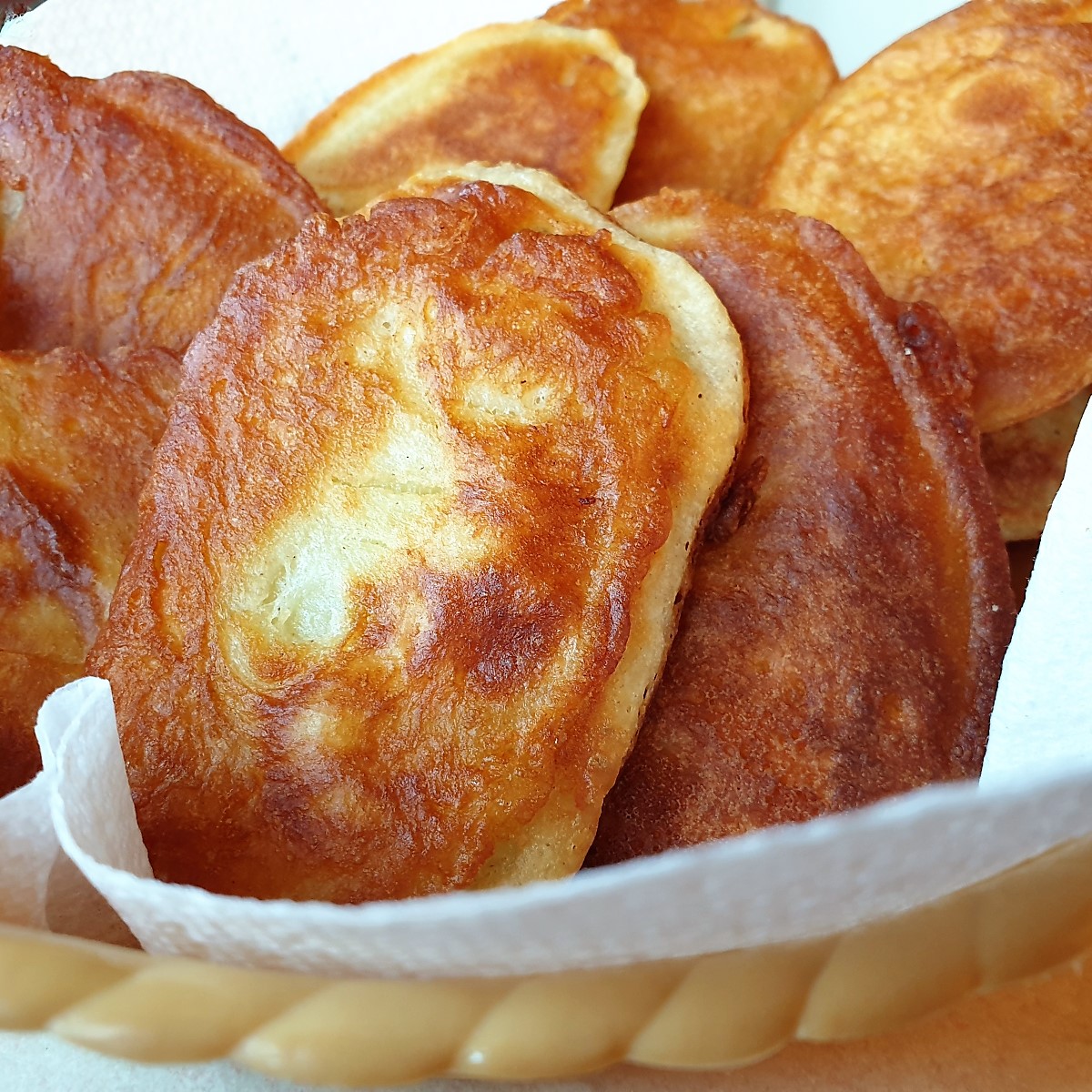 **As an Amazon affiliate, I earn from qualifying purchases.**
A different way to prepare potatoes
Growing up in the north of England meant that scalloped potatoes in batter made their appearance on the menu quite often. As a child, I loved them. I remember crunching through the crispy golden batter to get to the creamy potato inside. Sometimes we had them with fish fingers and peas, but more often than not we'd eat them fresh out of the pan, with a dollop of tomato sauce to dip them in.
These days, of course, people are far more health-conscious, and a scalloped potato in batter wouldn't find its way onto most people's tables. However, with the supermarket shelves being barer than normal, I thought it appropriate to resurrect this recipe, as it means you need fewer potatoes to feed a family, than for example if you were just making normal chips or fries.
If you are looking for a recipe for chips or fries, why not try this recipe for crispy potato fries. You might also be interested in this recipe for a potato frittata, or this potthucke, which is a German potato cake.
And I'm a firm believer that anything in moderation can't do you any harm. As long as you are not eating these every night of the week, it's a way of adding a bit of variety to your normal way of preparing potatoes.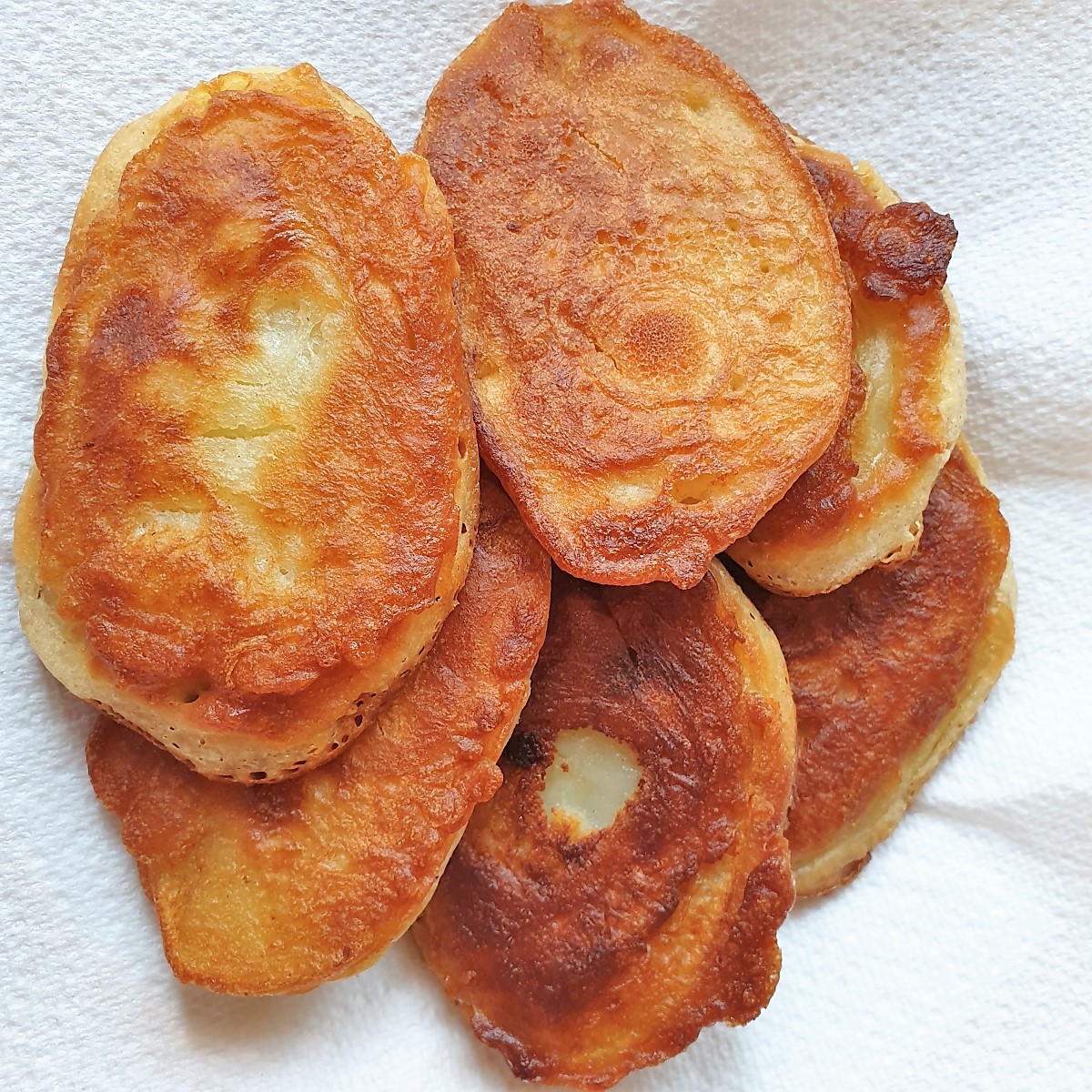 Recipe information
Prep time – 15 minutes
Cooking time – 20 minutes
Yield – 12 scalloped potatoes
Calories – 100 each
Main equipment – mandolin. Of course, you can use a sharp knife to slice the potatoes, but a mandolin makes it so much easier 🙂 .
How to make scalloped potatoes in batter
You can get the complete list of ingredients and full instructions on how to make scalloped potatoes in batter on the printable recipe card at the end of this post.
You will need sufficient potatoes to feed the number of people in your family. If I make them at home, there are only 2 of us, and I find that 2 medium-sized potatoes are ample, and there are normally a couple of scallops left over.
A medium potato yields 6 or 7 slices. If you use larger potatoes, you will obviously get more slices. If you are serving these as part of a meal, with fish or example, or with sausages, then you will need 4 or 5 slices per person, depending on the size of your potatoes.
You will also need flour, salt, eggs and milk to make the batter. If you have self-raising flour, you can use this. If you only have plain flour then you can add 1 teaspoon of baking powder to each cup of flour.
Finally, you will need sunflower or canola oil for frying. Don't use olive oil as this has a lower smoke point than sunflower oil and will not allow the batter to crisp properly.
Step-by-step instructions
Prepare the potatoes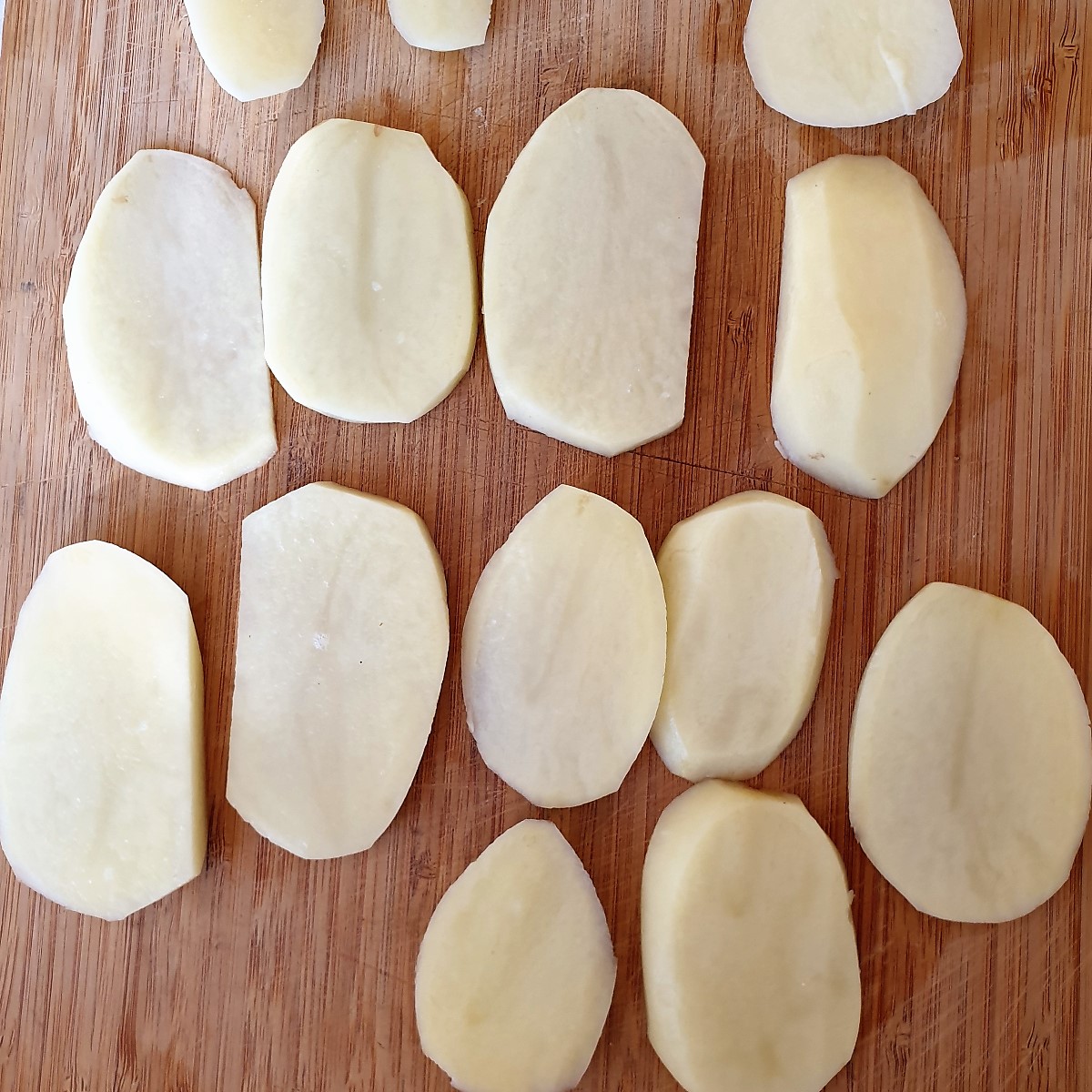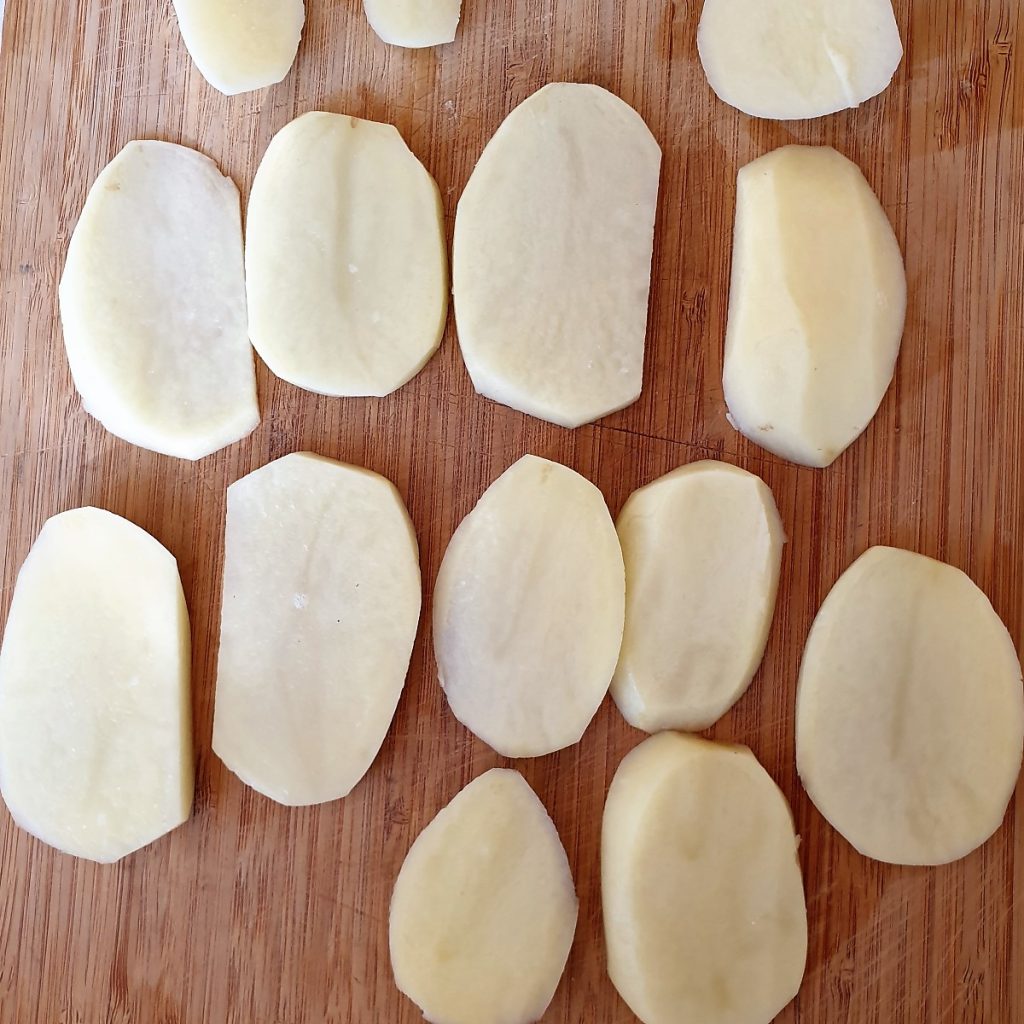 Peel the potatoes and cut them into slices approximately 1/8″ in thickness. Don't make them any thicker than this or the potato will not have time to cook all the way through before the batter has browned.
If you prefer, you can place the potatoes in boiling salted water for 2 minutes to allow them to pre-cook, but I don't find this step necessary.
Pat the potatoes dry with a piece of kitchen paper.
Sprinkle the potato slices lightly with salt. If you are on a low-salt or no-salt diet then this step is obviously optional.
Make the batter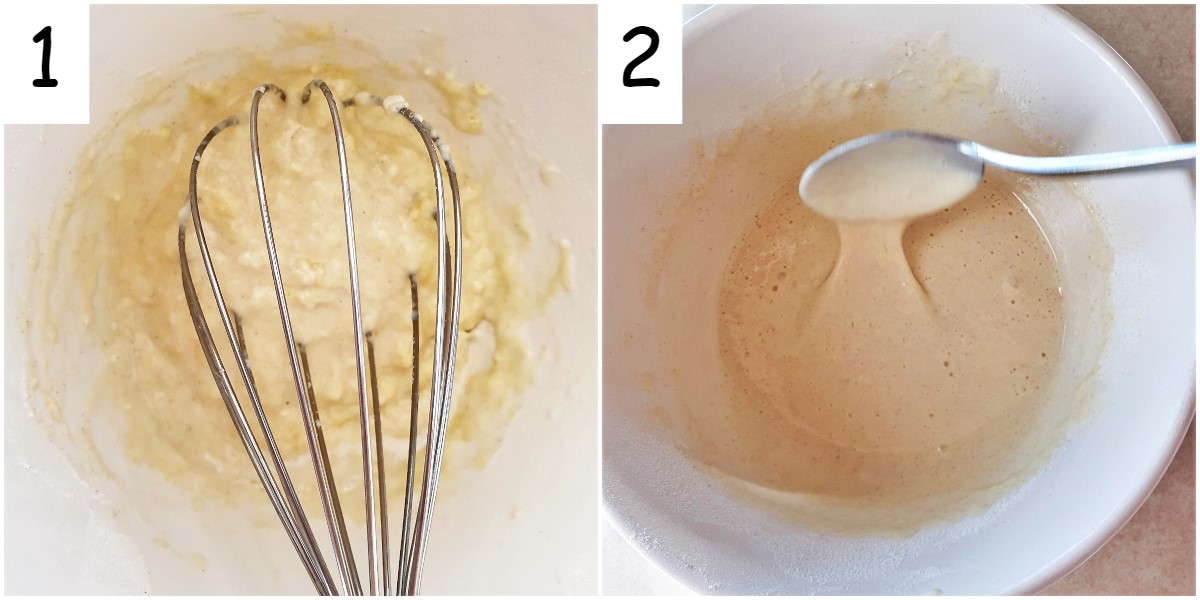 The next step is to make the batter. The quantities here are sufficient to coat about 14 slices. If you are making more you can double the ingredients.
Break 1 egg into a mixing bowl
Add 3 tablespoons (about 50g) self-raising flour and 1/2 teaspoon salt and mix to combine.
Pour 1/4 cup milk (about 75 ml) slowly into the batter and whisk to remove any lumps. You may not need all the milk.
The consistency of the batter should be like that of crepes or pancakes. It should drop slowly from the spoon and leave a trail if you draw the spoon through it. It should be thick enough to coat the potato slices.
Fry the potato scallops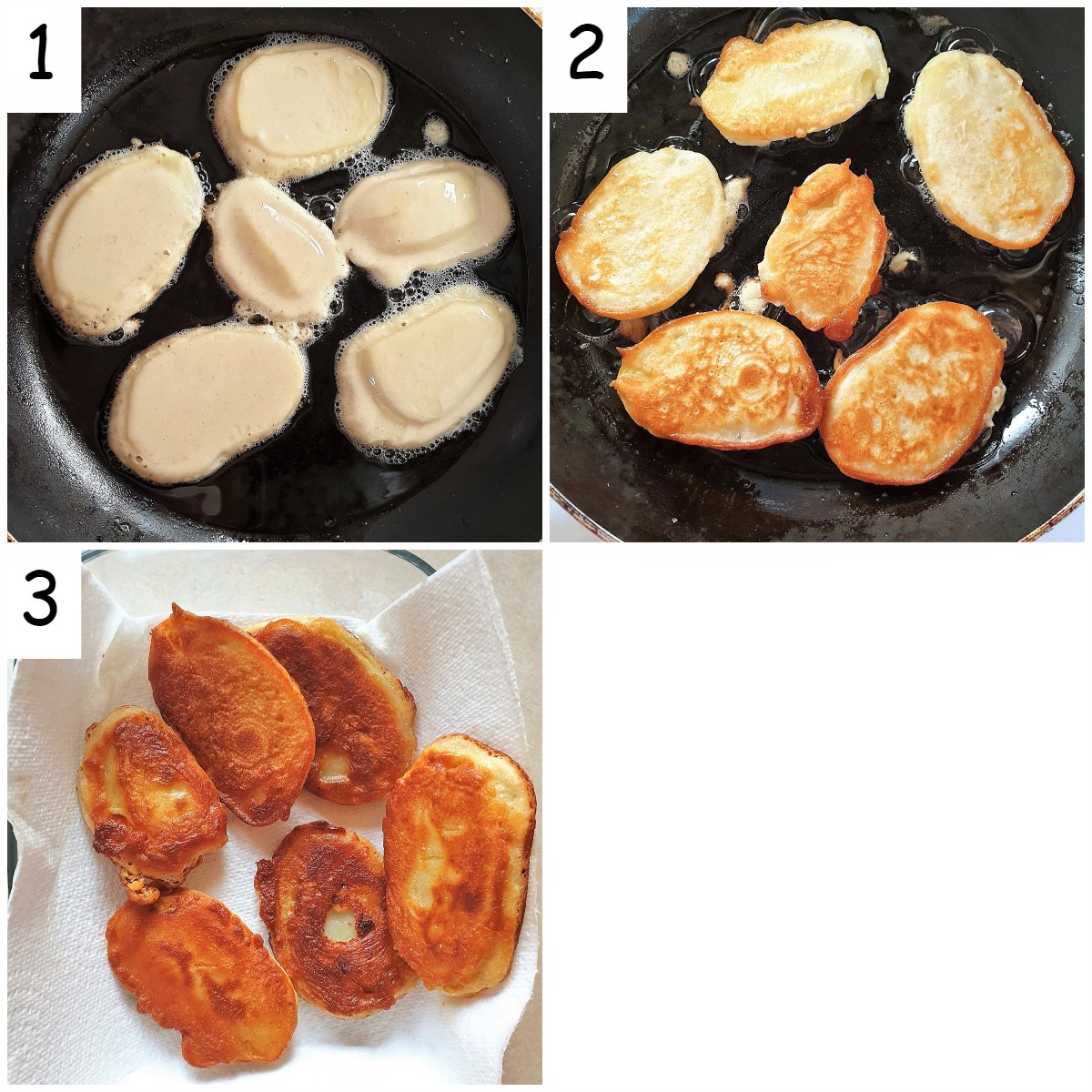 Heat about 1cm oil in the bottom of a frying pan. Let it get quite hot, then turn the heat down to medium.
Dip slices of potato into the batter, and then carefully place them in the hot oil. Don't overcrowd the pan, leave enough room so that you can turn them easily.
Fry gently until they start to turn brown on the bottom, and bubbles appear on the edges of the scallops. Don't be tempted to turn the heat up and fry at a high heat. These need to be cooked slowly to allow the potato to soften.
Turn the potato slices over with a spatula and fry the other side. Keep turning and frying until golden brown all over. It should take between 8 and 10 minutes for the potatoes to soften.
To test whether the potato is cooked through, prick with the point of a sharp knife. If it slides in easily with no resistance then the potato is cooked. Test this on a piece of raw potato to feel the resistance to the knife.
When cooked, remove from the frying pan and drain on kitchen paper. Then transfer the battered potatoes to an oven-proof dish and keep warm in a medium oven while you fry the rest of the slices.
Serve as a side dish with fried fish or sausages, or just eat on their own with your favourite dipping sauce.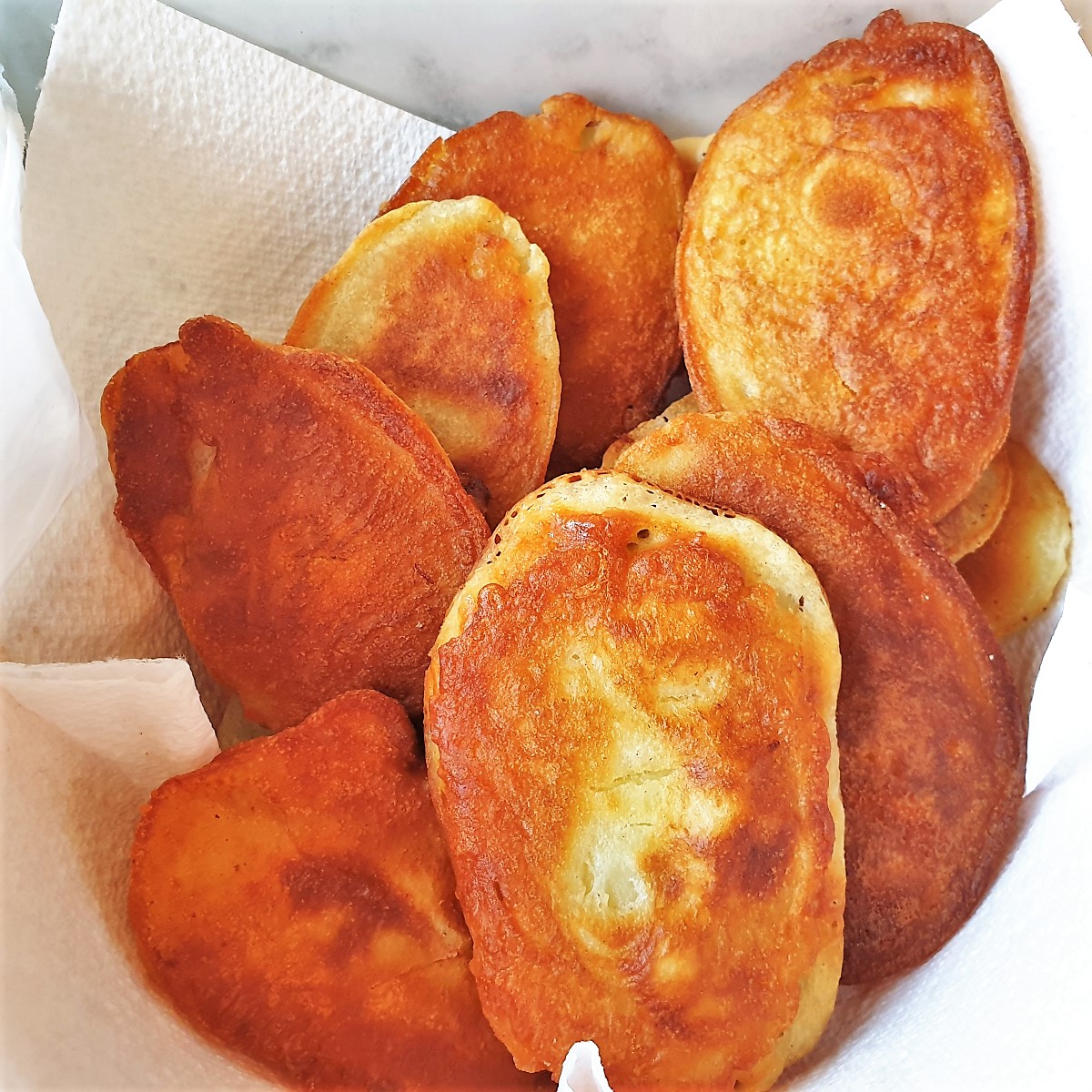 Can I freeze scalloped potatoes?
Unfortunately, these cannot be frozen. They are best eaten fresh. However, leftovers can be covered with kitchen paper, left in the fridge overnight, and reheated in the microwave or oven the next day. They will not be crispy, but they will still taste delicious.
Pin for later
Why not pin this recipe for battered potatoes to one of your Pinterest boards so you can make it later. Just click the image below.
Other recipes
Recipe – Scalloped potatoes in batter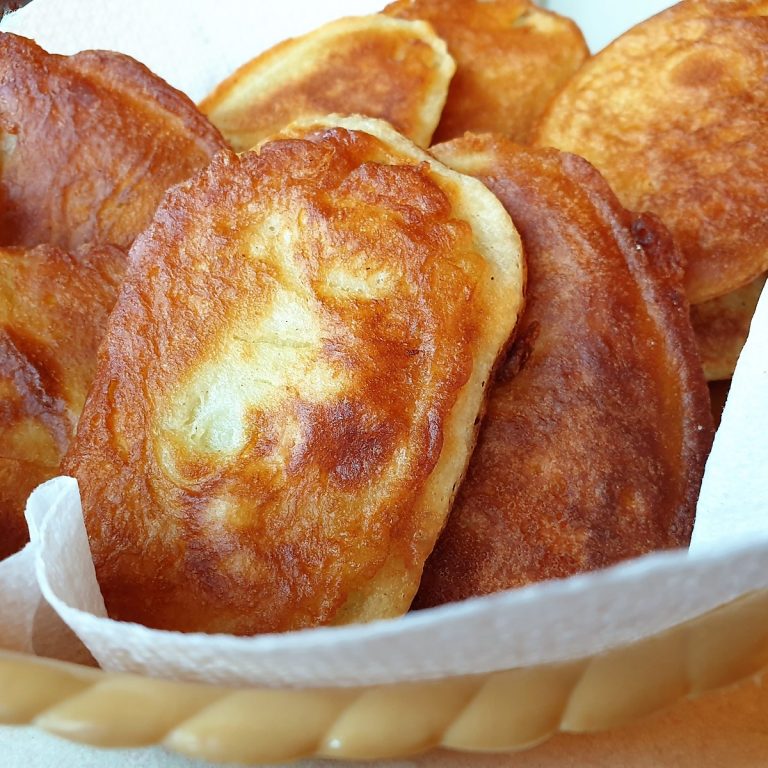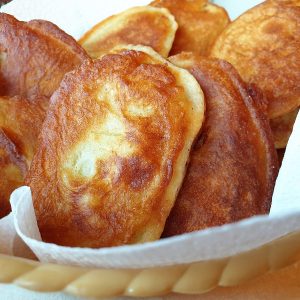 Scalloped potatoes in batter
Tender slices of potato, dipped in batter and then fried to golden perfection. Scalloped potatoes in batter are perhaps not the healthiest dish on the menu, but they are certainly one of the tastiest!
Servings:
12
scallops (approximately)
Print
Pin
Comment
Bookmark
Saved!
(Click the stars to rate this recipe)
Ingredients
2

medium

potatoes

1

large

egg

3

tablespoons

/ 50 grams self-raising flour

¼

cup

/ 75 ml milk

salt

to taste

1

cup

sunflower oil

(approximately) for frying
Instructions
Prepare the potatoes
Peel the potatoes and slice them thinly – approximately ⅛ inch in thickness.

Pat dry with paper towel and sprinkle lightly with salt.
Make the batter
Break the egg into a mixing bowl and add the self-raising flour. Mix to combine.

1 large egg,

3 tablespoons / 50 grams self-raising flour

Add the milk slowly, whisking to remove any lumps. You may not need all the milk. You are aiming for a coating consistency.
Fry the scallops
Heat approximately 1cm sunflower oil in a frying pan until it is quite hot, then turn down the heat.

Dip each scallop into the batter and then carefully place into the hot oil.

Fry gently until bubbles start to appear on the edges of the scallop and the underside is nicely browned.

Carefull turn the scallops with a spatula and fry the other side.

If necessary repeat the turning process until browned all over and the potato is soft and cooked through.

Drain on paper towel, then keep warm in a warm oven until all the scallops have been cooked.
Notes
Nutrition has been calculated per scallop.
Nutrition
Calories –
100
kcal
|
Carbohydrates –
9.1
g
|
Protein –
1.8
g
|
Fat –
6.5
g
|
Saturated Fat –
0.8
g
|
Cholesterol –
16
mg
|
Sodium –
302
mg
|
Potassium –
158
mg
|
Fiber –
1
g
|
Sugar –
0.7
g
|
Calcium –
14
mg
|
Iron –
-1
mg
I am not a nutritionist. The nutrition information has been calculated using an on-line calculator, and is intended for information and guidance purposes only. If the nutrition information is important to you, you should consider calculating it yourself, using your preferred tool.
Unless otherwise stated, a cup is the standard US cup containing 240 ml. In all my recipes this cup is assumed to hold 140g of flour. For help converting other ingredients between cups, grams, ounces and other measures, see my recipe conversion calculator.
All my recipes are developed and tested at sea-level. For tips on adjusting recipes for high altitudes see my post on baking at high altitudes.
Tried this recipe?
If you made this recipe I'd love it if you could leave me a comment and let me know how it went!
Share on Facebook
Share on Twitter
If you made this recipe and enjoyed it, I'd love it if you could give me a star rating in the comments below. And if you'd like to get in touch, you can email me at [email protected]. I'd love to hear from you. And don't forget to subscribe to my mailing list so you can grab yourself a copy of my FREE COOKBOOK!
If you'd like to continue browsing, just click on this link to all my recipes.