The Ultimate Spiralizer Potato and Onion Bake. It makes a delicious accompaniment to your main meal, whether it be sausages or steak and can also be served as a side dish at a barbeque. It is equally good served either hot or cold.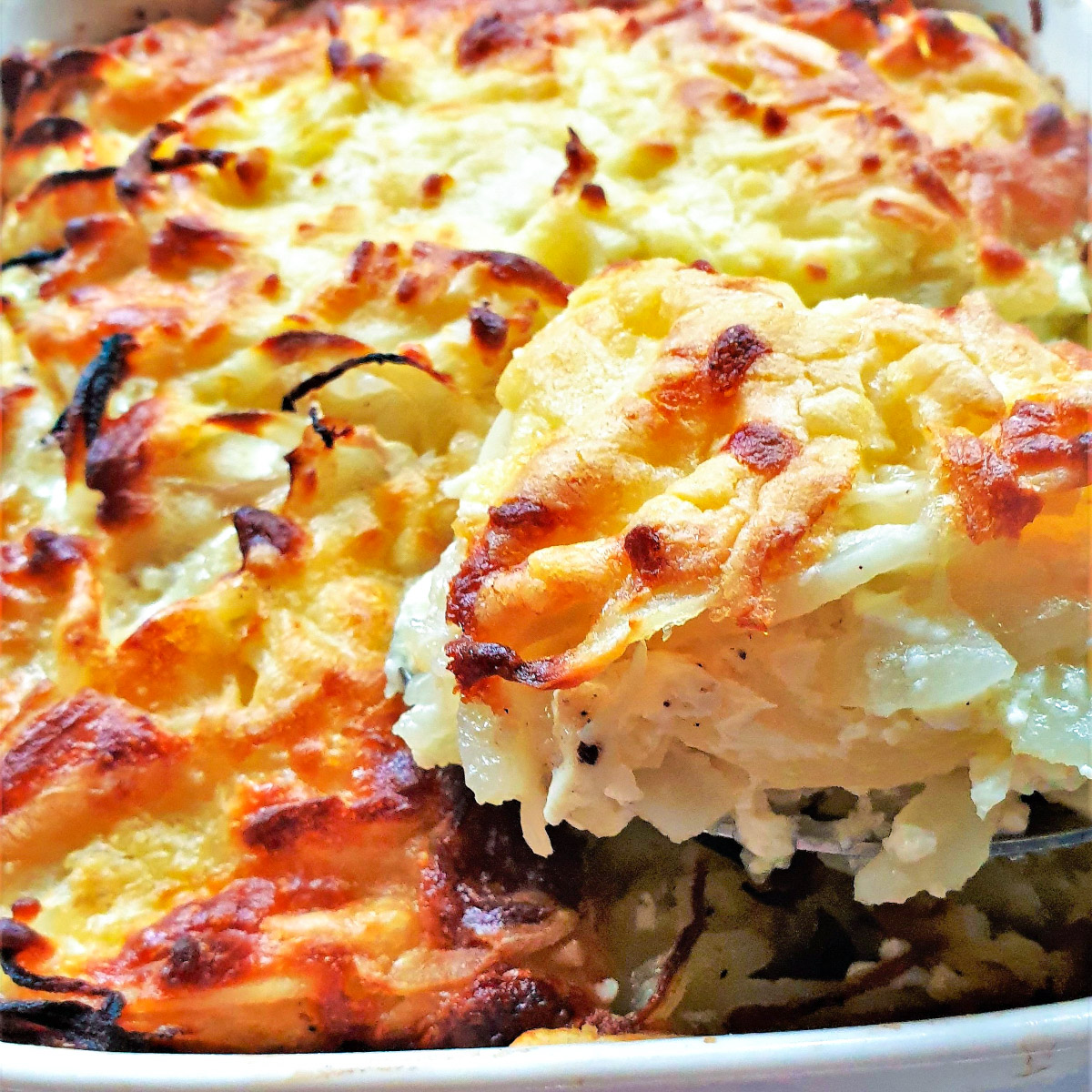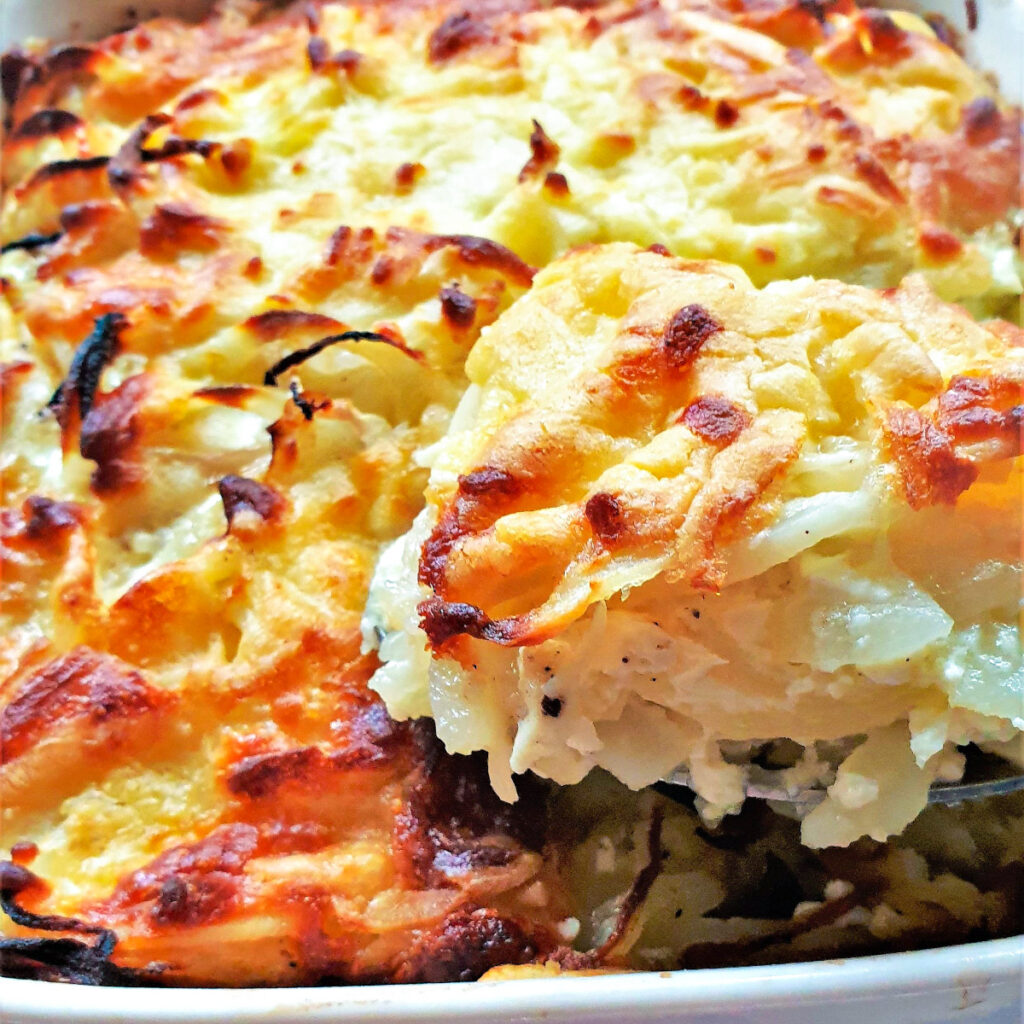 **As an Amazon affiliate, I earn from qualifying purchases.**
What is a spiralizer?
When I first brought my new spiralizer home, Graham's comment was 'Not another gadget – you don't use the ones you already have'.
I thought that was rather unfair, as I DO use all my gadgets, with the exception of the deep fat fryer, which he has claimed for himself anyway to boil up his fishing bait.
Joking aside, a spiralizer is a great tool and is such fun to use. It turns vegetables into spaghetti-like strands in the blink of an eye. It comes with different sized blades so you can make thinner or fatter noodles from veggies – perhaps I should call them voodles.
To use, you just slot in a blade of the desired thickness, pop your vegetable of choice in the holder, and turn the handle. Your voodles come straight out of the front, ready to be turned into delicious meals.
So far I've experimented with apples, potatoes, onions, and zucchini. There is so much you can do with it. Tempura veggies, baked spicy potato swirls, apple muffins, crispy onions. But today I'm sharing my cheesy potato and onion bake.
Who'd have thought you could put together a potato bake so quickly?
(Note – if you don't have a spiralizer, don't worry. You can slice the onions thinly and grate the potatoes instead).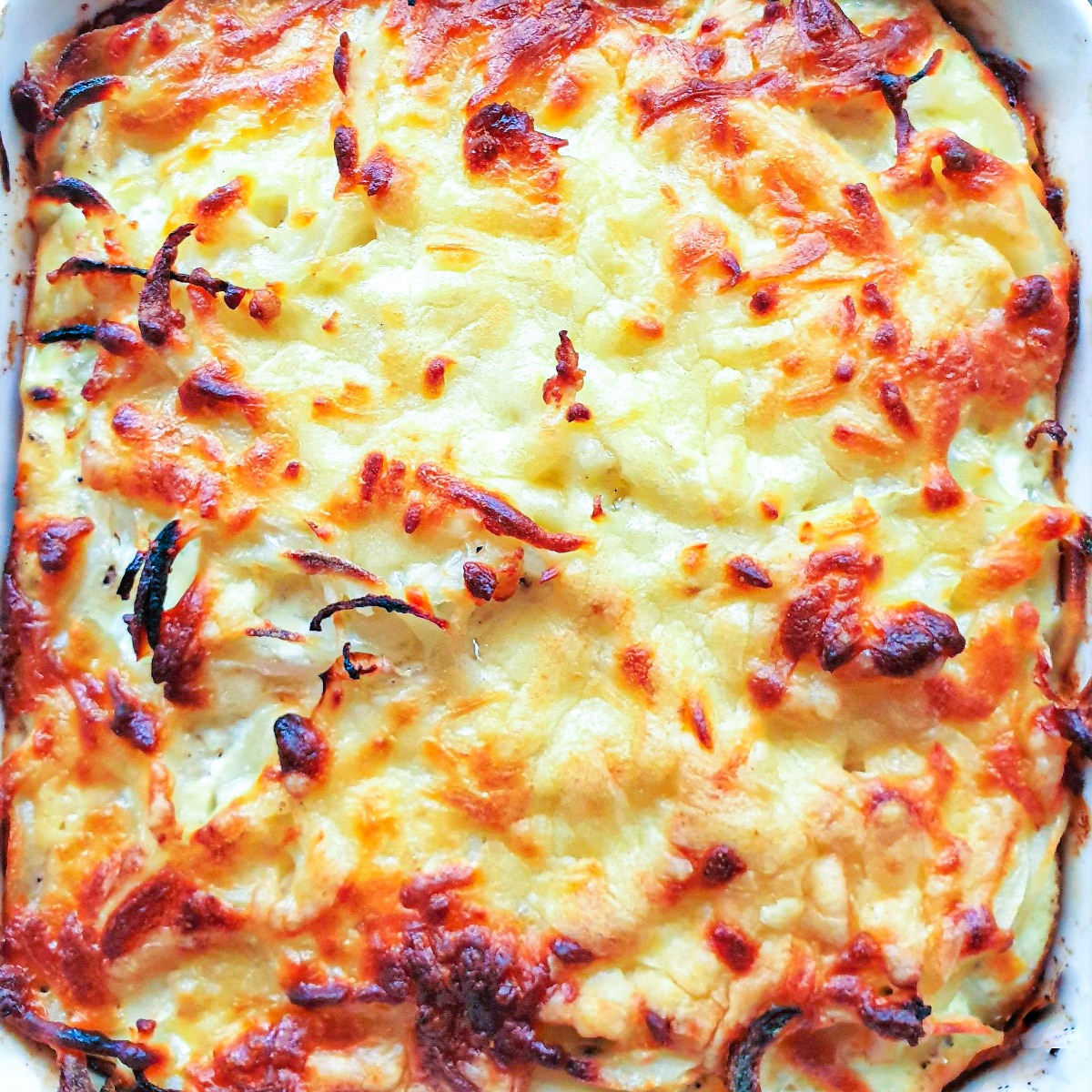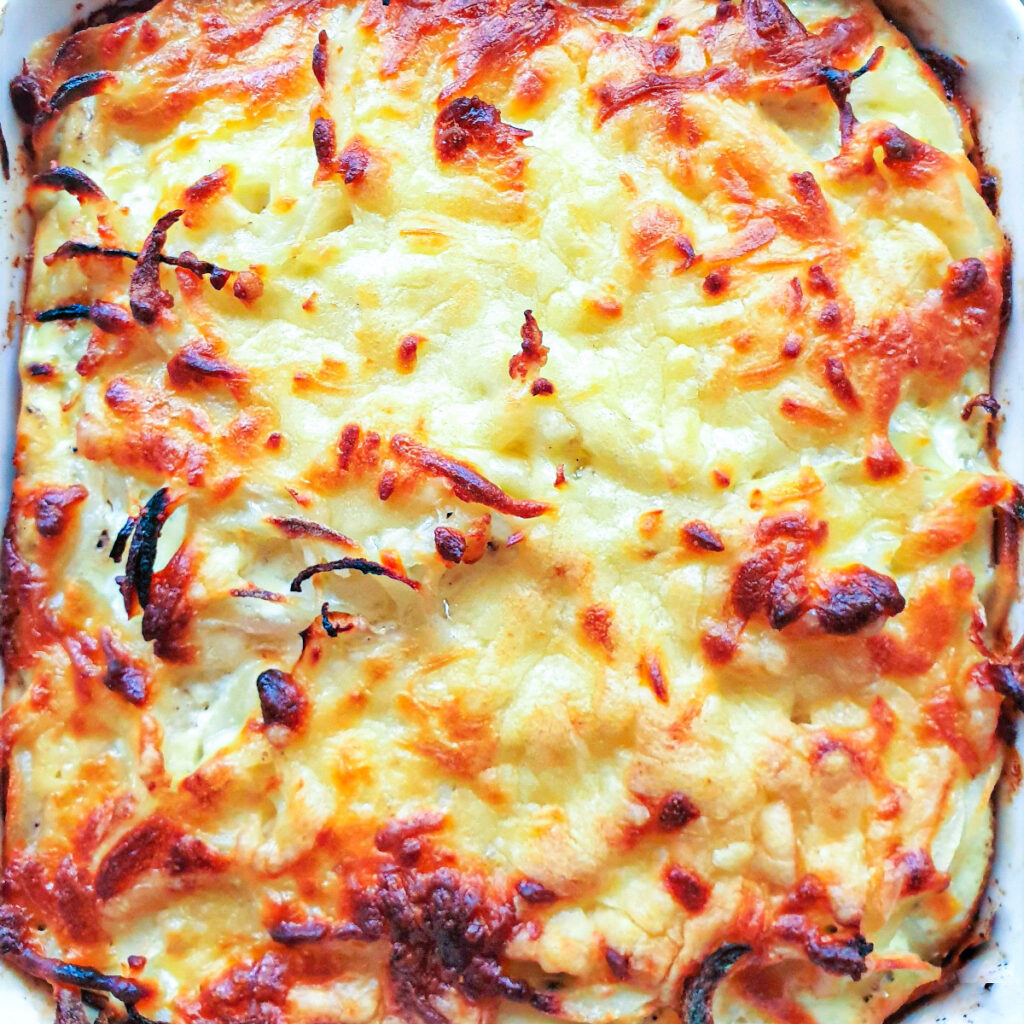 Ingredients for a spiralizer potato and onion bake
Whenever I read a recipe I like to have a look at the ingredients to see whether I have everything I need. To make it easy for you – I've listed the ingredients below. You can get the complete list of ingredients and full instructions on how to make this potato and onion bake in the printable recipe card at the end of this post.
Potatoes and onions – roughly twice as many potatoes as onions
Eggs, cream, milk and cornflour – mixed together to pour over the potatoes
Salt and Pepper to taste
Grated cheese for the topping
The ratio of potatoes and onions should be about 2:1 by volume – ie you need twice as many potatoes as onions.
How to make a spiralizer potato and onion bake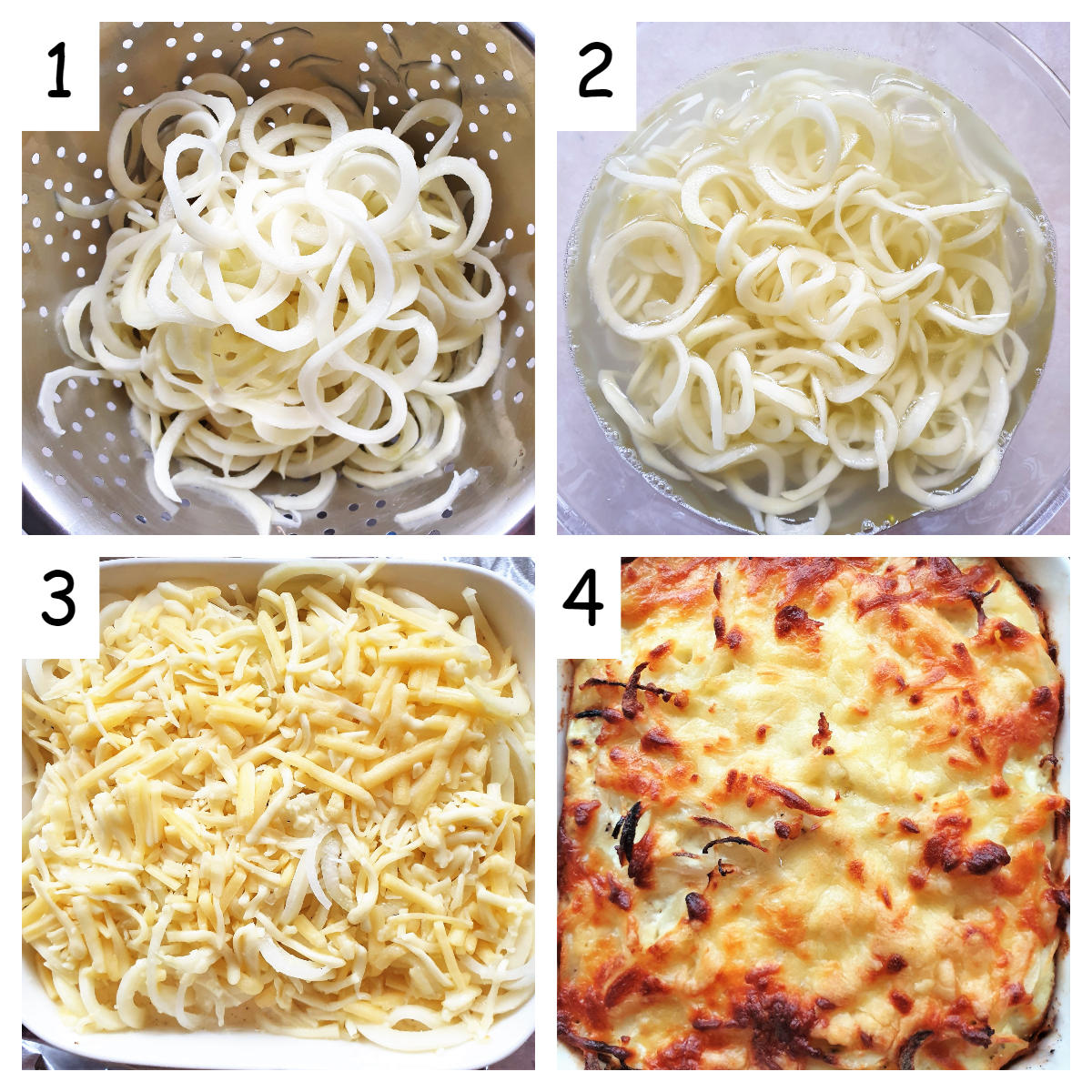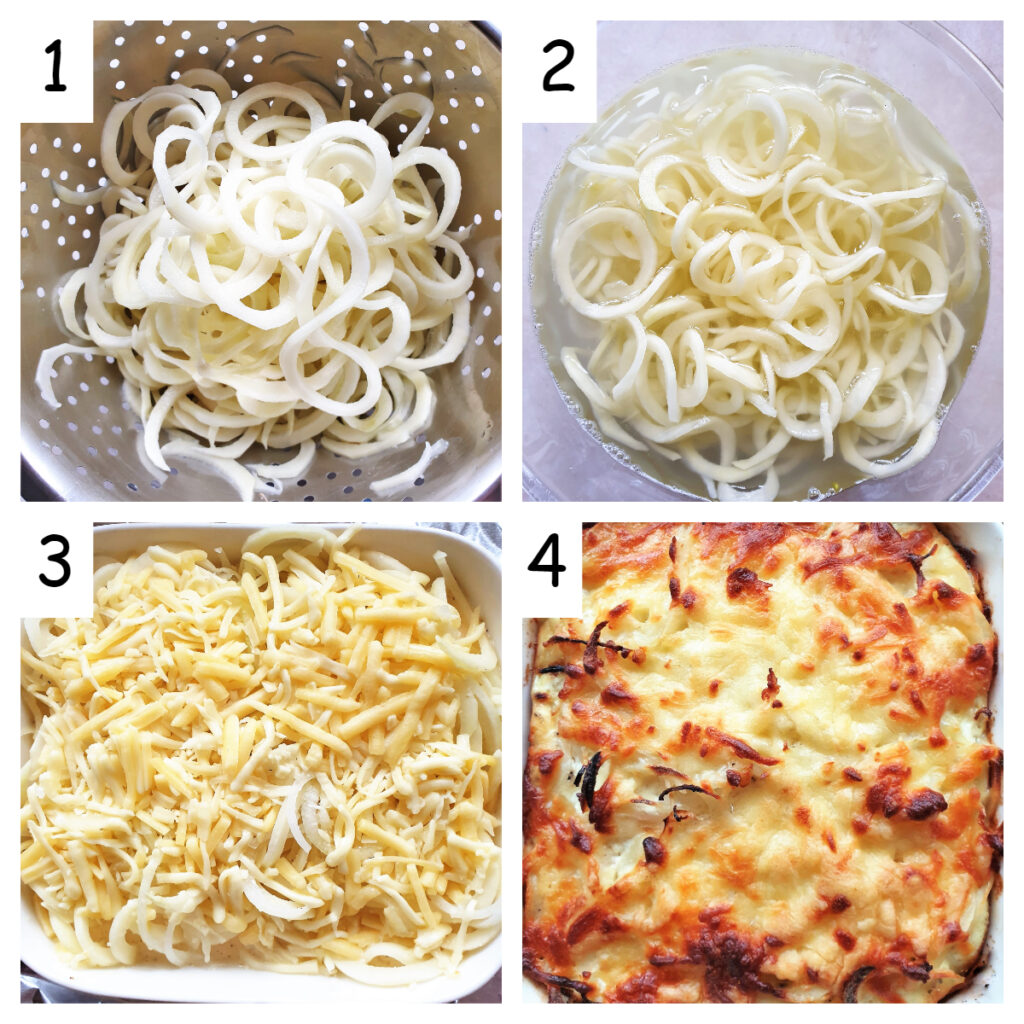 Prepare vegetables
Spiralize your potato and onions (image 1 above). If you don't have a spiralizer you can just slice them thinly – into about 1/8″ slices. You could even grate them. I wouldn't grate the onion though – that needs to be sliced or you will end up with mush.
Use the spaghetti blade, not the ribbon blade. It literally takes seconds. You don't even have to peel the potatoes – just give them a quick wash before turning them into spirals. I think the potato skins add to the flavour.
Rinse the spirals of potato and onion in a bowl of water to remove the starch and onion juice (image 2 above).
While they are still in the water give them a mix with your fingers to combine.
Drain in a colander and press out as much water as you can. If there is too much water the final result will be too runny.
Add the custard mixture
Lift the potato and onion into a well-greased baking dish. If you are using sliced potatoes and onions, just build up layers of potato and onion until everything is in.
Pour over a mixture of egg, milk and cream, which you've seasoned with salt and black pepper.
Press down with a fork to ensure the potatoes and onions are well covered. Sprinkle with grated cheese and you are done (image 3 above).
Bake
Place the dish into the oven and bake for 30 minutes at 200C / 400F until cooked. If you find the cheese is browning too quickly just cover with a piece of tinfoil.
When the potato bake comes out of the oven it is quite soft and runny, but as it cools the egg mixture sets and you can cut it like a quiche. It is just as yummy cold as it is warm.
This potato and onion bake is delicious served with sausages and a side helping of peas. Or try it with your next roast dinner instead of roast potatoes. A potato and onion bake also makes a great side dish at a barbeque.
You can easily adjust this recipe to feed as many people as you like by adjusting the quantities of potato and onion. Just keep to the 2:1 ratio. You should also adjust the quantity of the egg /cream/milk mixture. Just add one egg for every additional 100 ml of liquid (milk and cream mix).
What can I serve with these potatoes?
This potato and onion bake would go very well with Minted Roast Leg of Lamb, or Honey Lemon Roast Chicken, instead of roast potatoes. You could also serve this dish with a plate of sausages and peas.
I also like to serve this dish with a nice piece of fried fish and a fresh tomato and lettuce side salad for a quick tasty supper.
If you have any leftovers, you could fry spoonfuls of this potato bake in a little hot oil for easy hash browns.
Talking of hash browns, why not try this potato frittata recipe for a hash brown with a difference.
Watch how to make spiralizer potato bake
Take a look at this quick video to see how to do it.
If you'd like to be notified of any new recipes, why not subscribe to my newsletter. As a thank-you gift, you will receive a free recipe e-book containing some of my most popular cakes and desserts.
Pin for later
If you enjoyed this recipe for cheesy potato and onion bake, why not pin it for later. Just click the PinIt image in the corner of the photo below.
Recipe – Spiralizer Potato and Onion Bake
If you made this recipe and enjoyed it, I'd love it if you could give me a star rating in the comments below. And if you'd like to get in touch, you can email me at [email protected]. I'd love to hear from you. And don't forget to subscribe to my mailing list so you can grab yourself a copy of my FREE COOKBOOK!
If you'd like to continue browsing, just click on this link to all my recipes.