Easy mix apple and oat muffins made with spiralized apples. The perfect breakfast-on-the-go. Why not add some sultanas or chopped nuts for even more oomph!!!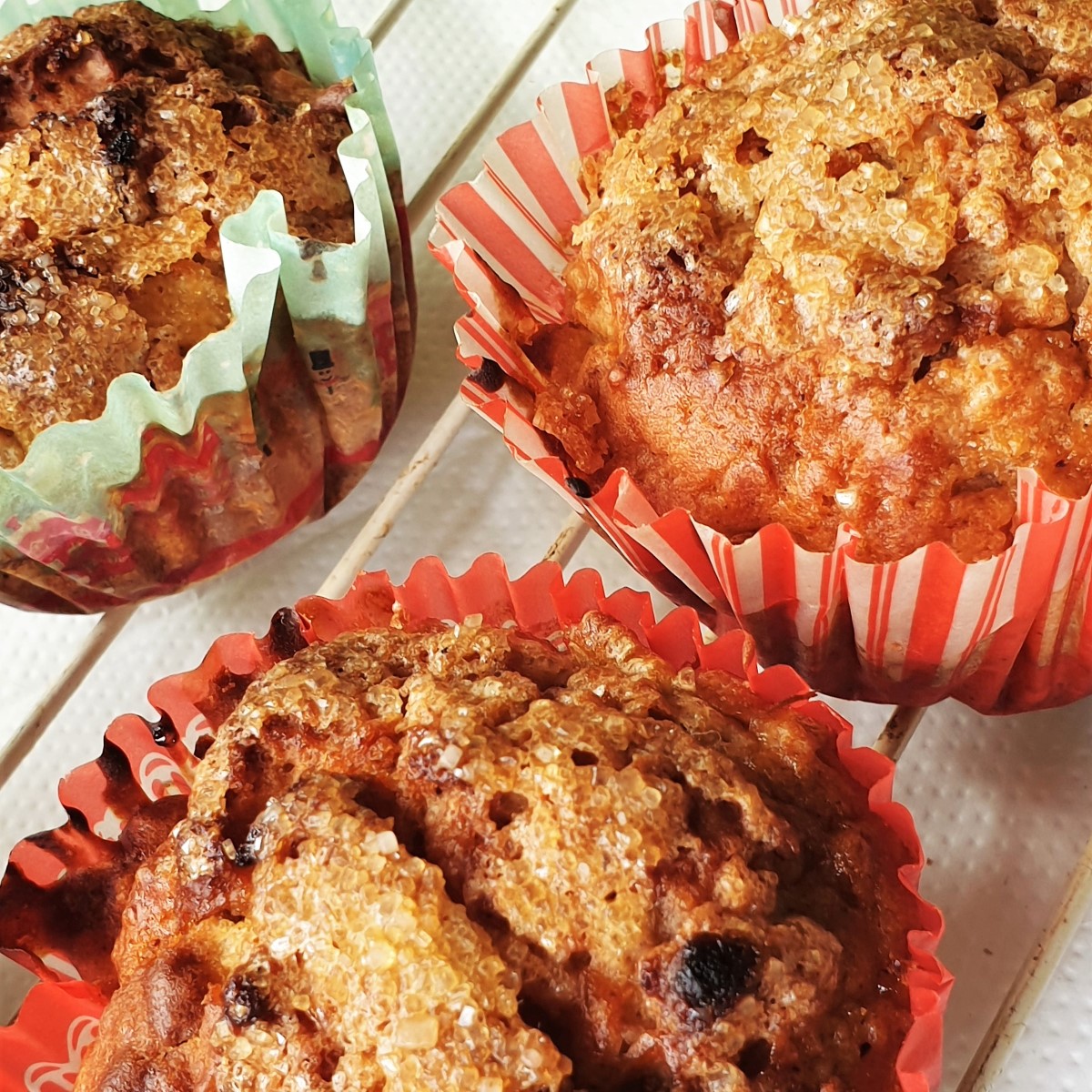 **As an Amazon affiliate, I earn from qualifying purchases.**
Apple and Oat Muffins
I love making muffins, because they are so quick and easy to make. You don't have to cream the butter and sugar together as you do with a cake. Just mix up the dry ingredients, add the wet ingredients, add any additions like nuts or chocolate chips, and you are done.
This is one of my favourite muffin recipes. The apple and oat mixture adds a lovely texture to the muffins. The oats provide a good source of fibre and as oats are well known for lowering cholesterol you can eat them without feeling guilty. I leave the skins on the apples too, for extra fibre.
I like to mix up a batch and keep it in the fridge overnight. Then I just pop them in the oven for 20 minutes. By the time I've finished my wake up coffee, they are ready to eat. Instant breakfast – what could be easier?
The company that Graham works for doesn't have a canteen, so these Apple and Oat Muffins are ideal for popping in with his sandwiches. I also pack a couple for him when he goes fishing.
You can make the muffins with grated apples, but I've found that using a spiralizer is so much more fun. A couple of turns of the handle and you have a pile of apple spaghetti. You don't have to core the apple either – the spiralizer just cuts around the core and you can throw it away when you are done.
You need to chop the spiralized apples into shorter lengths so that they distribute evenly in the muffin batter.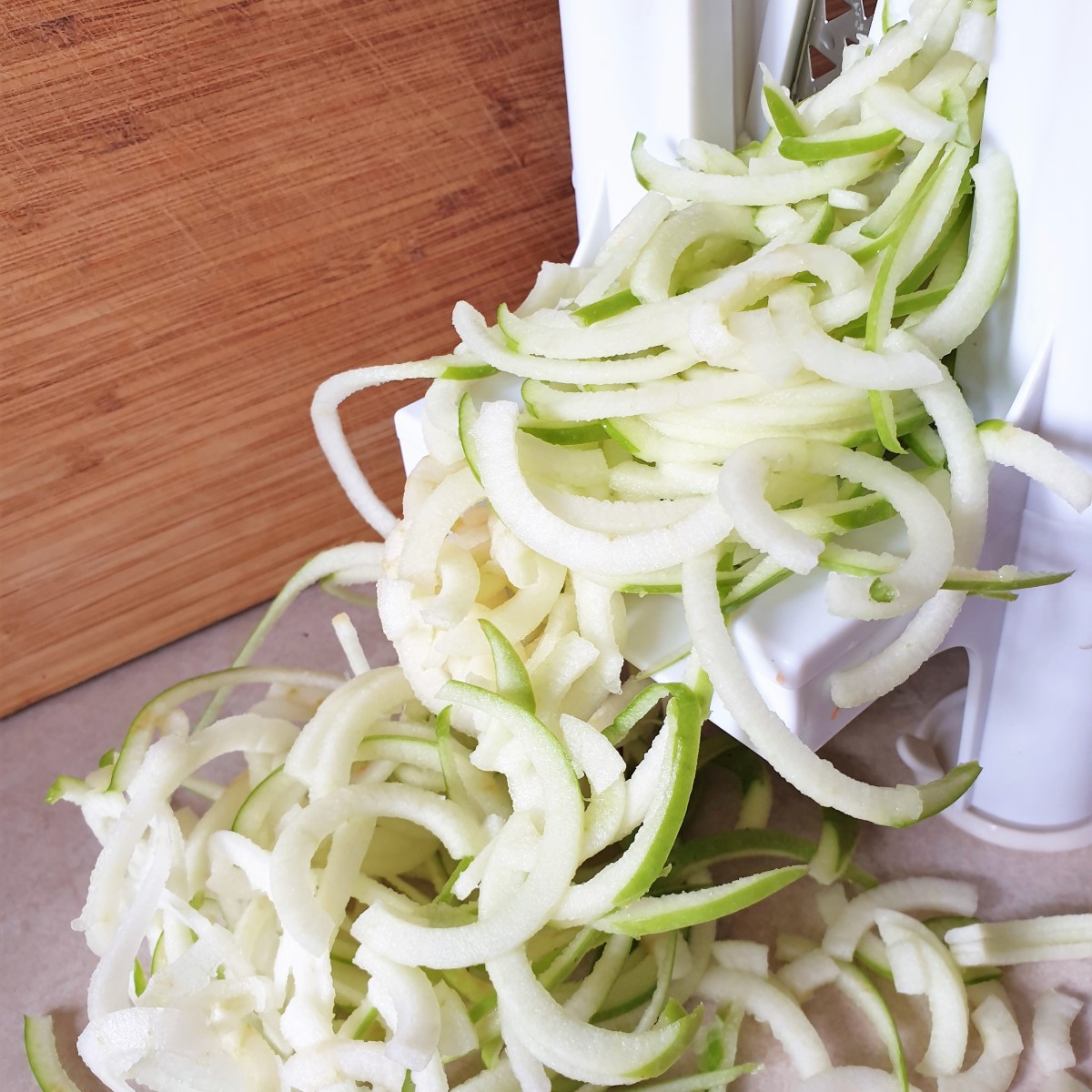 Ingredients for Apple and Oat Muffins
This recipe is sufficient for 18 muffins.
You can get the complete list of ingredients and full instructions on how to make this recipe on the printable recipe card at the end of this post.
You will need the following ingredients:
Wet Ingredients
Dry Ingredients
Additional
Oats
Milk
Sunflower Oil
Egg
Self-Raising Flour
Light brown Sugar
Vanilla Extract
Baking Powder
Ground Cinnamon
Salt
Apples
Sultanas (optional)
How to make apple and oat muffins
Mix the muffins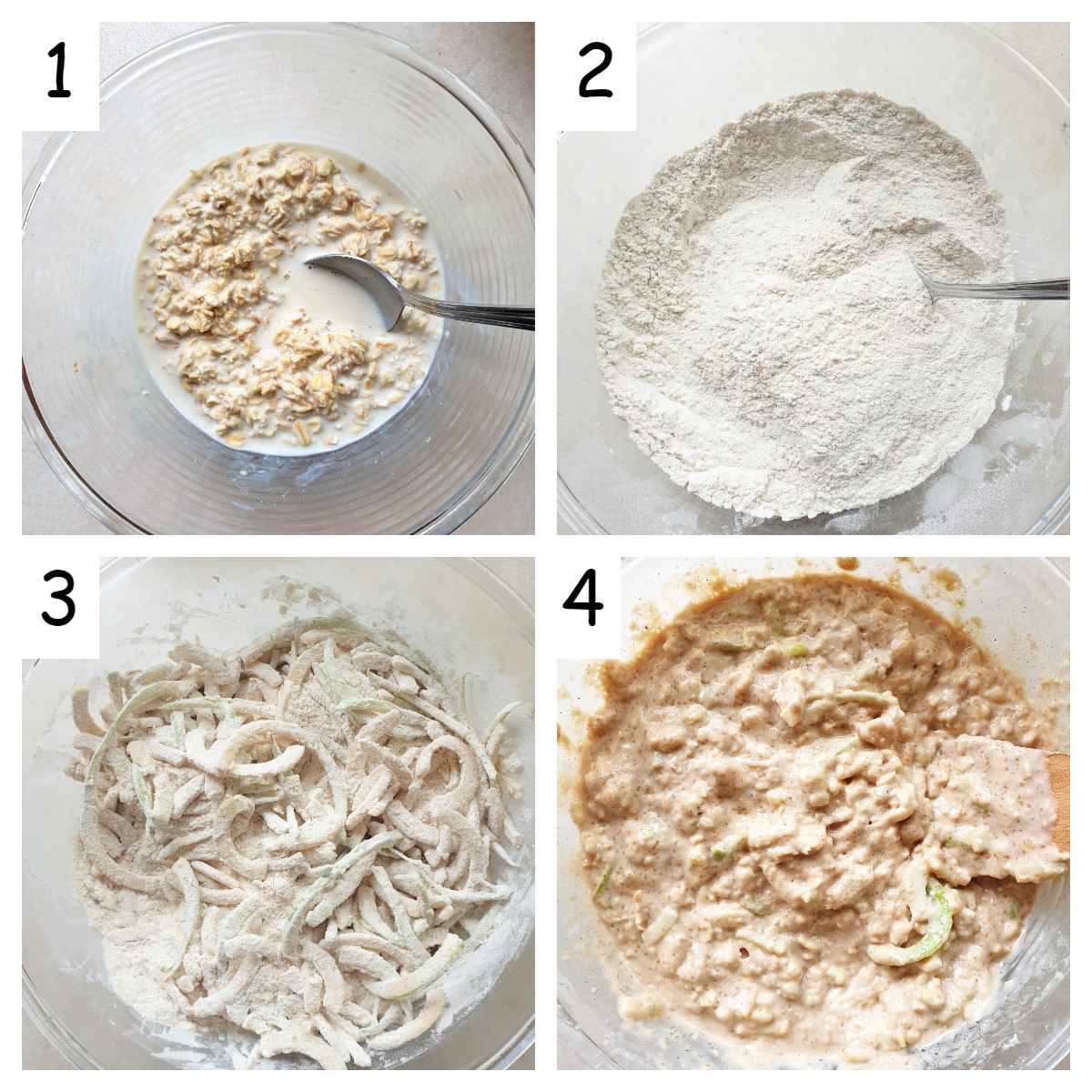 The first step is to mix the oats and wet ingredients together. Leave the mixture to stand and soak while you prepare the other ingredients (image 1 above).
While the wet ingredients are soaking, spiralize (or grate) the apples and chop roughly with a sharp knife. You have to chop the spiralized apples so that you can distribute them evenly through the muffins.
Sift the dry ingredients into a large bowl (image 2 above). Add the apples and mix to coat (image 3 above).
Pour in the oat and milk mixture (wet ingredients) and give it a stir until just combined. Do not overmix (image 4 above).
If you are adding additional ingredients such as sultanas or nuts, cut and add them now.
Prepare the muffin tins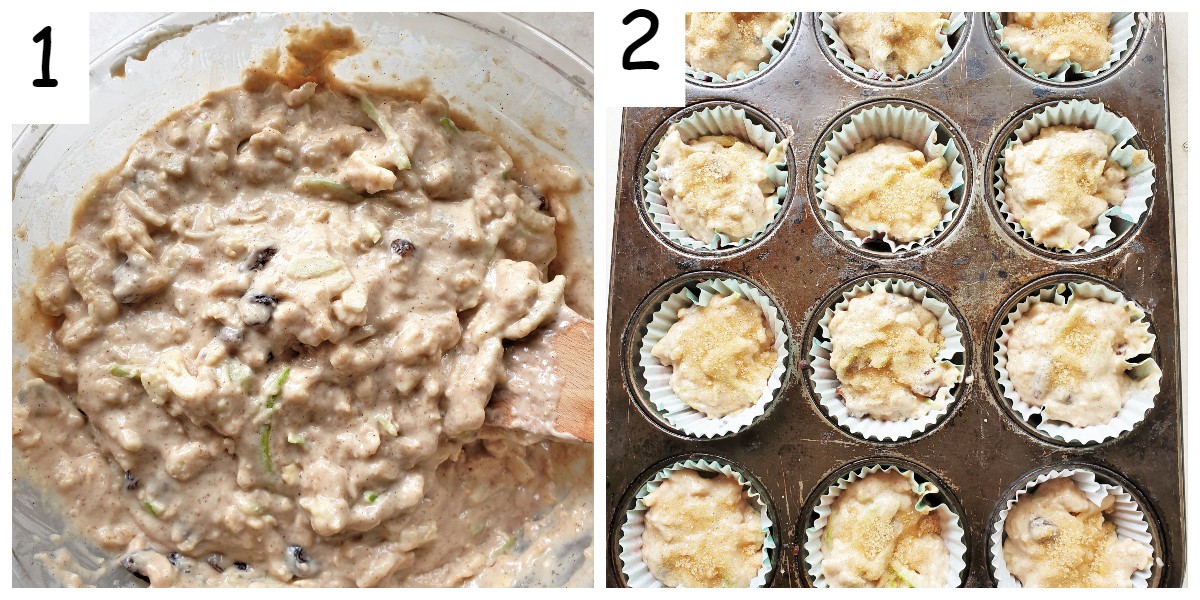 Line a muffin tin with paper cases and spoon in the mixture.
Sprinkle each muffin with a little brown sugar. This will give a lovely crispy topping to the baked muffin.
Bake
Bake in a pre-heated oven (200C / 400F) for about 20 minutes until well risen and golden.
For tips on making muffins see my Blueberry Muffin recipe.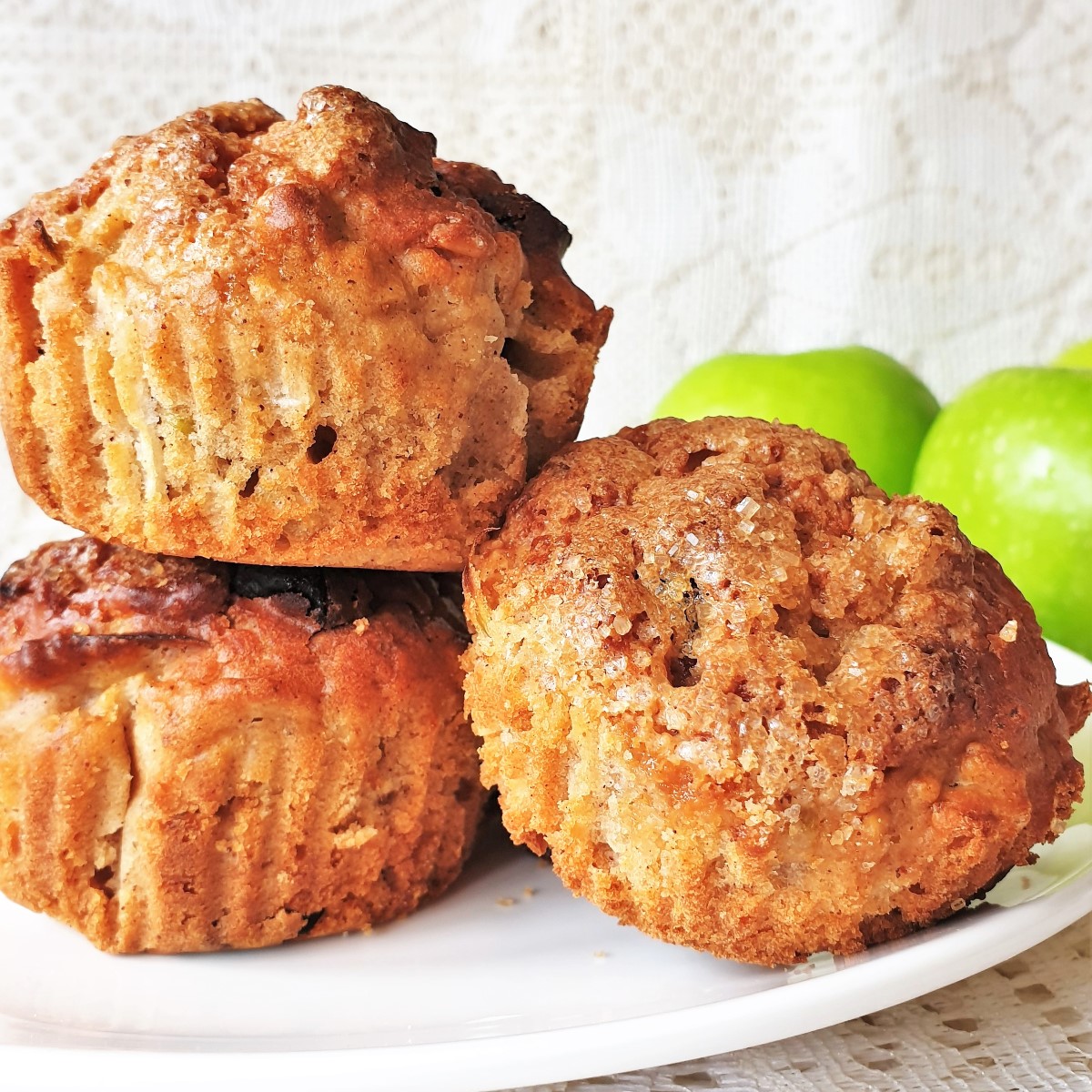 If you want to keep up-to-date with my latest recipes why not follow along on Facebook or Pinterest. And don't forget to subscribe to my mailing list so you can get your FREE COOKERY BOOK
Additional resources
Don't forget to check out my handy Cookery Conversion Calculator if you want to convert any of your recipe measurements from grams to cups, ounces, tablespoons or millilitres and vice versa. You can also use the calculator for converting oven temperatures between Fahrenheit, Celsius and Gas marks.
If you live at a high altitude you may find you need to adjust your baking recipes to compensate for this. You can read all about it in this post on baking at high altitudes.
Pin for later
Why not pin this recipe for apple and oat muffins and keep it to make later. Just click the image below.
Recipe – Apple and Oat Muffins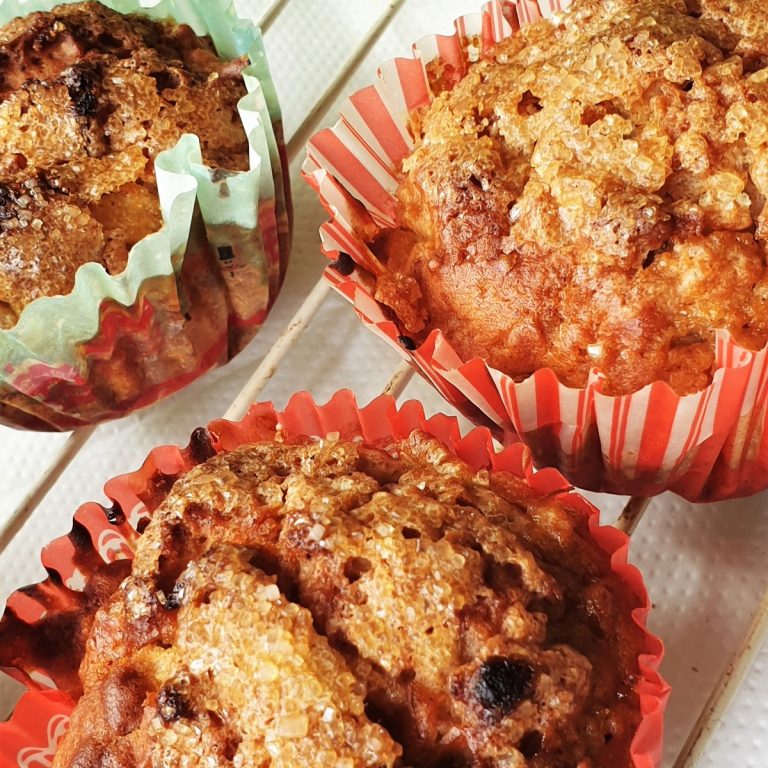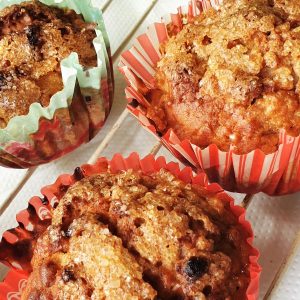 Spiralizer Apple and Oat Muffins
Easy mix apple and oat muffins made with spiralized apples. The perfect breakfast-on-the-go. Why not add some sultanas or chopped nuts for even more oomph!!!
(Click the stars to rate this recipe)
Print
Pin
Comment
Bookmark
Saved!
Equipment
Spiralizer or grater

Spatula

12-hole muffin-tin
Ingredients
50

g

(½ cup) Rolled Oats

250

ml

(1 cup) Milk

2

teaspoons

Vanilla Extract / Essence

100

ml

(7 Tablespoons) Sunflower Oil

1

large

Egg (lightly beaten)

200

g

(1¾ cups) Self-raising-Flour

90

g

(7 Tablespoons) Brown Sugar

7.5

g

(1½ teaspoons) Baking Powder

10

g

(2 teaspoons) Ground Cinnamon

2.5

g

(½ teaspoon) Salt (optional)

2

medium

Apples (spiralized or grated)

100

g

(½ cup) Sultanas (optional)
Instructions
Pre-heat oven to 200°C / 400°F

Place the oats in a bowl and mix in the milk, lightly beaten egg, oil and vanilla

Spiralize the apples and chop roughly

Sift the flour into a large mixing bowl, add the baking powder, cinnamon, salt, sugar and mix to combine

Add the apples and mix to coat

Add the oats and milk mixture and mix briefly to combine. Do not overmix.

Mix in the sultanas if using.

Line a 12-hole muffin pan with paper baking cases and spoon the mixture evenly into the cases

Sprinkle each one with a little brown sugar

Place the tray in the oven and bake for approximately 20 minutes until golden and cooked through.
Notes
You can substitute the self-raising flour for wholewheat flour.
You can substitute the sultanas for chopped nuts (pecan or walnuts would be good).
Chop the spiralized apples roughly into 3 to 4 inch pieces (6 to 10 cm) so that they combine evenly in the batter.
Don't overmix the batter.  Mix just sufficiently to combine all the ingredients.
You can test whether the muffins are cooked by inserting a metal skewer into the centre.  If it comes out clean then they are cooked.
Because the oats and apple make the batter quite dense, these muffins do not rise very much.
Nutrition
Calories –
128
kcal
|
Carbohydrates –
16.2
g
|
Protein –
2.4
g
|
Fat –
6.1
g
|
Saturated Fat –
0.8
g
|
Cholesterol –
10
mg
|
Sodium –
77
mg
|
Potassium –
116
mg
|
Fiber –
1.5
g
|
Sugar –
4.2
g
|
Calcium –
46
mg
|
Iron –
1
mg
I am not a nutritionist. The nutrition information has been calculated using an on-line calculator, and is intended for information and guidance purposes only. If the nutrition information is important to you, you should consider calculating it yourself, using your preferred tool.
Share on Facebook
Share on Twitter
If you made this recipe and enjoyed it, I'd love it if you could give me a star rating in the comments below. And if you'd like to get in touch, you can email me at [email protected]. I'd love to hear from you. And don't forget to subscribe to my mailing list so you can grab yourself a copy of my FREE COOKBOOK!
If you'd like to continue browsing, just click on this link to all my recipes.