Everyone needs a recipe like this one in their repetoire. Light, fluffy and moist lemonade scones, made with only 3 ingredients. With minimum preparation and a baking time of only 20 minutes you can be tucking in to these in less than half an hour.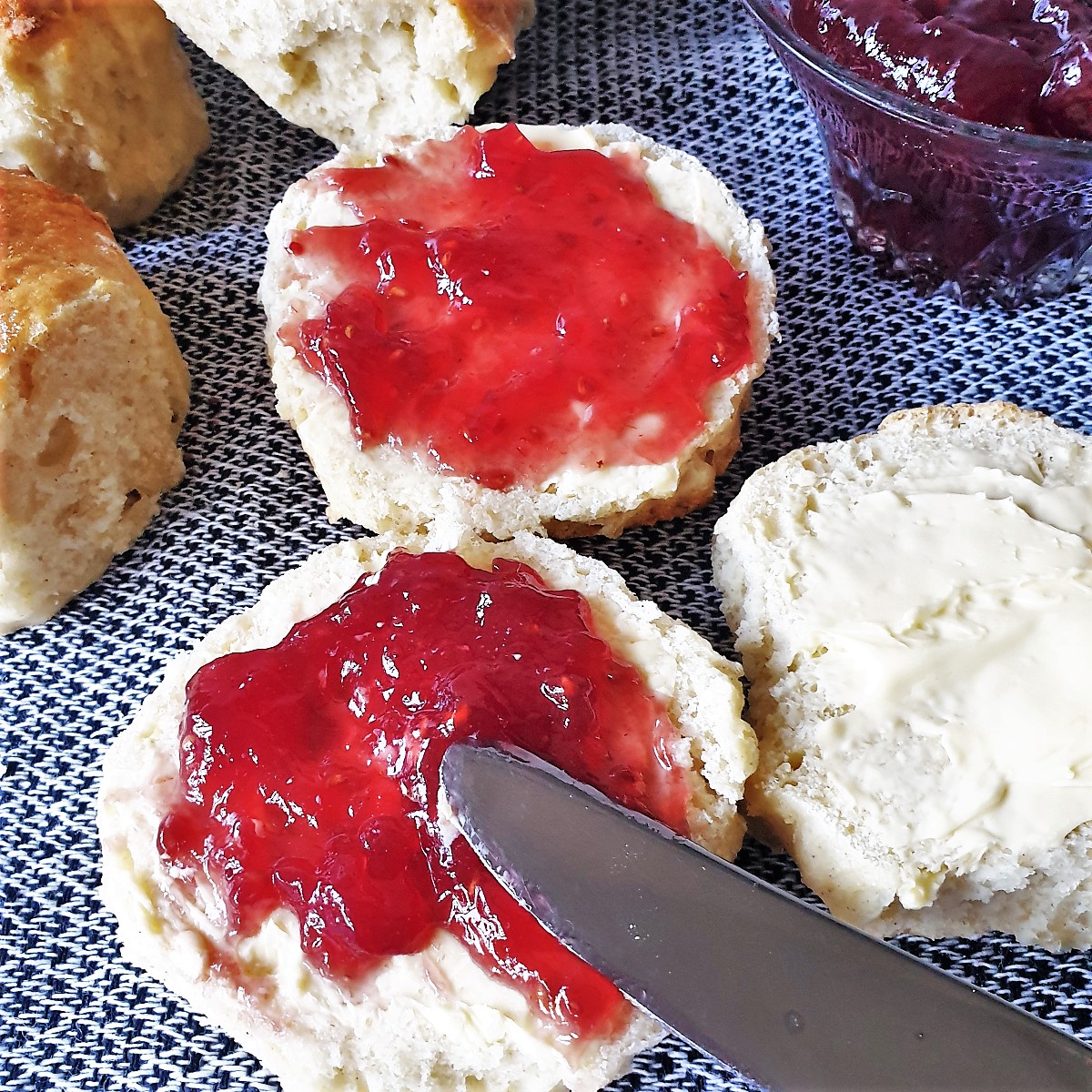 **As an Amazon affiliate, I earn from qualifying purchases.**
Lemonade Scones made with only 3 ingredients
Yes, that's right! Only three ingredients and half an hour to make. These lemonade scones are truly amazing. They are called lemonade scones becuase one of the ingredients is fizzy lemonade, but you can't taste it in the finished product. What you do get is a lovely soft scone that you can serve as a tea-time treat with your favourite topping.
All you need for these fluffy and light lemonade scones is flour, cream and fizzy lemonade. They are delicious served warm from the oven covered in jam and cream, or for a really yummy treat, you could try them with homemade orange curd and cream.
There is a bit of confusion as to whether the cream or jam should go on the scone first. Some people like to spread their scones with cream and then spoon jam on top; others prefer to spread with jam first and then add the cream. It really doesn't matter – either way is delicious.
The reason these scones are so light and fluffy is in the lemonade. The carbon dioxide in the lemonade fizz contains millions of tiny bubbles that expand during baking and cause the scones to rise to towering heights.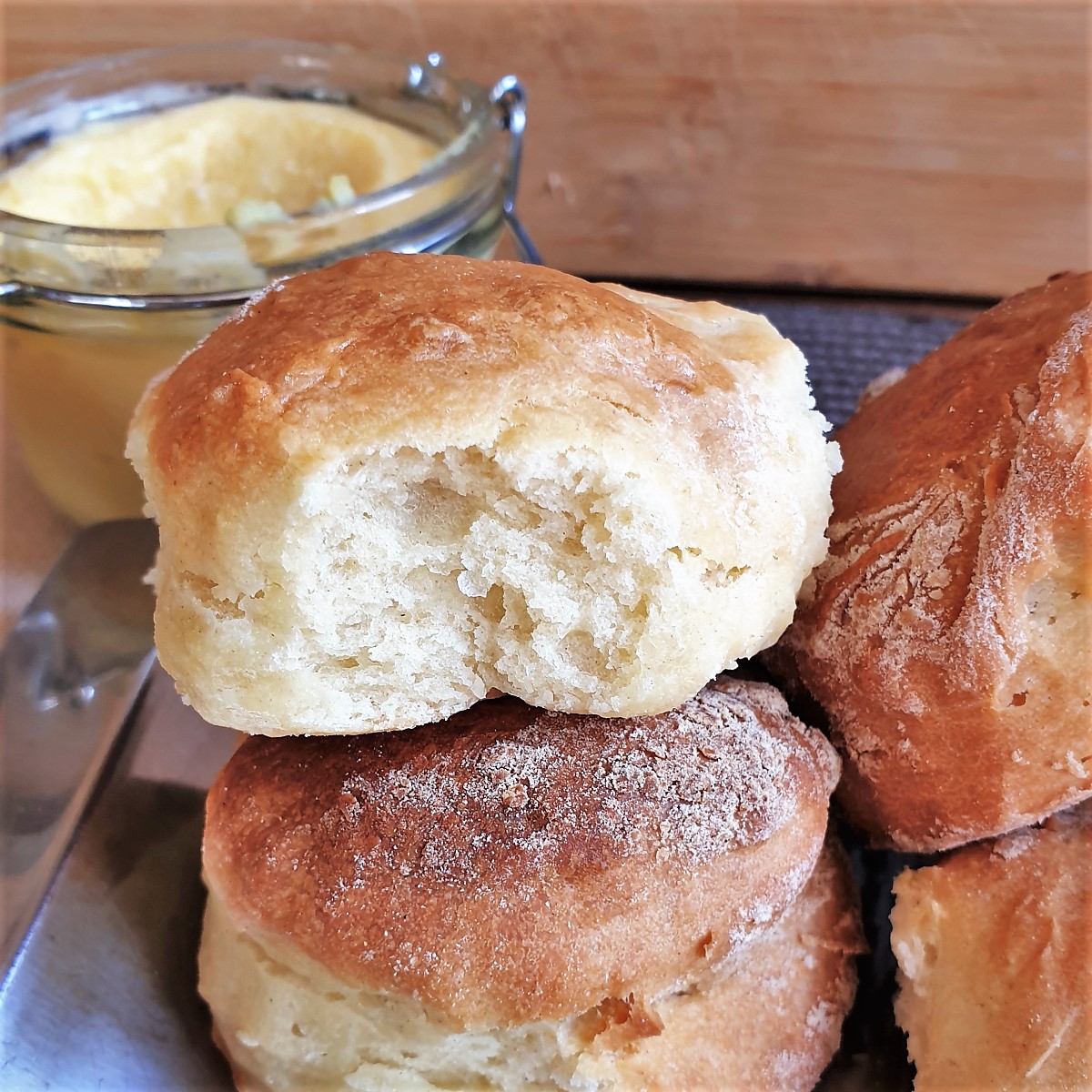 Ingredients for lemonade scones
This is what you will need. You can get the complete list of ingredients and full instructions for making lemonade scones on the printable recipe card at the end of the post.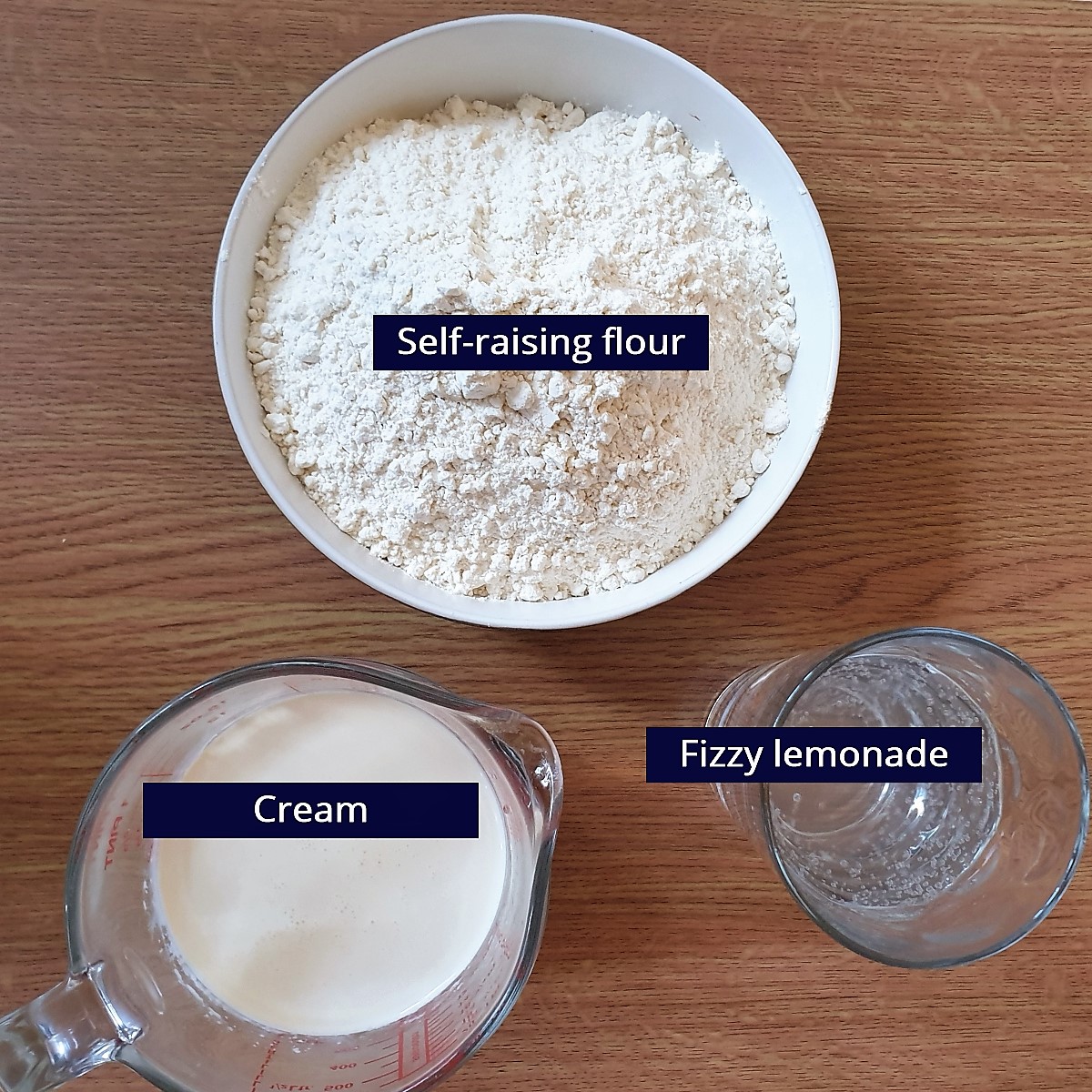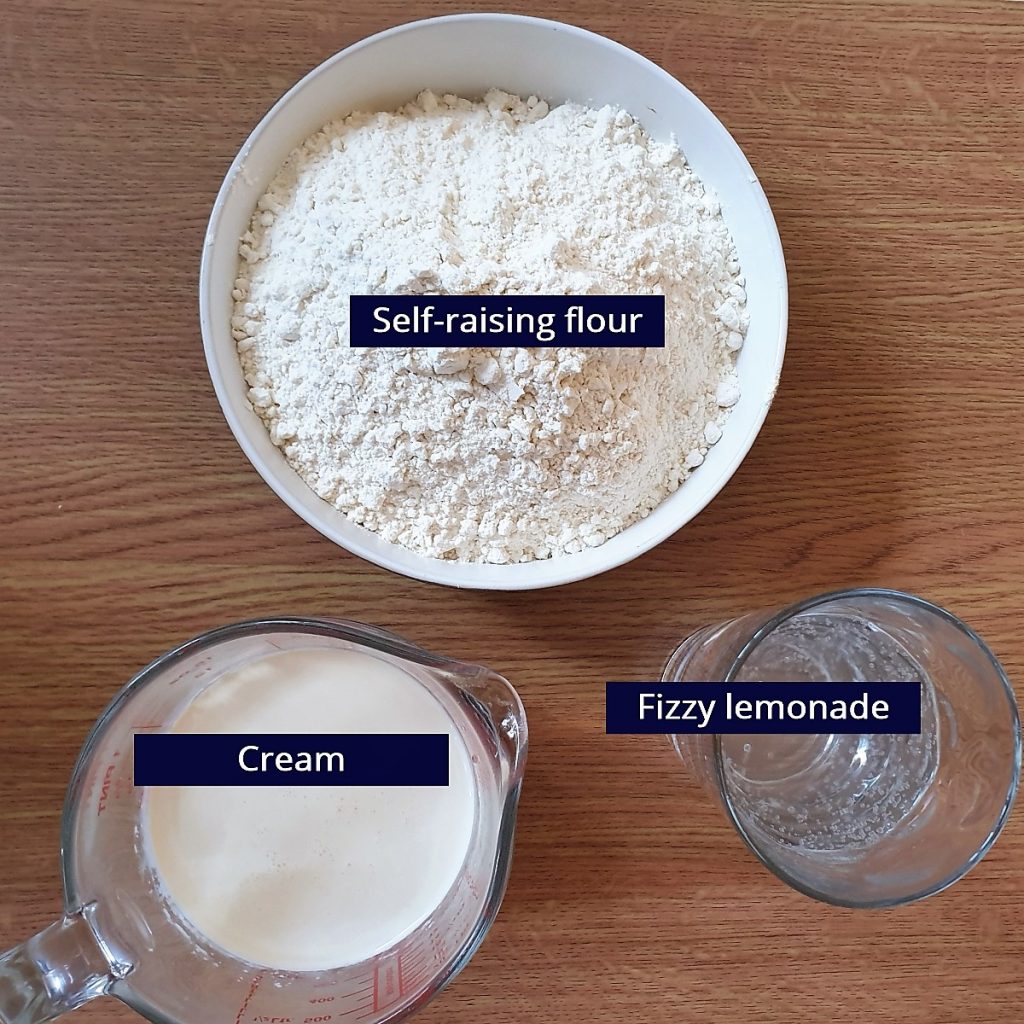 Flour – Self-raising flour is best, but if you don't have self-raising flour you can easily make your own by stirring 1.5 teaspoons of baking powder into each cup (125g) of plain flour.
Cream – the cream provides the fat, so instead of rubbing butter into the flour as with traditional scones you just mix in the cream. Double cream give a better flavour, but you can use single cream if that's all you have.
Fizzy Lemonade – this provides the sweetness and the rise. You have to use proper fizzy lemonade, as in Schweppes lemonade, or Sprite.
How to make lemonade scones
There are 2 just easy steps – mix and bake.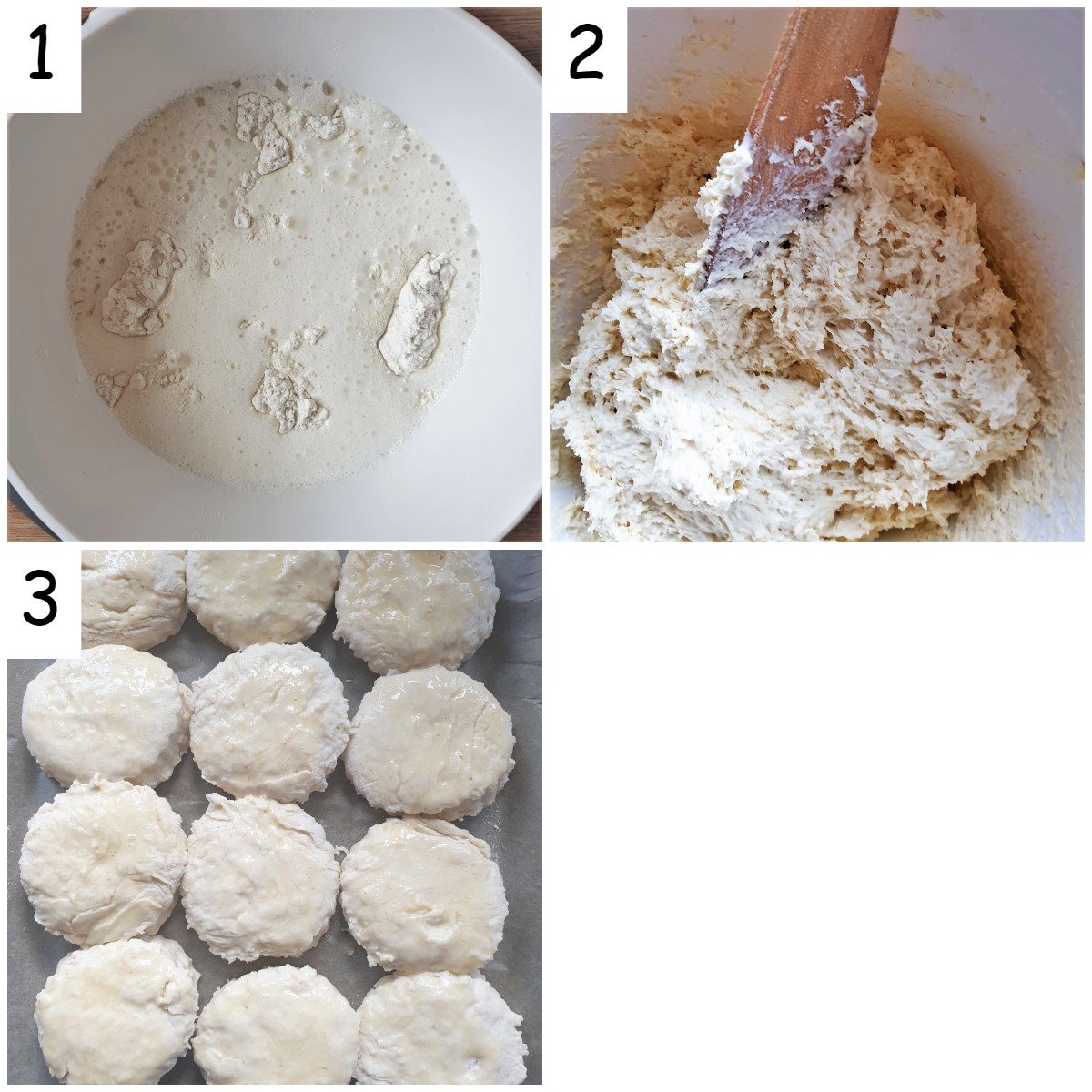 Mix
Pre-heat the oven to 220C / 425F. By the time you have got the scones on a baking tray, the oven should have reached temperature and you can just pop them straight into the oven.
Place all your ingredients into a large mixing bowl. If you want a sweeter scone, or you would like to make fruit or cheese scones, this is where you would add the additional ingredients. See the section titled Variations of Lemonade Scones below.
Mix gently through with a flat knife or spatula until just combined. Don't overwork the dough or the scones will be hard rather than fluffy.
Tip the mixture onto a lightly floured surface and press gently into a circular shape. This dough is supposed to be quite sticky. If it is too sticky you can sprinkle with a small amount of extra flour.
Don't use a rolling pin to roll the dough, just press into shape with your hands.
You should aim for a thickness of approximately 2.5cm or 1 inch. The scones should double in height as they bake.
Using a scone cutter, cut circles from the dough. It is very important not to twist the cutter as you are cutting the scones. Twisting the cutter will cause the sides of the scones to tear, making the scones rise unevenly. Dip the edge of the pastry cutter into flour before cutting through to help keep the edges of the scone nice and straight.
Place the scones on a baking tray lined with baking parchment. Place them close together, so they are just touching. This will help them to rise evenly.
Brush with a little milk to encourage the scones to turn brown.
Bake
Bake for 20 minutes until golden.
The scones should sound hollow when tapped. This is a sign that they are cooked through. If you think they are not completely cooked you can leave them for a minute or two longer, but take care not to over-bake them.
Remove from the oven, cover with a clean tea-towel and leave to cool.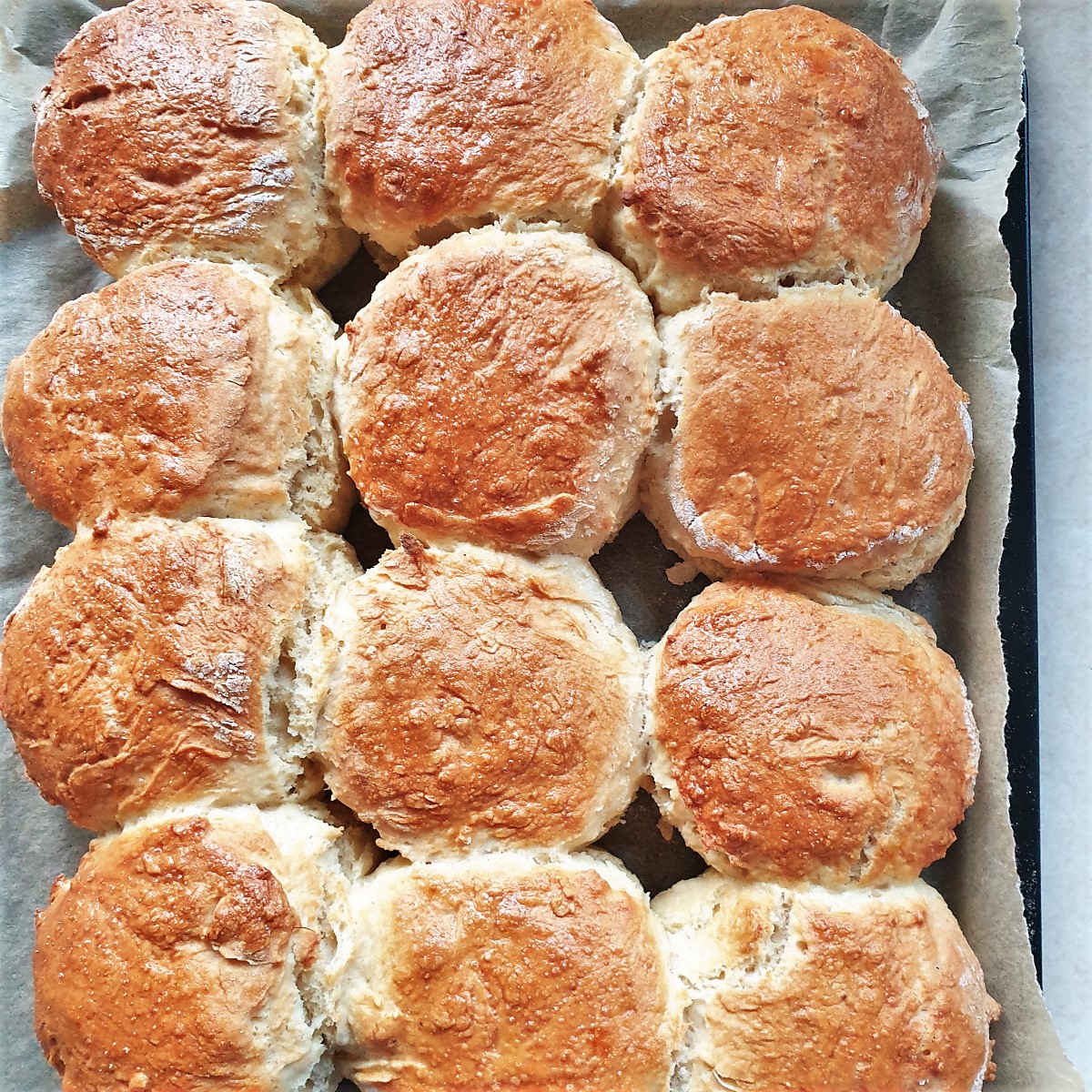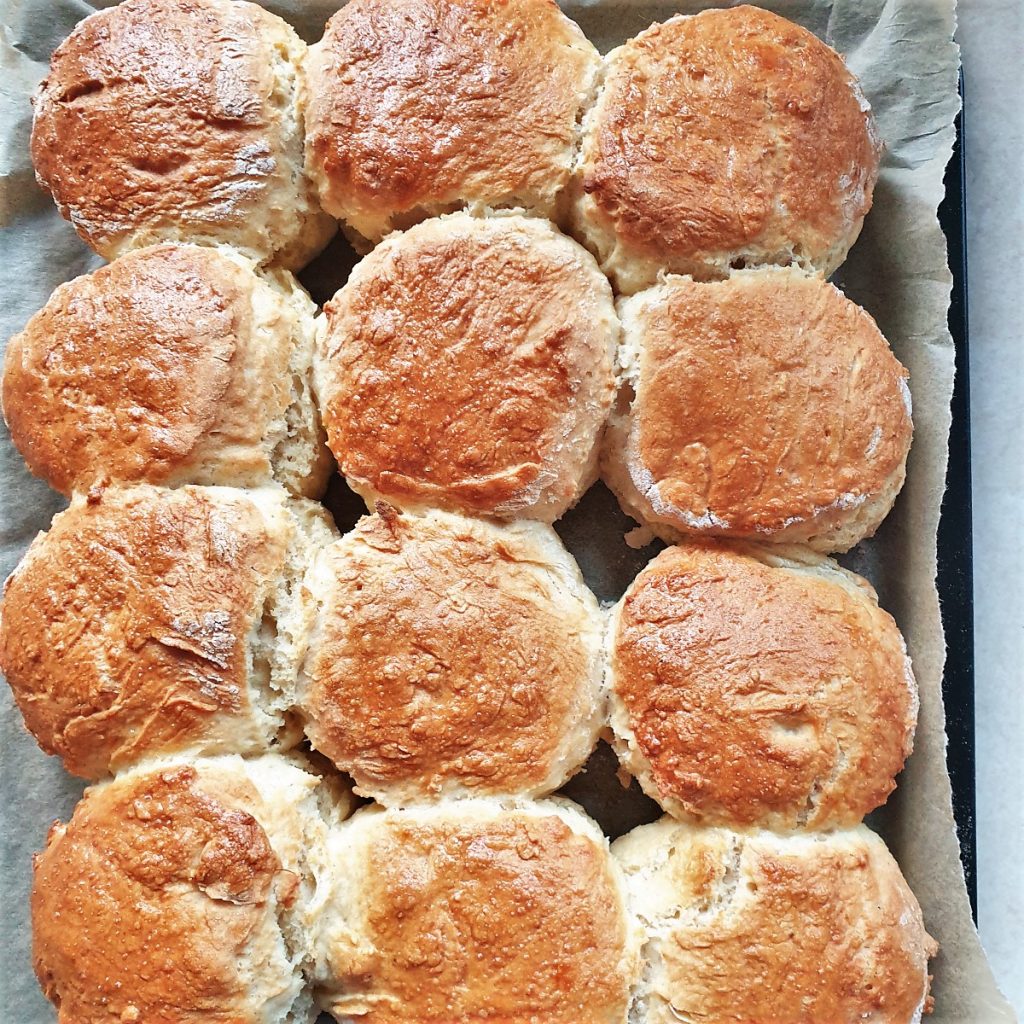 Variations of Lemonade Scones
You can use the basic recipe and add different ingredients to make either fruit scones or cheese scones. You don't need to adjust the quantities of the 3 main ingredients.
The sugar in the lemonade adds sweetness to the scones. If you prefer a sweeter taste you can add 50g sugar with the flour,
To make fruit scones – add 200g sultanas with the flour,
To make cheese Scones – add 200g grated cheese (I use cheddar) with the flour and 1 teaspoon paprika. Substitute the lemonade for fizzy soda water.
How long can I keep lemonade scones?
These scones are best eaten fresh on the day. However they will still be fine the next day.
If you want to warm them up you can place them in the microwave for about 30 seconds on a medium setting, or pop them in a pre-heated oven for 5 minutes.
Here's a tip that I haven't tried myself, but it sounds as though it would work. Put the scones in a saucepan over a gentle heat. Cover with a lid and allow the saucepan to warm for a couple of minutes. Turn off the heat and leave the scones to stand in the covered saucepan for five minutes to warm through. The heat from the saucepan will warm the scones.
You can also freeze these scones either in a single layer in a suitable container, or in a plastic bag. Let them defrost at room temperature and then warm, using one of the methods above.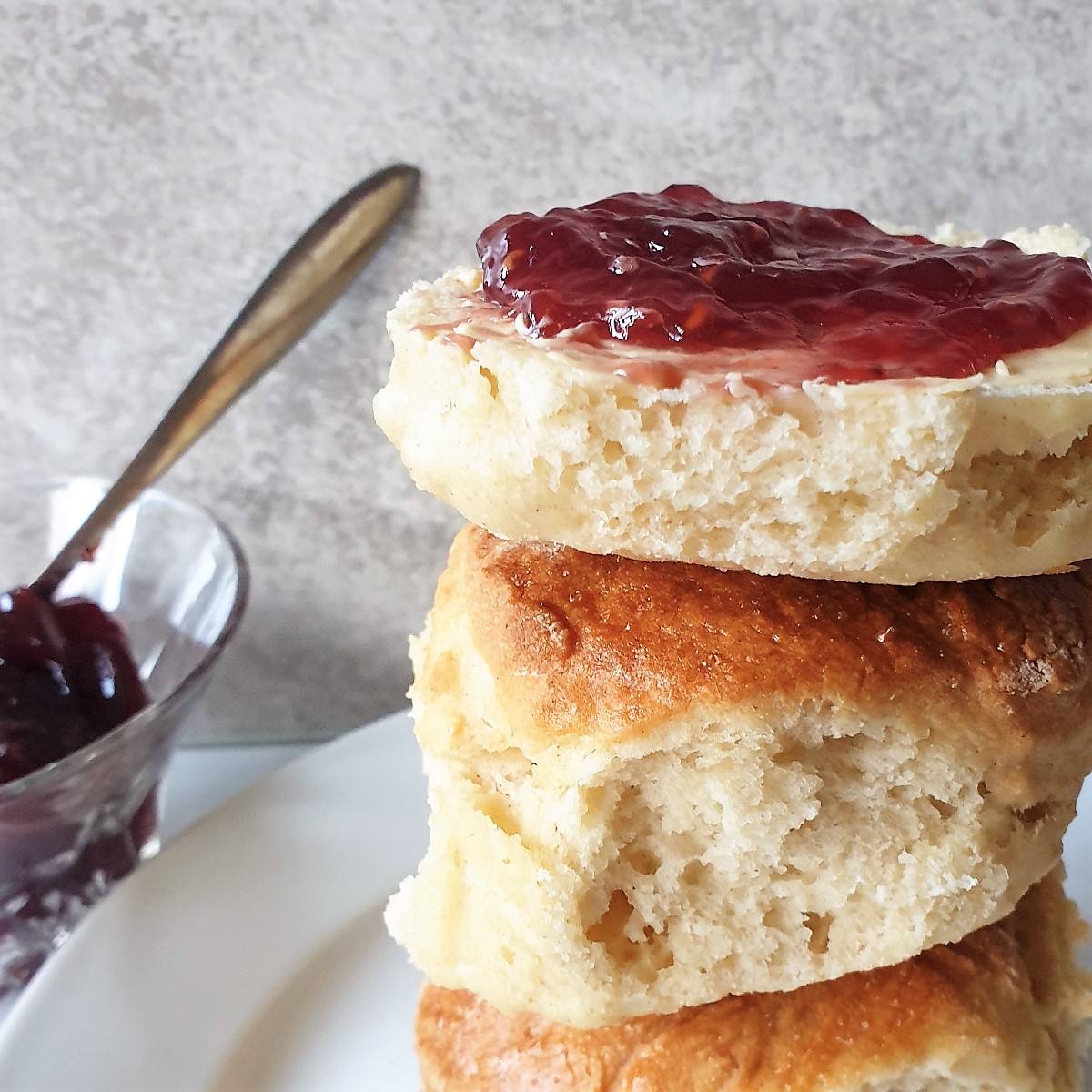 If you'd like to be notified of any new recipes, why not subscribe to my newsletter? As a thank-you gift, you will receive a free recipe e-book containing some of my most popular cakes and desserts.
Pin for later
Why not pin this recipe so you can make these lemonade scones yourself.
Recipe – Lemonade Scones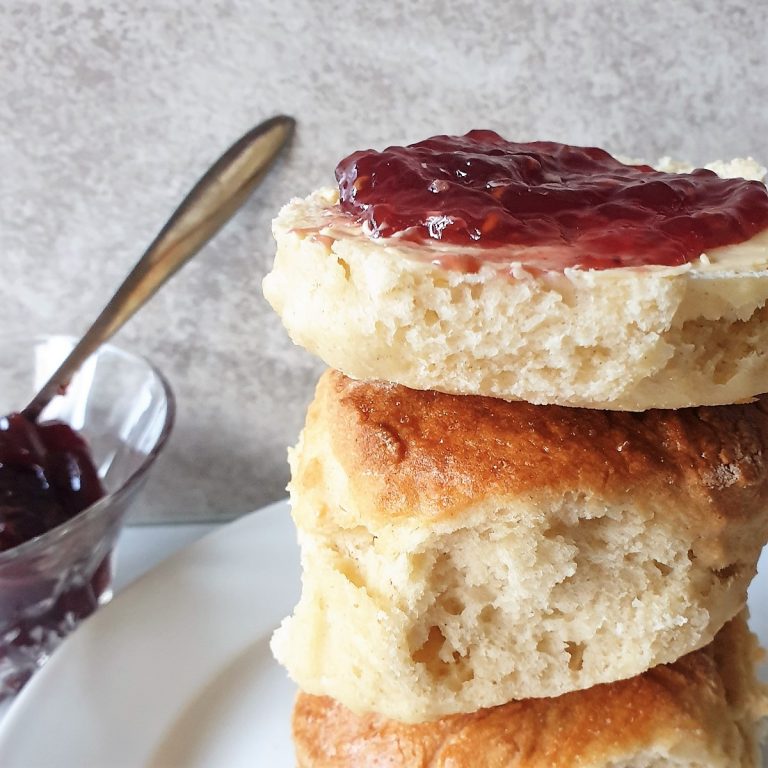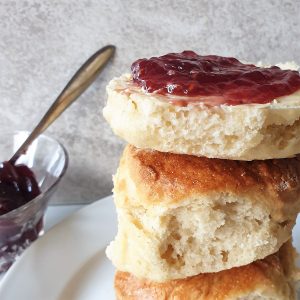 Lemonade Scones
Everyone needs a recipe like this one in their repetoire. Light, fluffy and moist lemonade scones, made with only 3 ingredients. With minimum preparation and a baking time of only 20 minutes you can be tucking in to these in less than half an hour.
Print
Pin
Comment
Bookmark
Saved!
(Click the stars to rate this recipe)
Ingredients
3¼

cups

(

450g

) self-raising flour

1

cup

double cream

1

cup

Sprite or Schweppes lemonade

½

tsp

salt

optional

1

tablespoon

milk

for brushing on top of scones before baking
Instructions
Preheat oven to 220°C / 425°F

Sift flour into a bowl and add the salt

Pour in the double cream and Sprite or Lemonade

Mix gently with a flat knife until just combined

Tip out onto a floured board and gently press into a circle or rectangle about 2.5 cm thick (approximately 1 inch).

Cut into rounds using a scone cutter.

Place scones close together on a baking tray lined with baking parchment and brush with 1 tablespoon milk

Place baking tray in pre-heated oven for 20 minutes until well risen and golden brown.

Remove from oven, cover with a clean tea-towel and allow to cool.

Serve with plenty of jam and cream.
Notes
Variations:
If you prefer a slightly sweeter scone, add 50g sugar with the flour.
For cheese scones add 200g (approximately 1.5 cups) grated cheddar cheese with the flour, and substitute the fizzy lemonade for soda water.
For fruit scones add 200g (approximately 1 cup) sultanas with the flour
Tips for successful scones:
Handle the dough as little as possible and do not overmix
Use room temperature Sprite or Lemonade, not ice-cold
Don't twist the cutter when cutting the scones or you risk tearing the sides which will cause them to rise unevenly
Don't use a rolling pin – just use your hand to press the dough to shape
Press out quite thickly – 2.5cm thickness is ideal (approximately 1″)
Brush with milk before baking to encourage the scones to turn golden
Pre-heat the oven so you can put the scones in as soon as they have been placed on the baking tray.  Don't let the scones stand around waiting.
Cover with a clean tea-towel to cool.
These scones are best eaten fresh on the day.
Nutrition
Calories –
218
kcal
|
Carbohydrates –
31.4
g
|
Protein –
4.3
g
|
Fat –
8.2
g
|
Saturated Fat –
4.9
g
|
Cholesterol –
29
mg
|
Sodium –
13
mg
|
Potassium –
56
mg
|
Fiber –
1
g
|
Sugar –
2.4
g
|
Calcium –
19
mg
|
Iron –
2
mg
I am not a nutritionist. The nutrition information has been calculated using an on-line calculator, and is intended for information and guidance purposes only. If the nutrition information is important to you, you should consider calculating it yourself, using your preferred tool.
Unless otherwise stated, a cup is the standard US cup containing 240 ml. In all my recipes this cup is assumed to hold 140g of flour. For help converting other ingredients between cups, grams, ounces and other measures, see my recipe conversion calculator.
All my recipes are developed and tested at sea-level. For tips on adjusting recipes for high altitudes see my post on baking at high altitudes.
Tried this recipe?
If you made this recipe I'd love it if you could leave me a comment and let me know how it went!
Share on Facebook
Share on Twitter
If you made this recipe and enjoyed it, I'd love it if you could give me a star rating in the comments below. And if you'd like to get in touch, you can email me at [email protected]. I'd love to hear from you. And don't forget to subscribe to my mailing list so you can grab yourself a copy of my FREE COOKBOOK!
If you'd like to continue browsing, just click on this link to all my recipes.