Homemade orange curd is so quick and easy to make. Whip up a batch today. It's delicious spread on scones, or used as a filling in cakes. You'll even find yourself eating it straight out of the jar!!!
**As an Amazon affiliate, I earn from qualifying purchases.**
Homemade orange curd
I was browsing our local supermarket the other day looking for inspiration for a new recipe when I noticed a display of juicy oranges.
The sight of them brought back memories of my childhood in South Africa. Our neighbours had a huge lemon tree in their back garden which was always covered in bright yellow plump juicy lemons. The neighbours were always passing bags full of the fruit to us over the fence. I remember my mother cooking up batches of homemade lemon curd and then turning it into the tastiest jam tarts – some of which made their way back over the fence!
I thought it would be interesting to see how well oranges would work in an orange curd recipe, rather than using lemons, so I bought a packet full and took them home to experiment.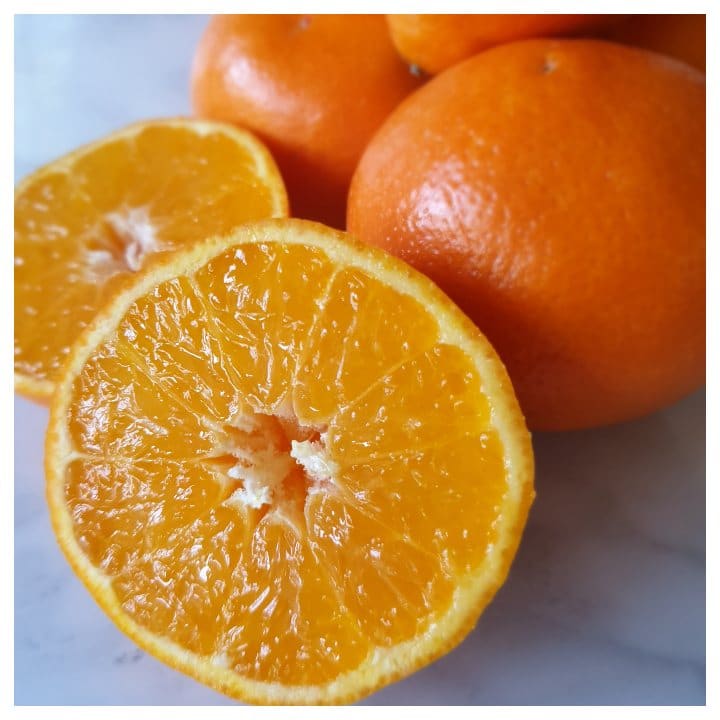 The first batch turned out reasonably well. It thickened nicely, but I found it a bit too sweet, which actually overpowered the flavour of the orange. So I tried again. This time I cut down on the amount of sugar and added a small amount of honey.
What a difference that made! The flavour of the orange really came to the fore, and the while the curd was still sweet, it wasn't overpoweringly so.
I layered some of the orange curd onto a scone, piled whipped cream on top and passed it over to Graham for the taste test. The result? 'Oh that was nice – have you got any more?'. I think we can safely say my experiment was a success.
How to make homemade orange curd
It's easier to make that you might think. Once you have assembled all your ingredients it only takes about 10 minutes to make. Get the complete printable recipe card at the bottom of this post.
What you will need
For this orange curd recipe, you only need 5 ingredients – these will make about 300 ml orange curd. If you want to make more you can just double the quantities.
Freshly squeezed orange juice – don't cheat and try to use shop-bought orange juice – you really won't get the same taste. Also, if you really wanted to, you could grate some of the fresh orange zest and add about a teaspoonful for extra flavour. The number of oranges you will need depends on how juicy your oranges are.
Sugar – this depends entirely on how sweet your oranges are. I would add half of the sugar in the beginning and taste halfway through the cooking process to see whether you need all of it. Remember, you can put it in, but you can't take it out again.
Honey – (about 2 tablespoons). You can substitute this with extra sugar if you don't have honey to hand, but I find the honey really enhances the flavour.
Eggs – these are used to thicken the orange curd. If you don't have large eggs to hand then you can use an additional small egg. (When I took this picture I had run out of eggs, which is why there are only 2 eggs showing 🙂 ).
How to make the orange curd
Squeeze the orange juice
Cut the oranges in half and squeeze out 1 cup of juice.
The number of oranges you will need depends on how juicy they are.
Boil up the ingredients
Melt the butter in a saucepan then add the rest of the ingredients. Only add half the sugar.
Bring to the boil and then reduce the heat to a low simmer. Taste at this point and add the rest of the sugar if necessary.
Cook over a low heat, stirring continuously, until the mixture thickens. Don't worry if the mixture looks as though it is curdling. This is perfectly normal – it will come together as it cooks and thickens. It will be at the correct consistency when a spoon leaves a trail as you pull it through the curd.
Store in sterilised jars
Allow to cool then pour into a sterilised jar. The mixture will thicken more as it cools. See below for full instructions on how to sterilise jars.
Store in the fridge until you are ready to use it. It will keep quite happily in the fridge for up to 2 weeks.
How to sterilise jars
To sterilise jars in the oven:
Wash the jars and the lids in hot soapy water, but do not dry them.
Stand them upside down on a baking tray while they're still wet.
Place the tray of clean, wet jars and lids in to a preheated oven at 160-180ºC for about 15 mins.
To sterilise jars in the microwave:
Wash the jars and the lids in hot soapy water, but do not dry them.
Place them in the microwave whilst still wet.
Microwave on full power for 2 minutes
If the lids are made of metal DO NOT MICROWAVE. Instead, place the lids in a pot of boiling water and boil for 5 minutes.
If you want to keep up-to-date with my latest recipes why not follow along on Facebook or Pinterest. And don't forget to subscribe to my mailing list so you can get your FREE COOKERY BOOK
Additional resources
Don't forget to check out my handy Cookery Conversion Calculator if you want to convert any of your recipe measurements from grams to cups, ounces, tablespoons or millilitres and vice versa. You can also use the calculator for converting oven temperatures between Fahrenheit, Celsius and Gas marks.
If you live at a high altitude you may find you need to adjust your baking recipes to compensate for this. You can read all about it in this post on baking at high altitudes.
Pin for later
Why not pin this homemade orange curd recipe recipe so you can make it later.
Recipe – Homemade Orange Curd
If you made this recipe and enjoyed it, I'd love it if you could give me a star rating in the comments below. And if you'd like to get in touch, you can email me at [email protected]. I'd love to hear from you. And don't forget to subscribe to my mailing list so you can grab yourself a copy of my FREE COOKBOOK!
If you'd like to continue browsing, just click on this link to all my recipes.