Sesame chicken strips are made by coating strips of chicken breast in sesame seeds and then shallow frying them to crispy golden brown perfection. Served with a spicy lime dipping sauce, these sesame chicken strips are the ultimate party snack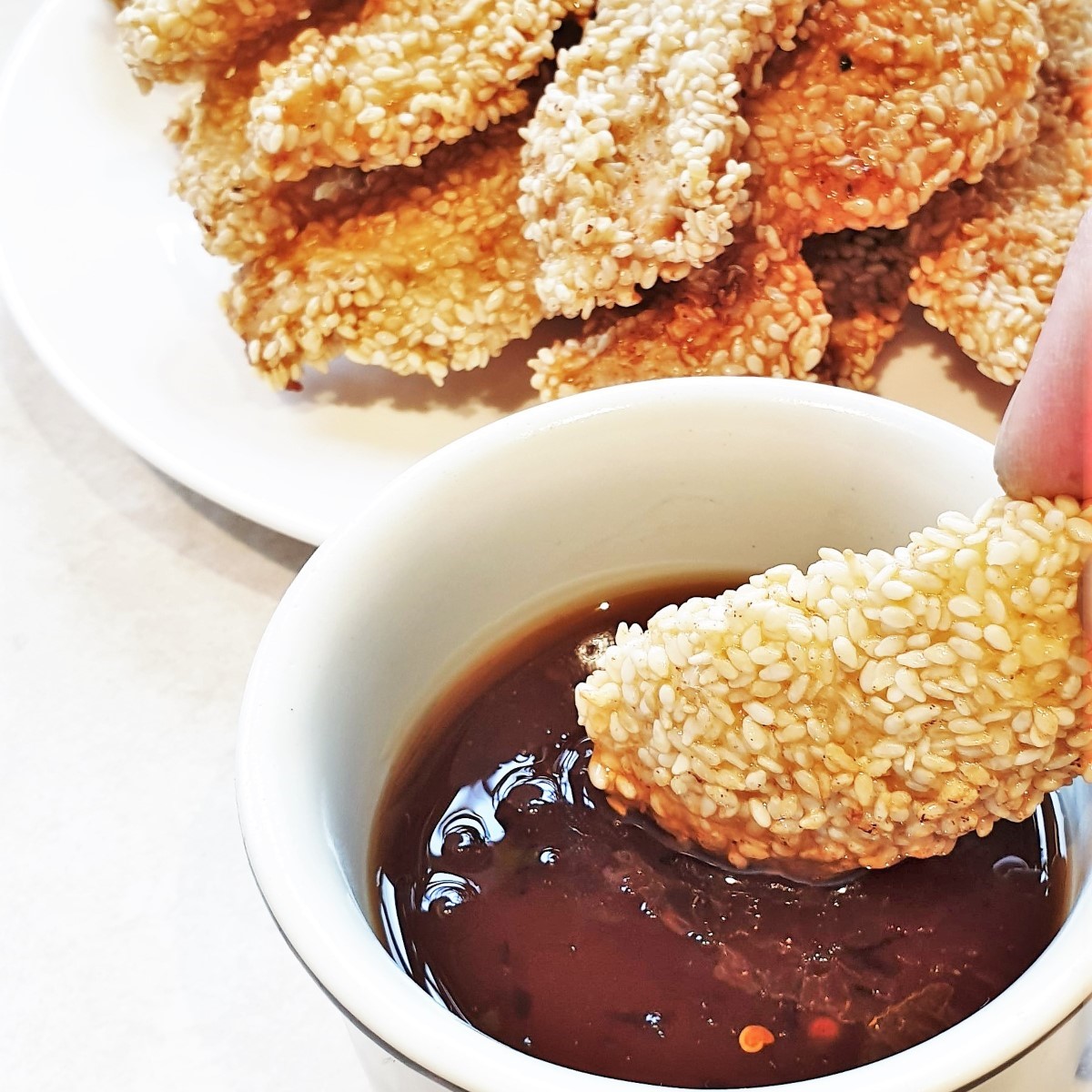 **As an Amazon affiliate, I earn from qualifying purchases.**
Sesame Chicken Strips with spicy lime dipping sauce
Sesame chicken strips are my one of my favourite party snacks. Tender strips of chicken, coated in beaten egg and sesame seeds, and fried until they are golden brown. Crunch through the outer coating of crispy sesame to the succulent juicy chicken on the inside. Party snacks don't come much better than this.
The spicy lime dipping sauce is the perfect accompaniment. It's fruity, salty, and spicy all at once. And the taste goes really well with the chicken.
There are actually lots of names for these sesame chicken strips. Make them for the family and you could call them chicken tenders, chicken fingers, and even chicken nuggets. If you want to impress dinner guests with your fabulous starter, you would, of course, call them sesame chicken goujons 🙂 .
In addition to my spicy lime dipping sauce, I sometimes serve them with a sweet chilli dipping sauce, but they go equally well with lemon sauce or even a garlic butter sauce.
Hand them round as a starter
I first made these years ago when I was looking for a way to impress my mother-in-law. We'd invited the family around for a barbeque and I wanted to show off my cooking skills, by making these as a starter.
The chicken strips were a great success, but my plan to impress back-fired badly. Ever since then, whenever we were invited round to the in-laws, it was 'Oh Veronica – I know you love making these chicken strips so I got the ingredients for you' and I ended up in the kitchen, frying sesame chicken strips for the starter, while everyone else was outside chatting around the barbeque.
Ingredients for Sesame Chicken Strips
Chicken breast fillets – cut into long thin strips.
Cornflour or cornstarch, Egg and Sesame Seeds – used to coat the chicken.
Salt – this is optional, but I always like to sprinkle the chicken with a little salt before coating as I think it enhances the flavour. You can omit this if you don't include salt in your diet.
How to make sesame chicken strips
You can get the complete list of ingredients and full instructions on how to make sesame chicken strips on the printable recipe card at the end of this post.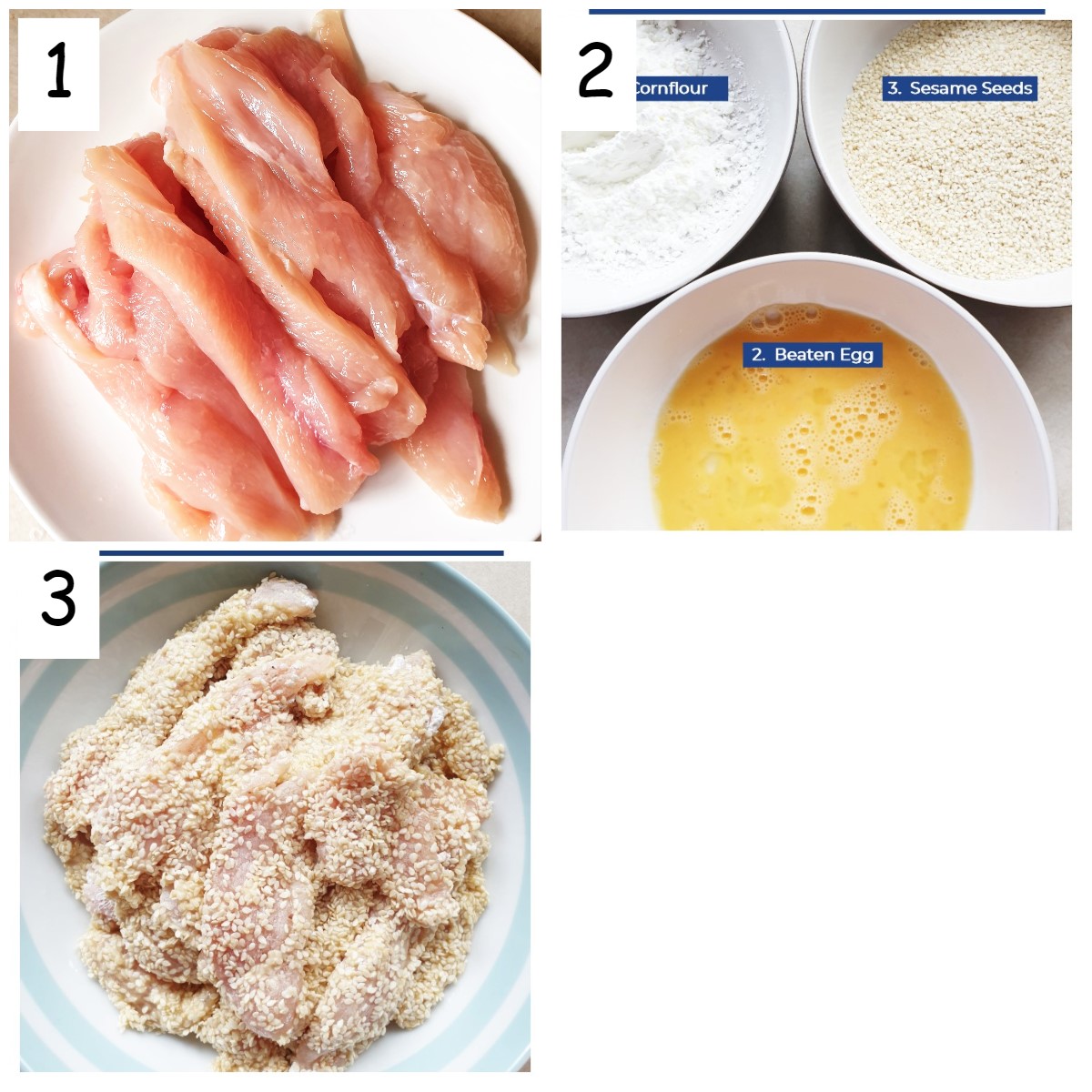 Prepare the chicken
Cut the chicken breast into thin strips and season lightly with a sprinkling of salt. You should aim to cut the chicken into thin strips along the length of the breast. They should be about 1cm (or even less) in thickness. Don't make them too thick or they will not cook through in the time that the coating has turned brown.
Prepare the coating ingredients
This recipe uses the dry – wet – dry coating method, which is to first coat in a dry ingredient, followed by a wet ingredient with a final coating of a dry ingredient.
So … get 3 bowls. Put 3 heaped tablespoons of cornflour into one bowl (dry), beat a couple of eggs into the second bowl (wet) and finally pour some untoasted sesame seeds into the third bowl (dry).
Coat the chicken
Dip each chicken strip in cornflour – shake off the excess. Then dip in beaten egg. Finally dip into the sesame seeds.
Use the two-handed method to coat the chicken so that you don't end up with sesame and cornflour clumping on the end of your fingers. Using one hand coat the chicken with cornflour and dip it in the beaten egg. Now with the other hand remove the egg-coated chicken and dip into the sesame seeds.
Layer the coated chicken on a plate (image 3 above).
If you find the coating ingredients are running out, just top up the bowl with extra. (I find I normally need more sesame seeds, but it's better to add more if needed rather than having to throw the leftover ones away).
Fry the chicken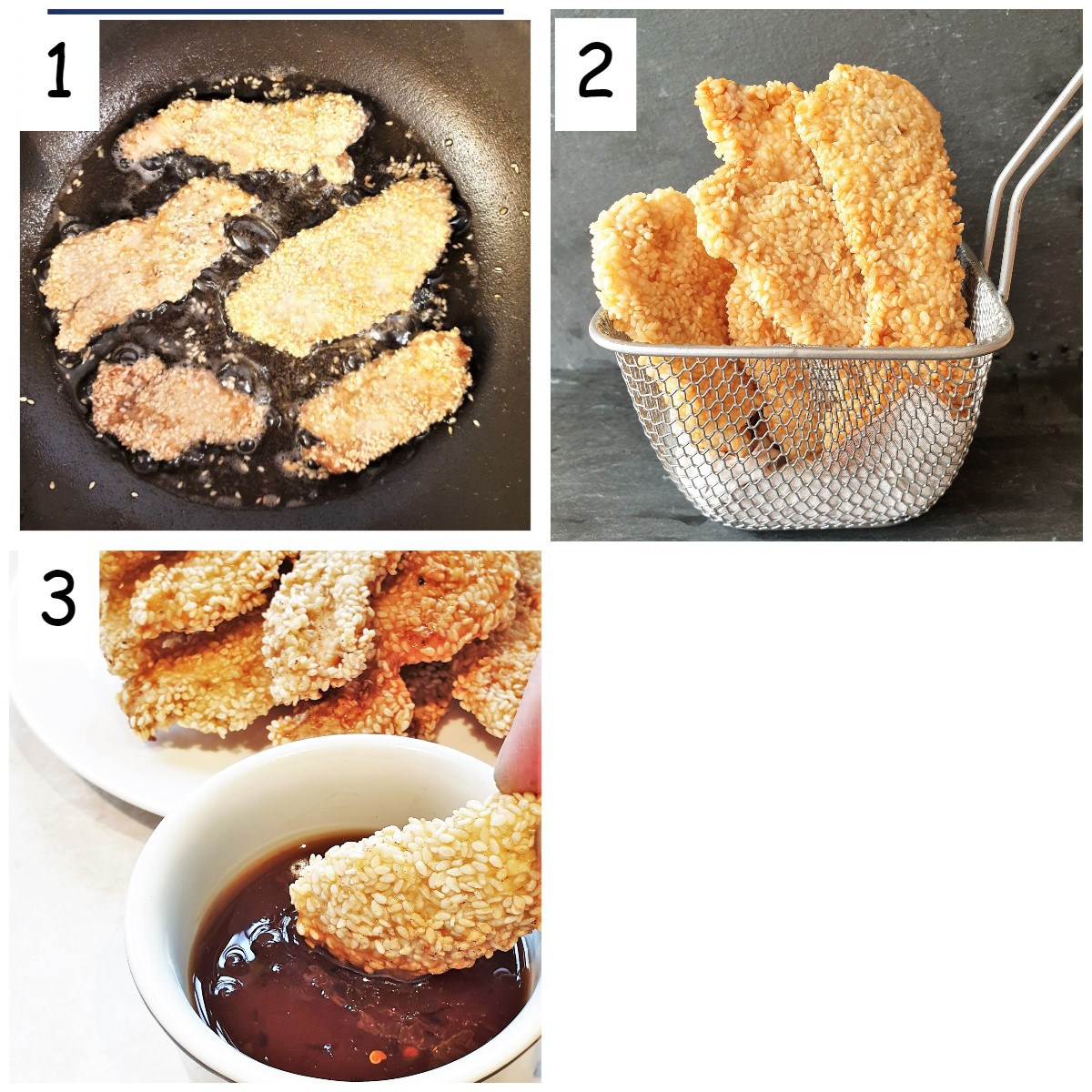 Fry the chicken, a few pieces at a time, in hot oil until golden. The chicken strips are quite thin, so the chicken should be cooked through by the time the strips have turned golden.
To check, break a piece in half – the chicken should be white. There should be no pinkness showing.
Drain and serve
Place the cooked chicken strips on a piece of kitchen paper towel to absorb any excess oil.
Serve with a bowl of spicy lime dipping sauce.
These can be eaten hot or cold.
Spicy lime dipping sauce
This sauce only takes 4 ingredients, and it is whisked together in seconds.
You will neeed:
1/2 cup (or 170g or 8 Tablespoons) lime marmalade
2 Tablespoons soy sauce
2 teaspoons white vinegar
2 teaspoons sriracha sauce (more or less, depending on how spicy you like it)
You can halve the ingredients if you only want a small bowl. The above amounts make about 3/4 cup.
Just put all the ingredients into a bowl and either whisk or mash together with a fork until everything is well combined.
You can make this lime dipping sauce in advance and keep it in a closed jar in the refrigerator until you need it. It has a shelf-life equal to that of the marmalade.
Your questions answered
Can I make this with other meat?
Yes – this is also suitable for turkey breast.
I haven't tried it with beef yet, but I believe this would work well, served with a horseradish dipping sauce.
Can I freeze sesame chicken strips?
Yes – you can freeze these provided you make the strips with FRESH chicken. Do not freeze these if you use chicken breasts that have been previously frozen.
To freeze – spread the coated chicken strips in a single layer on a baking sheet and place in the freezer until solid. Once frozen put the strips in a plastic freezer bag (or another suitable freezer container) and label them with the date. You can store them for up to 3 months.
To cook – fry the frozen chicken strips in hot oil for a few minutes until golden. Check that they are fully cooked by cutting one strip in half – there should be no pinkness showing.
What dips go well with sesame chicken strips?
Sweet chilli sauce goes well with this chicken, as does lemon sauce.
Garlic mayonnaise (or aioli) would also work well.
If you'd like to be notified of any new recipes, why not subscribe to my newsletter. As a thank-you gift, you will receive a free recipe e-book containing some of my most popular cakes and desserts.
Watch how to make Sesame Chicken Strips
Pin for later
Why not pin this recipe so you can make it later. Just click the image below.
Recipe – Sesame Chicken Strips with spicy lime dipping sauce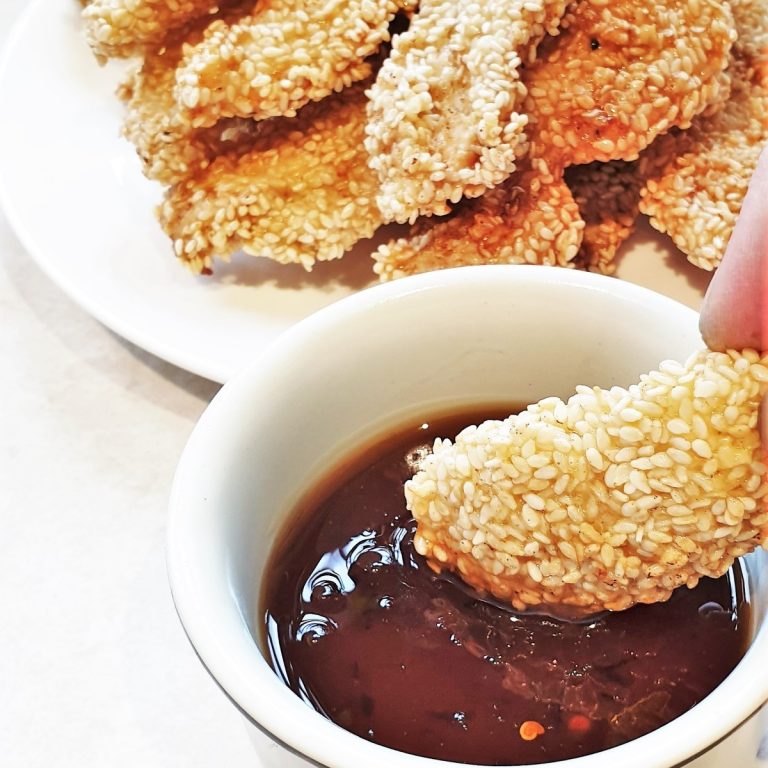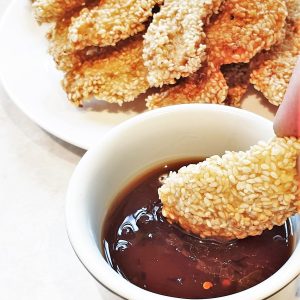 Sesame Chicken Strips
Sesame chicken strips are made by coating strips of chicken breast in sesame seeds and then shallow frying them to crispy golden brown perfection. Served with a spicy lime dipping sauce, these sesame chicken strips are the ultimate party snack
Print
Pin
Comment
Bookmark
Saved!
(Click the stars to rate this recipe)
Ingredients
Chicken strips
1

lb

/ 450 grams chicken breast fillets

4

Tablespoons

Cornflour (heaped)

2

large

Eggs (lightly beaten)

1

cup

Sesame Seeds

Salt and black pepper to taste
Lime dipping sauce
½

cup

lime maralade

2

Tablespoons

dark soy sauce

2

teaspoons

sriracha

or to your own taste

2

teaspoons

white wine vinegar
Instructions
Chicken strips
Slice the chicken into thin strips

1 lb / 450 grams chicken breast fillets

Sprinkle with salt and black pepper to taste

Salt and black pepper to taste

Prepare 3 shallow dishes – one containing cornflour, one containing beaten egg, and the third containing the sesame seeds.

Dip each piece of chicken in cornflour, then in the beaten egg, and finally in the sesame seeds

4 Tablespoons Cornflour (heaped),

2 large Eggs (lightly beaten),

1 cup Sesame Seeds

Fry the chicken in batches in hot oil until golden brown

Serve with your favourite dipping sauce or try my recipe for spicy lime dipping sauce.
Lime dipping sauce
Place all the ingredients in a bowl and whisk or mash with a fork until well combined.

½ cup lime maralade,

2 Tablespoons dark soy sauce,

2 teaspoons sriracha,

2 teaspoons white wine vinegar

Store in a covered jar in the refrigerator
Notes
To coat the chicken
first dip a piece of chicken in cornflour and shake off the excess
then dip in beaten egg and allow the excess egg to drip off
finally press each piece into the bowl of sesame seeds to coat evenly
If the coating ingredients run out before you have finished coating the chicken, just add more to the bowls.
Don't overfry or the chicken will be dry.  The chicken only takes minutes to cook as it is thinly sliced.  It is done when the outside is golden and the inside is no longer pink.
The calorie count is per piece of chicken, based on the assumption that you will get 25 strips of chicken, and is per strip.
Nutrition
Calories –
82
kcal
|
Carbohydrates –
2.3
g
|
Protein –
7.4
g
|
Fat –
4.9
g
|
Saturated Fat –
1
g
|
Cholesterol –
33
mg
|
Sodium –
24
mg
|
Potassium –
86
mg
|
Fiber –
0.8
g
|
Sugar –
0.1
g
|
Calcium –
64
mg
|
Iron –
1
mg
I am not a nutritionist. The nutrition information has been calculated using an on-line calculator, and is intended for information and guidance purposes only. If the nutrition information is important to you, you should consider calculating it yourself, using your preferred tool.
Unless otherwise stated, a cup is the standard US cup containing 240 ml. In all my recipes this cup is assumed to hold 140g of flour. For help converting other ingredients between cups, grams, ounces and other measures, see my recipe conversion calculator.
All my recipes are developed and tested at sea-level. For tips on adjusting recipes for high altitudes see my post on baking at high altitudes.
Tried this recipe?
If you made this recipe I'd love it if you could leave me a comment and let me know how it went!
Share on Facebook
Share on Twitter
If you made this recipe and enjoyed it, I'd love it if you could give me a star rating in the comments below. And if you'd like to get in touch, you can email me at [email protected]. I'd love to hear from you. And don't forget to subscribe to my mailing list so you can grab yourself a copy of my FREE COOKBOOK!
If you'd like to continue browsing, just click on this link to all my recipes.