In our house, Friday nights have always been about no-nonsense, minimum preparation food, and these sticky chicken wings are exactly that. Juicy and succulent, spiced up with a hint of chilli, they will have you licking your fingers and reaching for 'just one more'.
Sticky chicken wings
Back in the day when I was working at a full time job, and having to come home and feed the family every night of the week, I very quickly decided that Friday nights would be easy, pre-cooked, pre-frozen dinners.
If it wasn't ready-made and in the freezer then we weren't eating it!
I'd freeze leftovers during the week (bolognese sauce, curry, meatballs and stews). I'd even freeze left-over pasta and rice. And on Friday night we'd whip something out of the freezer, set the microwave into action and have a meal on the table in 15 minutes or less.
My one concession to Friday cooking was sticky chicken wings. On Saturdays when I did my shopping, I'd often pick up a pack of chicken wings and pop them in a freezer bag, complete with marinade, ready to be taken out and baked when needed.
This was my favourite Friday supper – sticky chicken wings – served with crusty bread coated in garlic butter, with a sliced tomato on the side. I don't know what it is about chicken, garlic bread and tomato, but they seem to go so well together. A slice of garlic bread, topped with fresh tomato and a mouthful of juicy chicken is my idea of heaven.
OK – so they do take 35 minutes in the oven, but as they are pre-prepared and marinated, there is not much work involved.
And while they are in the oven you'll have time to enjoy a glass of your favourite tipple! A great start to the weekend.
How to make sticky chicken wings
Ingredients
For four people you will need the following ingredients
1 kg chicken wings – tips discarded and wings separated into two pieces
2 Tablespoons olive oil
4 Tablespoons runny honey
6 Tablespoons dark soy sauce
1 inch piece of ginger – grated (or you can use 1/2 teaspoon ginger paste)
2 cloves of garlic – finely chopped (or you can use 1 teaspoon bottled minced garlic or garlic paste)
1 teaspoon chilli flakes
Salt and pepper to taste
Steps
Rinse the chicken wings in cold water and pad dry with kitchen towel.
Using a sharp knife, chop off the wing tips and discard. Separate the wings into two pieces.
Mix the remaining ingredients in a large bowl and add the chicken. Stir through thoroughly to coat each chicken piece with the marinade.
Allow to stand for 30 minutes.
Tip the whole lot onto a baking sheet sheet lined with aluminium foil (this saves on washing up) and spread out into a single layer with the skin side down. Don't oil the baking sheet – the oil in the marinade is sufficient.
Bake in a hot oven (200C / 400F) for 35 minutes, turning once about half-way through the cooking to get the skin side to the top. This ensures the skin turns nice and crispy.
Freeze for Friday
If you want to freeze the wings before cooking, just tip them, with the marinade, into a freezer bag, and seal. They will keep for up to 3 months in the freezer.
To use, defrost them in the fridge, or use your microwave defrost function. Then arrange them on a baking sheet as above and bake in the oven.
---
Equipment
To make sticky chicken wings you will need the following equpment. I've included some handy links to products on Amazon in case you need anything.
Did you know that you can get free delivery from Amazon on any item displaying the Prime logo. Join Amazon Prime today and save on your next purchase. They'll deliver right to your door, the very next day. Or you can specify an 'Amazon Day' and all your orders will arrive together on the same day.
As an Amazon Associate I earn from qualifying purchases. These are affiliate links which means I get a small commission (at no additional cost to you) if you click through and make a purchase.
If you want to keep up-to-date with my latest recipes why not follow along on Facebook or Pinterest. And don't forget to subscribe to my mailing list so you can get your FREE COOKERY BOOK
---
Recipe – Sticky Chicken Wings
Print Recipe
Sticky Chicken Wings
Sticky Chicken Wings marinaded in Honey and Soy sauce, flavoured with Garlic and Ginger, with a sprinkling of Chilli added for extra flavour.
Ingredients
1

kg

chicken wings

tips discarded and wings separated into two pieces

2

Tablespoons

olive oil

4

Tablespoons

runny honey

6

Tablespoons

dark soy sauce

1

inch

piece of ginger – grated

2

cloves

of garlic – finely chopped

1

teaspoon

chilli flakes

Salt and pepper to taste
Instructions
Pre-heat the oven to 220 degrees F

Chop the tips off the wings and discard

Cut the wings into two pieces through the joint

Combine the remainder of the ingredients into a bowl and toss in the chicken pieces, making sure each piece is nicely coated

Cover the bowl with cling film and leave in the fridge to marinade for half an hour or so

Tip the chicken wings and marinade onto a foil-lined baking sheet and spread out so they are evenly spaced

Bake for 20 minutes then turn them over, baste with the juices and bake for another 15 minutes until they are nicely golden brown and sticky

Serve with a fresh green salad, and crusty bread to mop up the sticky residue
Notes
You can easily adapt the recipe to feed more people – just double up on the marinade ingredients.  I'd be careful about doubling the chilli – adjust that according to your taste.
You can substitute the fresh ginger and garlic for a couple of squeezes of garlic or ginger from a tube, but in my opinion, fresh does taste better.
The calorie count has been calculated using an on-line calculator and is provided for information purposes only.  If the calorie count is important to you, you should consider calculating it yourself, using your preferred tool.
If you made this recipe and enjoyed it, please don't forget to give me a star rating in the comments below. And if you'd like to get in touch, you can email me on [email protected] I'd love to hear from you.
---
Related Recipes
You might like to try some of my easy leftover recipes to make your Friday night easier:
Lamb curry in Pita
Spicy lamb curry served in pita bread
View recipe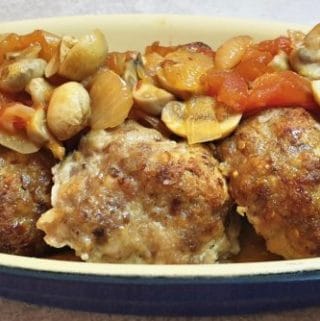 Spicy meatballs with Tomato Sauce
Spicy meatballs with a hint of chilli – serve smothered in homemade Tomato Sauce cooked with mushrooms
View recipe
Why not pin this recipe for later, or save it to your Yummly recipe box. And don't forget to subscribe to my mailing list so you can grab your FREE COOKBOOK!