Jack Daniels dipping sauce is one of the iconic sauces of all time. It's tangy, spicy, sweet and sticky, with an ever-so-slight smokiness, and goes perfectly with fried chicken goujons or crispy battered prawns. You can use it as a dipping sauce or as a marinade. You can even slather it over a grilled steak or a rack of ribs. Honestly, this sauce goes with everything!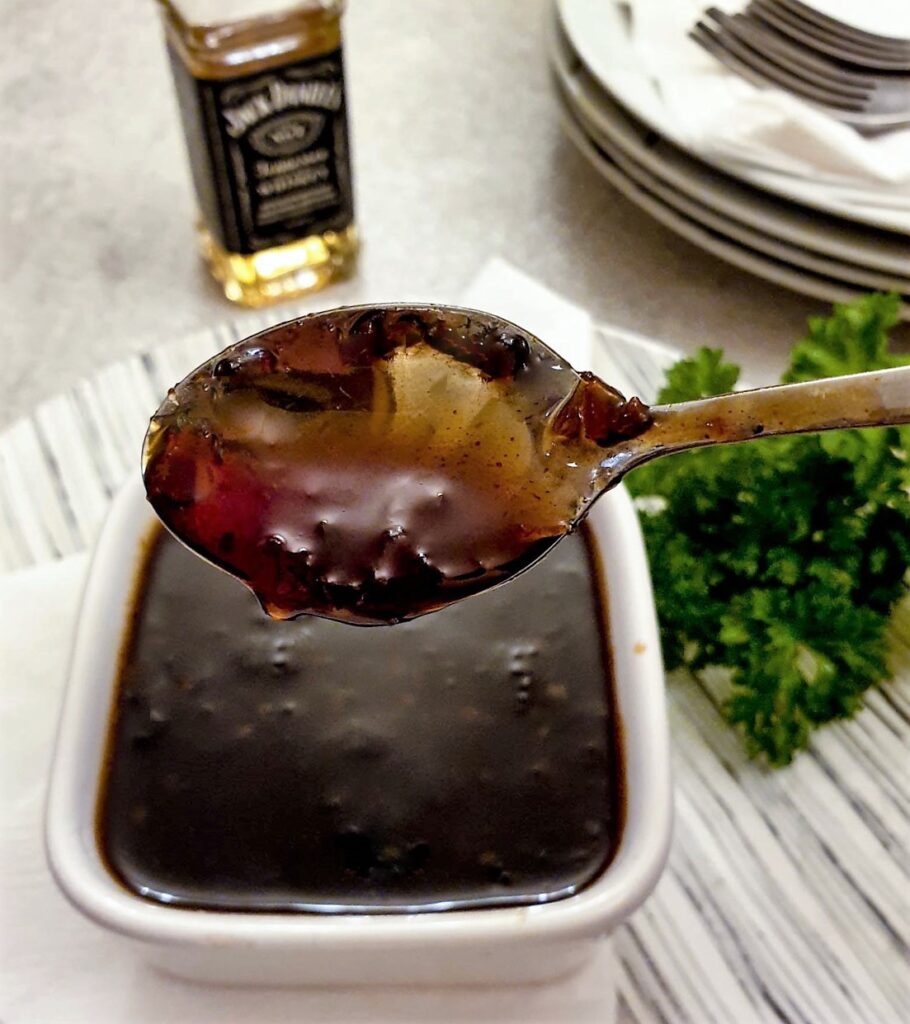 Whenever I go to TGI Fridays I always order one of their dishes that comes with a bowl of this delicious sauce. The only problem is the size of the portion that you get. It's not very big and doesn't take long to get through. So I decided to make my own version so that I could have as much as I wanted at home. This is the result – I hope you enjoy it!
**As an Amazon affiliate, I earn from qualifying purchases.**
TGI Friday's famous Jack Daniels dipping sauce
I'm sure you've all seen the term 'mouth-watering' used to describe various recipes. In fact, I've probably used it myself on occasion. But this Jack Daniels dipping sauce is mouth-watering in the true sense of the word. It really does make your mouth water when you taste it.
It's hard to describe the taste – it's tangy and sweet, with a hint of fruitiness and a kick of heat. There's also a slight smokiness thanks to the Jack Daniels whisky. Now, I'm not a bourbon lover. In fact, it would be safe to say that I have never drunk a glass of bourbon in my life. But even I have to admit that the Jack Daniels turns this sauce into something sensational.
The sauce is the perfect dipping sauce for anything from french fries to crispy fried chicken or battered prawns. But that's not all – it also makes the perfect marinade for chicken, steak, or pork ribs, and is delicious when poured over a grilled steak.
The original Jack Daniels sauce as served in TGI Fridays has a smooth consistency. For this version however, I've chosen to chop the onion, pineapple and garlic very finely, but not blend them into a smooth sauce. I like the texture of the onions and pineapple in the sauce. If you prefer a smoother sauce, then by all means blend it with a stick-blender before serving.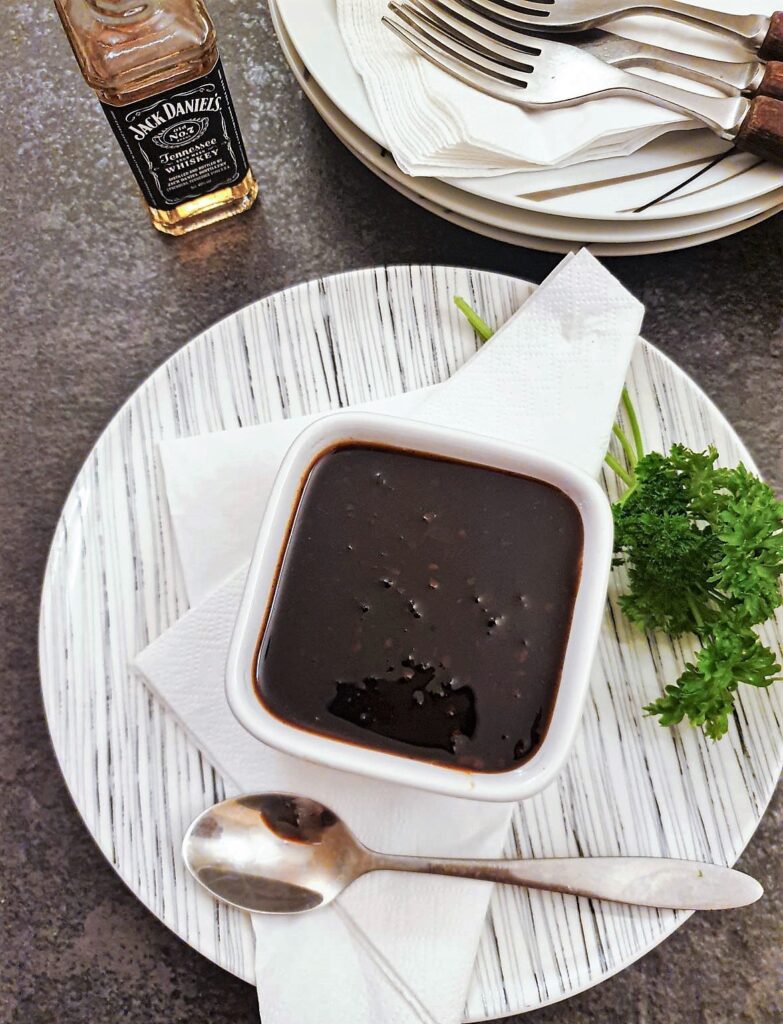 Ingredients
**You can get the full list of ingredients and full instructions for making this dipping sauce on the printable recipe card at the end of this post**
This recipe makes approximately 1 and a half cups of dipping sauce (or about 300 ml).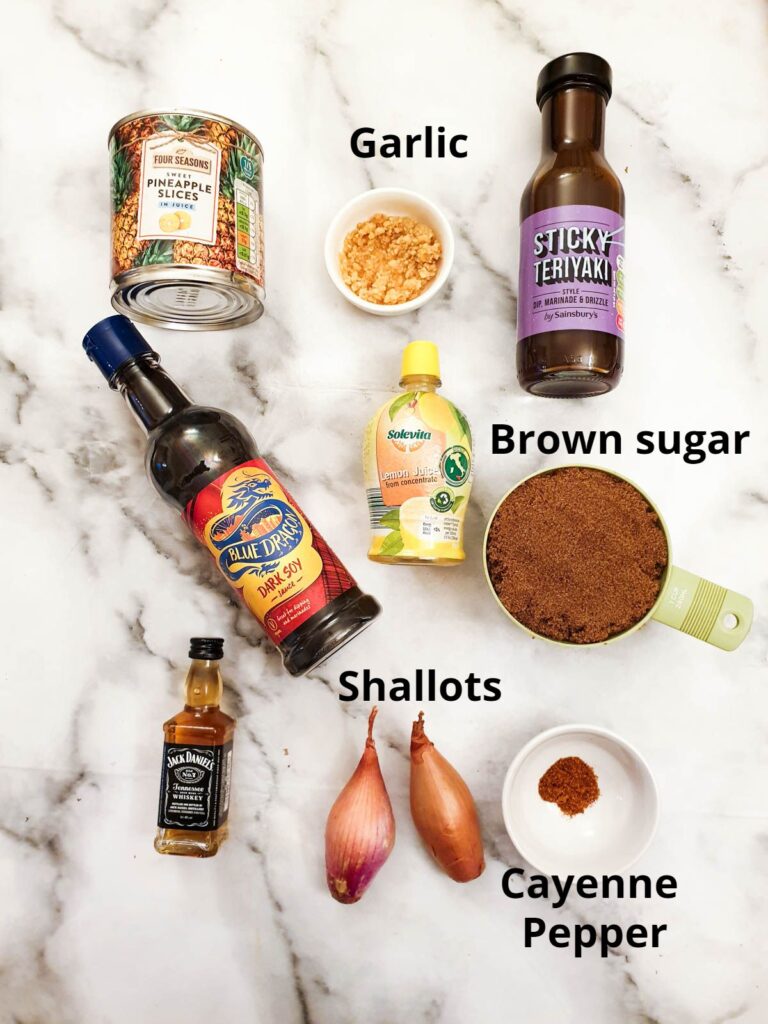 Pineapple – you will need the juice from one 435 gram (that's about 15 ounces) can of pineapple rings. In addition, you will need 2 of the pineapple rings. You can freeze the remaining pineapple rings and use them at a late date.
Garlic – there's quite a lot of garlic in this recipe so you should adjust the quantity according to your own taste. You will need 2 to 3 large cloves which you can throw into the food processor along with the onion, or you can use 2 teaspoons of chopped garlic from a jar.
Teriyaki sauce – this is found in the Asian section of any large supermarket.
Dark soy sauce – likewise found in the Asian section of your supermarket.
Lemon juice – you can use fresh lemon juice if you prefer. I like to keep a squeezy bottle of lemon juice in my pantry for convenience.
Dark brown sugar – also known as muscovado sugar. This gives a rich caramel flavour to the sauce.
Shallots – you will need the equivalent of 3 tablespoons of finely chopped shallots. 2 medium-sized shallots should be sufficient.
Cayenne pepper – this is where the heat comes in. One-quarter of a teaspoon should be sufficient unless you like a really hot sauce.
Jack Daniels whisky – you only need 2 tablespoons, so if you are like me, and don't actually drink it, I recommend you just buy a miniature bottle from your liquor store.
How to make it
There are really only 3 steps to making this dipping sauce (and one of them is allowing the sauce to cool 🙂 ).
Step 1 – Peel the shallots and place them in a food processor with the pineapple rings and garlic cloves. Process until the onion has been chopped until it is approximately the size of grains of rice.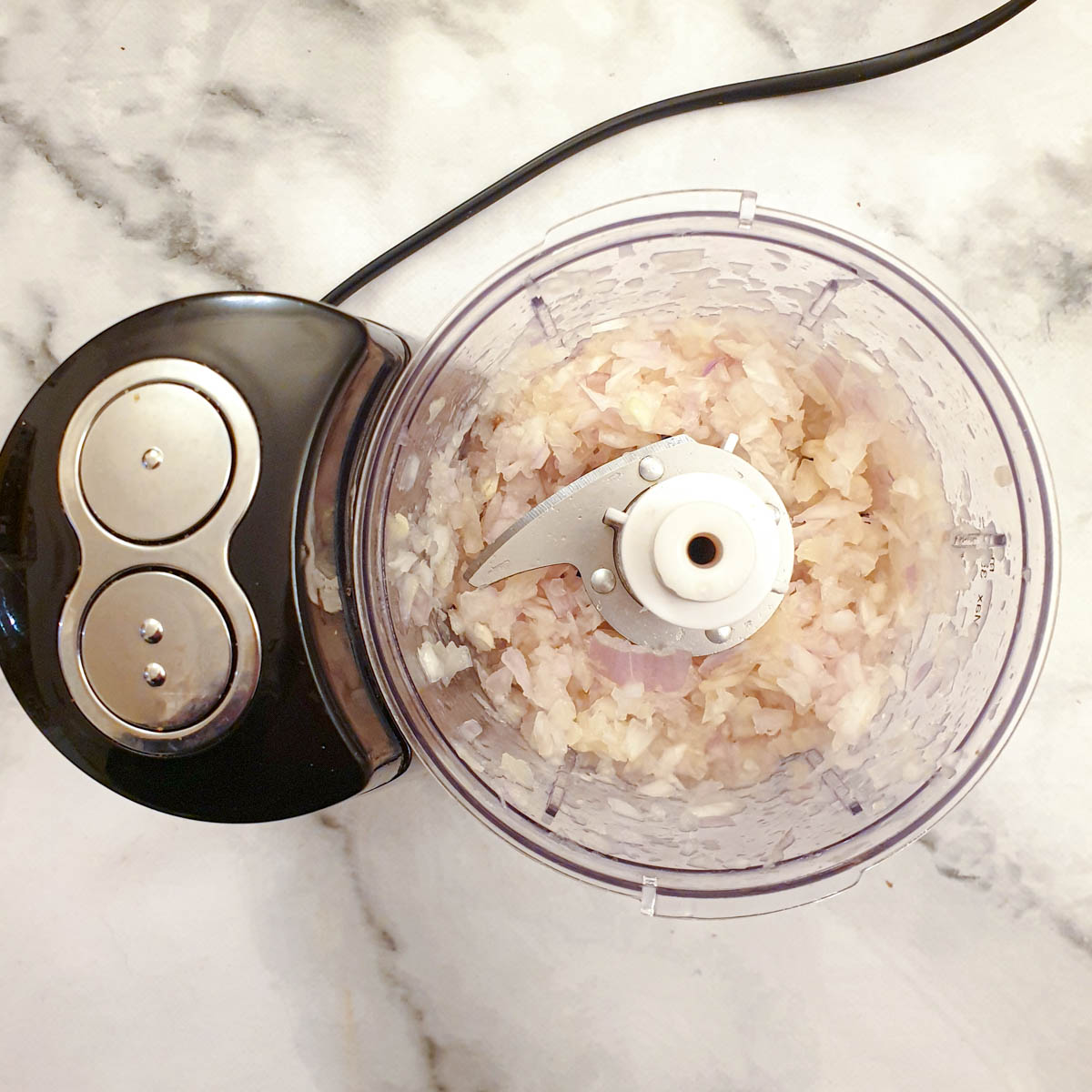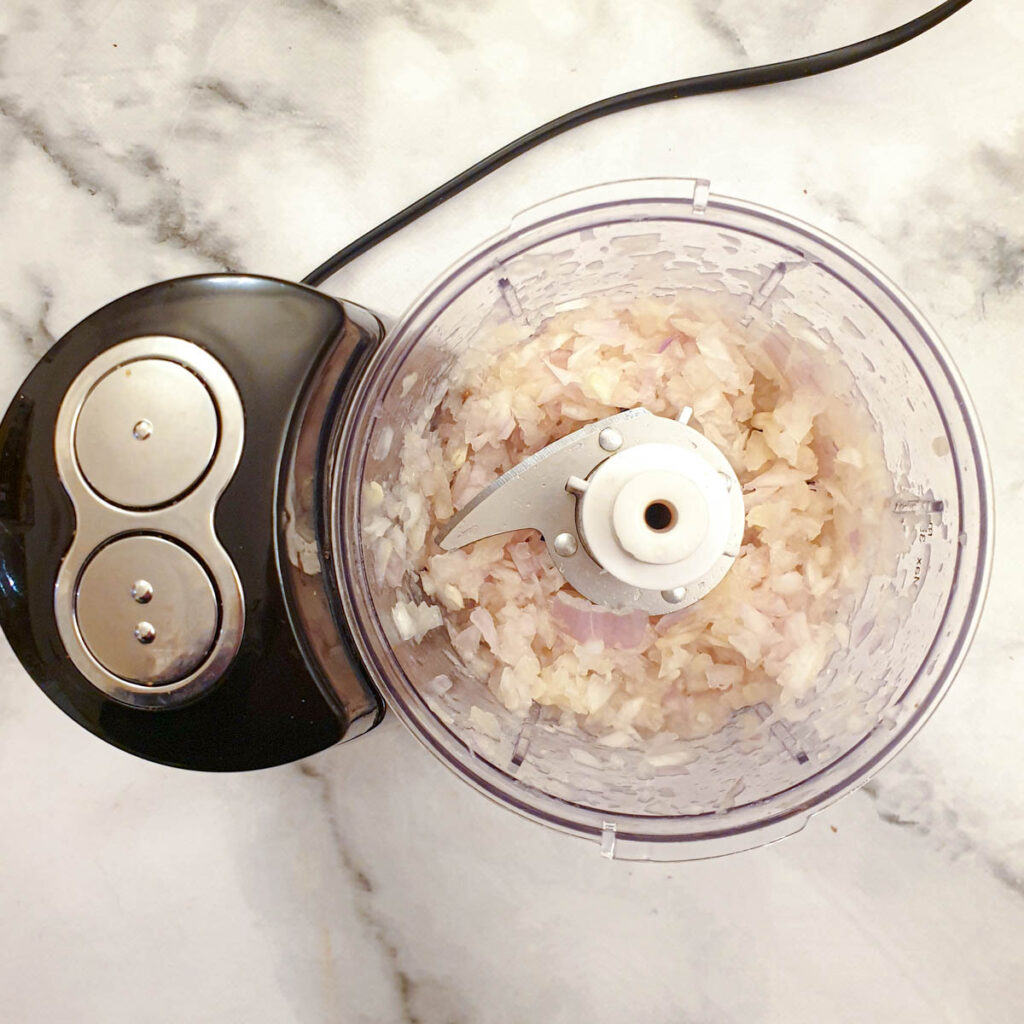 Step 2 – Place the chopped onions and pineapple in a saucepan with the rest of the ingredients. Cover with a lid, bring to a boil, and then turn the heat down to a simmer. Leave for 30 minutes, then remove the lid and leave to simmer uncovered for 10 to 15 minutes until this mixture is thick and glossy.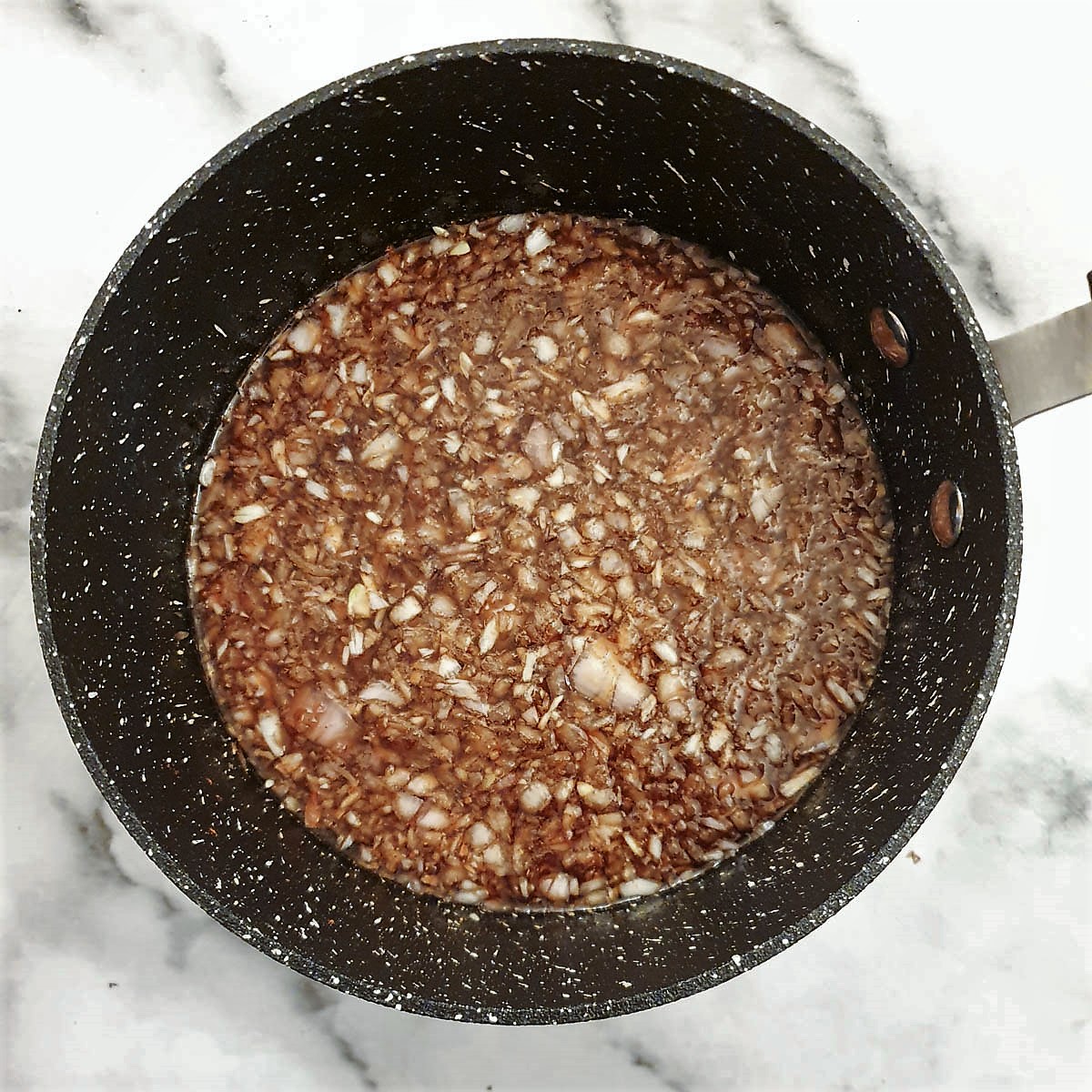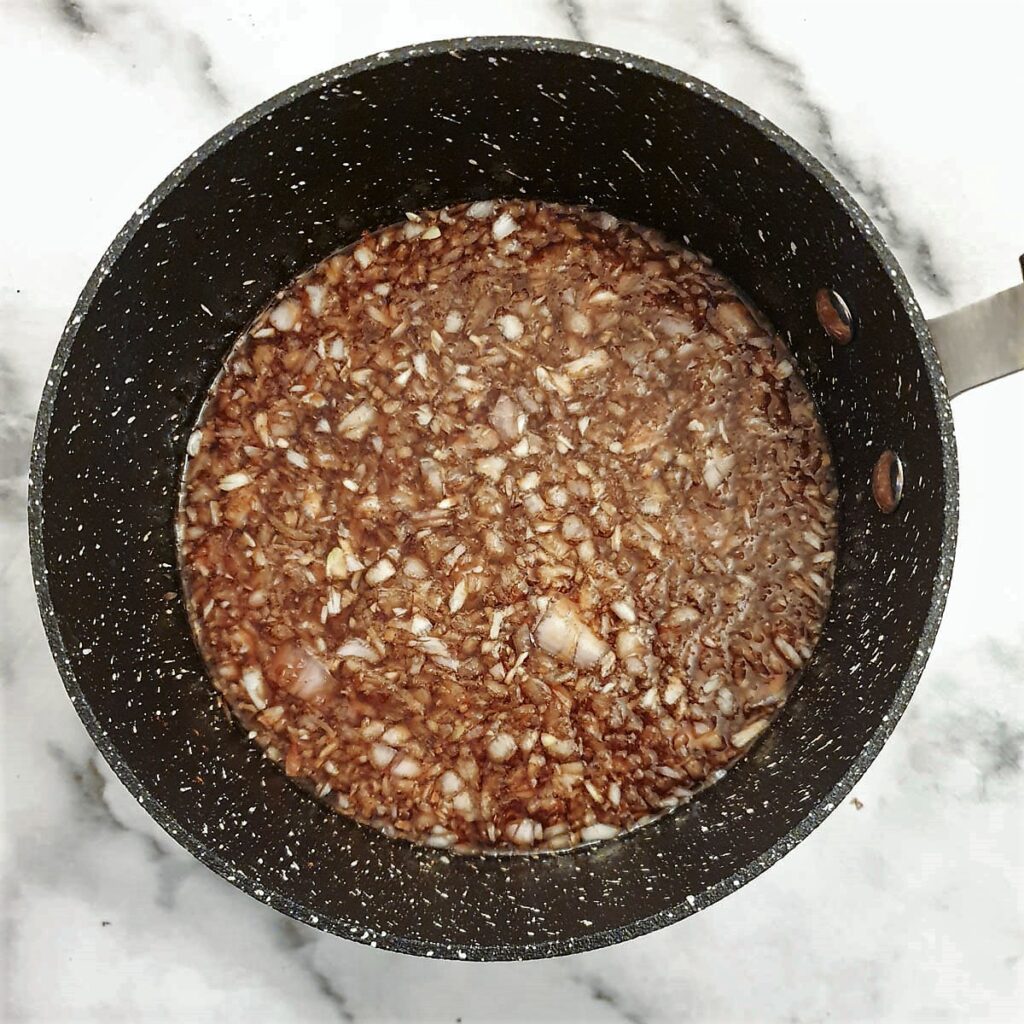 Step 3 – Allow the sauce to cool and then transfer to a clean sterilised jar. Store in the refrigerator for up to 2 weeks. If you prefer a smoother sauce, blend with a stick-blender.
If you need instructions on how to sterilise jars, see the link in this post for pear and onion chutney.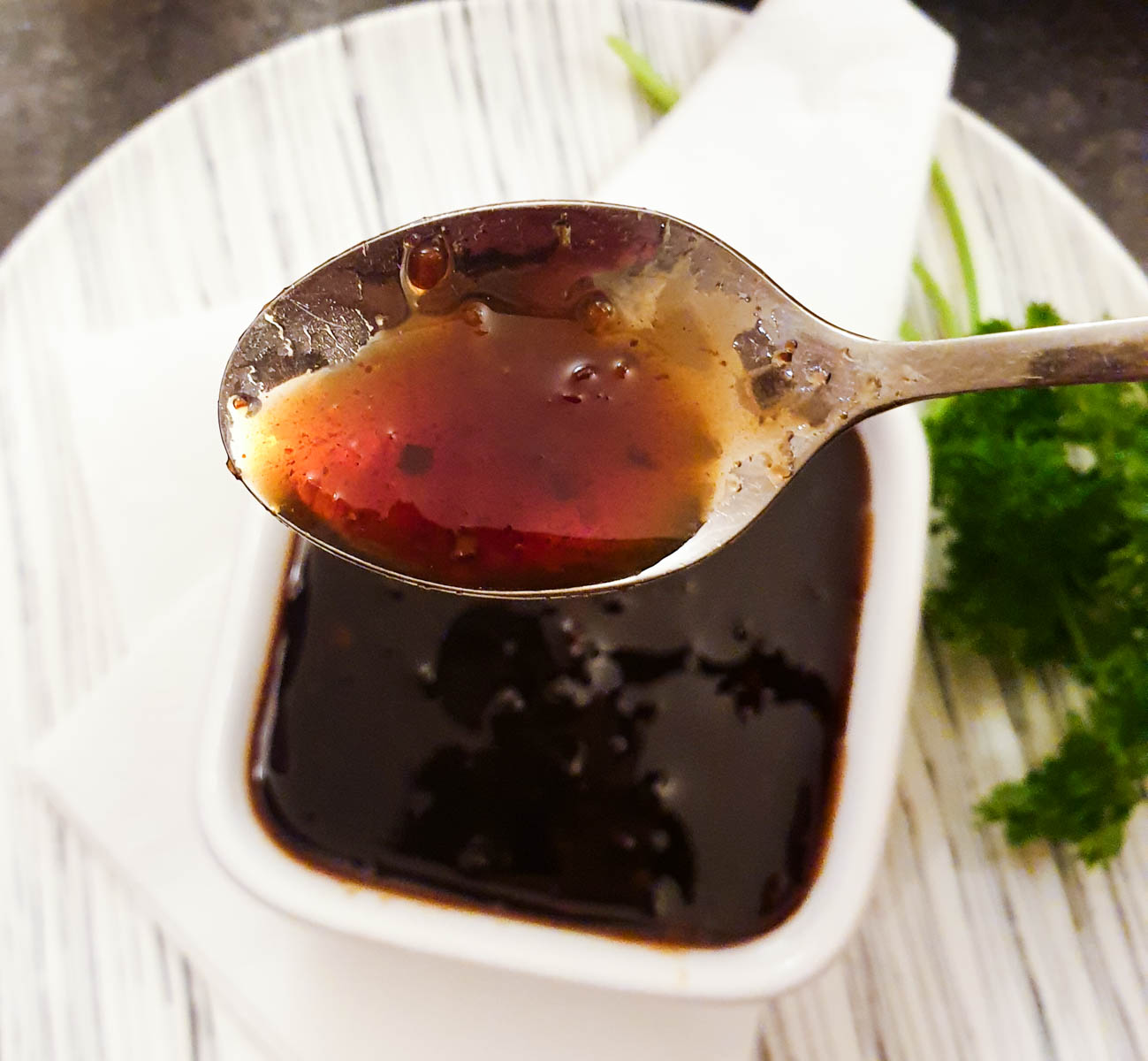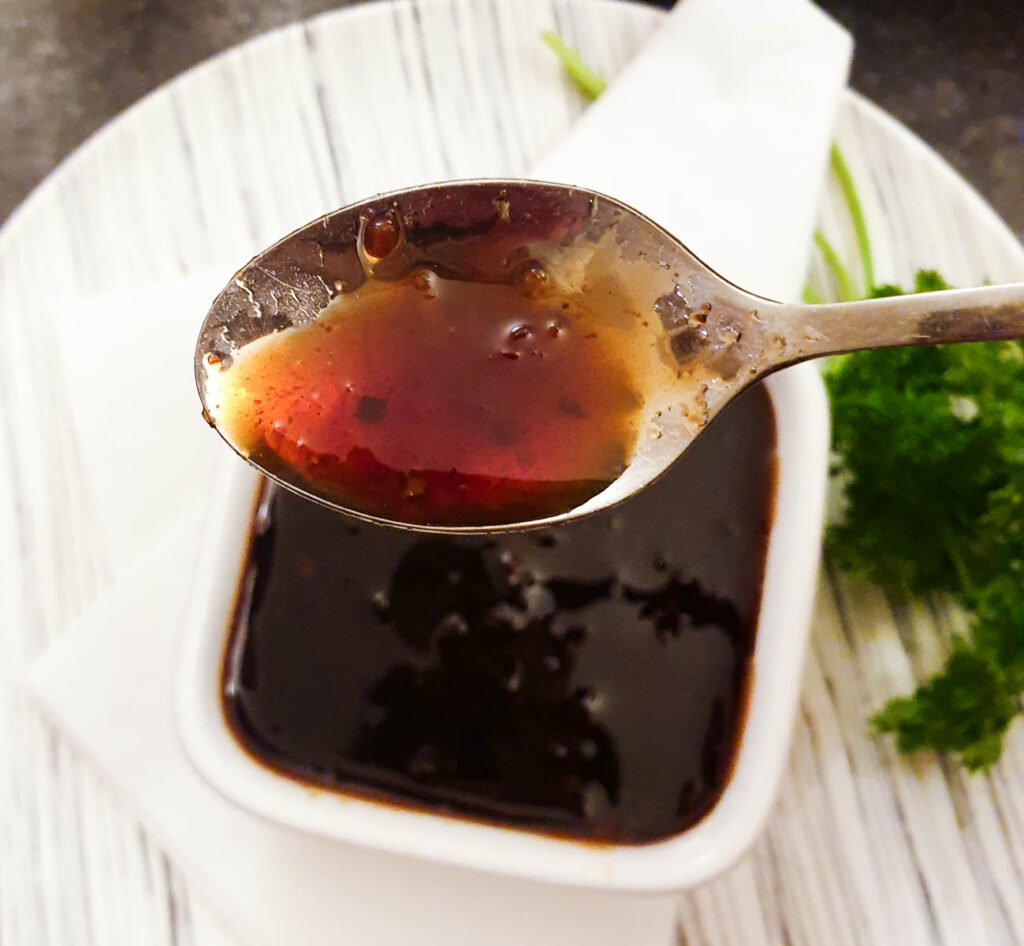 If you'd like to be notified of any new recipes, why not subscribe to my newsletter. As a thank-you gift, you will receive a free recipe e-book containing some of my most popular cakes and desserts.
Freezing and storage
This sauce can be kept in a covered jar in the refrigerator for up to two weeks.
If you intend to keep it for longer than that, I would recommend freezing it. You can keep this sauce in the freezer for up to 4 months. I normally make a double batch and freeze half of it in a plastic container.
Let the dipping sauce defrost in the refrigerator before using.
Pin for later
If you would like to try your hand at making this Jack Daniels dipping sauce, why not pin the recipe to one of your Pinterest boards so you can find it easily. Just click on the image below.
Other recipes
If you are looking for other spicy condiment recipes, you may like these:
The recipe