Crispy orange chicken is made from tender chunks of chicken thighs, coated in crispy panko breadcrumbs and oven baked for extra crunch. Team with a bowl of chinese fried rice, smother in tangy orange sauce, and you have a quick and easy Chinese inspired meal that you'll want to make again and again.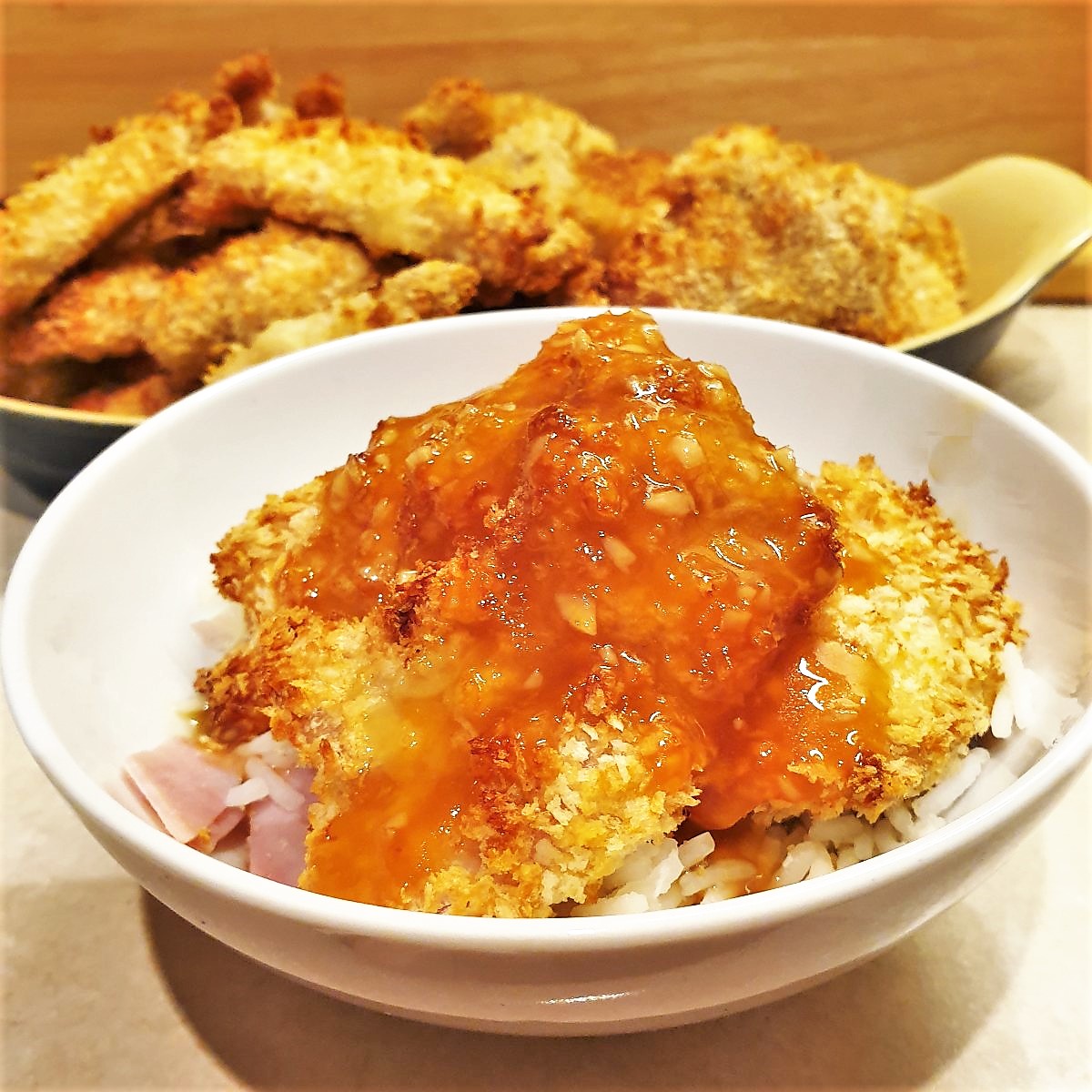 **As an Amazon affiliate, I earn from qualifying purchases.**
Crispy orange chicken
Crispy orange chicken is made from tender chunks of boneless chicken thighs, covered in panko breadcrumbs for extra crunch, and oven-baked for crispness. It is covered in tangy orange sauce which provides a delicious citrus flavour that goes so well with chicken.
I've called my recipe crispy orange chicken, but you could substitute the orange for lemon and make it with a crispy lemon chicken instead – it will taste just as good!
The secret to extra crispy chicken is to coat the chicken in panko breadcrumbs (see this link on Wikipedia if you are unsure what panko breadcrumbs are) and then bake it in the oven until the crumbs are golden brown and crunchy. The chicken stays wonderfully juicy inside the crumbs, and at the same time the crumbs provide a satisfying crunch as you bite into the chicken.
This is one of my favourite quick and easy supper recipes – the orange sauce comes together in 5 minutes and the crispy chicken only takes 15 minutes in the oven. And with a preparation time of only 15 minutes you can have this dish on the table in just over half an hour.
Serve the crispy orange chicken on a bed of chinese egg fried rice or noodles, and pour the orange sauce over the top.
If this isn't quite what you are looking for, why not try my Sticky Orange Chicken Traybake made with juicy chicken thighs oven baked with mandarin oranges.
Ingredients for crispy orange chicken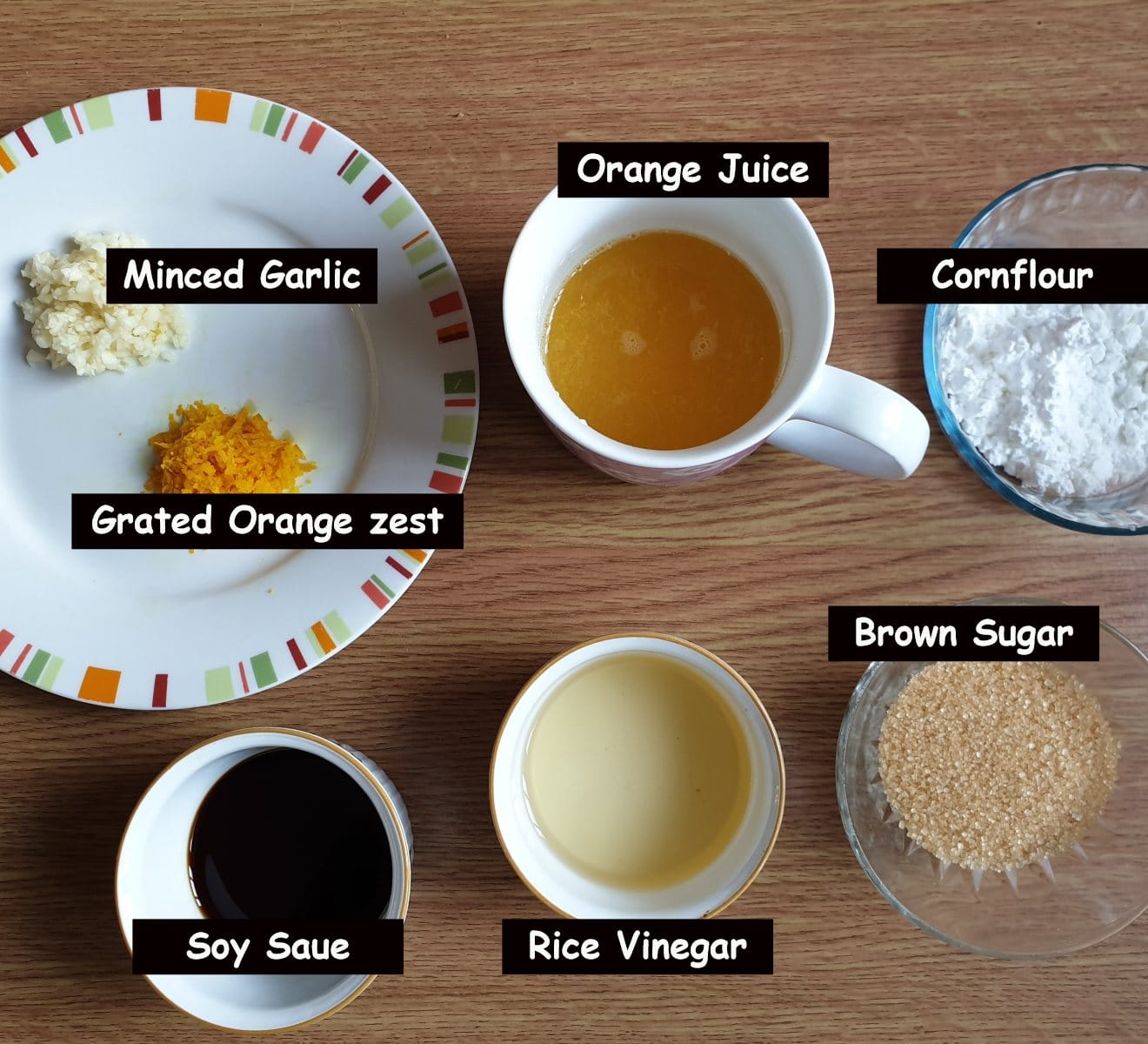 You can get the complete list of ingredients and full instructions on how to make this crispy orange chicken on the printable recipe card at the end of this post.
Orange Sauce
To make the orange sauce you will need the following ingredients:
Juice of 1 orange – this is approximately 1/2 cup
1 teaspoon orange zest – grate the outer zest from the orange before you squeeze the juice out. Make sure you don't grate the white part as this is quite bitter.
2 Tablespoons soy sauce
4 tablespoons rice vinegar
2 Tablespoons brown sugar – you can use light or dark brown sugar.
2 cloves garlic – very finely minced. If you don't have fresh garlic you can substitute with your favourite garlic paste.
2 Teaspoons cornflour – mixed to a paste with 2 Tablespoons water
1 teaspoon groudnut oil – this is optional. I like to use it because it gives the sauce a nice shiny finish. If you don't have groundnut oil you could use any neutral flavour oil, such as sunflower oil.
Chicken coating
For the crispy chicken coating you will need the following:
1/2 cup cornflour – approximately. The exact amount will depend on how many pieces chicken you have.
2 large eggs – lightly beaten.
1/2 packet Panko breadcrumbs – once again, this is approximate, depending on the amount of chicken.
Chicken
For the chicken you will need:
600g – 800g boneless chicken thighs – this depends entirely on your family's appetite. I find that 600g is sufficient for 4 adults, which equates to 150g (5 ounces) each.
Salt – to sprinkle over the chicken before coating
How to make crispy orange chicken
Prepare the chicken
Rinse the chicken under cold water, then pat dry with kitchen paper towels.
Cut the chicken into bite-sized chunks and sprinkle with salt to taste.
I find that I can get 4 – 6 pieces from each thigh, depending on the size of the thighs.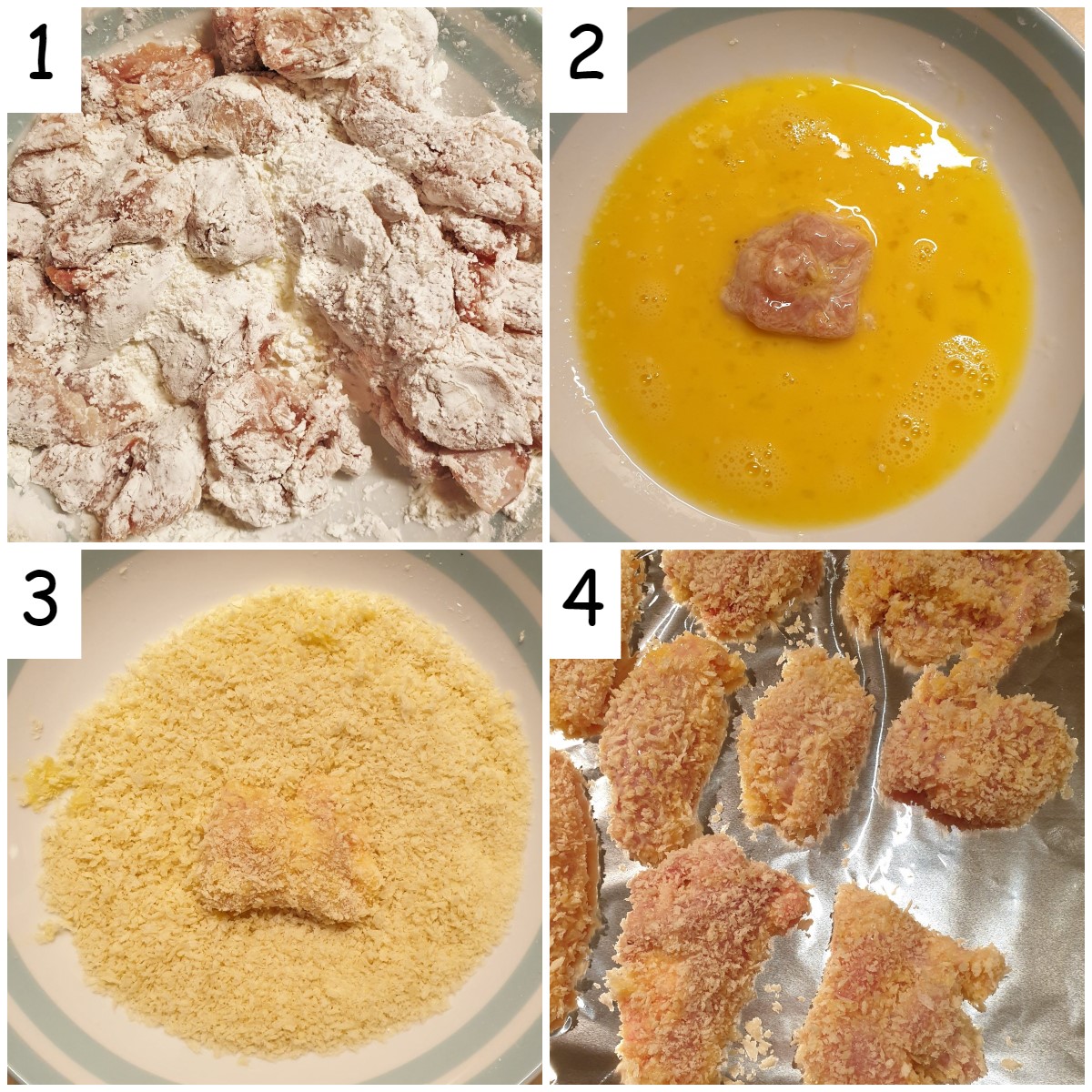 Coat the chicken
Prepare a baking-sheet by covering it with tin-foil or a piece of baking parchment.
Take 3 flat dishes or plates. Put the cornflour in the first one. Add the beaten egg to the second one. Pour the Panko breadcrumbs into the third one.
Note – the quantities given above are approximate only. You can always add more cornflour or breadcrumbs if you run out half-way through coating the chicken. It's better than having to throw it away if you put too much on the plate.
Coating the chicken is a messy business. I have found the two-handed method is the easiest way to do it, without ending up with fingers covered in egg and breadcrumb lumps.

Coat all the chicken with cornfour first – then rinse and dry your hands.

Now take one hand and take a piece of cornflour coated chicken, and dip it in the egg. Place into the breadcrumbs.
Take the other hand and coat the chicken in breadcrumbs and place on the prepared baking sheet.
Repeat until all the chicken has been coated with egg and breadcrumbs.
Bake
Place the baking tray of chicken (you may need more than one baking tray, depending on how much chicken you are cooking) in a pre-heated oven (200C / 400F) and bake for 10 minutes.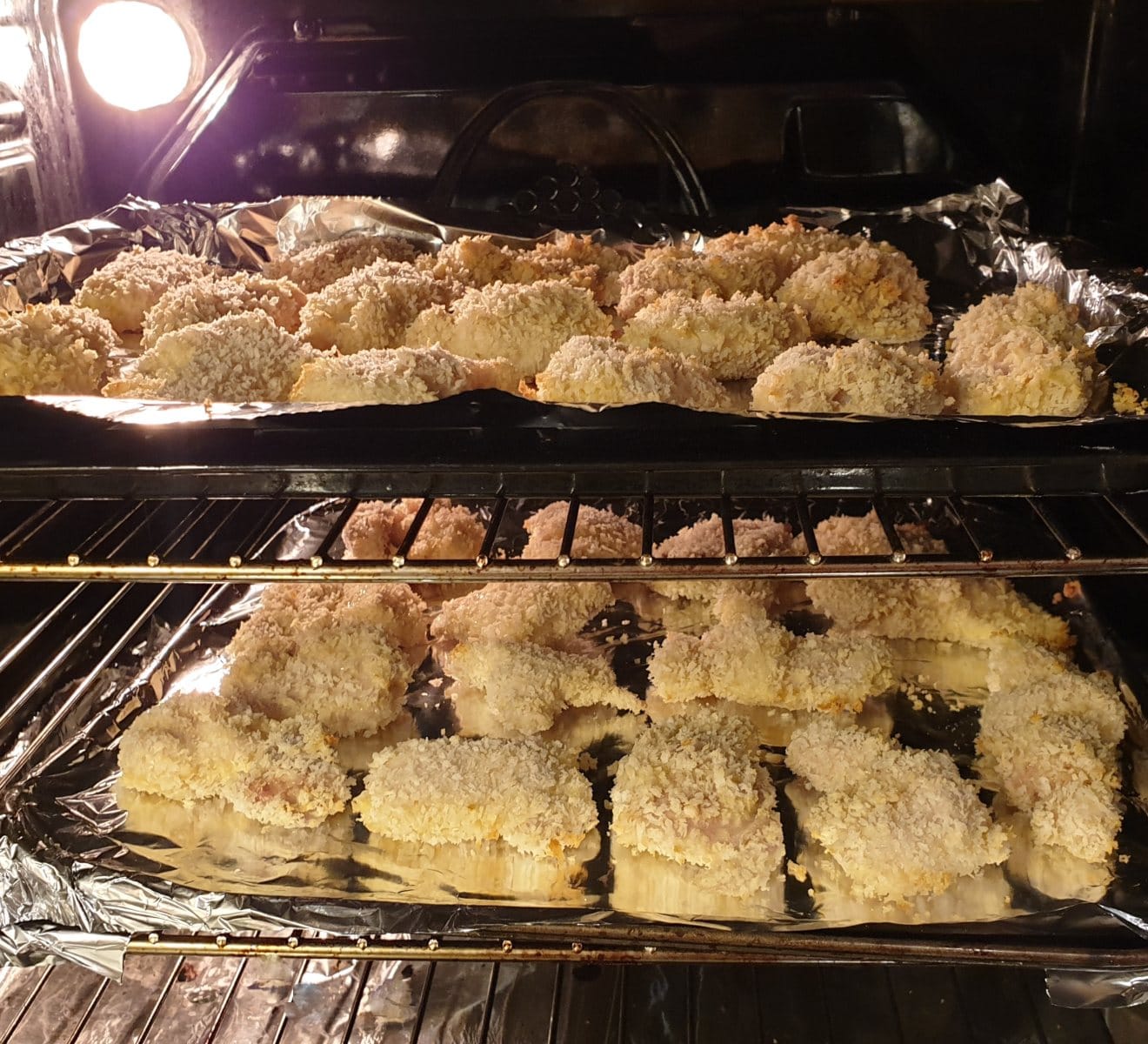 After 10 minutes check the chicken by cutting one piece in half – there should be no pink inside. If it is still pink, leave it in the oven for another minute or two.
The breadcrumbs should be crispy and golden.
How to make the orange sauce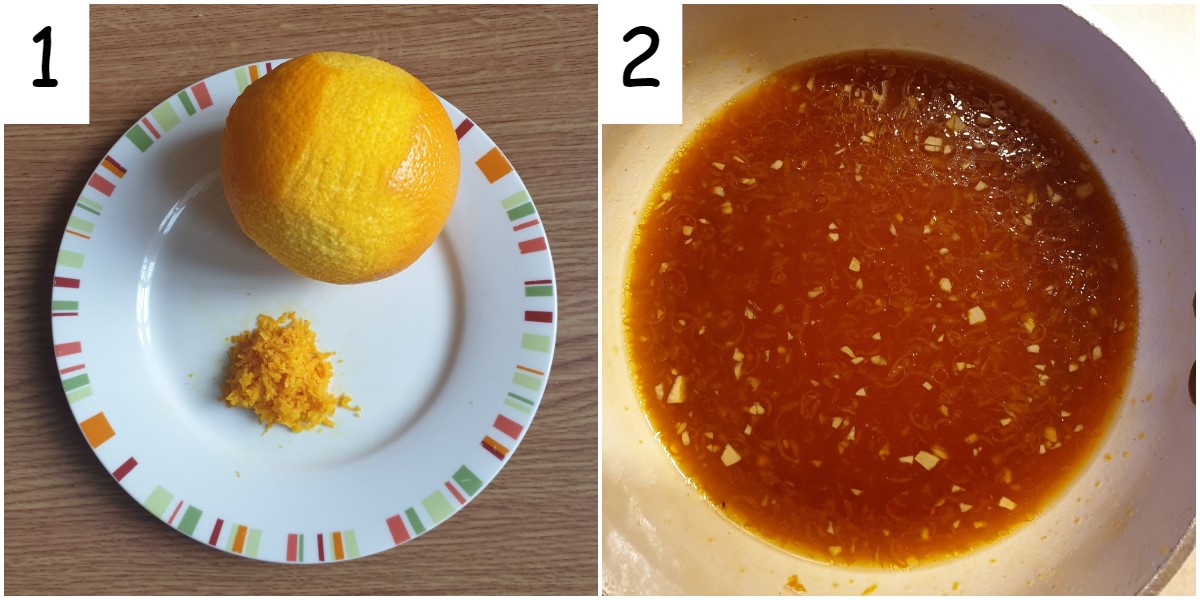 Zest the orange on the smallest blade of your grater (or use an orange zester). Then cut the orange in half and squeeze all the juice into a bowl.
Place all the ingredients for the orange sauce (except the cornflour and water) in a saucepan and bring to the boil.
Reduce the heat, cover with a lid and simmer for 5 minutes.
To thicken the sauce, mix the cornflour and water to a smooth paste and drizzle slowly into the sauce, stirring all the time, until it thickens.
You may not need all the cornflour. The orange sauce should be a nice runny consistency, a bit like a thick gravy. You want to be able to pour it over the crispy chicken.
This recipe makes about 1 cup of orange sauce.
FAQ
Can I freeze crispy orange chicken?
I wouldn't freeze the cooked chicken as it will lose its crispiness once defrosted.
You can freeze the chicken pieces once they have been coated in breadcrumbs.
To freeze, place the chicken pieces on the baking sheet and open-freeze in the freezer until they are well frozen. Once the chicken is frozen, transfer the pieces to a ziploc bag and leave in the freezer.
To cook – place the frozen chicken pieces on a baking sheet in a pre-heated oven (200C / 400F) and bake for 15 minutes until the crumbs are golden and crispy. Cut a piece of chicken in half and check that the chicken is not pink on the inside. If it is still pink allow to cook for one or two minutes longer.
To freeze the orange sauce
You can freeze the cooled orange sauce in a plastic container.
To use, tip the frozen sauce into a saucepan and heat gently until the sauce defrosts and starts to boil.
Can I double the recipe for the sauce?
To make a larger quantity you can double all the ingredients with the exception of the garlic. I would stick to 2 cloves unless you like your garlic really strong.
When thickening the orange sauce, just make sure to drizzle the cornflour mixture in slowly to ensure the sauce does not become too thick. You are looking or a nice runny consistency.
If you'd like to be notified of any new recipes, why not subscribe to my newsletter. As a thank-you gift, you will receive a free recipe e-book containing some of my most popular cakes and desserts.
Pin for later
Why not pin this recipe for crispy orange chicken so you can make it later.
Recipe – Crispy Orange Chicken
If you made this recipe and enjoyed it, I'd love it if you could give me a star rating in the comments below. And if you'd like to get in touch, you can email me at [email protected]. I'd love to hear from you. And don't forget to subscribe to my mailing list so you can grab yourself a copy of my FREE COOKBOOK!
If you'd like to continue browsing, just click on this link to all my recipes.