Crispy dragon beef is made with strips of tender rump steak, pan-fried until crispy, and smothered in a sweet sticky sauce which has been spiced up with chilli. Cashew nuts add crunch, and green beans provide the veggie element so all you will need to serve with this delicious dragon beef with cashews is a bowl of Chinese fried rice or soft noodles.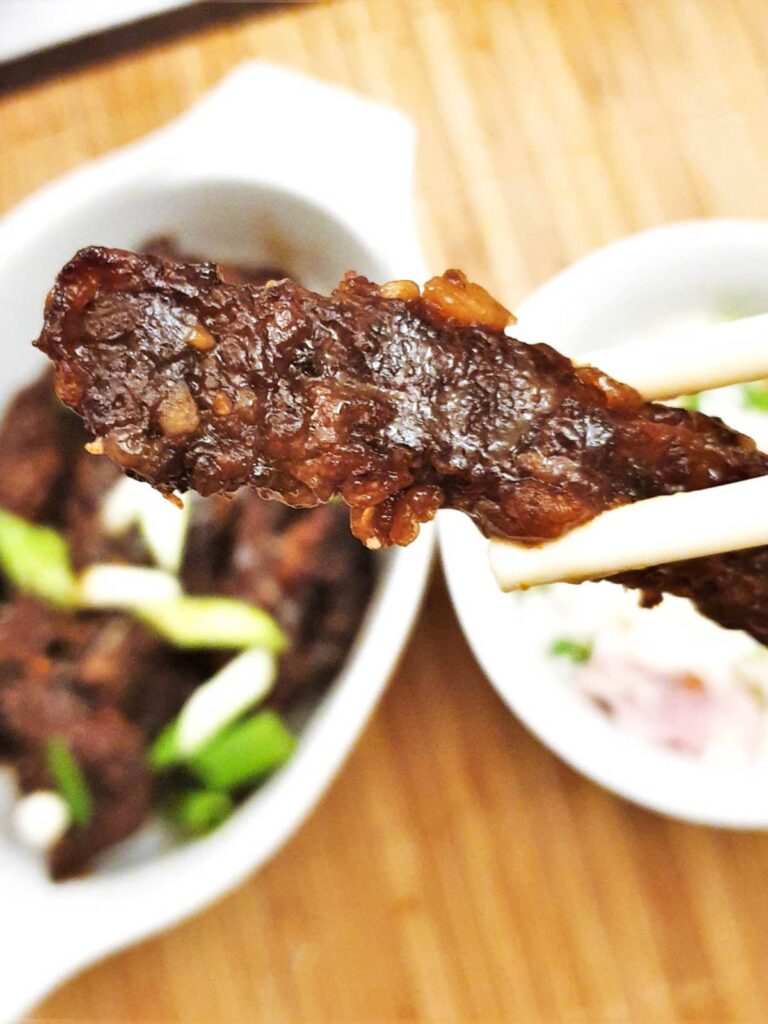 **As an Amazon affiliate, I earn from qualifying purchases.**
Better than any takeaway
I've often ordered crispy dragon beef at a Chinese restaurant and been disappointed by the amount of meat (or lack of it) that is served in this dish. A good dragon beef should be made with strips of beef approximately 1cm thick so that you can crisp the outside, but retain tender juicy beef on the inside. In my experience, restaurants (or takeaways) usually slice the beef too finely so even though you still get the crispy crunch and delicious flavour, the thinly sliced beef is far too dry and hard.
I've been experimenting with this recipe for homemade dragon beef for quite a while now, and I think I've finally hit on the combination of crispy yet still tender beef, and the perfect sweet and tangy sauce.
I've added cashew nuts to provide extra crunch. If you have a nut allergy you can leave the cashews out, or perhaps substitute them with sunflower seeds. Sliced green beans provide the vegetable element, but these can easily be swapped with broccoli florets or even julienned carrots.
I must admit I'm a bit of a wimp when it comes to spicy foods, so I only add one chilli. If you can handle it, I'd recommend adding more chilli than the recipe suggests – it's called Dragon beef for a reason 🙂 .
Tips for perfect dragon beef
This is what I've found.
Use only the best quality beef steak. I've found that rump steak is perfect for this dish. It contains enough fat for the outside of the beef to turn crispy while frying but still retains a juicy interior.
Don't cut the beef too thinly. You should aim for 1cm slices (or just under half an inch) cut against the grain. Don't cut the beef along the grain or the finished meat will be tough.
Coat the beef in plenty of cornflour (you may know it as cornstarch) before frying. The cornflour combines with the juices from the beef and fries to a perfectly crispy coating.
When making the sauce, let it reduce until it becomes nice and sticky before adding the fried beef strips. This will ensure the sauce sticks to the meat, and coats each piece with the delicious flavour.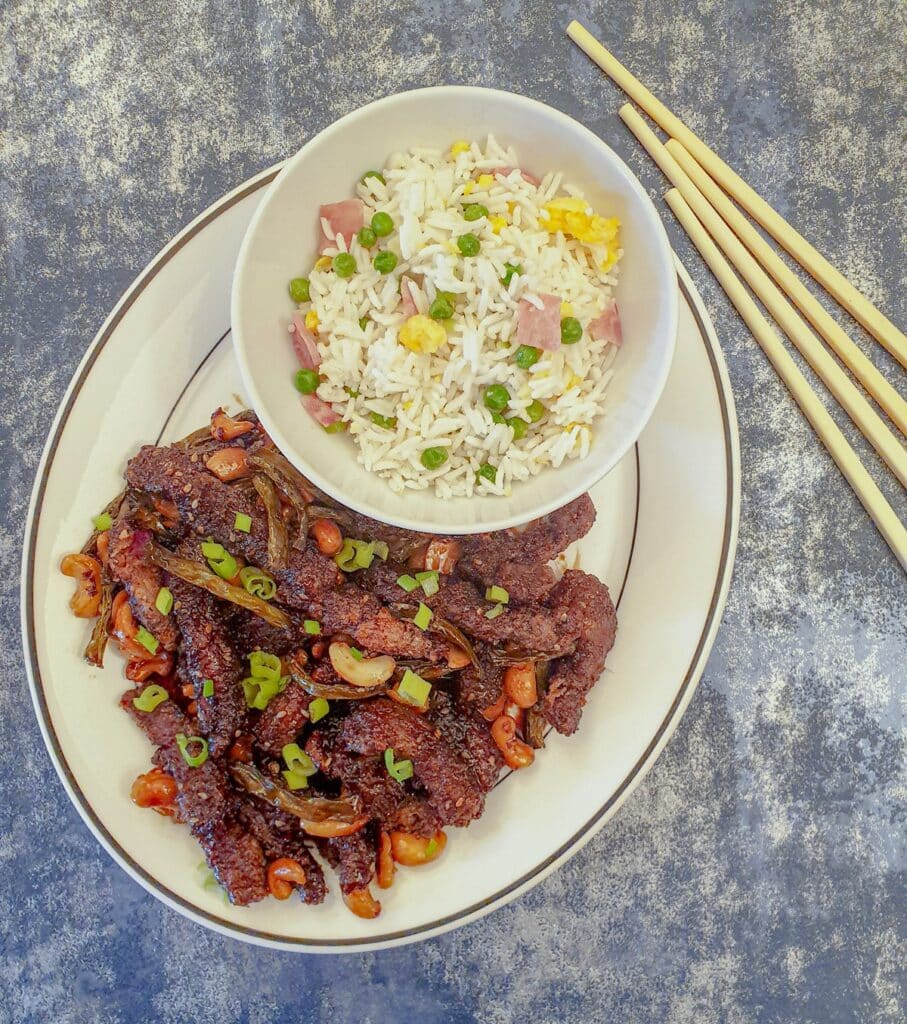 Recipe information
You can get the complete list of ingredients and full instructions for making this crispy dragon beef on the printable recipe card at the end of this post.
Prep time – 15 minutes
Cooking time – 25 minutes
Yield – serves 4 people
Calories – 481 per serving
Main equipment – Wok or large frying pan.
Ingredients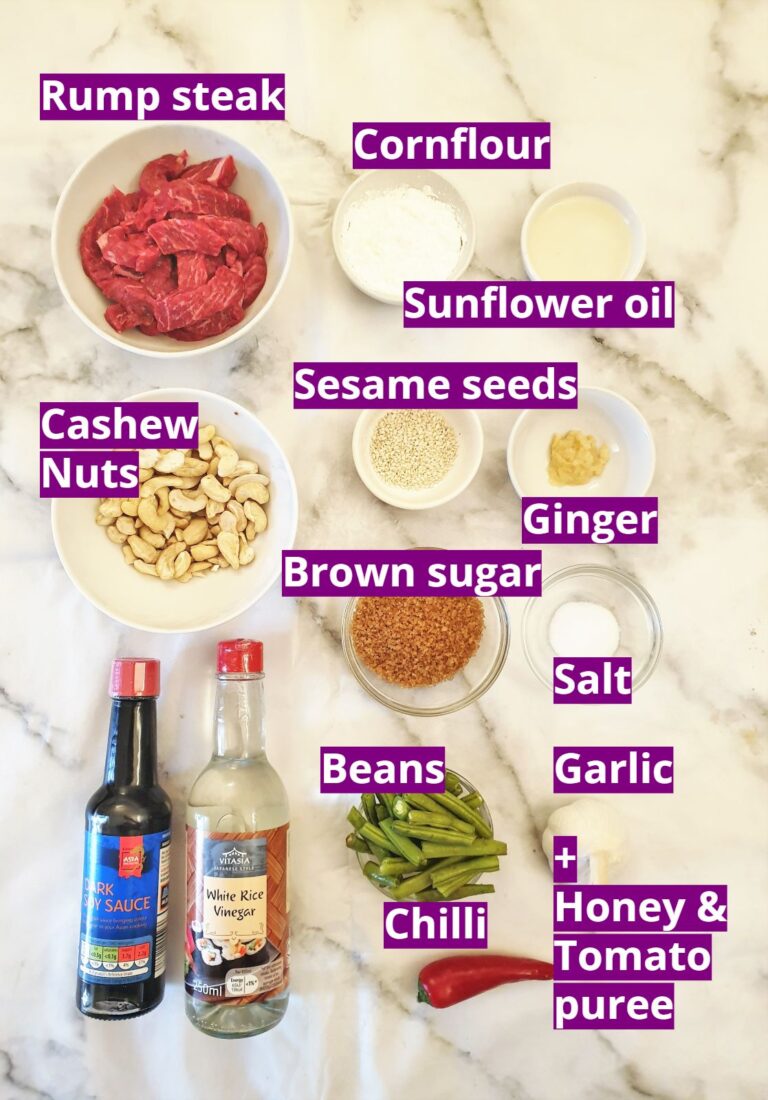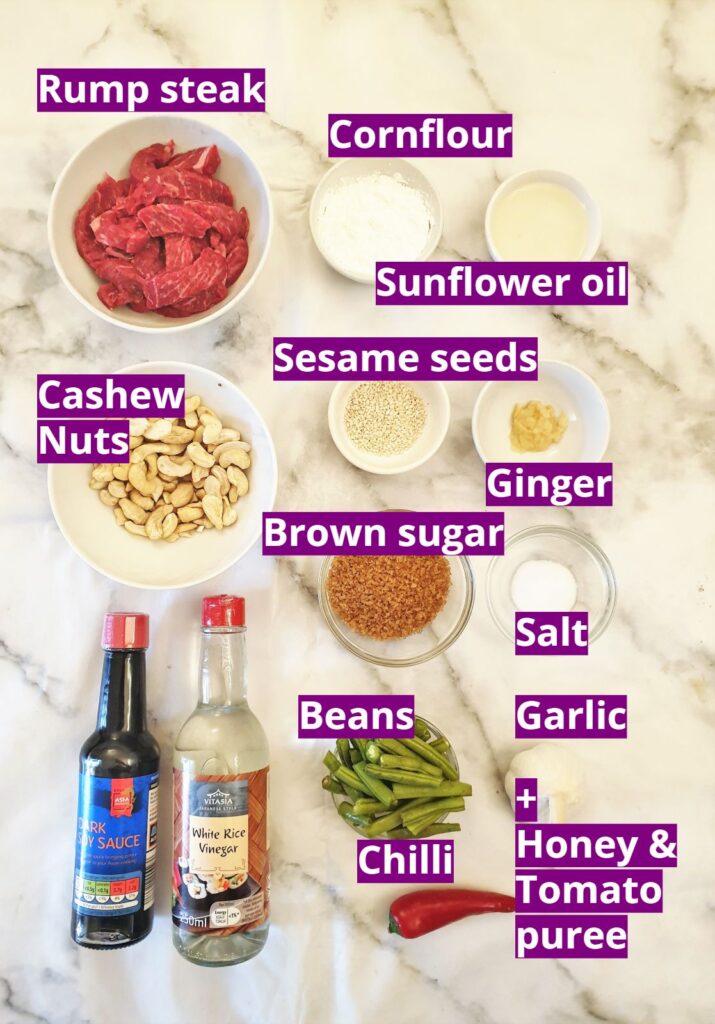 For the beef strips
Rump steak – you can substitute this with any steak that is suitable for frying. I like to use rump steak because it can stand up to the high heat needed to get the beef crispy, but without drying out and becoming tough. If you want to scale this recipe to cater for more or fewer people you should allow between 100 to120 grams or 3 to 4 ounces of steak per person (depending on appetite.
Cornflour – (US readers will know this as cornstarch) which is used to coat the beef before frying. You will need at least 4 heaped tablespoons of cornflour so that the beef will be thickly coated. This helps in making the crispy coating on the beef.
Salt – optional as always, but I like to add about half a teaspoon of salt to the cornflour before coating the beef.
Sunflower oil – or any neutral-flavoured vegetable oil such as canola. This is for frying the strips of beef.
For the sauce
This looks like a lot of ingredients, but most of them are pantry staples, and if you've measured the out as part of the prep, it's just a matter of tipping them into the pan.
Brown sugar – gives sweetness and helps make the sauce thick and sticky.
Ginger and garlic – if you have fresh garlic and ginger in your fridge, you can use that. If not, you can use an equivalent amount of ready crushed ginger and garlic from a jar.
White Rice Vinegar – helps to cut through the sugar and provides a nice tang. You could substitute it with dry sherry or any other fruity vinegar.
Soy sauce – I like to use dark soy sauce, but you could use light if you prefer.
Chilli – I find that one medium red chilli (with the seeds and membranes removed) provides enough heat. If you like a stronger taste, you can adjust the amount of chilli you add to suit your own taste. If you prefer, you could use ready prepared chillies from a jar, or even chilli paste.
Sesame seeds and cashew nuts – for extra crunch and flavour.
Green beans – for the vegetable element. I like the way the beans retain a bit of crunch, but you could substitute these for any other vegetable such as broccoli florets or julienned carrots.
Honey – for additional sweetness and stickiness
Tomato puree (or tomato paste) – highly concentrated tomatoes, not to be confused with tomato ketchup. This is normally sold in small cans or tubes, next to the canned tomatoes.
Spring onions (scallions) – not pictured – for garnish.
Boiling water – not pictured.
Instructions
Dragon beef is a very easy dish to put together, especially if you prepare all the ingredients upfront.
Slice the rump steak into approximately 1cm (just less than half an inch) strips. Cut the steak across the grain to make sure that the beef remains tender. If you cut along the grain you will end up with chewy beef.
Place the sliced beef into a mixing bowl, add the cornflour (cornstarch) and salt and mix to coat the beef thoroughly. Leave to stand while you prepare the rest of the ingredients.
Peel the garlic and mince finely.
Peel the ginger and chop or grate until it is finely crushed.
Remove the seeds and membranes from the chilli and chop finely.
Wash the green beans and cut them into 2-inch (about 5cm) pieces.
Measure out the sauce ingredients so they are ready to add to the sauce.
Start off by cooking the beef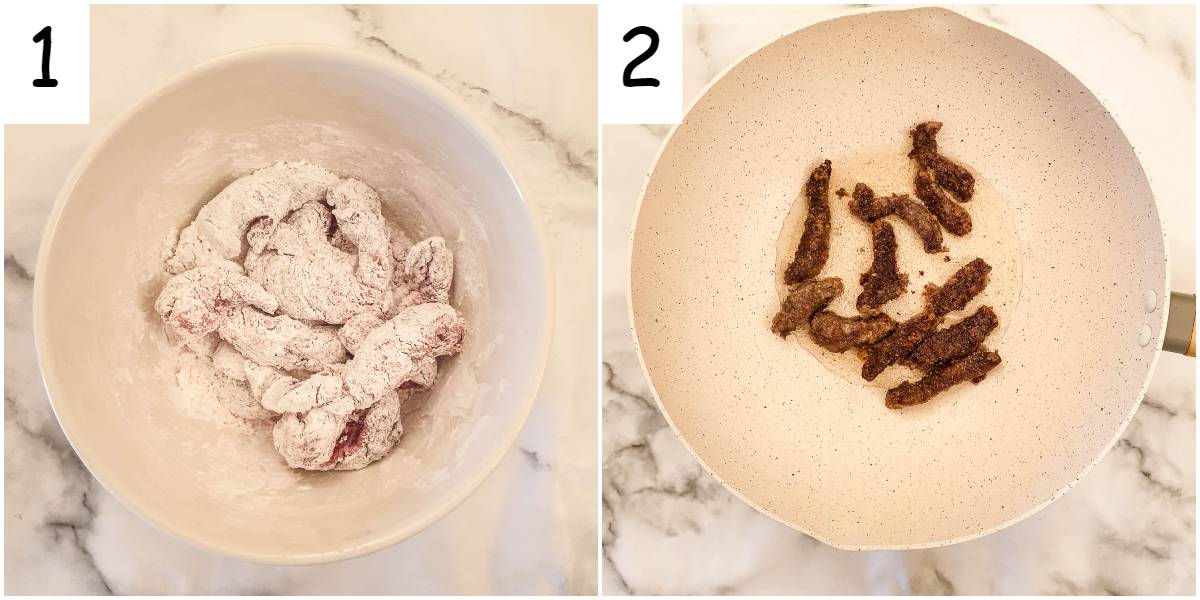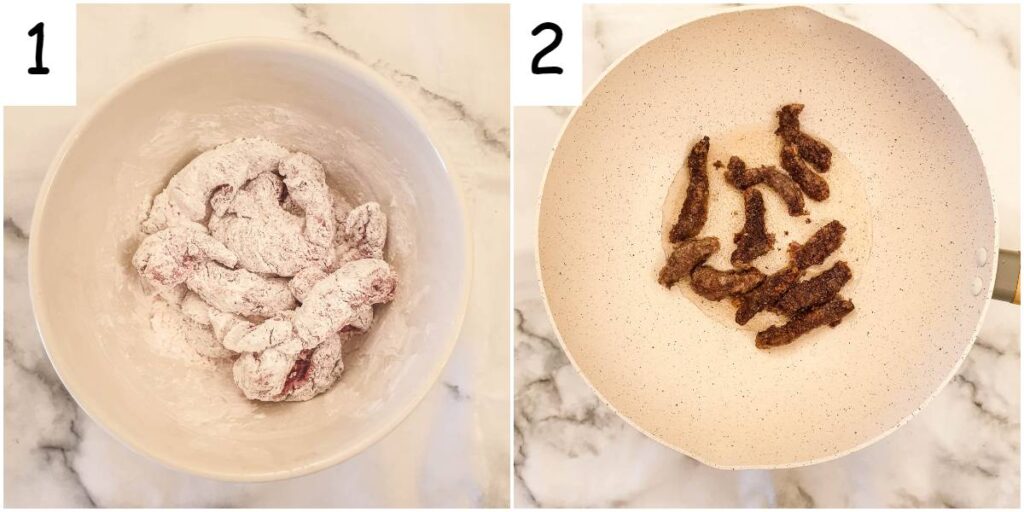 Heat the sunflower oil in a wok or frying pan and fry the cornflour-coated strips of beef in the hot oil until they turn crispy. You don't need to deep-fry the beef, 2 or 3 tablespoons of oil will be sufficient.
Don't overcrowd the pan as this will lower the temperature of the oil and the beef will release moisture and stew rather than fry. Cook the beef strips a few at a time. Turn the beef often as it is cooking so that it crisps on all sides – this will take about 5 minutes per batch. Take your time with this step, you are aiming to get a nice crispy coating on the beef. When the beef strips are crispy, remove them to a plate lined with kitchen paper, then continue until all the beef has been fried.
Now make the sauce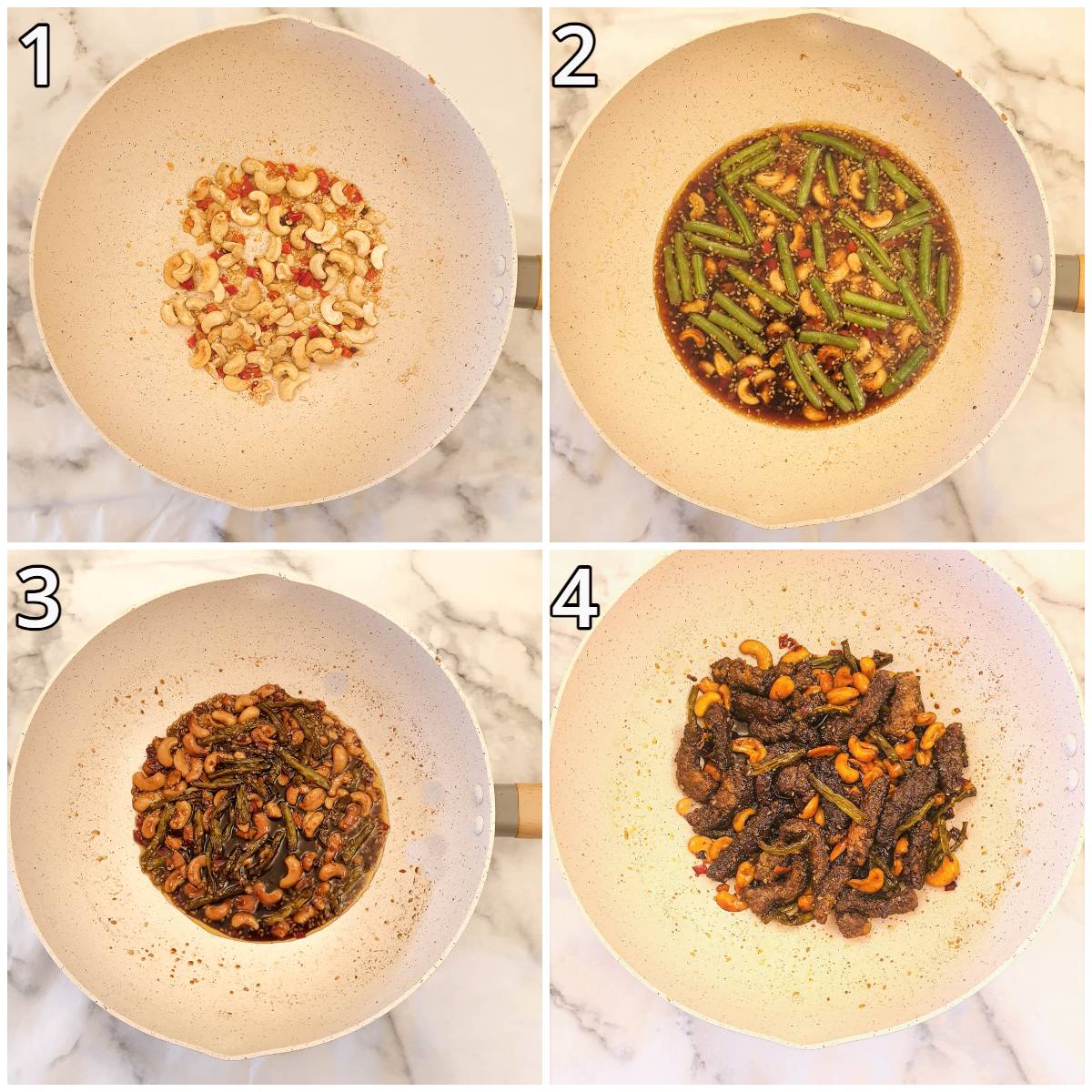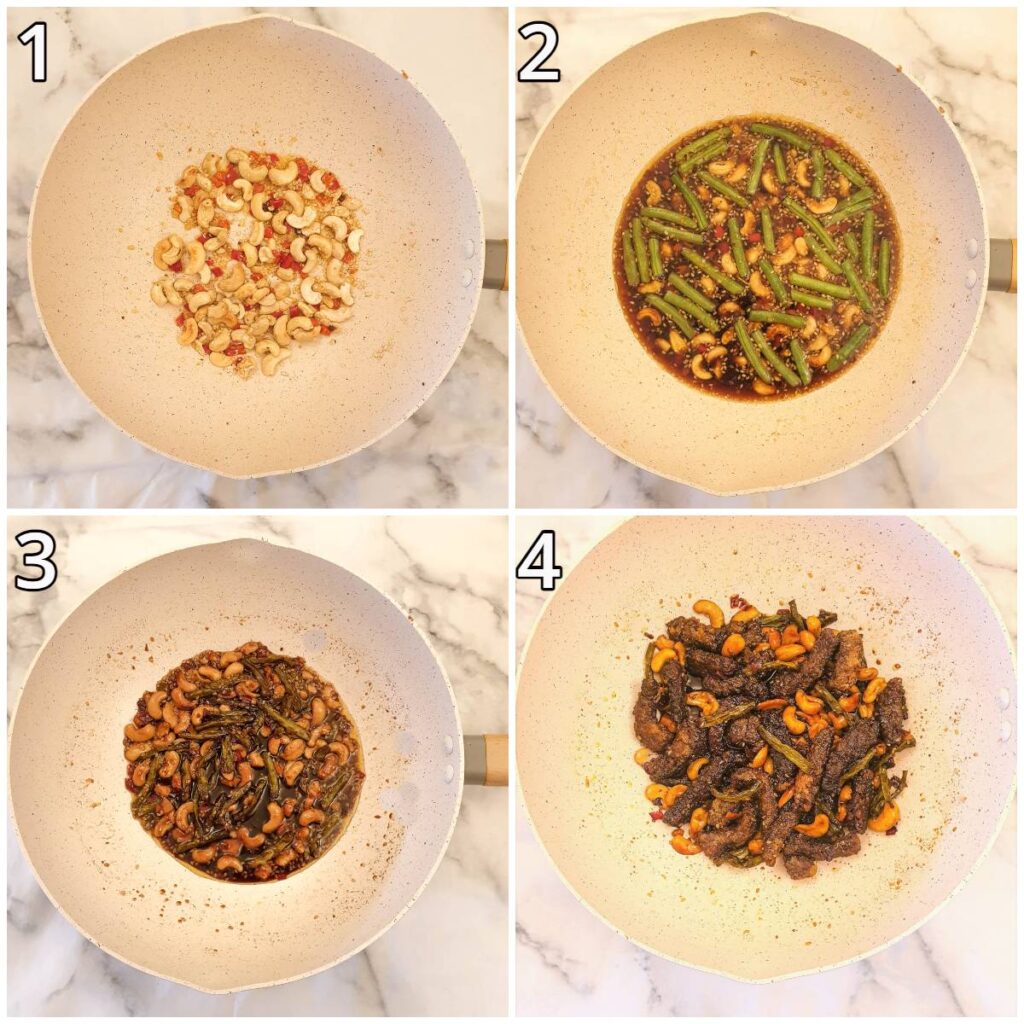 Using the same pan that you used for the beef, add another splash of sunflower oil then add the finely chopped chilli, sesame seeds, cashew nuts, garlic and ginger.
Fry gently for about 2 minutes, stirring all the time, until the chilli starts to soften,
Add the water, soy sauce, green beans, brown sugar, vinegar, honey and tomato puree and bring it to the boil. Stir until the sugar has dissolved then cover with a lid, turn the heat down to a simmer and leave to cook for 6 to 8 minutes until the beans have softened.
Remove the lid and let the sauce continue to simmer until it has reduced and thickened. This should take about 5 minutes.
If the sauce does not reduce sufficiently, mix a slurry of cornflour and water and stir in slowly until the desired consistency is reached. You are looking for a thick sauce that will coat the strips of beef. I have never found it necessary to thicken the sauce in this way as I find the sauce thickens naturally as it reduces.
Add the strips of crispy fried steak and stir through to coat with the thickened sauce. You should find that most of the sauce will be absorbed by the coating on the beef.
Sprinkle with finely chopped spring onions and serve immediately with a bowl of Chinese egg fried rice or soft noodles.
If you'd like to be notified of any new recipes, why not subscribe to my newsletter. As a thank-you gift, you will receive a free recipe e-book containing some of my most popular cakes and desserts.
Make in advance
Dragon beef can be made in advance, although the beef will lose some of its crispiness. I personally wouldn't make it more than one day in advance.
Fry the beef and allow it to cool. Cover and store in the refrigerator.
Make the sauce, and allow it to cool. Store in a separate covered dish in the refrigerator.
When you are ready to eat, heat the sauce in a saucepan or frying pan and then stir the cooked beef strips through. Stir thoroughly to coat the beef completely and heat until piping hot.
Serve immediately.
You could also just make the sauce in advance and fry the dragon beef strips just before adding them to the re-heated sauce. This way the dragon beef would still be crispy.
Pin for later
If you would like to make this crispy dragon beef with cashews, why not pin the recipe to your Pinterest board so you can find it easily. Just click the image below.
Other recipes you may like
Why not make this crispy dragon beef as part of a Chinese banquet? Here are some other Chinese-inspired dishes you may like:
The recipe
If you made this recipe and enjoyed it, I'd love it if you could give me a star rating in the comments below. And if you'd like to get in touch, you can email me at [email protected]. I'd love to hear from you. And don't forget to subscribe to my mailing list so you can grab yourself a copy of my FREE COOKBOOK!
If you'd like to continue browsing, just click on this link to all my recipes.