Boerewors is a traditional South African sausage. It is delicious, but like all sausages, it's an involved process to fill the sausage casings. These homemade boerewors patties are based on the recipe for boerewors so you get the great taste without the hassle.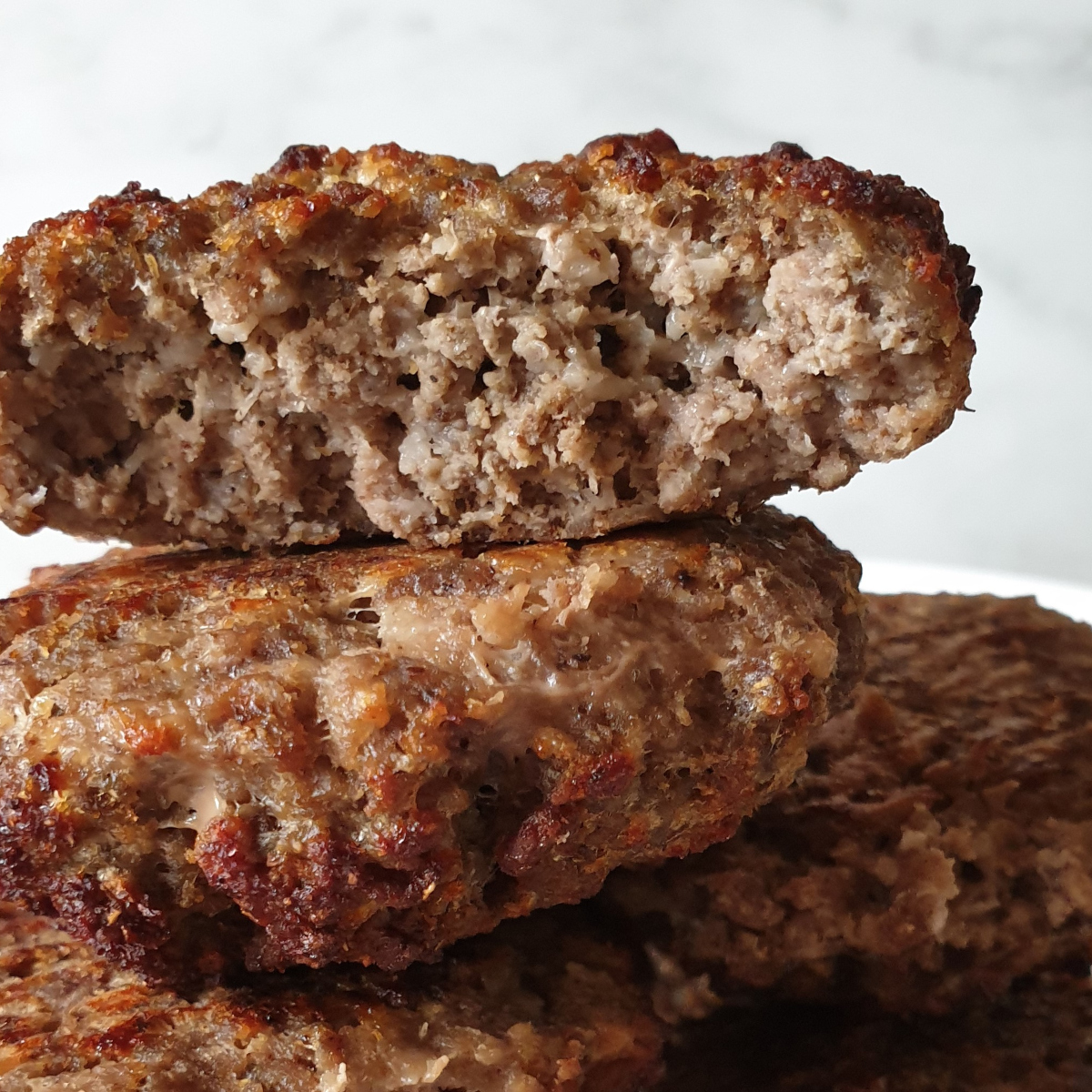 **As an Amazon affiliate, I earn from qualifying purchases.**
*** Updated 10 February 2020 to add new photographs. Recipe also updated with the addition of panko breadcrumbs to help the patties keep their shape when cooking.
What is boerewors?
Boerewors (literally translated as 'Farmer's Sausage) is a traditional South African sausage made from ground beef, pork and spices and normally sold in a coil, unlike the more common links we are used to today. It is quite a spicy sausage, flavoured with ground corriander, all spice, cloves and vinegar.
No self-respecting South African barbeque would be complete without a bowl of mielie meal (stiff white porridge mail from ground maize meal), a dish of tomato and onion gravy and a link of boerewors sizzling over the coals.
On a Saturday morning, the smell of boerewors permeates the air around all the shopping centres, as pop-up caravans sell boerewors rolls to hungry shoppers. And no self-respeting church bazaar or school fete would be compete without the obligatory boerewors stand.
Boerewors sausage is the South African equivalent of the American Hot Dog, or the German Wurst, or the English Banger. This boerewors patty recipe I am sharing today has all the great taste of boerewors, but none of the effort of making sausages.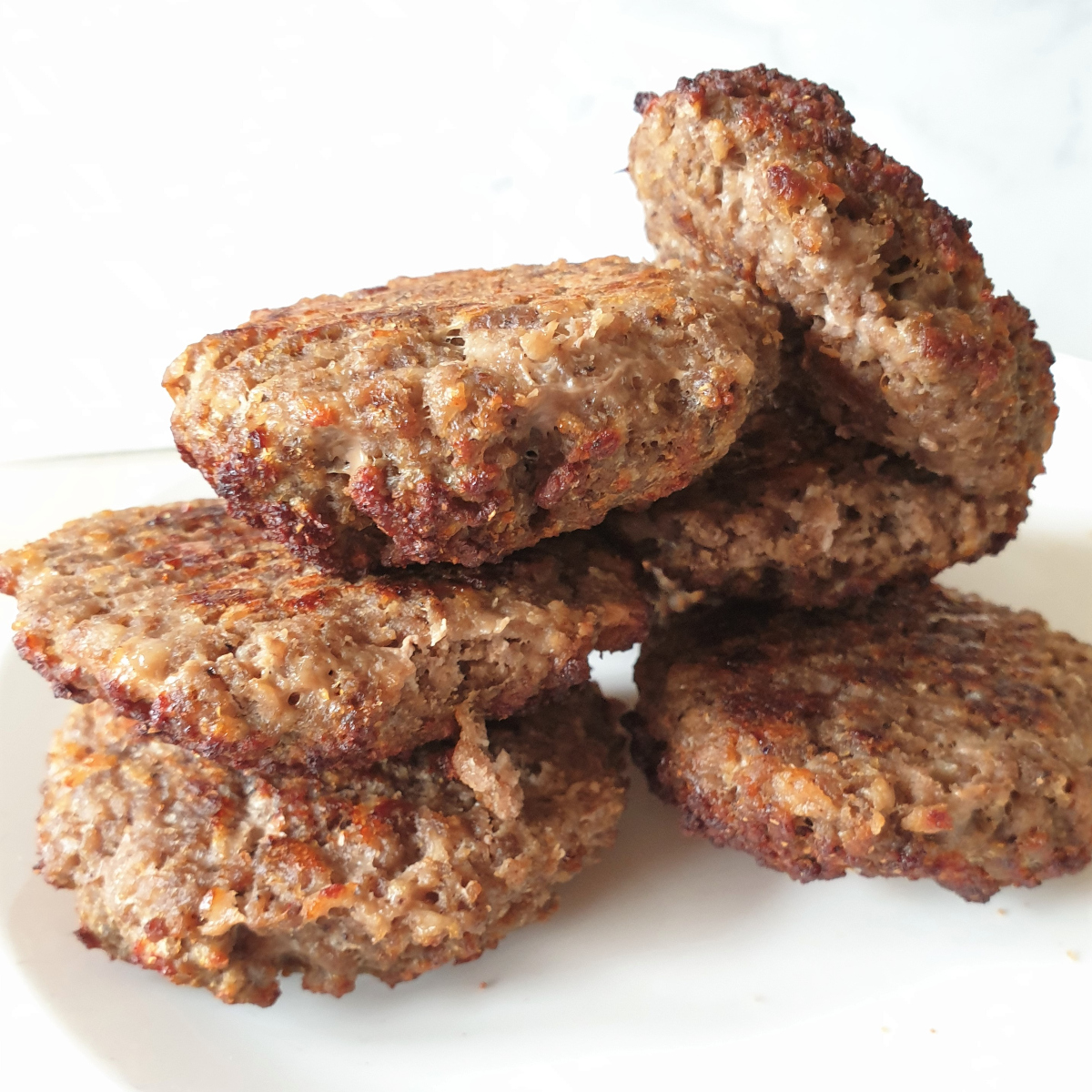 How to cook boerewors
In South Africa, boerewors is traditionally cooked over coals as part of a barbeque, or fried in a pan on the stove. It is normally served in a bread roll topped with a delicious tomato and onion sauce (boerewors roll). In South Africa, it is readily available at any butcher or supermarket, but a lot of people still make their own, using recipes that have been handed down over the generations.
I remember watching my mother-in-law chop mounds of raw beef and pork before mixing in handfuls of spices. She then fed it through a mincing machine, stuffing pigs intestines full of the savoury mixture. It took hours of effort, but well worth it for the delicious result. She filled our freezer to the brim – it must have lasted about 6 months.
Today, of course, we just head for the nearest South African shop and purchase our boerewors ready made.
Graham had his first taste of boerewors last Christmas when we were visiting my daughter in South Africa. His verdict – delicious!!! So when we got home I stocked the freezer with a few packets from our local South African shop, even though the price of it made my eyes water.
The price of local boerewors got me thinking – why not make your own? But the thought of all the effort involved was a bit of off-putting, so I came up with another idea that would give us the great taste of boerewors but with minimum effort. I decided to try my hand at homemade boerewors patties.
Ingredients for boerewors patties
You can get the complete list of ingredients and full instructions on how to make this recipe on the printable recipe card at the end of this post.
These homemade boerewors patties are delicious, they taste like authentic boerewors, but take only minutes to make.
Whenever I read a recipe I like to have a look at the ingredients to see whether I have everything I need. To make it easy for you – I've listed the ingredients below. You can get the full list of ingredients and quantities in the printable recipe card further down in the post.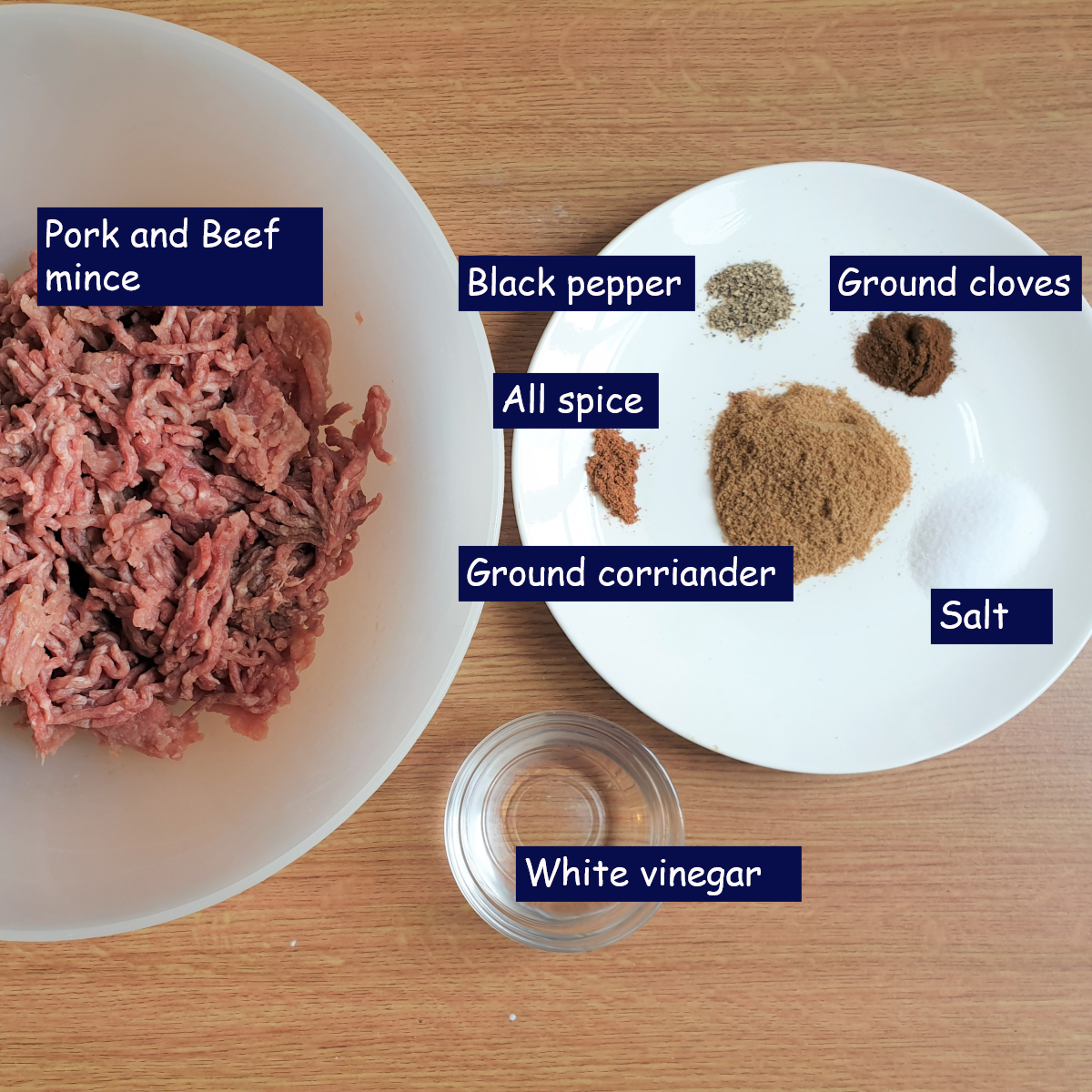 Minced beef and minced pork – combining beef and pork makes a juicier patty.
White spirit vinegar – not malted vinegar – that will give a completely wrong taste
Ground coriander – you need quite a lot of coriander – it gives the boerewors its distinctive taste
Salt
Ground cloves – not too much of this otherwise it will overpower the flavour
Black pepper
All spice
Panko breadcrumbs (not pictured) – these are dried Japanese breadcrumbs. If you can't get panko, just substitute with homemade breadcrumbs made by grating a slice of day-old bread.
How to make boerewors patties
They are so easy, even a child could make them!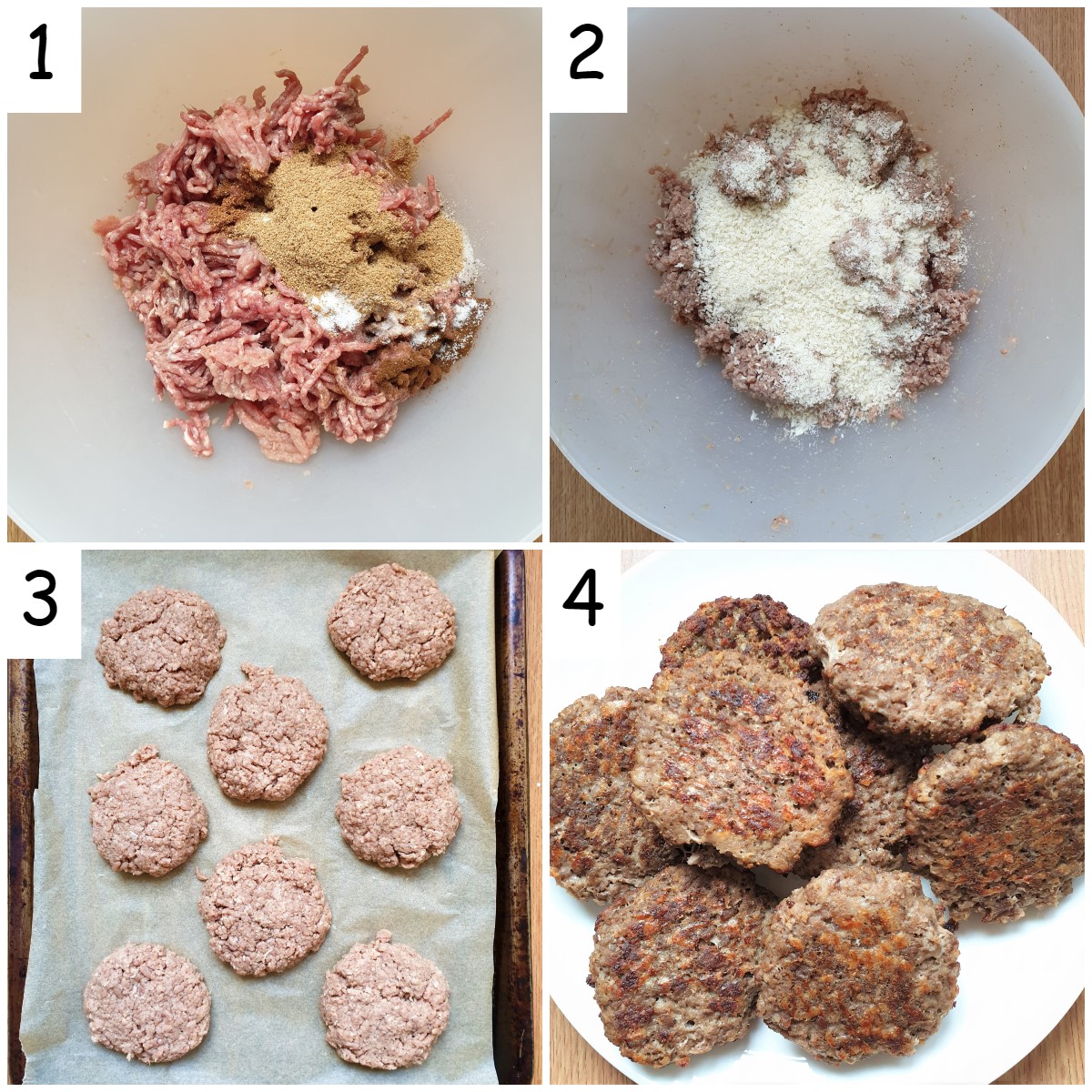 Put the and the spices into a mixing bowl and mix thoroughly to combine.
Add the panko breadcrumbs and mix through again.
Normal boerewors does not contain any breadcrumbs. However, when making boerewors, the sausage casing is what holds all the meat together. For these patties, the meat mixture is quite crumbly so the panko helps the patties maintain their shape, and also absorbs any excess moisture from the meat mixture.
Form into flat patties about the size of the diameter of a tennis ball.
To cook
You can bake these in the oven, or fry on the stove in a little olive oil.
To bake in the oven – place the patties on a baking tray lined with paking parchment. I like to use baking parchment because it means I don't have to add any extra oil to the baking tray. Bake at 200C / 400F for about 15 – 20 minutes until they are golden brown and no longer pink inside.
Check them after 15 minutes. If they are not fully cooked on the inside pop them back in the oven for another minute or two.
To fry on the stove – heat 2 tablespoons sunflower oil in a frying pan and fry the patties gently for about 5 minutes per side.
Cut one patty open a to make sure the inside is no longer pink. If it is, return to the pan and fry for a minute or two longer.
To serve
The last time I made these we had them with homemade crispy fries, peas and a leafy green salad. They also make delicious hamburgers, served in a crusty fresh bread roll with shredded lettuce and a slice of onion and tomato. Or why not try them with my delicious home-made Chilli Tomato Sauce
Can I freeze homemade boerewors patties?
These patties freeze very well, both raw and cooked. Both raw and cooked patties can be kept in the freezer or up to 3 months.
To freeze raw patties
Form the patties into shape and then place them on a baking tray in the freezer to open-freeze them. Once the patties are frozen, transfer to a plastic bag. Keep in the freezer for up to 3 months.
To use, allow to defrost in the refrigerator then cook as per the recipe instructions.
To freeze cooked patties
Allow the patties to cool and then pack into plastic bags in a single layer and place in the freezer.
To use, either defrost in the refrigerator or if you are in a hurry, you can defrost them in the microwave. Reheat in a frying pan on the stove-top, or place on a baking tray in a hot oven for a few minutes until they are heated through.
If you want to keep up-to-date with my latest recipes why not follow along on Facebook or Pinterest. And don't forget to subscribe to my mailing list so you can get your FREE COOKERY BOOK
Additional resources
Don't forget to check out my handy Cookery Conversion Calculator if you want to convert any of your recipe measurements from grams to cups, ounces, tablespoons or millilitres and vice versa. You can also use the calculator for converting oven temperatures between Fahrenheit, Celsius and Gas marks.
If you live at a high altitude you may find you need to adjust your baking recipes to compensate for this. You can read all about it in this post on baking at high altitudes.
Pin for later
Why not pin this recipe for homemade boerewors patties to your pinterest board so you can make it later. Just click the image below.
Recipe – Homemade boerewors patties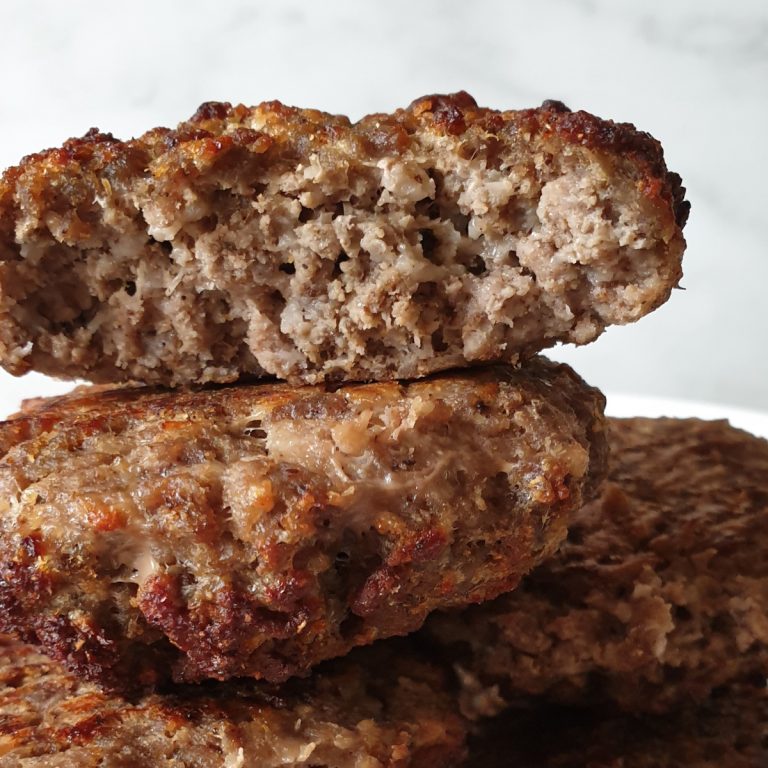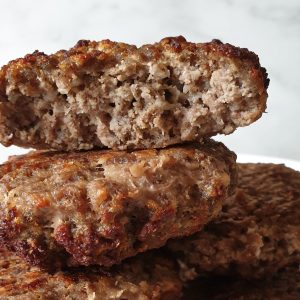 Homemade Boerewors Patties
Boerewors is a traditional South African sausage.  It is delicious, but like all sausages, it's an involved process to fill the sausage casings.  These homemade boerewors patties are based on the recipe for boerewors so you get the great taste without the hassle.
(Click the stars to rate this recipe)
Print recipe
Pin me for later
Leave a comment
Equipment
Baking sheet

Baking parchment
Ingredients
½

lb

(225g) minced beef

½

lb

(225g) minced pork

¼

cup

white spirit vinegar

2

heaped teaspoons ground coriander

1

teaspoon salt

½

teaspoon ground cloves

½

teaspoon ground black pepper

¼

teaspoon all spice

½

cup

panko breadcrumbs

or make your own breadcrumbs using day-old bread
Instructions
Pre-heat oven to 200°C/400°F

Combine the meat and spices in a bowl

Add the panko breadcrumbs and mix well to combine.

Form into flat patties, about the diameter of a tennis ball

Arrange on a parchment-lined baking sheet

Place in oven and bake for 20 minutes
Notes
This recipe will make 8 large patties.
You can also fry these on the stove over a medium heat, in 2 tablespoons sunflower oil,  for approximately 5 minutes per side.
The patties will be cooked when the inside is no longer pink.
Nutrition
Calories –
115
kcal
|
Carbohydrates –
2.2
g
|
Protein –
17.9
g
|
Fat –
3.7
g
|
Saturated Fat –
1.3
g
|
Cholesterol –
51
mg
|
Sodium –
515
mg
|
Potassium –
312
mg
|
Fiber –
1.2
g
|
Sugar –
0.1
g
|
Calcium –
26
mg
|
Iron –
7
mg
I am not a nutritionist. The nutrition information has been calculated using an on-line calculator, and is intended for information and guidance purposes only. If the nutrition information is important to you, you should consider calculating it yourself, using your preferred tool.
Share on Facebook
If you made this recipe and enjoyed it, I'd love it if you could give me a star rating in the comments below. And if you'd like to get in touch, you can email me at [email protected]. I'd love to hear from you. And don't forget to subscribe to my mailing list so you can grab yourself a copy of my FREE COOKBOOK!
If you'd like to continue browsing, just click on this link to all my recipes.