Traditional mushy peas – as British as fish and chips, or bangers and mash. Add them to a plate of homemade pie and you have a meal fit for a king! Let me show you how to make them yourself at home. It's easier than you think.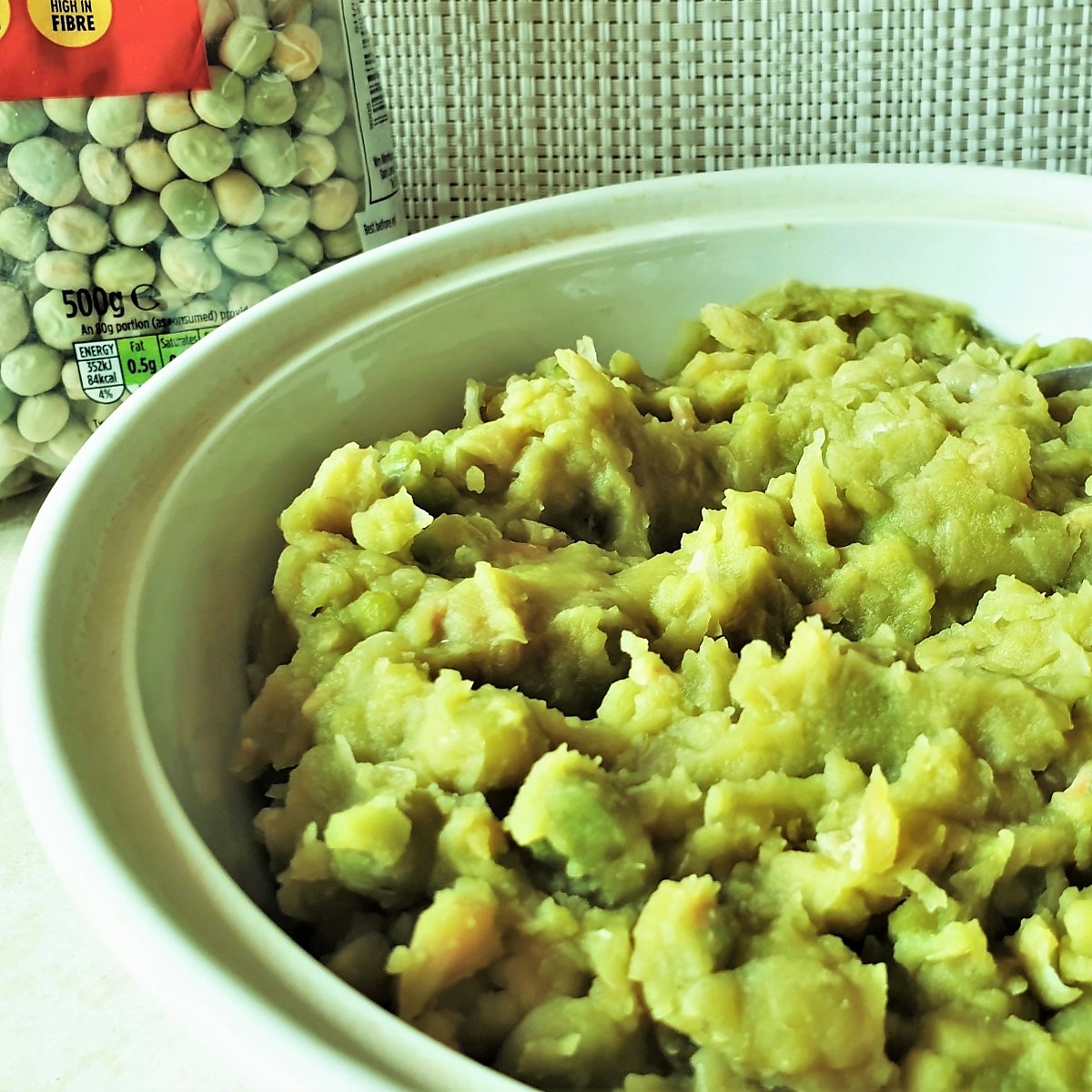 **As an Amazon affiliate, I earn from qualifying purchases.**
Traditional mushy peas – a British classic
I can't remember the first time I ate mushy peas. Growing up in the north of England in the late 50s, mushy peas were just a staple part of the diet. What I do remember, is that they were one of my favourite things to eat. Coming home from school on a dark winter afternoon and finding a plate of fish fingers and mushy peas waiting for me was absolute heaven.
I've always loved peas. My Dad used to grow them in the back garden and in pea season I was always out there popping the pods and gorging myself on the sweet deliciousness inside. I'm sure my Dad always wondered why his expected pea harvest was so meagre, although I would imagine the pile of empty peapods I left behind on the ground might have given him some idea 🙂
But garden peas and mushy peas are definitely not the same things. Some people cheat and make mushy peas with frozen peas. This is not what traditional mushy peas are all about. Mushy peas made with frozen peas are just a posh pea puree and bear no resemblance to the real thing.
Traditional British mushy peas are made with dried marrowfat peas, which are soaked overnight in a mixture of water and bicarbonate of soda until the hard little bullets soften and swell. Then they are boiled in fresh clean water until the peas explode and turn mushy, releasing their distinctive flavour and texture.
The texture is similar to a very thick pea soup (or a very thin mashed potato) with bits of pea mixed into it, and it has a very strong and sweet, pea flavour.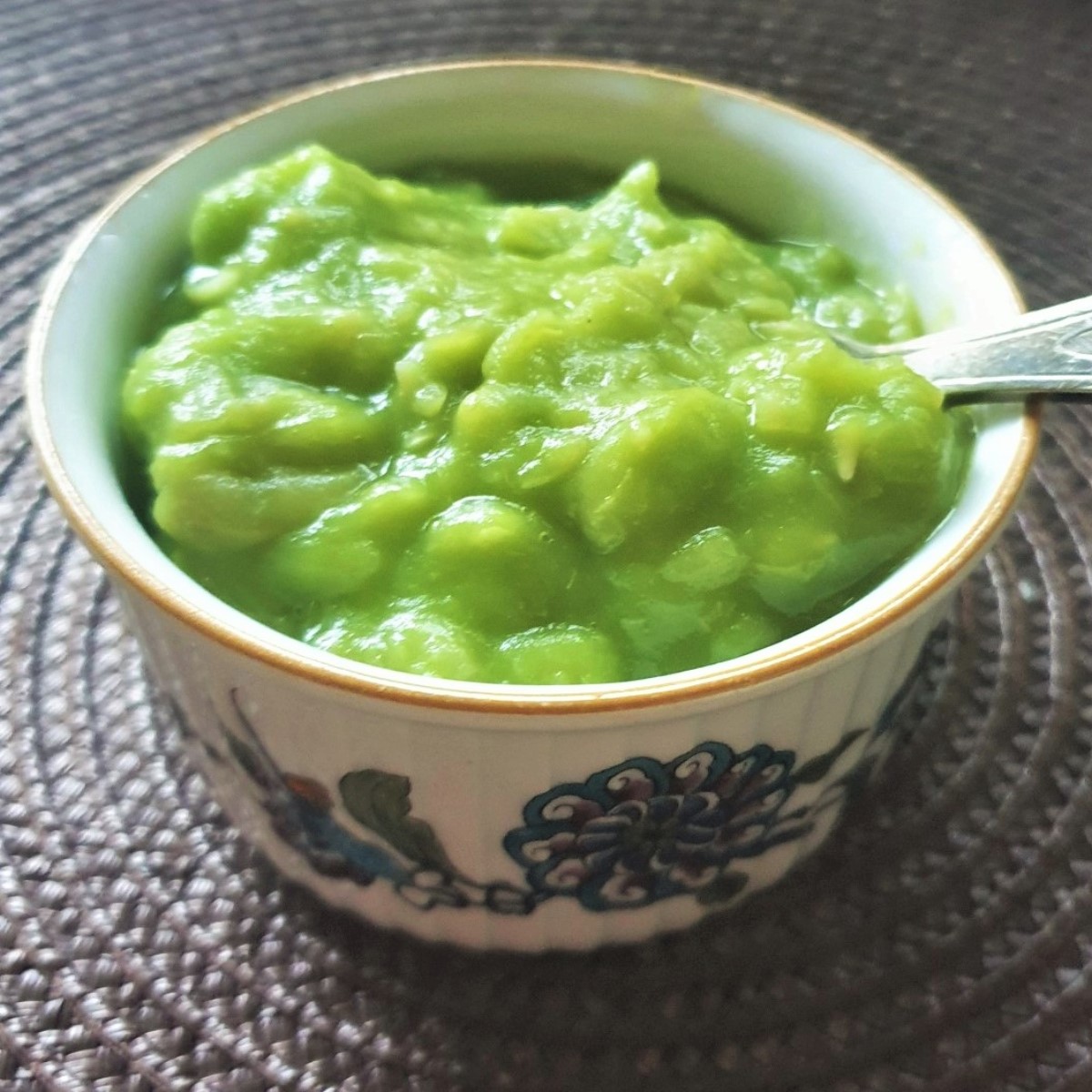 So what are marrowfat peas?
Marrowfat peas were introduced into England over 100 years ago by the Japanese because the English climate was so well suited to growing peas.
The Japanese brought a strain of pea called 'Maro' and they wanted to grow fat peas, or 'fat Maros'. This term eventually evolved into 'marrowfat'.
The seeds of the marrowfat pea are large and starchy, and the peas are not harvested when they are ripe. Instead, they are left on the plant until they have dried and only then are they harvested.
Apart from being used for traditional mushy peas, marrowfat peas are also used in making wasabi peas, which is a crunchy snack made from roasted dried marrowfat peas and coated with Japanese horseradish, or wasabi.
Marrowfat peas are packed with nutrients, including vitamins A, C, B1 and B5. They are also rich in iron and potassium. They are an excellent source of fibre. One bowl of mushy peas provides 12% of your recommended daily fibre allowance.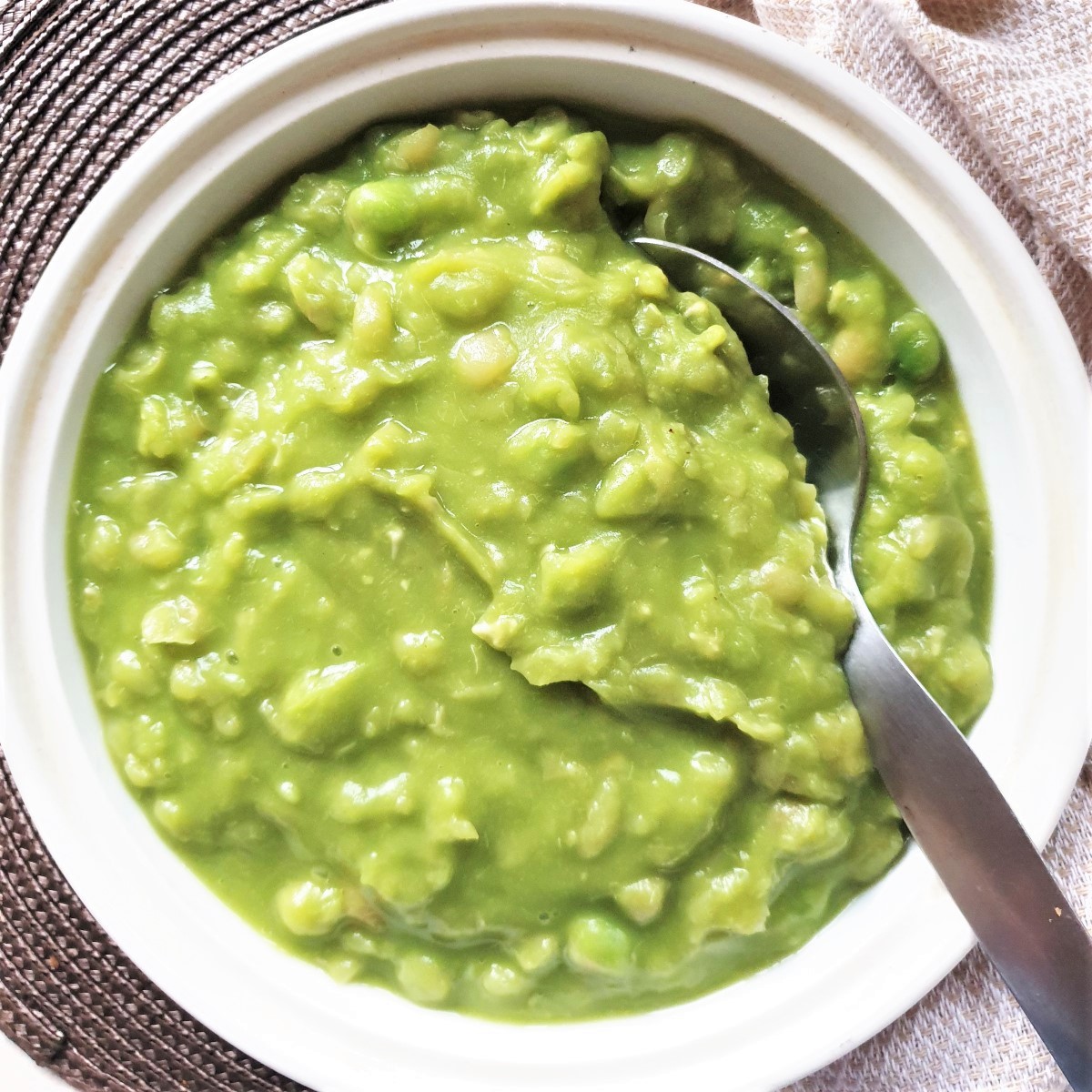 Recipe information
Prep time – 5 minutes
Soaking time – 12 hours
Cooking time – 25 minutes
Yield – 4 large servings
Calories – 46 per serving
Main equipment – you will need a nice large saucepan with a lid to make mushy peas. I like this set because it comes in different sizes and has stay-cool handles so you don't burn yourself.
How to make traditional British mushy peas
Detailed ingredients and instructions can be found on the printable recipe card at the end of this post.
What you will need
You will need the following ingredients to make traditional British mushy peas:
Dried marrowfat peas – packets of dried marrowfat peas are readily available in supermarkets, or you can buy them direct from Amazon .
Bicarbonate of Soda – used for soaking and softening the peas. Do not confuse it with baking powder. They are not the same thing. In the United States Bicarbonate of Soda is known as Baking Soda.
Bicarbonate of soda softens the outer skin of the pea, allowing water to be more easily absorbed.
Water – You will need two lots of boiling water – one for soaking and the other for cooking.
Salt and sugar to taste.
Step by step instructions
And this is how to make them: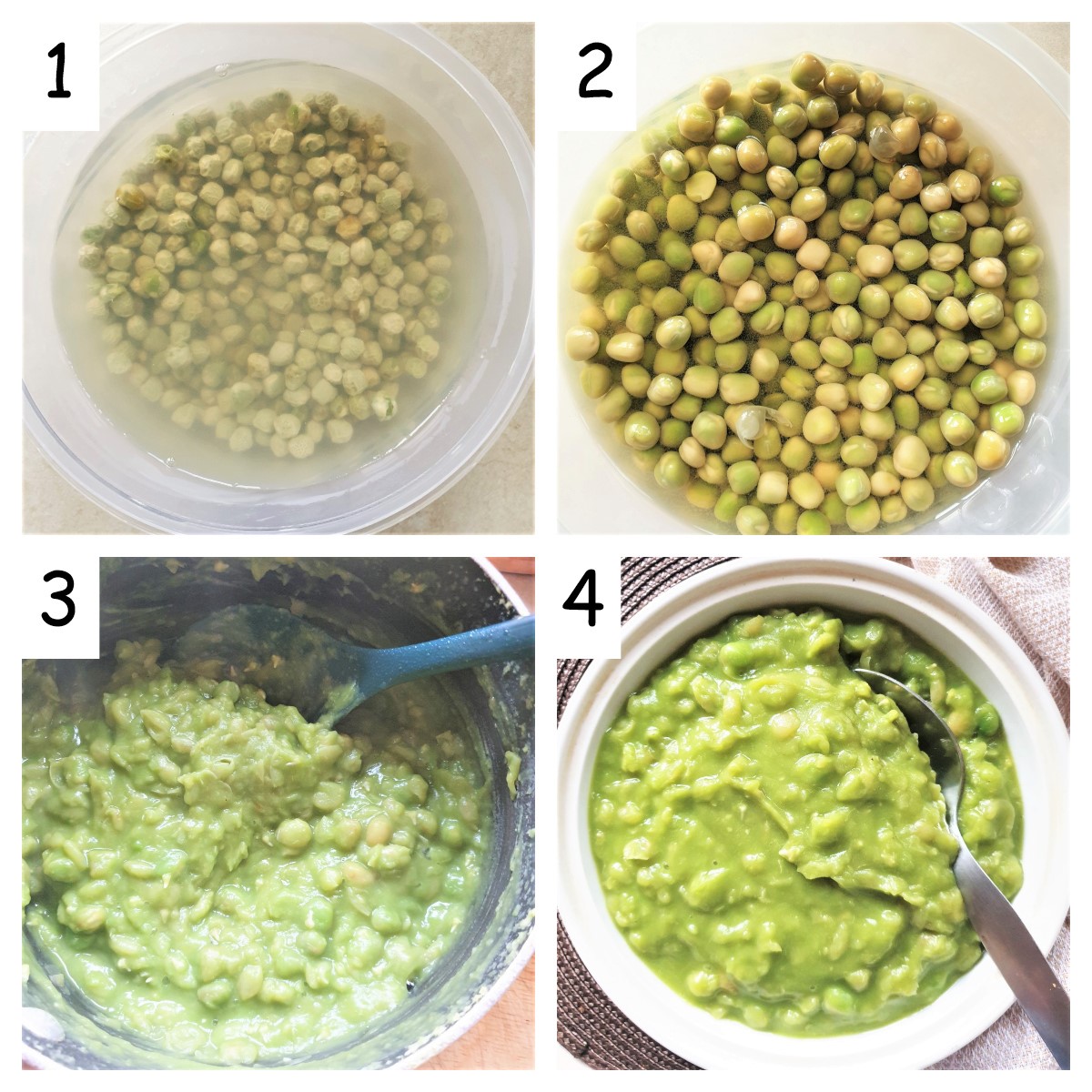 Place 1 cup (250g) dried marrowfat peas in a large mixing bowl.
Dissolve 1 teaspoon bicarbonate of soda in 2 cups of boiling water and pour over the peas (image 1).
Leave them to soak for at least 12 hours, or overnight. They will swell up quite a lot, so use a large mixing bowl.
Next day, when you are ready to cook them, drain the peas in a colander and rinse them under cold running water to get rid of the bicarbonate of soda (image 2).
Tip the peas into a large saucepan and cover with 2 cups (1 pint) of fresh boiling water. Add 1 teaspoon salt and 1 or 2 teaspoons sugar to taste and bring to the boil.
Cover with a lid, turn down the heat and simmer for 25 to 30 minutes. Stir occasionally, until the peas have turned mushy and the water has been absorbed (image 3). You should not need to drain any excess water. If you use my measurements, the water should all have been absorbed. Keep your eye on them and don't allow them to dry out too much. If they do start to dry out, top them up with a small amount of water.
Remove from the heat, transfer to a serving bowl and serve hot (image 4).
I've mentioned seasoning the mushy peas with salt and sugar, but some people like to sprinkle them with vinegar. You can also mix in a teaspoon of mint sauce for minted mushy peas. Minted mushy peas make a tremendous accompaniment to roast lamb.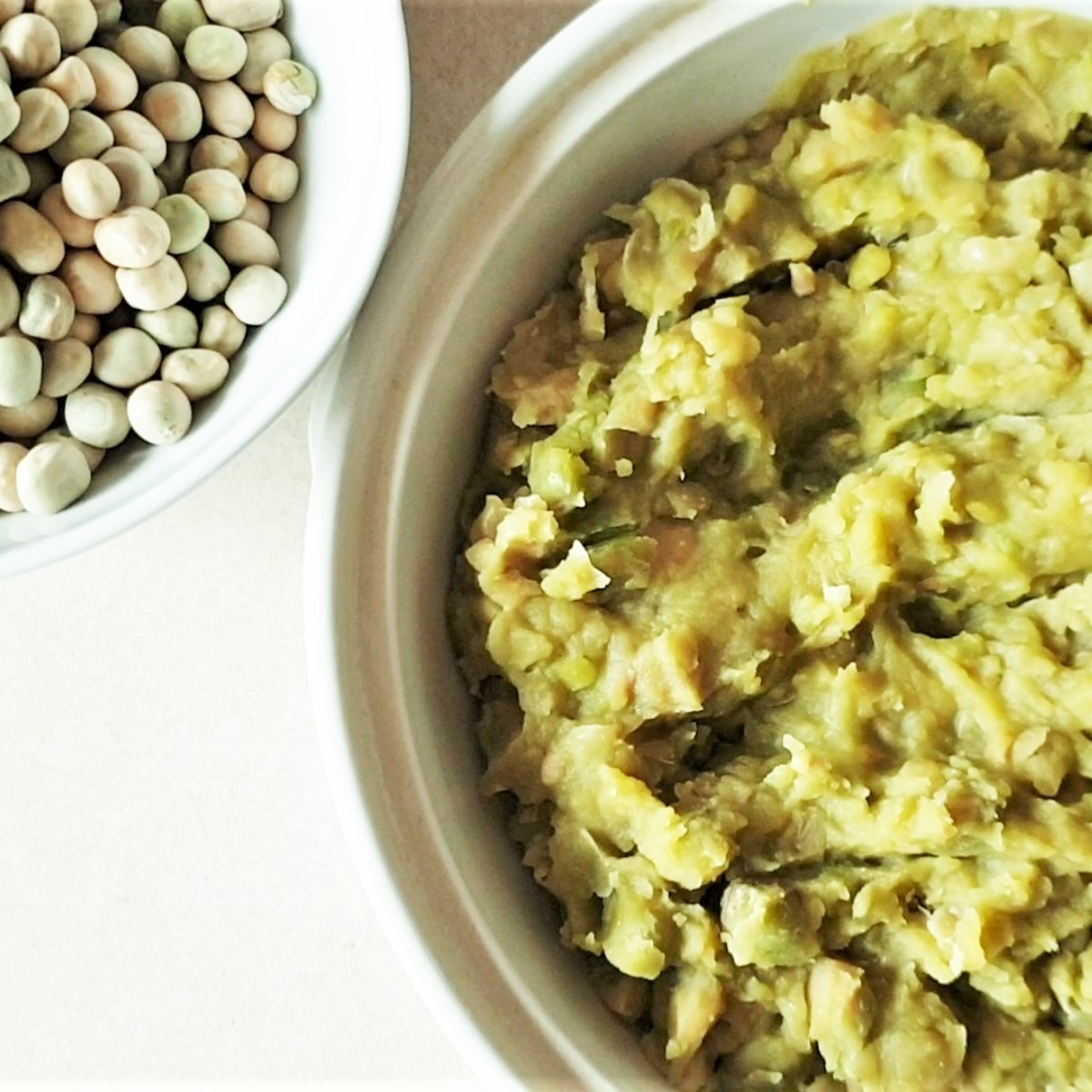 If you'd like to be notified of any new recipes, why not subscribe to my newsletter? As a thank-you gift, you will receive a free recipe e-book containing some of my most popular cakes and desserts.
Can I freeze mushy peas?
Oh yes – in fact I always make far more than I need and freeze some for another meal. It saves on the overnight soaking, and it's nice to have ready-made mushy peas to hand in the freezer.
To freeze the peas, allow them to cool and then pack meal-sized portions in Ziploc bags, or plastic containers, and store them in the freezer for up to six months.
To defrost, simply tip the contents into a saucepan and heat very gently until defrosted, then bring it to the boil. As soon as the peas start to boil remove from the heat and serve.
Save for later
If you would like to try these traditional British mushy peas yourself, why not pin the recipe to one of your Pinterest boards so you can find it easily. Just click on the image below.
Alternatively, you can save the recipe by clicking on the floating heart icon on the right-hand side of the screen.
What should I serve with mushy peas?
Mushy peas are traditionally served with fish and chips, or Yorkshire meat and potato pie.
You can also serve them with a homemade pie, or simply as a side vegetable with a roast.
Why not try mushy peas with one of these recipes:
The recipe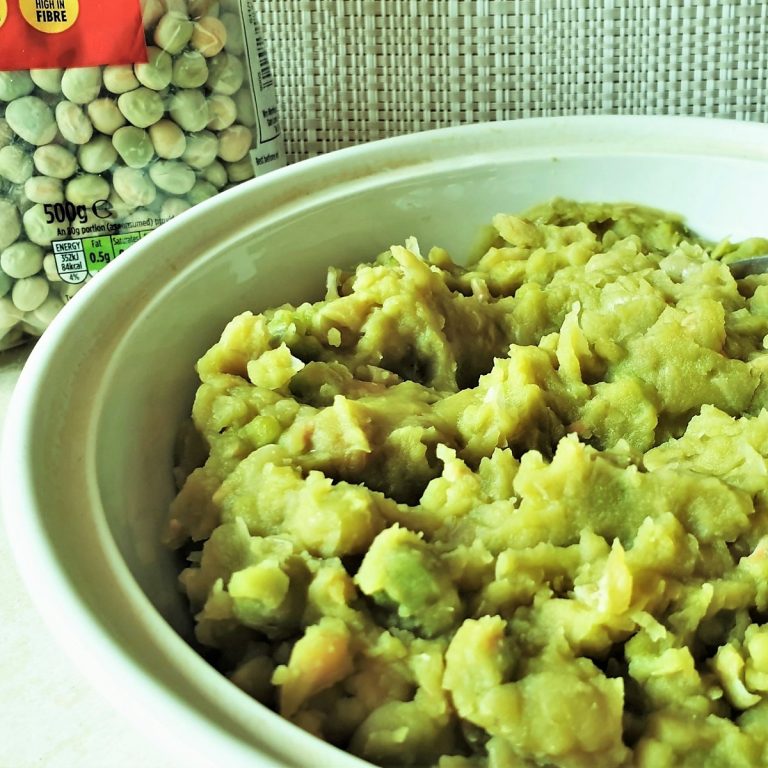 Traditional British Mushy Peas
Traditional mushy peas – as British as fish and chips, or bangers and mash. Add them to a plate of homemade pie and you have a meal fit for a king! Let me show you how to make them yourself at home. It's easier than you think.
Print
Pin
Comment
Bookmark
Saved!
(Click the stars to rate this recipe)
Ingredients
250

g

(

1 cup

) dried marrowfat peas

1

Tablespoon

bicarbonate of soda (baking soda)

2

cups

(

1 pint

) boiling water

for soaking the peas

2

cups

(

1 pint

) boiling water

for cooking the peas

1 to 2

teaspoons

sugar

to taste

salt

to taste
Instructions
Place the peas in a large bowl and add 1 tablespoon bicarbonate of soda (baking soda)

Cover with

2

cups (

1 pint

) boiling water

Leave to stand for 12 hours (or overnight)

Drain and rinse the peas in a colander

Place the peas in a large saucepan and cover with

2

cups (

1 pint

) fresh boiling water

Place on the stove, cover with a lid and bring to the boil

Turn the heat down to a simmer and leave for 25 – 30 minutes, stirring occasionally, until all the liquid has been absorbed and the peas are thick and mushy.

Serve with fish and chips or a homemade meat pie.
Notes
Do not substitute baking powder for bicarbonate of soda.  It will not soften the peas.
Serve these with traditional British fish and chips or Yorkshire Meat and Potato Pie.
Nutrition
Calories –
46
kcal
|
Carbohydrates –
6.9
g
|
Protein –
1.7
g
|
Fat –
1.4
g
|
Sodium –
1525
mg
|
Potassium –
1.7
mg
|
Sugar –
1
g
I am not a nutritionist. The nutrition information has been calculated using an on-line calculator, and is intended for information and guidance purposes only. If the nutrition information is important to you, you should consider calculating it yourself, using your preferred tool.
Unless otherwise stated, a cup is the standard US cup containing 240 ml. In all my recipes this cup is assumed to hold 140g of flour. For help converting other ingredients between cups, grams, ounces and other measures, see my recipe conversion calculator.
All my recipes are developed and tested at sea-level. For tips on adjusting recipes for high altitudes see my post on baking at high altitudes.
Tried this recipe?
If you made this recipe I'd love it if you could leave me a comment and let me know how it went!
Share on Facebook
Share on Twitter
If you made this recipe and enjoyed it, I'd love it if you could give me a star rating in the comments below. And if you'd like to get in touch, you can email me at [email protected]. I'd love to hear from you. And don't forget to subscribe to my mailing list so you can grab yourself a copy of my FREE COOKBOOK!
If you'd like to continue browsing, just click on this link to all my recipes.