Individual beef pot pies, made with tender chunks of steak, braised in a pepper sauce. Top with a lattice of crispy golden puff pastry and you have a comforting hearty meal to chase away the winter blues.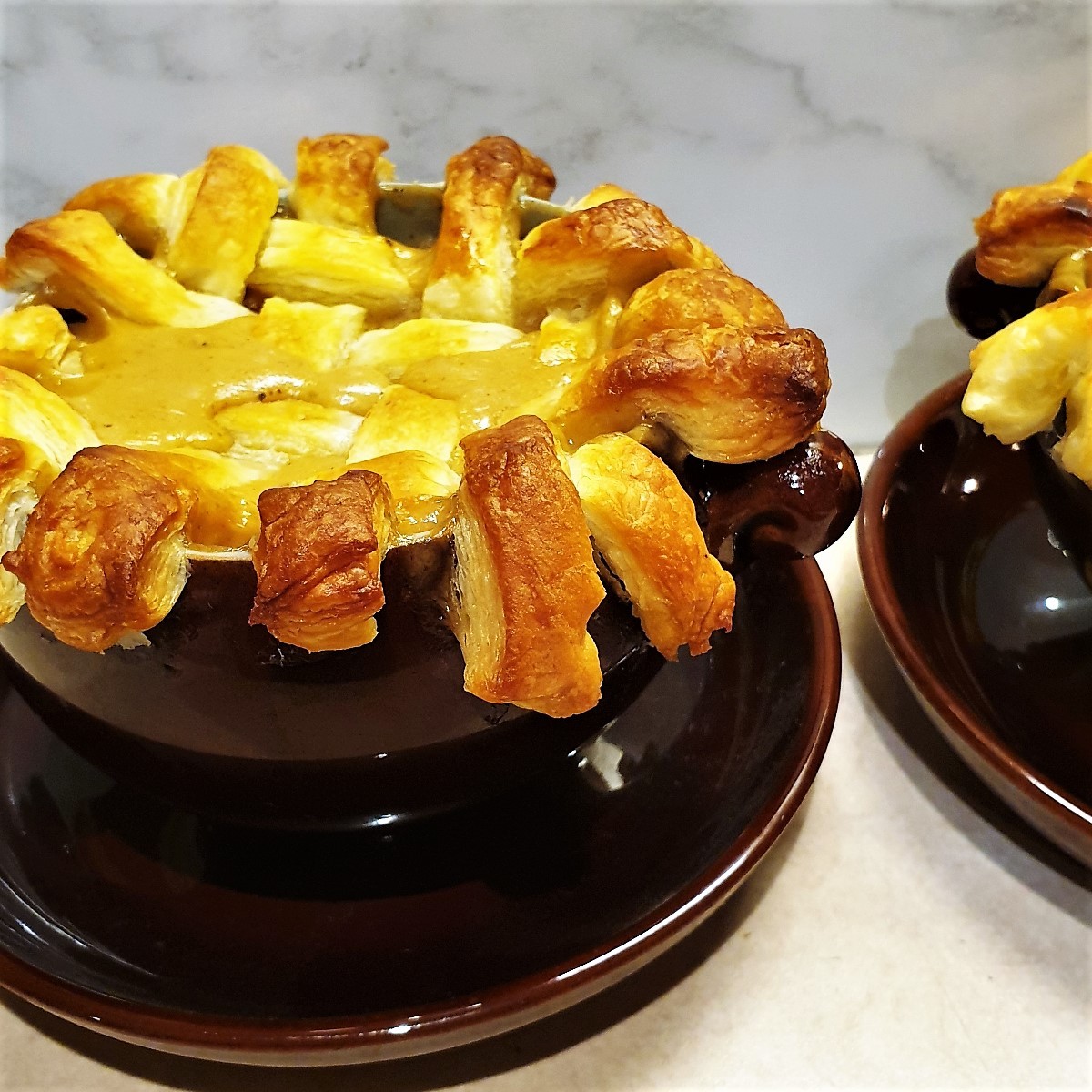 **As an Amazon affiliate, I earn from qualifying purchases.**
Individual Beef Pot Pies
At the first signs of winter my thoughts always turn to hearty warming comfort food. And Beef Pot Pies are number one on the list. They contain tender chunks of beef, swiming in a thick gravy, flavoured with peppercorn sauce.
An added advantage is that this has to be one of the easiest beef pot pie recipes out there. The beef filling only takes 20 minutes to prepare. Once that's done, it just simmers away by itself until the beef is mouthwateringly tender.
You can make them in individual ramekins as I have done here, or make one big pie. The choice is yours.
I love making these individual beef pot pies because everybody gets their fair share of the crispy puff pastry. And let's face it, a piece of puff pastry soaked with delicious gravy that bubbles up and combines with the underneath layers of pastry is heaven on a plate.
I like to put my own spin on the gravy, by using grated carrots and potatoes in the recipe. These cook down to virtually nothing, leaving only the juices which combine with the stock to form a tasty thick gravy.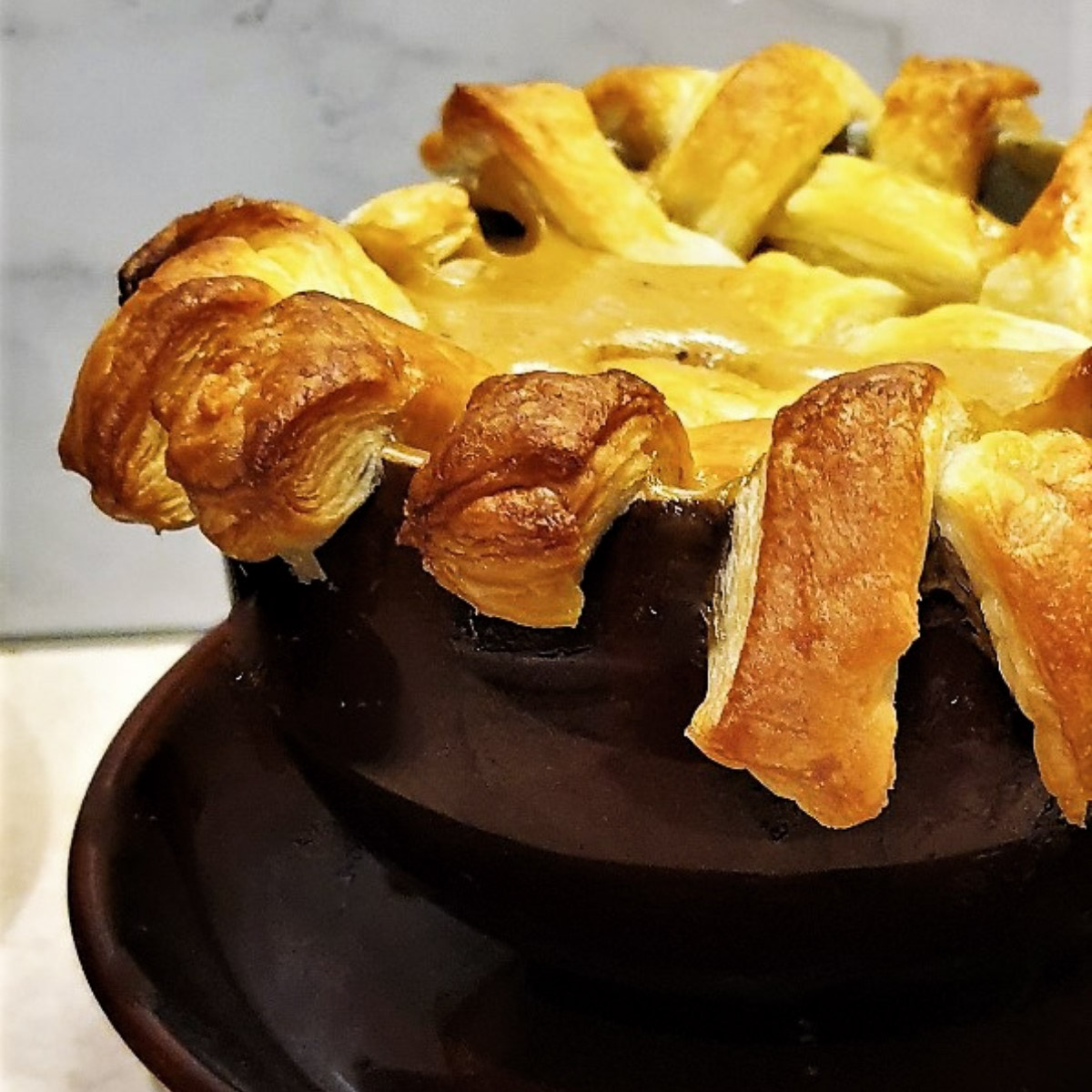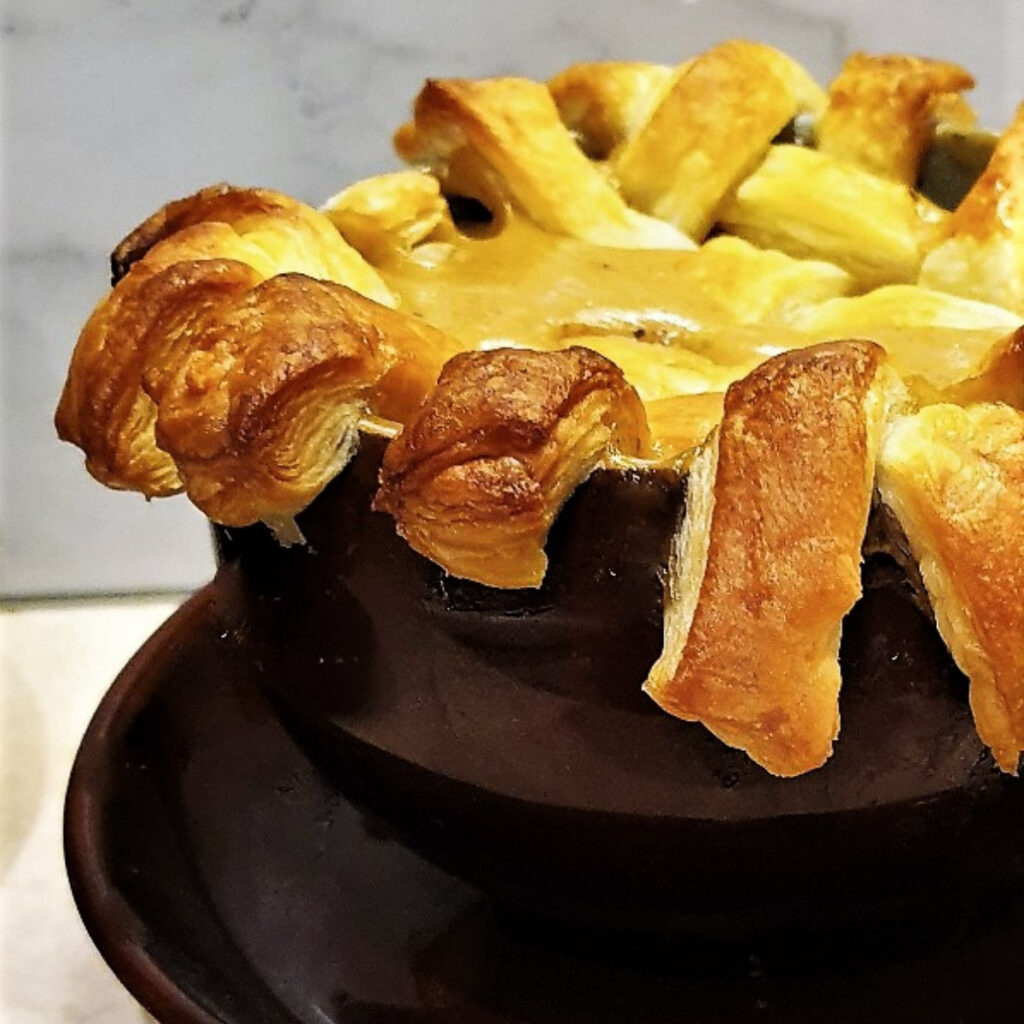 How to make individual beef pot pies
Ingredients
Whenever I read a recipe I like to have a look at the ingredients to see whether I have everything I need. To make it easy for you – I've listed the ingredients below. You can get the complete list of ingredients and full instructions for making these beef pot pies on the printable recipe card further at the end of this post.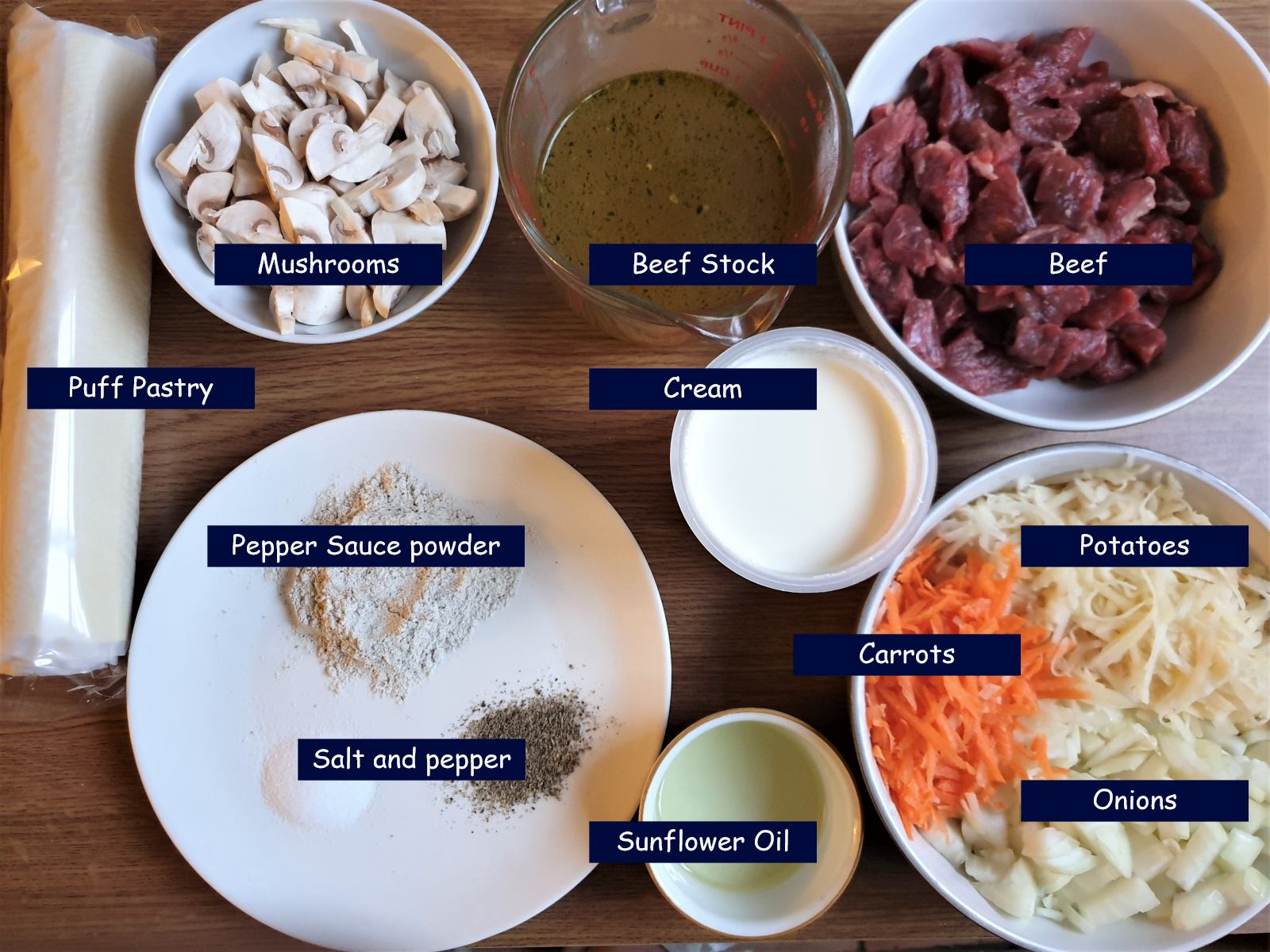 Puff pastry – use shop-bought puff pastry for convenience.
Beef – good quality steak, chopped into smallish cubes
Potatoes and carrots – these should be coarsely grated
Mushrooms and onions – these should be chopped
Beef stock – made from a stock cube and a cup of water
Cream – because every recipe needs a little decedance
Pepper Sauce powder – I use a packet of shop bought peppercorn sauce powder
Salt and pepper – lots of pepper to enhance the pepper flavour of the sauce
Sunflower oil – for frying the onions. Olive oil is fine too.
Steps
Preparation
Chop the steak into bite-sized chunks
Peel and grate the carrots and potatoes
Peel and chop the onion into approximately 1cm dice
Wipe the mushrooms to remove any dirt and chop into chunks
Dissolve 1 stock cube in one cup of boiling water
Cook the filling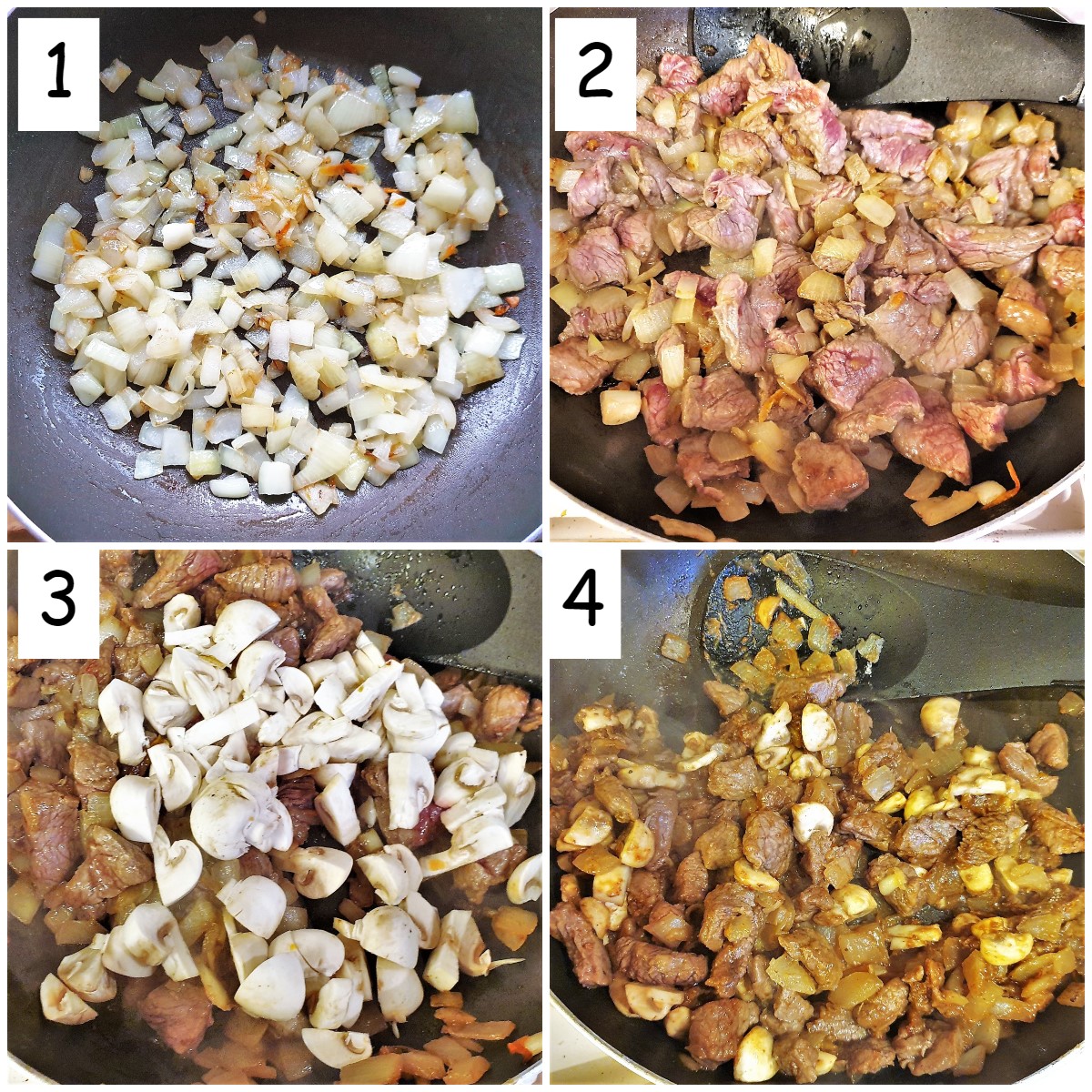 Heat the sunflower oil in a large frying pan. Add the onions and fry the onions over a low heat until they start to change colour (image 1 above).
Increase the heat and add the steak. Stirfry until the surface of the meat has sealed (image 2 above).
Add the mushrooms and continue frying until they have browned (image 3 above).
Stir in the peppercorn sauce mix and the salt and pepper. The powdered sauce mix will combine with the juices in the pan. Mix well to remove all the lumps (image 4 above).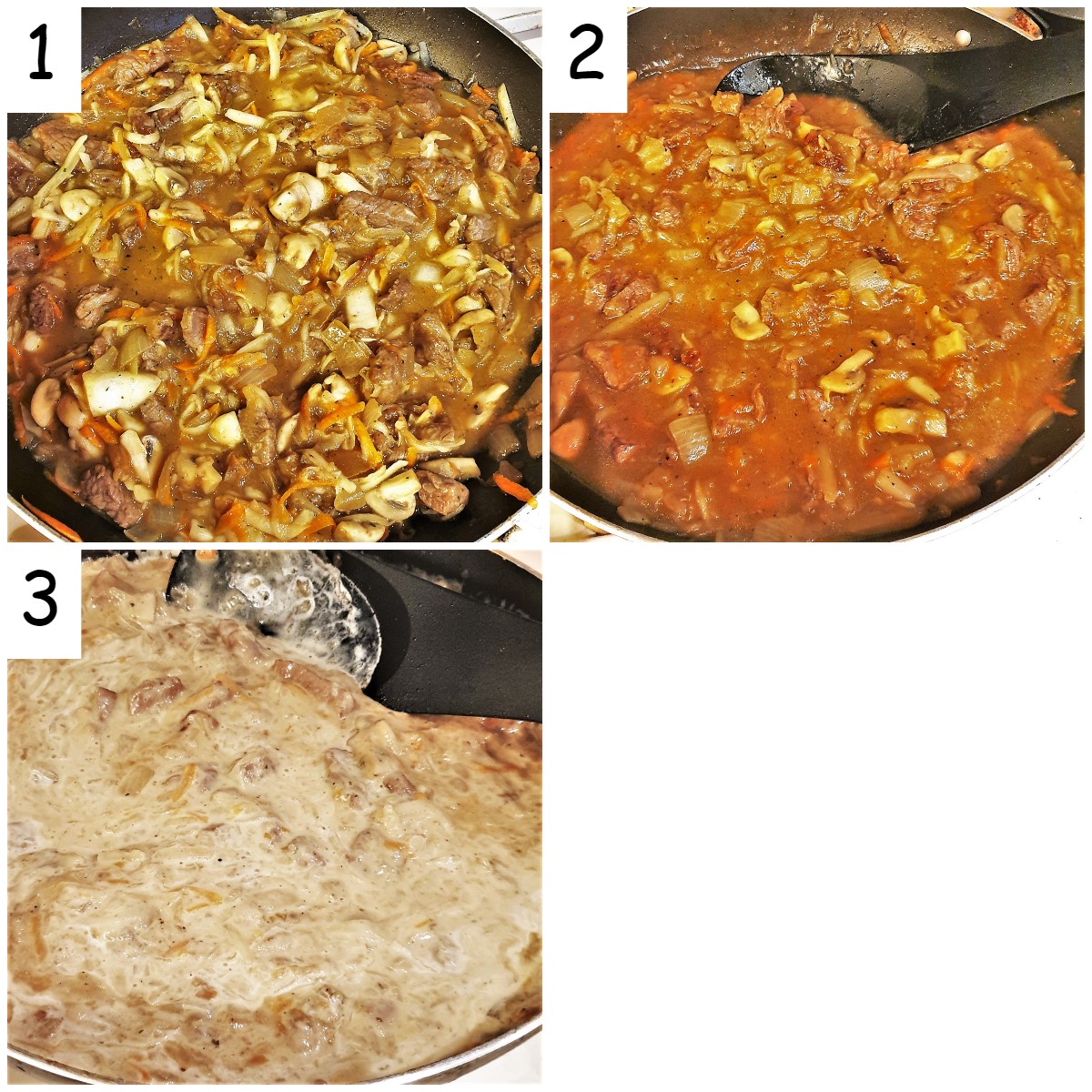 Stir in the carrots and potatoes (image 1 above) and then pour in the beef stock and mix well.
Cover and leave to simmer on a low heat at least one hour, until the potatoes and carrots have disintegrated and the meat is cooked through and tender (image 2 above). The cooking time will depend on how large your chunks of beef have been cut. If it starts to dry out, top up with more beef stock.
Remove from the heat and stir in the cream (image 3 above)
If the sauce looks too runny, thicken with a little cornflour dissolved in 1 tablespoon of milk. This will allow the sauce to thicken as the pies cook in the oven.
Allow the filling to cool.
Assemble the pies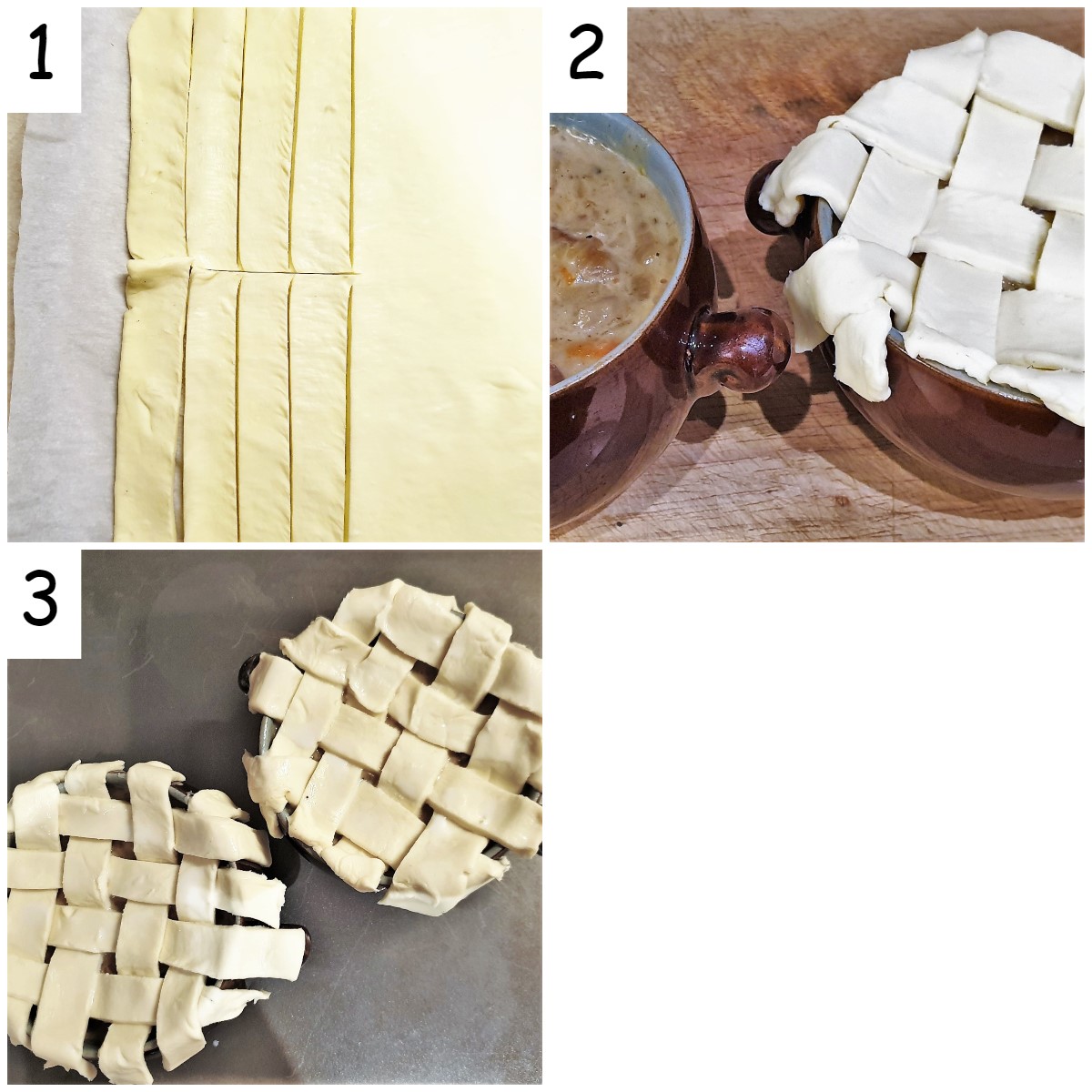 Carefully unroll the puff pastry and cut strips about 1cm wide. Cut each strip in half so that they are just long enough to fit over a ramekin (image 1 above).
Ladle the cooled filling into each ramekin (image 2 above). It is important to cool the filling first, because if the pastry comes into contact with hot liquid it will start to melt and will not rise properly
Use the pastry strips to form a lattice on top of each ramekin (image 3 above). If you don't want a lattice on the top of each pie, just cover each ramekin with a flat piece of pastry. And remember to cut a few slits in the top to allow the steam to escape.
Brush the top of each with a little beaten egg or milk.
Bake
Place the ramekins on a baking tray. Line the baking tray with foil to protect it from any filling that may boil out as the pies are cooking.
Bake in a hot oven 220C/425F for 15 – 20 minutes until the pastry is well risen and golden.
Just look at how the gravy has seeped through and soaked into the pastry!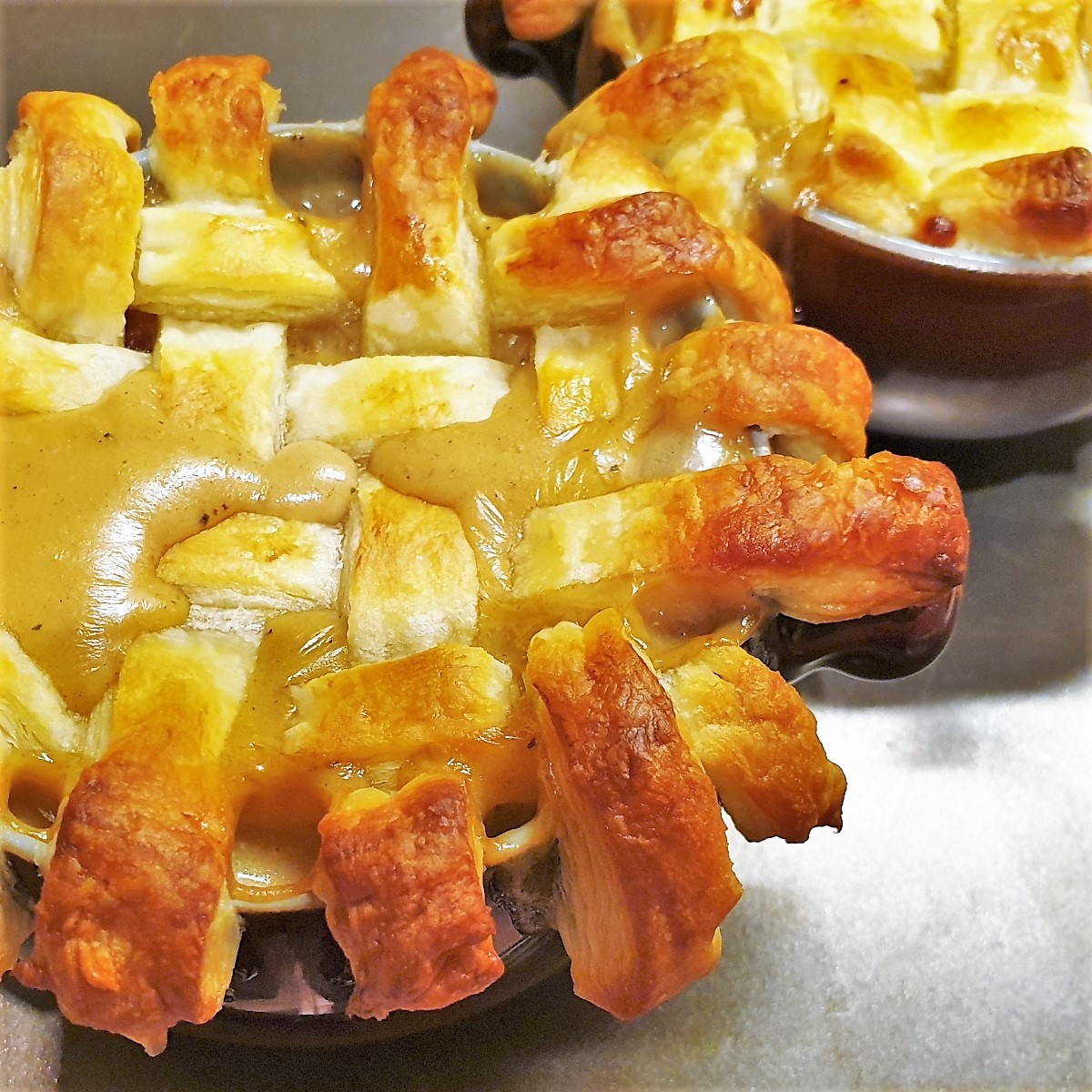 Any Questions?
Can I freeze beef pot pies
Yes, you can freeze the uncooked pot pies. Wrap the assembled pies in cling film and place them in the freezer for up to 4 months.
To use – allow to defrost in the refrigerator and then bake as per the recipe instructions.
I wouldn't freeze these once the pastry has been cooked because the cooked pastry will not retain its crispness once it has been frozen and defrosted.
Use can also freeze the cooled filling on its own. Just allow to defrost in the fridge and then ladle into individual ramekins, cover with a lattice of puff pastry and bake as per the recipe instructions.
What do you serve with individual beef pot pies?
I like to serve with rice or mashed potatoes and a side helping of vegetables. A sweet vegetable such as peas complements the peppery taste of the steak really well.
Or why not try serving them with my traditional mushy peas?
If you'd like to be notified of any new recipes, why not subscribe to my newsletter. As a thank-you gift, you will receive a free recipe e-book containing some of my most popular cakes and desserts.
Pin for later
Why not pin this recipe for beef pot pies so you can make it later.
Recipe – Beef Pot Pies with pepper sauce
If you made this recipe and enjoyed it, I'd love it if you could give me a star rating in the comments below. And if you'd like to get in touch, you can email me at [email protected]. I'd love to hear from you. And don't forget to subscribe to my mailing list so you can grab yourself a copy of my FREE COOKBOOK!
If you'd like to continue browsing, just click on this link to all my recipes.
This recipe has been shared on CookBlogShare