Fall-off-the-bone-tender, succulent lamb shanks, served on a bed of fluffy mustard mashed potatoes and smothered in delicious minted lamb gravy. Make it in a pressure cooker and have dinner on the table in less than an hour!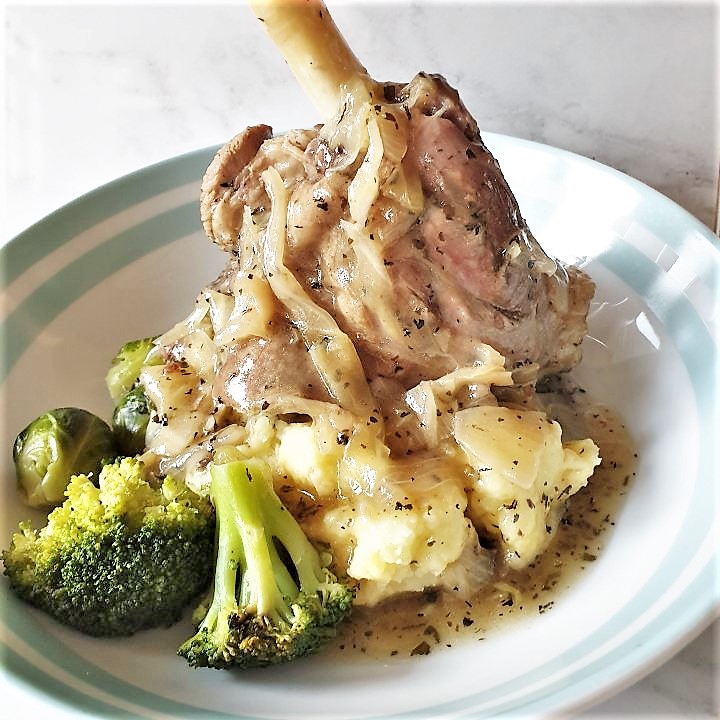 **As an Amazon affiliate, I earn from qualifying purchases.**
Lamb shanks with minted gravy
A Lamb shank, properly cooked, is one of the most tender, flavoursome meals you can eat. It is quite a tough cut of meat though – so it benefits from a long slow cooking time. But at the end of a long day, the last thing you want to do is spend 3 or 4 hours waiting for supper to cook. This is where a pressure cooker comes in.
With a pressure cooker you can have succulent, fork-tender, fall-apart lamb shanks on the table in under an hour. Pair the lamb shanks with a pile of mustard mash, smother in minted gravy and you have a meal fit for a king.
This is an incredibly easy meal to whip together. Pop the lamb into a pressure cooker, add a few simple ingredients and leave alone for 40 minutes. As it cooks, it forms the most mouthwateringly delicious gravy. All you have to do is thicken, flavour with mint and serve.
You can't really go wrong with cooking a lamb shank. If you accidentally overcook it, the worst that will happen is that the meat will fall off the bone, and you'll be left with a lamb stew instead of a lamb shank!!!
Ingredients for lamb shanks with minted gravy
Whenever I read a recipe I like to have a look at the ingredients to see whether I have everything I need. To make it easy for you – I've listed the ingredients below. You can get the full list of ingredients and instructions to make this recipe on the printable recipe card further down in the post.
Lamb shanks
1 lamb shank and 1 coarsely chopped medium-sized onion per person.
1/4 head finely shredded white cabbage – about 1 cup
Salt – optional, to your own taste
Lamb or vegetable stock – you can make this using a stock cube
Olive oil (for browning the lamb shanks)
About 3 tablespoons of good quality shop-bought mint sauce
2 tablespoons cornflour (for thickening)
Don't be surprised by the short list of ingredients. Trust me, this is all you need to make the most delicious lamb shanks with minted gravy. Read on for more details.
Mustard mash
This is sufficient for 2 people. To make for more, simple double up the ingredients. Don't double up on the salt, use your own discretion on the amount of salt you will need to cook the potatoes.
2 large Potatoes
1 teaspoon Salt
1 Tablespoon Butter
50 ml Cream
1 Tablespoon Dijon or Wholegrain Mustard depending on your taste.
How to make lamb shanks with minted gravy
I make this dish in an electric pressure cooker. You can make normal pressure cooker, or you could even cook it in a large saucepan on the stovetop if you don't own a pressure cooker. Details for alternative way of cooking are given below.
Brown the lamb shanks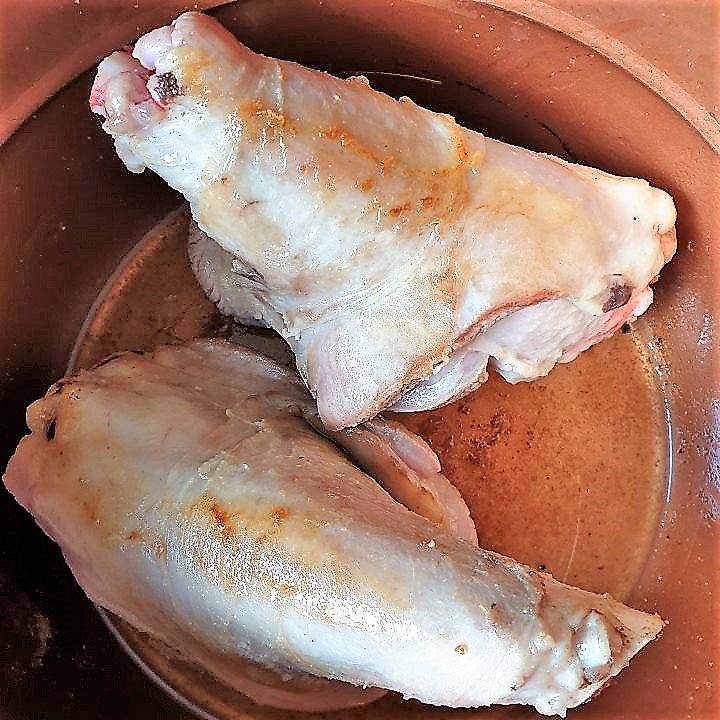 Rinse the lamb shanks in cold wate and pat dry with kitchen towel.
Rub each lamb shank with salt – you don't need too much, 1/2 teaspoon per shank is ample.
Brown the shanks in a little olive oil. You need to get the shanks really brown so take your time over this. The browner they are, the more flavour they will eventually have.
My pressure cooker has a browning function so I just use that. If you don't have a pressure cooker, use a large frying pan on the stove top
To be honest, if you are cooking more than 2 lamb shanks it will be faster to brown them in a large frying pan anyway – that way you can do them all together.
As you will see from the photo above there is really only room to do 2 at a time in the pressure cooker.
Add the stock and the vegetables
Once the shanks are nice and brown, add 1/2 cup lamb or vegetable stock (use a stock cube if necessary) to the pressure cooker and tip in the chopped onions and shredded cabbage.
Onions and cabbage contain a lot of moisture, and when you cook then in the pressure cooker with the meat, they cook away to almost nothing leaving just their juices. This forms the most delicious gravy. For this reason you only need a small amount of stock to start off the cooking process. You will be amazed at the amount of liquid that is in the pressure cooker at the end of the cooking time.
If you really don't like cabbage, you can leave it out but you must replace it with 1 cup of vegetable or lamb stock to replace the liquid that comes from the cabbage.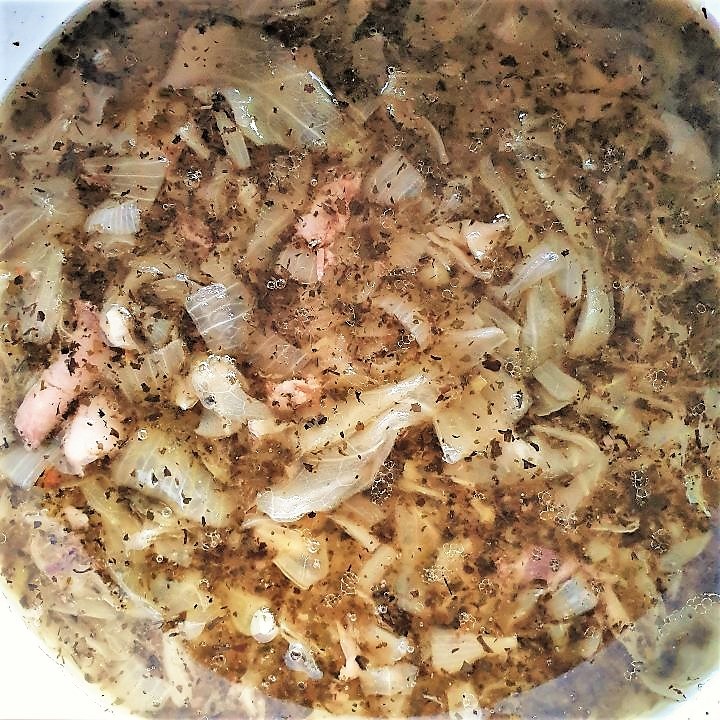 Set the pressure cooker
I use the Stew function on my pressure cooker, because that is the highest setting.
If you don't have a stew function button, just follow the manufacturer's instructions for cooking lamb shanks.
Cook for 30 minutes, then release the pressure. The lamb should be almost falling off the bone.
If the lamb is not quite done then give it a few minutes longer in the pressure cooker. Timing depends entirely on the size of your lamb shanks, larger ones will take more time to cook.
Make the minted gravy
Once the lamb shanks are cooked, remove them from the pressure cooker and keep warm.
Pour the juices (including the onion and cabbage) into a saucepan over a low heat.
The cabbage will have cooked away so much that it will resemble thin translucent onions and you will probably have at least 3 cups of liquid.
Mix 2 tablespoons of cornflour with a little water and drizzle it slowly into the juices, stirring all the time. Stir until the sauce boils and thickens to a gravy consistency.
Then remove from the heat and stir in 3 Tablespoons mint sauce.
Tip – don't add all of the cornflour mixture at once – drizzle it in slowly. You may find you don't need all of it. On the other hand, if the gravy doesn't thicken sufficiently you may need to use a little more cornflour and water mixture.
Make the mustard mash
While the meat is in the pressure cooker, peel and quarter the potatoes.
Place in a large saucepan of cold water with 1 teaspoon of salt.
Bring to the boil, cover with a lid and allow to boil until they are soft enough to mash. This should take 10 to 15 minutes.
Remove from the heat and drain through a colander.
Return the potatoes to the saucepan and add 2 tablespoons butter, 100 ml cream and 2 tablespoons Dijon or wholegrain mustard (depending on your taste).
Mash well until there are no lumps remaining.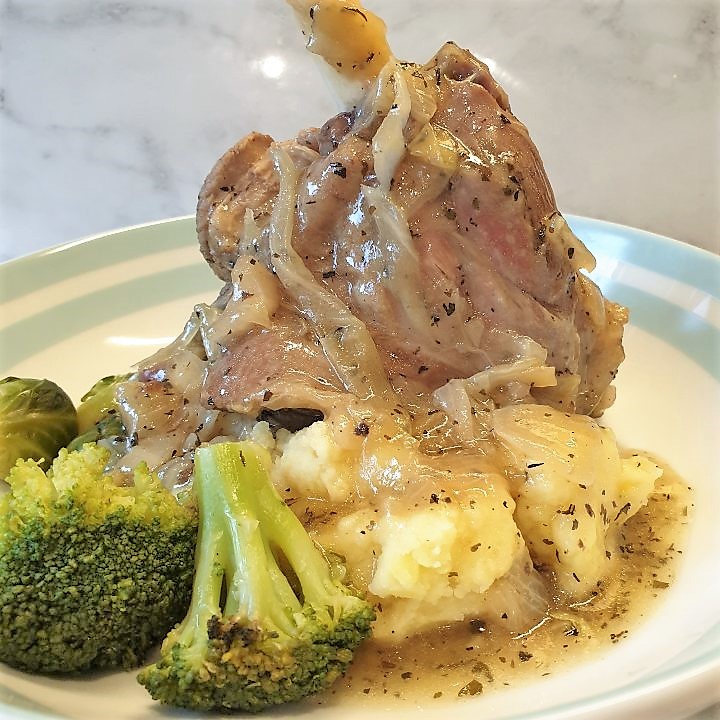 To Serve
Place a pile of mashed potato into the centre of a plate and position a lamb shank on top.
Add your choice of vegetable on the side (broccolli and brussel sprouts go well with this).
Pour the minted gravy over the lamb shanks.
Sit back and wait for compliments.
Alternative methods of cooking lamb shanks
Normal pressure cooker
If you don't have an electric pressure cooker, you can make these in a normal pressure cooker.
Follow all the steps above, but use 2 cups of lamb stock instead of 1/2 a cup when you add the stock and vegetables.
This is because with a normal pressure cooker, steam is released during the cooking process and a lot of the moisture will be lost.
Follow the manufacturer's instructions for the length of time it will take to cook lamb shanks.
The rest of the instructions remain the same.
Stove-top
You can make these on the stove top too, but you will need much longer, and you will also need a lot more stock.
Brown the lamb shanks (as above) in a large saucepan.
Then add the vegetables and sufficient stock to cover the lamb shanks (about 4 cups).
Bring to the boil then reduce the heat to a simmer.
Cover the saucepan with a tight-fitting lid and allow to simmer for about 2 hours until the meat is almost falling off the bone.
Keep your eye on it. If it starts to dry out, top up with more stock as needed. At the end of the process you will need to have sufficient juices left in the pan to convert into minted gravy (at least 2 cups worth).
The rest of the instructions remain the same.
If you'd like to be notified of any new recipes, why not subscribe to my newsletter. As a thank-you gift, you will receive a free recipe e-book containing some of my most popular cakes and desserts.
Pin for later
Why not pin this recipe for minted lamb shanks so you can make them later.
This recipe was number 6 on my top 10 recipes for December 2019.
Recipe – Lamb Shanks with Minted Gravy
If you made this recipe and enjoyed it, I'd love it if you could give me a star rating in the comments below. And if you'd like to get in touch, you can email me at [email protected]. I'd love to hear from you. And don't forget to subscribe to my mailing list so you can grab yourself a copy of my FREE COOKBOOK!
If you'd like to continue browsing, just click on this link to all my recipes.
This recipe has been shared on #Cookblogshare.