These crispy sweetcorn fritters are bursting with juicy corn kernels with a fluffy cheesy inside and a crispy golden exterior. Perfect as an accompaniment to a grilled chicken breast or a sausage, or served with your favourite dipping sauce for a delicious light lunch.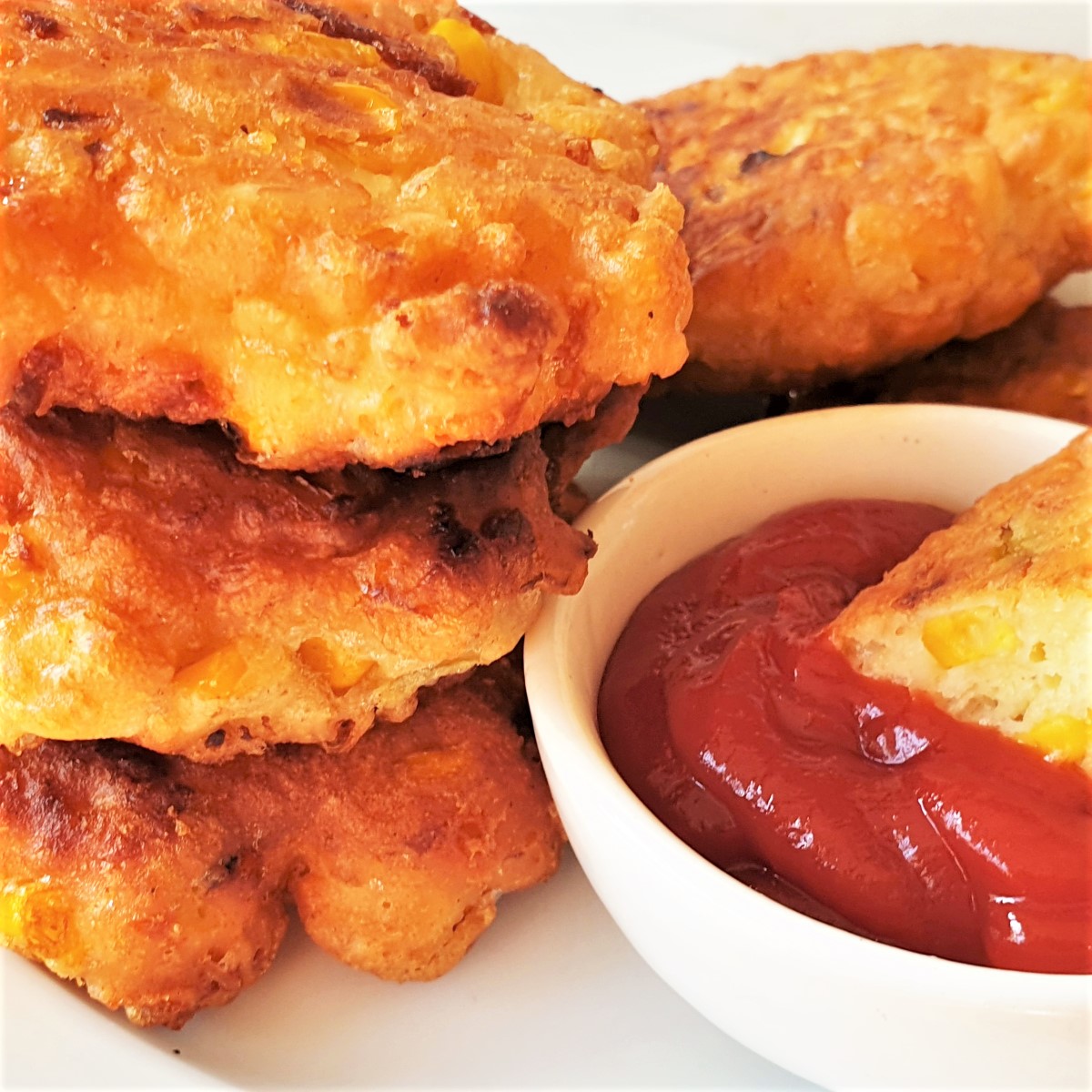 **As an Amazon affiliate, I earn from qualifying purchases.**
Crispy sweetcorn fritters
I can't stop eating these crispy, cheesy sweetcorn fritters. They are so crispy on the outside and when you break them open they are filled with a deliciously light cheesy centre, packed with little juicy pops of sweetcorn.
The secret to getting these fritters to be so light and fluffy is not to use too much flour. All you will need is sufficient flour to ensure that the corn kernels hold together. Any more, and you run the risk of the fritters turning out stodgy. And let's face it, there's nothing worse than a stodgy fritter!
These crispy sweetcorn fritters only take 5 minutes to prepare, and 3 minutes per side to fry. Whip up a batch now – and you can be enjoying your own fritters in only 20 minutes.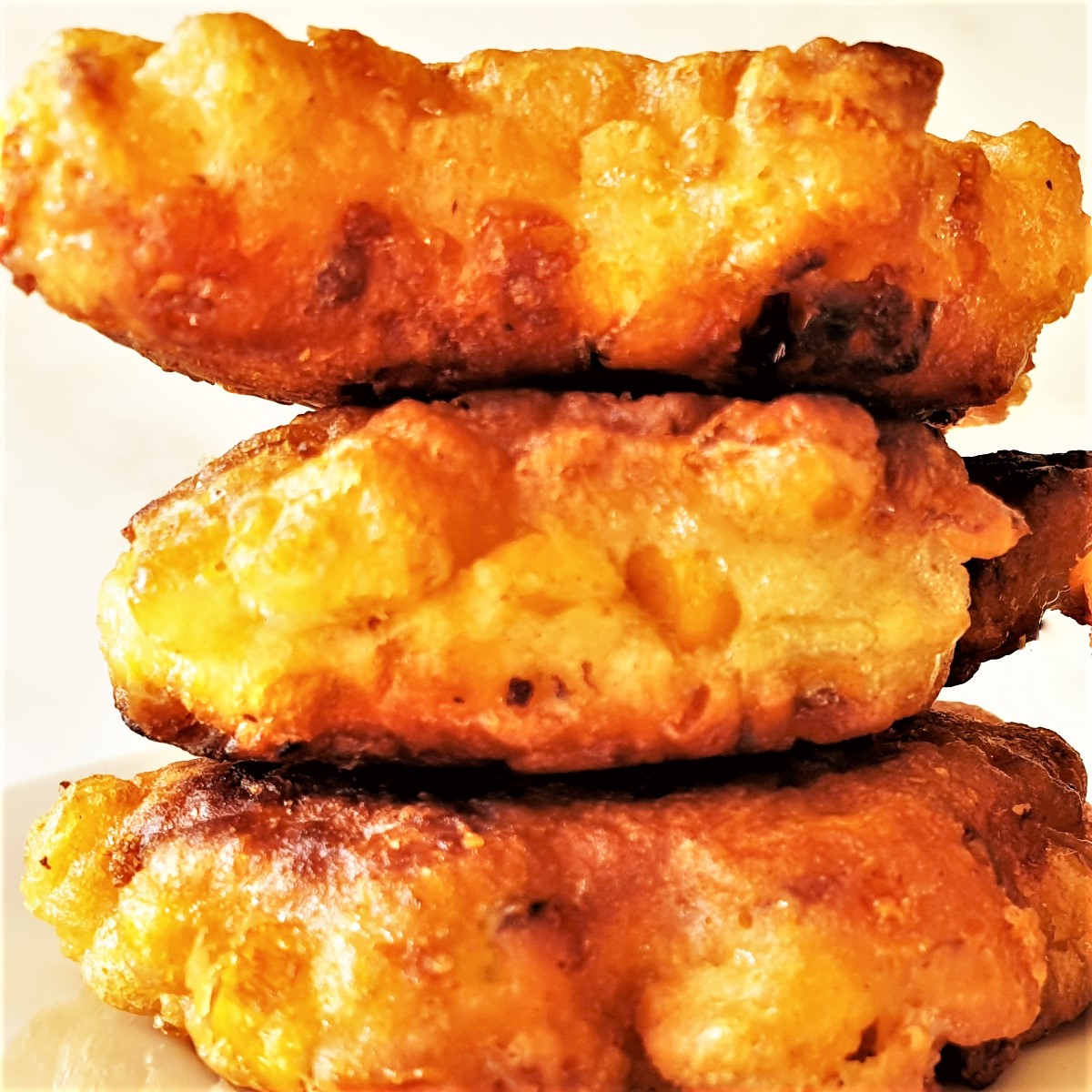 How to make crispy cheesy sweetcorn fritters
This recipe makes about 10 fritters. You can get a printable version of the recipe at the bottom of the post.
To make the fritters you will need one small can of whole kernel corn. The size I used was printed on the tin as 198g total weigh, or 165g drained weight (the equivalent would be a 7oz can). You will need to drain the can because we don't need any liquid in this recipe.
You will also need 2 eggs, which are lightly beaten with 1/2 teaspoon salt and a generous grinding of black pepper.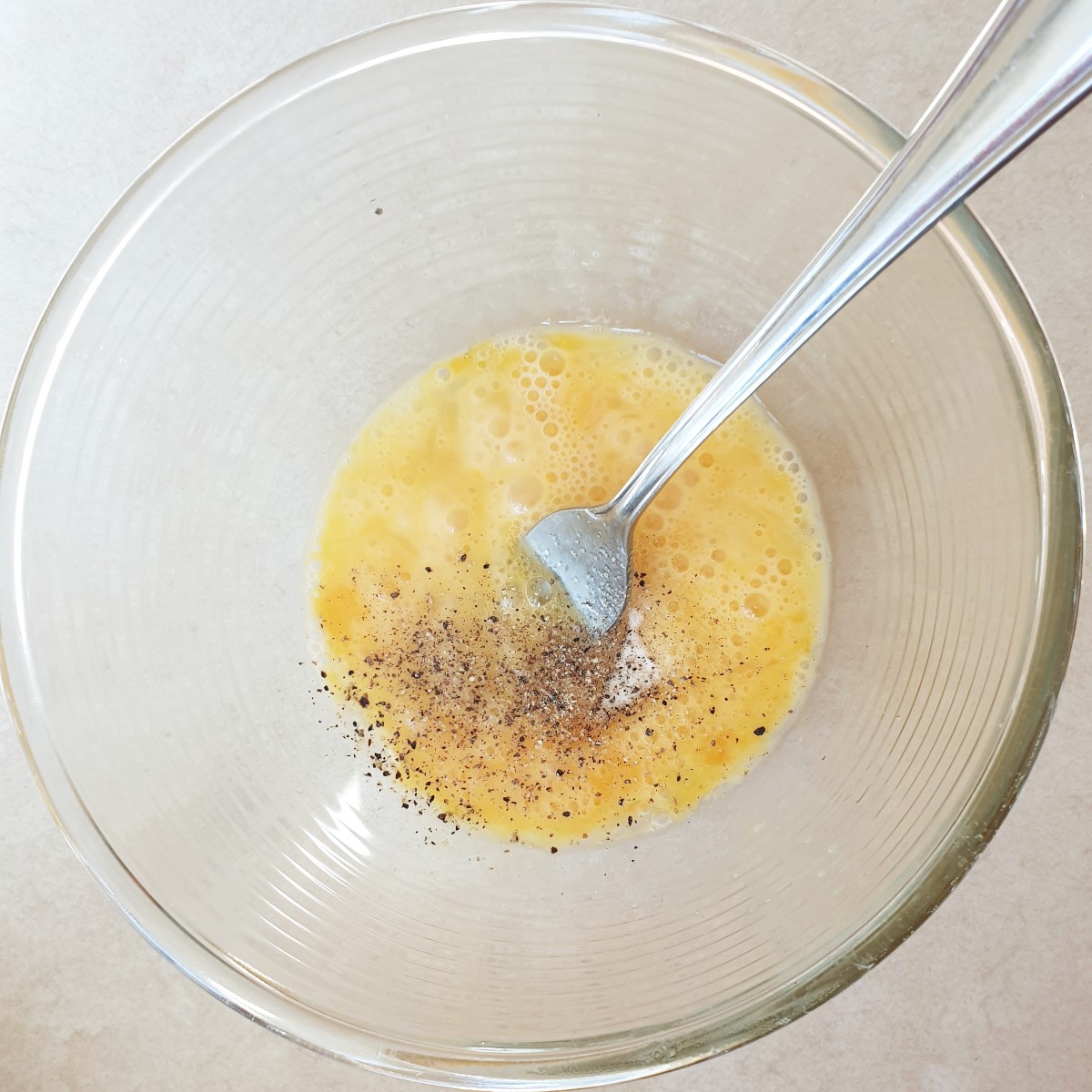 To the eggs you need to add 1/2 cup (60g) of plain all purpose flour and 1 teaspoon baking powder and 1/2 cup (60g) of your favourite grated cheese.
You can use self-raising flour without adding the baking powder if you prefer.
For the cheese, I used cheddar but you can use any cheese that grates well.
Give this a mix to combine. Try to get all the lumps out of the flour, but it doesn't matter too much if there are a few small lumps left.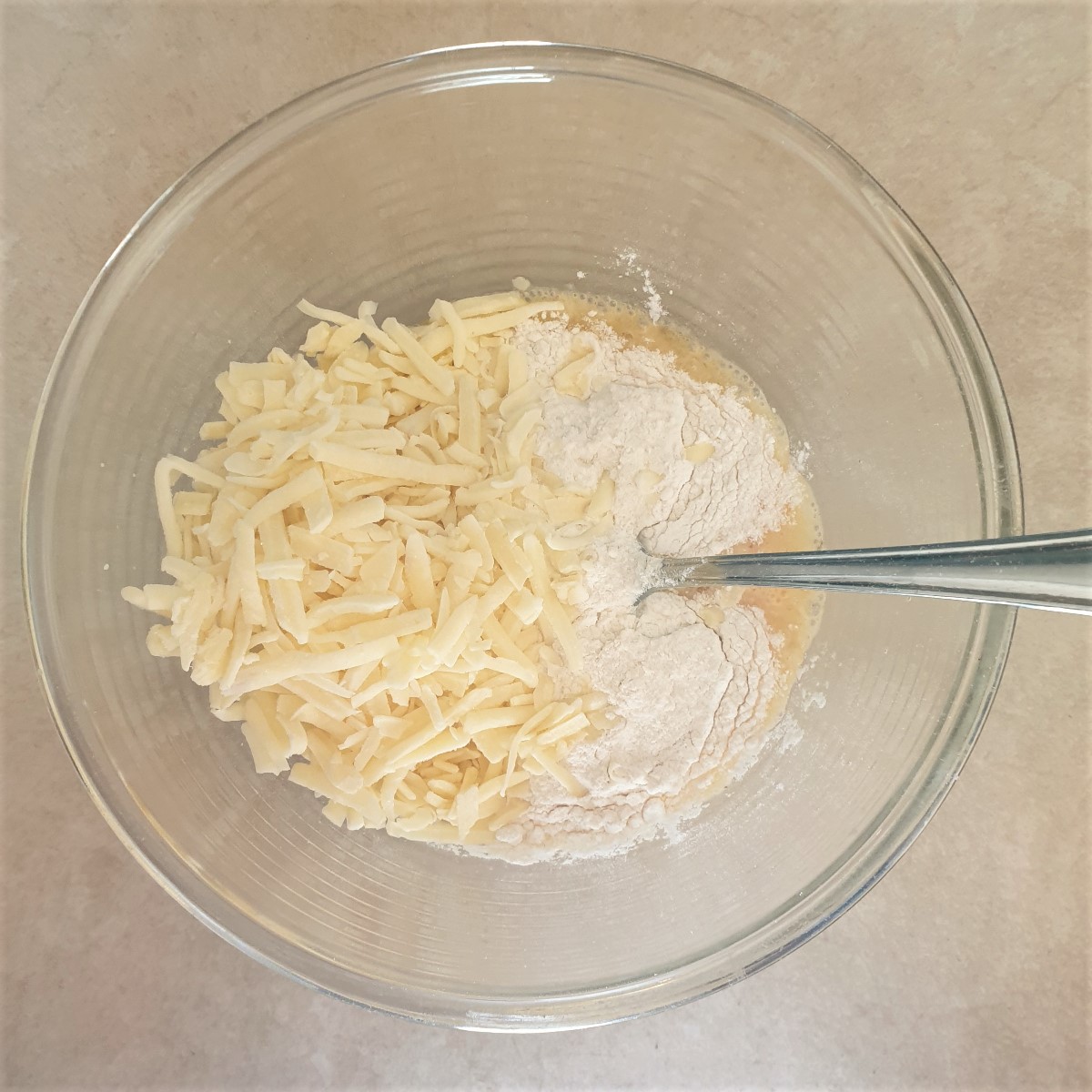 Now add the drained sweetcorn and one chopped spring onion (or scallion), and mix that through.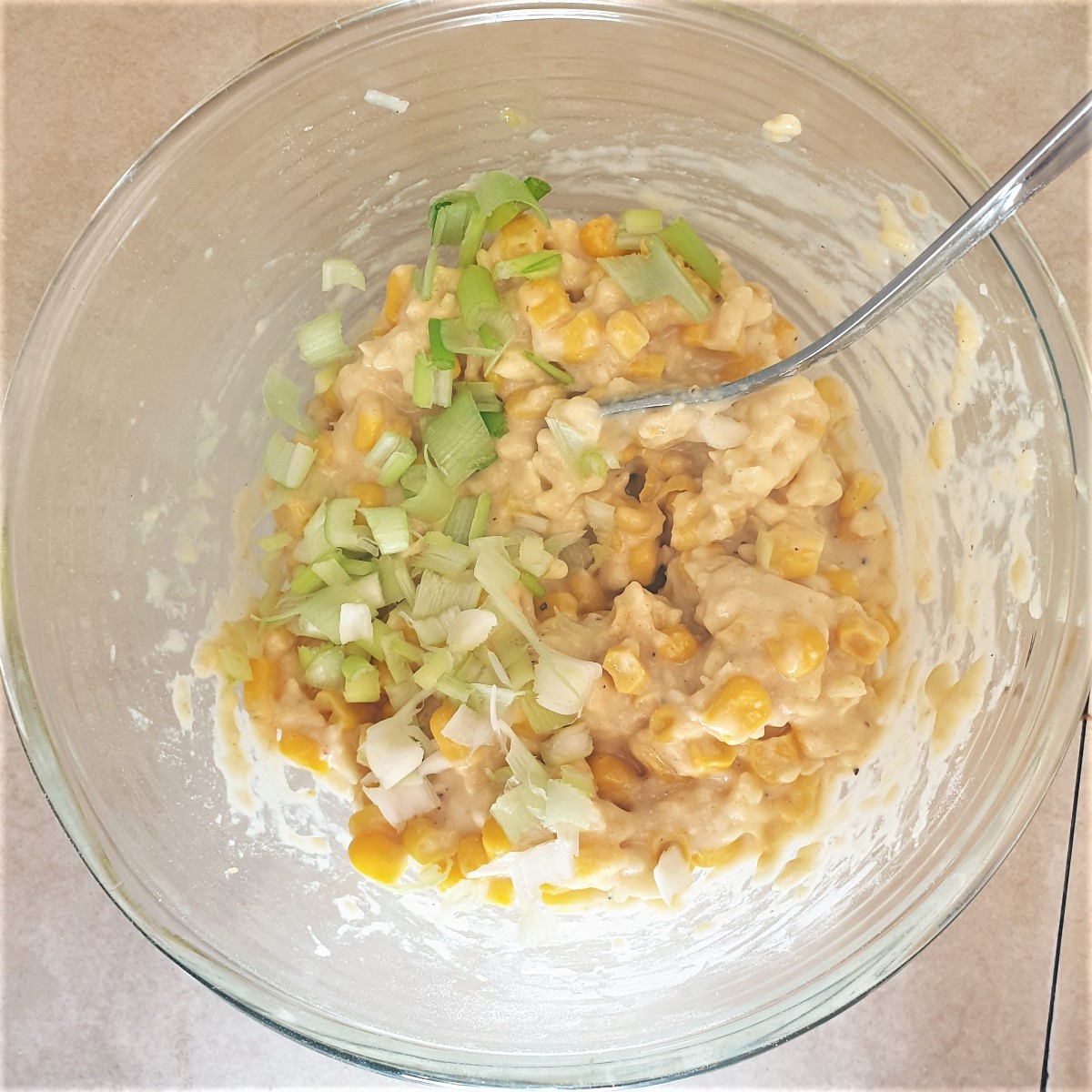 The mixture looks as though it won't hold together, but don't worry. Once it hits the hot oil it will set into perfectly formed fritters.
Crispy coating
Here's my trick for getting a lovely brown crispy coating on the fritters – fry them in a mixture of butter and sunflower oil. The butter adds an extra layer of flavour to the fritters, while the oil prevents the butter from burning.
Heat a knob of butter (you don't have to be too exact with the size – anything between 15 and 20 grams will be fine) with 4 tablespoons of cooking oil.
Place spoonfuls of the batter into the oil. Press down lightly with the back of the spoon to flatten them slightly. Do not overcrowd the pan or you will find it difficult to turn the fritters.
Allow to fry gently for about 3 minutes until the underside of the fritter is golden brown.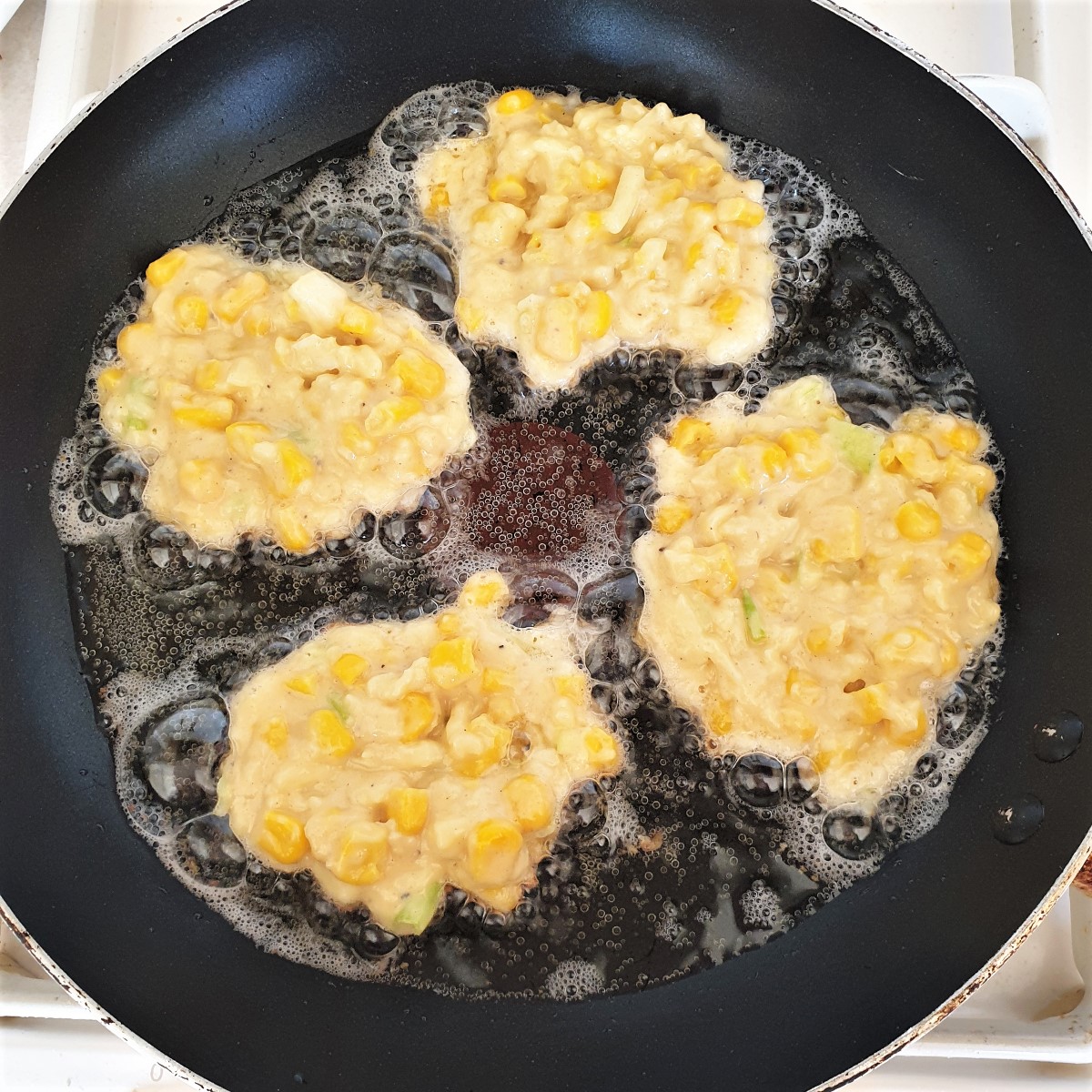 Once the bottom of the sweetcorn fritters has turned brown, flip with a spatula and fry for another 3 minutes or so.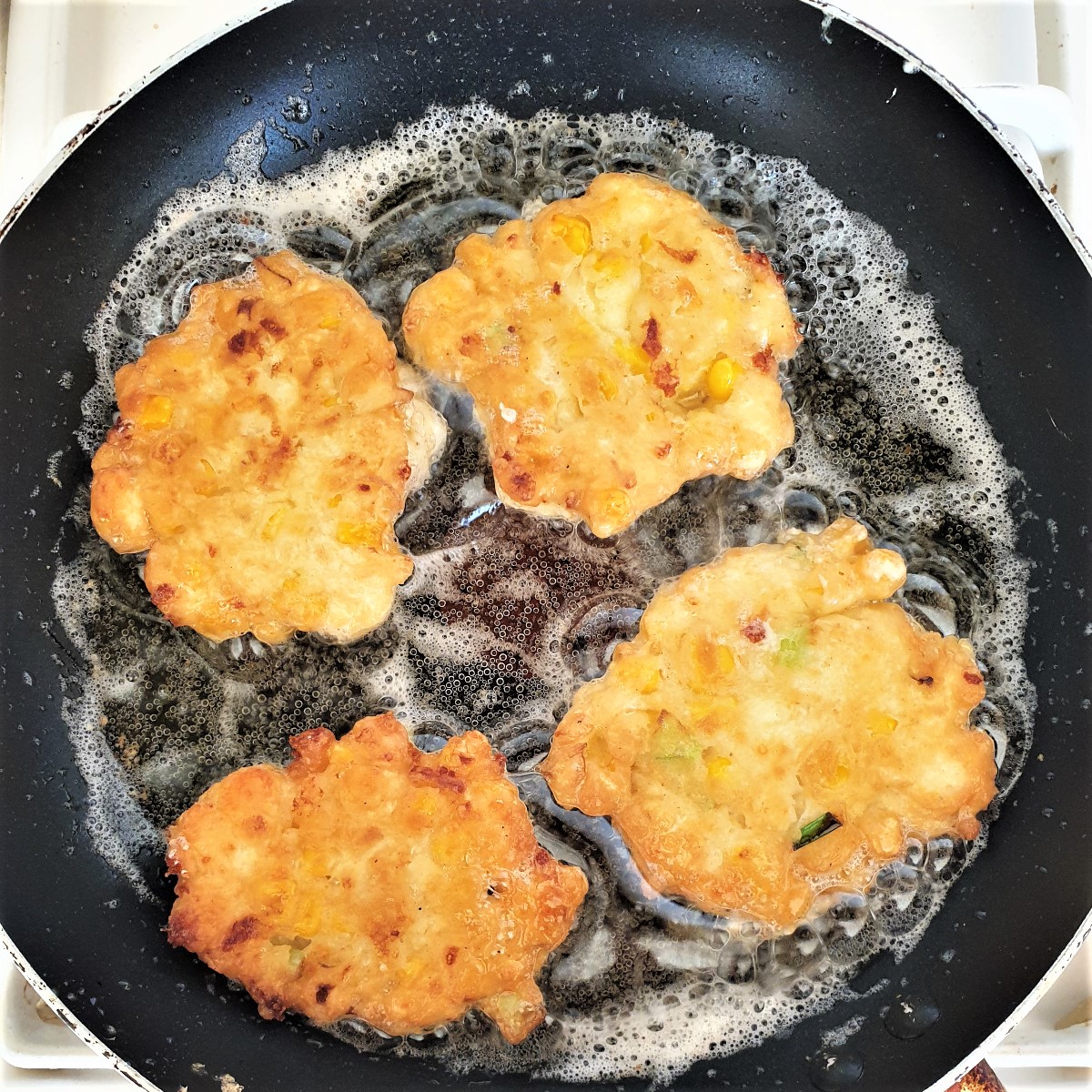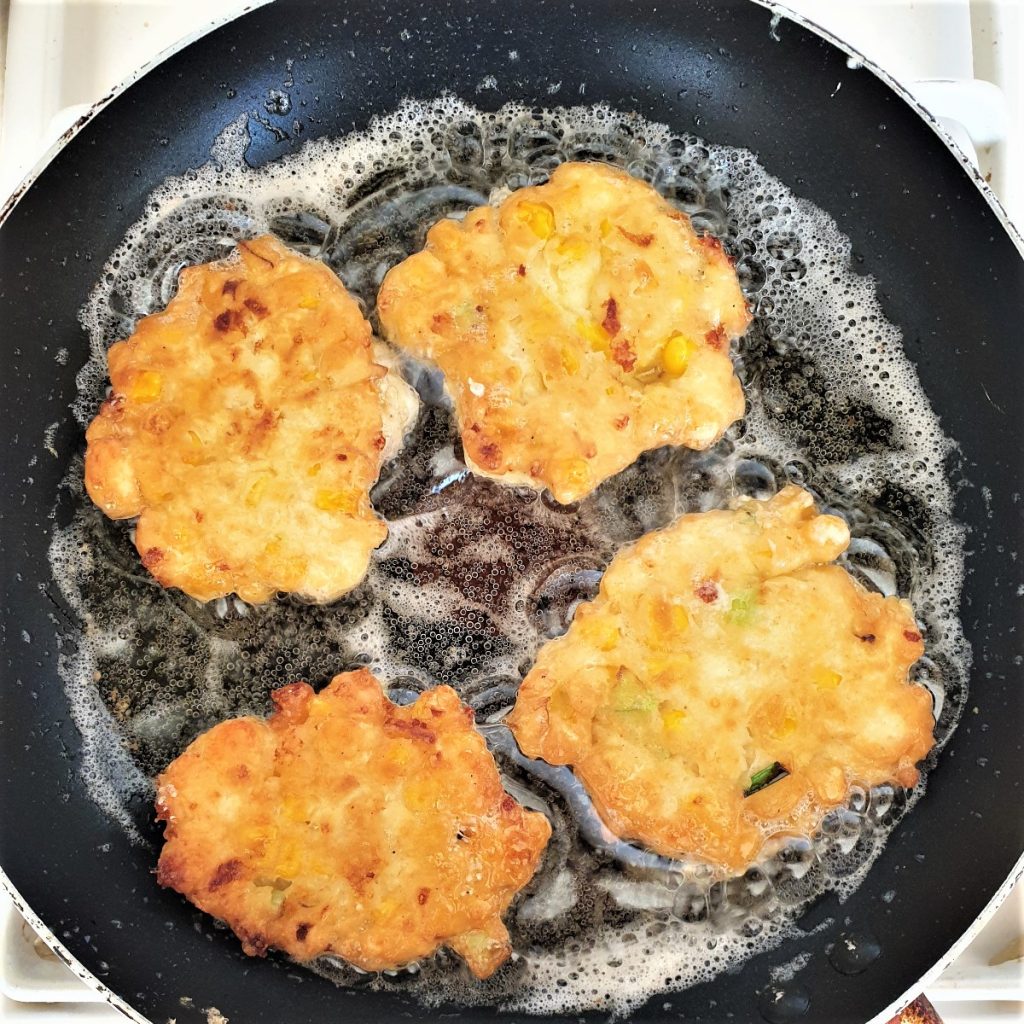 To test for doneness by cutting one fritter in half – it should be cooked all the way through. If it is not completely cooked, return to the pan for a further minute or two.
Then remove from the pan and place on a piece of kitchen paper to drain off any excess oil.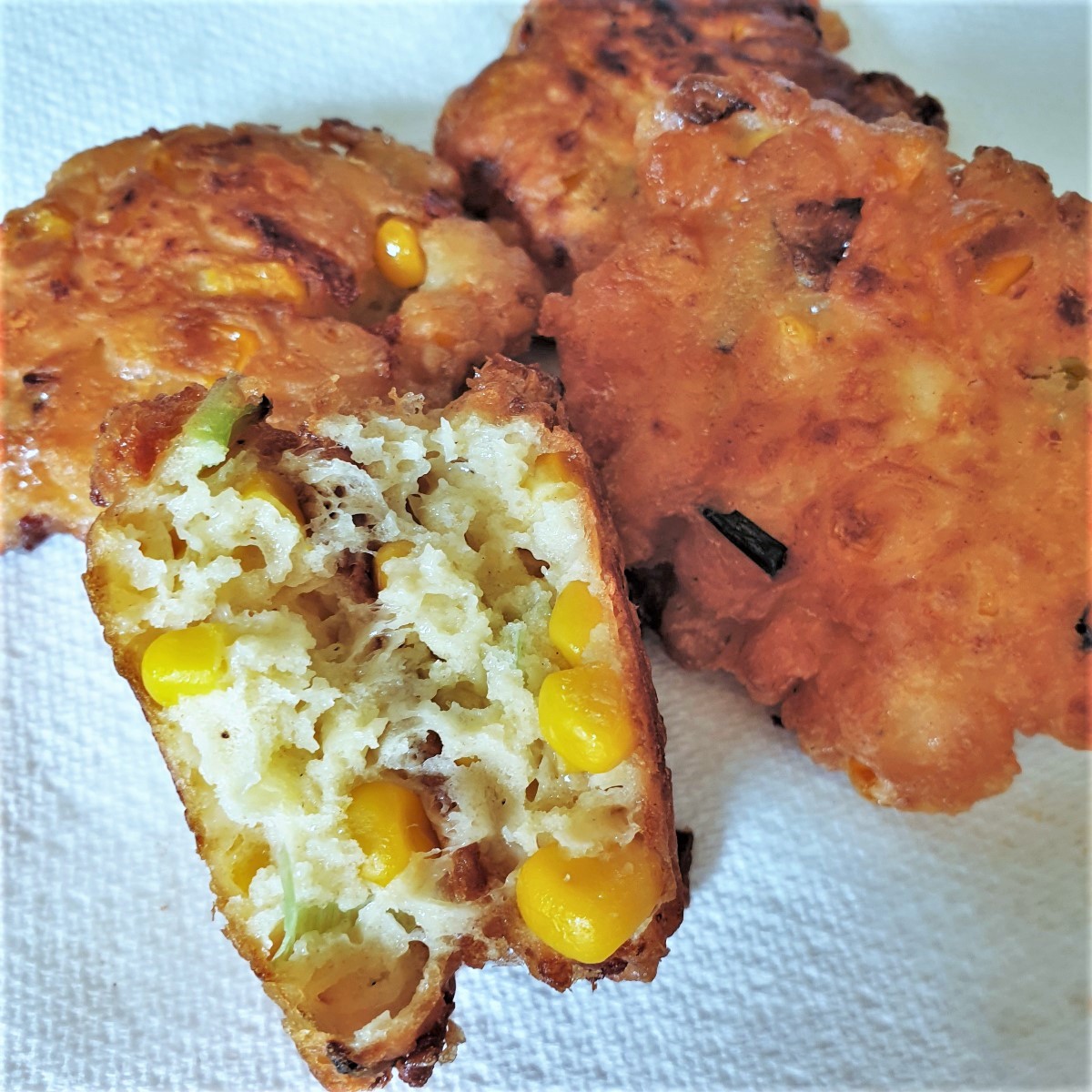 How do I serve sweetcorn fritters?
You can serve these crispy sweetcorn fritters in so many different ways.
I like to eat them just as they are, with a bowl of plain tomato ketchup for dipping, or you could try one of these sauces:
They also make a great accompaniment to a plate of sausages or a scotch egg, with either crispy fries or scalloped potatoes.
You could even serve them alongside your favourite roast meat as an additional vegetable.
If you are looking for more inspiration, have a browse through my complete recipe collection.
Can I freeze these fritters?
Yes, you can freeze these. Just layer them between sheets of greaseproof paper or baking parchment and pack into freezer bags.
To use let them defrost and then either place on a baking tray in a hot oven for a few minutes until they are warmed through, or place into a frying pan over a low heat until they are warmed.
I wouldn't reheat these in the microwave as that would make them less crispy.
To be honest though, by the time you have defrosted them and re-heated them you could have whipped up a batch of fresh fritters.
If you'd like to be notified of any new recipes, why not subscribe to my newsletter? As a thank-you gift, you will receive a free recipe e-book containing some of my most popular cakes and desserts.
Pin for later
Why not pin this recipe to your pinterest board so you can make it later. Just click the image below.
Recipe – Crispy sweetcorn fritters with cheese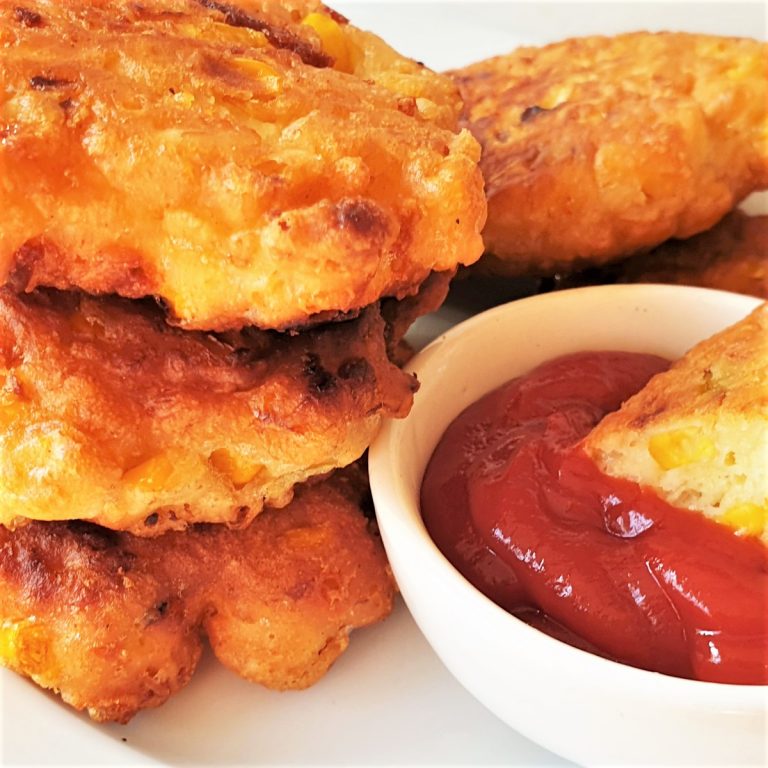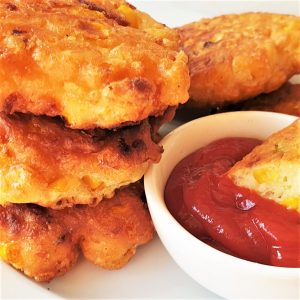 Crispy sweetcorn fritters with cheese
These crispy sweetcorn fritters are bursting with juicy corn kernels with a fluffy cheesy inside and a crispy golden exterior. Perfect as an accompaniment to a grilled chicken breast or a sausage, or served with your favourite dipping sauce for a delicious light lunch.
Print
Pin
Comment
Bookmark
Saved!
(Click the stars to rate this recipe)
Ingredients
7

ounce

(

198g

) can sweetcorn kernels

2

large

eggs

1/2

cup

(

60g

) flour

1

teaspoon

baking powder

1/2

cup

(

60g

) grated cheddar cheese

1

spring onion

1

tablespoon

(

15g

) butter

4

tablespoons

sunflower or canola oil

salt and pepper

to taste
Instructions
Open the can of corn and drain the liquid. Discard the liquid.

Break

2

eggs into a mixing bowl and season with salt and pepper. Whisk lightly with a fork.

Add

½

cup flour and

1

teaspoon baking powder and

½

cup grated cheese. Mix to combine.

Add the drained corn and 1 chopped spring onion and mix again

Heat the butter and oil in a frying pan and fry spoonfuls of the mixture gently for approximately 3 minutes on each side until golden and crispy.

Drain on paper kitchen towel and serve with your favourite dipping sauce.
Notes
Test that the fritters are cooked by cutting one open.  The inside should be completely cooked through.  If they are not completely cooked through, continue to fry for another minute or two.
Do not overcrowd the pan or you will find it difficult to turn the fritters.
Nutrition has been calculated on the assumption that you will make 10 fritters, and the calories are per fritter.
Nutrition
Calories –
118
kcal
|
Carbohydrates –
10.1
g
|
Protein –
4.2
g
|
Fat –
7.2
g
|
Saturated Fat –
2.6
g
|
Cholesterol –
46
mg
|
Sodium –
178
mg
|
Potassium –
149
mg
|
Fiber –
0.9
g
|
Sugar –
1
g
|
Calcium –
70
mg
|
Iron –
1
mg
I am not a nutritionist. The nutrition information has been calculated using an on-line calculator, and is intended for information and guidance purposes only. If the nutrition information is important to you, you should consider calculating it yourself, using your preferred tool.
Unless otherwise stated, a cup is the standard US cup containing 240 ml. In all my recipes this cup is assumed to hold 140g of flour. For help converting other ingredients between cups, grams, ounces and other measures, see my recipe conversion calculator.
All my recipes are developed and tested at sea-level. For tips on adjusting recipes for high altitudes see my post on baking at high altitudes.
Tried this recipe?
If you made this recipe I'd love it if you could leave me a comment and let me know how it went!
Share on Facebook
Share on Twitter
If you made this recipe and enjoyed it, I'd love it if you could give me a star rating in the comments below. And if you'd like to get in touch, you can email me at [email protected]. I'd love to hear from you. And don't forget to subscribe to my mailing list so you can grab yourself a copy of my FREE COOKBOOK!
If you'd like to continue browsing, just click on this link to all my recipes.