Traditional South African Melk Tert (Milk Tart) – crispy sweetcrust pastry filled with creamy custard and sprinkled with cinnamon. If this doesn't get you licking your fingers, then nothing will!
Dreamy creamy custard filling in a crispy sweetcrust pastry
What is Melk Tert?
Melk Tert (Milk Tart) is a traditional South African desert very similar to an English Custard tart but made with more milk and fewer eggs.
It originated from the Dutch settlers who arrived in Cape Town in the mid 17th Century, and has become firmly entrenched in every South African household. You will find homemade melk tert for sale at every School Bazaar or Church Fete. Whilst the basic recipe remains the same you will find every household has its own favourite version
Some recipes (like this one) call for the cinnamon to be sprinkled on top. Other recipes call for the cinnamon to be infused into the milk. You can use different types of pastry – puff pastry, shortcrust, sweetcrust. There are variations in how the filling is prepared – either on the stove top or baked in the pastry shell in the oven. The variations are endless.
But however you make it, it is the most delicious tea-time treat and you will find it impossible to stop at 'just one slice'.
How do you make it?
This recipe calls for the pastry to be baked in the oven and then filled with a lovely thick custard which has been thickened on the stove-top. The tart is then chilled in the fridge until you are ready to eat it.
For the pastry
To make the pastry you cream the margarine and sugar together until pale yellow in colour and the sugar has dissolved. You then beat in the egg and mix that through. Finally, you sift in the flour and baking powder and bind it all together. I find it easiest to use my hands to do this. I just spread my fingers and stir the dough until it comes together in a very soft ball. You may find you need to add a small amount of flour at this stage to prevent the dough sticking to your fingers. Don't add too much or the pastry will become tough. Likewise, don't overwork the dough, just mix it sufficiently to bring it all together.
As I mentioned, this is a very soft pastry so you can't roll it out. You need to press it into the pie dish. This recipe makes enough to line 2 9-inch pie dishes.
The pastry is then baked in the over at 190F/350C until lovely and golden. It will be softish when you take it out of the oven but it will crisp up as the pastry cools.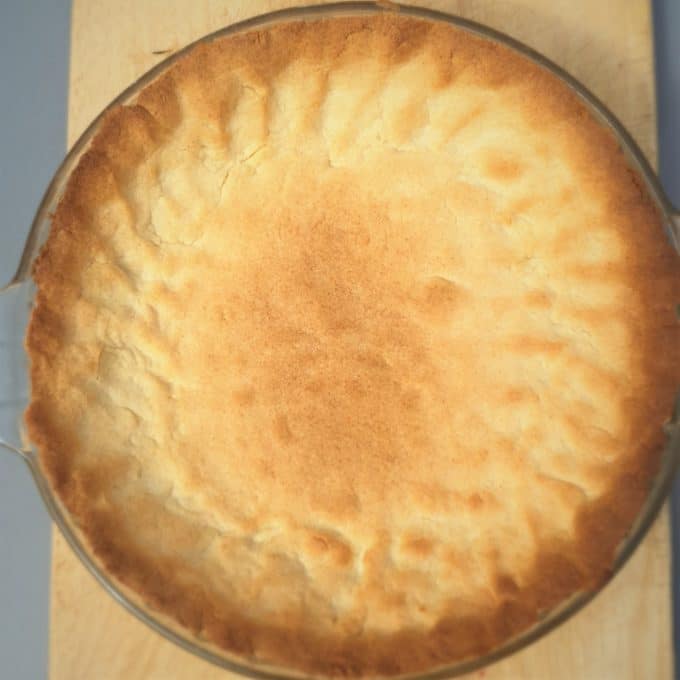 For the filling
Heat the milk, vanilla and margarine in a large saucepan until it just comes to the boil.
Mix the flour, cornflour and sugar in a bowl and beat in 2 eggs until all the lumps are gone. Add this mixture to the hot milk and allow it to simmer (stirring continuously) until it thickens. When it is thick enough it will start to make 'blooping' sounds, and it will look as though air bubbles are escaping.
Finally, pour the mixture into the 2 pie shells, sprinkle with cinnamon, let it cool and pop it into the fridge to chill. It will set when it is cold and you will be able to cut slices with a sharp knife. You may find you need a cake-slice to remove the first slice from the dish.
Some people like to eat melk tert warm, but I find it is still too runny. For me, the only way to eat it is chilled, straight from the fridge.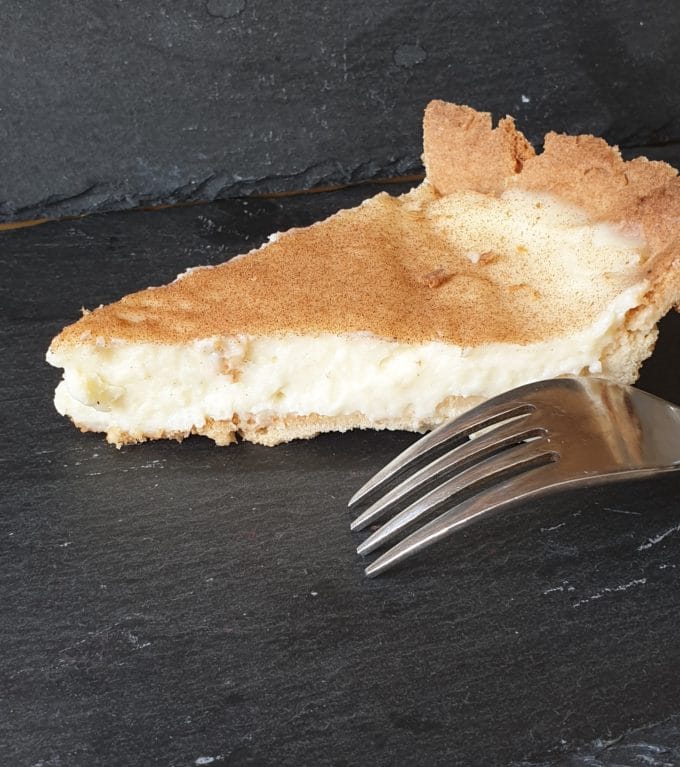 Melk Tert
Melk Tert, the South African equivalent of the traditional English custart tart.
Ingredients
For the sweetcrust pastry
125

g

(½ cup) Butter or Margarine

200

g

(1 cup) Sugar

1

large

Egg

200

g

(2 cups) Plain Flour

or use Self-Raising flour and omit the baking powder

2

teaspoons

Baking Powder

if using plain flour

½

teaspoon

Salt
For the filling
4

cups

Milk

1

Tablespoon

(15 g) Margarine

2

Tablespoons

(20 g) Flour

2

Tablespoons

(20 g) Cornflour

½

cup

(100 g) Sugar

2

large

Eggs

1

teaspoon

vanilla essence

1

teaspoon

Cinnamon

to sprinkle
Instructions
For the sweetcrust pastry
Pre-heat oven to 190°F/350°C

Cream the margarine and sugar together until light and fluffy. The mixture should be a pale yellow colour and all the sugar should be dissolved.

Add the egg and beat well

Sift the flour, baking powder and salt and add to the mixture. Mix well to combine. The mixture will be very soft and quite sticky.

Grease 2 x 9" pie dishes and press the mixture firmly into each.

Bake the shells for 10 minutes until light golden brown. See Note 1 and 2.

Remove from oven and allow to cool
For the filling
Pour the milk into a large saucepan

Add the vanilla and margarine and bring to the boil

Combine the flour, cornflour and sugar together in a bowl.

Add the beaten eggs and mix well to combine. The mixture should be quite runny.

Add about ½ cup of the hot milk to the egg mixture and stir. Then stir the eggs into the milk.

Return the milk mixture to the heat and cook gently, stirring continuously, until the mixture is thickened.

Pour into the baked pastry cases and sprinkle with cinnamon.

Allow to set in the fridge.
Notes
There is no need to blind bake – this mixture will not rise.  
This pastry will be quite soft when it first comes out of the oven.  It will crisp up on cooling.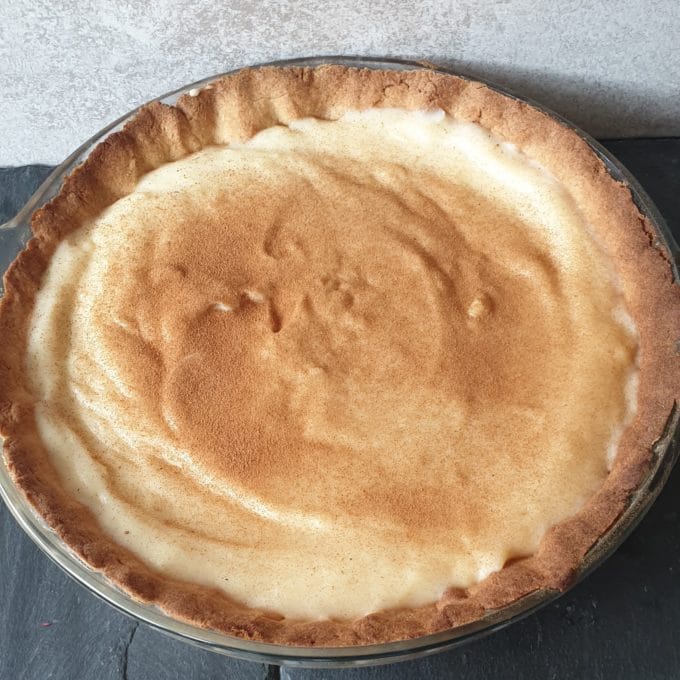 If you enjoyed this recipe why not pin it for later?
Did you enjoy this recipe, or do you have your own version of milk tart – if so please leave a comment and let me know.  I'd love to hear from you.
Click this link to view all my South African recipes or have a look at my favourites below:
Lamb curry in pita
Authentic South African lamb curry, made with leftover lamb and served in a crispy pita bread – the easiest mid-week supper ever!
Bunny Chow
An authentic South African street food – spicy lamb curry served in half a loaf of bread.