A crustless bully beef quiche is a savoury tart made with a tin of bully beef. I've added pine nuts for texture, and flavoured it with mustard and sriracha sauce for a bit of bite. It's great for a quick and easy lunch, and as a bonus kiddies love it!!!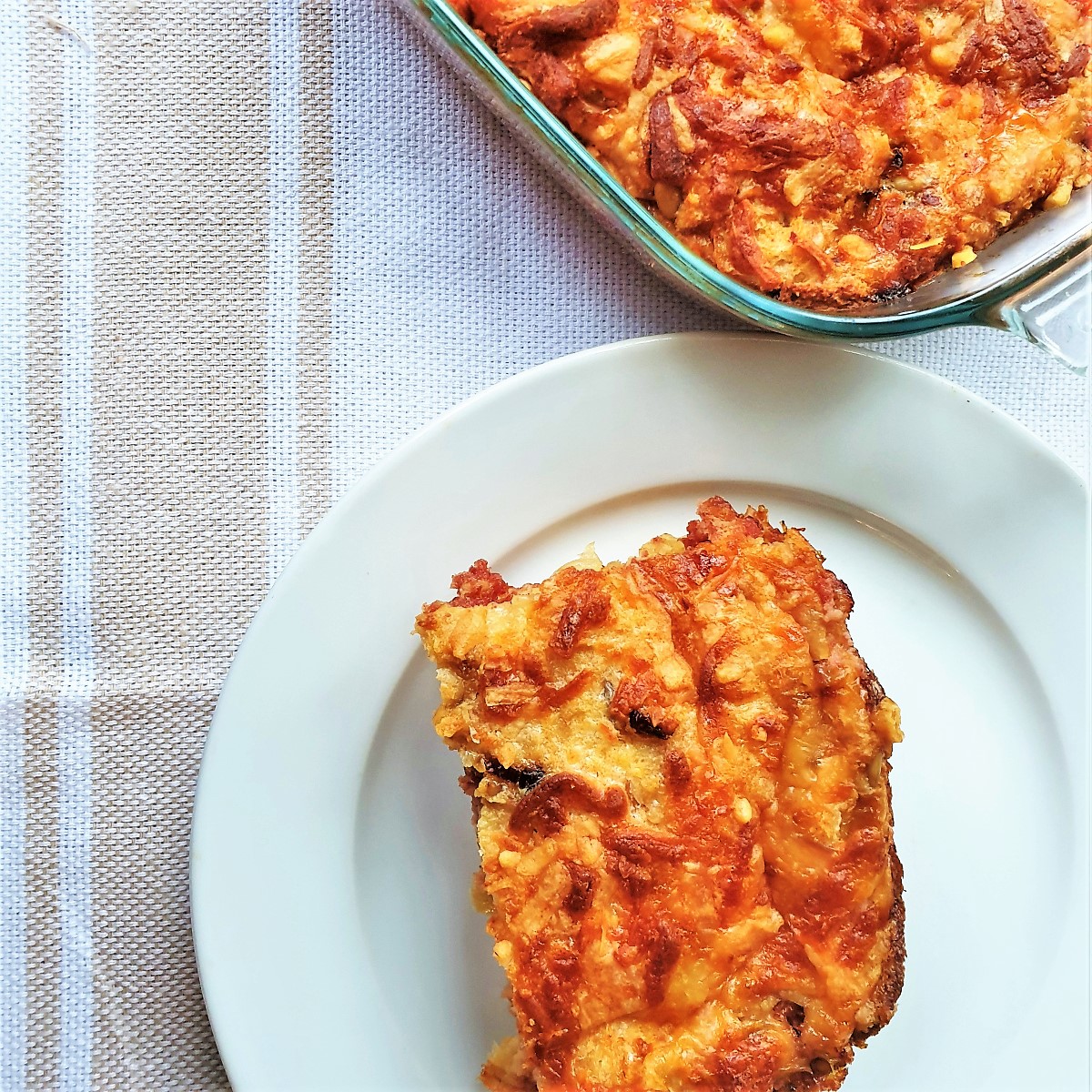 **As an Amazon affiliate, I earn from qualifying purchases.**
What a coincidence!
Do you believe in coincidences? The other day, one of my readers asked me whether I had a recipe for a bully beef savoury tart. As it happens, I do have such a recipe, but I was a bit hesitant about posting it because bully beef is a bit like marmite, you either love it or you hate it. (For those of you who don't know, bully beef is just another term for corned beef).
So I didn't post the recipe, instead, I sent her a copy, and thought nothing more of it.
A few days later, Graham popped down to the shops for something to put on his sandwiches for lunch. I was fully expecting him to come home wih a packet of sliced beef, or ham. Imagine my surprise when he came back and presented me with a tin of bully beef. Turns out he loves it. Who'd have thought it!!!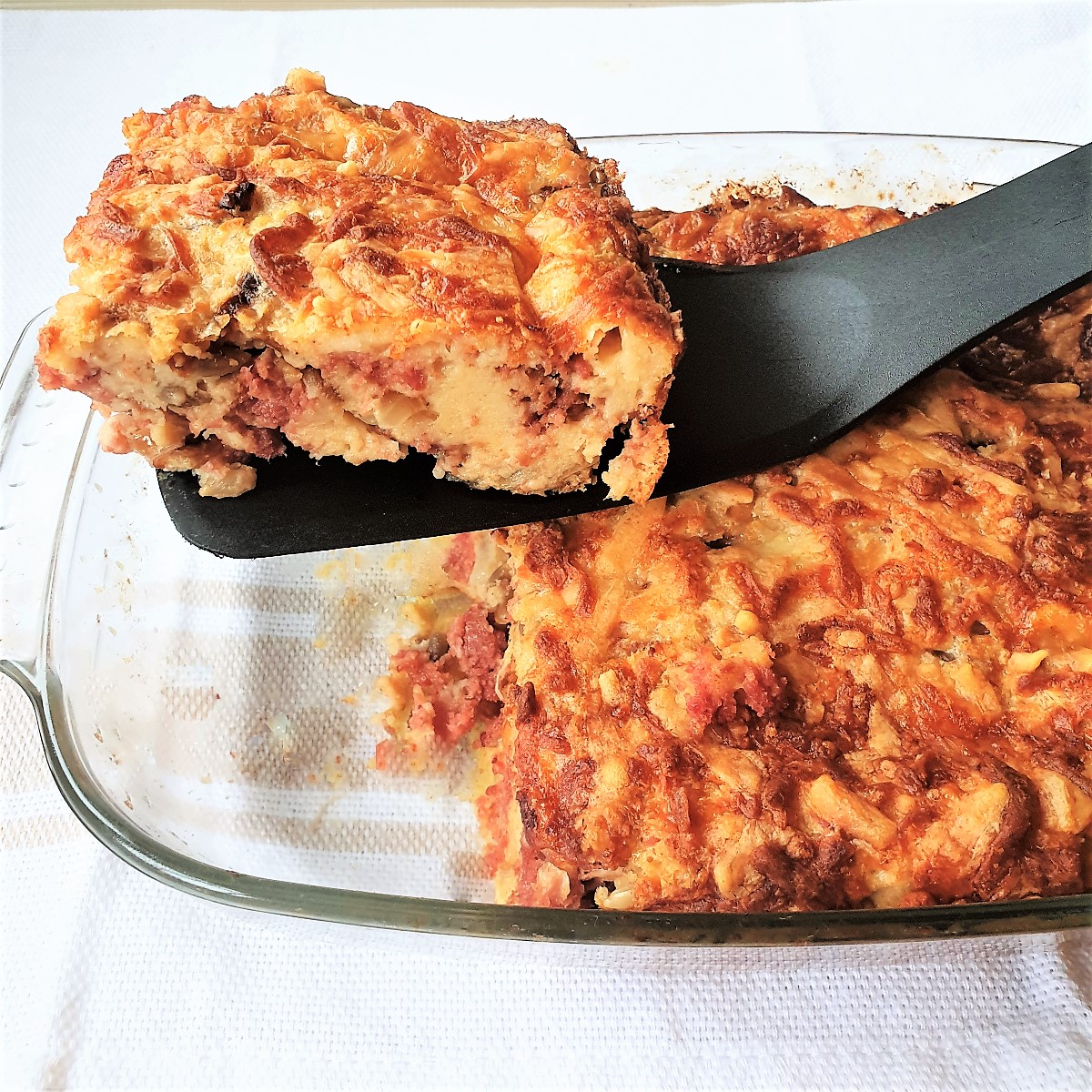 Bully Beef Quiche
Once I got married and started a family, bully beef featured quite regularly on our menu in the form of a sort of macaroni cheese hash. To make it you fry onions and tomatoes, mix in a tin of bully beef, and let it simmer to a mush. Then you just mix it with cooked pasta shells and cover in a cheese sauce. Don't judge me, the children loved it, and as those of you with small children will know, 'if they eat it, feed it to them'.
I also used to make a crustless bully beef quiche that was very popular with the family, and as a bonus, was really quick and easy to prepare. I often made it as a side dish when we were having a barbeque, or for a quick Saturday lunch.
It's made with bully beef, mushrooms and onions, mixed with breadcrumbs and covered wih an egg and milk mixture to bind it. Served hot, it is a bit soft and you need to eat it with a fork, but once cold it sets quite firmly and you can quite easily pick up a slice and eat it in your fingers.
I've updated the recipe slighly to add a bit more flavour, and even if I say it myself, I think it turned out quite well. So here it is – my recipe for crustless bully beef quiche.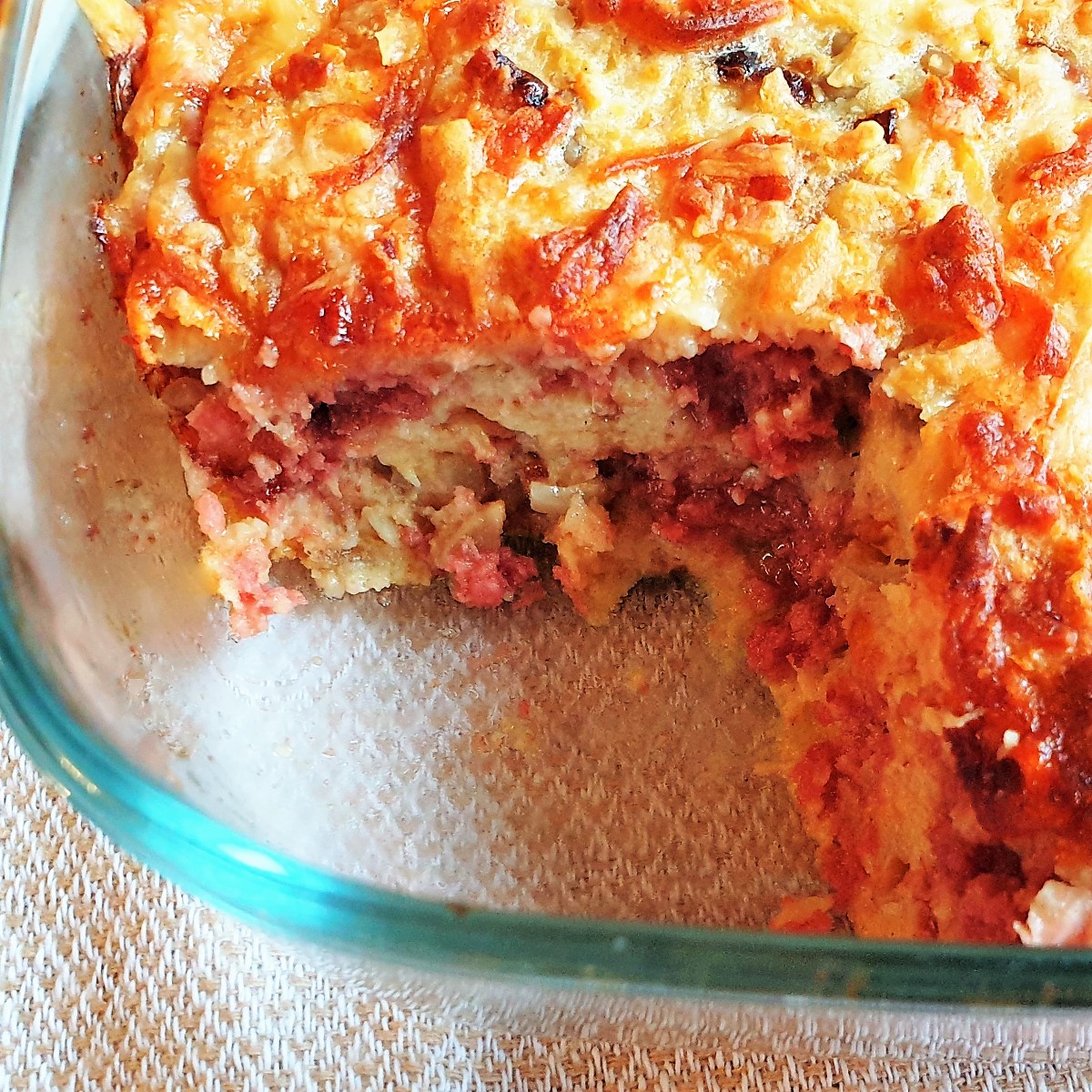 Ingredients for bully beef quiche
Whenever I read a recipe I like to have a look at the ingredients to see whether I have everything I need. To make it easy for you – I've listed the ingredients below. You can get the complete list of ingredients and full intructions for making this bully beef quiche on the printable recipe card at the end of this post.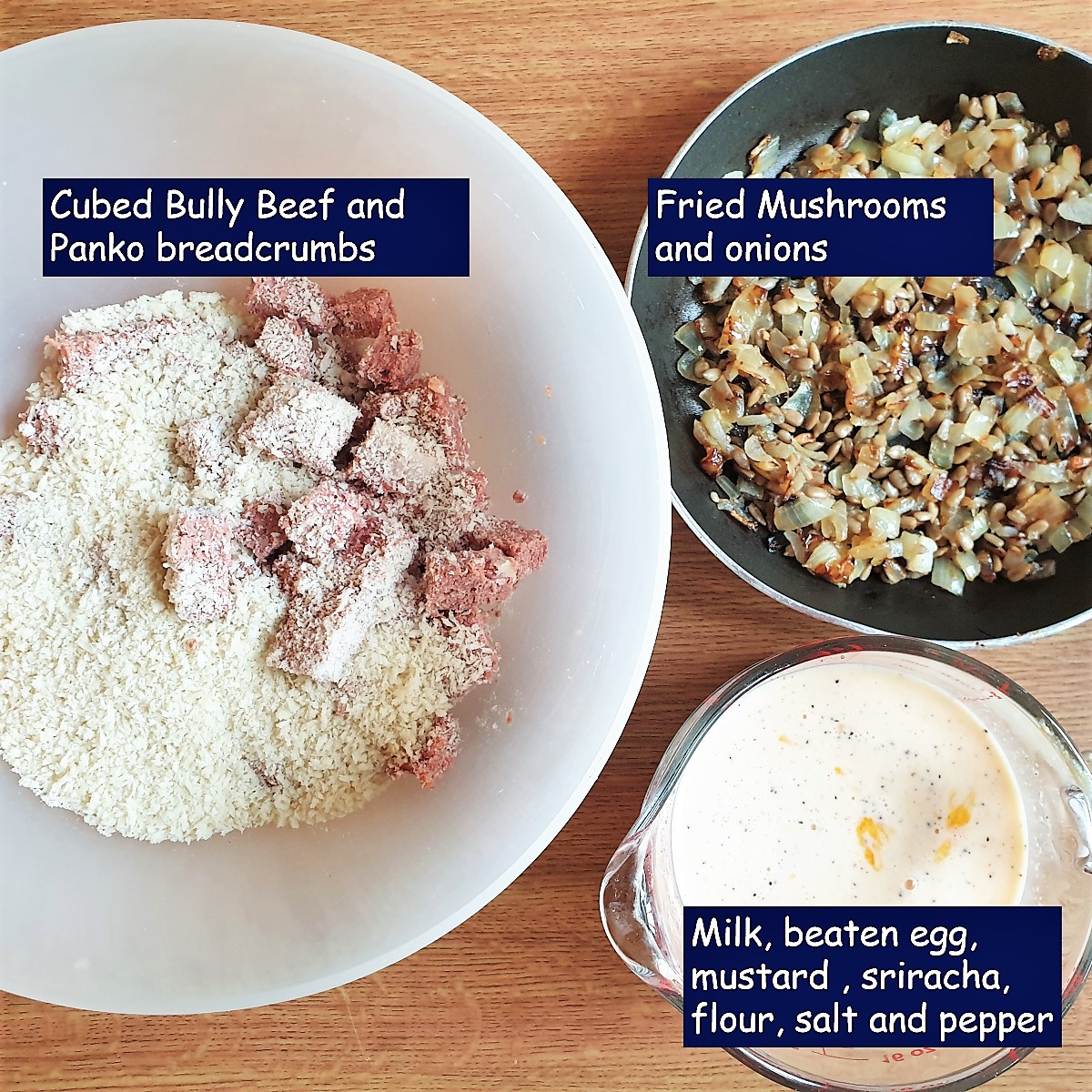 Bully Beef
You will need a 340g tin of bully beef. Open up the tin and remove the chunk of meat. Sometimes you will find there is a bit of fat around the meat, cut this away and discard it.
Chop the remaining meat into approximately 1 cm dice.
Panko Breadcrumbs
You will need about 75g Panko, or approximately 1 cup.
Back in the day when I first made this, there was no such thing as Panko breadcrumbs. We used to grate day-old bread on a cheese grater to make breadcrumbs. I think the Panko give a much lighter texture to the quiche, breadcrumbs tend to make it quite stodgy. If you don't have Panko, by all means use bread. Wholemeal or seeded bread will give a better texture than plain white.
Pine nuts
Bully beef has a very soft texture, so I've included a couple of tablespoons of pinenuts (about 30g) to add a bit of crunch. If you don't like these, you can leave them out.
Mushroom and Onions
You will need 1 medium-sized onion, chopped into very fine dice. Don't be tempted to grate the onion, it does need to be chopped for this recipe.
I used about 6 largish firm white mushrooms, also finely chopped. This should yield about 1 cup chopped mushrooms.
These are fried in 2 Tablespoons sunflower oil.
Eggs, milk and cream mixture
This binds the quiche together as it bakes. You will need 2 large beaten eggs and 100ml cream, and enough milk to make 250ml (1 cup) liquid. Cream isn't essential, but gives a nicer flavour. If you don't have cream, just use all milk.
You will also need 1 tablespoon mustard, 1 tablespoon (more or less to taste) sriracha sauce, 1 tablespoon cornflour, 1/2 teaspoon salt and a good grinding of black pepper.
Mix all these ingredients into the milk mixture.
Grated Cheese
You will need 2 to 3 tablespoons grated cheese for sprinkling on top.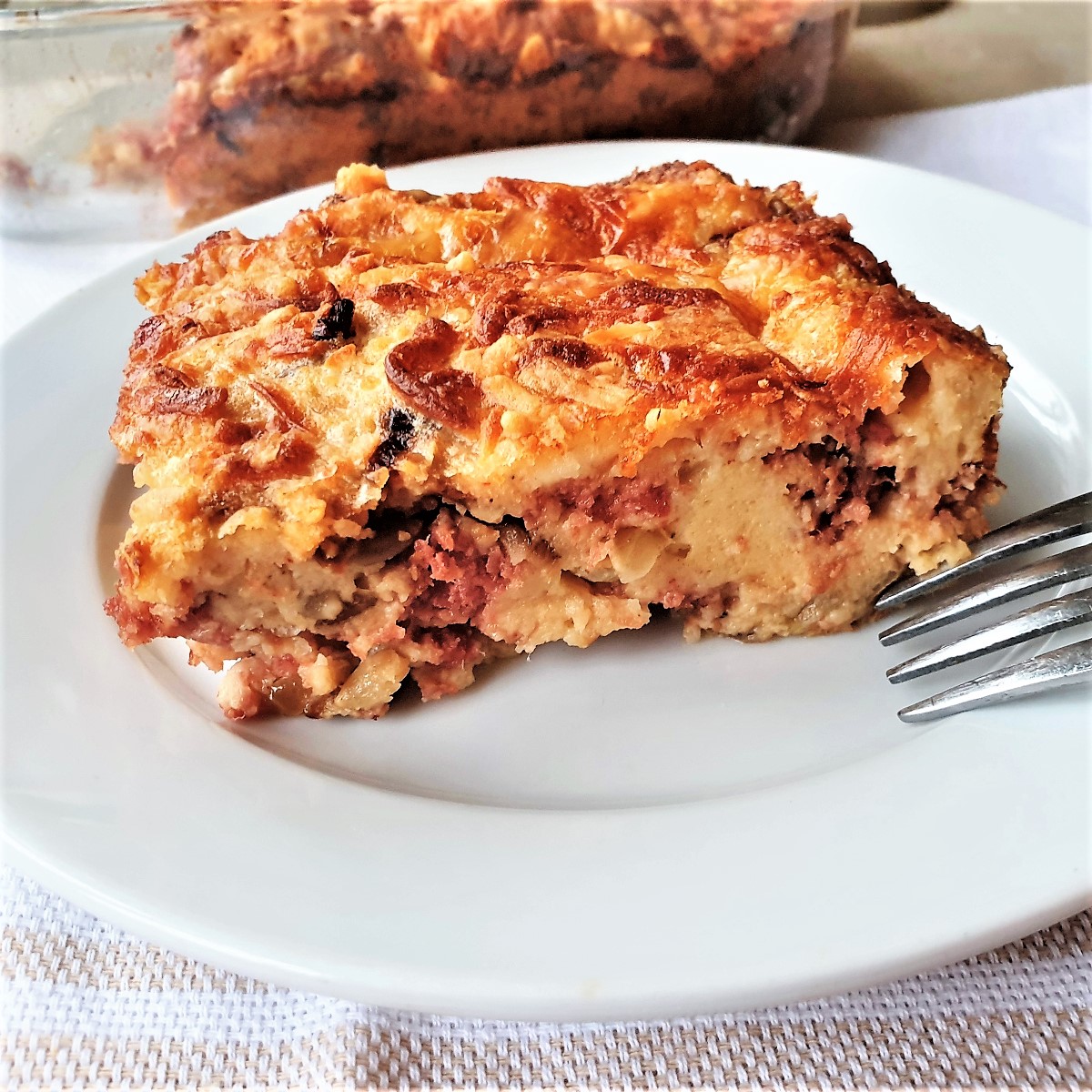 How to make bully beef quiche
Fry the onions gently in the oil until they start to turn translucent, then add the mushrooms and pinenuts and continue to fry over a low heat until the moisture from the mushrooms has evapourated. You want to get this mixture as dry as possible.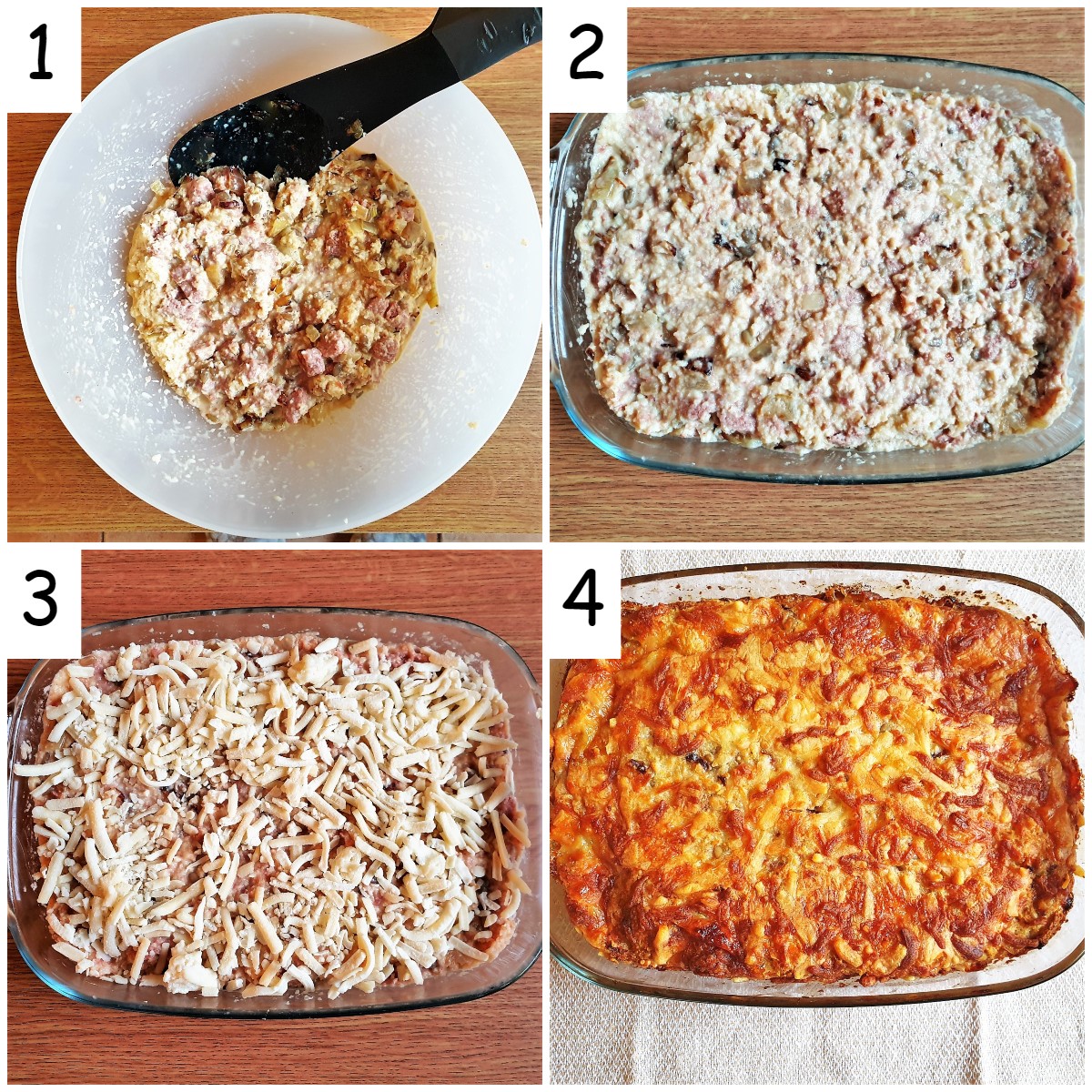 Place the chopped bully beef and the breadcrumbs in a mixing bowl and add the mushrooms and onions. Stir in the egg and milk mixture.
The mixture should be quite thick.
Place this mixture into a greased baking dish and top with a little grated cheese.
I used a 9″ x 7″ pyrex dish oblong dish. You can use a similar sized round dish if you prefer. The depth of the mixtue in the baking dish should be about 1.5 inches. This quiche does not rise, so there is no danger of it overflowing during baking.
Place in a pre-heated oven for 30 minutes until set.
Remove from the oven and allow to cool.
Variations
I like the classic mushroom and onion combination, but you could vary the vegetables in this recipe to suit your own taste.
Just substitute the mushrooms and onions for 1 to 2 cups of cooked vegetables of your choice. Why not try these –
Butternut or sweet potato (and leave out the mustard and sriracha)
Spinach (I'd add extra pepper to this one)
Add half a cup of peas with the mushrooms and onions.
You could also swap out the breadcrumbs for a cup of mashed potatoes.
If you'd like to be notified of any new recipes, why not subscribe to my newsletter. As a thank-you gift, you will receive a free recipe e-book containing some of my most popular cakes and desserts.
Pin for later
Why not pin this recipe for crustless bully beef quiche so you can make it later.
Recipe – Bully Beef Quiche
If you made this recipe and enjoyed it, I'd love it if you could give me a star rating in the comments below. And if you'd like to get in touch, you can email me at [email protected]. I'd love to hear from you. And don't forget to subscribe to my mailing list so you can grab yourself a copy of my FREE COOKBOOK!
If you'd like to continue browsing, just click on this link to all my recipes.