This cheesy bully beef pasta bake (aka corned beef pasta) has long been my go-to recipe for a quick and easy (not to mention cheap) mid-week meal. Braised tomatoes, onions and mushrooms are fried with bully beef before being mixed with tender pasta shells. And I have a special trick to make the delicious cheesy sauce using only a packet of cream cheese.
**As an Amazon affiliate, I earn from qualifying purchases.**
Bully beef pasta bake
I've had so many requests from readers for recipes using bully beef (you may know it as corned beef) that I just had to publish this recipe for my cheesy bully beef pasta bake! It seems as though everyone loves bully beef!
In fact, this recipe is so popular in my house that whenever I ask 'what would you like for supper?' hubby's standard answer has now changed from 'sausages' to 'bully beef pasta'! He can't get enough of it, which is great for so many reasons.
this recipe is a real time-saver. Because the bully beef is ready to eat out of the can, the only cooking involved is frying up the vegetables.
it costs next to nothing to make. Let's face it, a tin of bully beef doesn't cost the earth, yet with the proper preparation, one can of bully beef (plus a couple of kitchen staples) can provide a substantial meal for 4 people.
kiddies seem to love it. It must be something to do with the fact that it's a really easy meal to eat. There are no large chewy chunks of meat to get through, just a flavoursome sauce mixed into pasta. And who doesn't love pasta?
it's an easy meal in which to hide extra vegetables. Just grate up a carrot or a courgette and add it to the sauce. No one will even know!
So let's get on with the recipe.
Ingredients
**You can get the complete list of ingredients and full instructions for making this cheesy bully beef pasta bake on the printable recipe card at the end of this post**
The recipe will serve 4 people.
The ingredients for this corned beef pasta bake are all normal pantry staples.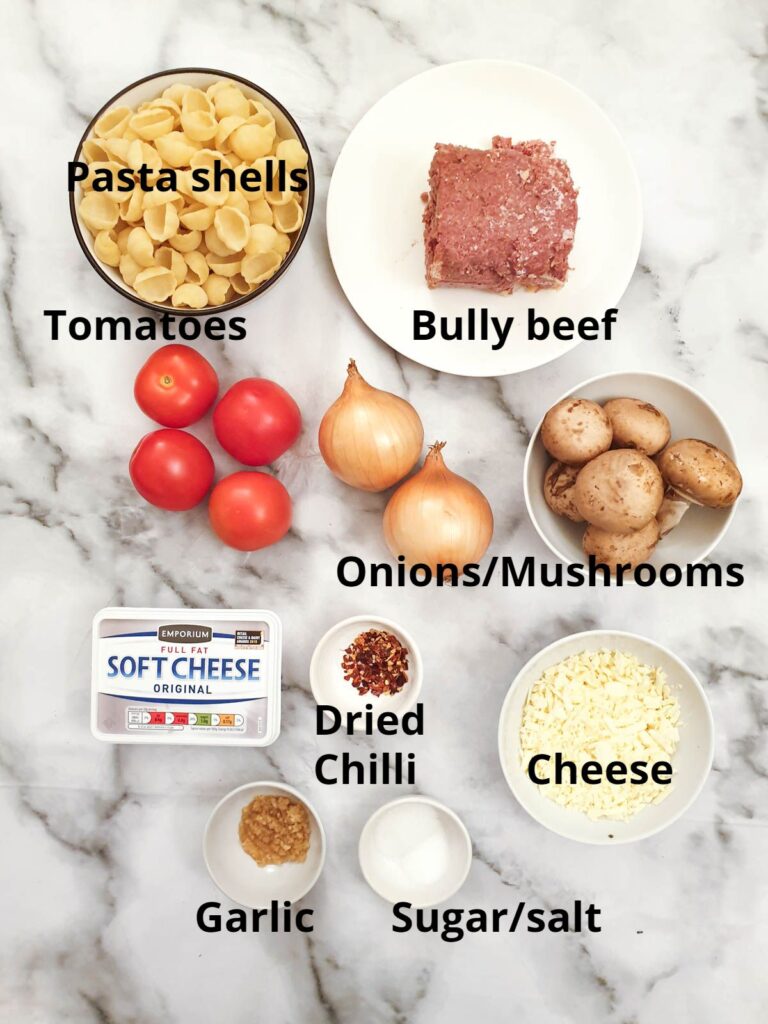 Pasta shells – I like to use conchiglie pasta because the shell shape holds lots of sauce. I would recommend using either shells, or perhaps a twisted pasta such as fusilli which has lots of deep ridges to hold the sauce. For this recipe (for 4 people) I've allowed 60 grams (2 ounces) of dried pasta per person plus an additional 60 grams (in case anyone wants a second helping)
Bully beef – this is also called corned beef, and comes in a can. I would recommend buying the best brand available as some of the cheaper brands often contain a lot of fat. I normally remove any visible fat before using it.
Tomatoes, onions and mushrooms – these are my vegetables of choice, and they should be coarsely chopped.
Cream cheese – this is my secret ingredient for getting a creamy, cheesy sauce. You can splurge on Philadelphia if you like, but a supermarket's 'own' brand is perfectly acceptable.
Dried chilli flakes – not too much, half a teaspoon is plenty. You can leave this out if you prefer, but I like the touch of heat it provides. If you prefer you could use a mild fresh chilli, deseeded and very finely chopped.
Garlic – well, why not? You can use fresh cloves of garlic, or for convenience, you could just use the equivalent amount of crushed garlic from a jar.
Sugar and salt – to your own taste, and both optional. I always add a scant teaspoon of sugar to dishes containing tomatoes, as I think it enhances the flavour. I would also recommend at least adding a small amount of salt to the pasta when cooking it.
Grated cheese – this is for sprinkling over the casserole before it is browned in the oven. Use whatever cheese you prefer – I like to use a mixture of cheddar and mozzarella.
Sunflower oil – you just need a small amount for frying the onions. If you prefer you could use olive oil.
How to make bully beef pasta
This is so quick and easy to make. Pay attention – if you blink you may miss it 🙂
Bring a saucepan of salted water to boil and cook the pasta according to the instructions on the packet. Drain and set aside.
Meanwhile, chop the tomatoes and onions into approximately half-inch pieces and slice the mushrooms and crush the garlic.
Fry the onions and mushrooms along with the dried chillies and garlic in a large frying pan in a tablespoon of sunflower oil until the onions are starting to turn translucent and the mushrooms have started to brown (about 5 minutes). Keep the heat turned down to a simmer – you don't want the onions to burn. I like to cover the pan with a lid when the onions are cooking as the steam that builds up helps them soften faster (image 1 above).
Add the tomatoes, sugar and salt and give it a good stir. Cover the pan with a lid and leave it to simmer for 5 minutes (image 2 above).
Remove the corned beef from the tin and chop it into about 1-inch chunks. Add to the vegetables and continue to stir until the bully beef starts to break down (image 3 above). This will take about 3 minutes.
Now for the secret tip – stir in a 200 gram carton (7 ounces) of cream cheese. The liquid in the pan from the mushrooms and tomatoes combines with the cheese as it melts to form a deliciously creamy sauce.
For the final steps
Mix in the cooked pasta (image 1 above).
Transfer everything to a casserole dish (image 2 above).
Sprinkle with the grated cheese (image 3 above).
Bake in a pre-heated oven (200C/400F) for about 10 minutes until the cheese is melted and golden brown (image 4 above). I like to place the baking dish on a baking sheet to catch any of the mixture that may bubble over during baking.
Serve hot with a fresh green salad, and perhaps a slice of crusty garlic bread.
If you'd like to be notified of any new recipes, why not subscribe to my newsletter. As a thank-you gift, you will receive a free recipe e-book containing some of my most popular cakes and desserts.
Freezing and storage
I wouldn't advise freezing this pasta bake as the cream cheese and tomato mixture may split on defrosting.
However, you can assemble this dish and store it in a covered container in the refrigerator for up to 3 days before baking in the oven.
Store any leftovers in the refrigerator and use them within 2 days. You can reheat leftovers in a microwave or transfer them to a saucepan and heat them on the stove.
Pin for later
If you would like to make this cheesy bully beef pasta casserole yourself, why not pin the recipe to one of your Pinterest boards so you can find it easily when you need it. Just click on the image below.
Other pasta recipes
You may also like to try some of my other easy pasta dishes:
The recipe
If you made this recipe and enjoyed it, I'd love it if you could give me a star rating in the comments below. And if you'd like to get in touch, you can email me at [email protected]. I'd love to hear from you. And don't forget to subscribe to my mailing list so you can grab yourself a copy of my FREE COOKBOOK!
If you'd like to continue browsing, just click on this link to all my recipes.