Creamy mussel pasta made with plump juicy mussels combined in a creamy garlic-flavoured sauce is a quick and easy dish that is ready in less than half an hour.
**As an Amazon affiliate, I earn from qualifying purchases.**
A restaurant-quality meal
Don't think that just because this is a really simple dish to make, it won't taste amazing. Believe me, sometimes simple is best. Even though it's made with only a few ingredients, (including pasta, salt, pepper, and flour), this creamy mussel pasta dish is packed with flavour.
The simple creamy sauce is the perfect foil for the tender juicy mussels, letting the flavour of the mussels really stand out. The only vegetables included are onions, which are soft and tender, having been sauteed in butter to soften them and bring out the sweetness.
This dish would not be out of place on any Italian restaurant menu!
Why I think you'll love it
It's economical – a bag of frozen mussels, sufficient for 4 people, only costs around £3 in any large UK supermarket. That's less than $5.00!
There's a saving on energy costs too. Because it's made with ready-cooked frozen mussels you can cook this creamy mussel pasta in under half an hour.
The sauce is all made in one pan, so there's less washing up to do.
You don't need any fancy ingredients. Apart from the mussels (and perhaps the cream), this dish is made entirely from pantry staples.
There's minimum preparation work. The only prep involved in making this dish is chopping an onion and mincing some garlic. And if you are clever, you will have a jar of ready minced garlic in the refrigerator anyway.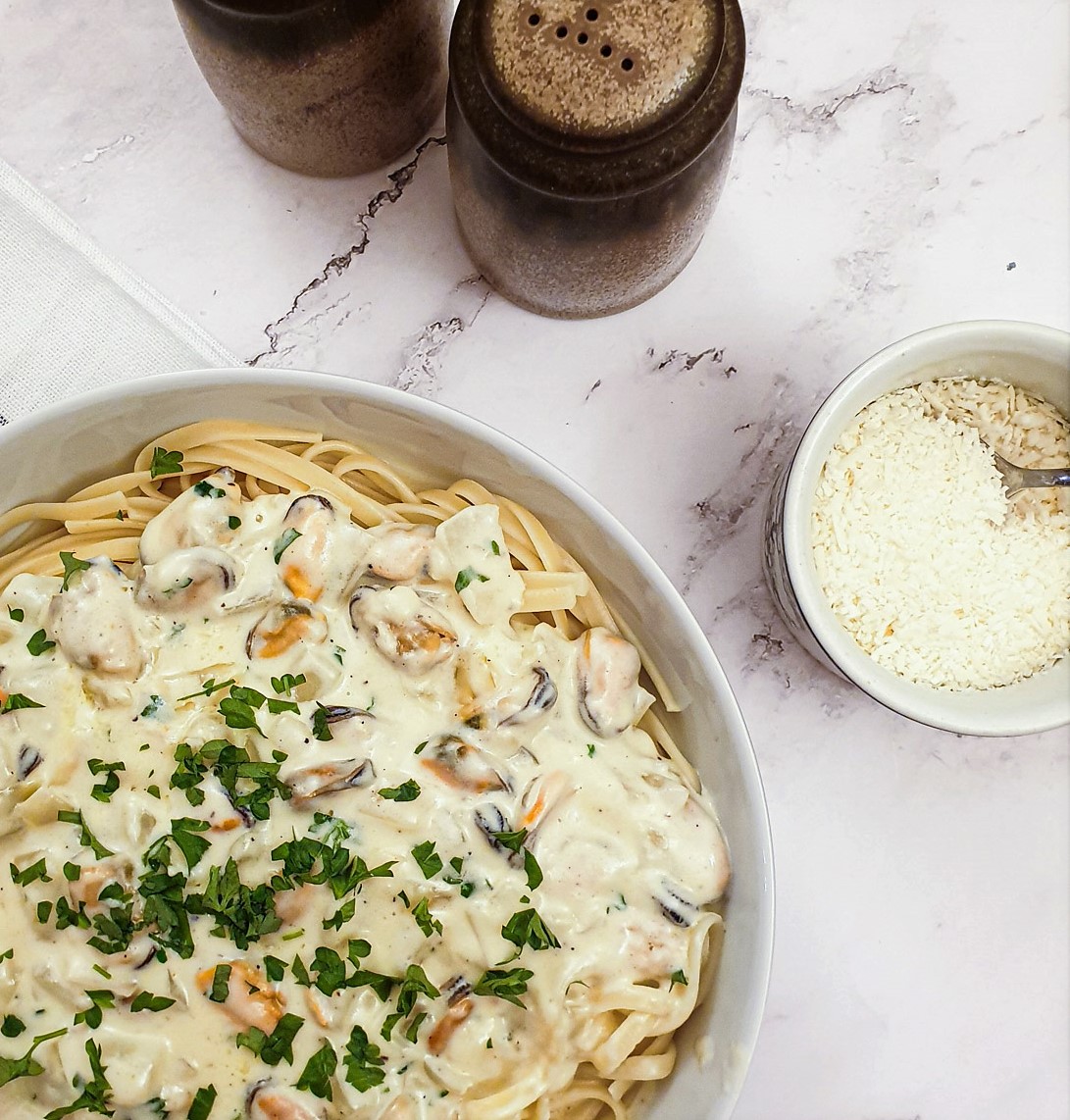 What you will need
Equipment
You don't need much by way of equipment.
You will need a large frying pan for making the mussel sauce. I like this one because it has a non-metallic handle which means you are less likely to accidentally burn yourself.
I like this pasta cooker because you can use it for steaming vegetables too, and it does double-duty as a stockpot. Of course, you can also just cook the pasta in a normal saucepan.
Ingredients
**You can get the complete list of ingredients and full instructions for making this creamy mussel pasta on the printable recipe card at the end of this post**
This recipe will feed 4 people.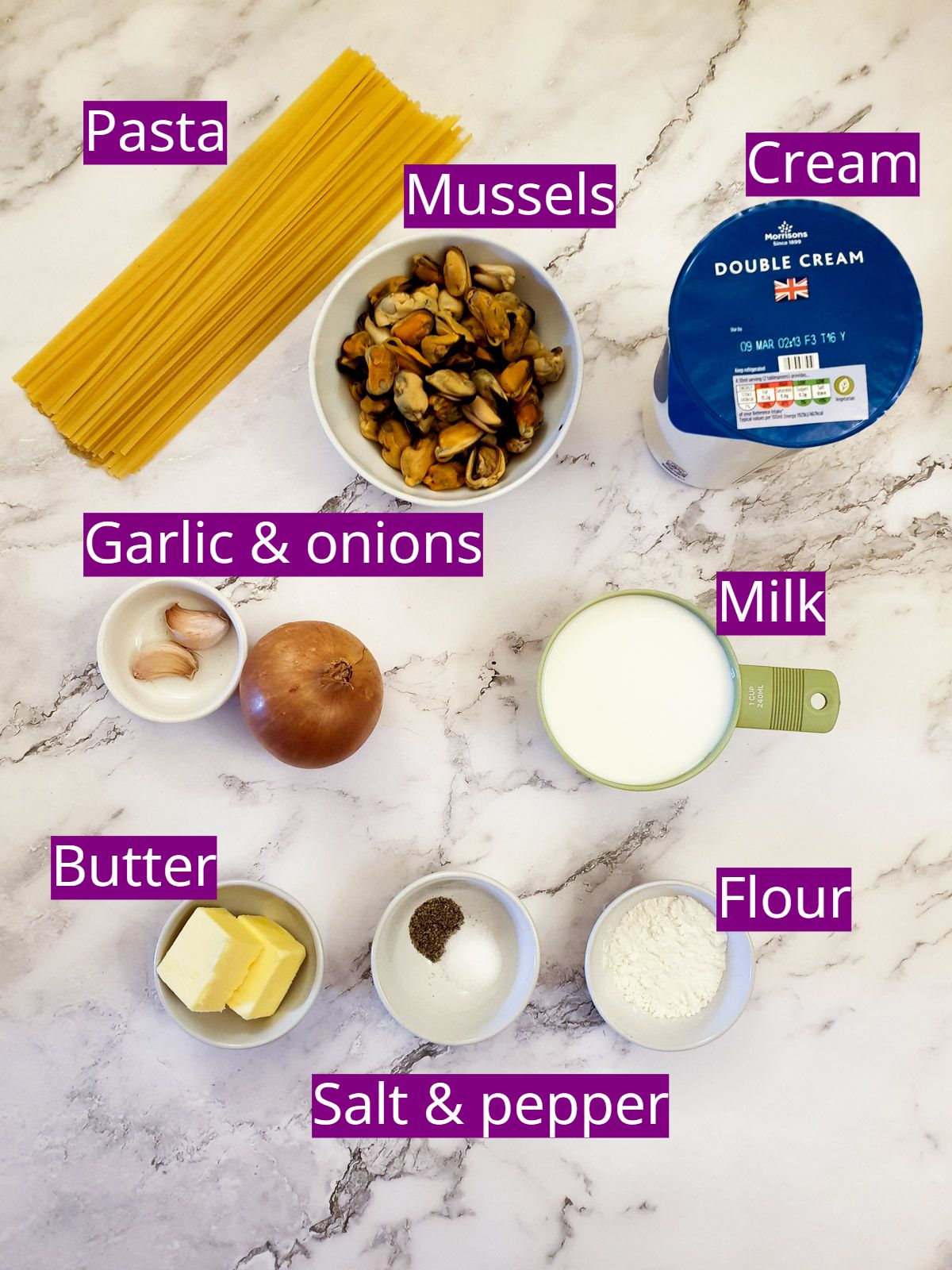 Pasta – my pasta of choice for this dish is linguine, but you could use spaghetti instead, or even pasta shapes. Twisted fusilli would be a good choice because ridges would hold the sauce.
Mussels – I buy frozen pre-cooked shelled mussel meat and let it defrost in the refrigerator before using. I haven't tried making this dish with fresh mussels (in the shell), but there's no reason why you couldn't steam fresh mussels and pick the meat out to use in this dish.
Garlic and onions – if you have fresh cloves of garlic you should peel and mince them. For convenience, you can use minced garlic from a jar. The onion should be peeled and finely chopped. I used a white onion, but if you only have red onions they are fine to use as well. You can substitute the onion with shallots too.
Milk – I used whole milk (full-fat) but semi-skimmed is fine.
Double cream – or heavy cream. If you only have single (or pouring) cream you can use this instead.
Butter – salted or unsalted. If you are using salted butter you should adjust the amount of salt you add to compensate.
Salt and black pepper – for seasoning.
Flour – for thickening the sauce.
How to make it
Start off by peeling the onion and chopping it into a smallish dice, then peel and crush the garlic. Prep done!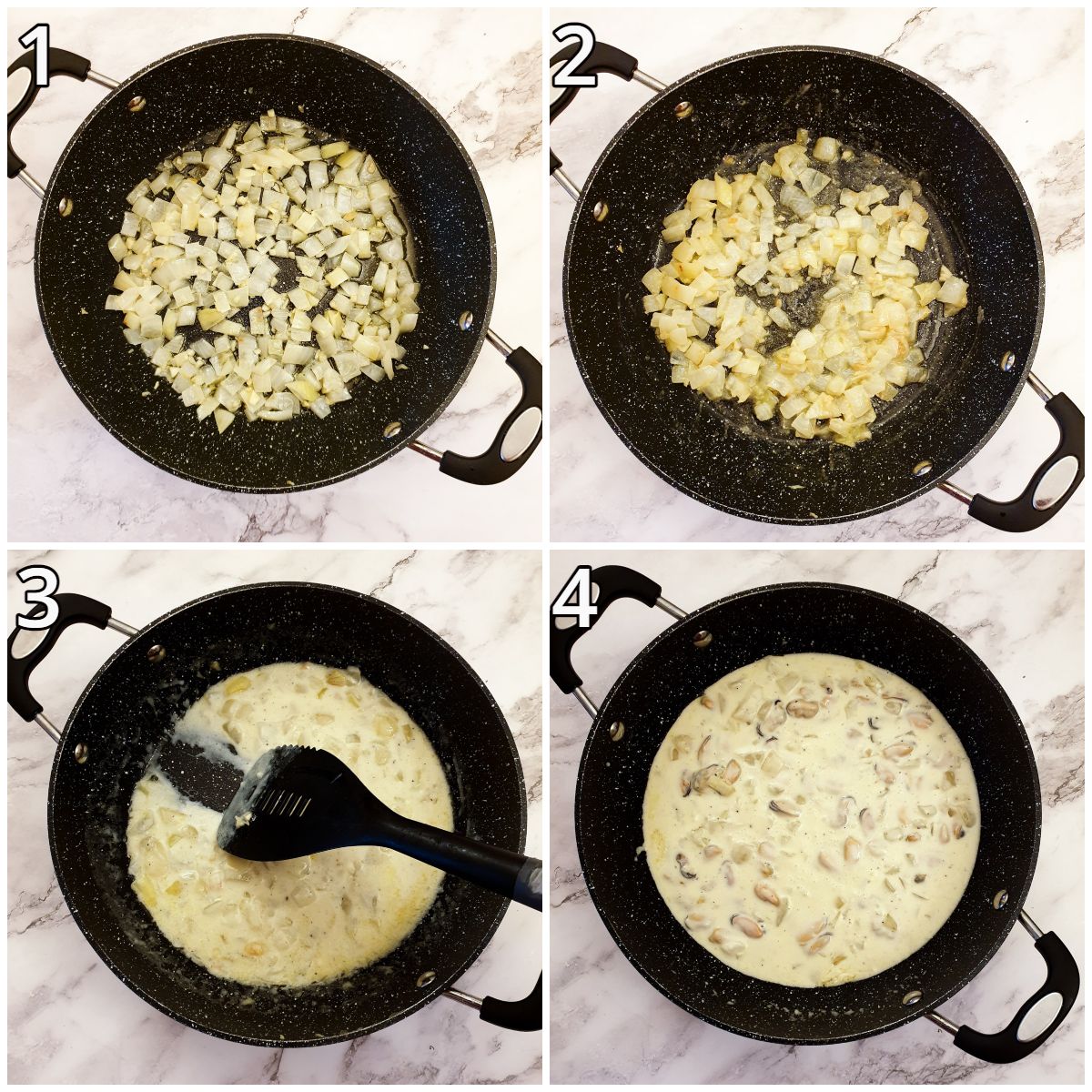 Melt the butter in a frying pan and add the chopped onion and garlic. Turn the heat down to low, cover the pan with a lid and saute the onion until it becomes translucent. Keep your eye on it and don't allow it to brown. The onion should just sweat gently in the butter. This step will take about 5 minutes.
Once the onions are soft, stir in the flour, taking care to remove any lumps of flour.
Pour in the milk and turn up the heat until the milk starts to boil and thicken. You should be able to leave a trail in the sauce if you draw a spoon through it. The mixture will be quite thick, but it will thin down when you add the cream.
Now add the cream and mussels. Stir well and leave to simmer gently (covered) for 10 to 15 minutes.
Taste for seasoning and add salt and black pepper to taste.
Cook the pasta
You can cook the pasta while the sauce is simmering.
Bring a large pan of salted water to the boil and once it is boiling vigorously add the linguine. Boil for the time indicated on the packet (normally about 8 minutes). Drain the pasta.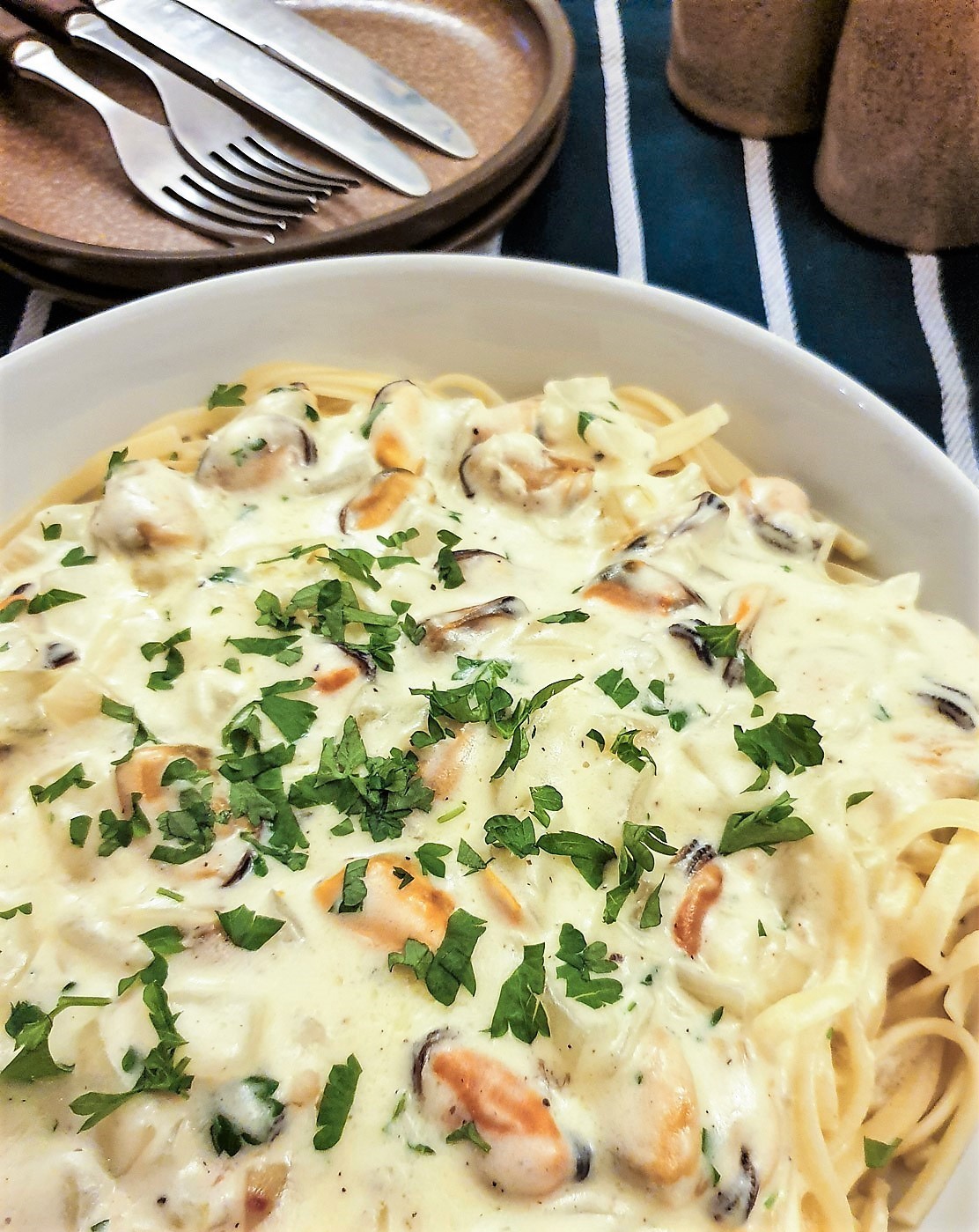 To serve
Transfer the pasta to a large serving dish and pour the mussel sauce over the top.
Garnish with chopped fresh parsley and sprinkle with grated parmesan cheese (optional but recommended).
You may also like to serve this dish with slices of garlic bread and a fresh green salad.
If you'd like to be notified of any new recipes, why not subscribe to my newsletter. As a thank-you gift, you will receive a free recipe e-book containing some of my most popular cakes and desserts.
Variations
Why not try some of these suggestions:
Fry 1 cup of baby button mushrooms with the onions.
Add half a cup of finely chopped red pepper with the onions.
Substitute half a cup of good-quality white wine for half a cup of milk.
Stir in half a cup of grated parmesan cheese with the cream and mushrooms.
Can I freeze this mussel pasta?
The answer to this is both yes and no! I wouldn't freeze the sauce if it has been made with frozen mussels that have been defrosted. However, if you have used fresh mussels that haven't been previously frozen you can freeze it for up to two months.
To use, allow the sauce to defrost in the refrigerator and then reheat in a saucepan on the stove until it is piping hot.
Serve over freshly cooked linguine.
Can I make it in advance?
You can make the sauce the day before and store it in a covered container in the refrigerator. Reheat in the microwave or in a saucepan on the stove and serve over freshly cooked linguine.
How do I adjust the recipe?
This recipe serves 4 people. To adjust the recipe to cater for more or fewer people, this is what you should do.
Allow 110 grams (4 ounces) of mussel meat per person.
Allow 60 grams (2 ounces) of pasta per person
Halve or double the remaining ingredients for the sauce to make a smaller or larger quantity.
Pin for later
If you would like to try this creamy mussel pasta yourself, why not pin the recipe to one of your Pinterest boards so you can find it easily. Just click on the image below.
Other recipes
You may also like to try these other recipes made with mussels:
And here are a few other easy pasta dishes you may like:
The recipe
If you made this recipe and enjoyed it, I'd love it if you could give me a star rating in the comments below. And if you'd like to get in touch, you can email me at [email protected]. I'd love to hear from you. And don't forget to subscribe to my mailing list so you can grab yourself a copy of my FREE COOKBOOK!
If you'd like to continue browsing, just click on this link to all my recipes.