Fresh mussels in a creamy garlic sauce are a delicious treat. And they are so easy to prepare. They steam open in less than 10 minutes, revealing their soft, plump, juicy cushions. Serve the traditional Belgian way with french fries for a yummy (almost instant) meal of moules frites.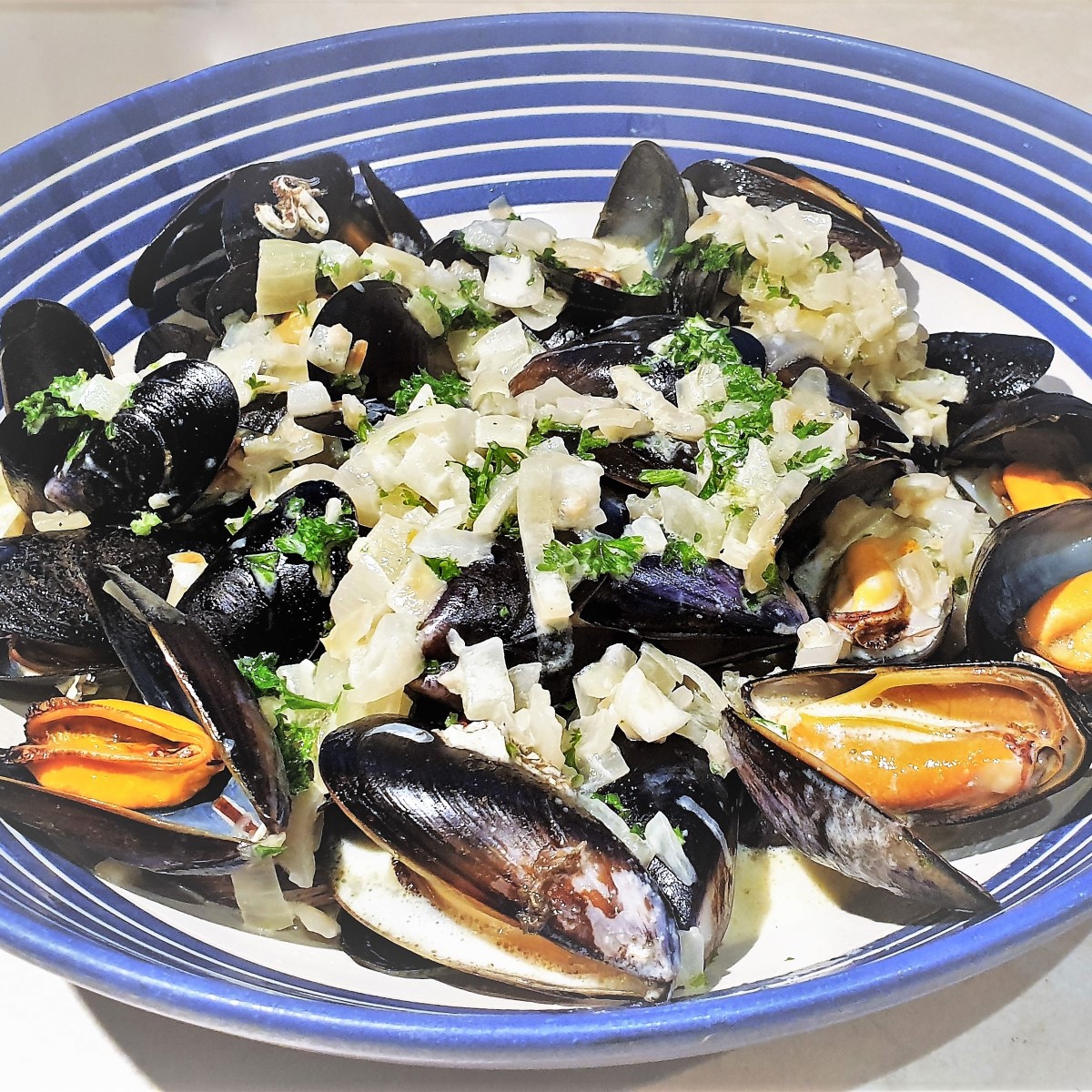 **As an Amazon affiliate, I earn from qualifying purchases.**
Fresh mussels with creamy garlic sauce
The Belgians know a thing or two about tasty food. You only have to look at a Belgian waffle to know that you are on to a good thing! But it's not only waffles that Belgium is famous for. A dish of Belgian mussels in a creamy garlic sauce, accompanied by a side of crispy french fries, eaten on a pavement cafe in Belgium has to be experienced to be believed.
I was lucky enough to experience this for myself a few years ago when I found myself on an assignment in Brussels. There is an entire street in the centre of the town dedicated to small restaurants, each vying with one another to get customers into their shop to experience their mouthwatering mussels and chips (or moules frites as they are known in Belgium).
Once seated, and order placed, the food arrives in minutes. Plump juicy mussels, flavoured with garlic, the crispiest of french fries, and a huge glass of ice-cold Belgium beer to wash it all down with. There's something really special about sitting at a pavement cafe, eating delicious food, and just watching the world go by.
So I decided to make these mussels myself at home, and I think they turned out pretty well. Why not try them and see for yourself.
How to make fresh mussels and creamy garlic sauce
For a complete list of ingredients and full instructions, see the printable recipe card at the end of this post.
This recipe is sufficient for two people as a main, or 4 people as a starter. You can easily adjust this recipe to cater for more people by increasing the quantity of the mussels and adjusting the ingredients for the sauce.
Ingredients
You will need fresh mussels in their shells. Allow at least 1 pound (450g) per person – more if you are feeling greedy!
The edible portion of the mussels is approximately 30% of the weight of the mussels with the shells. So one pound should provide about 4 to 5 ounces (or 140g) of mussel meat.
For the creamy garlic sauce you will need:
Finely chopped onion – this should be quite finely chopped – you don't want large pieces of onion – less than 1cm pieces are ideal.
Garlic – you can use minced fresh cloves, or if you've run out (as I had) you can use minced garlic from a jar. I use one teaspoon of minced garlic for every 2 cloves of fresh.
Butter – this is for sweating the onions and will also form the base for the cream sauce. If you want to be healthy you could get away with using olive oil, but it will change the flavour of the sauce somewhat.
Vegetable stock – made with 1 stock cube per cup of boiling water.
Cream – because cream makes everything taste better, and it also provides body to the sauce.
Freshly chopped parsley – to add to the sauce, and also to use as a garnish. I wouldn't use dried parsley as the cooking time is too short for dried parsley to soften properly.
Clean the mussels
Place the mussels in a colander and rinse under cold running water (image 1 below). Discard any mussels that do not close, and also remove and discard any mussels with broken shells. If you tap sharply on the shell, the mussel should close.
If there is a 'beard' along the edge of the mussels, remove this as well.
Leave the mussels to drain while you fry the onions.
Prepare the sauce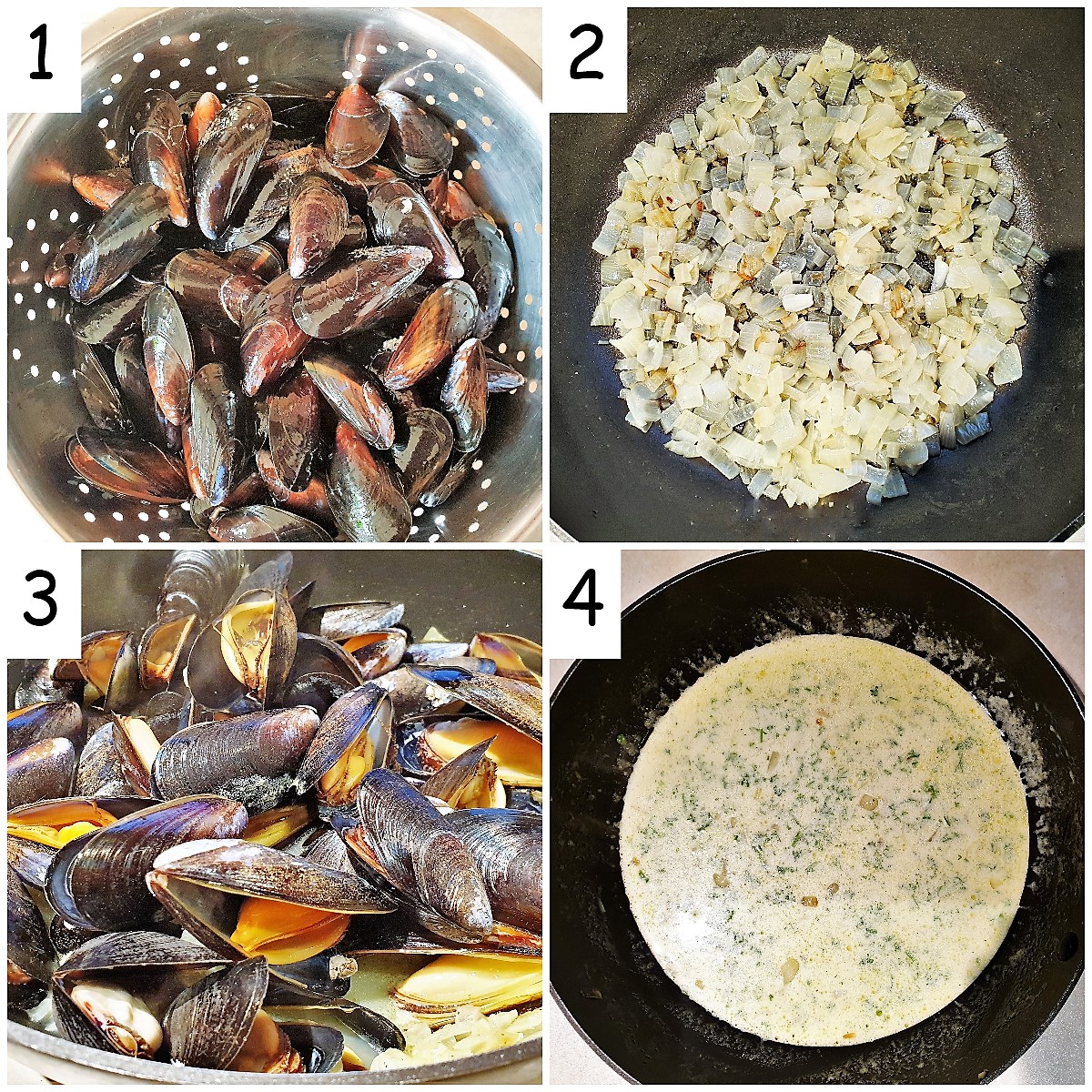 Melt the butter in a large frying pan or saucepan (with a lid) and sweat the onions and garlic gently until the onions are translucent. Take your time with this step – you don't want the onions to brown. I find that if I place a lid on the pan and leave the onions on very low heat for about 5 minutes they will soften nicely (image 2 above).
Add the stock to the onions and bring to a boil. Then tip in all the mussels.
Cover the pan with a lid, turn down the heat, and allow the mussels to steam for 5 minutes until they have all opened (image 3 above). Give the pan a little shake before opening the lid. Discard any mussels that have not opened.
Using a large slotted spoon, remove the mussels from the stock, allowing the stock to drain back into the pan. Place the mussels in a dish and set them aside while you finish off the sauce.
Leave the stock on low heat and stir in the cream, then add the chopped fresh parsley (image 4 above).
At this point, you should taste for seasoning and add salt and ground black pepper to your own taste if you think the sauce needs it.
Allow the sauce to come back to the boil then tip the mussels back in. Leave to simmer for 2 minutes to allow the mussels to heat through.
Tip into a serving dish, garnish with extra chopped parsley and serve immediately alongside a plate of crispy french fries and chunks of crusty bread to mop up the sauce.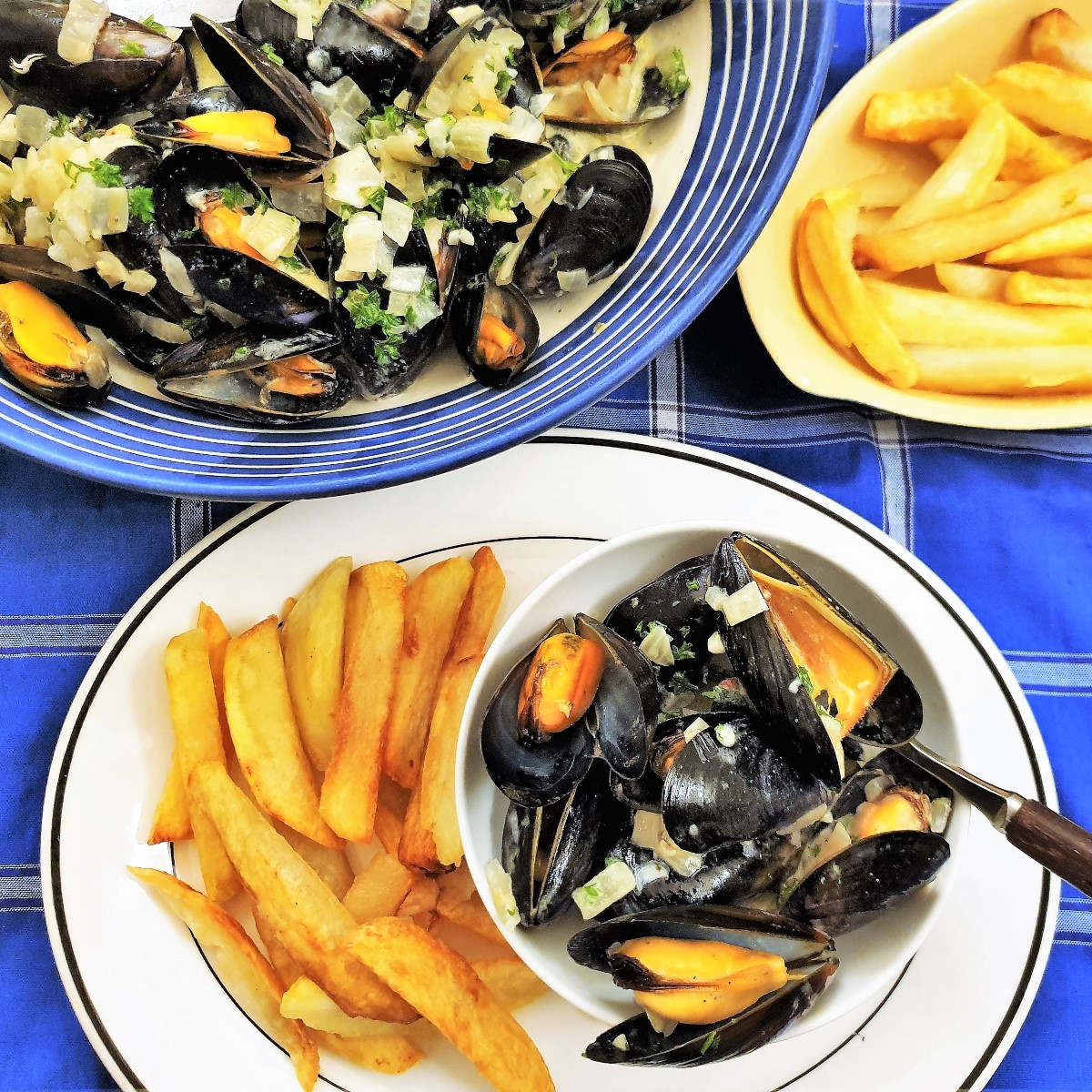 Variations
You can easily turn this recipe into creamy garlic mussels in white wine sauce by substituting half of the chicken stock for white wine. Allow the sauce to simmer for 10 minutes on a very low heat before adding the cream. This will allow the alcohol to evapourate. Then stir in the cream and parsley and tip in the mussels.
To make a mussels marinara, add 1 cup of finely chopped fresh tomatoes, 1 teaspoon sugar and 1/2 a cup of dry white wine to the softened onions. I always add a small amount of sugar when I am cooking with tomatoes as I find the sugar cuts through the tartness of the tomatoes. Cover the pan with a lid and leave to simmer for 10 minutes until the tomatoes are softened. Add the mussels and allow them to steam as per the recipe instructions for about 5 minutes until the mussels have all opened. Do NOT add the cream and stock.
If you prefer a sauce with more texture, you can thicken it with 1 teaspoon of cornstarch (cornflour) mixed with one tablespoon of water. Before adding the cream, drizzle the cornstarch mixture slowly into the sauce, stirring continuously, until the sauce reaches the desired consistency. Then stir in the cream and parsley and tip in the mussels.
If you'd like to be notified of any new recipes, why not subscribe to my newsletter. As a thank-you gift, you will receive a free recipe e-book containing some of my most popular cakes and desserts.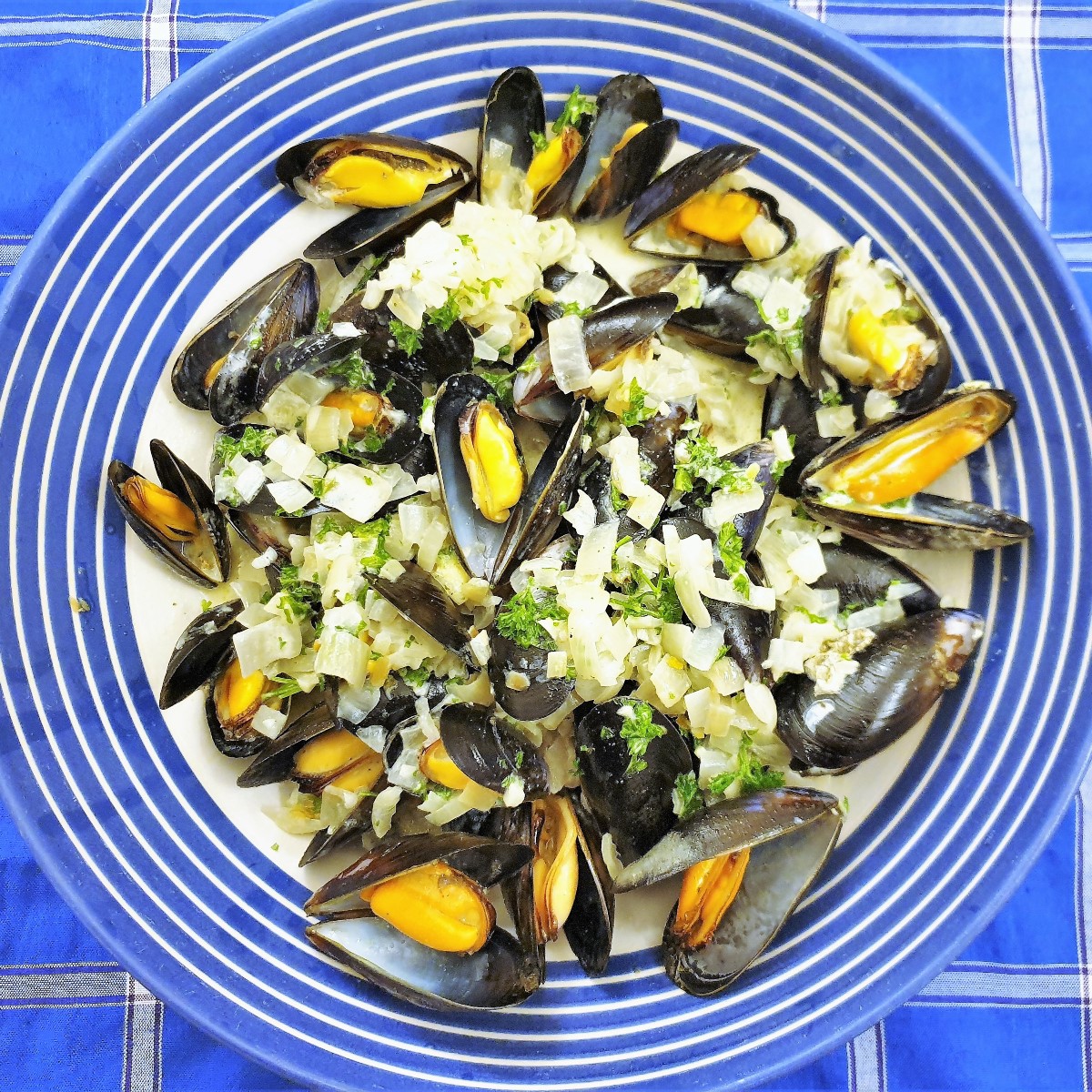 Make the mussels in advance
If you want to prepare these mussels the day before you can store the mussels in a covered dish in the refrigerator. I personally wouldn't store them longer than one day,
To reheat, tip the mussels and the sauce into a saucepan and reheat gently until piping hot.
Serve immediately and discard any uneaten mussels after the meal. Do not reheat them a second time.
Other recipes
If you enjoyed this recipe for fresh mussels in a creamy garlic sauce, you may also like to try some of my other Fish and Seafood recipes.
If you made this recipe and enjoyed it, I'd love it if you could give me a star rating in the comments below. And if you'd like to get in touch, you can email me at [email protected]. I'd love to hear from you. And don't forget to subscribe to my mailing list so you can grab yourself a copy of my FREE COOKBOOK!
If you'd like to continue browsing, just click on this link to all my recipes.