Creamy seafood linguine with lobster has to be one of my all-time favourite seafood pasta recipes. Sweet, juicy lobster chunks and succulent garlic shrimp, swimming in a mouthwatering creamy sauce, served on a bed of perfectly cooked linguine. What's not to love?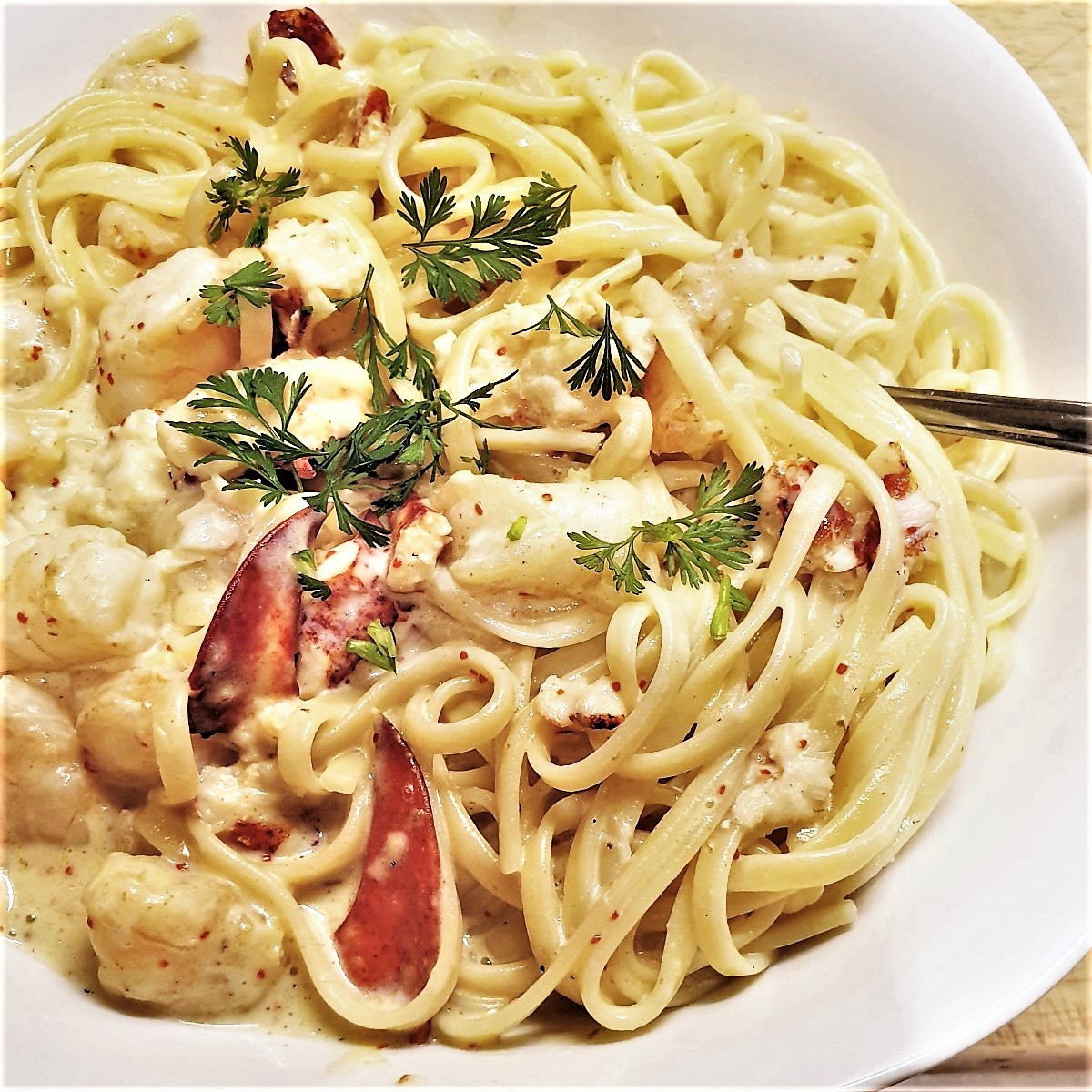 **As an Amazon affiliate, I earn from qualifying purchases.**
Creamy seafood linguine with lobster
Seafood linguine with lobster has to be my favourite pasta dish – not least because it tastes so delicious. Pair sweet chunks of lobster with juicy butter-fried shrimp, cover it with a creamy garlic sauce and serve on a bed of perfectly cooked linguine and you have a meal that wouldn't be out of place in the finest Italian restaurant.
But it doesn't just taste good, it's so quick and easy to make, you can have it on the table in under 30 minutes. The shrimp only take a few minutes to cook, and because the lobster is pre-cooked, all you have to do is remove it from the shell and chop it into chunks.
I first ate seafood linguine at a restaurant on the South Coast of Durban overlooking the Indian Ocean. To be honest, it wasn't my first choice from the menu. I was hoping to try the freshly-caught Sea Bream, which was the speciality of the day. Unfortunately so did everyone else, and the Sea Bream was sold out!
However, as things turned out, my second choice, the seafood linguine, was one of the best meals I've ever tasted. A plate of golden linguine covered in a creamy sauce and packed with pieces of lobster and shrimp. The sweetness of the lobster and shrimp permeated the entire dish. And there was just enough garlic to add flavour without being overpowering. I polished off the lot, then mopped up every last drop of the creamy seafood-infused sauce with a piece of garlic bread and sat back feeling very satisfied.
Once I got home I had to try to recreate this seafood linguine myself, and I think I managed it pretty well. I've used pre-cooked lobsters from my local supermarket and I've included instructions below on how to crack and prepare them. It's much easier than you might think. Why not try this creamy seafood pasta recipe for yourself? I'm sure you will agree with me that it's a pretty tasty dish!
I've even included instructions on how to clean a lobster in case you want to try it for yourself.
Ingredients for creamy seafood linguine
Whenever I read a recipe I like to have a look at the ingredients to see whether I have everything I need. To make it easy for you – I've listed the ingredients below. You can get the complete list of ingredients and full instructions for making seafood linguine on the printable recipe card at the end of this post.
This recipe is sufficient for 2 people, but you can easily increase the ingredients to serve more.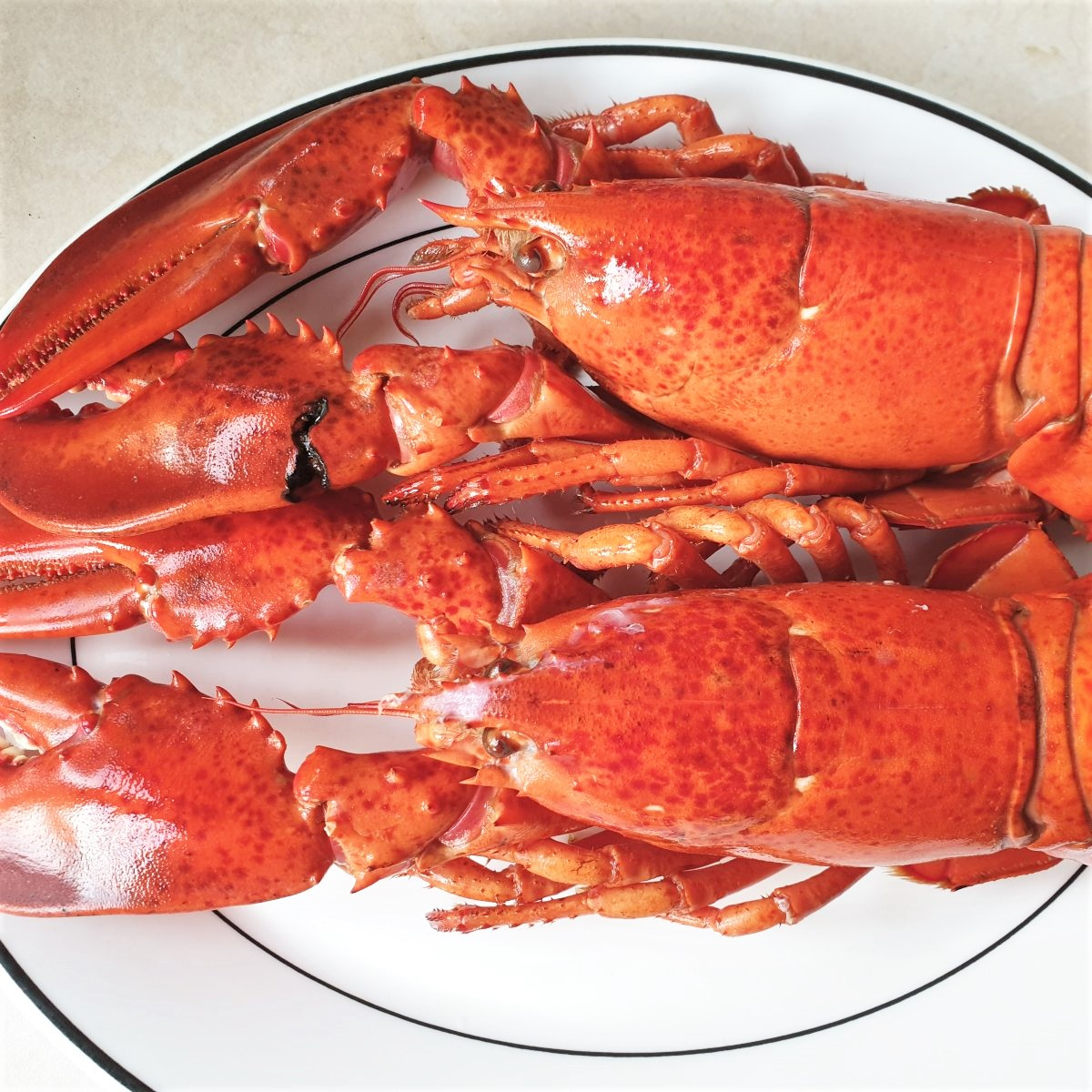 Pre-cooked lobsters – I used 1 per person
Frozen raw shrimp – don't use the pre-cooked shrimp – it is inclined to be rubbery. You can use either shelled or unshelled shrimp. If you buy unshelled shrimp you will have to peel them before cooking. Also try to get shrimp where the heads have already been removed – you get a lot more shrimp for your money!
Butter – NOT margarine. This is used for cooking the shrimp, and also for making the sauce.
Cornflour or cornstarch – used for thickening the sauce.
Garlic – of course
Milk and cream – for the lovely creamy sauce.
Salt and pepper – for seasoning. As always, this is optional or according to your own taste.
Linguine – you could use spaghetti if you prefer, or even tagliatelle or spaghetti.
How to prepare a lobster
To clean and prepare a lobster is easier than you might think.
See the pictures below for a visual demonstration of how to clean and shell the lobsters, or just follow my easy steps.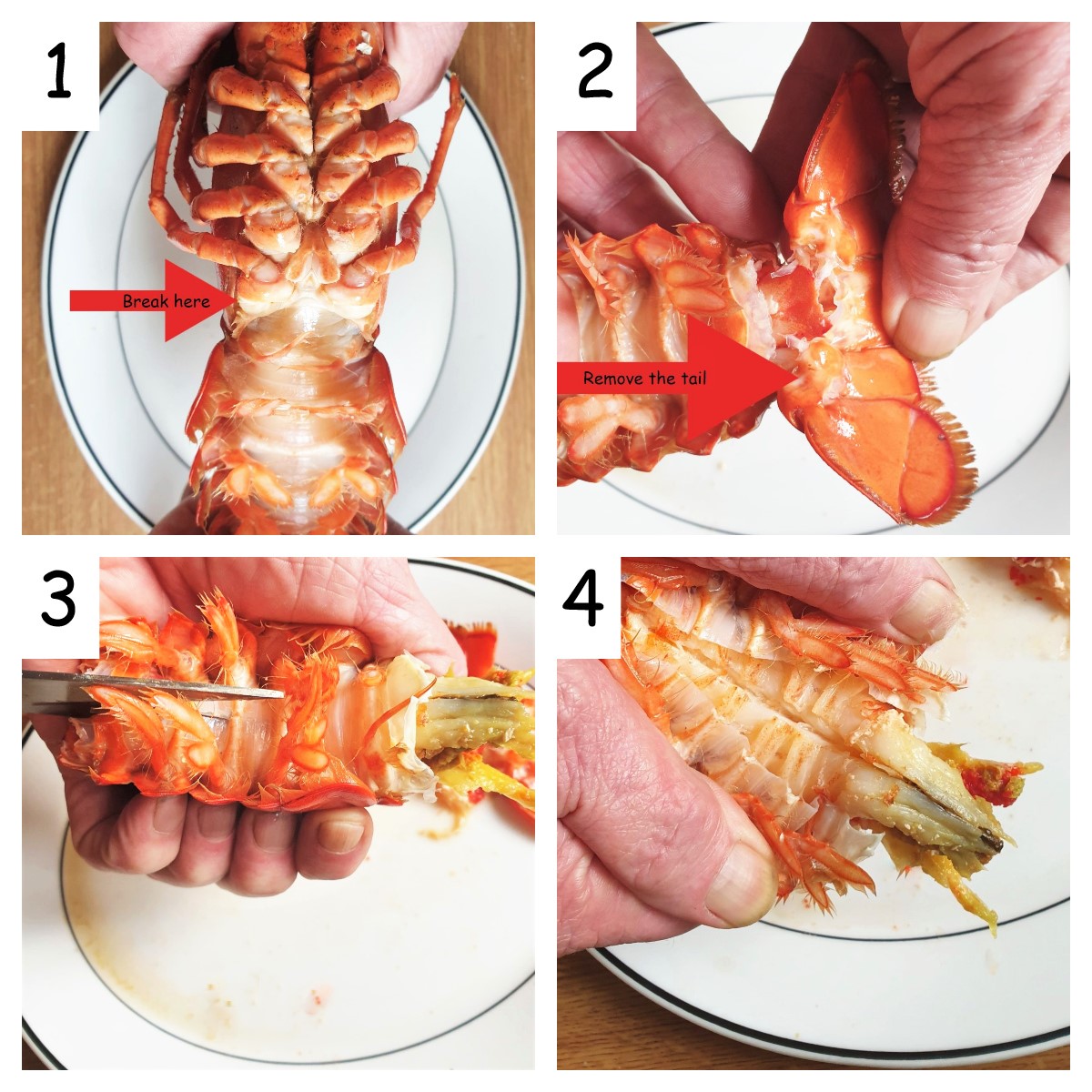 Defrost the lobster – you can do this by letting it defrost naturally in the refrigerator. If you are in a hurry you can put it in cold water in the sink.
Separate the tail from the head. To do this, grasp the head in one hand and the tail in the other hand and twist. The head and tail should separate easily (image 1).
Remove the fins from the tail. Bend the fins backwards and they will come off (image 2).
Take a sharp pair of scissors and cut through the underside of the tail shell (image 3).
Using two hands, open the tail and remove the meat. It doesn't matter if you break it, the meat will be chopped into chunks before it goes into the sauce anyway (image 4).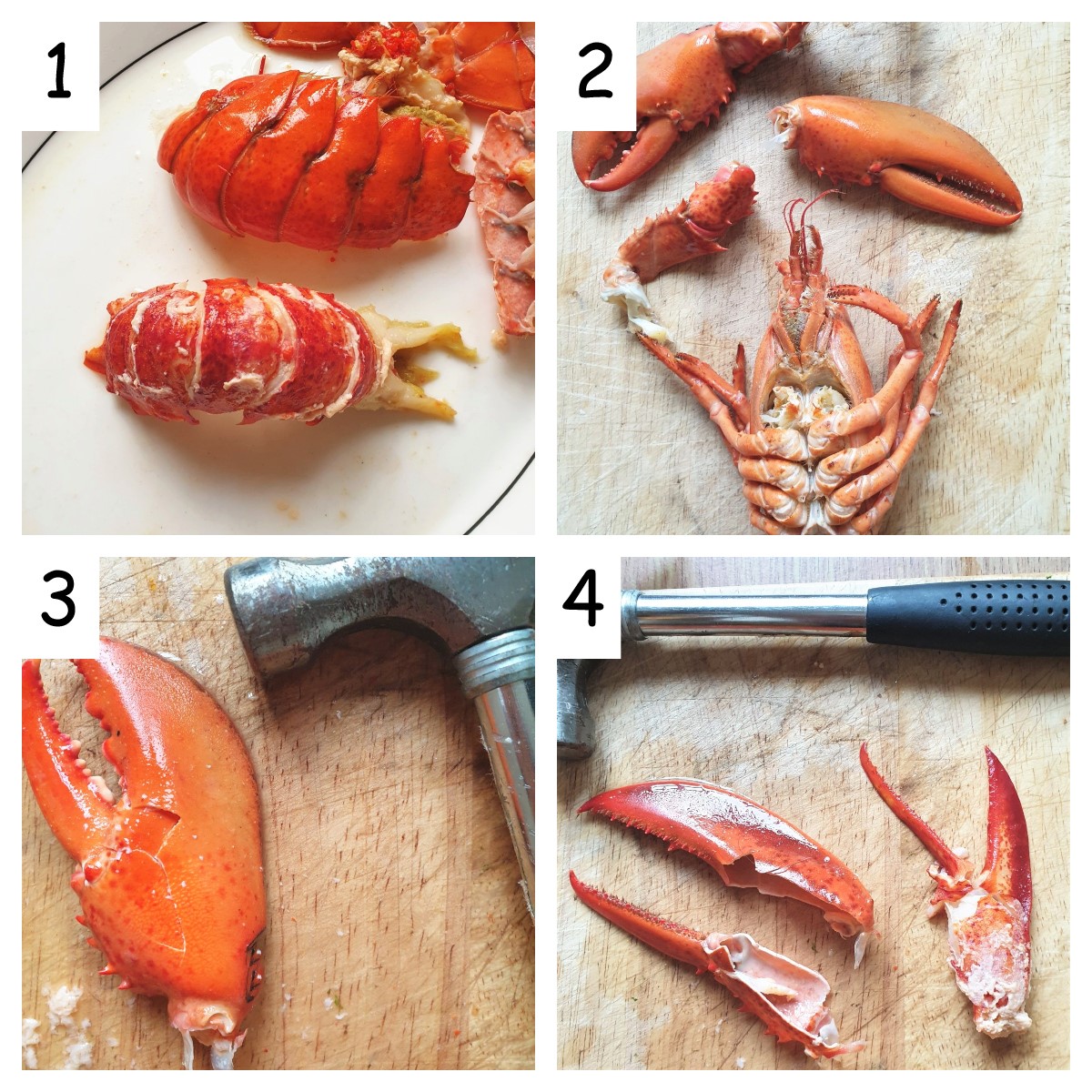 You will see from the picture above that the lobster tail meat resembles a small snail (image 1).
There is a lot of meat in the claws, so the next step is to remove this meat. Lobster claws are very hard and there are special tools available for cracking them. I don't have one, and I found it easiest to use a small hammer (image 3).
Tap gently on the lobster claw with the hammer until the claw cracks sufficiently to enable you to open the claw and remove the meat.
Cut the lobster tail and claw meat into bite-sized pieces (image 4).
There is also edible meat in the legs, but we don't need that for this recipe. You can pick the meat out of the legs and eat it if you wish.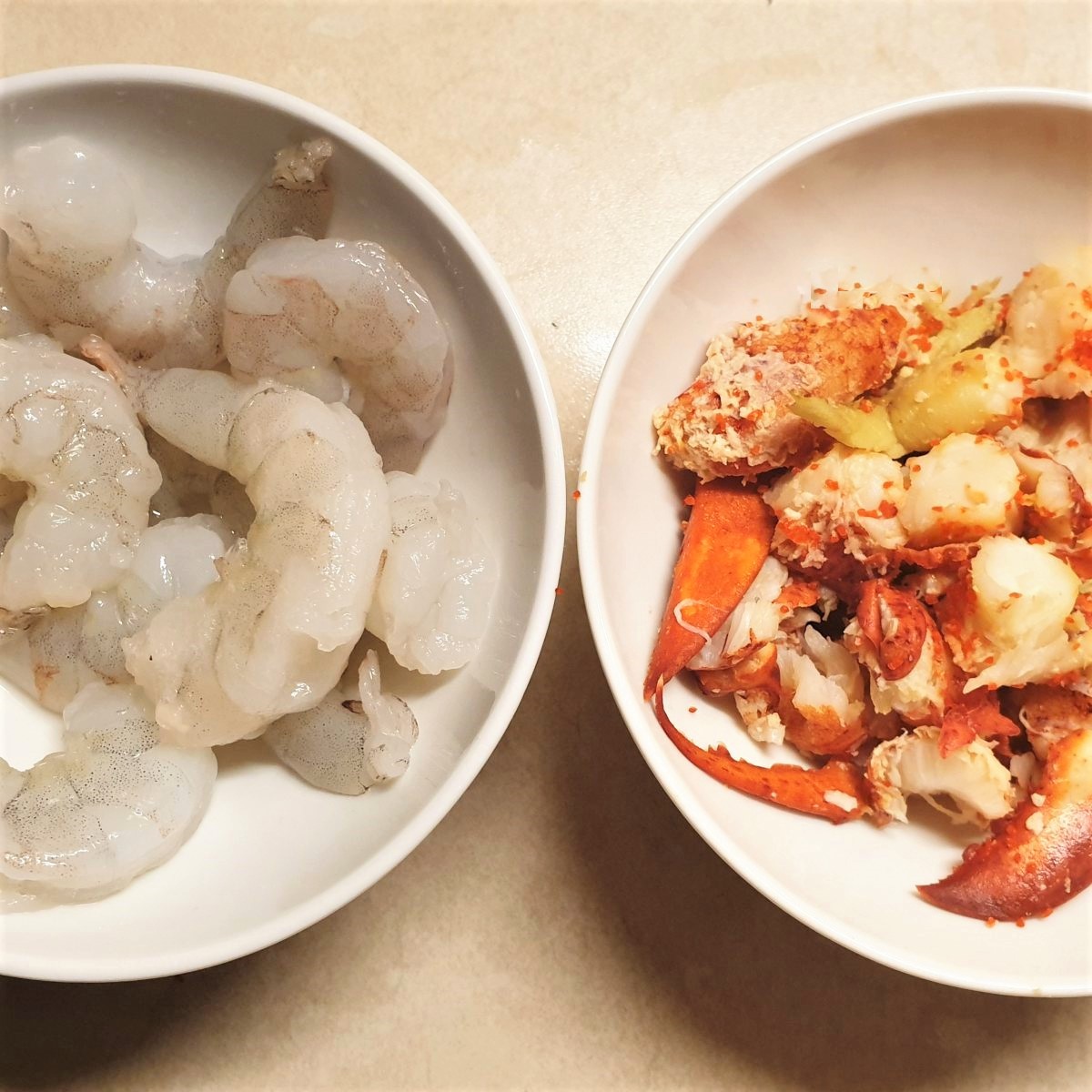 Fry the shrimp
Defrost the shrimp. You can let them defrost in the fridge or if you are in a hurry, pop them in a bowl of cold water.
If you are using unshelled shrimp, you will have to peel them.

Pull off the head if it hasn't already been removed. Using a pair of sharp scissors, cut a slit all the way down the back.

Peel the shell away and discard it.
Using a sharp knife, remove the dark vein from the back of the shrimp. This is the alimentary canal and whilst it won't harm you to eat it, it is not very appealing.

Cut the shelled shrimp into three or four pieces (depending on the size).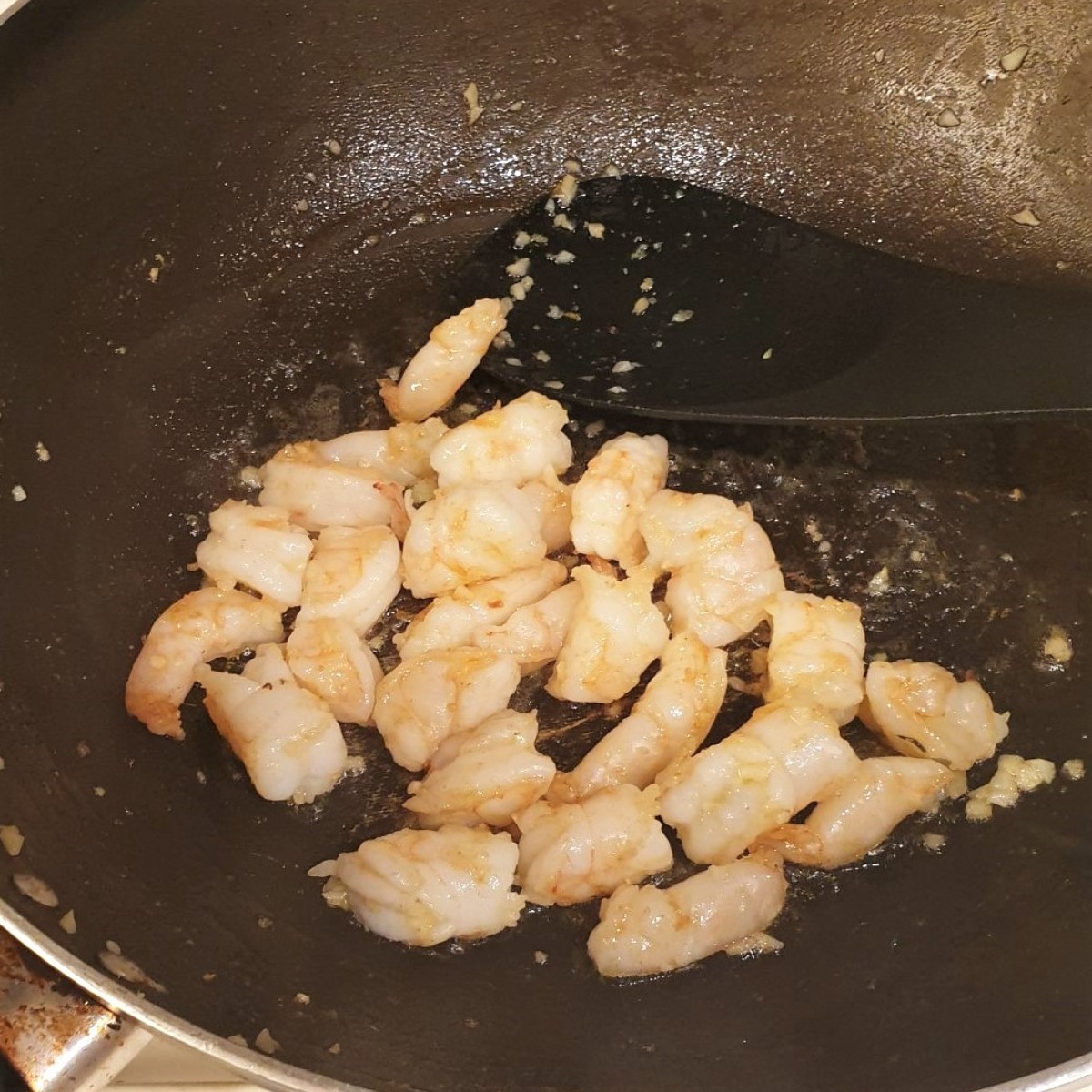 Melt the butter in a work or large frying pan and add the garlic. Saute gently until the garlic softens. Do not allow the garlic to brown or it will become bitter. Use a low heat.
Add the shrimp and stirfry until it turns pink and is cooked through. This will only take a couple of minutes.
Remove the shrimp from the pan and set it aside.
Make the creamy sauce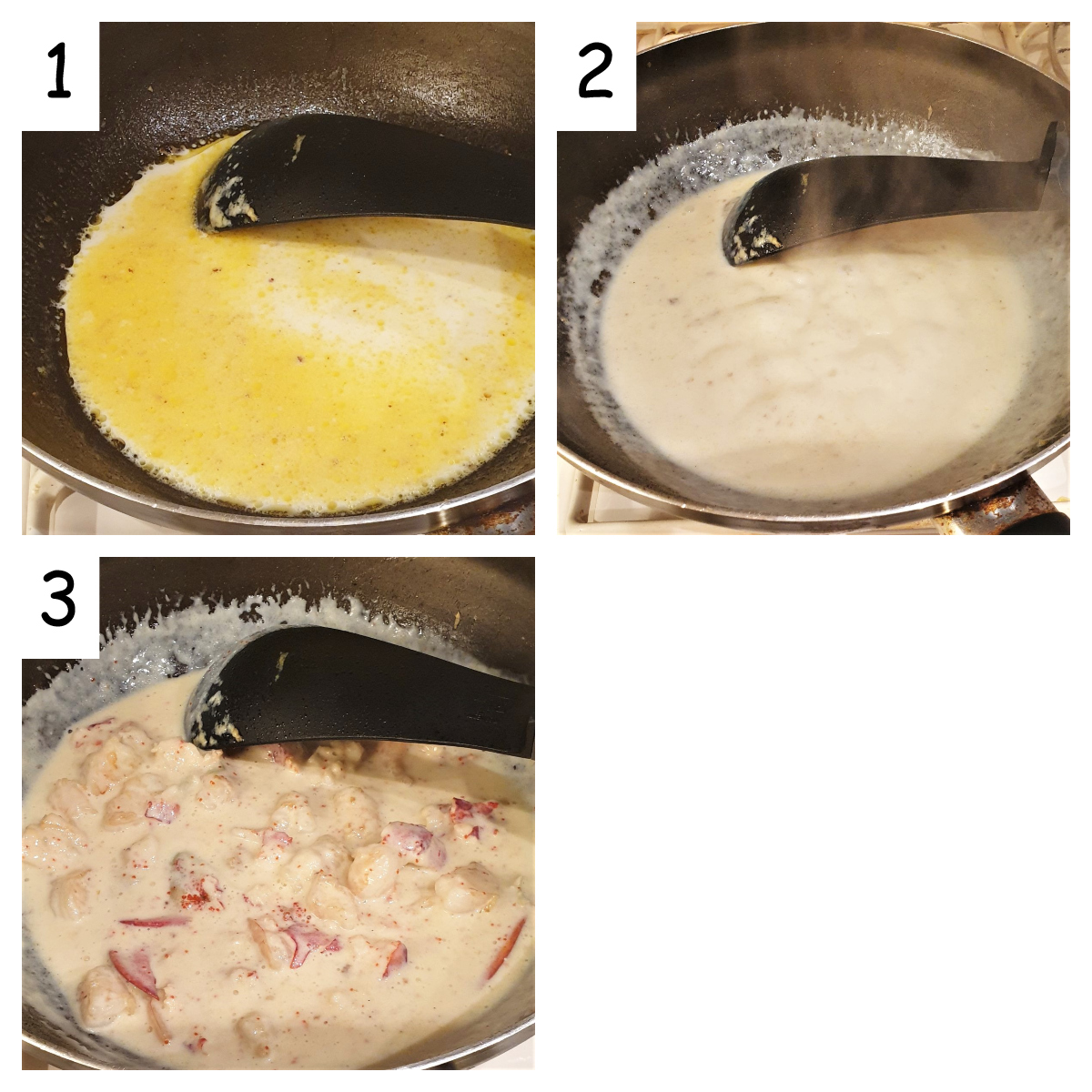 Melt the butter in the same pan.
Mix the cornflour into milk and stir well to remove any lumps (image 1).
Add the milk and cornflour mixture to the melted butter and stir until it thickens (image 2).
Season with salt and pepper to your own taste.
Stir for a minute to allow the cornflour to cook then add the cream.
Stir in the chopped shrimp and lobster and allow them to heat through (image 3).
Serve over a bowl of freshly cooked linguine.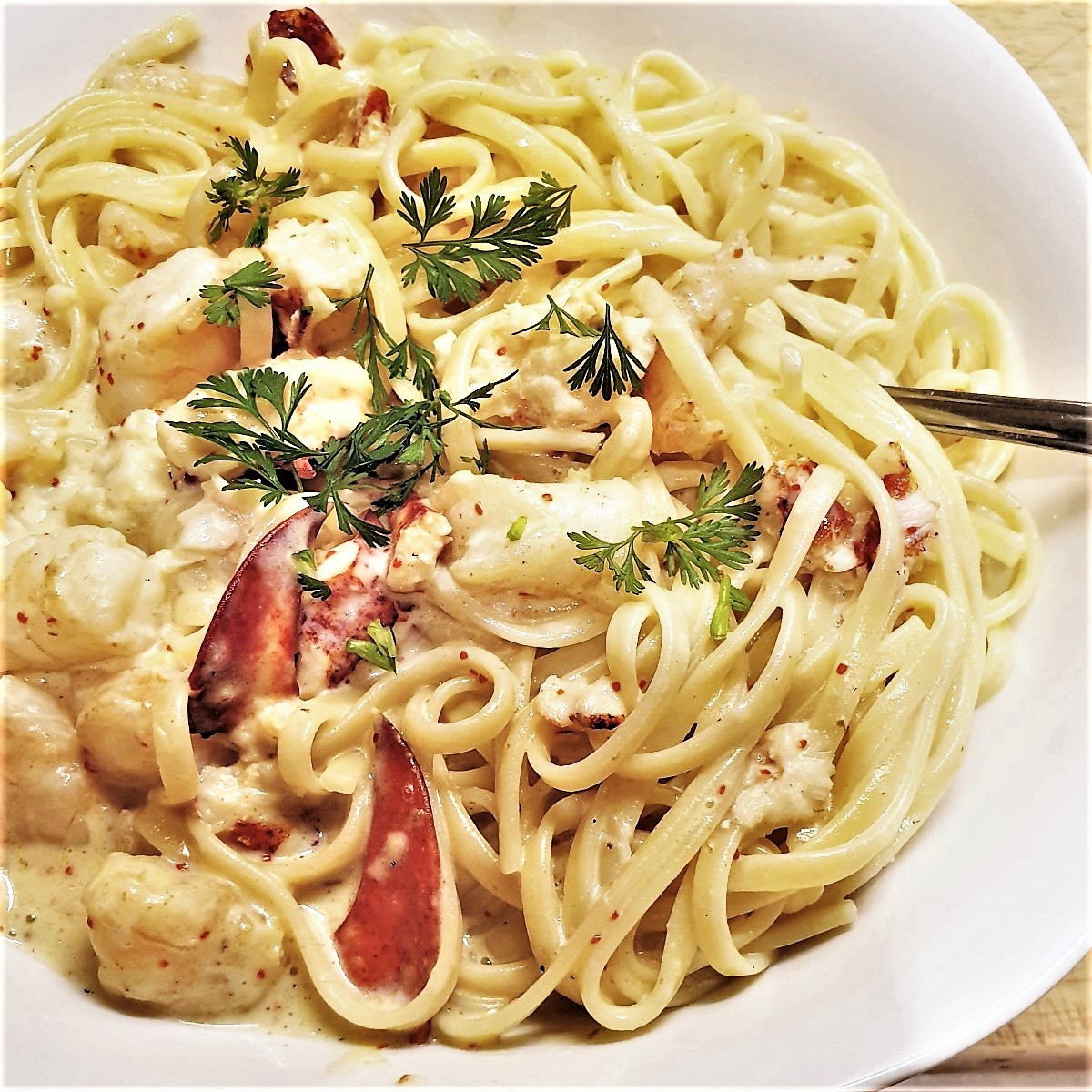 If you'd like to be notified of any new recipes, why not subscribe to my newsletter. As a thank-you gift, you will receive a free recipe e-book containing some of my most popular cakes and desserts.
Can I freeze seafood linguine?
Yes, you can freeze this linguine.
Place the cooled sauce in an airtight container and place it in the freezer for up to 3 months.
To use, allow it to defrost in the fridge, then tip the contents of the container into a saucepan and reheat until piping hot. Then mix with a bowl of freshly cooked linguine and serve immediately.
Do not refreeze a second time.
How do I make a larger portion?
There are a number of ways you can make a larger portion of this meal.
Double the ingredient quantities for the sauce. Then you can either double up on the shrimp and lobster OR defrost a 350g bag of frozen cooked seafood mix and add to the sauce with the shrimp and lobster.
Pin for later
Why not pin this recipe for creamy seafood linguine with lobster so you can make it later.
Recipe – Creamy seafood linguine with lobster
If you made this recipe and enjoyed it, I'd love it if you could give me a star rating in the comments below. And if you'd like to get in touch, you can email me at [email protected]. I'd love to hear from you. And don't forget to subscribe to my mailing list so you can grab yourself a copy of my FREE COOKBOOK!
If you'd like to continue browsing, just click on this link to all my recipes.