This easy pasta pescatore recipe is a classic seafood pasta dish made with prawns, calamari rings, squid and mussels in a tangy tomato sauce, with my secret ingredient for extra oomph! Ready in less than half an hour. Why not bring a little bit of Italy into your kitchen tonight.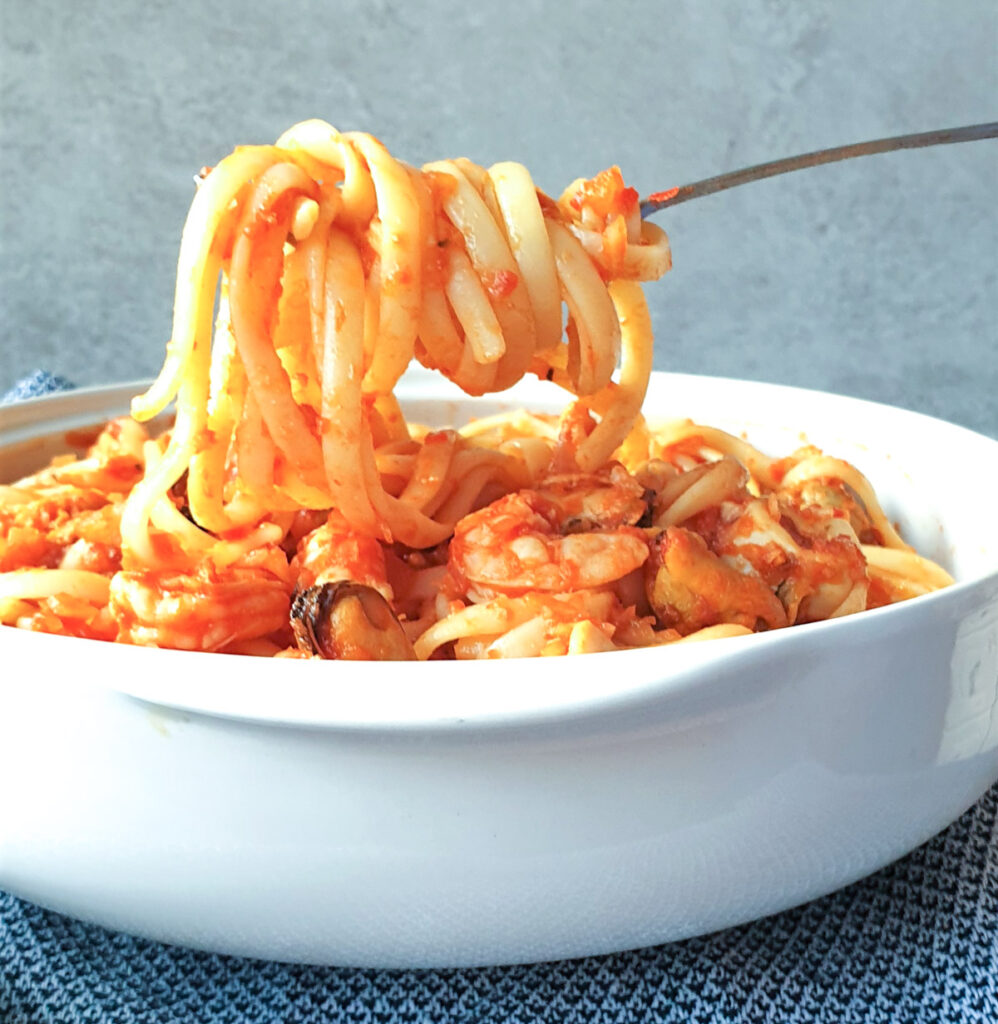 **As an Amazon affiliate, I earn from qualifying purchases.**
Pasta pescatore (easy seafood pasta)
Sometimes you look at the recipe and wonder why so few ingredients can turn into such a delicious meal. This is one of those times. This quick and easy recipe for pasta pescatore only uses 5 main ingredients, plus garlic, chilli and olive oil for flavouring, but the taste is restaurant quality. If you are missing your visits to the local pizzeria then this recipe is definitely worth a try.
I use a packet of frozen pre-cooked seafood mix, that contains mussels, calamari, prawns and clams. In addition I add frozen raw prawns (shrimp to my US readers) that I cut in half so that all the pieces of seafood are the same size.
The entire dish is made from scratch, including the tomato sauce and takes around 20 minutes, start to finish.
You can use any of the long pasta shapes for this dish. I like to use linguine, but spaghetti or even tagliatelle would work just as well. I love the way the garlicky tomato sauce coats each strand.
Aside from the pasta, here is the complete list of ingredients.
Onions
A tin of tomatoes (with herbs if you can get it). Otherwise, just add some dried mixed herbs
Garlic (obviously – this is an Italian dish after all 🙂 )
Frozen seafood mix
Prawns – buy frozen raw prawns that have been pre-shelled.
Chilli – this is my secret ingredient. Just 1/2 teaspoon of chilli (from a jar) makes this sauce really come alive. If you don't like chilli, or just want a mild sauce, feel free to leave it out.
Olive oil – for frying the onions
How to make easy pasta pescatore
Get the complete list of ingredients and full instructions for making pasta pescatore on the printable recipe card at the bottom of this post.
Prepare the seafood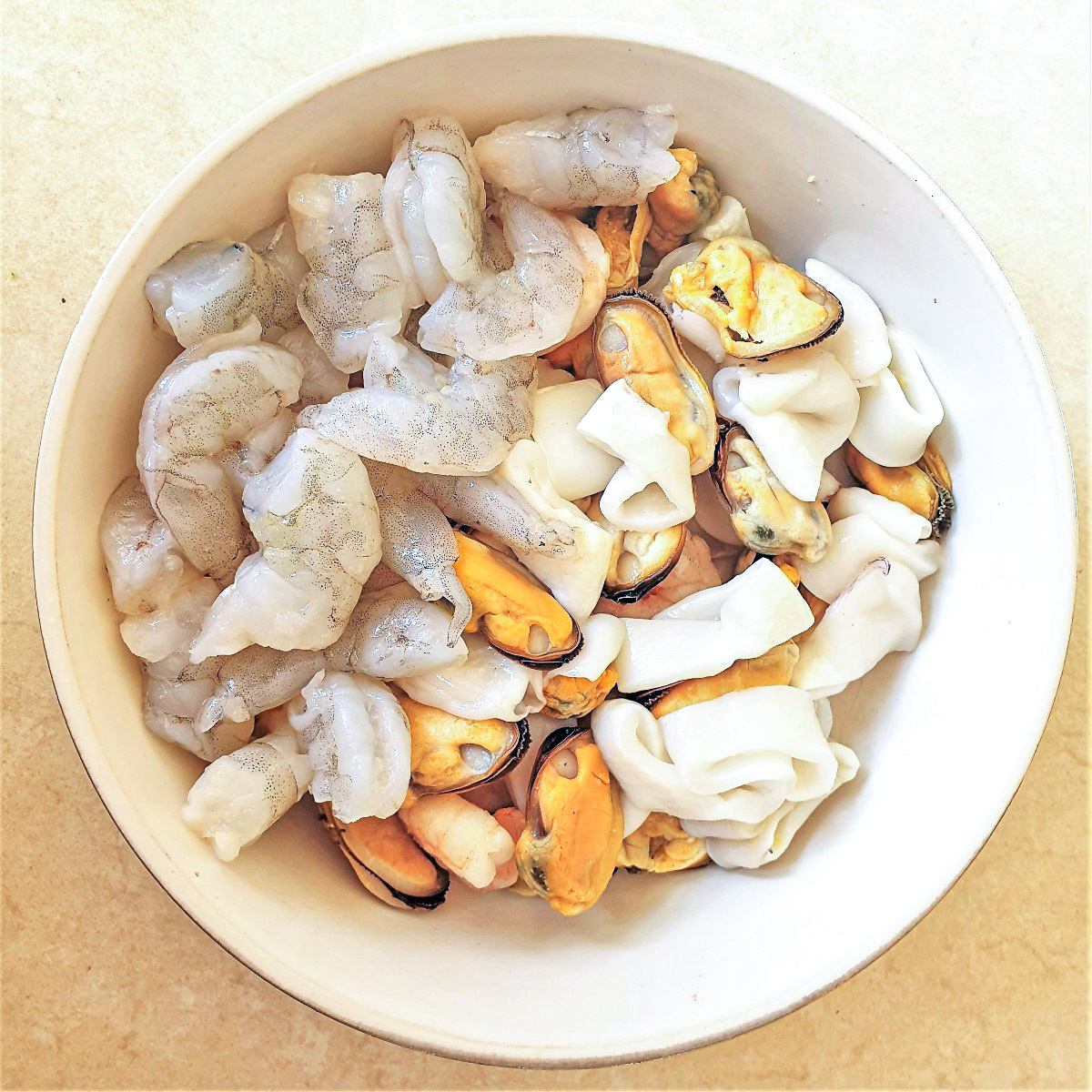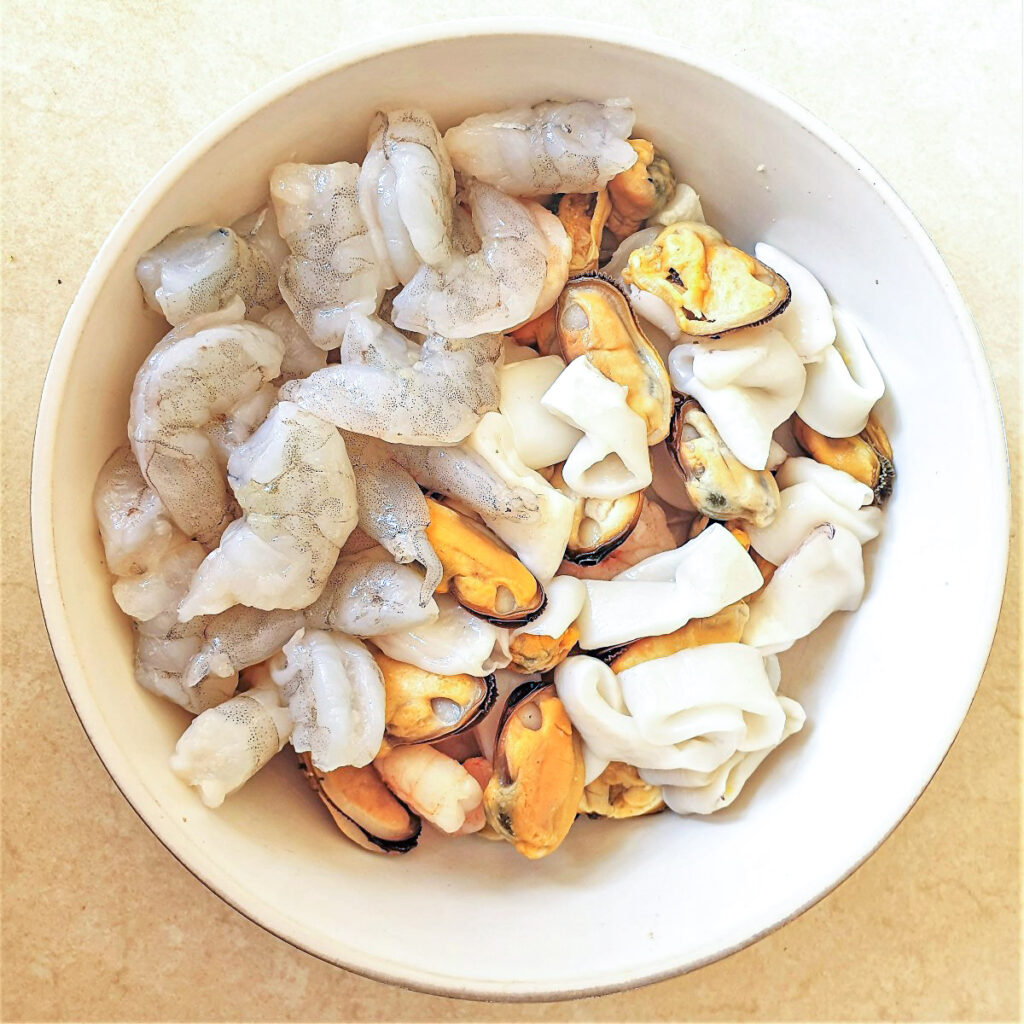 Defrost all the frozen seafood. Don't drain any juices from the bag, there's lots of flavour in there and it can be added to the sauce.
You can leave the seafood in the fridge to defrost, or if you are in a hurry, just pop the bag of frozen seafood in a bowl of warm (not hot) water. It doesn't take very long at all to defrost.
Once the prawns have defrosted, cut them in half. If you prefer you can just leave them whole.
Make the sauce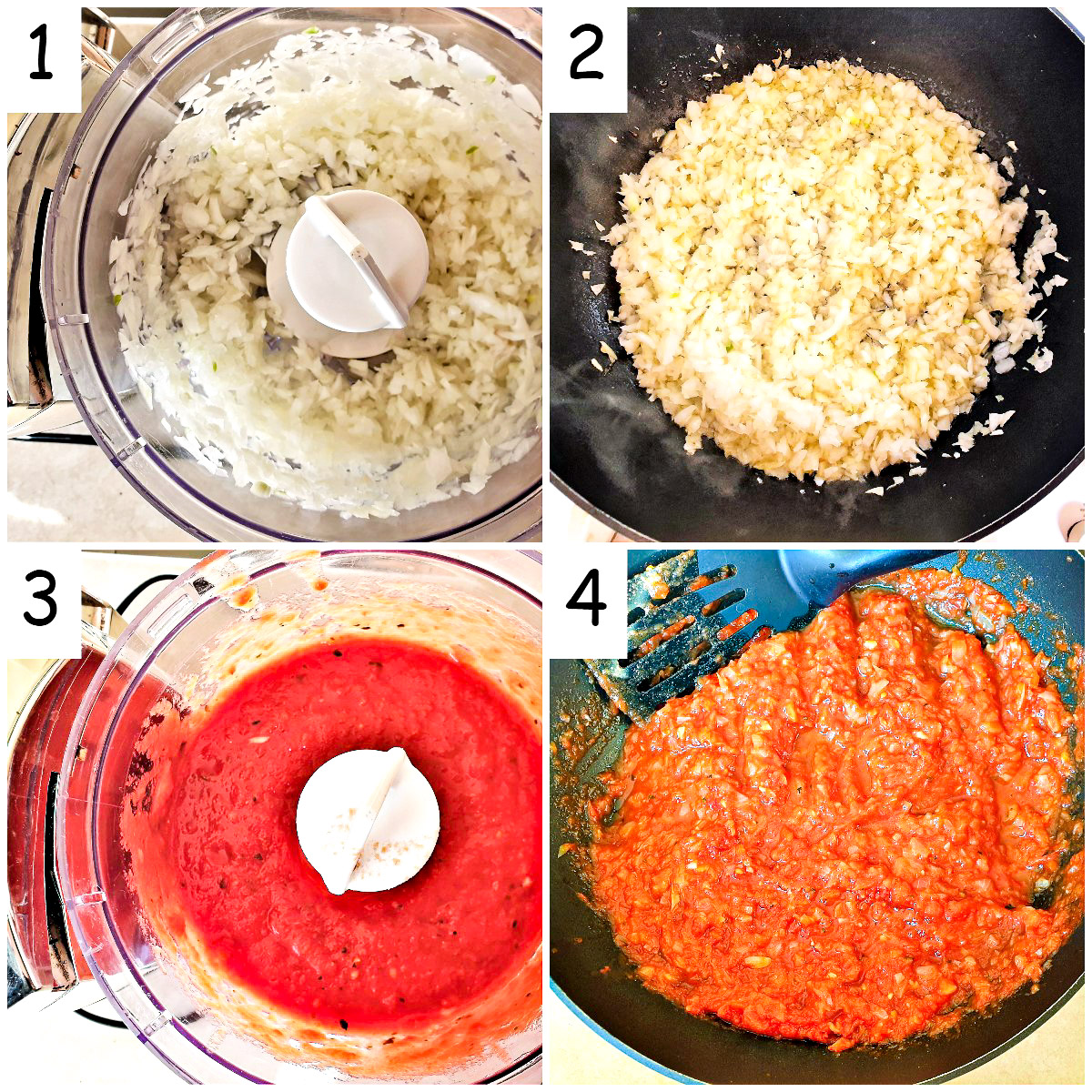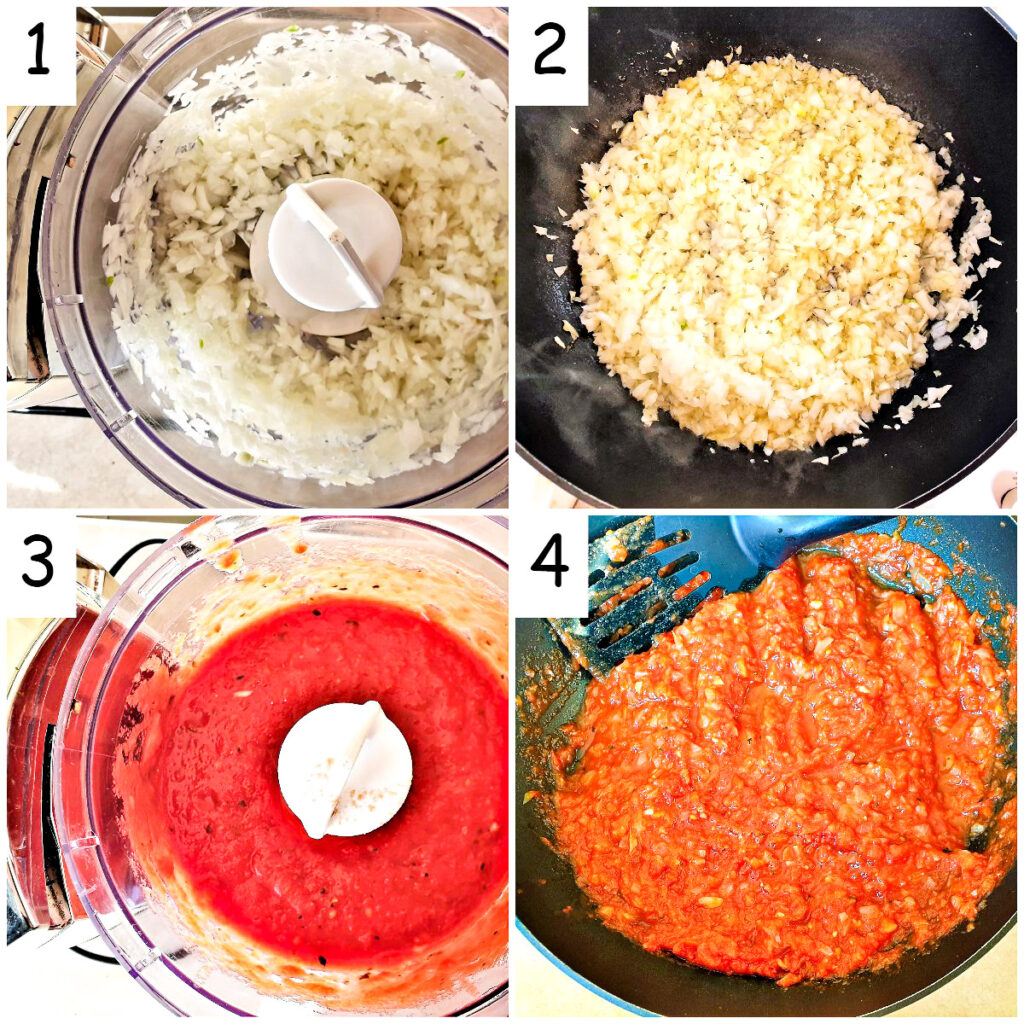 Peel the onions and garlic cloves, then place them in a food processor and whizz them around briefly until they are approximately the size of grains of rice (image 1 above). If you are using fresh chilli, clean the chilli and remove the seeds then add the chilli to the food processor along with the garlic and onions.
If you don't have a food processor, you can chop everything by hand, but it will just take a lot longer.
Heat the olive oil in a large frying pan and add the onions and minced garlic (image 2 above). Allow it to saute over a low heat (with the lid on) while you prepare the tomatoes.
Open the tin of tomatoes and pour it into the food processor. Add the dried mixed herbs if you are using them, and process until smooth (image 3 above).
Now add the tomatoes to the onions in the pan (image 4 above). Cover with a lid and allow to simmer for about 10 minutes, or until the onions have softened.
Add the seafood, along with any juices from defrosting, stir through, and then bring it to a boil. Once it has come to a boil, turn down the heat and continue to simmer for another 5 minutes.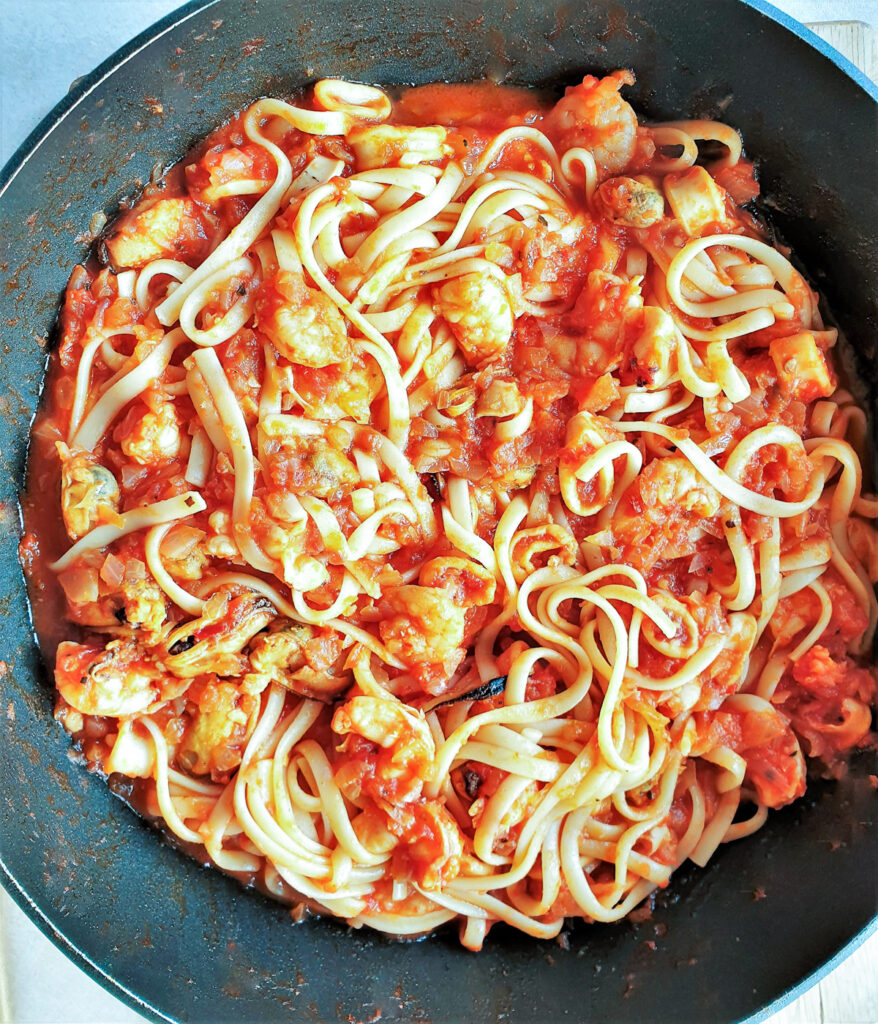 Cook the pasta
Cook the pasta according to the instructions on the packet (or follow my instruction below).
You will need approximately 3oz dried pasta per person (or 100g). This is approximately equal to 1 cup of cooked pasta. If you have a larger appetite or are cooking this recipe for more than 4 people, adjust the portions accordingly.
Bring a large pan of salted water to a strong boil.
Stand the pasta in the boiling water until it has softened sufficiently to allow you to press it down until it is all submerged.
Allow it to boil for about 7 minutes until it is cooked to your liking. Different brands of pasta cook at different times, so use your own judgement on this.
Test by removing one strand of pasta from the water and tasting it. If it is soft enough, then pour the pasta through a colander to drain.
Add the drained pasta immediately to the sauce and mix thoroughly.
Tip into a serving bowl and serve with garlic bread and a green leafy salad with cherry tomatoes.
Alternatively, serve the pasta in individual bowls and ladle the sauce on top.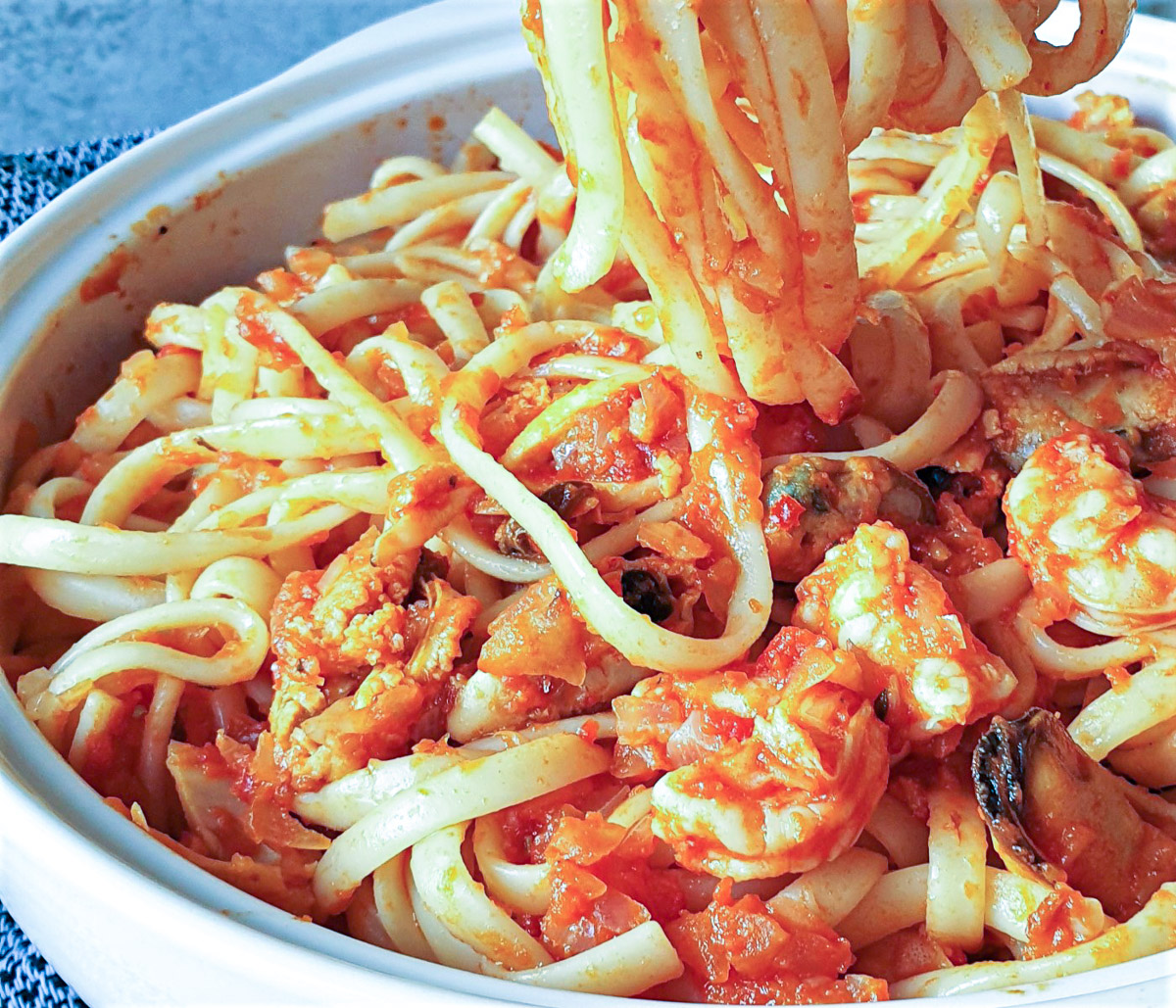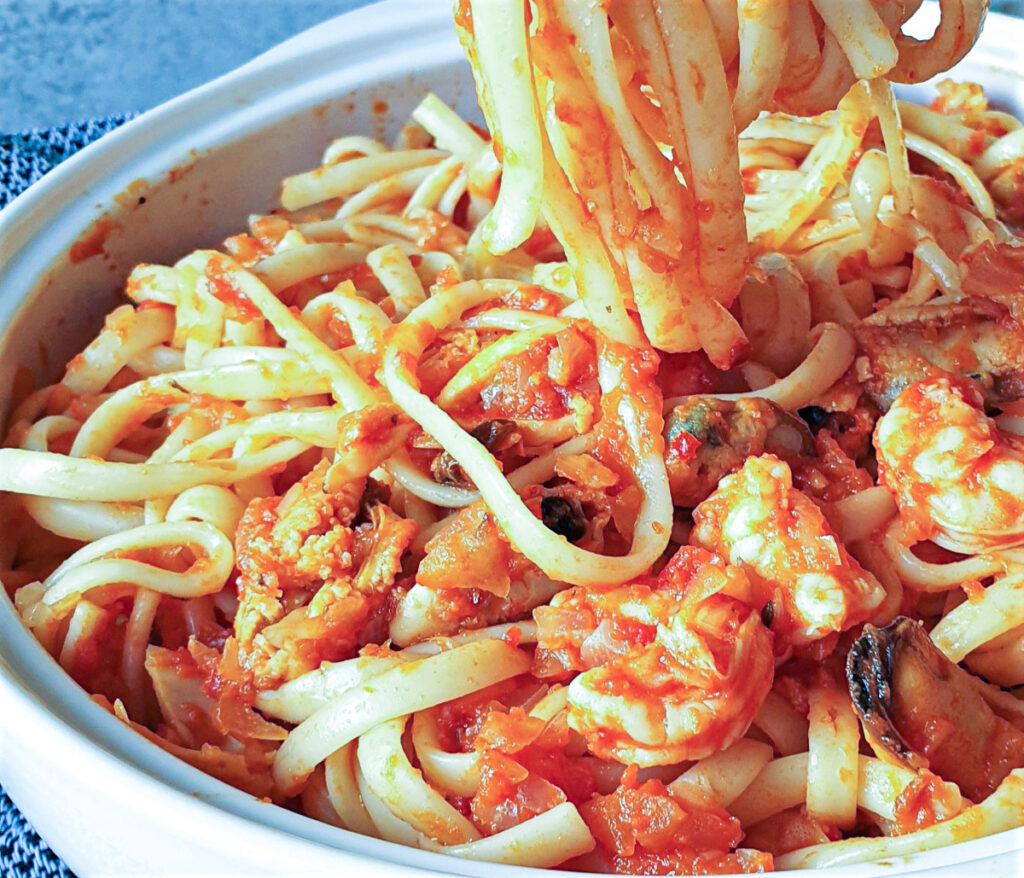 If you'd like to be notified of any new recipes, why not subscribe to my newsletter. As a thank-you gift, you will receive a free recipe e-book containing some of my most popular cakes and desserts.
Pin for later
Why not pin this recipe for pasta pescatore to one of your Pinterest boards so you can make it later. Just click the image below.
Other recipes
The recipe
If you made this recipe and enjoyed it, I'd love it if you could give me a star rating in the comments below. And if you'd like to get in touch, you can email me at [email protected]. I'd love to hear from you. And don't forget to subscribe to my mailing list so you can grab yourself a copy of my FREE COOKBOOK!
If you'd like to continue browsing, just click on this link to all my recipes.
This recipe has been shared at #CookBlogShare