This easy recipe for Fish Milanese is made with juicy cod fillets, marinated in lemon and onions, coated in crispy breadcrumbs and covered in a buttery garlic and parsley sauce. Serve with crispy french fries for a fish and chip supper with a difference.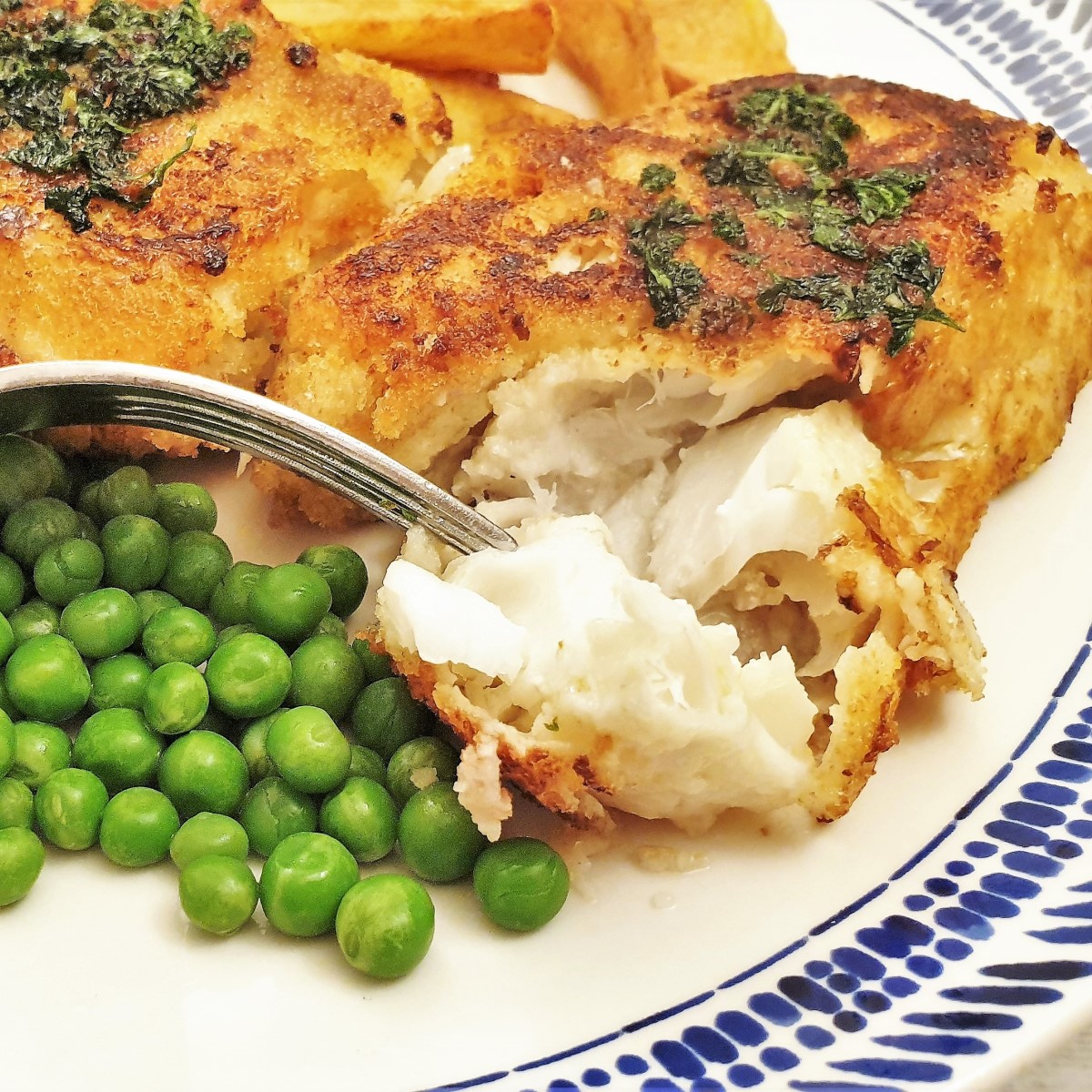 Fish Milenese with a buttery garlic and parsley sauce
I think it is safe to say that most people enjoy a plate of fish and chips. And this is my version of fish and chips with a difference – Fish Milenese with a buttery garlic and parsley sauce.
I didn't think there was much that you could do to improve the flavour of a lovely fresh piece of fish, but that was before I tried marinating the fish in a mixture of lemon juice and onions before coating with breadcrumbs and frying. The flavours from the lemon are onions are so subtle you can hardly taste them, but when you get comments like 'Oh this fish tastes nice – what did you do to it?', you just know you are on to a winner!
Add some crispy breadcrumbs, and a deliciously buttery garlic and parsley sauce, and you have a family supper that you will be making again and again.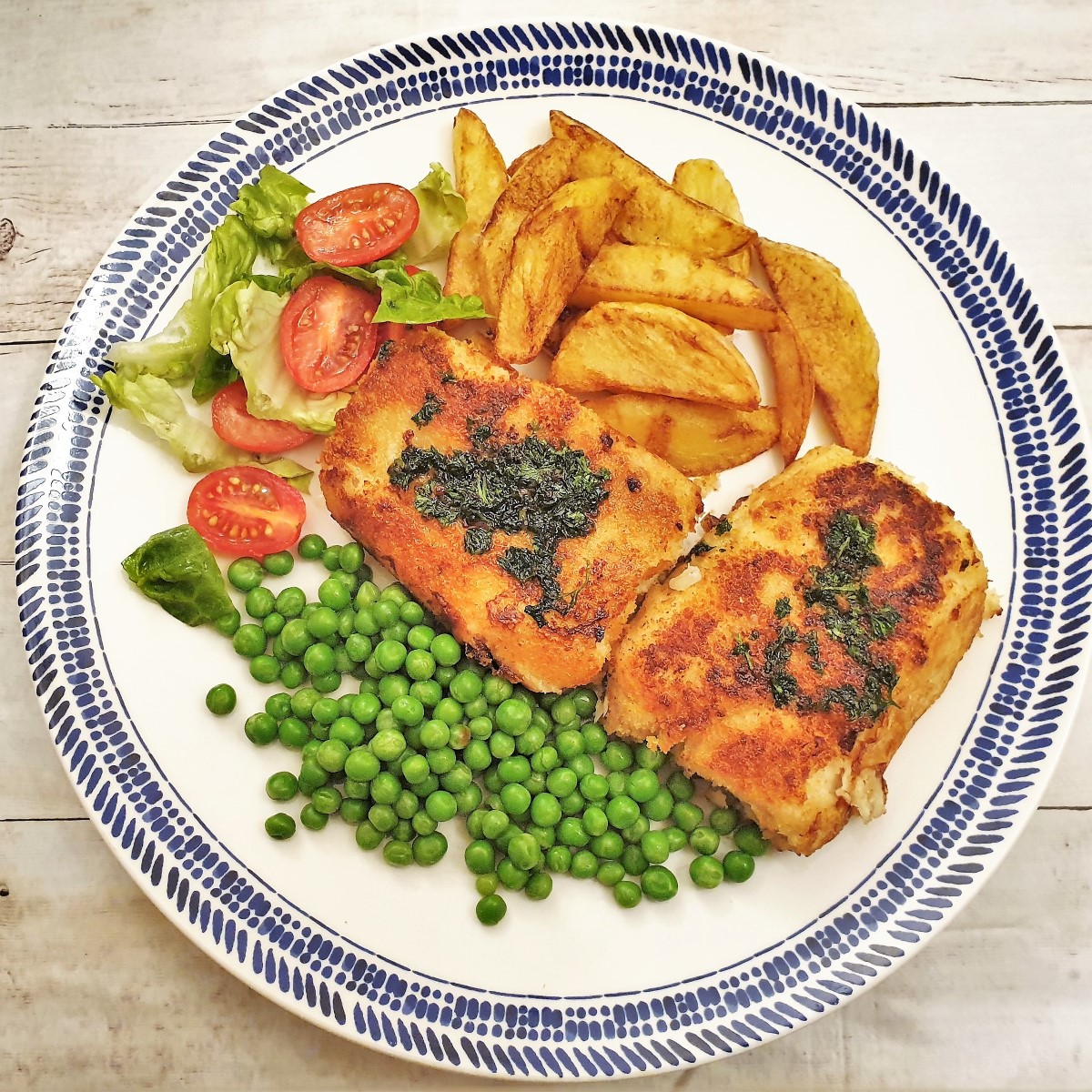 This dish does take rather longer than the normal fried fish and chips, because the fish has to marinate for an hour before you coat it in breadcrumbs, however, I'm sure you will agree that it is worth it.
What ingredients do you need for fish milanese?
You can get the complete ingredient list and full instructions for making fish milanese on the printable recipe card at the end of this post.
For the fish, you will need one or two fillets of cod per person. Now, I say cod, but you could use haddock, tilapia, hake or any other firm white fish that can be easily filleted so there are no bones in it. The number of fillets will depend on how large they are. One portion of fish should weigh 5 to 6 ounces (140g – 170g) depending on your appetite.
To make the marinade you will need a small onion or shallot, very finely chopped, lemon juice and olive oil.
For the breadcrumb coating, you will need some seasoned flour, beaten egg and fresh breadcrumbs. I normally blitz stale bread in a blender and freeze in a plastic bag so I always have breadcrumbs available. You could just grate a slice or two of day-old bread to make fresh breadcrumbs. And at a pinch you could even use a packet of store-bought breadcrumbs. I'm also a great lover of Japanese Panko breadcrumbs, but even though they provide a lovely crunch, I think they would be too coarse for this dish. The choice is yours!
Make the seasoned flour by mixing salt and a grinding of black pepper corns with plain flour.
For the parsley sauce, you will need butter, garlic, and of course, some freshly chopped parsley.
You will also need some olive oil for frying the fish.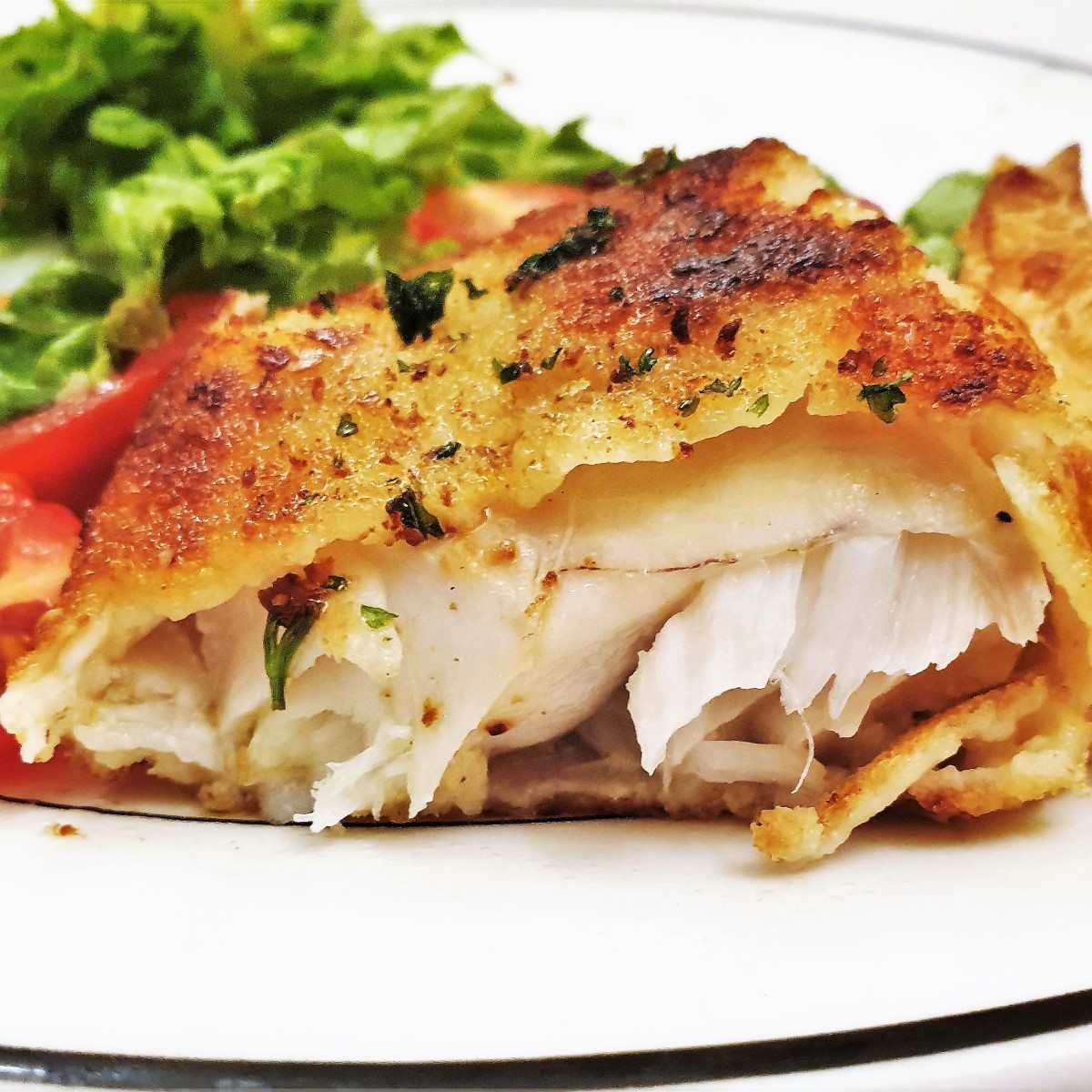 What do you do with the leftover marinade?
It seems a shame to throw the marinade away. There are two things you could do with it:
Strain the marinade through a sieve to get rid of the onions and use the olive oil and lemon from the marinade for frying the fish.
My hubby loves onions in any shape or form, so I just tip all the marinade into a saucepan and let it simmer gently until the onions are nice and soft and serve the onions as a side with the fish (don't tell anyone 🙂 )
How to make fish milanese
Start off by mixing finely diced onion, lemon juice and olive oil in a large flat dish. Submerge the fish fillets in the marinade. Cover and set aside for an hour (image 1 below).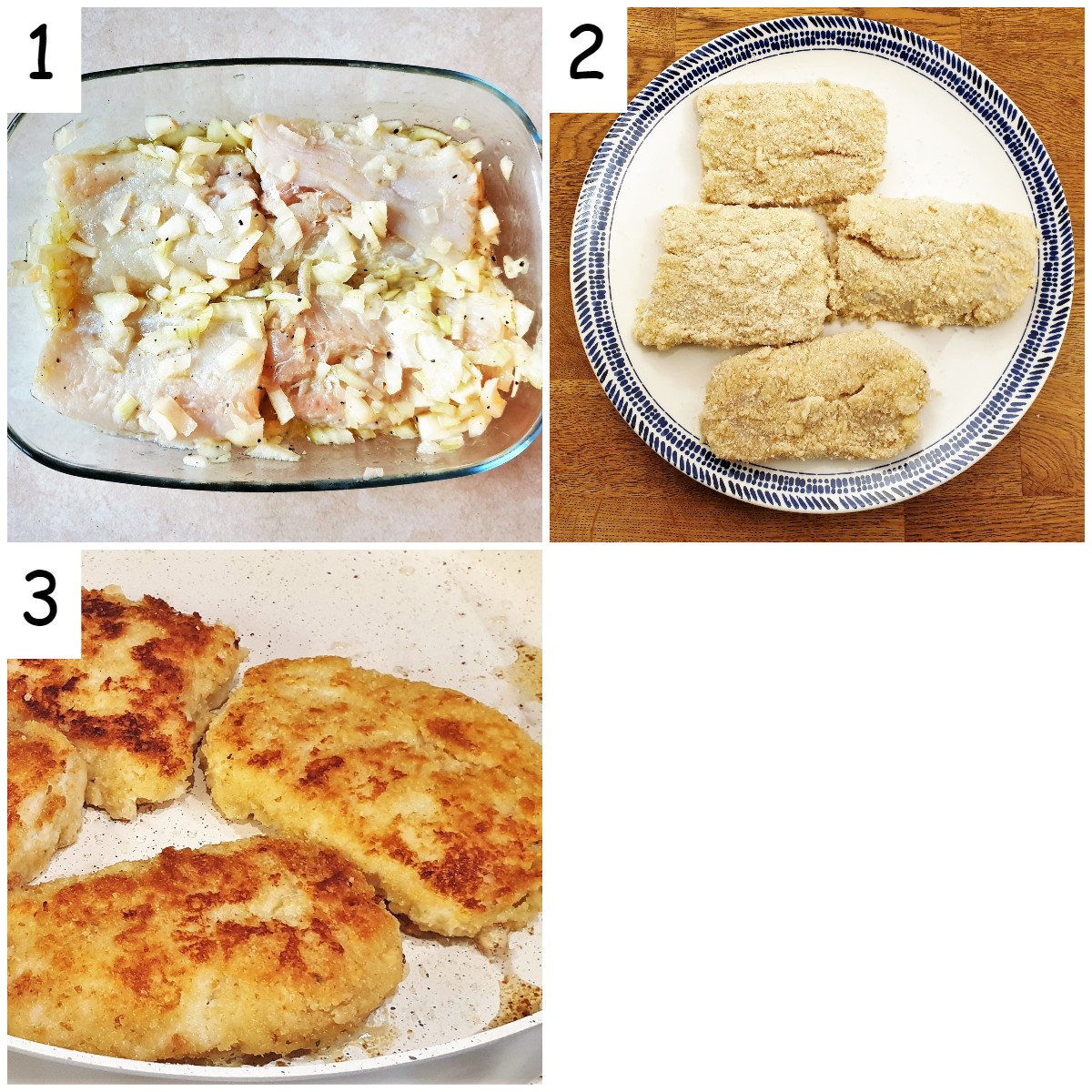 Remove the fish from the marinade (make sure to brush off all the onions, and coat in seasoned flour.
Dip the coated fish in beaten egg, allowing any excess to drip off, and then coat in breadcrumbs. Be sure to pat the breadcrumbs on firmly so the fish is completely coated (image 2 above).
Fry the fish for about 3 minutes on each side in a little extra olive oil until it is nicely browned on both sides (image 3 above). Use a spatula to lift the fish and see whether the bottom has browned or not.
Test that the fish is done by breaking a corner away with a fork – cooked fish will flake easily.
Remove the fish from the pan and add an ounce of butter. Once the butter has melted, add the chopped garlic and very gently until softened. Don't let the garlic brown, or it will become bitter. Add the chopped parsley, stir and then spoon immediately over the fish.
Serve this fish with crispy french fries, garden peas and a leafy tomato salad.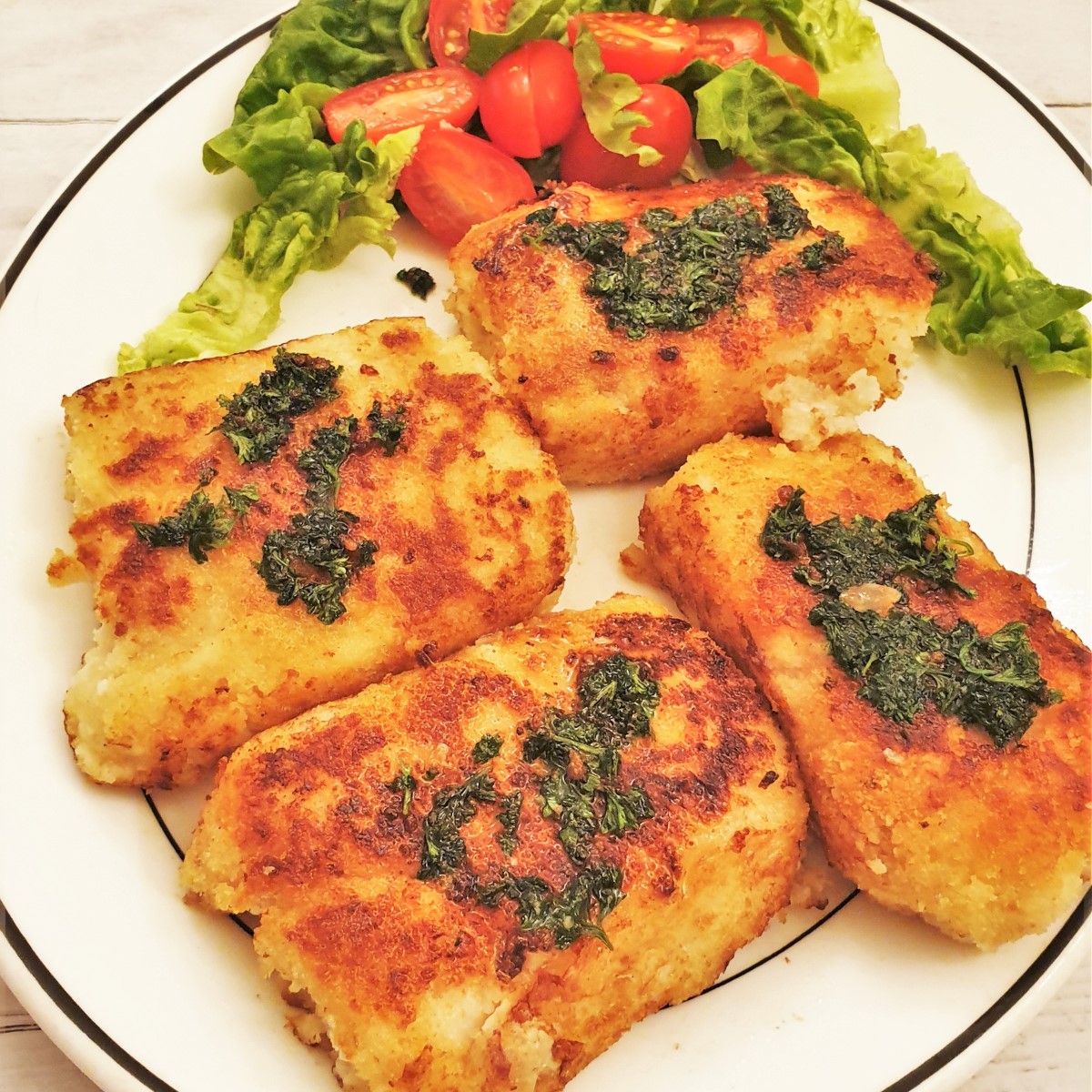 If you want to keep up-to-date with my latest recipes why not follow along on Facebook or Pinterest. And don't forget to subscribe to my mailing list so you can get your FREE COOKERY BOOK
What else to serve with fish Milanese
Instead of serving this dish with french fries, why not serve the fish with a helping of spicy mushroom fried rice. Alternatively, you could serve it with mushroom and pea risotto.
If you are looking for vegetables to serve with this dish, try a helping of traditional mushy peas. Or for a lighter option serve with my orzo pasta summer salad.

If you enjoyed this recipe for fish milanese, why not try some of my other fish and seafood recipes
Can I freeze fish Milanese
If you make this recipe with frozen fish fillets that have been defrosted, I would not recommend freezing.
On the other hand, if you make this recipe with fresh fillets from the fishmonger, which have not been previously frozen, you can freeze the coated fish fillets.
Place the breadcrumb-coated fillets on a baking tray which has been lined with baking parchment (to prevent sticking) and place the baking tray in the freezer. Once the fillets are completely frozen, transfer them to a ziploc freezer bag and leave in the freezer for up to 3 months.
Freezing them before putting in a freezer bag ensures that the fillets will stay separate, and you can just remove as many fillets as you need for a meal and return the rest of the fillets to the freezer.
To fry from frozen, allow an extra 2 minutes per side, otherwise, defrost in the refrigerator and fry as per the recipe instructions.
Convert grams to cups
To help you convert your recipes, I have created a handy Cookery Conversion Calculator which will convert ingredients between grams, ounces, tablespoons, cups and millilitres. I hope you will find it useful.
If you live at a high altitude you may find you need to adjust your baking recipes to compensate for this. You can read about how to do this in this post on baking at high altitudes.
Pin for later
Why not pin this recipe to your pinterest board so you can make it later. Just click the image below.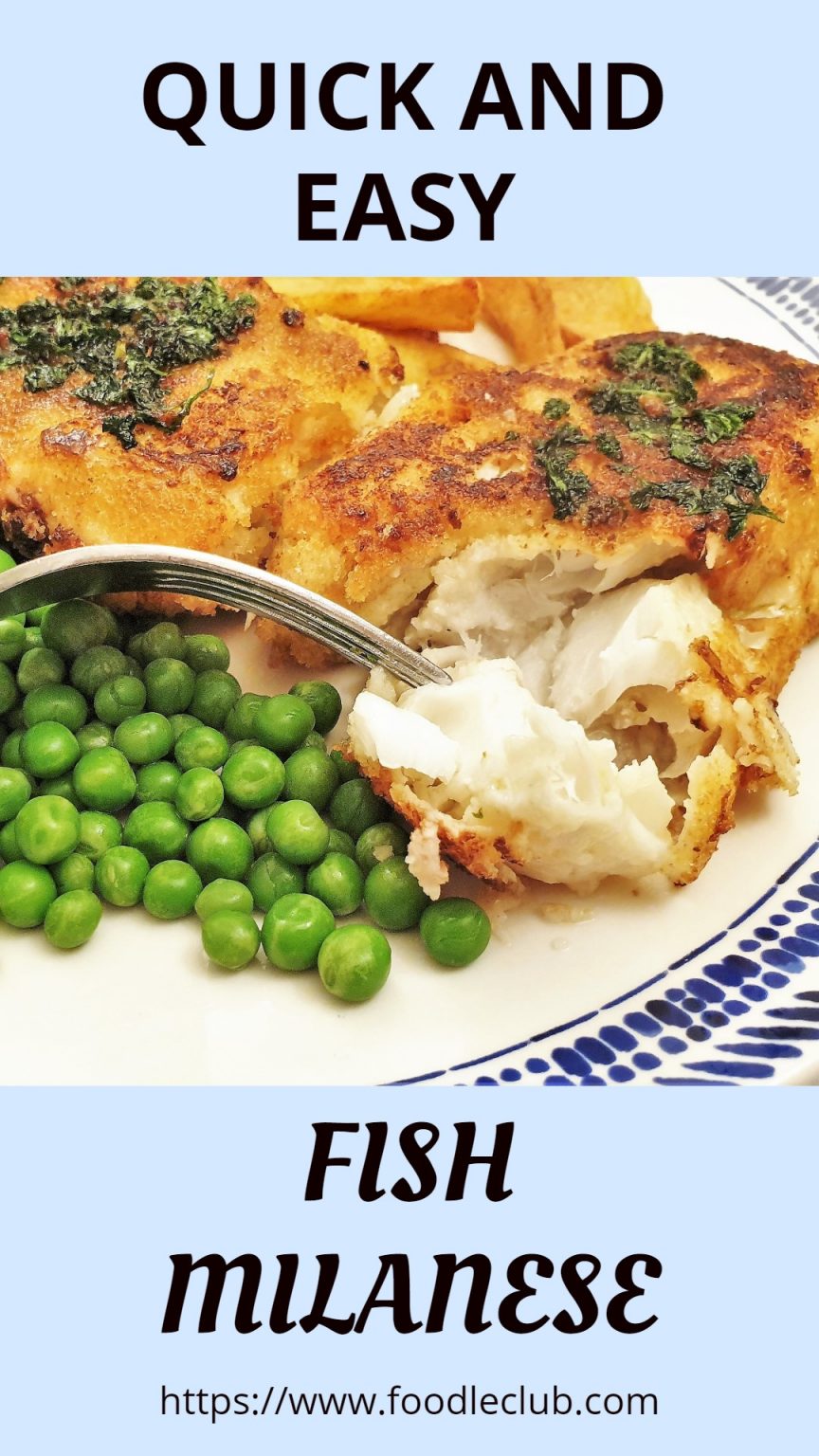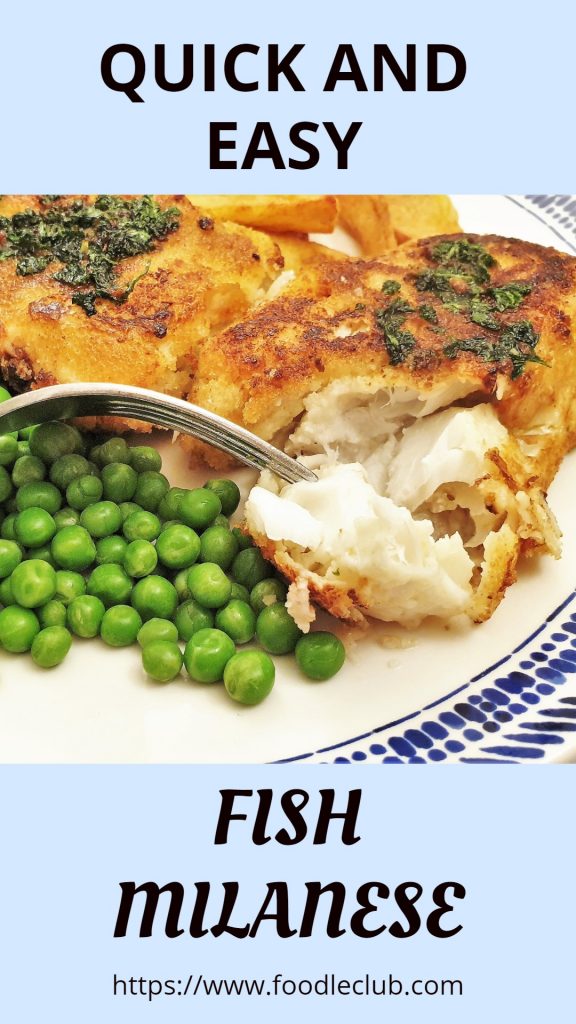 Fish milanese recipe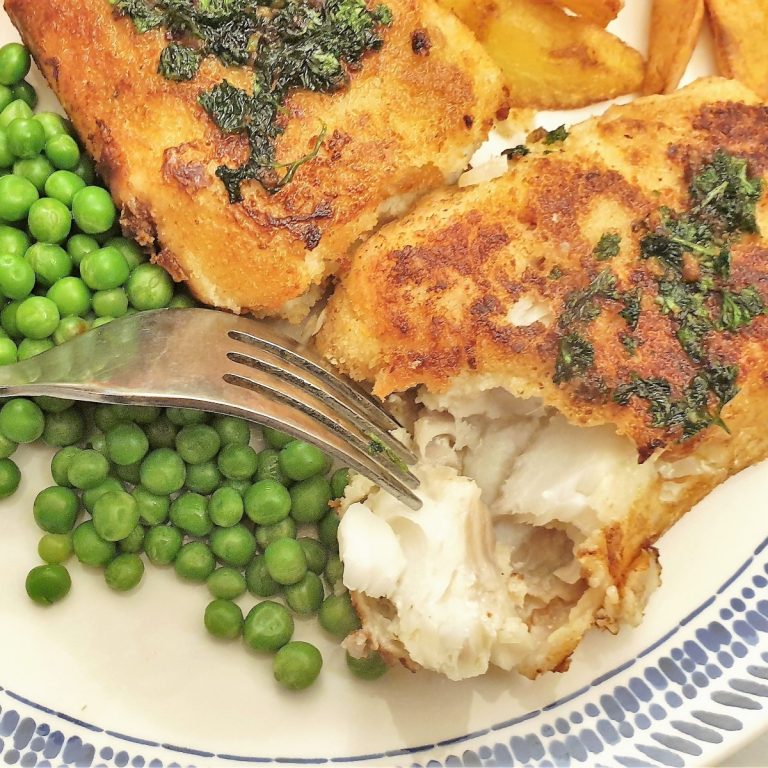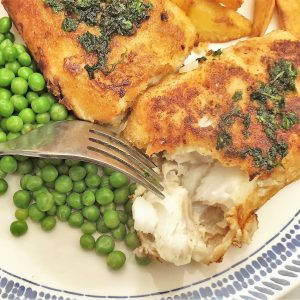 Fish Milanese with a garlic and parsley sauce
Juicy cod fillets marinate in lemon and onions and coated in crispy breadcrumbs. Fried to crispy perfection and smothered in a garlic and parsley butter sauce.
Print
Pin
Rate
Equipment
Flat bowl for marinade

Frying Pan

Sharp Knife

Chopping Board

Small bowls for coating ingredients
Ingredients
10 – 12

ounces

cod fillets

or any firm white fish

1

small

onion or shallot

finely diced

1

tablespoon

lemon juice

1

tablespoon

olive oil

3

tablespoons

plain flour

seasoned with salt and black pepper

1

egg

beaten

1

cup

fresh breadcrumbs

2

ounces

butter

1

clove

garlic

2

tablespoons

freshly chopped parsley

extra

olive oil

for frying the fish
Instructions
Prepare the marinade by combining the finely chopped onion, lemon juice and tablespoon olive oil in a flat dish.

Submerge the cod fillets in the marinade, cover and place in the refrigerator for one hour to marinate.

Prepare 3 bowls – one with 3 tablespoons seasoned flour, one with a beaten egg, and the third with 1 cup of breadcrumbs.

Remove the fillets from the marinade and brush off the onion.

Coat the fillets first in seasoned flour and shake of the excess, then into the beaten egg, allowing the excess to drop off, and thirdly into the breadcrumbs, pressing the breadcrumbs firmly onto the fish.

Heat a little olive oil in a frying pan and fry the coated fillets gently for about 3 minutes on each side until the breadcrumbs are golden brown. See note 1.

Remove the cooked fish from the pan and add an ounce of butter. Allow the butter to melt and add the garlic. Fry the garlic gently until softened then add the chopped parsley. See note 2.

Stir and then spoon immediately over the fish.

Serve with crispy french fries, garden peas and a leafy tomato salad.
Notes
Nutrition
I am not a nutritionist. The nutrition information has been calculated using an on-line calculator, and is intended for information and guidance purposes only. If the nutrition information is important to you, you should consider calculating it yourself, using your preferred tool.
If you made this recipe and enjoyed it, please don't forget to give me a star rating in the comments below. And if you'd like to get in touch, you can email me on foodleclub1@gmail.com. I'd love to hear from you. And don't forget to subscribe to my mailing list so you can grab yourself a copy of my FREE COOKBOOK!
If you'd like to continue browsing, just click on this link to all my recipes.