If you like fish I think you'll love this Mediterranean oven-baked cod. The fish is marinated for a few minutes to infuse it with Mediterranean flavours before being baked in the oven until it is flaky and succulent. The cod is served covered with a delicious garlicky tomato sauce.
**As an Amazon affiliate, I earn from qualifying purchases.**
Oven-baked cod
I love this recipe for Mediterranean oven-baked cod.
It's super-healthy because it's not fried. Instead, the cod is marinated in olive oil, capers and pesto to infuse the flavours, before being oven-baked until it just flakes when prodded with a fork.
It's covered with a spicy, garlicky tomato sauce that pairs beautifully with the marinated fish.
It's so quick to make it's almost like having a ready-meal from the supermarket, but because you've made it yourself, you know exactly what's gone in to it.
Start to finish, you can have this dish on the table in just over half an hour. That's what I call fast food. It's just a matter of multi-tasking!
Get the fish into the marinade.
While the fish is marinating, get the potatoes on to boil and prepare the ingredients for the marinara sauce.
Put the fish into the oven to bake.
While the fish is in the oven, boil up the marinara sauce and drain the potatoes.
Job done!
(Oh yes – don't forget a couple of minutes to warm up the frozen peas in the microwave).
I've called the recipe oven-baked cod, but you can use any firm white fish to make this dish. Tilapia, haddock, hake, kingklip, barramundi and snapper (and I'm sure many others) are all suitable for making this recipe.
What you will need
Oven-baked cod
For the fish you will need cod fillets (obviously), olive oil, pesto and capers.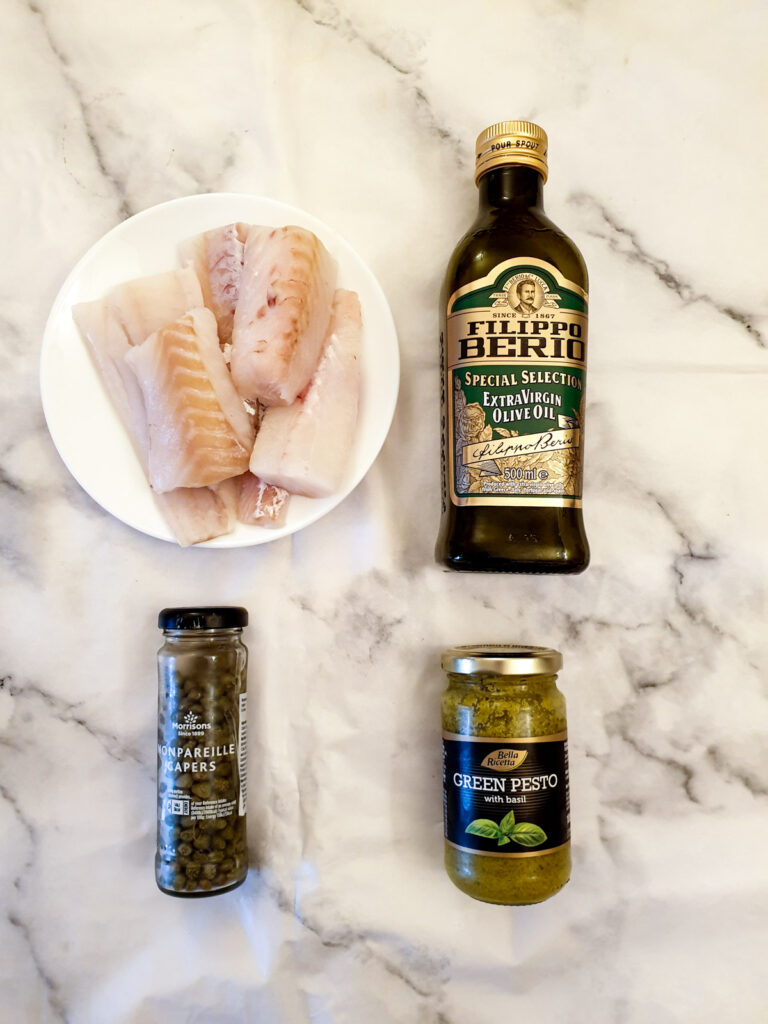 Cod – as I said earlier, you can substitute this with your favourite firm white fish. You can use fresh or frozen, it doesn't matter. If you are using frozen fish fillets, you should let them defrost first. I like to buy ready skinned fillets – just ask your fishmonger to skin them for you if you are unsure about skinning fish yourself. You should allow 4 to 6 ounces (that's 110 to 170 grams) per person, depending on appetite.
Olive oil – use extra virgin olive oil if possible, as this is the highest quality.
Capers – to provide a slightly salty tang.
Pesto – use your favourite brand – I like the one flavoured with basil. If you'd like to make your own pesto you can find a great recipe for homemade pesto on my friend Jacqui's site (Recipes Made Easy).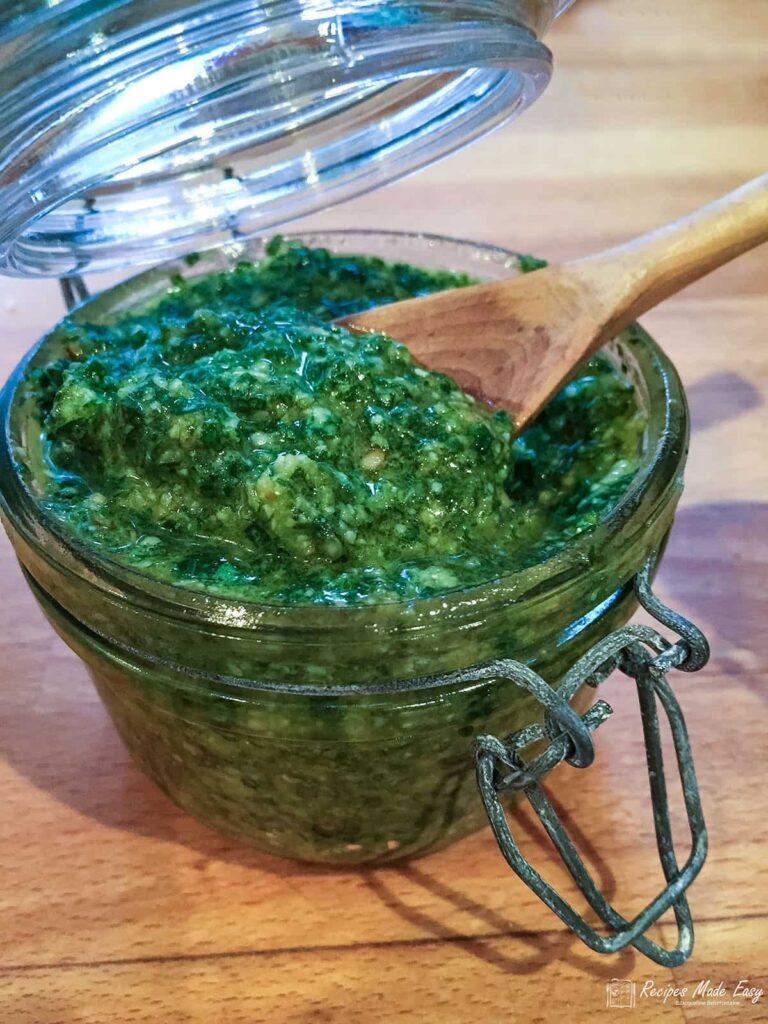 Marinara sauce
For the marinara sauce you will need tomato passata, shallots, mixed herbs and garlic.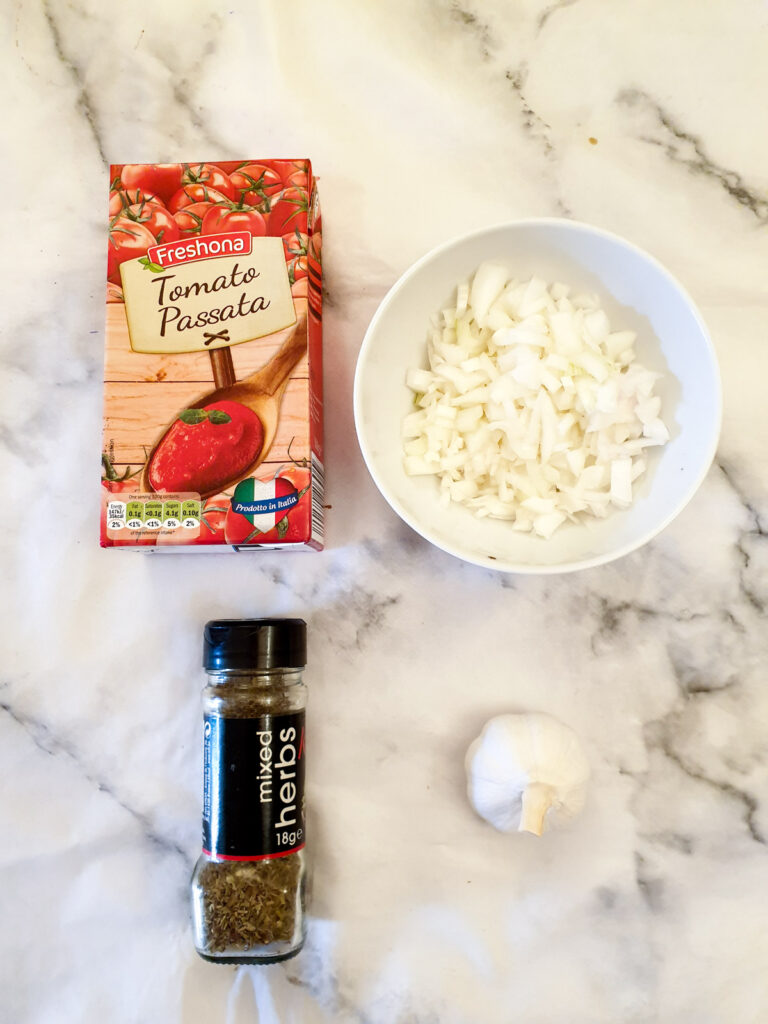 Tomato passata – passata is just tomatoes that have been pureed and then sieved to remove any seeds and pieces of skin. It's a deliciously thick, smooth tomato puree, not to be confused with tomato ketchup!
Shallots – these are small onions, much sweeter and milder in taste than the normal white onion. I prefer using shallots to onions as the taste doesn't overpower that of the fish. You will need half the amount of finely chopped shallots by volume as tomato passata. The actual number of shallots you will need depends on their size – 8 to 10 small shallot should be sufficient for 1 cup.
Mixed herbs – this is a mixture of dried rosemary, basil, oregano, and thyme.
Garlic – well, why not? Garlic goes so well in everything!
You should taste this sauce once it's cooked and add salt to taste if necessary.
How to make the oven-baked cod
Start by marinating the fish.
Place the fillets of fish in a shallow baking dish and pour over the olive oil, then add the pesto and the capers. Massage all the ingredients into the fish, cover the dish with a sheet of tinfoil and place in the refrigerator for 15 minutes to marinate.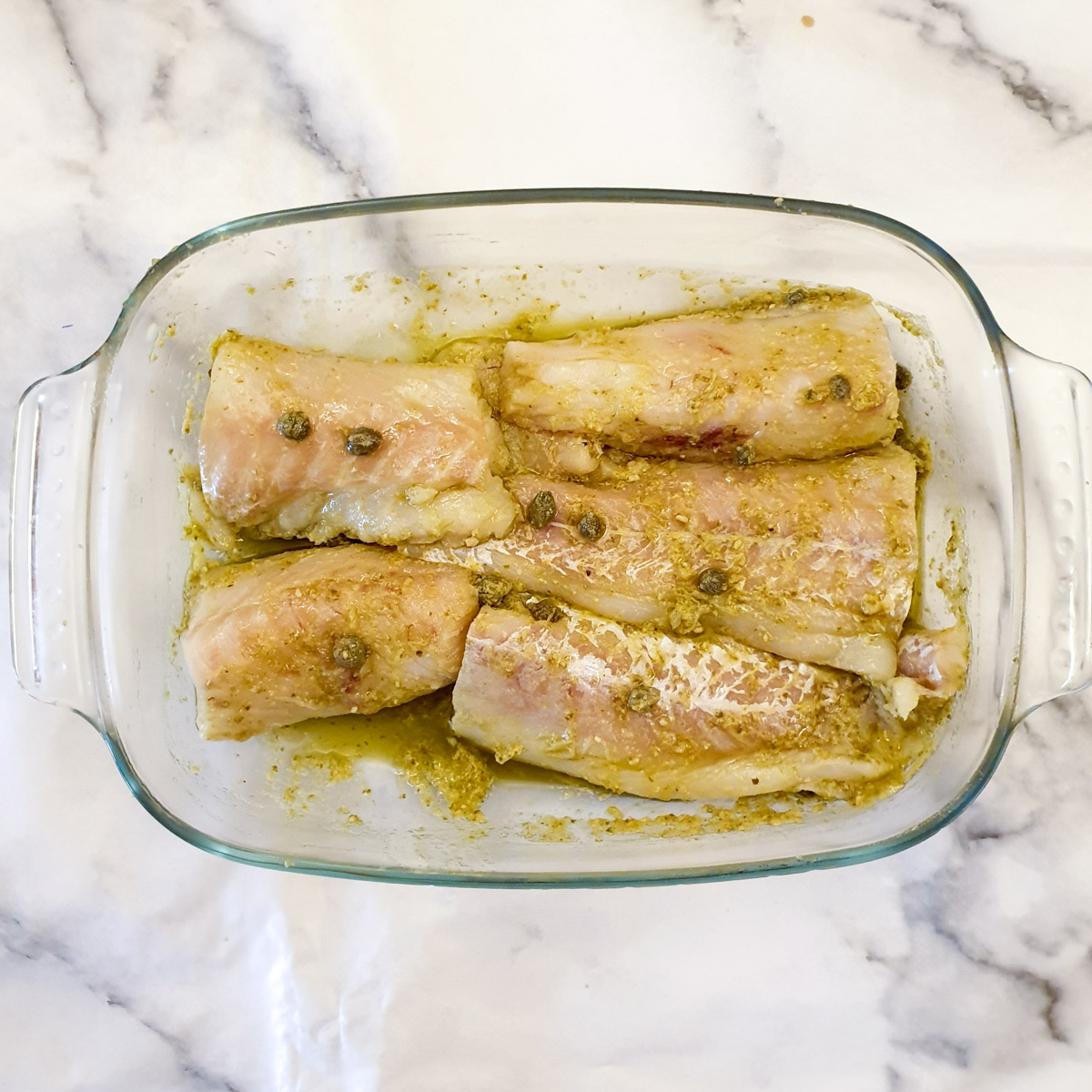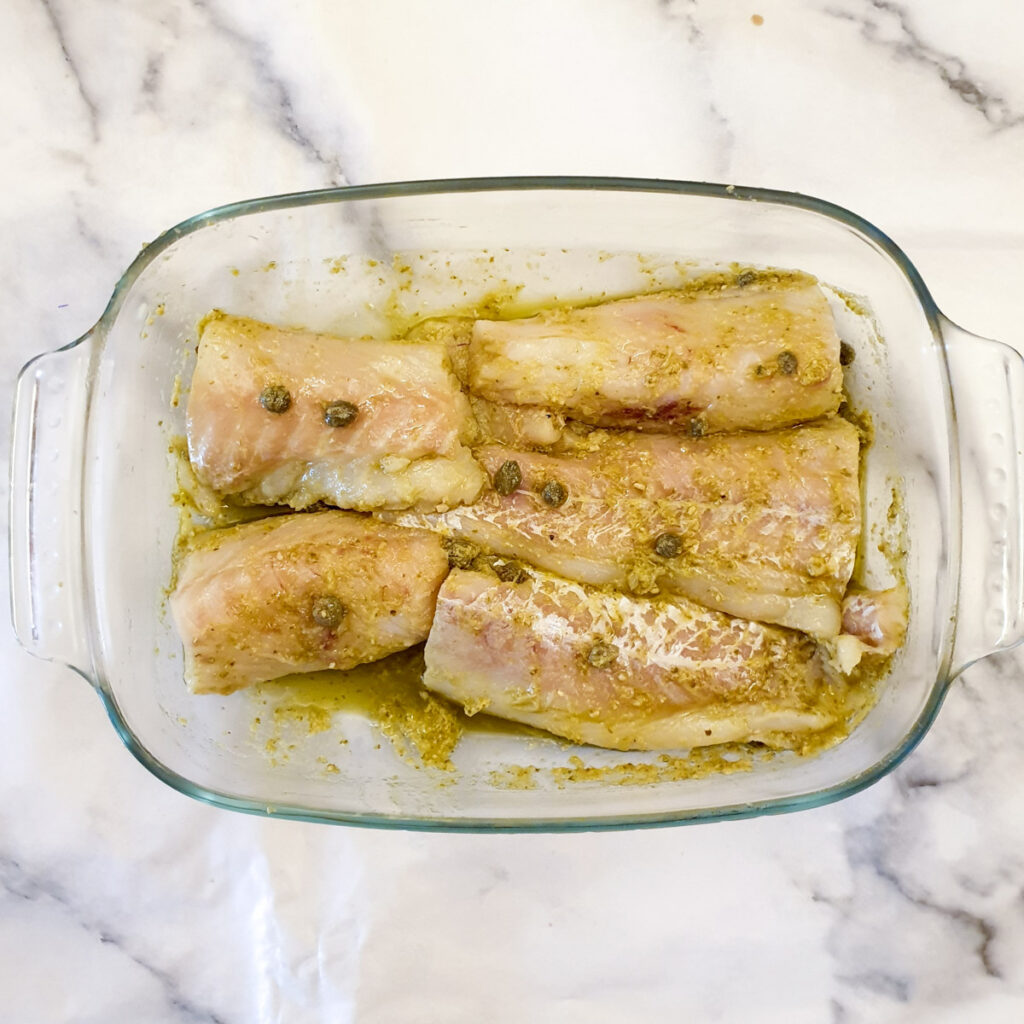 Once the fish has marinated, remove the dish from the refrigerator and transfer it to a pre-heated oven (200C / 400F). Leave the dish covered with the tinfoil.
Leave to bake for 15 minutes.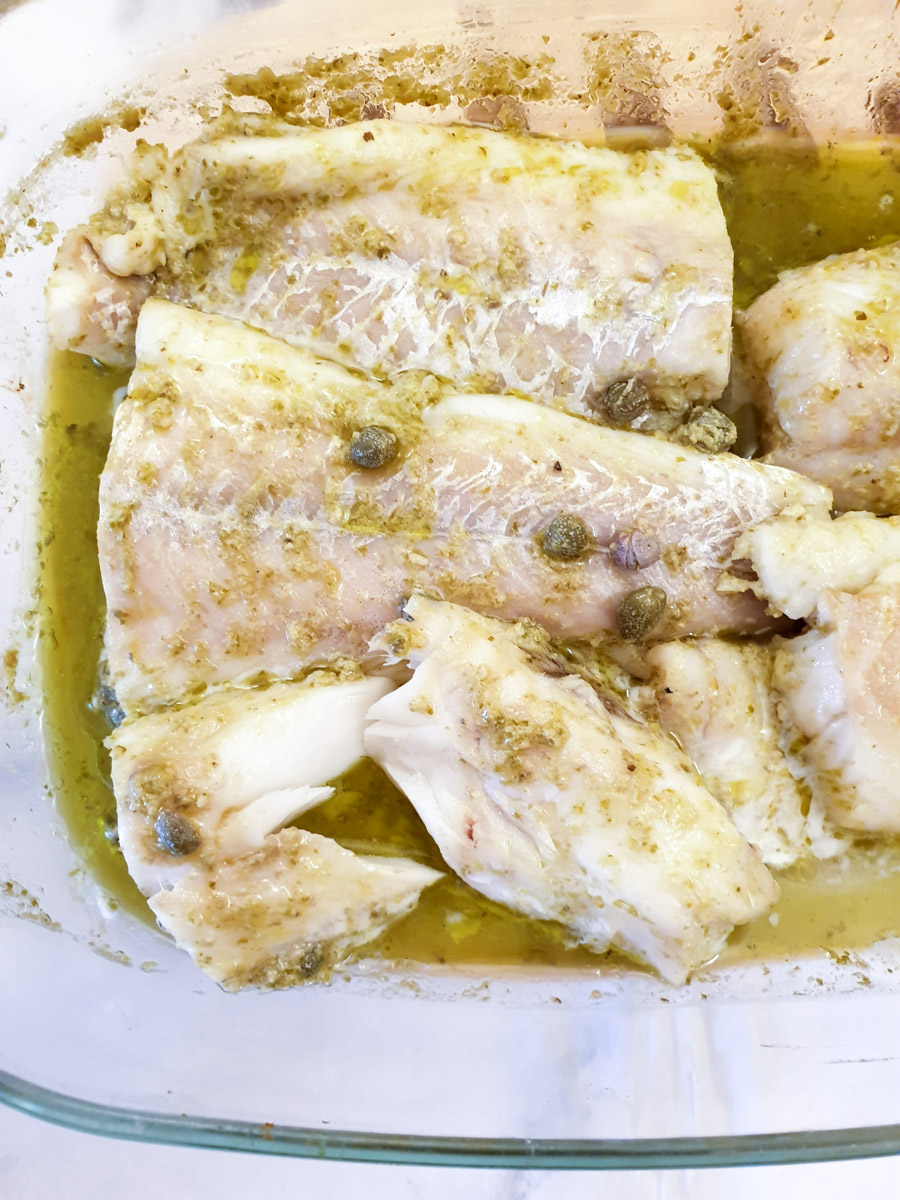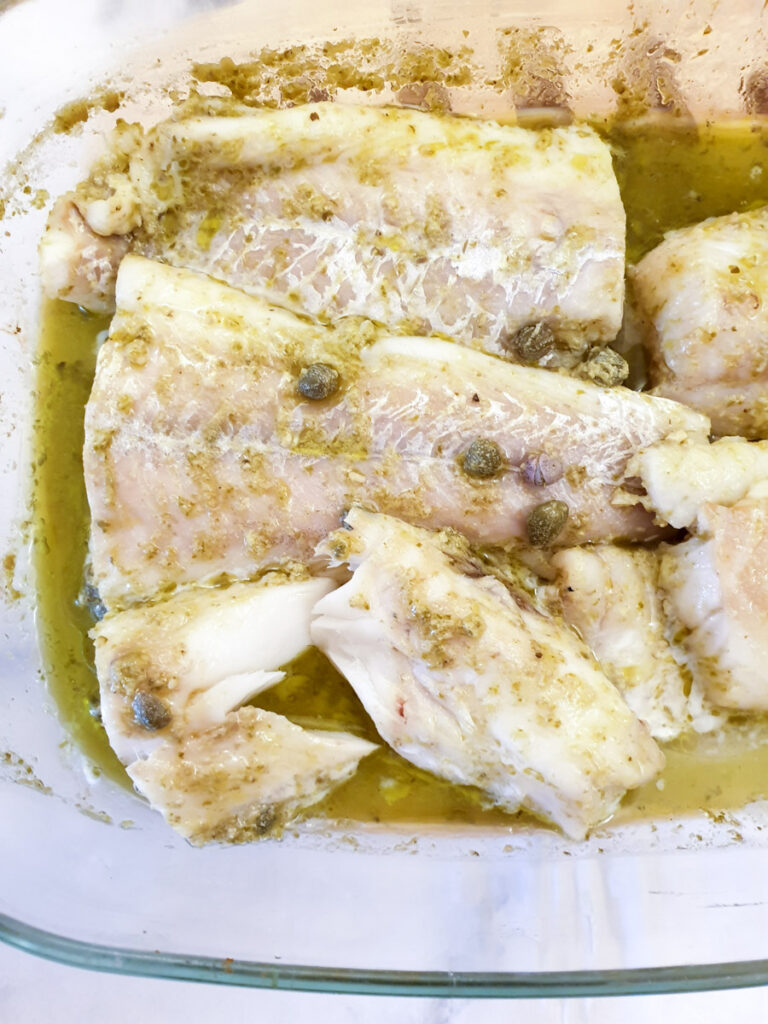 If your fish fillets are on the thick side you may need to leave it for another minute or two.
How to make the marinara sauce
Peel and chop the shallots finely and peel and crush the garlic.
Add 2 tablespoons of olive oil to a frying pan and fry the shallots and garlic over a medium heat until the shallots start to soften (about 5 minutes). Keep stirring as the shallots are frying – do not allow them to brown.
Now add the tomato passata and the mixed herbs, turn the heat down to a simmer. Do not cover. Leave to simmer for 10 minutes. Keep your eye on it, the sauce should just simmer slowly and not boil.
After 10 minutes the sauce should be thick enough to pour over the fish.
Taste for seasoning and add salt to taste if necessary.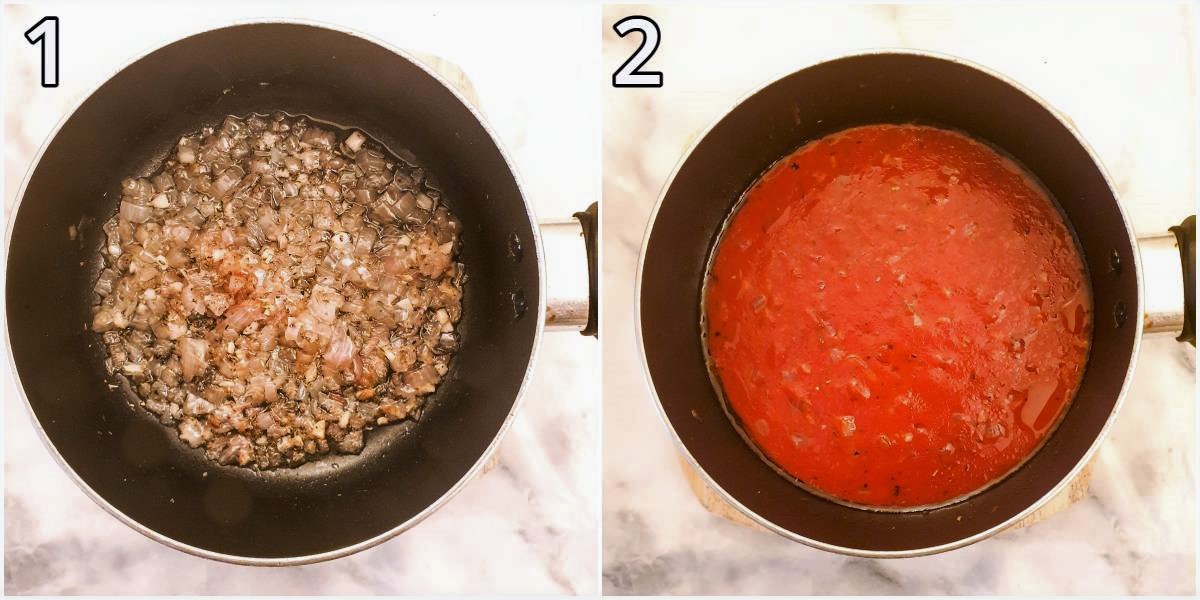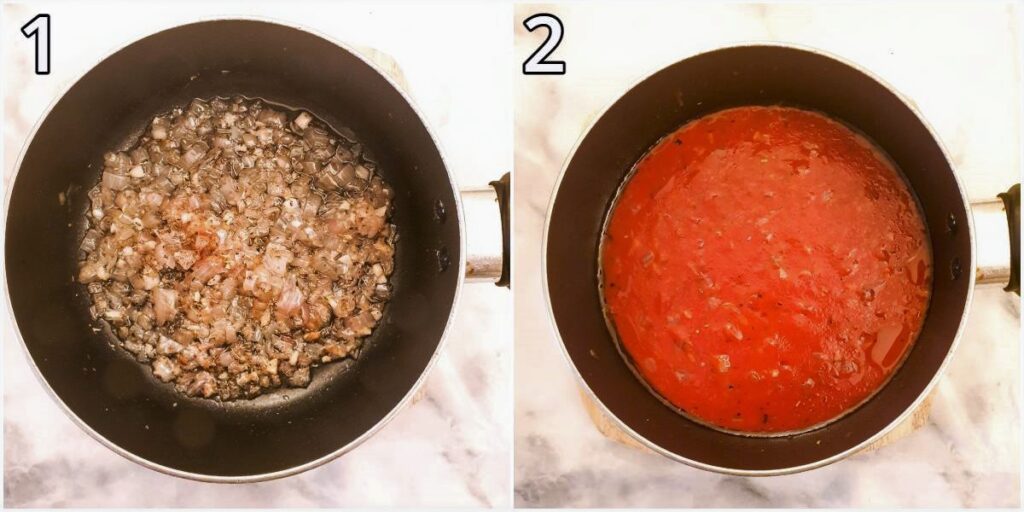 To serve, place the fish on a plate and spoon the sauce over. Serve with boiled potatoes and peas on the side.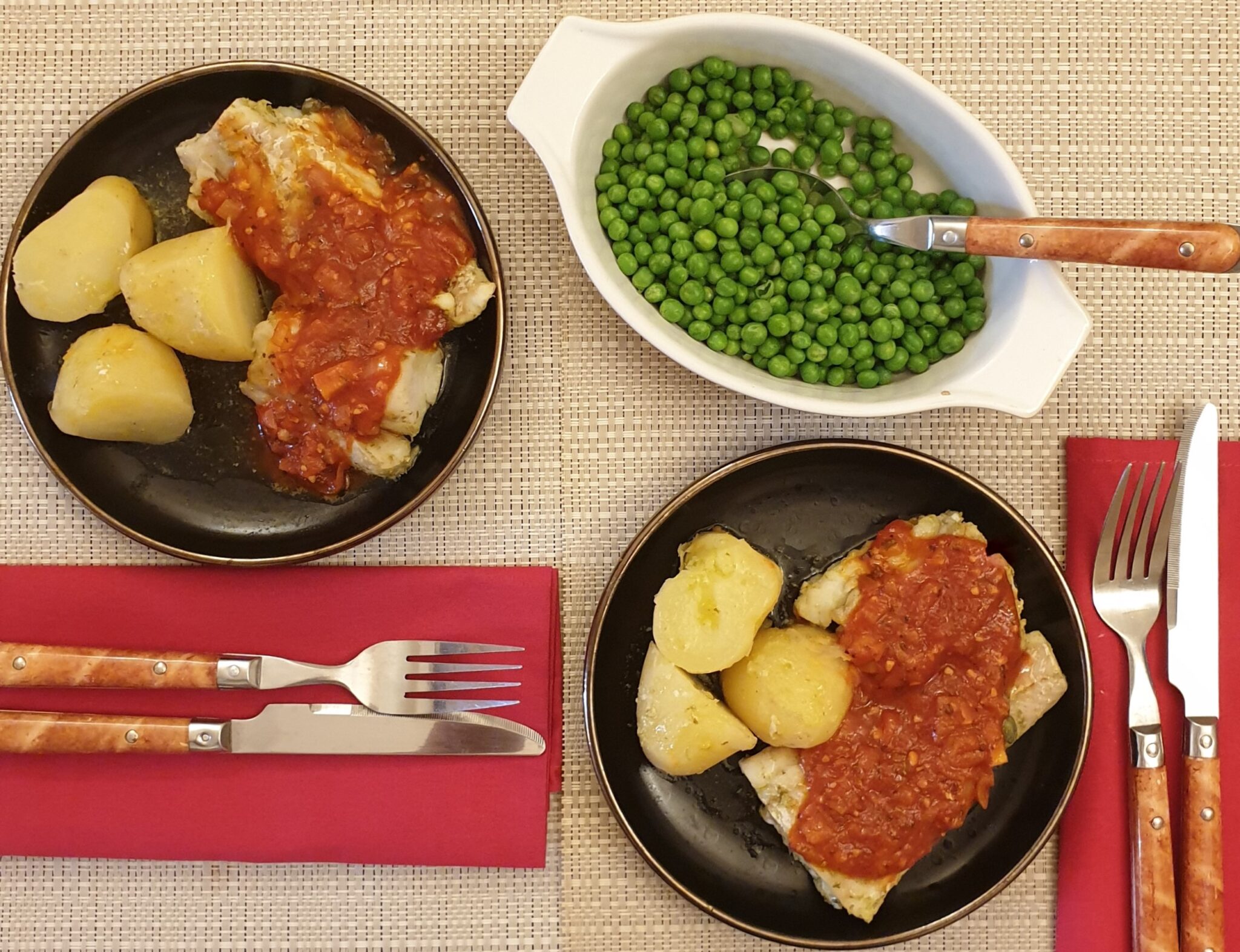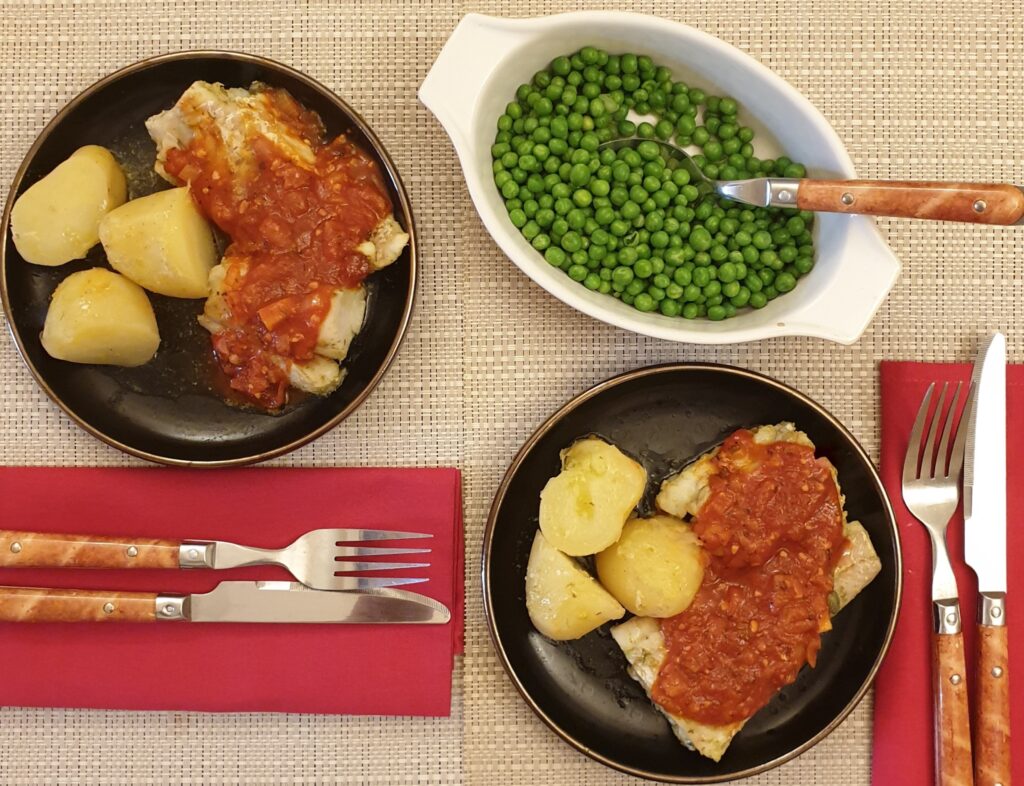 If you'd like to be notified of any new recipes, why not subscribe to my newsletter. As a thank-you gift, you will receive a free recipe e-book containing some of my most popular cakes and desserts.
Health benefits of fish
Both the British and the American Heart Foundations recommend eating 2 portions of fish a week.
Fish is packed with nutrients such as:
omega-3 fatty acids
vitamins D and B2
calcium and phosphorus
and minerals such as iron, zinc, iodine, magnesim and potassium.
We British are a nation of fish-lovers. One of our most popular national dishes is the ubiquitous fish and chips, as sold in every town in the country. However, even the British don't eat the recommended 2 portions of fish per week
And to be honest, it's probably a good thing. Covering a piece of fish in a thick batter and then deep-frying it has to negate at least some of the health benefits to be derived from eating fish 🙂
Get ahead
You can make the marinara sauce ahead of time and either store it in the refrigerator in a covered dish for up to three days or freeze it for up to 6 months.
I wouldn't recommend preparing the fish in advance. The fish is best when it is freshly marinated and cooked.
Pin for later
If you would like to make this Mediterranean oven-baked cod why don't you pin the recipe to one of your Pinterest boards so you can find it easily when you need it. Just click on the image below.
Other fish recipes
These are some of my favourite fish recipes that you may also like to try:
The recipe
If you made this recipe and enjoyed it, I'd love it if you could give me a star rating in the comments below. And if you'd like to get in touch, you can email me at [email protected]. I'd love to hear from you. And don't forget to subscribe to my mailing list so you can grab yourself a copy of my FREE COOKBOOK!
If you'd like to continue browsing, just click on this link to all my recipes.