Spaetzle is a delicious egg noodle/mini dumpling, made from a mixture of eggs and flour, originating in Germany and Hungary. Follow my easy step-by-step instructions on how to make spaetzle and you can be eating your own homemade spaetzle tonight!
Homemade Spaetzle
Italians have their pasta, and Germans and Hungarians (and a few other European countries like Austria and Switzerland) have their egg noodles, or spaetzle. These are delicious little nuggets are made with an egg/flour mixture, which is dropped into boiling water and allowed to cook until they rise to the top.
They do look a lot like pasta, but the texture is firmer and more chewy. They make the perfect accompaniment to stews and goulash.
In Gemany they are called Spaetzle (little sparrows) or Knoepfle (buttons) depending on the region, and in Hungary they are known as Nokedli.
Spaetzle are surprisingly simple to make. Egg and flour is mixed with water to form a batter, and then the batter is pressed through a spaetzle maker (or colander) into boiling water. As the lumps of batter hit the boiling water, they sink to the bottom. Once cooked (it only takes a minute or two) the noodles rise to the surface and you can remove them with a slotted spoon.
If you don't have a spaetzle maker, then a colander or a flat cheese grater makes a good substitute. You just need something with holes large enough to press the batter through.
Of course, if you really wanted to you could just buy ready-made spaetlze from the shop. Most supermarkets (in the UK at least, I can't speak for the rest of the world) sell dried spaetzle. But once you have tasted homemade spaetzle, I'm sure you'll agree with me, they are far superior to shop-bought.
Follow along with my step by step instructions to see just how easy it is to make spaetzle.
Ingredients for homemade spaetzle
You can get the complete list in ingredients and instructions in the printable recipe card at the bottom of this post.
To make spaetzle yourself you will need the following ingredients.
Flour – normal white plain flour is all you need. Don't use self-raising flour, and don't add any baking powder.
Eggs – it is the albumen in the eggs that firms up in the boiling water that causes the spaetzle to hold their shape.
Water – you will need approximately 3/4 cup of water. The actual amount will depend on the flour – some brands absorb more water than others. For this reason you should not add all the water at once. Add about 3/4 of the water and add more if necessary. You can also use a 50/50 mixture of milk and water which will give a slightly richer spaetzle.
Salt – a small amount of salt does add a lot of flavour to the spaetzle.
How to make homemade spaetzle
You will be surprised at how easy this is to make. The quantities in this recipe are sufficient for about 4 people.
Mix the batter
Start by weighing out your flour. You will need 300g, which is approximately 2 cups.
Place the flour in a mixing bowl and add 1/2 teaspoon salt.
Add the eggs and 3/4 of the water and whisk to remove any lumps. I like to use a hand mixer for this step, but you can use a wooden spoon, or even a wire whisk.
The consistency of the batter should be such that the batter drops slowly from the spoon as you lift it out of the batter. If the batter is too thick add the rest of the water gradually until the desired consistency is reached. You should aim for a batter than is thinner than a cake batter, but not as thin as pancake batter.
Let the mixture stand for 30 minutes before cooking to allow the gluten to develop in the flour. This will give the characteristic 'chewy' consistency to the cooked spaetzle.
Cook the spaetzle
While the batter is resting, put a large saucepan of water on to boil. Season with 1 teaspoon salt.
Once the water is boiling, take a large spoon and ladle about a cup of batter into a colander held over the pan of water.
Use the back of a large spoon to press the batter through the holes in the colander and allow it to drop into the boiling water.
The spaetzle will swell up in the water, and rise to the surface when they are cooked.
Remove with a slotted spoon and place in a dish.
Repeat until all the batter has been used.
To serve
You can serve these plain with Hungarian Goulash. I think the gravy from the goulash adds enough flavour to the spaetzle.
Alternatively you can melt about 2 tablespoons butter in a frying pan and stir in the spaetzle until they are well coated, and serve with goulash, or with a stew.
Here are some more ideas.
Add chicken and broccoli, mix in a cheese sauce, sprinkle with grated cheese and pop in a hot oven until the cheese has melted.
Mix with bacon, tomato and cheese sauce for easy macaroni and cheese.
Why not try serving alongside a pork schnitzel, and smother with mushroom sauce.
Equipment
As an Amazon Associate I earn from qualifying purchases.
You probably have all of this equipment in your kitchen already. In case you are missing something, I've included some handy links to items on Amazon that you may find useful.
Did you know you can get free delivery with Amazon Prime. Click below to start your free trial.
If you want to keep up-to-date with my latest recipes why not follow along on Facebook or Pinterest. And don't forget to subscribe to my mailing list so you can get your FREE COOKERY BOOK
Recipe – Homemade spaetzle
Homemade spaetzle
German egg noodle dumplings – delicious fried in butter or serve with soups and stews
Ingredients
300

g

plain flour

4

medium

eggs

3/4

cup

water

(or a mixture of milk and water)

1/2

teaspoon

salt

(plus extra salt for the cooking water)
Instructions
Place 300g flour into a mixing bowl and add 1/2 teaspoon salt.

Add 4 eggs and most of the water.

Beat well to remove all the lumps. Add more water if necessary to get the desired consistency.

Allow to stand for 30 minutes

Bring a saucepan of water to the boil.

Press spoonfuls of the batter through the holes of a colander held over the pan of water and allow to fall into the water.

When the spaetzle rise to the top of the pan they are cooked and can be removed with a slotted spoon.

Leave plain, or toss in butter in a frying pan and serve with hungarian goulash.
Notes
The texture of the spaetzle should be thicker than a cake batter, but thinner than a pancake batter.
For a slightly richer spaetzle use a mixture of half milk and half water, instead of plain water.
Allow the spaetzle to stand for 30 minutes after mixing to allow the gluten to develop.  This will give the characteristic chewy texture.
If you don't have a spaetzle maker, you can use a colander or a flat cheese grater.
I am not a nutritionist. The nutrition information has been calculated using an on-line calculator, and is intended for information and guidance purposes only.  If the nutrition information is important to you, you should consider calculating it yourself, using your preferred tool.
If you made this recipe and enjoyed it, please don't forget to give me a star rating in the comments below. And if you'd like to get in touch, you can email me on [email protected] I'd love to hear from you.
You can click the buttons below if you'd like to save the recipe to Pinterest or your Yummly recipe box. And don't forget to subscribe to my mailing list so you can grab yourself a copy of my FREE COOKBOOK! And if you'd like to continue browsing, just click on this recipe link.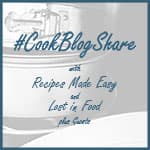 This post has been shared at #CookBlogShare