Crepe cannelloni with meat sauce and cheese is a meal the whole family will enjoy. Tasty meat sauce rolled up in crepes, covered in a cheesy sauce and baked in the oven. Make extra crepes and have them for dessert – how's that for a time-saver?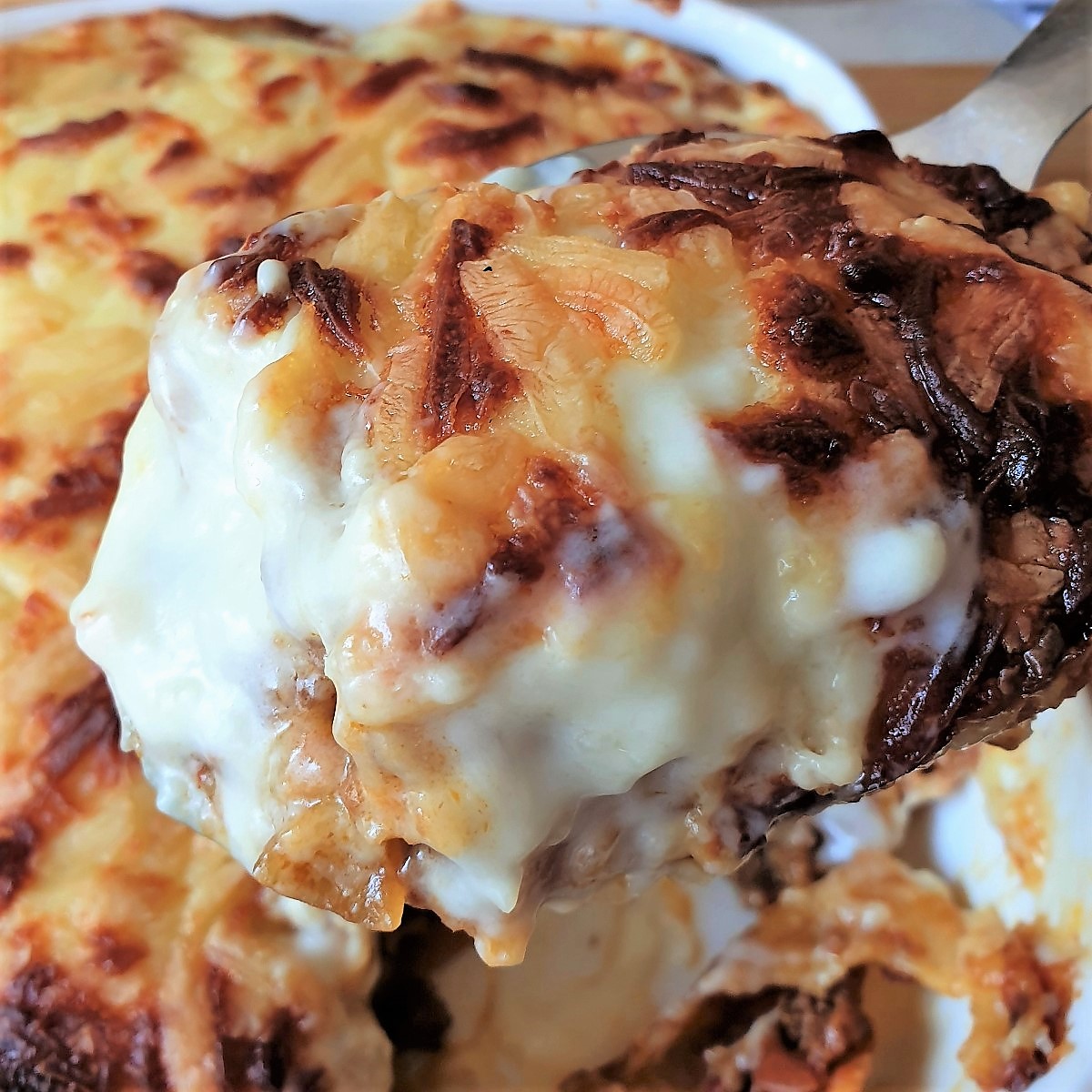 **As an Amazon affiliate, I earn from qualifying purchases.**
Crepe cannelloni with meat sauce
I love crepes (or pancakes as we call them in the UK) in any shape or form, sweet or savory, I don't mind. Just feed me crepes and I'm happy.
This recipe for crepe cannelloni with meat sauce and cheese is one of my favorite easy supper meals. It's made with a savory ground beef filling which is rolled in crepes. The crepes are the covered with cheese sauce, and sprinkled with more grated cheese for extra oomph. It's baked in the oven until the cheese is melted. Instant cannelloni, without the fuss of trying to stuff cannelloni tubes.
It's a delicious family meal. The softness of the crepes and the cheesy-ness of the sauce tastes so good when mixed with the juicy meat sauce. When my children were younger they loved it, especially as I made extra crepes and had them for dessert afterwards. Talk about carb overload.
Ingredients for crepe cannelloni
There may seem to be a lot of steps and ingredients involved in this recipe, but you can multitask. So for example you could make the crepes while the meat sauce is simmering. You can also make a lot of this ahead of time and keep it in the freezer. And if you break the ingredients down into each of the components, you will see there are only a few ingredients in each one.
If you follow my guide under Get Organised below, you can have this on the table in just over half an hour (including dessert).
You can get the complete list of ingredients and full instructions on how to make cannelloni pancakes on the printable recipe card below.
For the crepes
Flour – you will need either self-raising flour, or you can use plain all-purpose flour and add 1 teaspoon of baking powder for every cup of flour.
Eggs – you need 1 egg per cup of flour
Milk and Water – you need 1 and a half cups of liquid for every cup of flour. I like to use a mixture of milk and water because I think it gives a lighter crepe.
Salt – to taste. You can leave out the salt if you don't like to use it.
For the meat sauce
Ground beef – buy beef with the 5% fat content. I find if you use meat with a higher fat content the sauce tends to become greasy.
Onions, Celery, Carrots – these should be chopped into a fine dice, 1cm or smaller if possible. You don't want large chunks of vegetables in this dish.
Tomatoes – roughly chopped.
Worcester Sauce, Tomato Puree, Fruit Chutney, Garlic, Ginger for flavoring. I like to use my own homemade chutney for this recipe because it adds a hint of chilli and sweetness to the dish, but you could use your own favorite shop-bought brand.
Salt – optional
For the cheese sauce
Milk – full fat or semi-skimmed is fine
Butter – you can use brick margarine if you like, but butter give a much creamier sauce
Cornflour or cornstarch – for thickening
Cheese – I like to use a mixture of cheddar and mozarella beause I like the stringiness of the mozarella, but you can use your cheese of choice
Salt – optional
Timings
This is a breakdown of the steps to make the different components for the cannelloni bake:
Prepare and cook the meat sauce – 30 minutes, but once it's simmering, you can make a start on the crepes.
Make the crepes – these only take a couple of minutes to mix, but they take about 30 minutes to actually fry.
Make the cheese sauce – 10 minutes
Assemble and bake 30 minutes
How to make crepe cannelloni
Make the meat sauce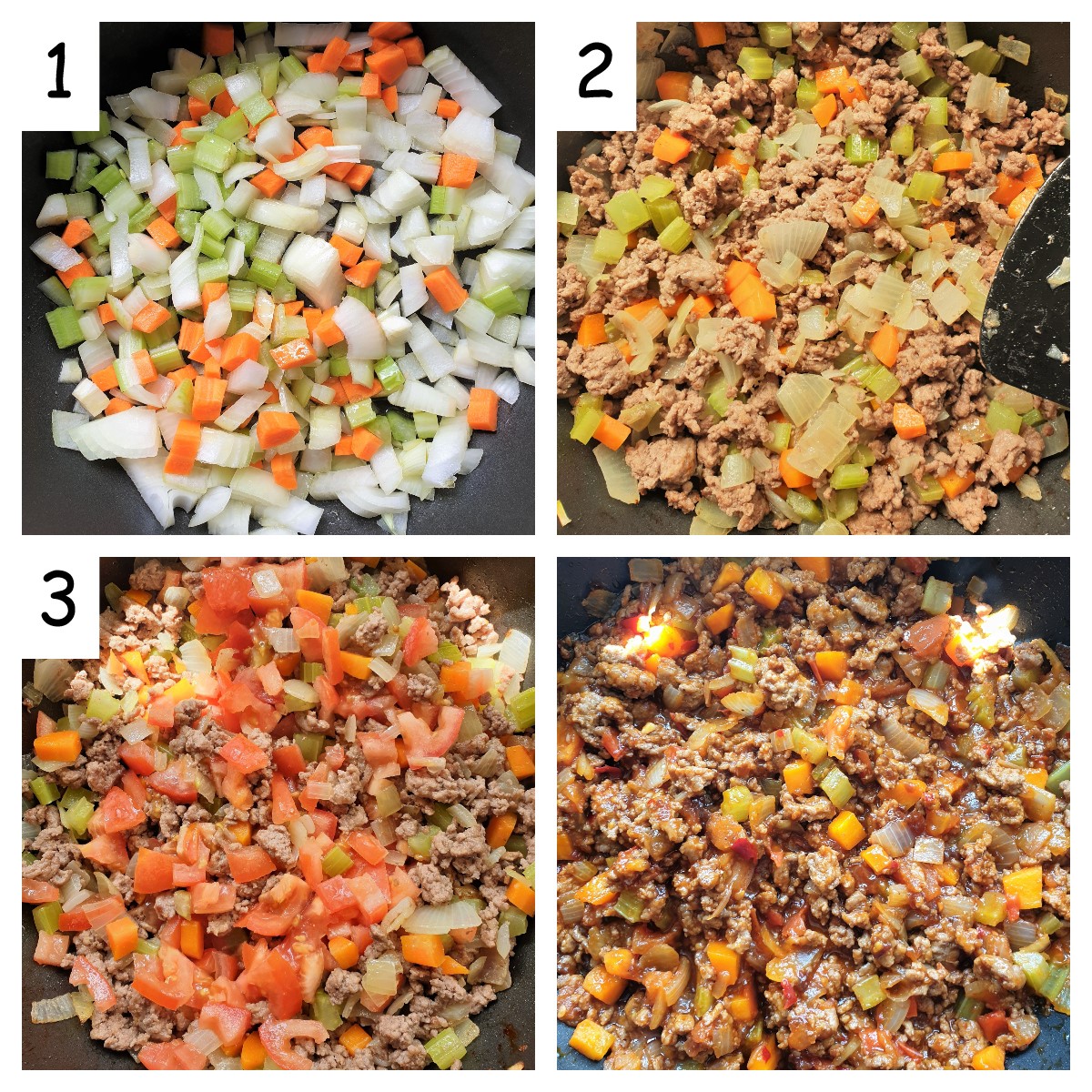 Chop the onions, carrots and celery into approximately 1cm dice. Put them in a large frying pan (use one that has a lid_ and sweat them off in a little sunflower oil (image 1).
Add the ground beef to the vegetables and continue to fry, over a gently heat, until it is no longer pink. Break it up with a spatula so it is all nicely separated (image 2).
Chop the tomatoes and add them. Then add all the flavouring ingredients, give it a good stir. Cover with a lid and leave it to simmer for about 20 minutes until the vegetables are soft.
Remove from the heat and leave to cool.
Note I have intentionally not included a lot of gravy in this recipe. Too much liquid will make the crepes go soggy and they will be impossible to roll.
Make the crepes
While the meat sauce is simmering, you can get on with making the crepes.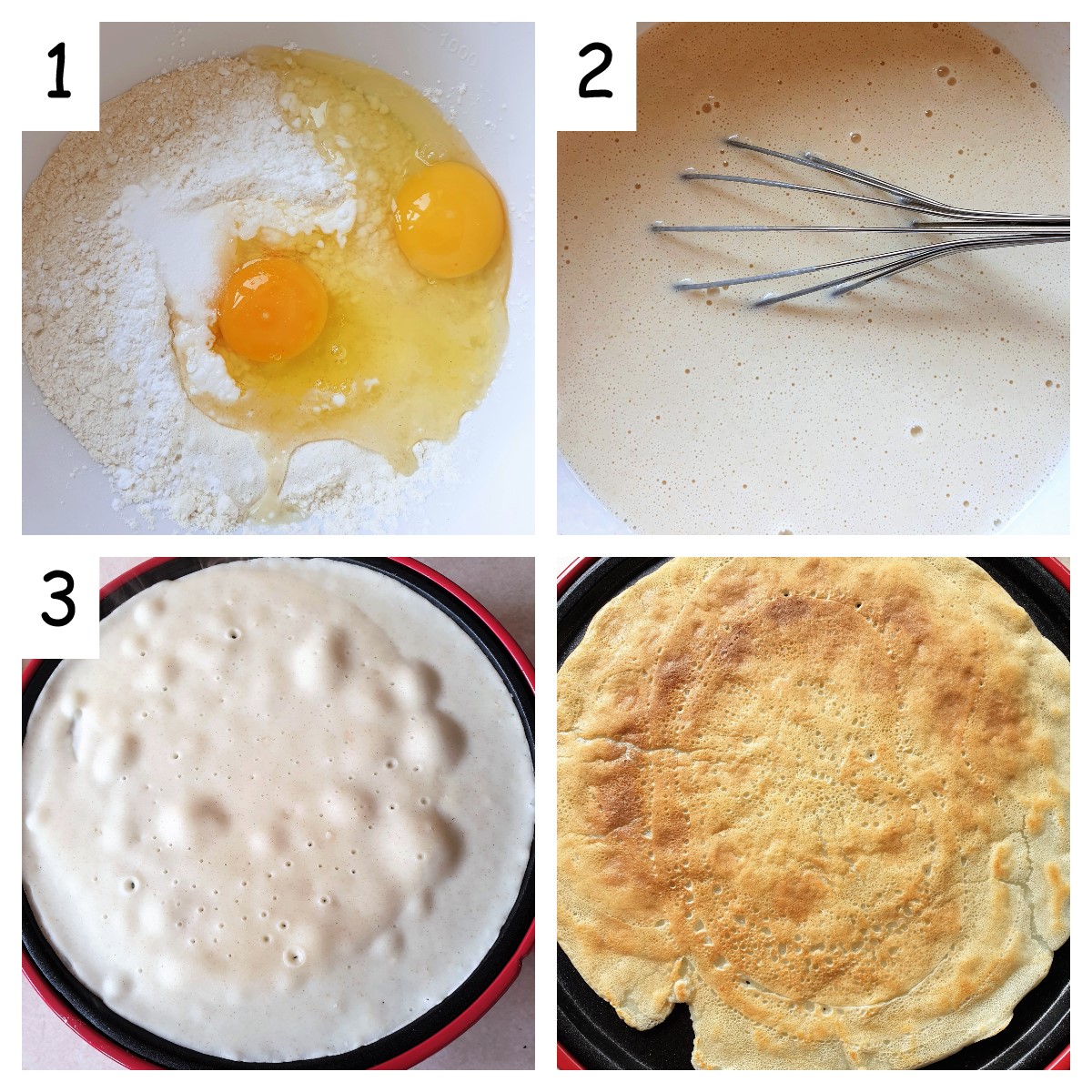 Put all the ingredients for the crepes in a bowl and whisk until there are no lumps left (image 1 and 2).
I use a mixture of half milk and half water because I find it gives a lighter crepe but you could use all milk if you like.
The ratio of flour to liquid is 1 and a half cups liquid per 1 cup of flour, but this can vary depending on the type of flour you use, and also on the size of the eggs, so don't tip in all the liquid at once.
Add about 3/4 of the liquid to start with and then gradually add the rest until you have a thin pouring consistency.
Let the mixture stand for 10 minutes and then give it a final whisk before you use it.
Fry the crepes
For making the crepes, I have used my I used an electric crepe maker. I find it easier than using a frying pan on the stove because you don't need to adjust the heat and because it is non-stick you don't need any oil.
If you don't have a crepe maker you can just use a non-stick frying pan and add a tiny drop of sunflower oil to the pan for each crepe.
Heat your crepe maker.
If you are using a frying pan heat the oil and swirl it around to coat the base of the pan. Pour out any excess oil.
Tip – put a small amount of oil in a cup and then use a teaspoon to add a couple of drops of oil to the frying pan before each crepe.
Pour a small amount of batter onto the crepe maker or into the frying pan and swirl it around to coat the entire pan. The crepe will start to set immediately, so work quickly to make sure the base of the crepe maker / frying pan is covered with the batter.
If you are using a frying pan, use a soup ladle to pour the crepe batter into the pan.
When bubbles form on the top of the crepe and it starts to come away at the edges it is ready to flip (image 3).
It's probably easiest to use a spatula to do this, but if you are feeling brave you can flip it in the traditional way. I always end up with crepes all over the floor if I attempt this.
Allow the underside of the crepe to cook until it is lightly speckled (image 4)
Stack the cooked crepes on top of each other on a plate. Repeat until all the crepe batter has been used.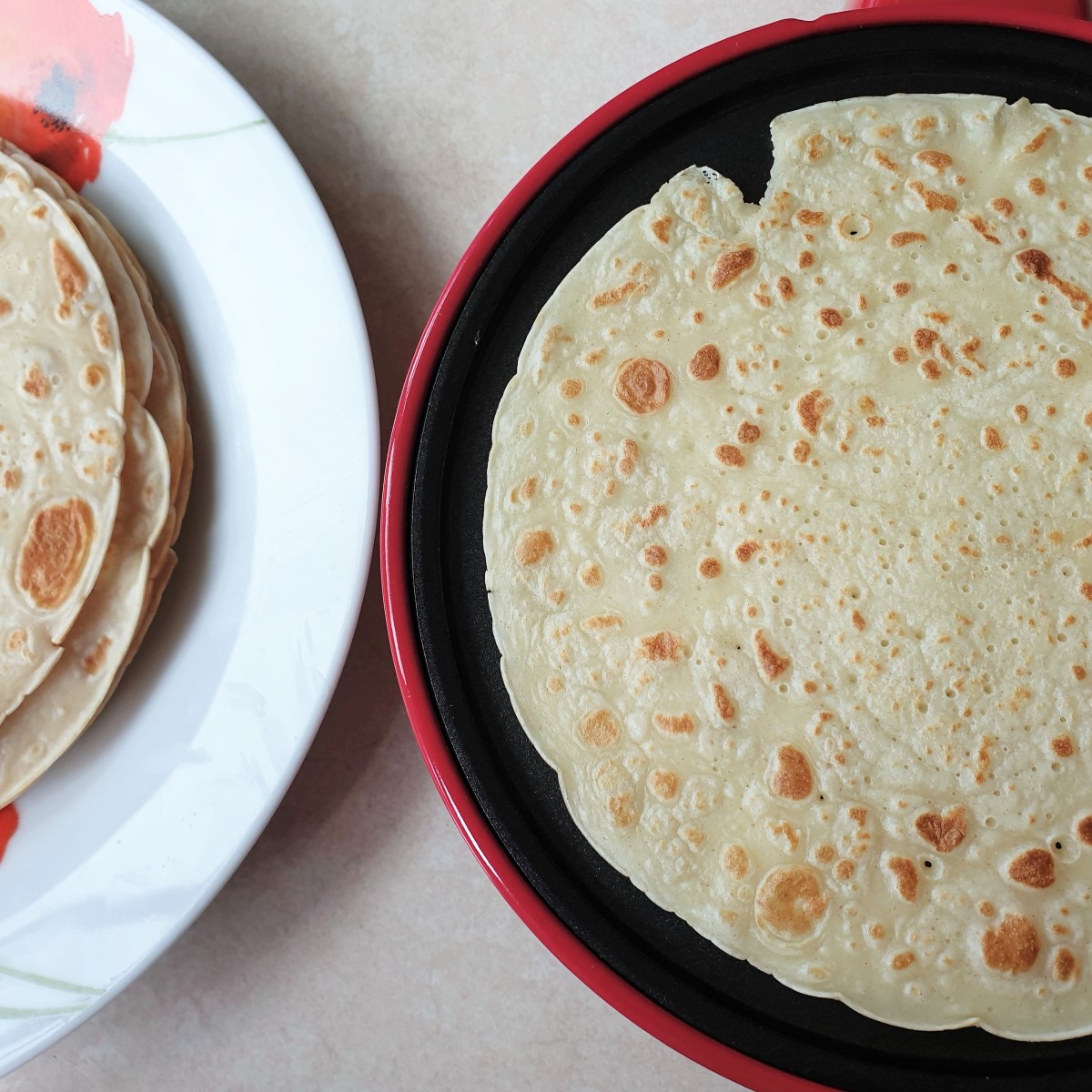 Make the cheese sauce
The final step before assembling the dish is to make the cheese sauce.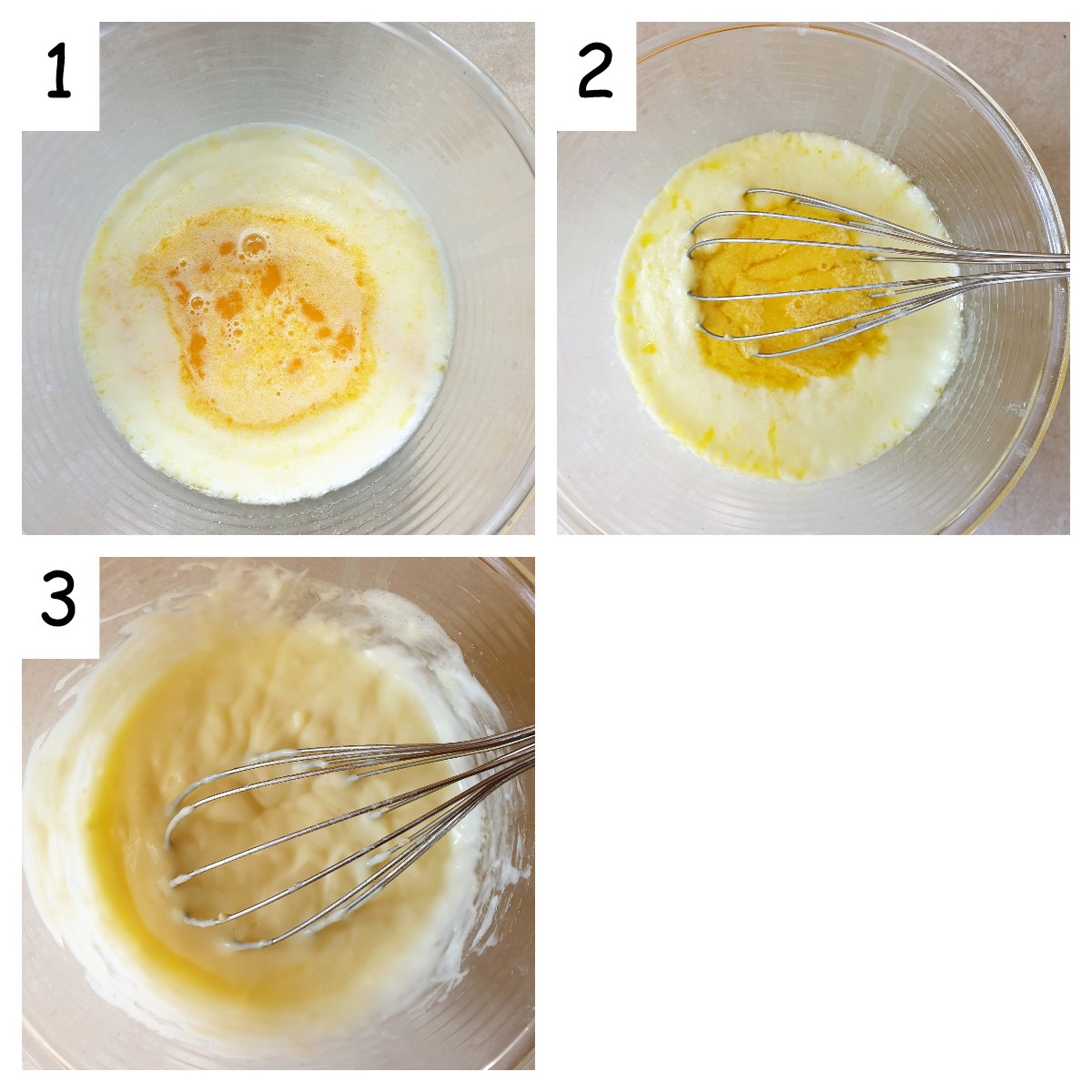 I always make my cheese sauce in the microwave. It only takes a few minutes and it is guaranteed lump free.
Whisk the milk and cornflour/ cornstarch together to get rid of any lumps. Add the salt and butter. Place in the microwave and cook on full power for 3 minutes.
Remove from the microwave – the butter should be melted and the edges of the sauce should be starting to thicken (image 1).
Give it a good whisk and return to the microwave for another 2 minutes (image 2).
If you find the sauce is too thick, you can whisk in a little more milk. If the sauce seems too runny then mix a small amount of cornflour/cornstarch with a couple of tablespoons of milk, stir it through and give it another minute in the microwave. Do remember though that the sauce will thicken when the cheese is added.
Remove from the microwave – whisk again and then stir in the cheese. Microwave for 1 minute more to melt the cheese. Give it a final whisk and you are done (image 3).
Assemble the dish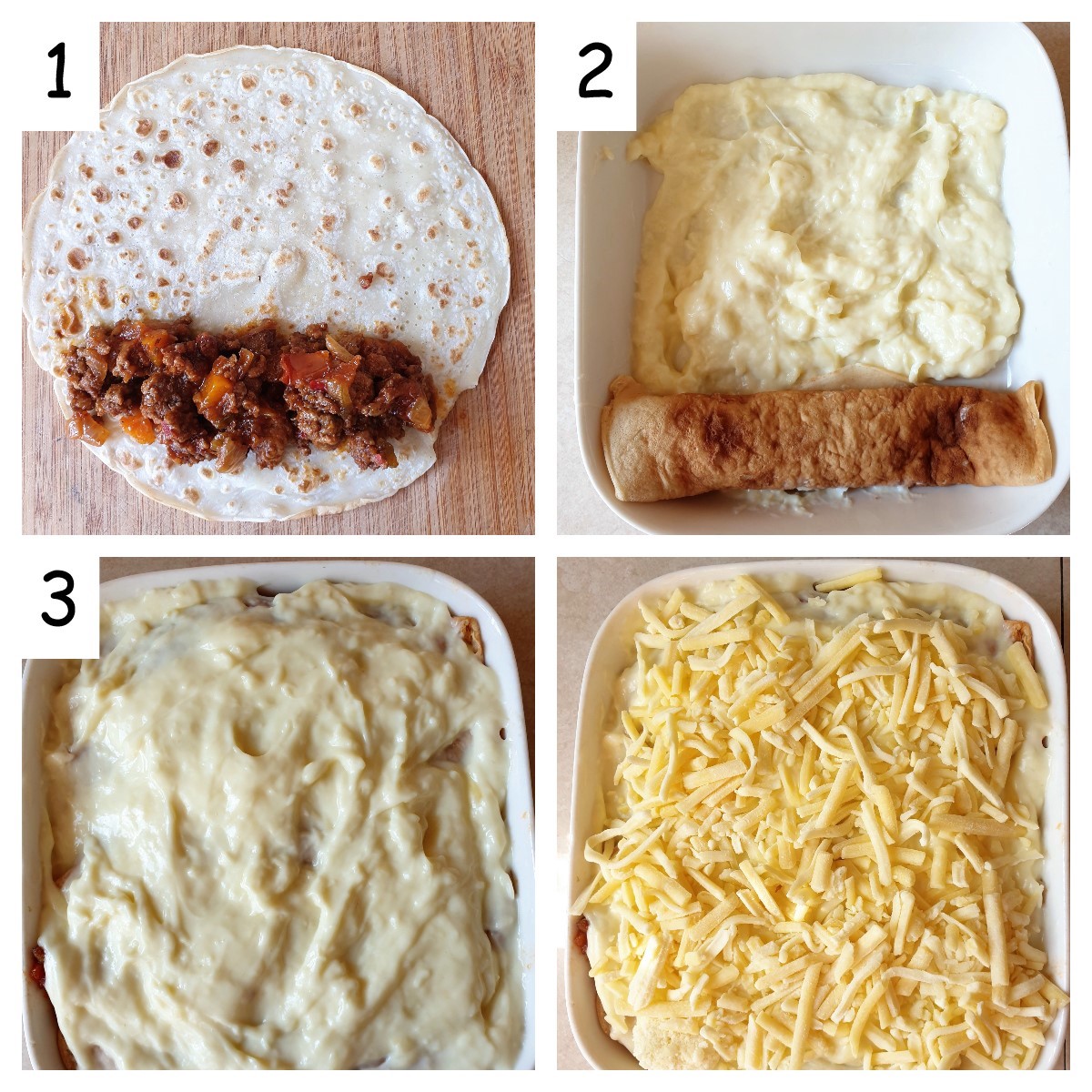 To assemble the dish you just need to roll the meat sauce in the crepes and layer them in a baking dish.
Place a small amount of meat sauce on each crepe (image 1) and roll up to form a sausage shape.
Spoon a thin layer of cheese sauce in the bottom of the dish first to ensure the crepes do not become hard underneath while the dish is baking (image 2).
Layer the rolled crepes side by side. Cover each layer with cheese sauce (image 3).
Finish off with a final layer of cheese sauce and sprinkle with grated cheese (image 4).
I like to use a mixture of mature cheddar and mozzarella for this because the mozzarella gives a lovely chewy texture.
Bake
Bake in a hot oven (200C/400F) for 20 minutes until the cheese is golden and bubbling.
Get Organised (make the whole thing in 30 minutes)
If you added up the times for all the steps, you will probably have seen that this recipe takes over 100 minutes to make – which is a bit of a no-go for a week night.
If you are really organised you can have all the components ready made in your freezer and have this on the table in 30 minutes.
Next time you are making a meat sauce, make a double batch. Serve half as a quick supper with rice or mashed potatoes and peas (try this recipe for bolognese sauce – this sauce would go well in the crepes). Freeze the other half and when you are ready to use it just let it defrost in the fridge. You don't need to heat it before rolling it in the crepes, it will heat up nicely in the oven while the cheese melts.
Make the crepes in advance and freeze them. Just layer them with greaseproof paper and freeze a Ziploc bag. Let them defrost on the counter top.
The cheese sauce freezes really well in a plastic container. I always make a large batch of cheese sauce and freeze the leftovers. Just defrost it in the fridge or microwave. It comes in handy for all sorts of things – cauliflower cheese, homemade lasagne, and especially this crepe cannelloni bake.
When you want to make this dish, just assemble all the defrosted ingredients as per the instructions above, cover with grated cheese and you are good to go. 10 minutes to assemble, 20 minutes to bake – on the table in 30 minutes.
Here's another handy tip – keep a bag of grated cheese in the freezer. It keeps well indefinitely. When you need grated cheese just grab a handful. I like to mix grated cheddar and mozzarella because I like the stringiness of the melted mozzarella.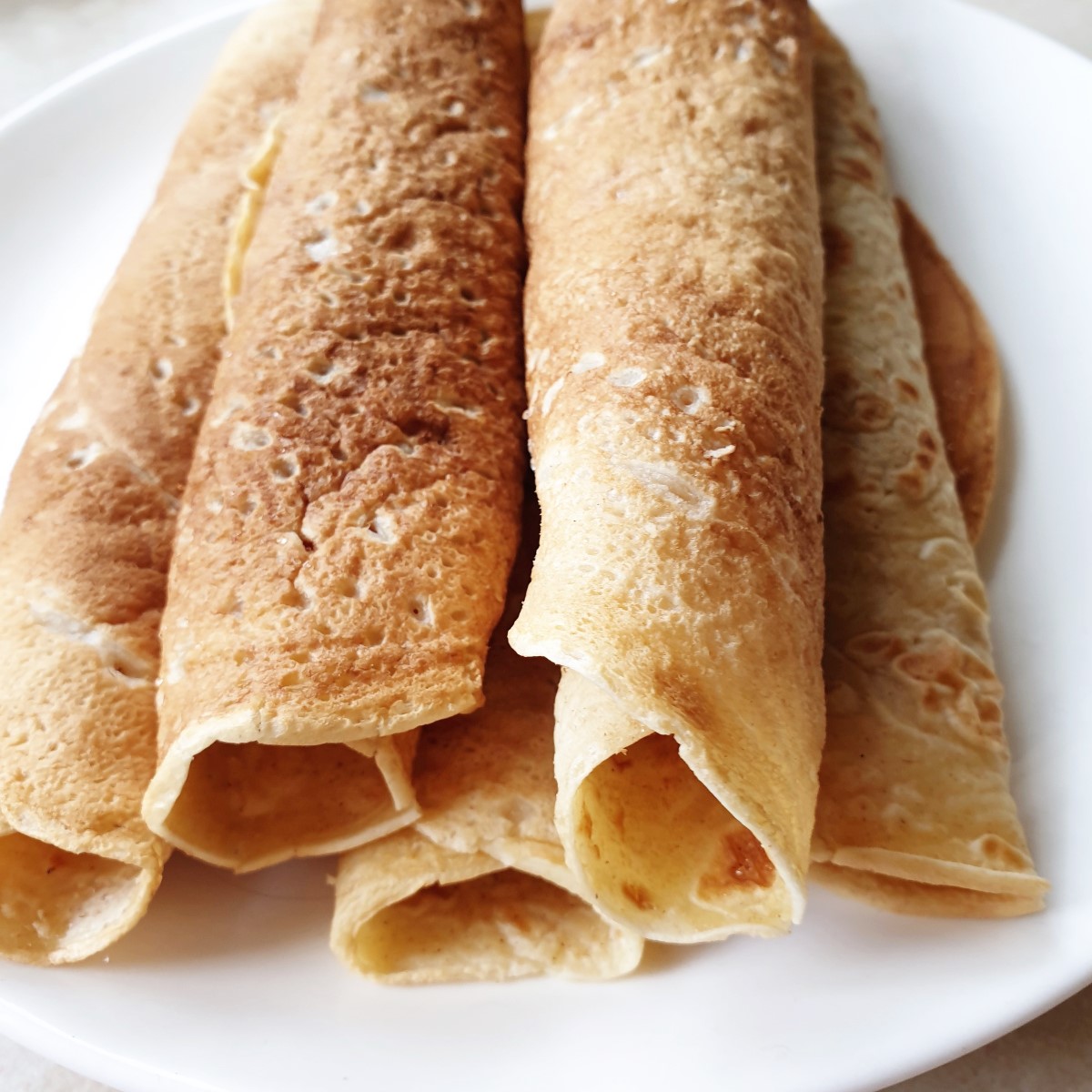 Extra crepes for dessert
The traditional way of eating crepes in England is to sprinkle them with sugar and drizzle with lemon juice. In South Africa they are sprinkled with a spoonful of cinnamon sugar and rolled up while still warm so that the sugar melts and soaks into the crepe.
If you want to put in a bit more effort into your dessert, try spreading the crepes with apple sauce (make your own and keep it in the freezer). Then roll them up and add a dollop of cream or ice-cream for instant apple pie.
Can I freeze crepe cannelloni?
Yes, all the individual components freeze well (see Get Organised above).
You can also freeze the assembled dish. Just wrap it, still in the baking dish, in clingfilm and put it into a freezer bag. It will keep for up to 6 months in the freezer.
To bake, let it defrost in the fridge and then pop into a preheated oven (200C/400F) for 20 minutes until the cheese is melted and the cannelloni bake is piping hot.
If you want to keep up-to-date with my latest recipes why not follow along on Facebook or Pinterest. And don't forget to subscribe to my mailing list so you can get your FREE COOKERY BOOK
Additional resources
Don't forget to check out my handy Cookery Conversion Calculator if you want to convert any of your recipe measurements from grams to cups, ounces, tablespoons or millilitres and vice versa. You can also use the calculator for converting oven temperatures between Fahrenheit, Celsius, and Gas marks.
If you live at a high altitude you may find you need to adjust your baking recipes to compensate for this. You can read all about it in this post on baking at high altitudes.
Pin for later
Why not pin this recipe for crepe cannelloni with meat sauce so you can make it later. Just click the image below.
This recipe was number 10 on my top 10 recipes for December 2019.
Recipe – Crepe cannelloni with meat sauce and cheese
If you made this recipe and enjoyed it, I'd love it if you could give me a star rating in the comments below. And if you'd like to get in touch, you can email me at [email protected]. I'd love to hear from you. And don't forget to subscribe to my mailing list so you can grab yourself a copy of my FREE COOKBOOK!
If you'd like to continue browsing, just click on this link to all my recipes.