Tins of baked beans are currently flying off the shelves in supermarkets, and it is becoming increasingly difficult to get your hands on them. For those of you who are unable to get any, don't despair - this recipe for homemade baked beans tastes just like your favourite brand, and they are so simple to make at home with only a few ingredients. You'll wonder why you never made your own homemade baked beans before!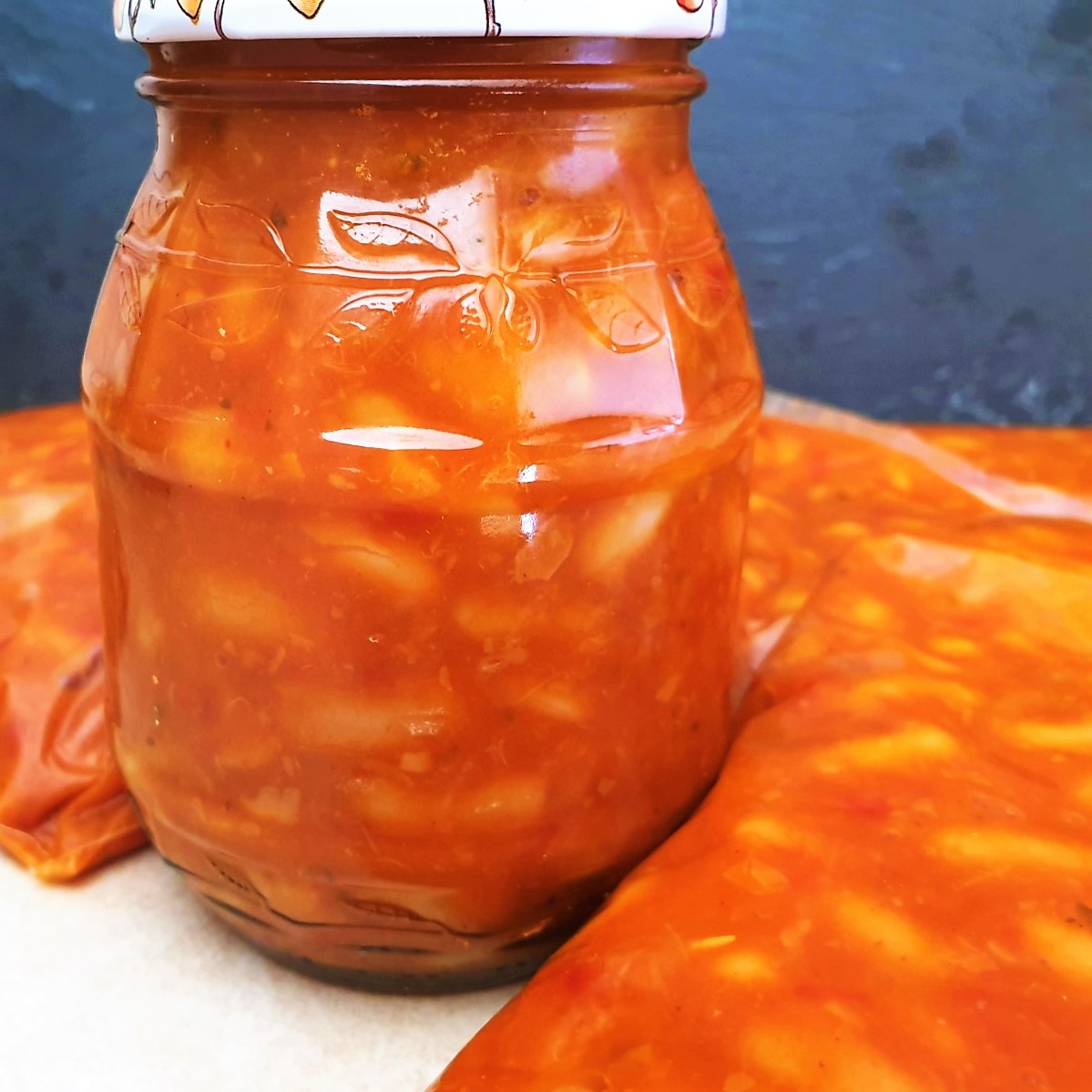 **As an Amazon affiliate, I earn from qualifying purchases.**
Jump to:
Baked beans - England's favourite food
We British love our baked beans. There are over 1.5 million tins of baked beans sold in the UK every single day, making us the number one country for baked bean consumption. We eat them on toast, we eat them on top of baked potatoes, and of course, no full English breakfast would be complete without a large portion of baked beans on the plate.
So it was something of a shock to find the empty baked bean shelves in the supermarket due to the panic buying currently going on.
Fortunately, there is a solution - just make your own! Baked beans are so easy to make at home, with the minimum of ingredients, and as a bonus, this recipe tastes just as good as the original brand we all know and love.
Not only are they easy to make, but they are economical too. A 500g packet of dried haricot beans swells up to more than 4 times its size when soaked, meaning you get far more beans for your money than you would from a can of shop-bought beans.
How to make homemade baked beans
**You can get the complete list of ingredients and full instructions on how to make baked beans yourself at home on the printable recipe card at the end of this post**
Equipment
The main piece of equipment you will need is a saucepan large enough to hold the beans.
You will also need a large bowl for soaking the beans overnight. I like this set of mixing bowls because they have lids, and they come in different sizes which is handy.
Ingredients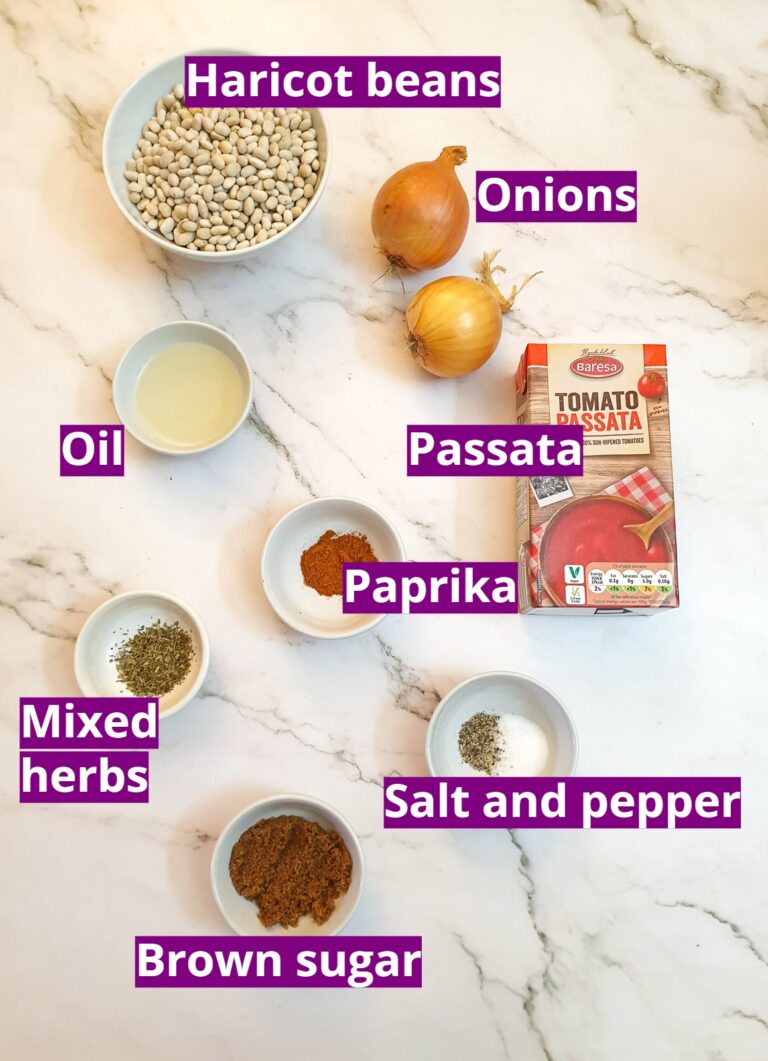 Haricot beans. If you can't get dried haricot beans then you can substitute with dried cannellini beans.
Onion - this must be chopped as finely as possible. I whizz mine around in my mini food processor. If you don't have one of those, you can grate the onions on a box grater.
Oil - for softening the onions. You will need sunflower oil or other neutral-flavoured oil. I wouldn't use olive oil - the flavour will be wrong.
Passata - this is concentrated tomato puree that has been sieved to remove the seeds and any bits of skin. You can buy it near the canned tomatoes in the supermarket.
Paprika - adds a slightly smoky flavour to the beans.
Brown sugar - for sweetness
Mixed herbs - for additional flavour.
Salt and black pepper - for seasoning - you can add this according to your own taste and preference.
What to do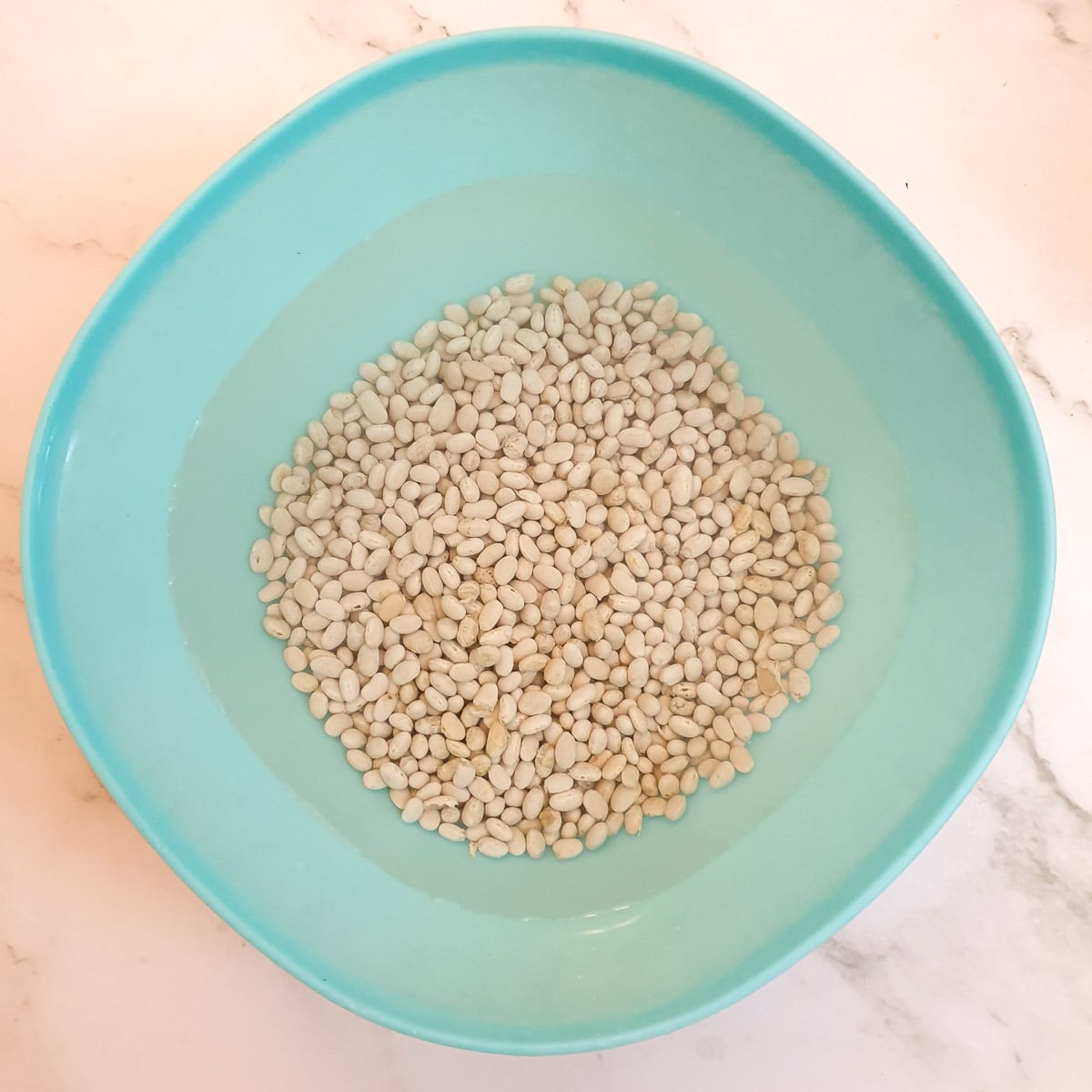 Put the beans into a large bowl and cover them with cold water.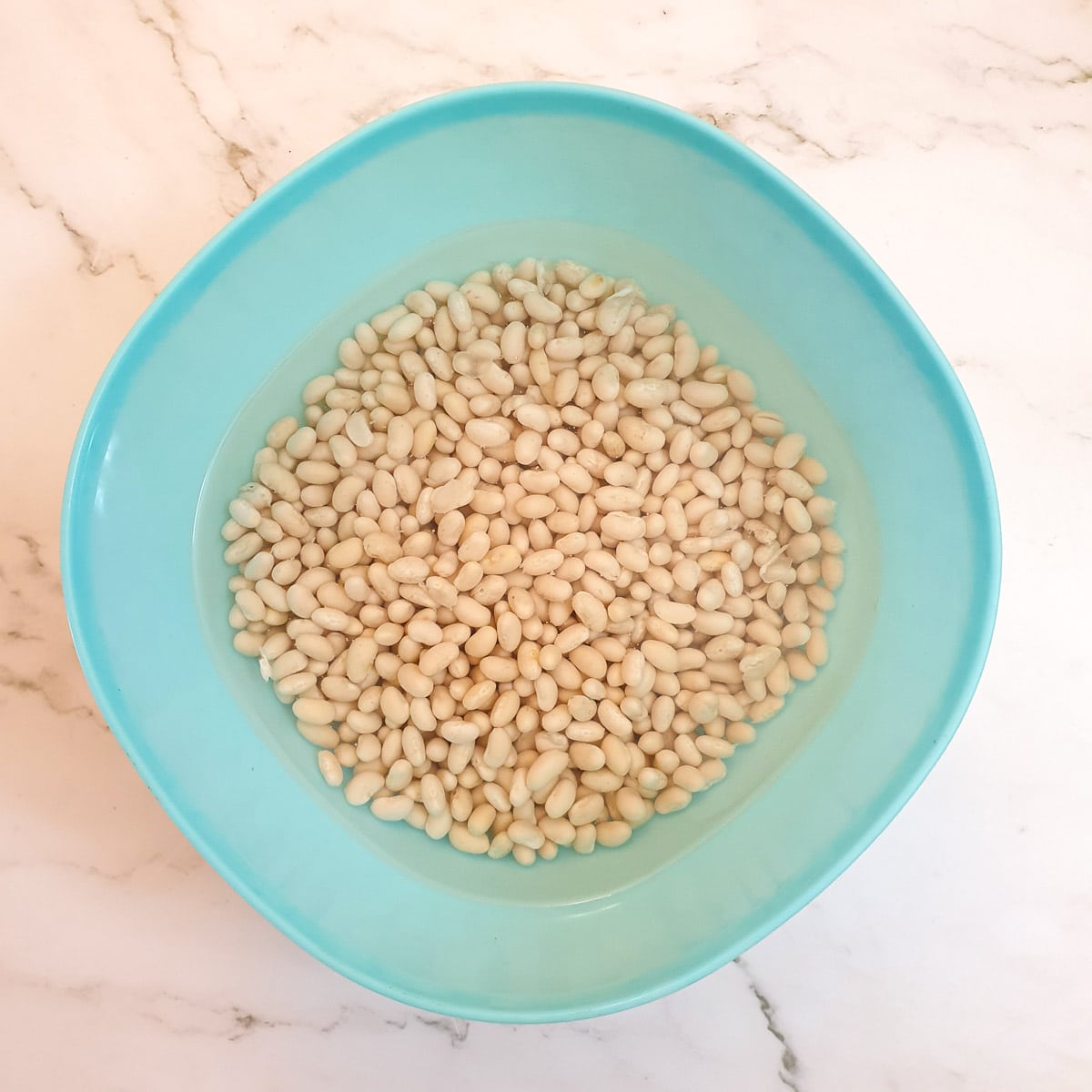 Leave the beans to soak overnight. They will more than double in size.
Tip them into a colander and leave to drain.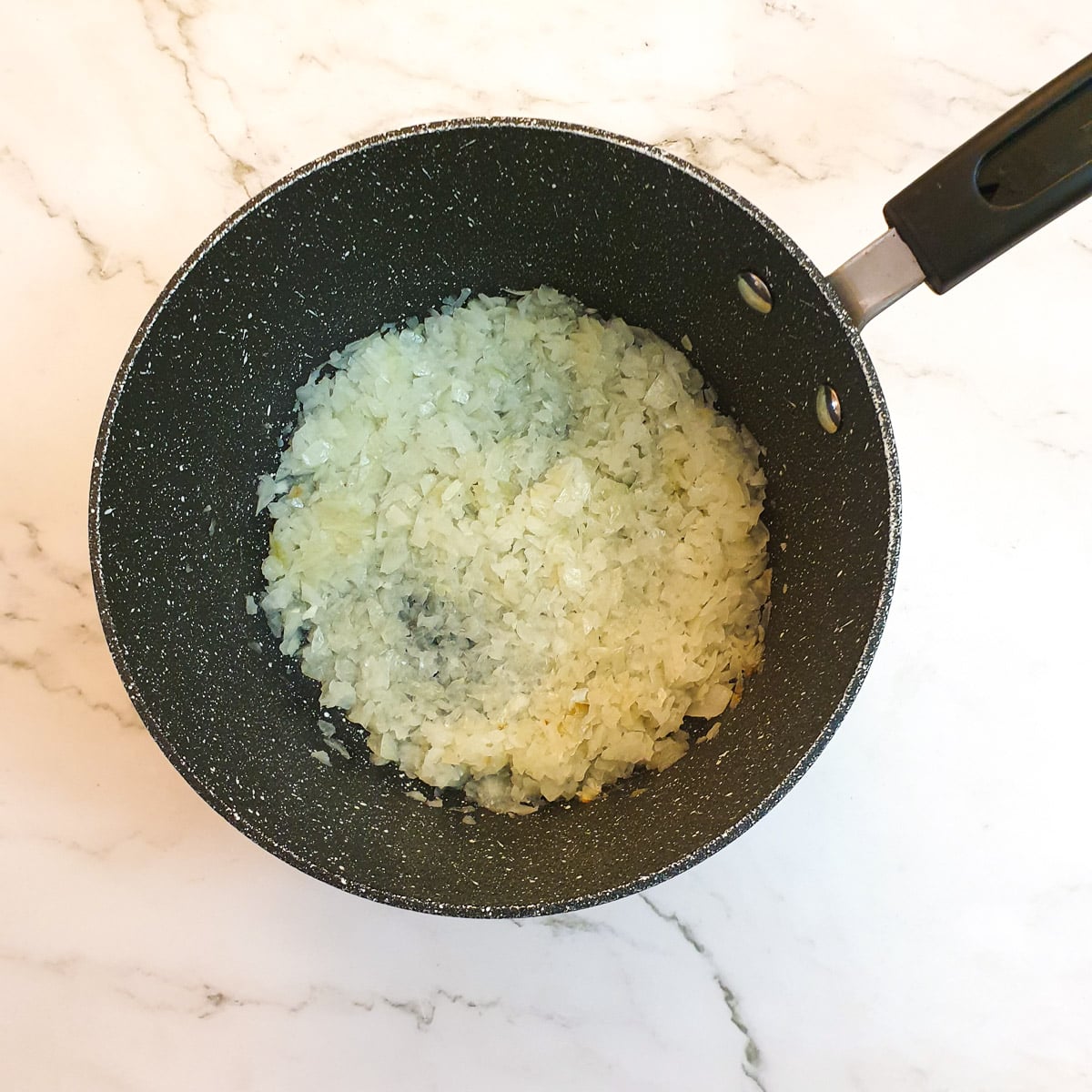 Chop the onion as finely as possible and fry it gently in a saucepan until it starts to soften and turn translucent.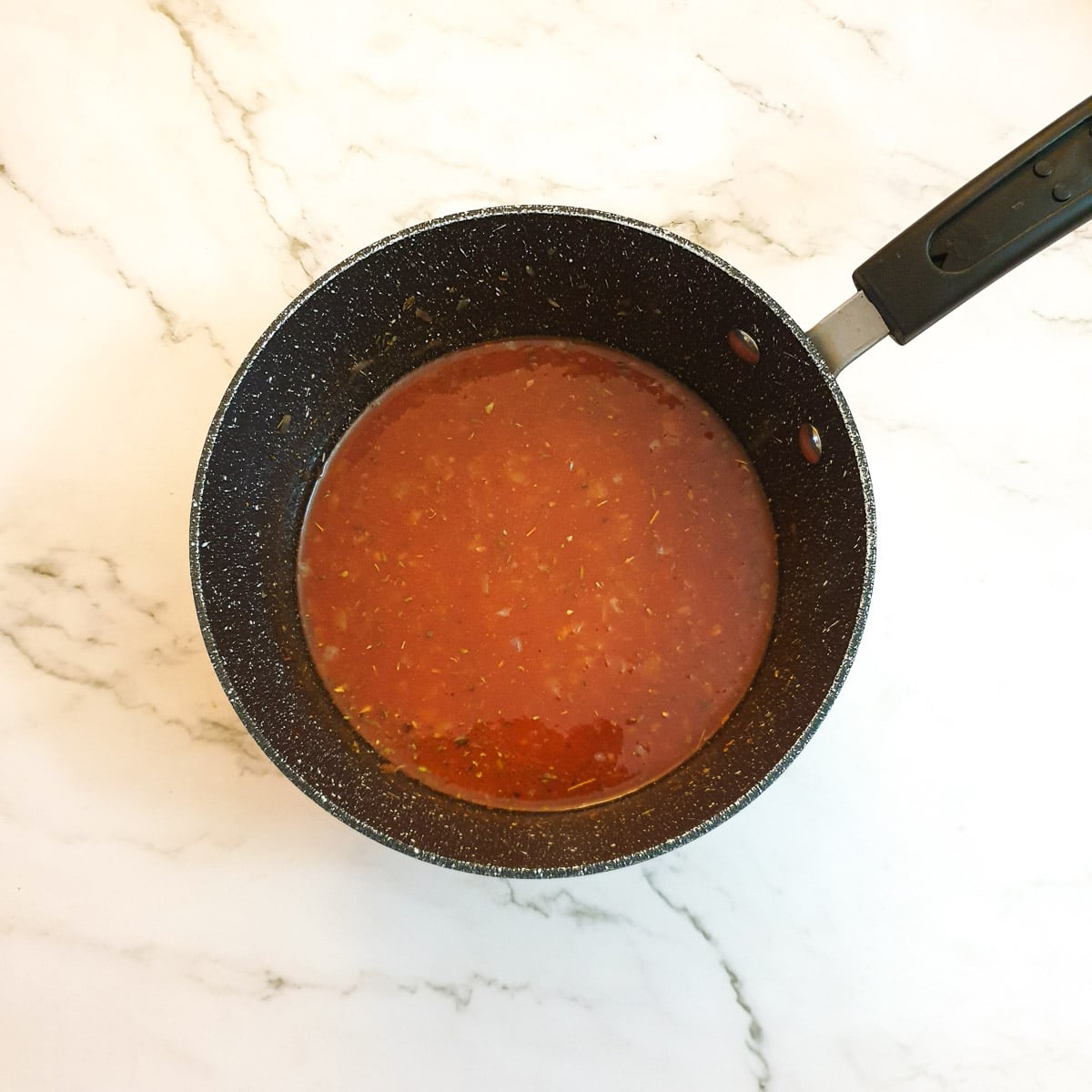 Add the passata, mixed herbs, brown sugar and paprika and season with salt and black pepper.
Add one cup of water.
Bring to the boil.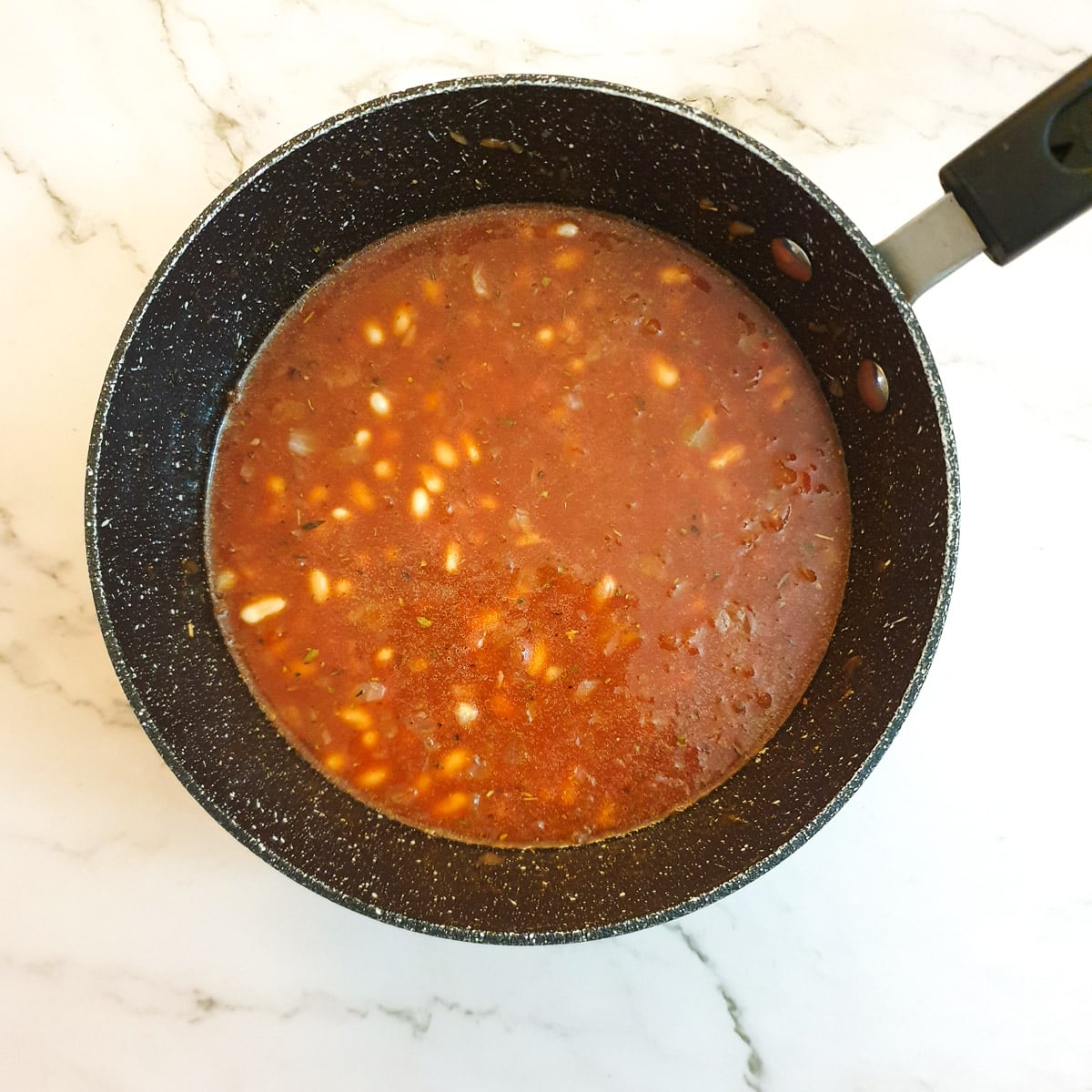 Add the drained beans, turn down the heat to a simmer and cover the pan with a lid.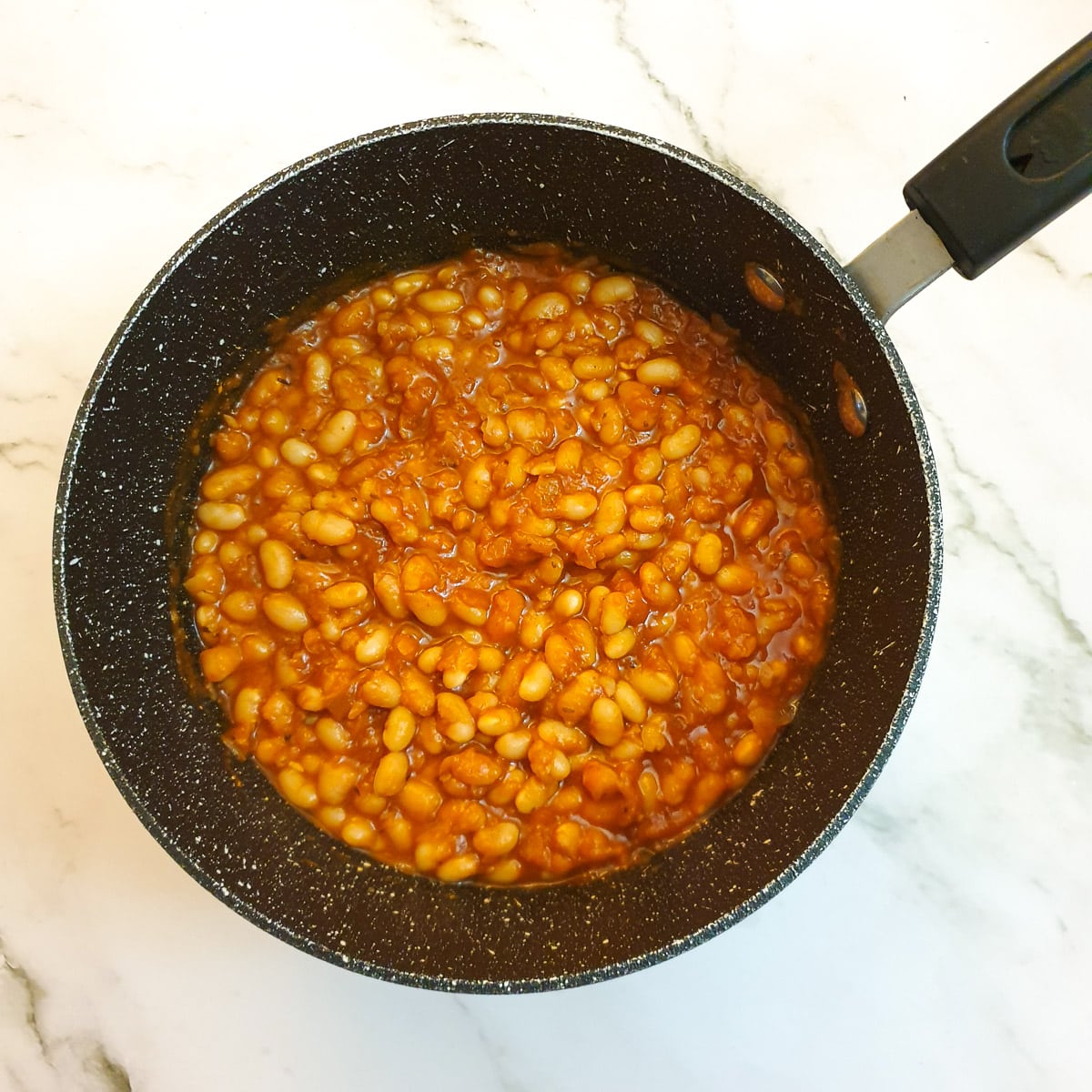 Leave for about 2 and a half hours until the beans are soft and the sauce has thickened.
If you find that the sauce starts to dry up halfway through cooking, you can add a little extra water. I needed to add an additional ½ cup.
Leave the beans, covered with the lid, to cool completely.
You can either store the beans in sterilised jars (see below for instructions), or you can pack them into freezer bags and store them in the freezer.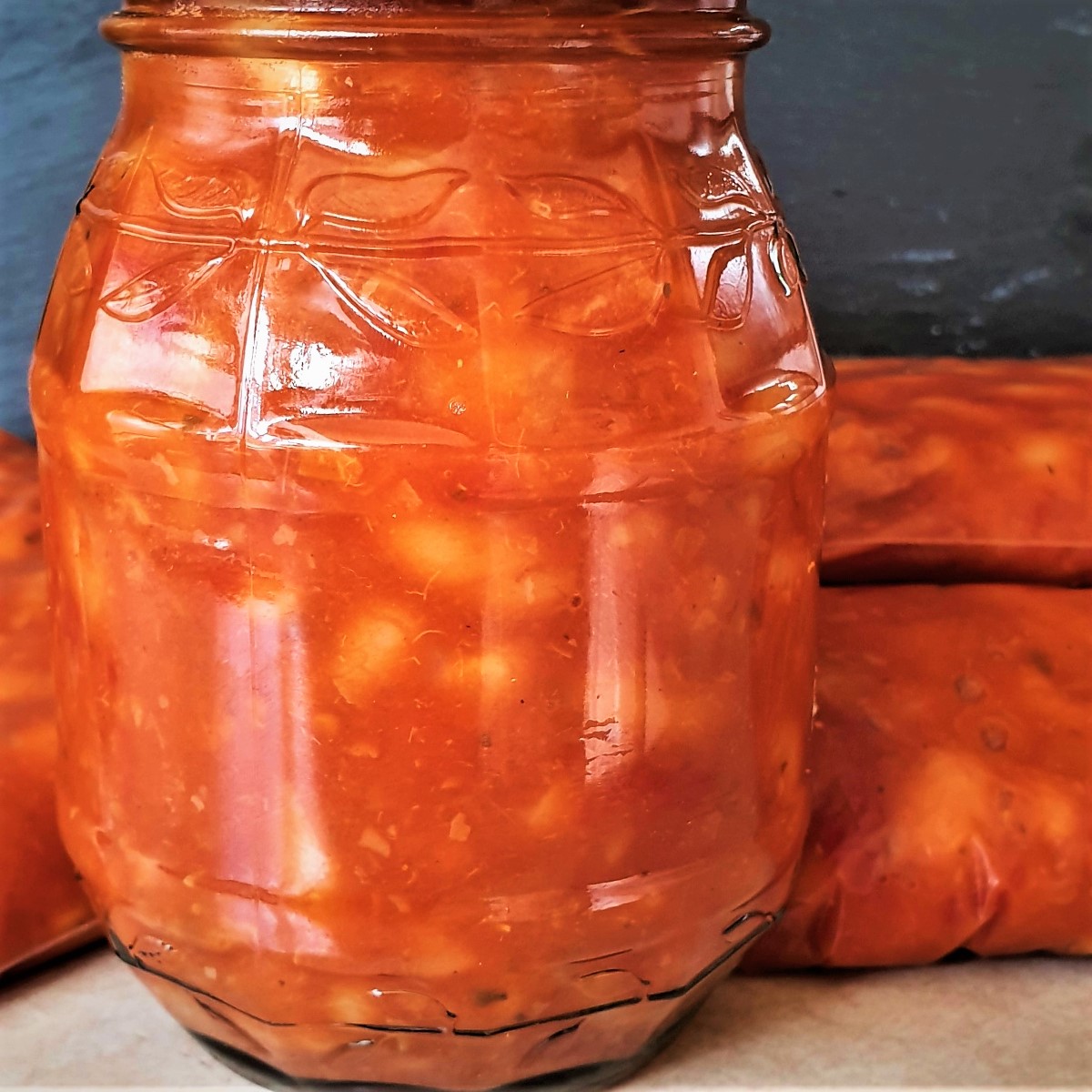 If you'd like to be notified of any new recipes, why not subscribe to my newsletter? As a thank-you gift, you will receive a free recipe e-book containing some of my most popular cakes and desserts.
How to sterilise jars
To sterilise jars in the oven:
Wash the jars and the lids in hot soapy water, rinse, but do not dry them.
Stand them upside down on a baking tray while they're still wet.
Place the tray of clean, wet jars and lids into a preheated oven at 180ºC / 350ºF for 15 mins.
To sterilise jars in the microwave:
Wash the jars and the lids in hot soapy water, rinse, but do not dry them.
Place them in the microwave whilst still wet.
Microwave on full power for 2 minutes
If the lids are made of metal DO NOT MICROWAVE. Instead, place the lids in a pot of boiling water and boil for 5 minutes.
What to eat with baked beans
Can I freeze baked beans?
Yes, if you don't want to store the beans in glass jars, just pack them into meal-sized portions in freezer bags and freeze them for up to 6 months. This is how I store my beans, because that way I don't have to open an entire jar for a meal.
If you do store them in jars, keep any leftovers in the refrigerator once the jar has been opened. They will remain fresh for up to a week.
Save for later
If you would like to make baked beans yourself, why not pin this recipe to one of your Pinterest boards so you can find it easily? Just click the image below.
Alternatively, you can save the recipe by clicking on the floating heart icon on the right-hand side of the screen.
📋The recipe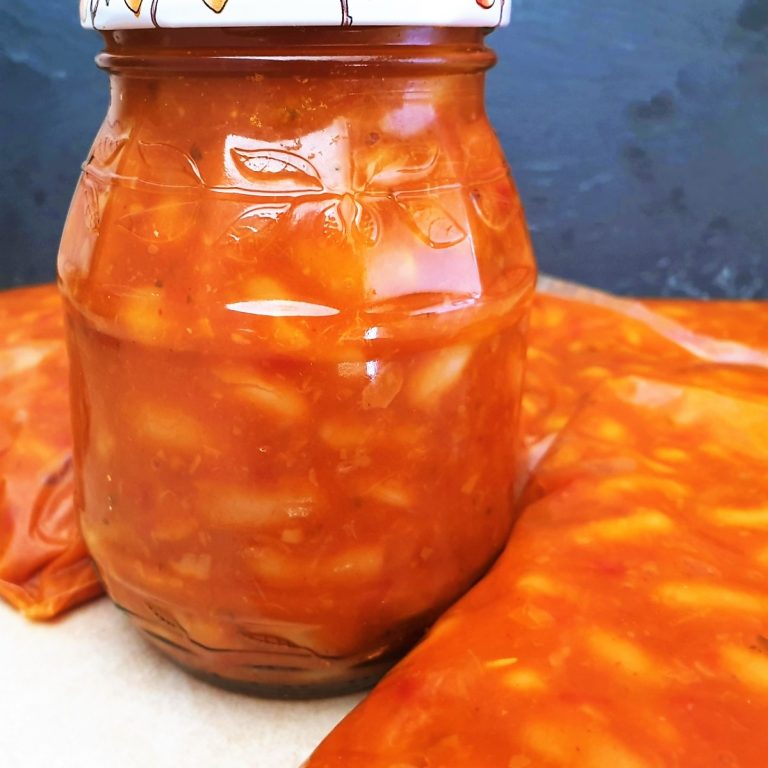 Homemade baked beans
This recipe for homemade baked beans tastes just like your favourite brand, and they are so simple to make at home with only a few ingredients. You'll wonder why you never made your own homemade baked beans before!
Servings:
5
x 300g freezer portions
Print
Pin
Comment
Bookmark
Saved!
(Click the stars to rate this recipe)
Equipment
Large bowl

Jars or freezer bags for storage
Ingredients
1

lb

/ 450 grams dried haricot beans

2

large

onions

very finely chopped

2

tablespoons

sunflower oil

2

teaspoons

paprika

1

teaspoon

mixed herbs

1

teaspoon

salt

½

teaspoon

ground black pepper

2

tablespoons

brown sugar

1

cup

tomato passata

1

cup

cold water

plus extra if needed
Instructions
Place the dried beans in a large bowl, cover with plenty of cold water and allow to stand overnight to soak

1 lb / 450 grams dried haricot beans

Once the beans have soaked, drain through a colander and set aside.

Chop the onions in a food processor, or grate them on a box grater.

Heat the 2 tablespoons oil in a large saucepan, add the onions and saute until the onions turn translucent and start to brown.

2 tablespoons sunflower oil

Remove from the heat and stir in the paprika, dried mixed herbs, salt and ground black pepper

2 teaspoons paprika,

1 teaspoon mixed herbs,

1 teaspoon salt,

½ teaspoon ground black pepper

Add the brown sugar, tomato passata and1 cup of cold water, then mix in the drained beans.

2 tablespoons brown sugar,

1 cup tomato passata,

1 cup cold water

Return to the heat and bring to the boil.

Turn down the heat as low as it will go, cover with a lid and leave for 2½ hours to simmer. Check periodically and top up with more water if necessary.

Once the beans are soft, remove from the heat and leave covered until completely cool.

Pack into sterilised glass jars, or spoon into freezer bags and freeze for up to 12 months.
Notes
These beans quadruple in volume when they are soaked.  Be sure to use a large container.
Keep the heat as low as possible when simmering the beans, and cover the pan with a tightly fitting lid..  If necessary add more water as they are cooking.  Do not allow them to dry out.
Nutrition has been calculated on dividing the beans into 7 x 300 gram portions and the nutrition facts are for 1 x 300g portion.
Nutrition
Calories -
81
kcal
|
Carbohydrates -
10.7
g
|
Protein -
1.8
g
|
Fat -
4.2
g
|
Saturated Fat -
0.4
g
|
Sodium -
340
mg
|
Potassium -
226
mg
|
Fiber -
3.5
g
|
Sugar -
4.1
g
|
Calcium -
41
mg
|
Iron -
1
mg
I am not a nutritionist. The nutrition information has been calculated using an on-line calculator, and is intended for information and guidance purposes only. If the nutrition information is important to you, you should consider calculating it yourself, using your preferred tool.
Unless otherwise stated, a cup is the standard US cup containing 240 ml. In all my recipes this cup is assumed to hold 140g of flour. For help converting other ingredients between cups, grams, ounces and other measures, see my recipe conversion calculator.
All my recipes are developed and tested at sea-level. For tips on adjusting recipes for high altitudes see my post on baking at high altitudes.
Tried this recipe?
If you made this recipe I'd love it if you could leave me a comment and let me know how it went!
Share on Facebook
Share on Twitter
If you made this recipe and enjoyed it, I'd love it if you could give me a star rating in the comments below. And if you'd like to get in touch, you can email me at [email protected]. I'd love to hear from you. And don't forget to subscribe to my mailing list so you can grab yourself a copy of my FREE COOKBOOK!
If you'd like to continue browsing, just click on this link to all my recipes.
This recipe has been shared with #CookBlogShare