Have you ever thought how easy it is to make homemade waffles? And how versatile they are? Crispy on the outside, light and fluffy on the inside. Add some grated potato and onion for instant hash browns; or mix in mashed bananas for a sweet treat. If you want to find out how to make waffles, follow my ultimate guide to the perfect waffles and make some today.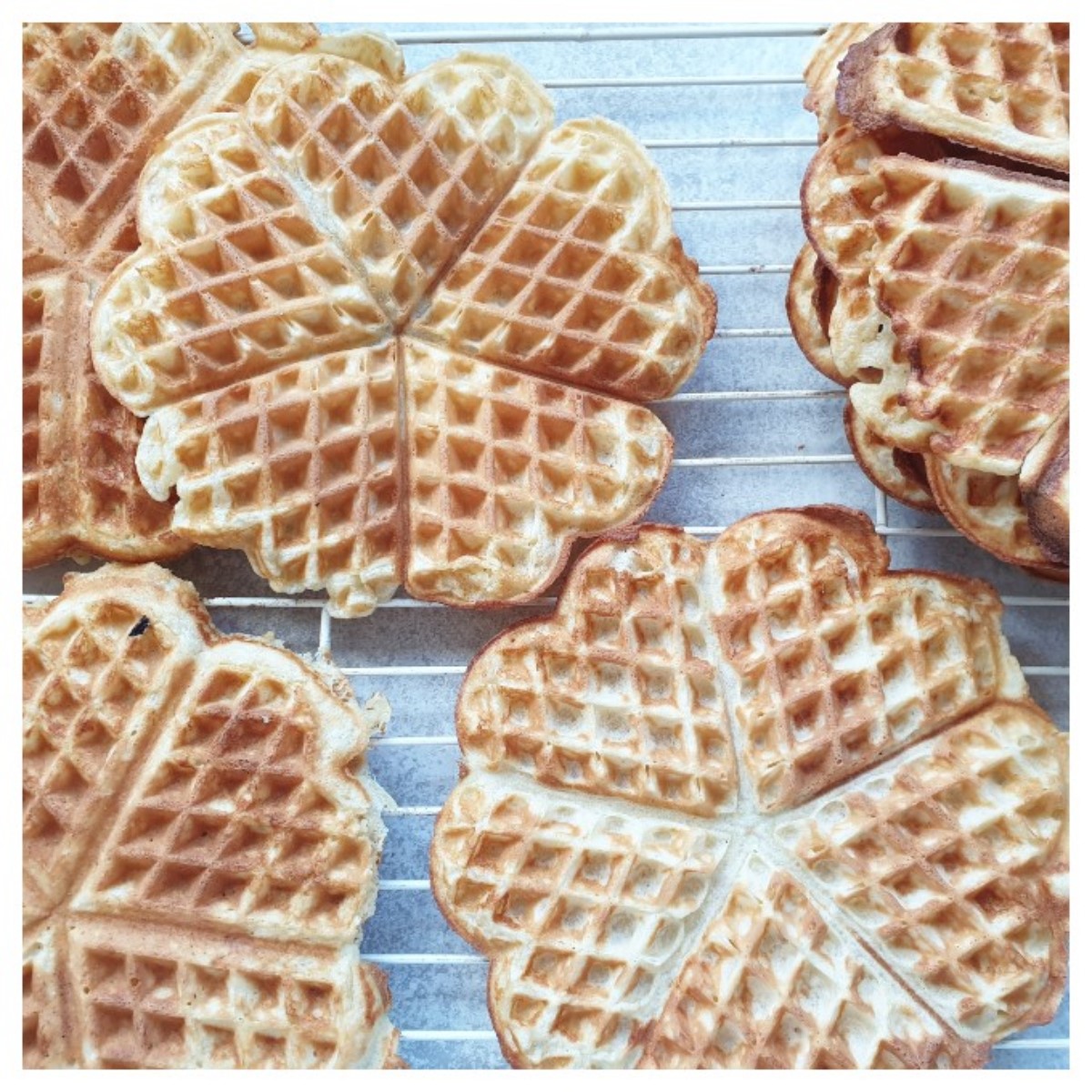 **As an Amazon affiliate, I earn from qualifying purchases.**
What is a waffle?
Waffles are made from a batter, consisting of eggs, milk, sugar and melted butter. They are traditionally cooked in a waffle-maker, between two specially shaped iron plates, which give the waffle its characteristic honey-combed appearance.
A perfect waffle has a crispy, golden brown exterior with a light and airy interior. This is due to the waffle being cooked on both sides at once, ie on the top and the bottom. As the outside of the waffle browns and crisps, the air in the batter is trapped inside the waffle, leading to the airy inner texture.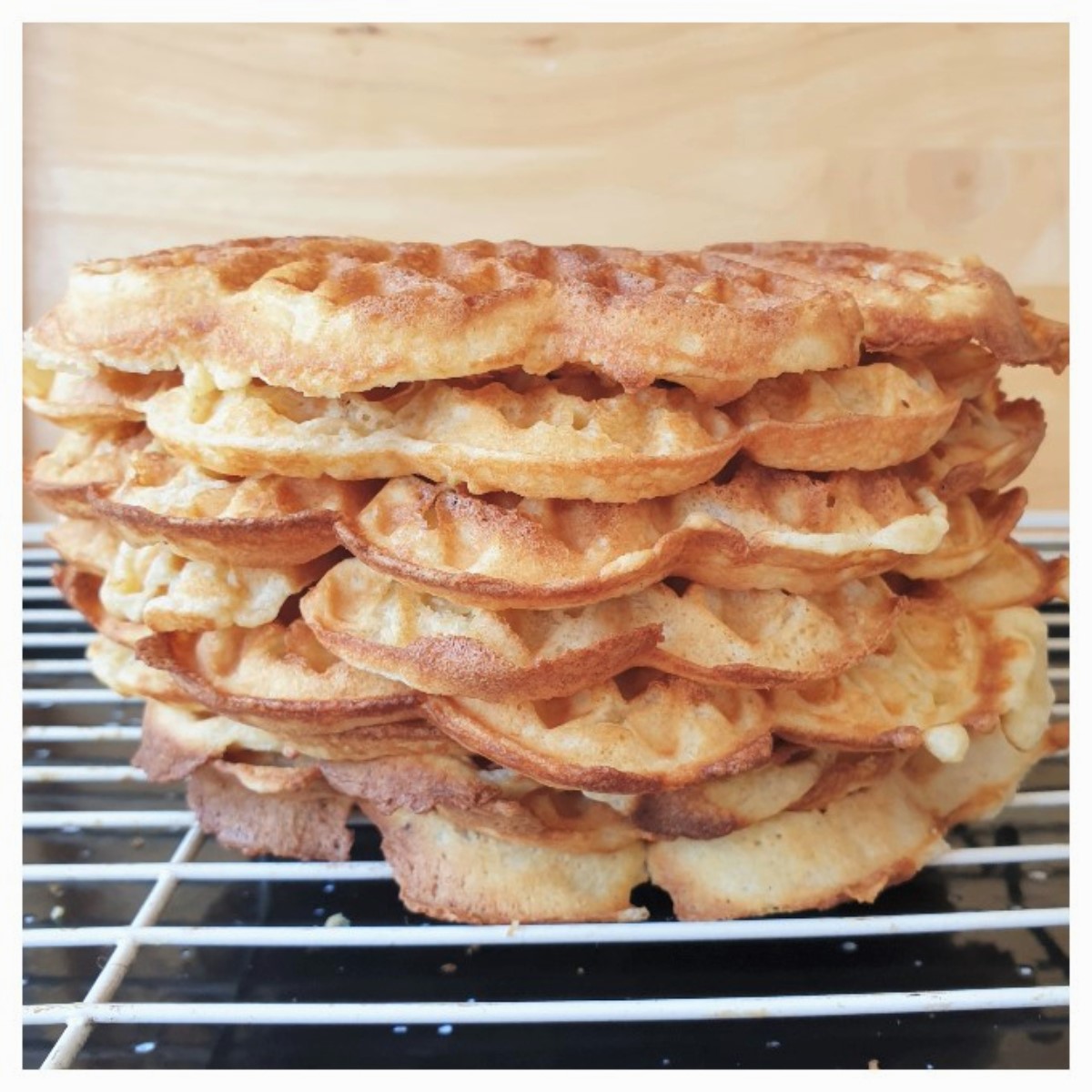 Sweet vs Savoury Wffles
Whenever you think of waffles, probably the first thought that springs to mind is 'top them with ice cream'. But there is so much more that you can do with them.
You can make waffles either sweet or savoury – whatever takes your fancy. The basic recipe remains the same, except for savoury waffles you just leave out the sugar.
I've come up with some ideas for both sweet and savoury waffles that will have you dusting off your waffle maker to try them out. Whether you go with sweet or savoury they are equally deicious. The choice is yours. You are limited only by your imagination.
Here are some of my suggestions to get you started.
How to make Sweet Waffles
If you are adding ingredients to the waffle mixture, try to keep the consistency to be that of the original batter. For example, if you add a cup of apple puree this may make the batter too runny, so you should compensate by using less milk.
If the waffle batter is too runny, it will run out of the sides of your waffle maker and make a terrible mess!
Mix 1 cut of well-mashed ripe banana into the basic mix. Top with ice cream and maple syrup.
Add 1 cup of apple puree or mashed tinned apples to the basic mixture and sprinkle the warm waffles with a little cinnamon sugar. Make cinnamon sugar by mixing 200g white sugar with 1 teaspoon powdered cinnamon spice. Store in an air-tight jar and it will keep indefinitely.
Boil fresh seasonal berries in a little sugar to make a jam and spread on the cooked waffles
Drizzle the waffles with honey or chocolate fudge sauce
And of course, let's not forget the obligatory ice cream and maple syrup.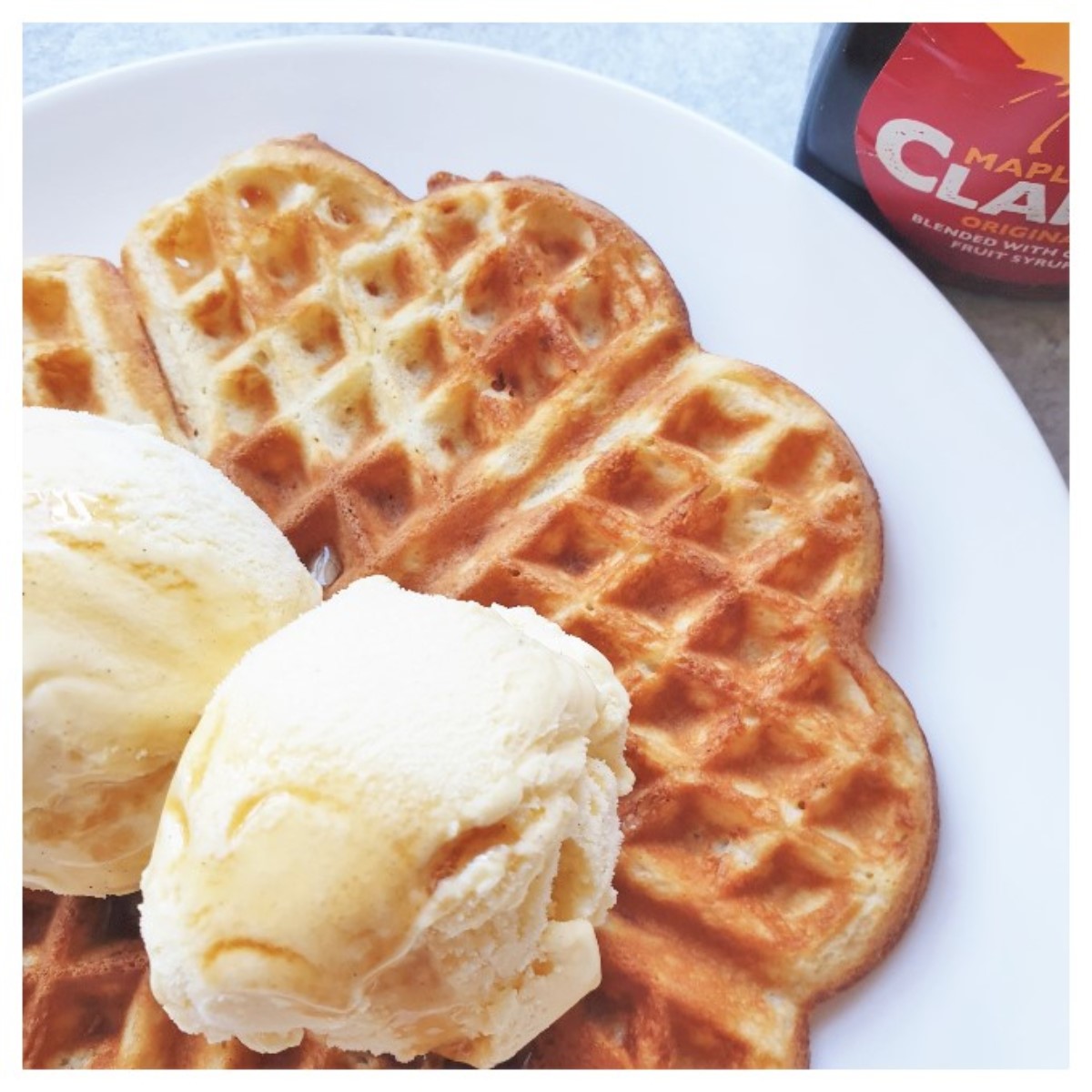 How to make Savoury Waffles
If you are making savoury waffles don't forget to omit the sugar from the basic recipe.
Serve with a dish of spicy peri peri chicken livers to help mop up the juices.
Top with a fried egg and a rasher of bacon for a breakfast with a difference.
Make cheesy waffles by mixing 100g grated cheese into the basic mixture. Serve with a slice of ham or chicken and bacon skewers
Add 1 cup of grated potato and 1/2 cup grated onion to the basic mixture for quick and easy hash-browns.
For instant Chinese spring onion pancakes, add 1 cup finely chopped green spring onions (scallions) to the basic batter. Serve with a soy dipping sauce.
For quick and easy ham and corn fritters, add 1/2 cup chopped ham and 1/2 cup whole kernel sweetcorn to the basic mixture.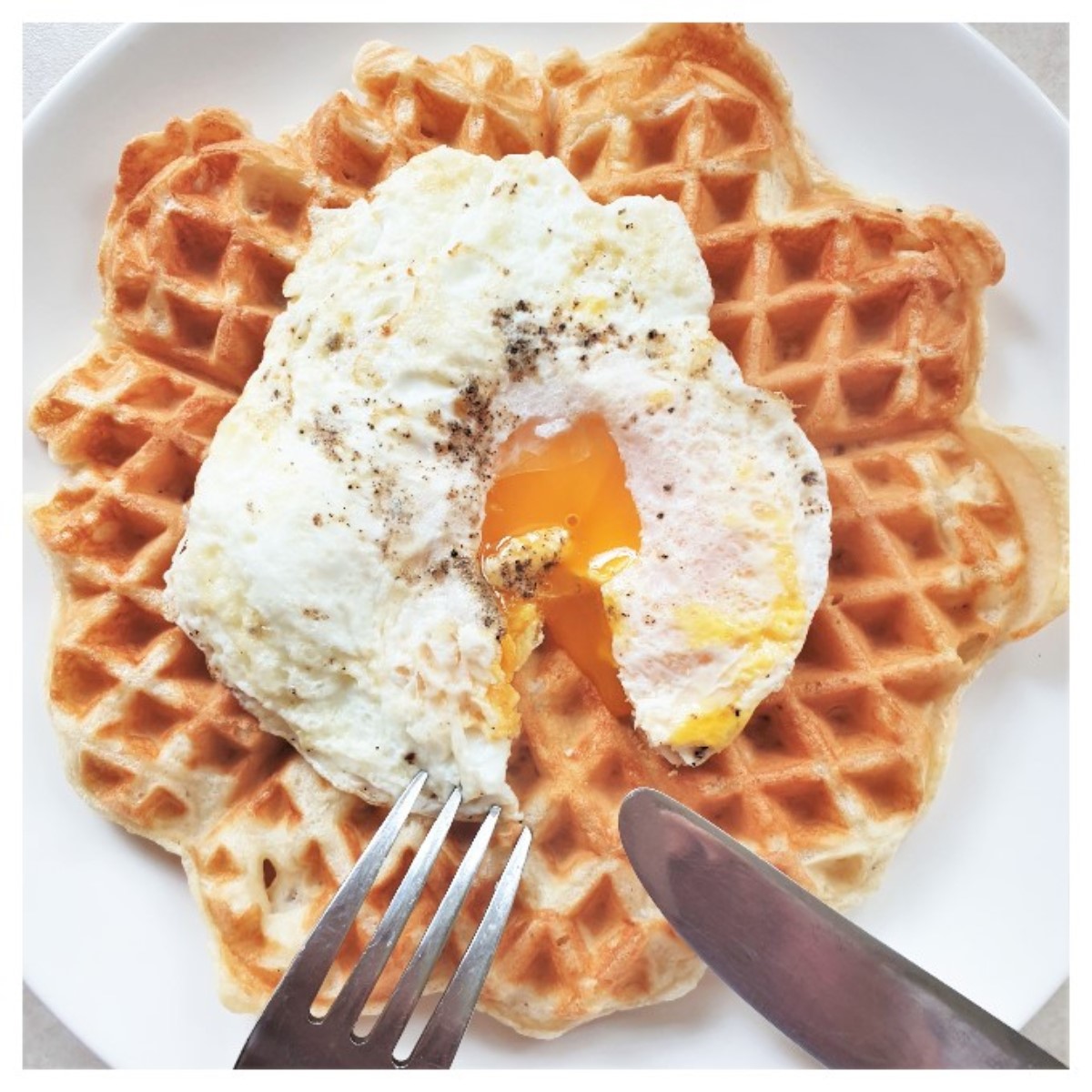 How to make the perfect waffles
Here is my ultimate guide on how to make the perfect waffles.
You will need these ingredients –
You can get the full list of ingredients and complete instructions for making waffles on the printable recipe card at the end of this post.
Plain (all purpose) flour – if you only have self-raising flour this is perfectly fine. Just leave out the baking powder
Baking powder – provides the rise
Salt – optional
Sugar (for sweet waffles only)
Milk – full fat or semi-skimmed is fine
Melted butter – this helps the waffles to become crispy
Eggs
Additional ingredients of your choice (if using)
How to make waffles ….
Making waffles is pretty simple. There are only 4 easy steps to follow.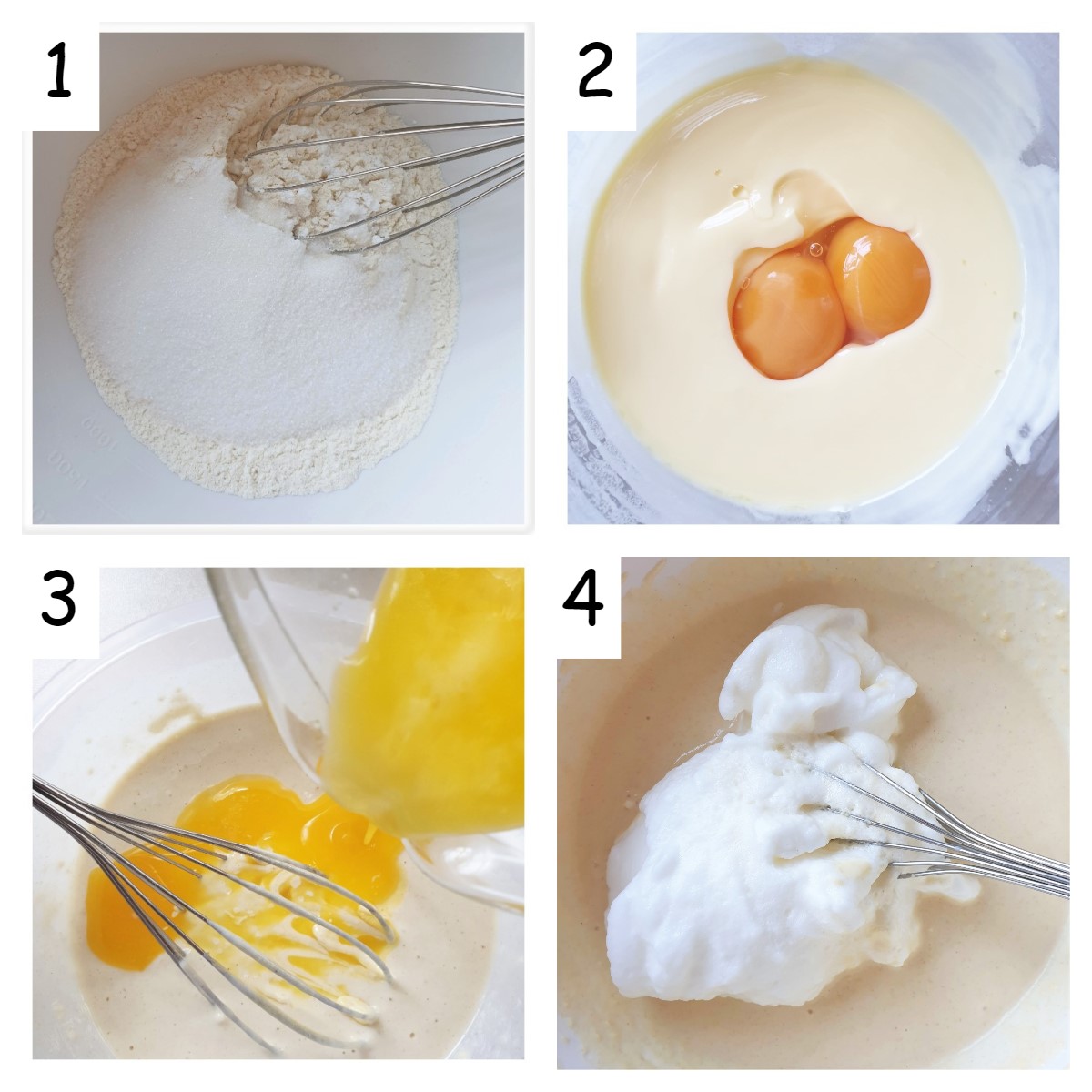 Step 1 – Combine the dry ingredients
Sift the flour into a mixing bowl, add the baking powder, salt and sugar and whisk briefly to combine (image 1 above).
Step 2 – Add the wet ingredients
Separate the eggs and keep the whites aside in a bowl.
Add the milk and egg yolk to the flour (image 2 above).
Whisk lightly to remove any lumps – don't overmix or you will cause too much gluten to develop which will make the waffles tough.
Step 3 – Add melted butter and egg whites
Heat the butter in the microwave (or a small saucepan) until just melted.
Allow to cool slightly then pour into the mixture (image 3 above) and mix lightly to combine.
Whisk the egg whites until they form soft peaks and then gently fold into the mixture (image 4 above).
Step 4 – Add any additional ingredients (optional)
This is the step that you would add the additional ingredients, ie bananas, for sweet waffles, or potato and onion for hash browns.
Cook the waffles
I've been using my battered old waffle maker for years. I'm sure there are better models on the market now, but this one does the trick for me. It doesn't stick, and it has an adjustable temperature control so I never have to worry about burning the waffles.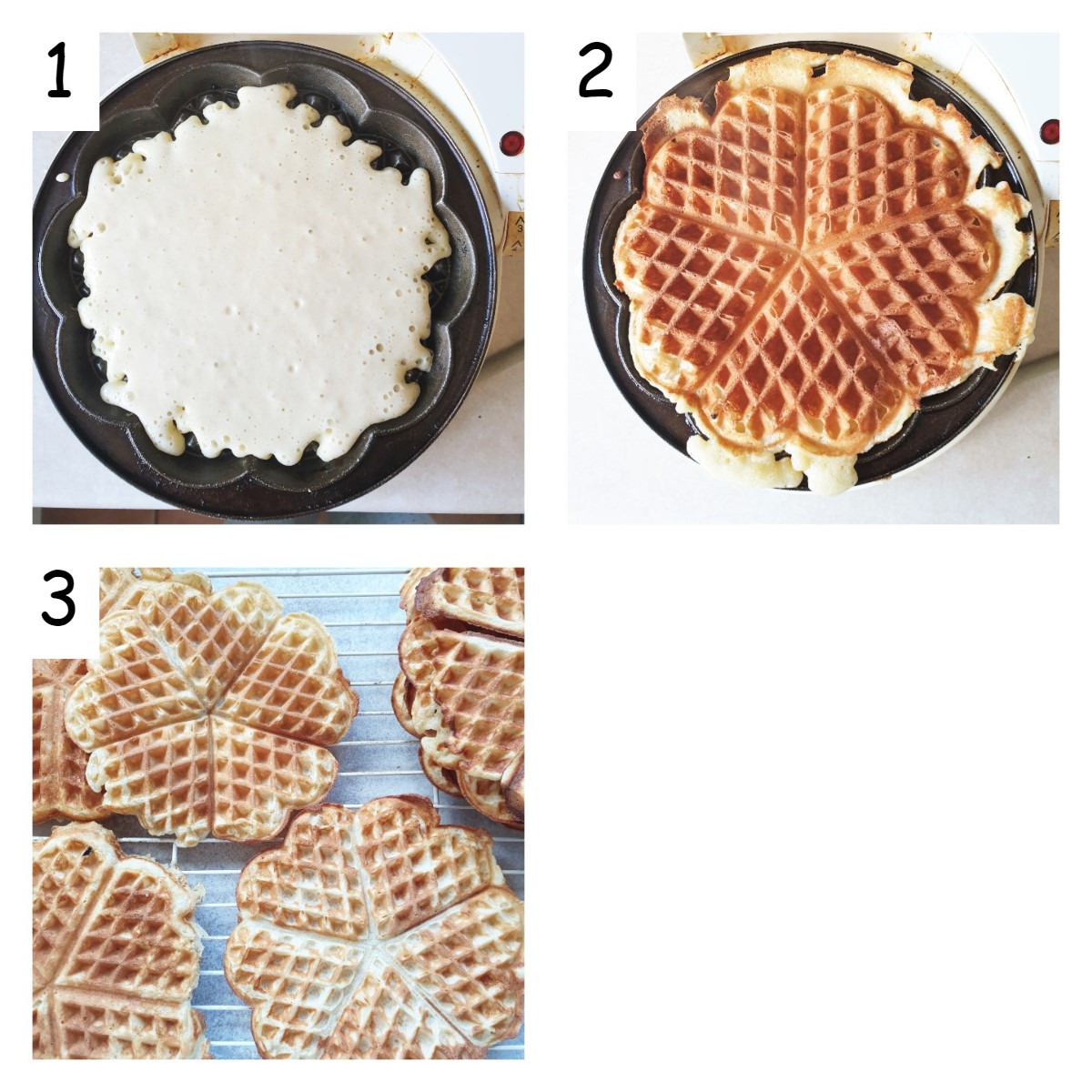 Step 1 – Add the batter
Stary by pouring a small amount of batter onto a pre-heated waffle maker.
The waffle maker should be hot and you should hear a sizzle when you add the batter. Take care not to add too much batter. The batter expands on heating and it will overflow down the side of the waffle maker if you add too much batter.
My waffle maker does not stick so I do not use any oil. You may want to spray yours with a little cooking spray to prevent the waffles from sticking.
Step 2 – Leave to cook and brown
Close the waffle maker and allow the waffle to cook through.
Try to resist the temptation to open the waffle maker too soon. The batter will stick to the top and bottom plates if you open it too quickly, and tear the waffle in half. Leave it for at least 90 seconds and then open very slowly. The waffle will be done when the waffle maker opens without sticking.
If the waffle does stick to the top lid, use a blunt knife to carefully loosen the edges around the top. The waffle should easily put away from the lid.
It the waffle is not crispy enough, leave it in the waffle maker for a few seconds longer.
Step 3 – Remove to a wire rack
Remove the cooked waffle and place it on a cake rack to cool.
Don't stack hot waffles one on top of the other or the steam will cause them to soften.
If you are making for a crowd, keep them warm, in a single layer, on an oven rack at a low temperature in the oven.
Tips for the perfect waffle
Here are couple of things to bear in mind when making waffles:
Don't let the batter become too thin or it will just overflow out of the waffle maker and make a huge mess.
Don't over-fill the waffle maker. The batter expands as it cooks and if you over-fill, the batter will just run out of the sides.
Try to use a waffle maker with a temperature control. If you don't have a temperature control the waffle maker will get too hot and the waffles may burn
Don't overmix the batter. A few small lumps are fine. Overmixing will cause excessive gluten formation, which will result in tough chewy waffles, as opposed to light crispy ones.
Don't stack hot waffles one on top of the other – this will result in them losing their crispness.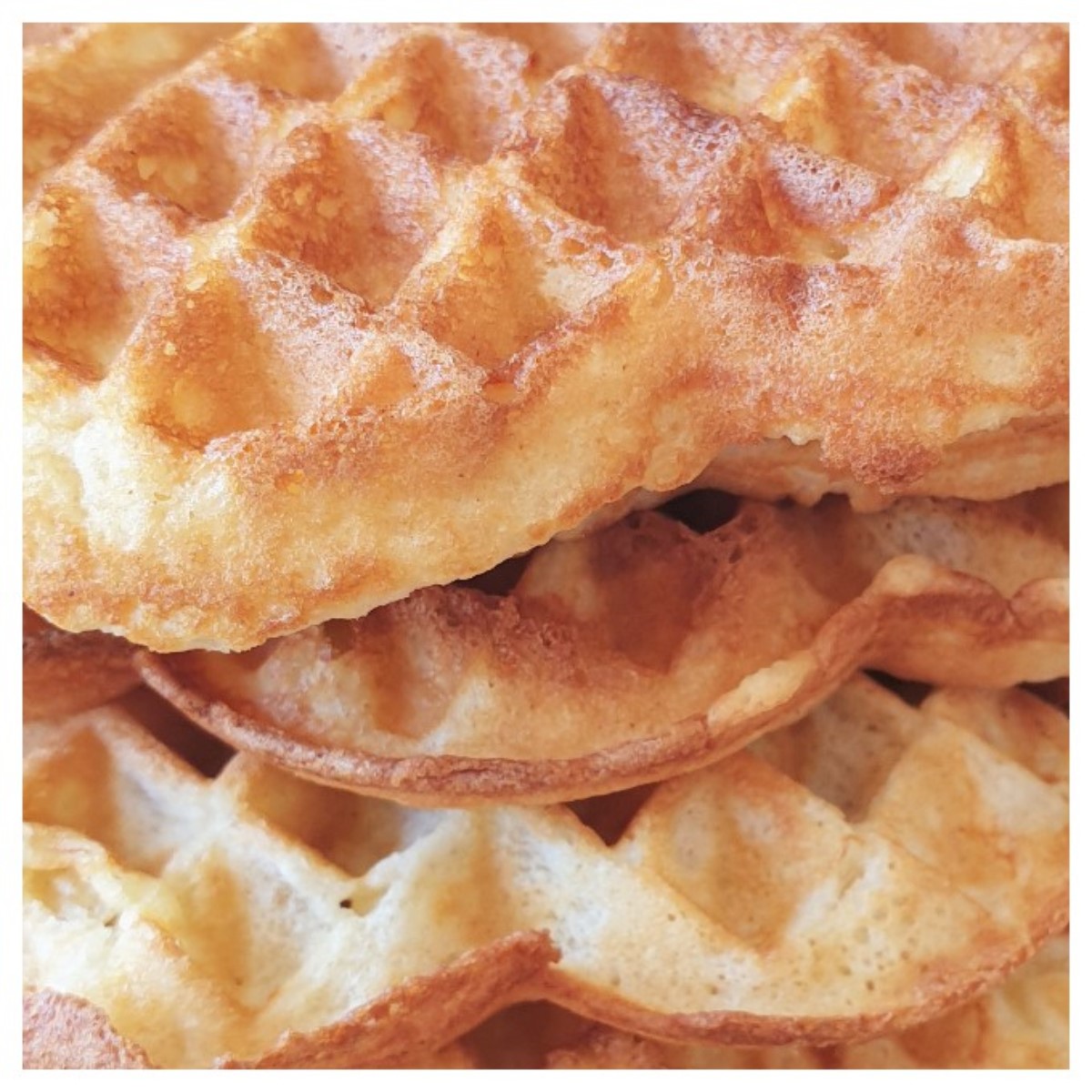 FAQ
Can I freeze waffles
Waffles are best eaten fresh, but you can freeze them in a Ziploc bag in your freezer.
To use, let them defrost in the fridge. Then place in a single layer on a tray in a hot oven for a couple of minutes.
This will crisp them up, although they won't be quite as crispy as freshly-made waffles.
Can I double the recipe?
Yes, if you want to make a double batch just double up all the ingredients
What's the difference between waffles and pancakes?
Pancakes and waffles both contain eggs, milk and flour, but waffles also contain sugar and fat (melted butter) which helps in forming the crisp exterior.
Pancakes are cooked on one side and then flipped to cook the other side, whereas waffles are cooked on both sides at once.
The texture of a pancake is different to a waffle in that a pancake is soft and floppy, whereas a waffle is crispy.
A pancake batter is normally thinner than a waffle batter.
If you'd like to be notified of any new recipes, why not subscribe to my newsletter? As a thank-you gift, you will receive a free recipe e-book containing some of my most popular cakes and desserts.
Watch how to make Waffles
Pin for later
Why not pin this recipe for waffles and save it to make later. Just click the image below.
Recipe – Homemade Waffles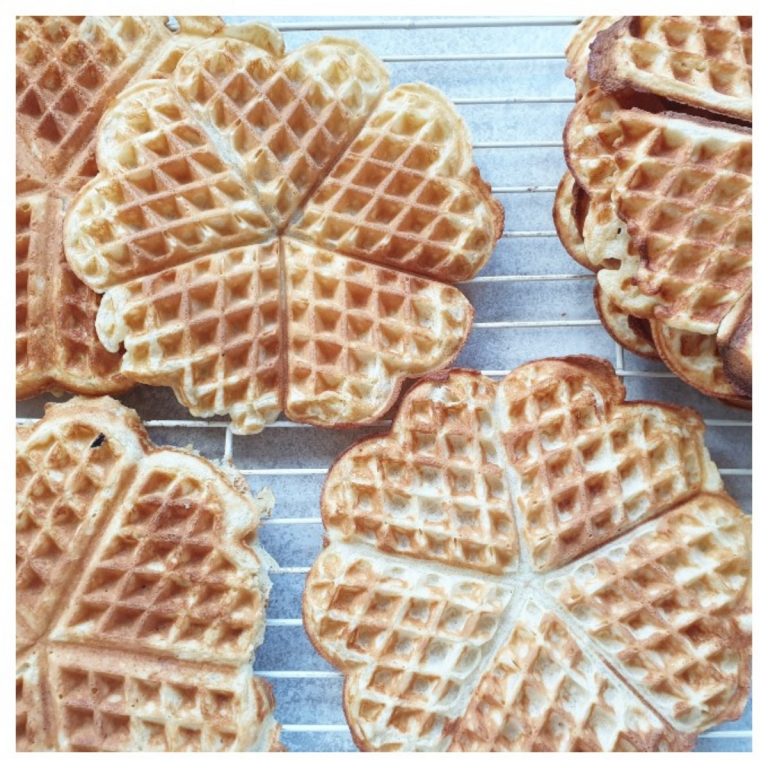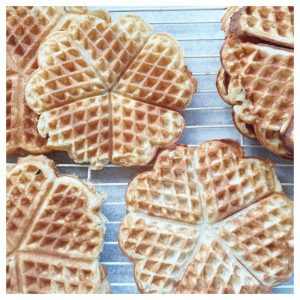 Homemade Waffles
Have you ever thought how easy it is to make homemade waffles? And how versatile they are? Crispy on the outside, light and fluffy on the inside. Add some grated potato and onion for instant hash browns; or mix in mashed bananas for a sweet treat.
Print
Pin
Comment
Bookmark
Saved!
(Click the stars to rate this recipe)
Ingredients
2

cups

(

280g

) Plain Flour

2

teaspoons

Baking Powder (level)

½

teaspoon

Salt

6

tablespoons

(

75g

) Sugar

2

cups

(

1

pint) Milk

2

large

Eggs

separated

½

cup

(

115g

) Butter (melted)
Instructions
Mix the dry ingredients (flour, baking powder, salt, sugar) together in a large mixing bowl.

Melt the butter in a small bowl in the microwave and allow to cool.

Pour

2

cups of milk into the flour mixture, add the egg yolks and whisk until there are no lumps.

Add the melted butter to the milk and flour and whisk together to combine.

Whisk the egg whites until stiff and fold gently into the batter.

Put a small amount of mixture into a pre-heated waffle maker and allow to cook until golden brown.

Remove from waffle maker and place on a cake rack to cool.
Notes
Allow the melted butter to cool before slightly before mixing into the milk and flour mixture. 
If you are making savoury waffles then omit the sugar.
Do not overfill the waffle-maker.  The mixture will spread when you close the lid, and will ooze out of the sides of the waffle-maker if you have used too much batter.
The waffles are done when you can open the lid of the waffle-maker without the mixture sticking to the plates.
Do not stack hot waffles on top of each other – the steam inside will cause them to go soggy.  Place them on a single layer on a metal cake rack to cool and they will stay crispy.
Calories have been calculated for one waffle, using the basic recipe without any additional ingredients.
Nutrition
Calories –
245
kcal
|
Carbohydrates –
28.8
g
|
Protein –
5.5
g
|
Fat –
12.4
g
|
Saturated Fat –
7.4
g
|
Cholesterol –
68
mg
|
Sodium –
227
mg
|
Potassium –
171
mg
|
Fiber –
0.7
g
|
Sugar –
9.9
g
|
Calcium –
113
mg
|
Iron –
1
mg
I am not a nutritionist. The nutrition information has been calculated using an on-line calculator, and is intended for information and guidance purposes only. If the nutrition information is important to you, you should consider calculating it yourself, using your preferred tool.
Unless otherwise stated, a cup is the standard US cup containing 240 ml. In all my recipes this cup is assumed to hold 140g of flour. For help converting other ingredients between cups, grams, ounces and other measures, see my recipe conversion calculator.
All my recipes are developed and tested at sea-level. For tips on adjusting recipes for high altitudes see my post on baking at high altitudes.
Tried this recipe?
If you made this recipe I'd love it if you could leave me a comment and let me know how it went!
Share on Facebook
Share on Twitter
If you made this recipe and enjoyed it, I'd love it if you could give me a star rating in the comments below. And if you'd like to get in touch, you can email me at [email protected]. I'd love to hear from you. And don't forget to subscribe to my mailing list so you can grab yourself a copy of my FREE COOKBOOK!
If you'd like to continue browsing, just click on this link to all my recipes.