You can't go wrong with a meal of easy homemade fish cakes! Everyone loves them, even the fussiest eater. And what's not to love? Chunks of flaky fish mixed with creamy mashed potatoes, in a crispy crunchy coating. Serve with a salad for a light lunch or team with peas and chips for a more substantial supper. Either way, this is a winner!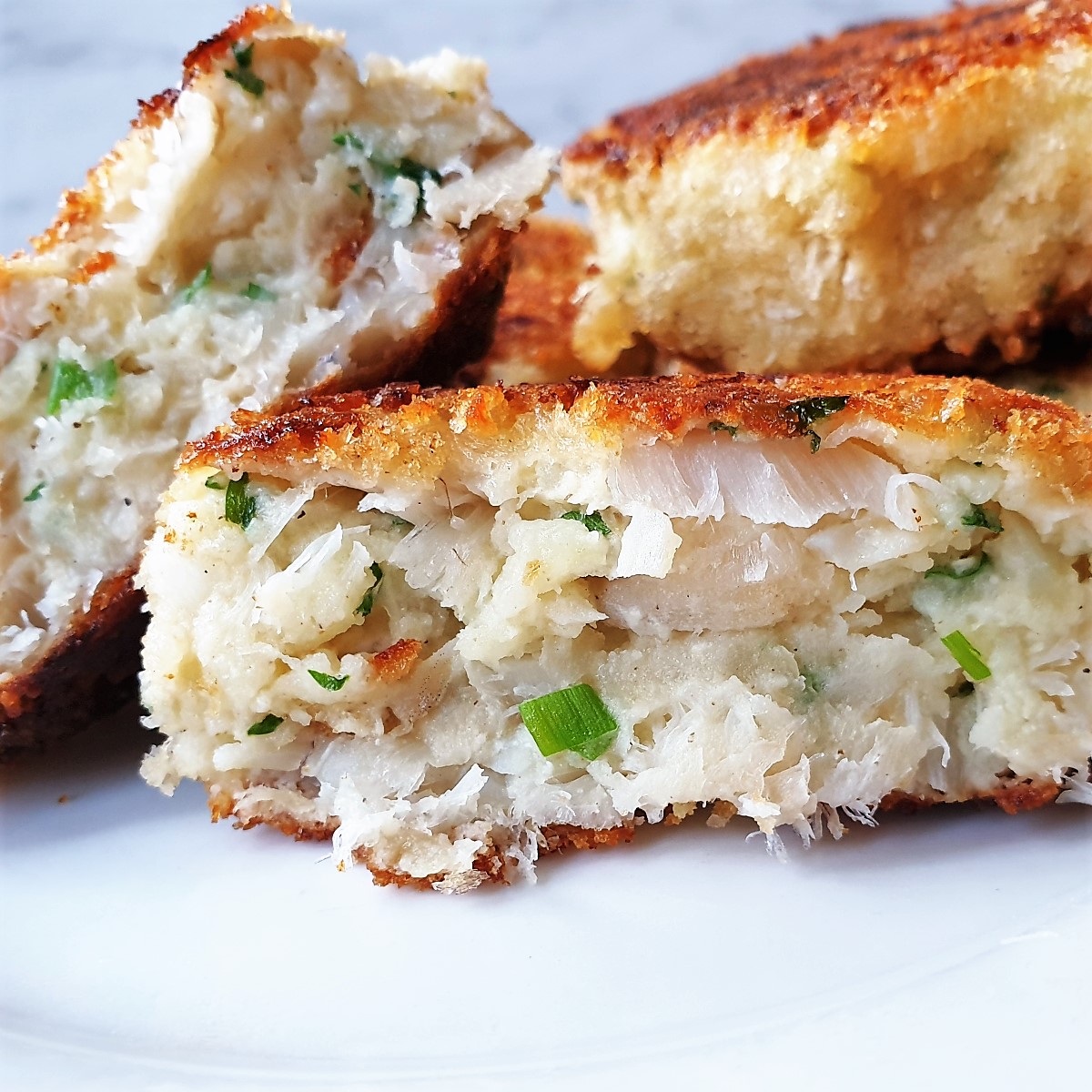 Easy homemade fish cakes
Fish cakes are said to have originated in the 19th century in England as a way of using up left over fish and potatoes. However, a quick search on widipedia shows that every country has its own version of fish cakes. In China, for example, fish cakes have been popular for over 4000 years.
For this recipe though, I'm sticking to the original English version, first published by Mrs Beeton in her Book of Household Management in 1861.
INGREDIENTS.—The remains of any cold fish, 1 onion, 1 faggot of sweet herbs; salt and pepper to taste, 1 pint of water, equal quantities of bread crumbs and cold potatoes, 1/2 teaspoonful of parsley, 1 egg, bread crumbs.

MODE .— Pick the meat from the bones of the fish, which latter put, with the head and fins, into a stewpan with the water; add pepper and salt, the onion and herbs, and stew slowly for gravy about 2 hours; chop the fish fine, and mix it well with bread crumbs and cold potatoes, adding the parsley and seasoning; make the whole into a cake with the white of an egg, brush it over with egg, cover with bread crumbs, and fry of a light brown; strain the gravy, pour it over, and stew gently for 1/4 hour, stirring it carefully once or twice. Serve hot, and garnish with slices of lemon and parsley.

Title: The Book of Household Management
Author: Mrs. Isabella Beeton
As you will see, I've adapted the recipe slightly 🙂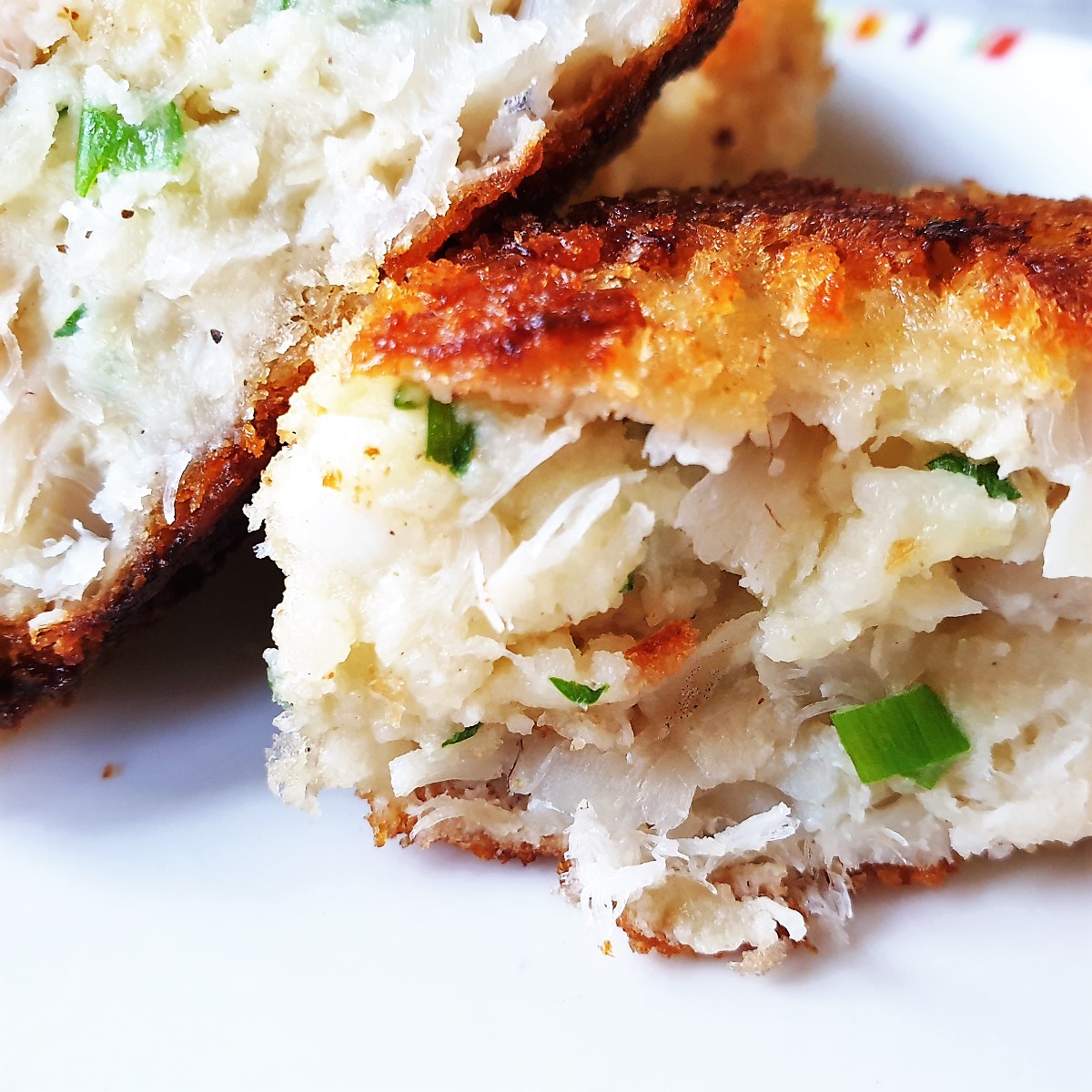 A good fish cake has to contain large pieces of flaked fish. Minced fish just doesn't taste the same. The big secret to the perfect fish cake is the crispy coating. You get this by using panko breadcrumbs, which for those of you who don't know, are special dried Japanese breadcrumbs, which have a much crispier texture than normal breadcrumbs. If you can't get hold of these through, you could just toast your own breadcrumbs lightly in the oven before using.
So let's get on to the real recipe!
How to make crispy fish cakes
For exact quantities and instructions, see the printable recipe card at the end of this post.
You will need some fillets of white fish which will be poached gently in milk until they just start to flake. Any firm white fish such as cod, haddock, pollock or hake will be suitable. Don't use an oily fish such as mackerel or sardines. For 6 large fish cakes you will need about 250g of fish.
If you have leftover mashed potatoes you can use these, otherwise just boil up a couple of potatoes and mash them and allow to cool before mixing with the fish. For 6 fish cakes you will need about 1 cup of mashed potatoes.
For colour and extra flavour you will need some finely chopped spring onions and parsley, and a small amount of salt.
To bind the whole lot together you will need a beaten egg.
And finally, for the coating you will need flour, beaten egg and your choice of breadcrumbs. I use panko breadcrumbs because I like the crunch they provide. If you prefer you can just grate a couple of slices of day-old bread. For extra crunch you can spread the crumbs on a baking sheet and place in a hot oven for a few minutes to allow them to dry out. Keep your eye on them though because they burn easily. Allow to cool before using.
Step-by-step instructions
Prepare the fish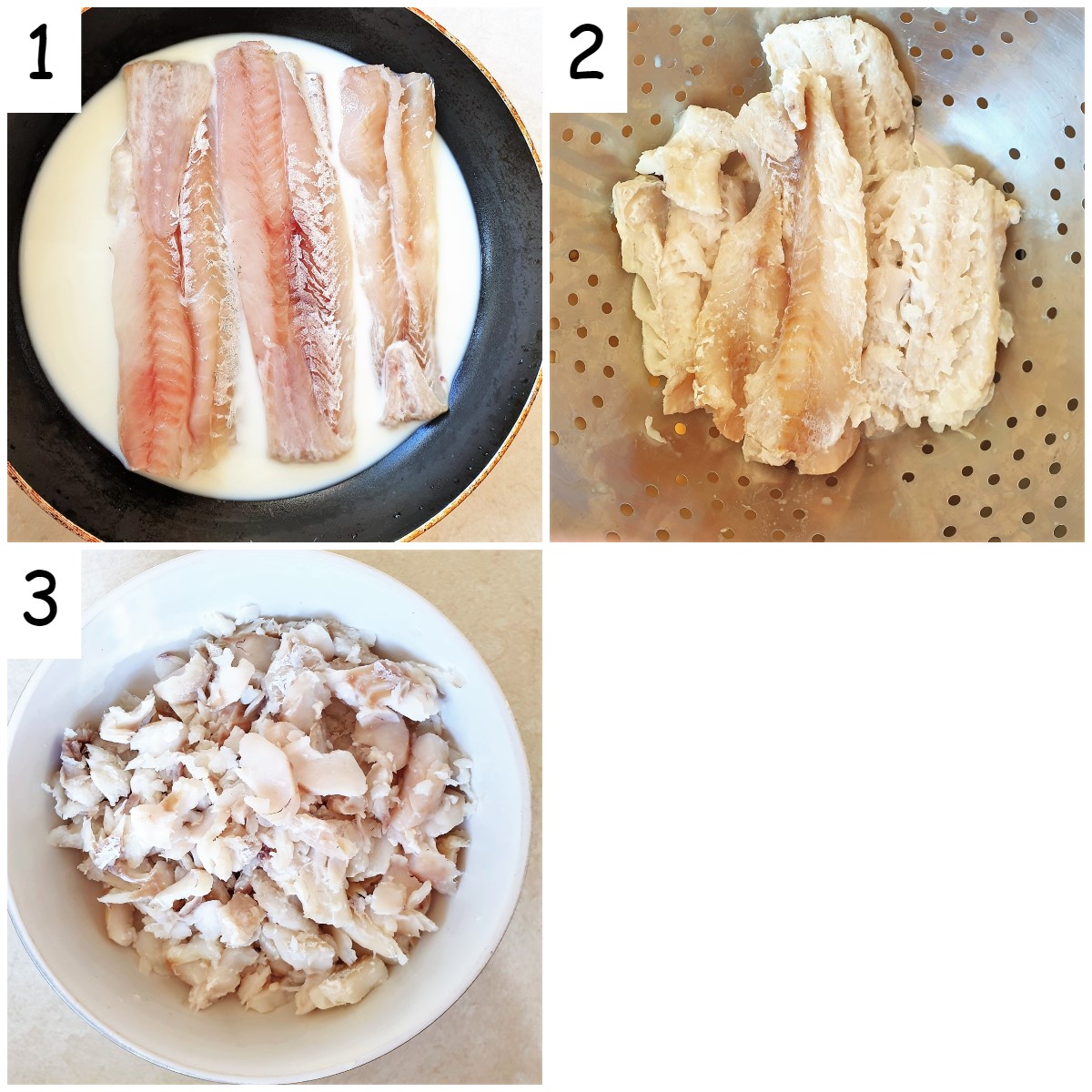 If the fish if frozen, allow it to defrost first.
Place the defrosted fish in a saucepan containing about 1/2″ of milk, bring to the boil and then reduce the heat and simmer until the fish starts to flake. Depending on the size of your fillets this could take between 5 and 10 minutes.
Drain the cooked fish in a colander and then break it up with a fork into large flakes.
Form the fish cakes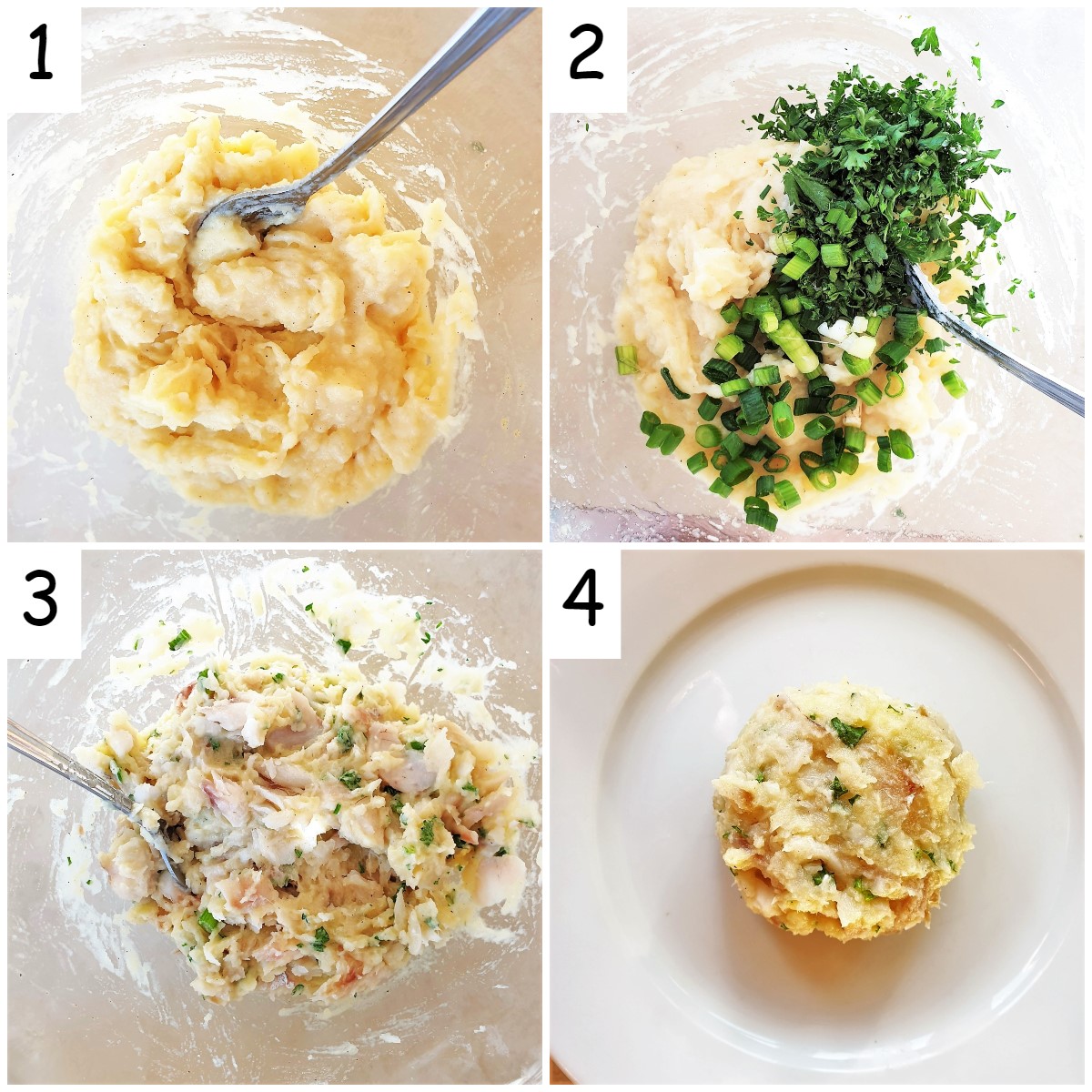 Place the mashed potato into a bowl, break in an egg, season with salt and freshly ground black pepper and mix well.
Finely chop the spring onion and parsely and mix into the egg and potato mixture.
Add the fish and mix gently, taking care not to break up the flakes.
Form the mixture into round cakes
Coat the fish cakes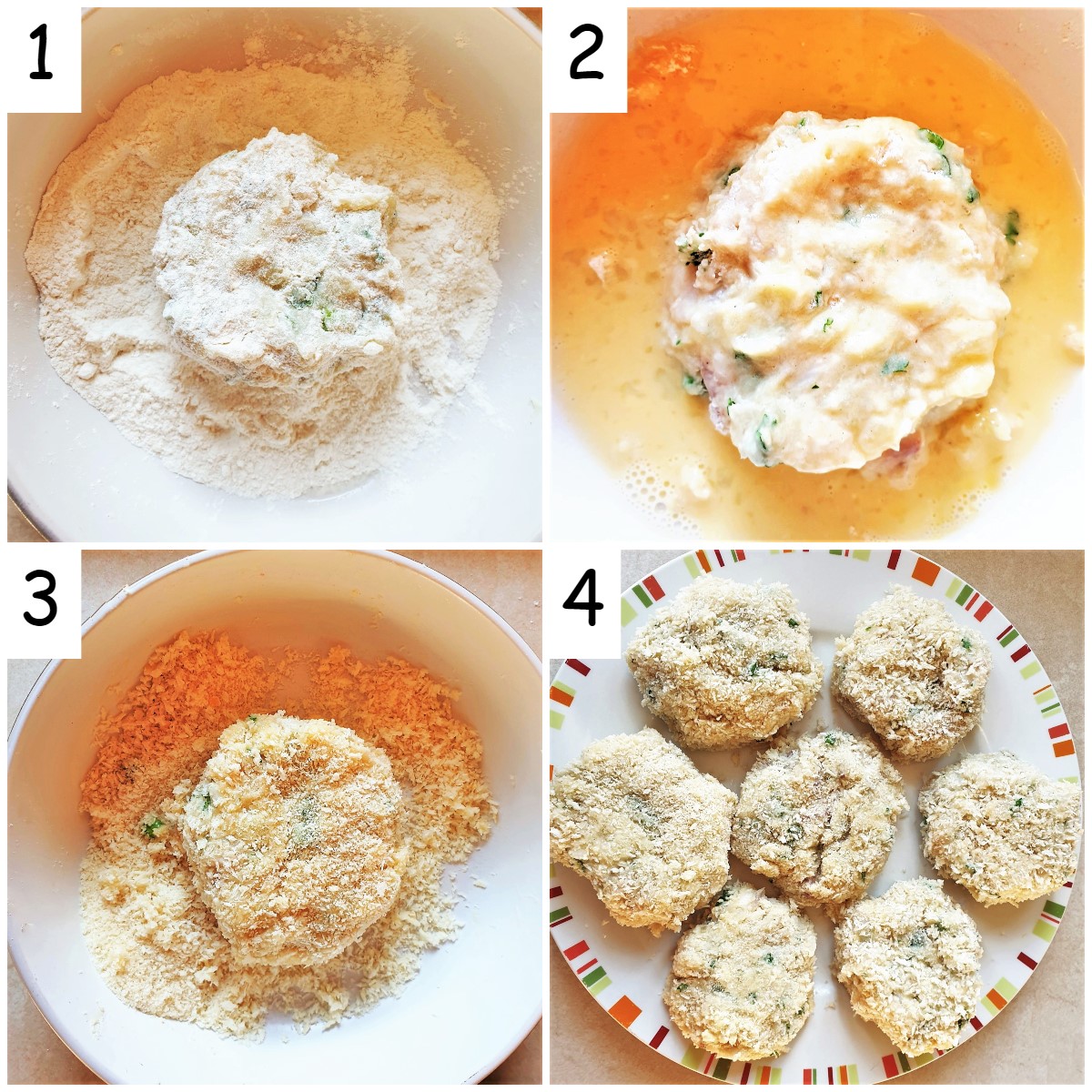 Prepare 3 dishes – one containing about 3 tablespoons flour seasoned with salt; one containing a beaten egg, and and the third containing the breadcrumbs.
The amount you will need depends on the number of fish cakes you are making. You will need sufficient to coat each cake. 1 egg will coat about 6 fish cakes.
Carefully dip each fish cake in flour and shake off the excess. Handle carefully – these fish cakes are quite fragile. You may need a flat knife or a spatula to help you move them from dish to dish.
Now dip each flour-coated fish cake in beaten egg.
Finally cover with a layer of breadcrumbs, patting down firmly so that the breadcrumbs stick to the fish cake.
Transfer to a plate and leave in the fridge to firm up for about 30 minutes.
Fry the fish cakes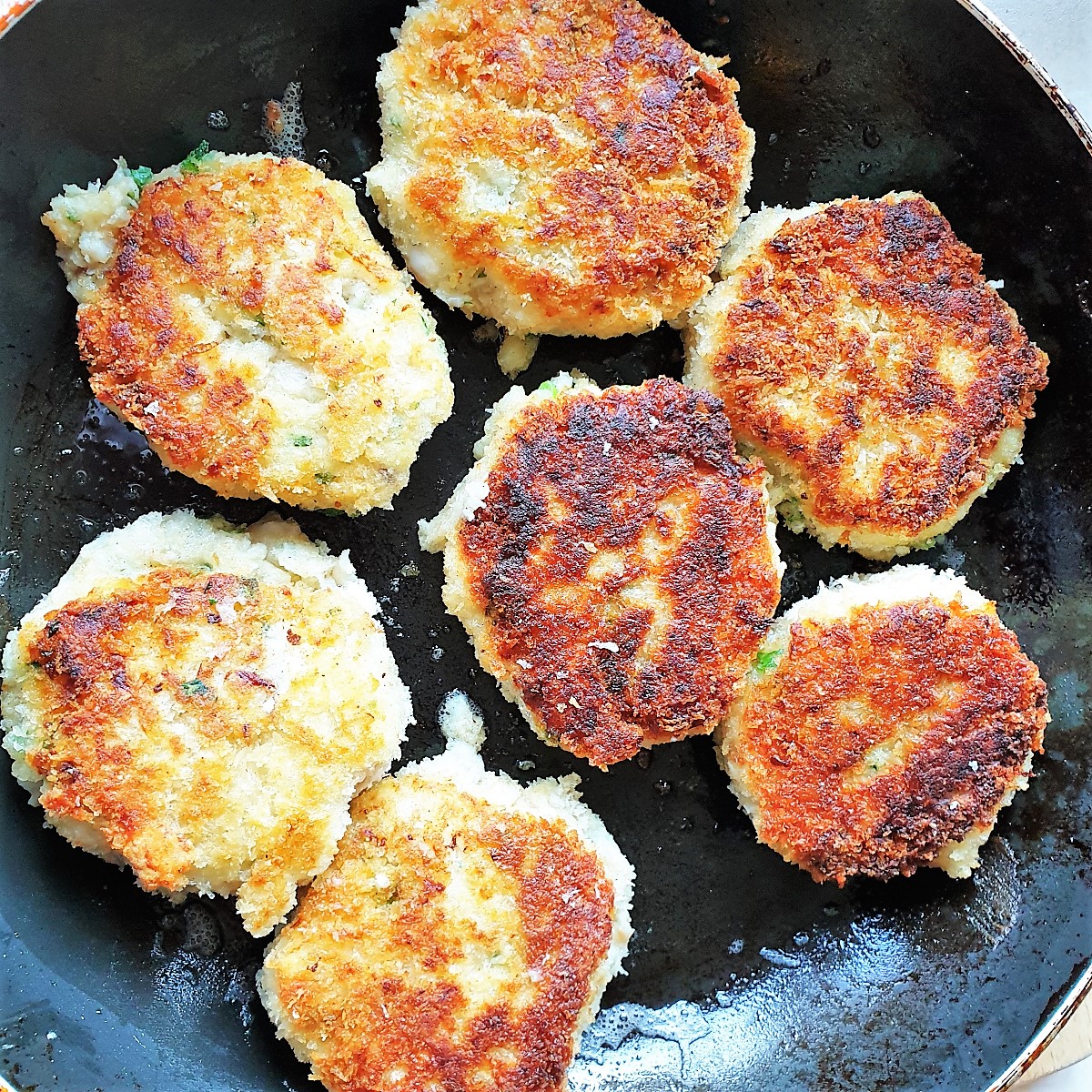 Heat about 1/2″oil in a frying pan and fry the fish cakes on one side until brown.
You may want to use a spatula to place the fish cakes in the oil.
Once brown, turn the fish cakes over using a spatula and brown on the other side.
You only need to fry these long enough for the breadcrumbs to brown and turn crispy, and it should take about 3 minutes per side. The fish and potato mixture has already been cooked, so just needs to be in the pan long enough to heat through.
Remove from the oil and drain on kitchen paper.
How do I serve these homemade fish cakes?
You can serve these easy fish cakes for lunch with a simple lettuce and tomato salad or serve them to your family as an quick supper with crispy fries or scalloped potatoes and peas.
If you make them a little smaller, they even make a great starter, with a bowl of tartar sauce for dipping.
I also like to serve them inside a hamburger bun with a slice of tomato, a little shredded lettuce and a drizzle of mayonnaise or ranch dressing , and serve as a fish burger.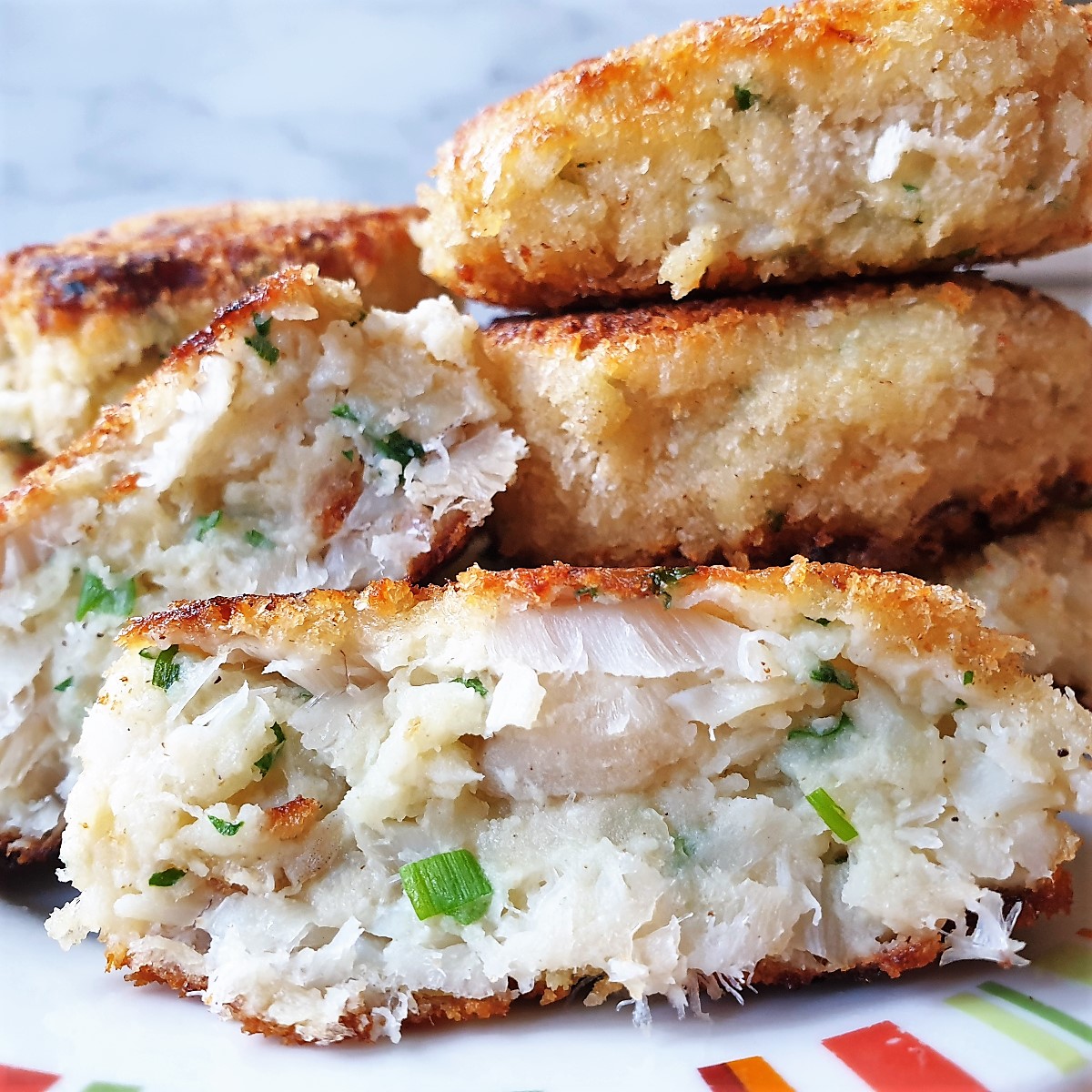 Can I freeze fish cakes?
You certainly can freeze these fish cakes. In fact, I normally double the recipe and freeze half for another meal. These little fish cakes are so handy to have on standby for when you want a quick and easy meal.
Once you have coated and crumbed the fish cakes, place them in a single layer on a baking sheet.
Place this in the freezer and leave until the fish cakes are frozen solid.
Then transfer them to a ziploc bag and freeze for up to 6 months.
To use, remove from the freezer and fry from frozen. Keep the heat quite low so that the inside has time to defrost and heat through completely before the outside browns.
You could also let them defrost in the fridge first, before frying.
If you want to keep up-to-date with my latest recipes why not follow along on Facebook or Pinterest. And don't forget to subscribe to my mailing list so you can get your FREE COOKERY BOOK
Convert grams to cups
To help you convert your recipes, I have created a handy Cookery Conversion Calculator which will convert ingredients between grams, ounces, tablespoons, cups and millilitres. I hope you will find it useful.
If you live at a high altitude you may find you need to adjust your baking recipes to compensate for this. You can read about how to do this in this post on baking at high altitudes.
Pin for later
Why not pin this recipe to your pinterest board so you can make it later. Just click the image below.
Recipe – Easy homemade fish cakes with a crispy coating
Easy homemade fish cakes
Flaked fish and mashed potato cakes in a crispy crunchy batter
Equipment
Frying Pan

Mixing bowl

Flat dishes to hold coating
Ingredients
250

g

white fish fillets (cod, haddock, pollock, hake)

1

cup

leftover mashed potato

2

tablespoons

spring onion

finely chopped

2

tablespoons

parsley

finely chopped

1

large

egg

1

cup

milk

approximately

salt to taste

50

ml

sunflower oil

for frying the fish cakes
For the coating
3

tablespoons

plain flour

1

large

egg

150

g

panko breadcrumbs (or grated bread,toasted)
Instructions
Place the milk in a frying pan and add the fish fillets

Poach gently for between 5 and 10 minutes until the fish starts to flake and is cooked through

Remove the fish from the pan and drain in a colander

Place the mashed potato in a bowl, season with salt and break in 1 egg.

Mix thoroughly to combine

Finely chop the spring onion and parsley and mix in to the potato.

Add the flake the fish with a fork and mix gently into the potato taking care not to break up the flakes.

Using your hands, form the fish into 6 patties

Place the ingredients for the coating into 3 separate bowls, mix a little salt into the flour and lightly beat the egg.

Dip the fishcakes into the flour, then into the egg, and finally press into the breadcrumbs.

Place the fishcakes in the fridge for approximately 30 minutes to firm up.

Heat the sunflower oil in a frying pan then, using a spatula, carefully lower the fish cakes into the hot oil.

Fry gently (don't allow the pan to become too hot) until the underside of each fish cake is brown and crispy, then carefully turn the fish cakes over and fry the other side.

Remove from the pan and allow to drain on kitchen paper.
Notes
When forming the patties, it helps to keep your hands wet.  This prevents the fish cake mixture sticking to your hands.
If you don't have panko breadcrumbs, you can make your own breadcrumbs by grating slices of day-old bread.  If you want to make the fish cakes extra crispy, you should spread the breadcrumbs onto a baking sheet and place in a hot oven to dry out for a few minutes.  Keep your eye on them – they burn easily.
Nutrition is per fish cake, and does not allow for the fact that all oil will not be absorbed during cooking.
I am not a nutritionist. The nutrition information has been calculated using an on-line calculator, and is intended for information and guidance purposes only. If the nutrition information is important to you, you should consider calculating it yourself, using your preferred tool.
If you made this recipe and enjoyed it, please don't forget to give me a star rating in the comments below. And if you'd like to get in touch, you can email me on foodleclub1@gmail.com. I'd love to hear from you. And don't forget to subscribe to my mailing list so you can grab yourself a copy of my FREE COOKBOOK!
If you'd like to continue browsing, just click on this link to all my recipes.