Succulent chicken thighs with a crispy paprika flavoured skin on a bed of buttery, garlic flavoured rice combine to form this garlic chicken tray bake. This is the ideal no fuss lockdown supper the whole family will love. It cooks in half an hour and because it's made in only one dish, there's less washing up!!!!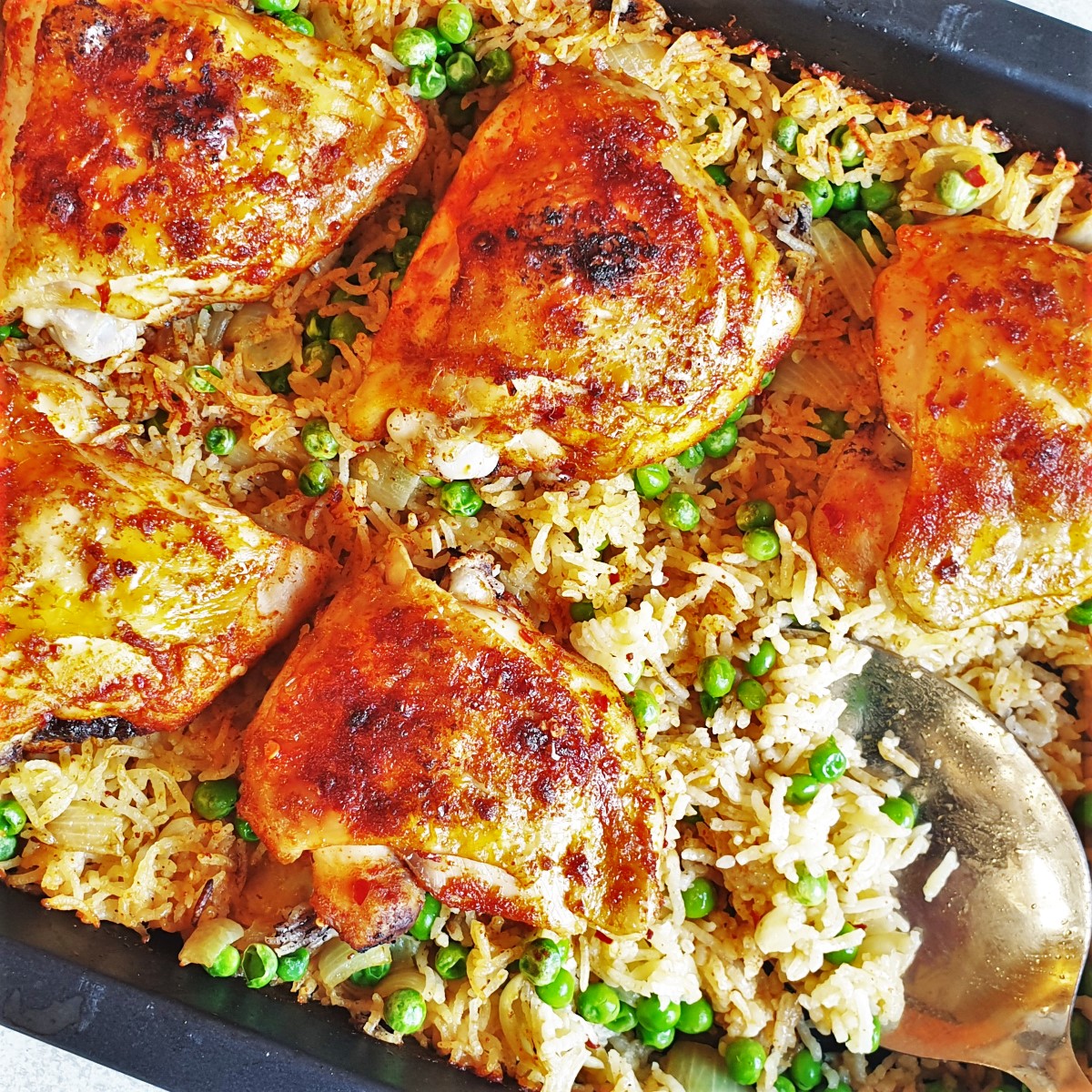 Garlic chicken tray bake
Buttery, garlic flavoured rice and succulent chicken thighs are the star of the show in this quick and easy supper. And because it's all baked in one pan in the oven, there's minium fuss and minimum washing up afterwards.
The chicken bakes to juicy, fork-tender perfection, with a deliciously crispy skin. The rice is fluffy and light, with buttery, garlic flavour, and crunchy bits around the edges, which to my mind is the best bit!
Now you could just mix all the ingredients in the roasting pan and put it straight into the oven. It will still taste good, but there are two things I do that make all the difference to the taste, and elevate it from just nice to simply amazing.
What are the secrets?
The first secret to this dish is in the butter. The onions are baked in butter in the oven until they are golden. Then the rice is mixed in and coated with the onion flavoured butter before the rest of the ingredients are added. Believe me, this makes all the difference and give the rice it's lovely buttery taste. Of course, you could fry the onions in a pan on the stove first, but then you'd have an extra pan to wash up 🙂
The second secret is the spice rub. The chicken pieces should be liberally coated with a mixture of spices. This not only flavours the chicken and gives it the lovely crispy flavoured skin, but it also soaks into the rice for extra taste.
And as this dish contains not only chicken and rice, but also peas and onions, you won't be needing any side dishes. All I serve this with is a bowl of fresh cherry tomatoes.
In case you are wondering about cooking rice in the oven, this dish was actually inspired by my oven-baked rice. Rice cooks perfectly in the oven, and turns out fluffy and light, with every grain perfectly separated.
So without further ado, let's get on with the recipe for my garlic chicken tray bake.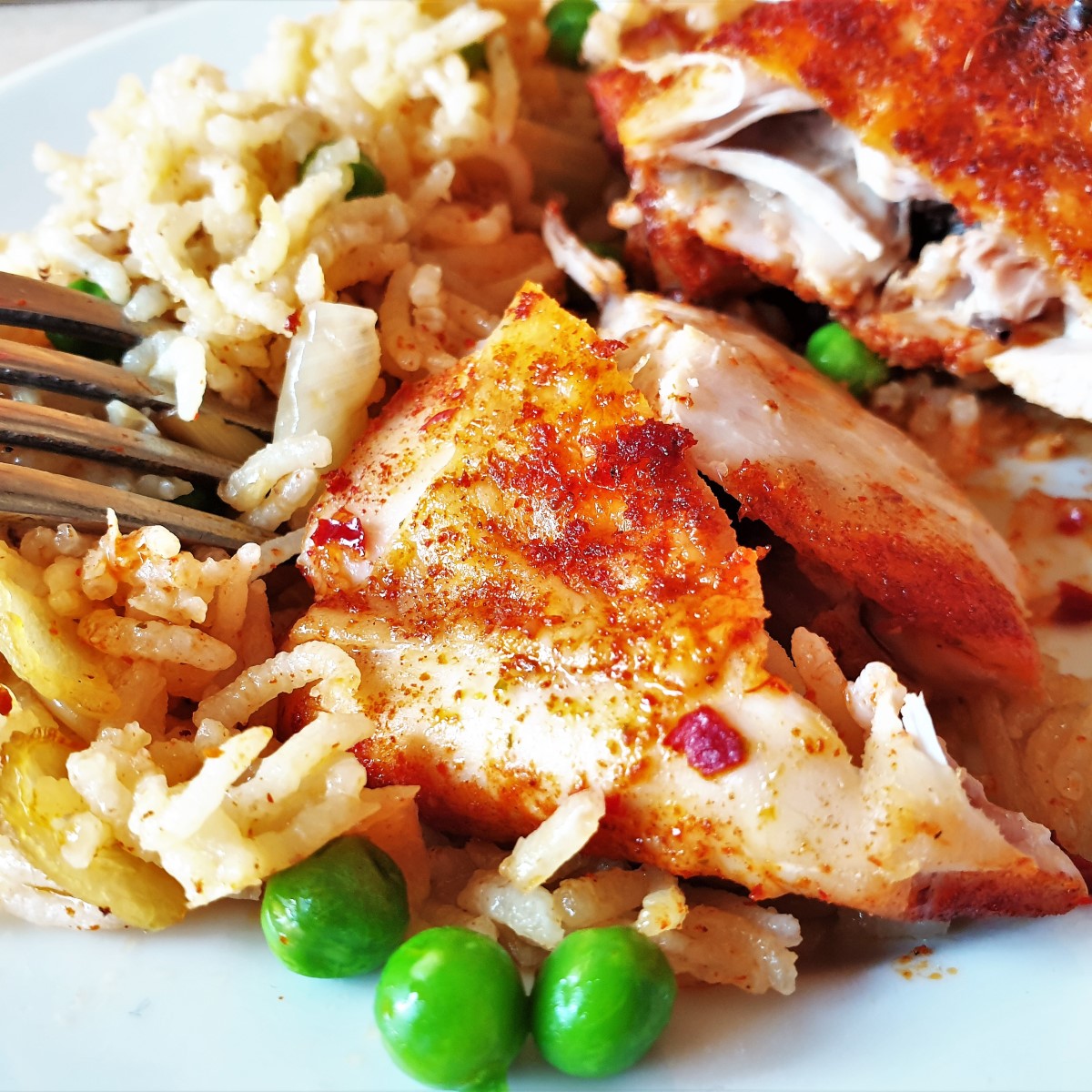 How to make garlic chicken tray bake
Ingredients
This recipe will feed a family of 4, and you can easily adapt it to feed more by just increasing the amount of rice and chicken. Get the complete recipe from the printable recipe card at the end of the post. I've allowed 2 thighs per adult and 1 thigh per child, just add more or less meat according to your needs.
You will need 6 chicken thighs with all excess skin and visible fat removed. Just leave the top piece of skin on the chicken.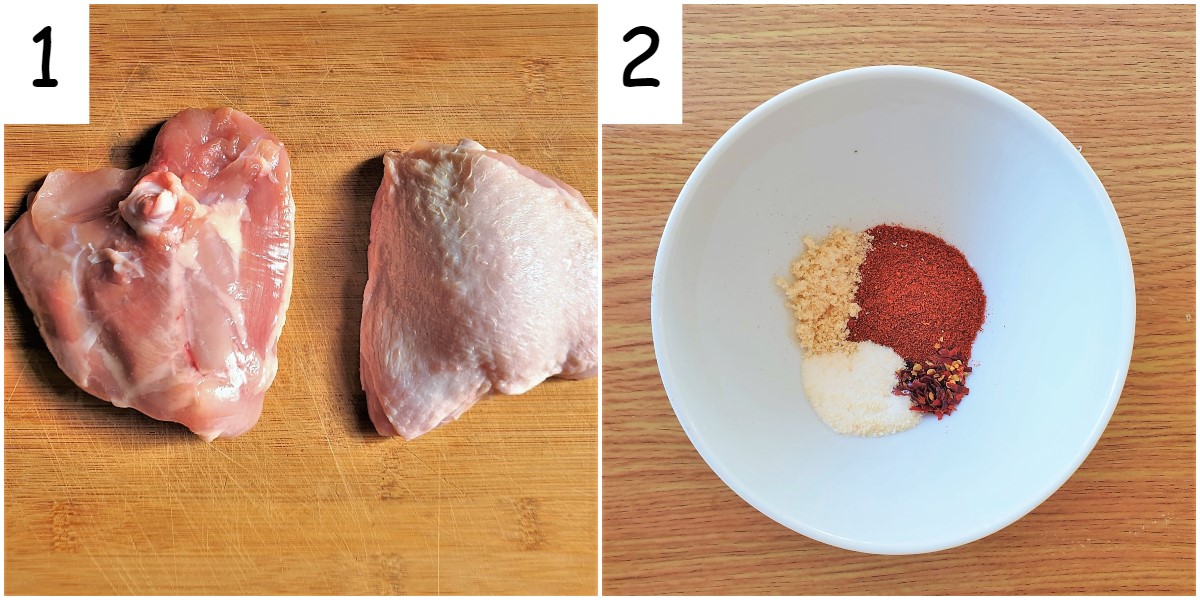 You will also need a couple of medium sized onions, which are finely diced, and 2 cloves of minced garlic. You can use garlic from a jar if you don't have fresh. And don't forget the butter for browning the onions.
I used white basmati rice, but you can use any long-grained rice. Just don't use the quick-cook rice because it will go stodgy due to the time this dish takes to cook. You want rice that will cook in the same time as the chicken takes to cook. One cup of dried rice is enough for 4 people. If you increase the quantity of rice you should also increase the stock accordingly. You need 2 cups of stock for every cup of rice. If you use salt in your diet, you can also ad 1 teaspoon salt to the rice.
For the spice rub you will need onion salt, garlic salt, paprika and a small amount of dried chilli flakes. Don't add too much chilli or it will dominate the flavour of the finished dish, 1/2 a teaspoon will be ample.
A cup of frozen pea should be stirred through the rice once it is cooked.
The final ingredient is the chicken stock. If you want to increase the quantities you will need 2 cups of chicken stock for every cup of rice.
Step-by-step instructions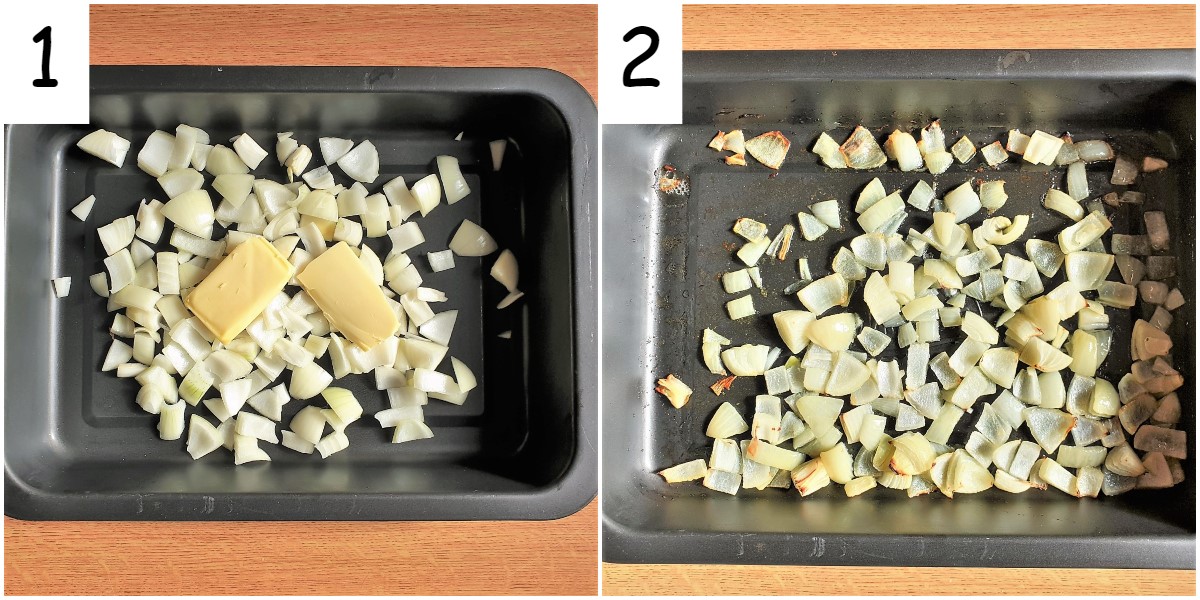 Chop the onions finely and place in a deeo roasting pan with the butter. You will need a pan approximately 9″ x 12″ (23cmx 30cm) in size.
Put in a pre-heated oven (200F / 400C) for about 5 minutes and leave to brown. Keep your eye on them, they burn easily. If they are not browned after 5 minutes leave them for another minute or two.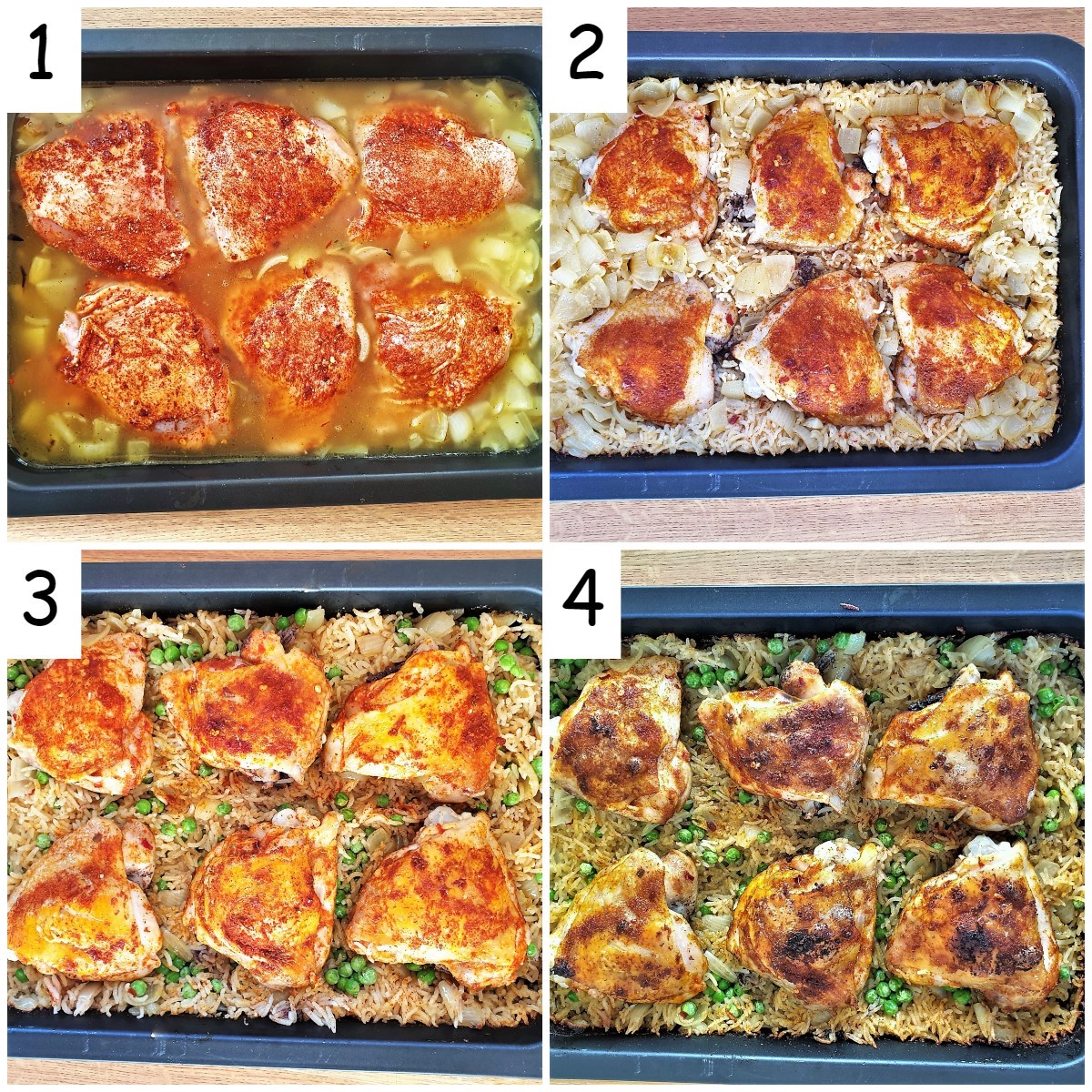 Assemble the dish
Remove the onions from the oven and stir in the rice. Mix well to coat each grain with the butter.
Now add the chicken stock, and salt if you are using it, and stir well.
Mix all the spices together in a dish and coat each piece of chicken on both sides. Rub the spices well into the skin of the chicken.
Arrange the chicken SKIN SIDE UP onto the rice/stock mixture.
Cover the dish tightly with tinfoil and bake for 25 minutes (200F / 400C). Do not leave for longer or the rice will be overcooked and become mushy.
After 25 minutes remove the dish from the oven and remove the tinfoil. All the stock should have been absorbed and the rice will be cooked and fluffy.
Using a pair of tongs lift the chicken off the mixture and stir in the peas.
Replace the chicken.
Place the uncovered dish in the middle of the oven, under a hot grill, for about 5 minutes to allow the skin to crisp. Keep your eye on it so it doesn't burn.
Serve with a dish of fresh cherry tomatoes.
Variations
You don't have to use chicken thighs if you don't want to. This dish will work just as well with chicken drumsticks, or even chicken breast. However, if you are making this dish with skinless chicken breasts it would be best to leave it in the oven for 5 minutes longer and skip putting it under a hot grill (bcause there is no skin to crisp).
You can also vary the vegetables.
Add a handful of button mushrooms along with the stock.
Swap the onions for leeks, or even add chopped red peppers with the onions. Chicken and leeks go so well together. If you enjoy leeks, you may enjoy this chicken and leek pie.
Instead of peas, why not add broccoli florets to the stock, or chopped green beans. You can add any vegetable, as long as you are sure it will cook in 25 minutes, which is the length of time the dish will be in the oven.
Can I freeze this chicken tray bake?
Rice freezes really well. Pack any leftover rice into freezer containers or ziploc bags and freeze for up to six months.
Store any leftover chicken in a covered container in the refrigerator for up to 3 days.
If you want to keep up-to-date with my latest recipes why not follow along on Facebook or Pinterest. And don't forget to subscribe to my mailing list so you can get your FREE COOKERY BOOK
Convert grams to cups
To help you convert your recipes, I have created a handy Cookery Conversion Calculator which will convert ingredients between grams, ounces, tablespoons, cups and millilitres. I hope you will find it useful.
If you live at a high altitude you may find you need to adjust your baking recipes to compensate for this. You can read about how to do this in this post on baking at high altitudes.
Pin for later
Why not pin this recipe to your pinterest board so you can make it later. Just click the image below.
Recipe – Garlic chicken tray bake with rice
Garlic chicken tray bake with rice
A quick and easy one pan dish made with succulent chicken thighs on a bed of buttery garlic rice
Equipment
Sharp Knife

Chopping Board

Roasting Tin
Ingredients
6

chicken thighs

about 900g

2

medium

onions

chopped

2

cloves

garlic

minced

25

g

butter

for browning the onions

1

cup

uncooked white basmati rice

270g / 250ml

1

teaspoon

salt

optional

2

cups

chicken stock

1 pint / 500ml

2

teaspoons

paprika

1

teaspoon

garlic salt

1

teaspoon

onion salt

1/2

teaspoon

chilli flakes
Instructions
Wash the chicken thighs and trim them to remove any exess skin and visible fat.

Preheat oven to 200°C / 400°F

Peel the onions and chop them finely.

Place the onions and butter in a large, deep roasting pan approxiately 9" x 12" (23cmx 30cm) and place in the oven for about 5 minutes, or until they are browned.

Remove the pan from the oven and stir in the rice. Stir well to coat each grain with butter.

Add the chicken stock and salt (if you are using salt).

Mix the spices together in a small bowl and coat the chicken on both sides, rubbing the spices well into the chicken skin.

Arrange the chicken, skin side UP, on the rice/stock mixture.

Cover the roasting pan tightly with tinfoil and bake in the pre-heated oven for 25 minutes.

Remove the dish from the oven and transfer the chicken to a plate.

Stir in the peas and then replace the chicken (still skin side up) on top.

Change the oven setting to grill, and place the chicken in the centre of the oven, under the grill for about 5 minutes until the skin is crispy.

Remove from the oven and serve immediately with a side dish of fresh cherry tomatoes.
Notes
When browning the onions, keep your eye on them because they burn easily in the butter.  They will take about 5 minutes to brown.  If they are not browned after 5 minutes you can leave them another minute or two
When grilling the chicken, take care not to burn it.  The skin should turn crispy in about 5 minutes.  If you think it is not crispy enough, leave it for a minute or two longer, but watch it carefully.
Substitutions – you can substitute the chicken thighs with chicken drumsticks or chicken breasts.  If using skinless chicken breasts you should place under the grill.  Instead, increase the cooking time by 5 minutes.
I am not a nutritionist. The nutrition information has been calculated using an on-line calculator, and is intended for information and guidance purposes only. If the nutrition information is important to you, you should consider calculating it yourself, using your preferred tool.
If you made this recipe and enjoyed it, please don't forget to give me a star rating in the comments below. And if you'd like to get in touch, you can email me on foodleclub1@gmail.com. I'd love to hear from you. And don't forget to subscribe to my mailing list so you can grab yourself a copy of my FREE COOKBOOK!
If you'd like to continue browsing, just click on this link to all my recipes.