This meatball soup with vegetables and tomatoes is such an easy supper to make. You can use up any vegetables you happen to have lurking in your refrigerator. And I'm also sharing my secret for ensuring extra juicy meatballs!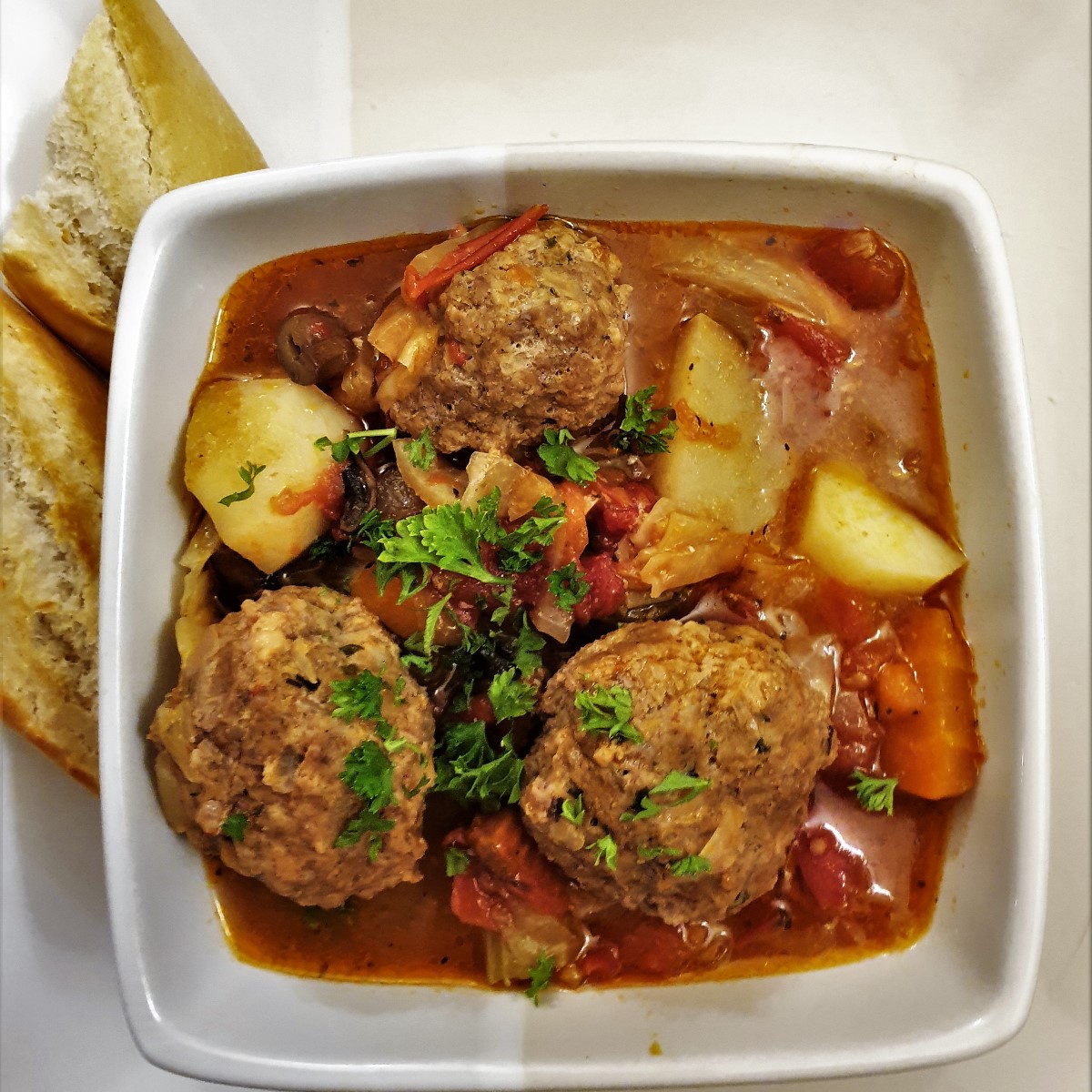 **As an Amazon affiliate, I earn from qualifying purchases.**
Meatball soup with vegetables and tomatoes
I don't remember when I first made this meatball soup. I seem to have been making it all my life. Back in the day, as a working single mom with three small children, money was tight, and meal-planning was based on 4 main criteria:
First of all the meals had to be economical. And if I could stretch one meal out to cover two meal-times then so much the better.
Secondly, they had to be nutritious. I've always been of the opinion that easy home-cooked meals are much better for you than shop-bought or takeaways.
Thirdly, they needed to be quick and easy to prepare – with as little washing up as possible.
And finally, they had to be child-approved. It was pointless cooking something that everyone turned up their noses at.
So I devised this recipe for meatball soup with vegetables, and found I had a winner!
It is definitely economical. If you add enough vegetables you can stretch this meal out over two meal-times, and as an added bonus it freezes like a dream. You can also use up whatever vegetables you happen to have lurking in the fridge.
It is extremely nutritious. It is packed with vegetables, and the meatballs are gently simmered in the soup until they are cooked (see my secret for juicy meatballs below) so there is no additional fat added.
It's very quick and easy to make. Prep time is around 15 minutes, just to chop the veggies and mix the meatballs, then it simmers away by itself on the stove until you are ready to eat it.
And of course, this meatball soup is child-approved. Just show me a child who doesn't enjoy a plate of meatballs.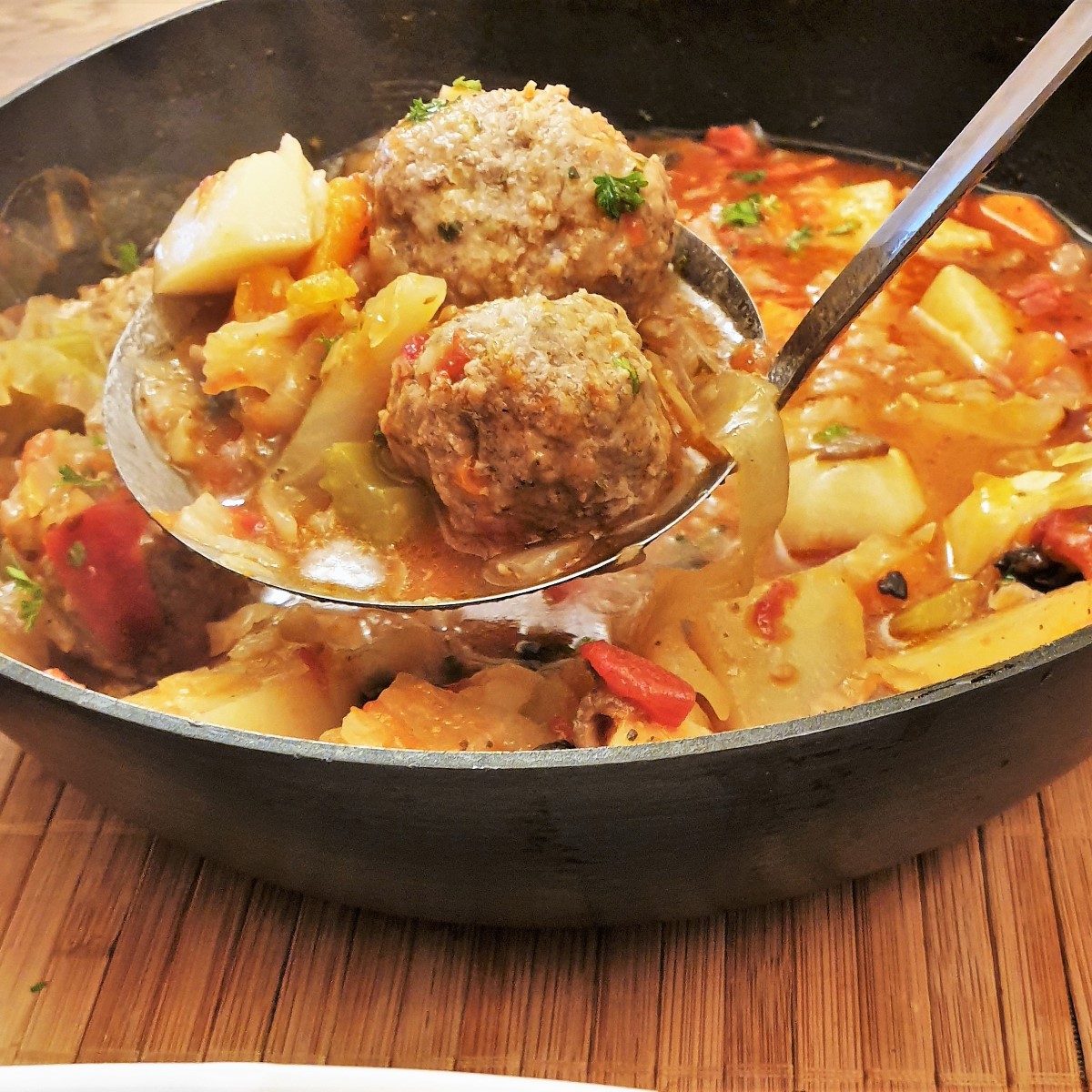 How to make meatball soup with vegetables
You can get the complete list of ingredients and full instructions for making this meatball soup on the printable recipe card at the end of this post.
I like to make this dish in a large frying pan or wok (with a lid) on the stove, but you could make this in a casserole dish in the oven too. See the section 'Can I make this in the oven?' below.
The ingredients
This dish will feed 4 hungry people. If you want to make a smaller portion you can just halve the ingredients, or if you are feeding more then add extra. You don't have to be too precise with the ingredients.
I used 450g (1 pound) of ground beef for the meatballs and this made 16 golf-ball-sized meatballs. If you want to make smaller meatballs, that is fine, but just remember smaller meatballs will cook in less time, so adjust the cooking time accordingly.
You can use any combination of vegetables you choose, and you should allow about 1 and a half cups of vegetables per person.
For the potatoes I allow 1 medium sized potato per person.
The vegetables
First of all you should prepare the vegetables and get them on to cook.
Make a jug of stock with 2 stock cubes dissolved in 2 cups of boiling water. You can use 2 beef stock cubes, or one beef and one vegetable cube. Mix in 4 tablespoons of worcestershire sauce and 1 teaspoon of salt. Of course, as always the salt is optional.
Chop the vegetables into roughly equally sized pieces and finely shred the cabbage. It doesn't really matter how big or small you make the pieces. I've made mine about 1cm dice, but you can make them a bit chunkier if you prefer. See the image below for the approximate sizes.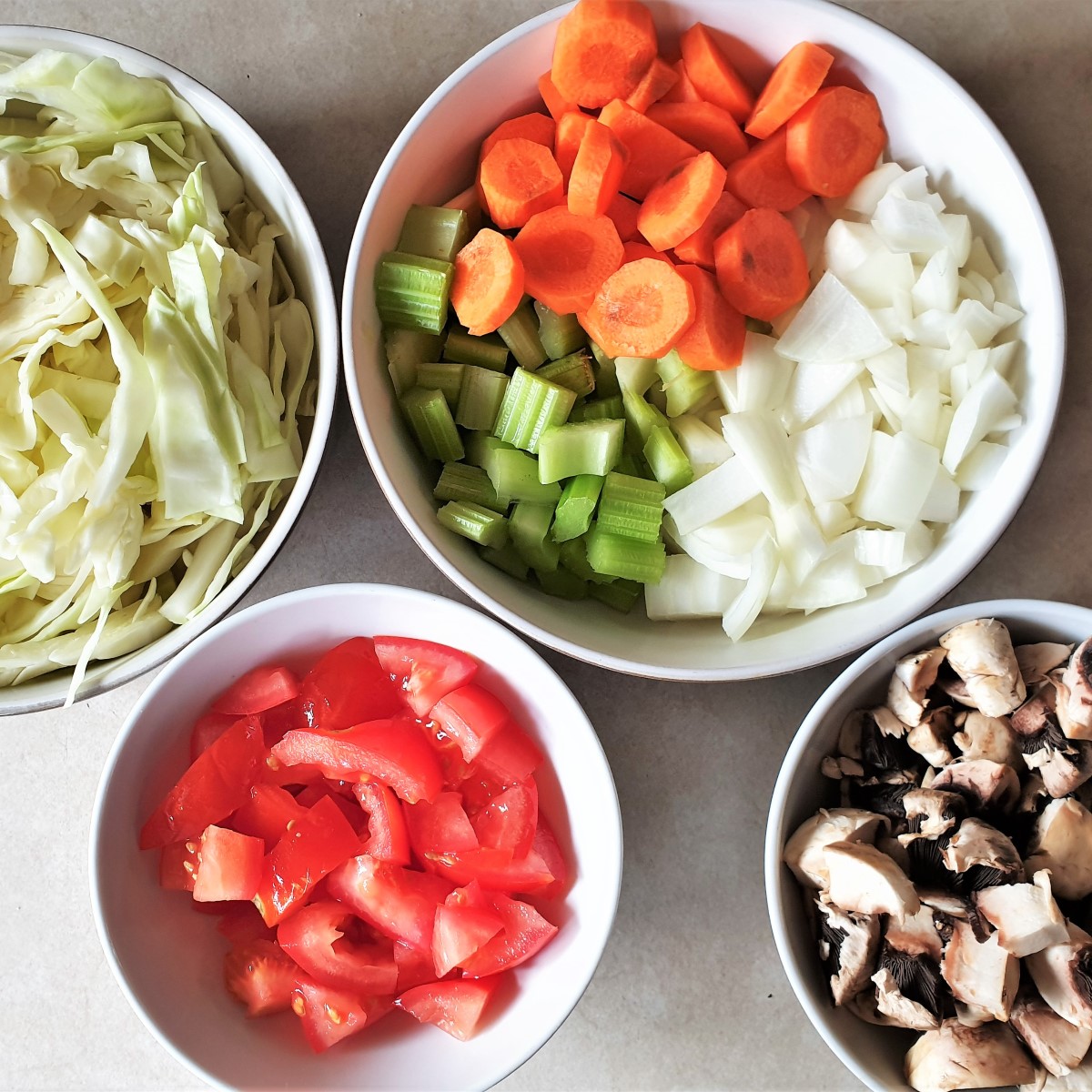 I didn't include the potatoes in the picture, but these should be cut into quarters or eighths, depending on the size of your potatoes.
First, fry the onions, celery and carrots over a low heat in a tablespoon of olive oil until they start to soften (image 1 below).
Then add the shredded cabbage, cover the pan with a lid and leave it on a low heat for about 10 minutes until it softens (image 2 below). I find that cooking the vegetables, covered, over a low heat, help them steam in their own juices, and retains all the flavour and goodness.
Now add the tomatoes and mushrooms, cover again and leave to simmer for another 5 minutes (image 3 below).
Finally, add a can of chopped tomatoes, the potatoes and the prepared stock, cover and leave to simmer while you prepare the meatballs.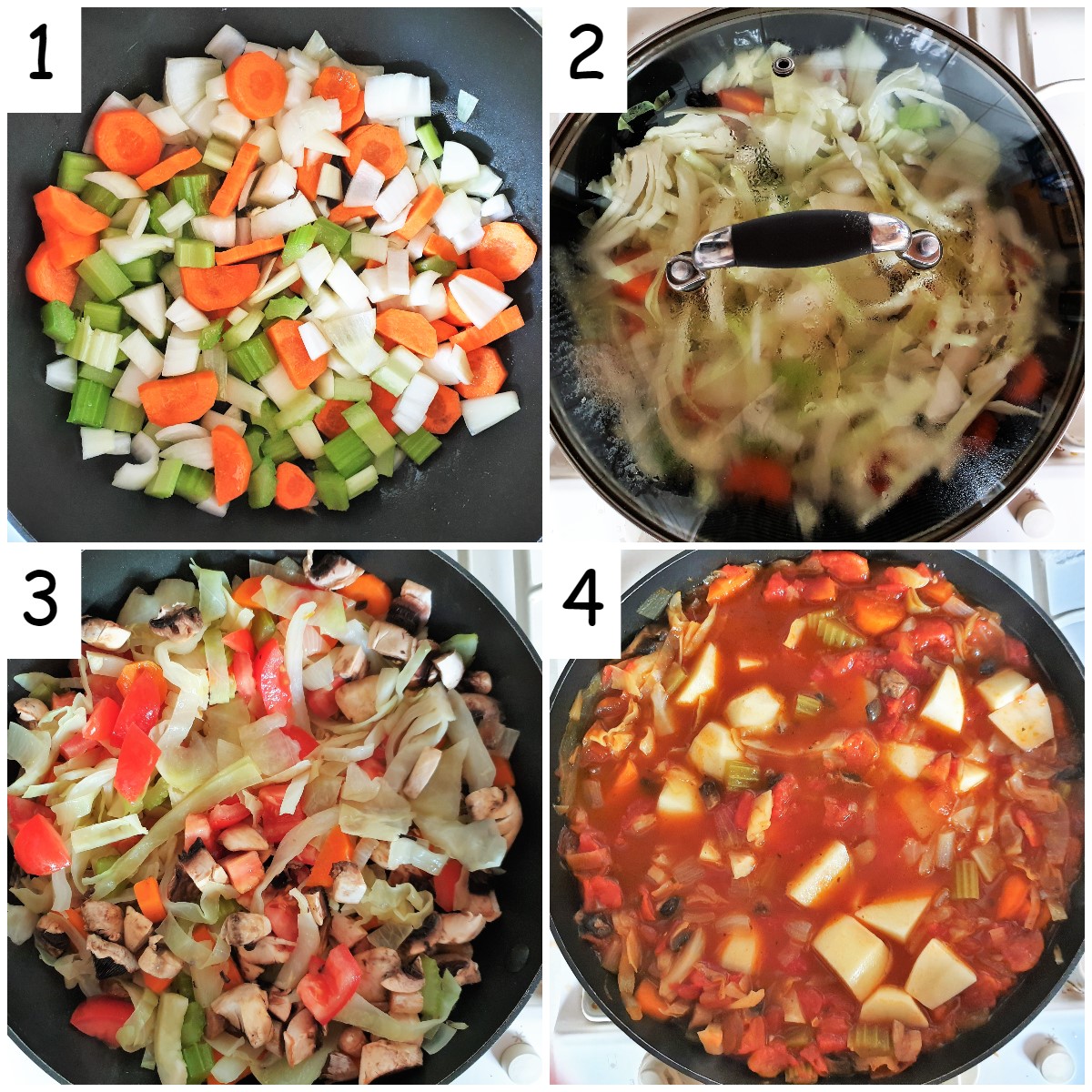 The meatballs
For the meatballs you will need ground beef, 2 slices of day-old white bread, soaked in a little milk and then squeezed out, 1 small grated onion, an egg, dried parsley and oregano, paprika and salt and pepper.
Place all the ingredients in a mixing bowl and then mix until the ingredients are just combined (image 1 below). Don't overmix or your meatballs will be tough. Form into round balls about the size of golf-balls.
Now this is my secret to getting soft, juicy meatballs. Don't fry the meatballs first. Just place them on top of the vegetables (image 2 below), cover with a lid and leave for 10 minutes. Then, using a slotted spoon, carefully turn the meatballs over so the top half is submerged in the soup (image 3 below), cover and leave for another 5 to 10 minutes.
The timing for this dish will depend on the heat of your stove on simmer. You may need to adjust the timings to accommodate your own stove.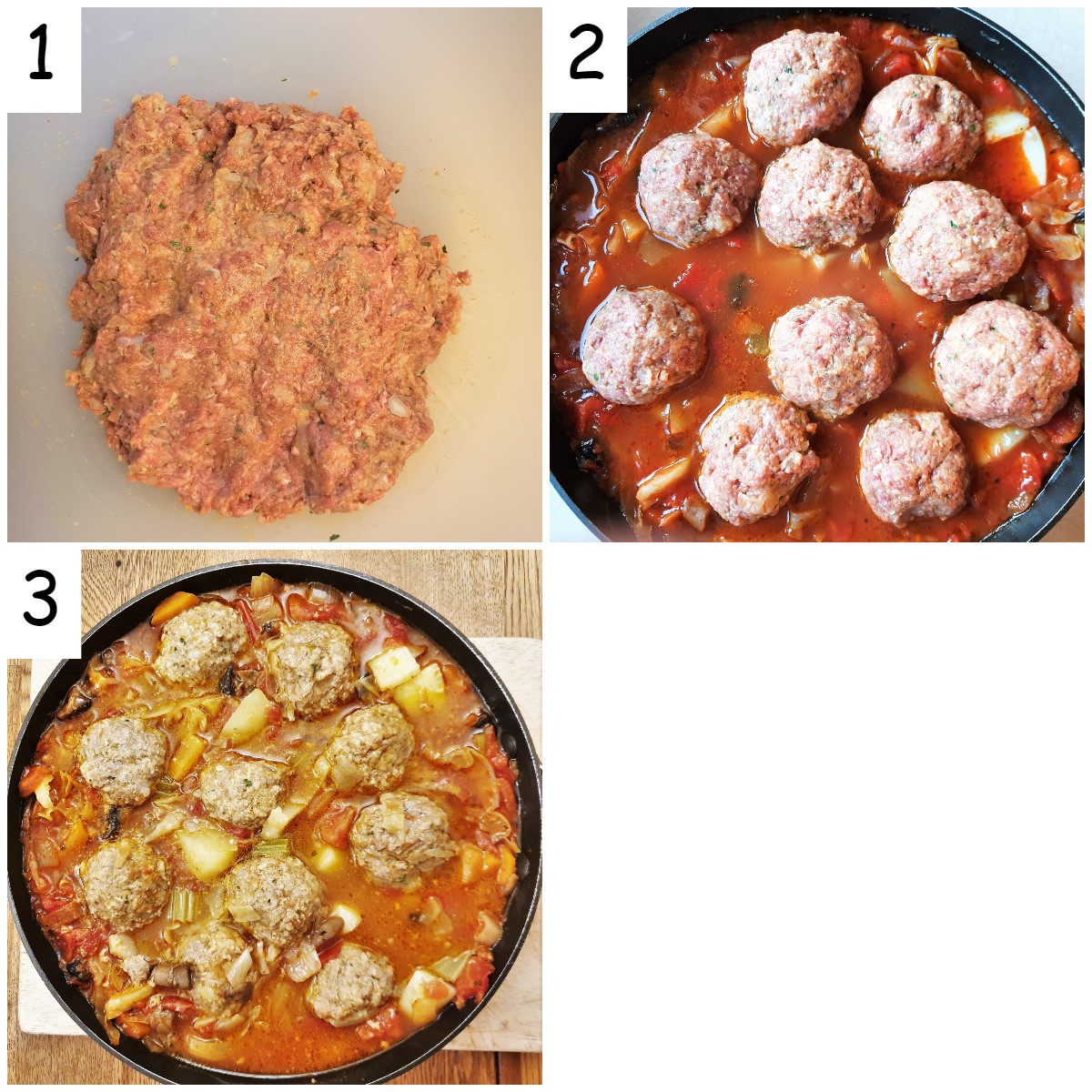 I personally like a nice runny soup because it soaks into the crusty bread so well. However, if you want to thicken the soup, remove the meatballs to a plate, and slowly drizzle in a slurry of cornflour and water until the desired consistency is reached. Then replace the meatballs and allow then to heat through.
Serve in a soup bowl with slices of crusty bread to mop up the juices.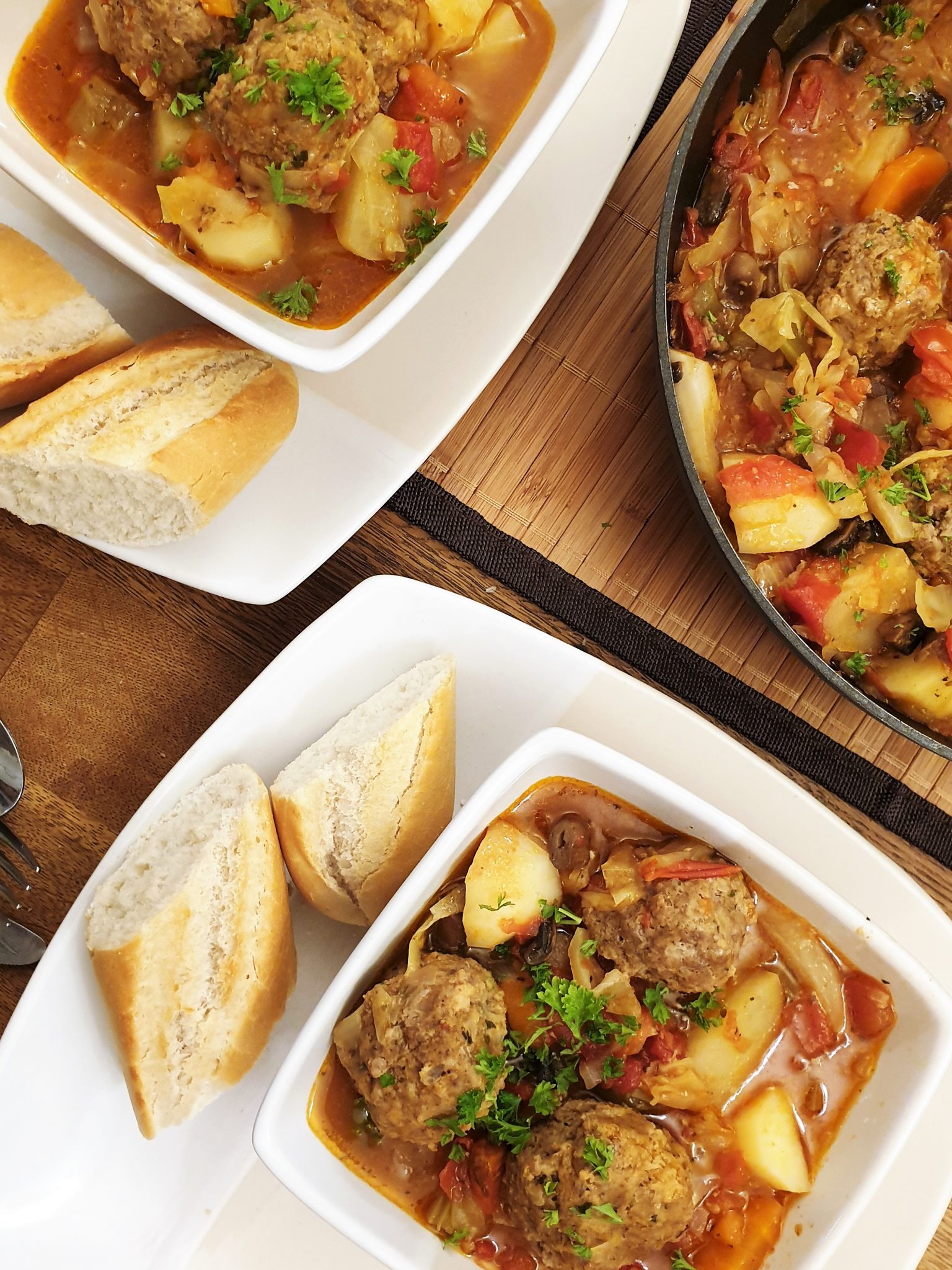 If you'd like to be notified of any new recipes, why not subscribe to my newsletter. As a thank-you gift, you will receive a free recipe e-book containing some of my most popular cakes and desserts.
Variations
If you prefer, you could replace the potatoes with pasta. If you decide to do this, you will have to add an extra cup of stock as the pasta will absorb a lot of the liquid.
I've used ground beef to make my meatballs, but you could use pork, or a mixture of pork and beef, or even ground turkey or chicken.
You can also use your own choice of vegetables. Why not try using leeks, broccoli, swedes or turnips, zucchini or even sweet potato. Just bear in mind the cooking times of the softer vegetables such as broccoli and zucchini, and add them towards the end of the cooking time so they don't overcook and become mushy.
Can I make this in the oven?
Yes, you can make meatball and vegetable soup in a casserole dish in the oven.
Just follow the instructions until the tomatoes and mushrooms have been added and simmered.
Then tip the vegetables into a casserole dish, add the potatoes and stock, cover with the casserole lid and place in the oven for 10 minutes (at 200C/400F). This will give the potatoes time to start softening.
Remove the dish from the oven, add the meatballs on top, cover and replace in the oven. Leave for 20 minutes.
After 20 minutes, remove the dish from the oven and remove the meatballs to a plate. Stir in a slurry of 1 tablespoon of cornflour/cornstarch and water then replace the meatballs (top side down) and return to the oven for a further 10 minutes.
Can I freeze meatball soup?
Yes, any leftovers can be frozen in a rigid plastic container. This can be left in the freezer for up to 4 months.
To use, defrost in the refrigerator or microwave, then tip into a saucepan and heat gently until piping hot.
If you find you have made too many meatballs for this dish, you can freeze the raw meatballs too.
Just place the meatballs on a piece of baking parchment (to prevent them sticking to the tray) on a baking tray and place in the freezer until they are solid. Then transfer the frozen meatballs to a plastic ziploc bag and freeze until needed.
To use, let them defrost then add them to the soup as per the recipe, or you could use them to make spicy meatballs with tomato sauce or spaghetti and meatball bake.