These no-knead soft dinner rolls are fantastically easy to make. They are made with yeast, but there's no kneading, and no waiting around for them to proof! Just mix, shape, rest and bake. It couldn't be easier!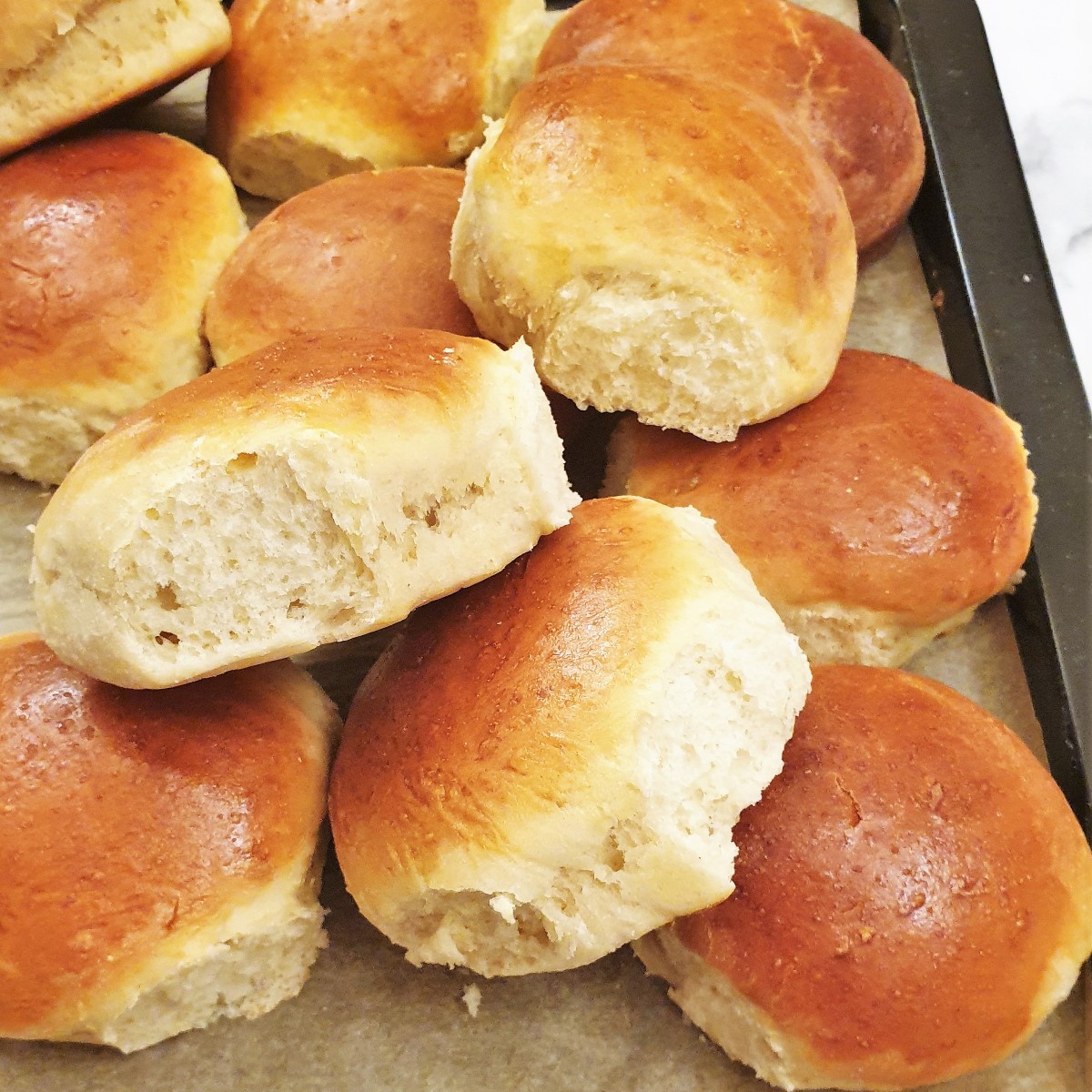 **As an Amazon Associate I earn from qualifying purchases**
You really can make bread rolls without kneading
I know it's hard to believe, but even though there is yeast in this recipe for soft dinner rolls, you don't have to knead at all.
Once you've tried this recipe, I guarantee you'll be making these soft dinner rolls time and again.
You don't need a stand mixer or any other mixer for that matter. Just dump all the ingredients into the mixing bowl and give them a quick mix with a wooden spoon.
There's absolutely no kneading involved.
These dinner rolls are fluffy on the inside, with a soft golden crust.
Not only are they perfect for mopping up the last of the gravy, they are also make the perfect lunch time sandwich.
And best of all, they are incredibly quick to make – you don't have to wait for the dough to proof. Just mix, shape, rest and bake.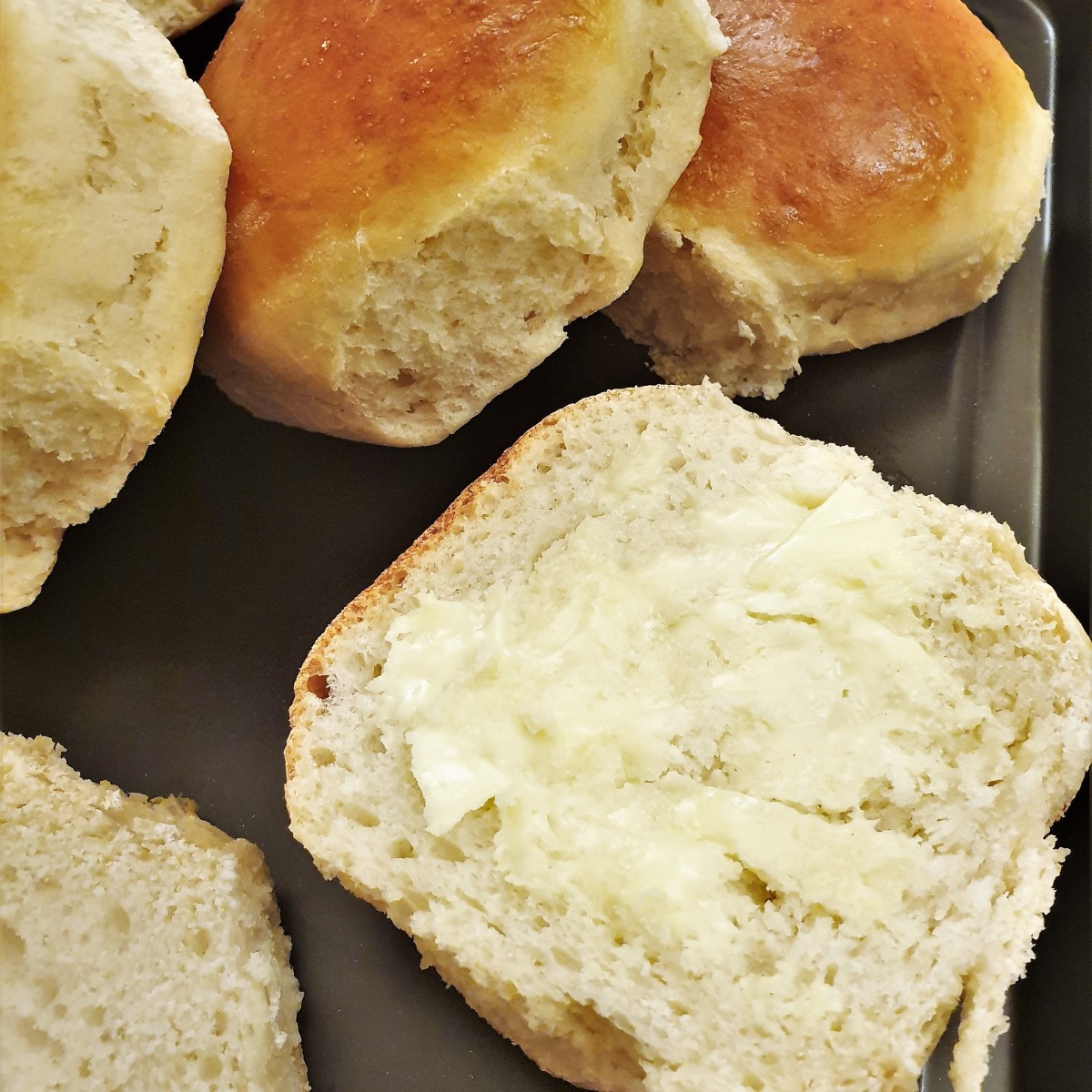 This is my go-to recipe for quick bread rolls. I love the texture. It's soft and spongy, perfect for soaking up gravy or dunking in a bowl of soup or stew.
And because the texture is so firm, you don't have to throw these rolls away when they go stale. Just cut them in half, and pop them under a hot grill or broiler. Then slather them with butter and enjoy – they make the perfect toasted bread roll!
Recipe notes
Prep time – 20 minutes
Rising time – 1 hour
Cook time – 20 minutes
Yield – 12 soft dinner rolls
Calories – 230 per bread roll
Main equipment –

Mixing bowls – I don't have a set of these, but they are on my list to buy. I love the idea of having lids on mixing bowls – I find that so many times I have to cover my mixing bowl with cling film or plastic wrap if I need to let it stand. Having mixing bowls with lids will make it so much easier. And these bowls have non-slip silicone bases for easier mixing too.
Baking tray – I like the rounded corners on these baking trays – makes them much easier to clean.
Silicone baking sheets – something else on my list to buy. I normally just line my baking tray with parchment paper, but these silicone baking sheets are ideal. They are washable too, so you can use them over and over again.
The ingredients
**Get the complete recipe for these soft dinner rolls on the printable recipe card at the end of this post.**
You don't need anything special, and you probably have all the ingredients in your pantry.
This recipe will make 1 dozen dinner rolls, about the diameter of a baseball, but you can make smaller rolls if you prefer.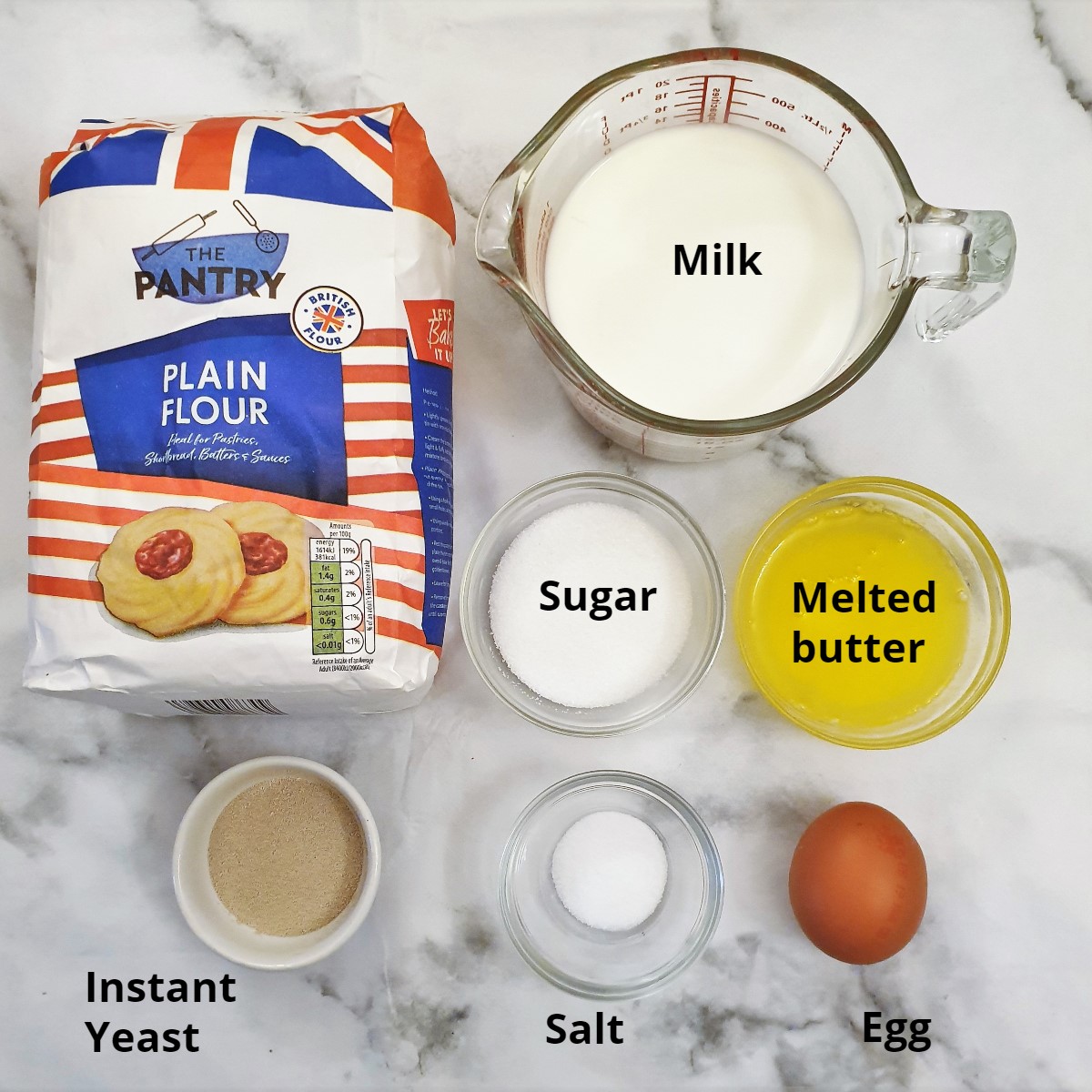 Plain flour – don't use self-raising flour – we are going to add yeast to make the rolls rise.
Instant yeast – this is dried instant yeast granules, not the blocks of fresh yeast.
Milk – this helps create the soft texture. I use full-fat milk, but you can use semi-skimmed too. The milk should be luke-warm, as the warmth will help activate the yeast.
Sugar – if you prefer a less sweet roll, you can use less sugar than recommended in the recipe.
Melted butter – to make for easy mixing, the butter should be completely melted before it is added to the rest of the ingredients.
One egg – to enrich the dough.
Salt – if you don't use salt in your diet you can leave this out.
How to mix the dough
This couldn't be simpler.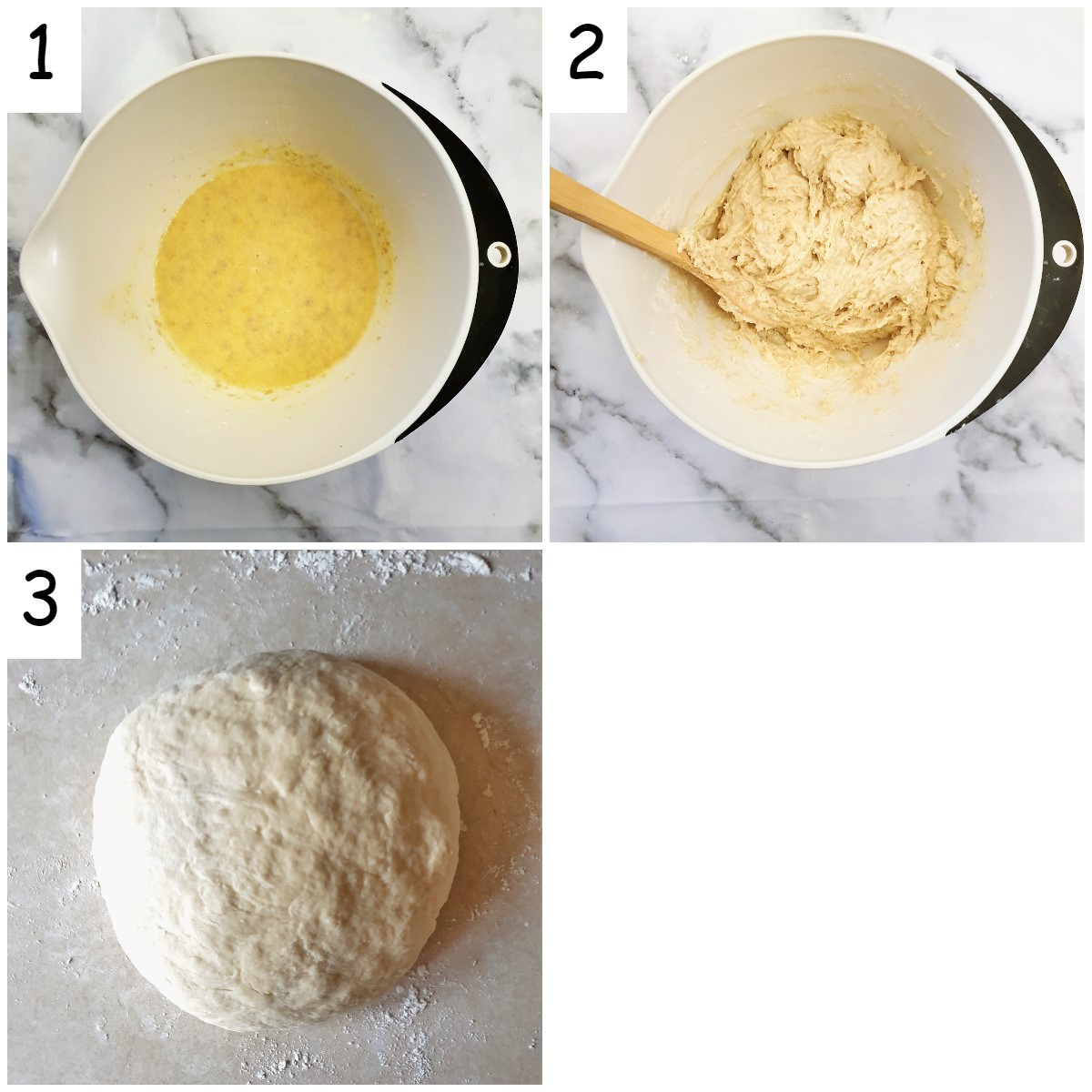 Start off by warming the milk in the microwave for a few seconds until it is just luke-warm, then pour the milk into a mixing bowl.
Stir in the yeast then add the egg, butter, sugar and salt.
Whisk with a balloon whisk to combine (image 1 above).
Now add the flour and mix with a wooden spoon until you have a thick, slightly sticky dough (image 2 above).
Turn the dough out onto a well-floured surface, and sprinkle the dough with a little extra flour. You won't need too much, about a tablespoon should be sufficient.
Knead lightly until the dough comes together in a soft non-sticky ball (I know I said no kneading, but this isn't really proper kneading – you are just bringing the dough together). You can add an additional tablespoon of flour if the dough is very sticky, but you shouldn't have to.
Note – the dough may still be slightly sticky inside, but don't worry – this is how it should be. When you shape the rolls you can use a little additional flour.
Shape the rolls
Divide the dough in half and then in half again so you have 4 pieces. Then divide each piece into 3, giving you 12 equally sized pieces of dough. If you prefer slightly smaller dinner rolls, then divide each quarter into 4, giving you 16 pieces.
Prepare a baking sheet by lining it with baking parchment, or greasing with a little oil to prevent the rolls from sticking.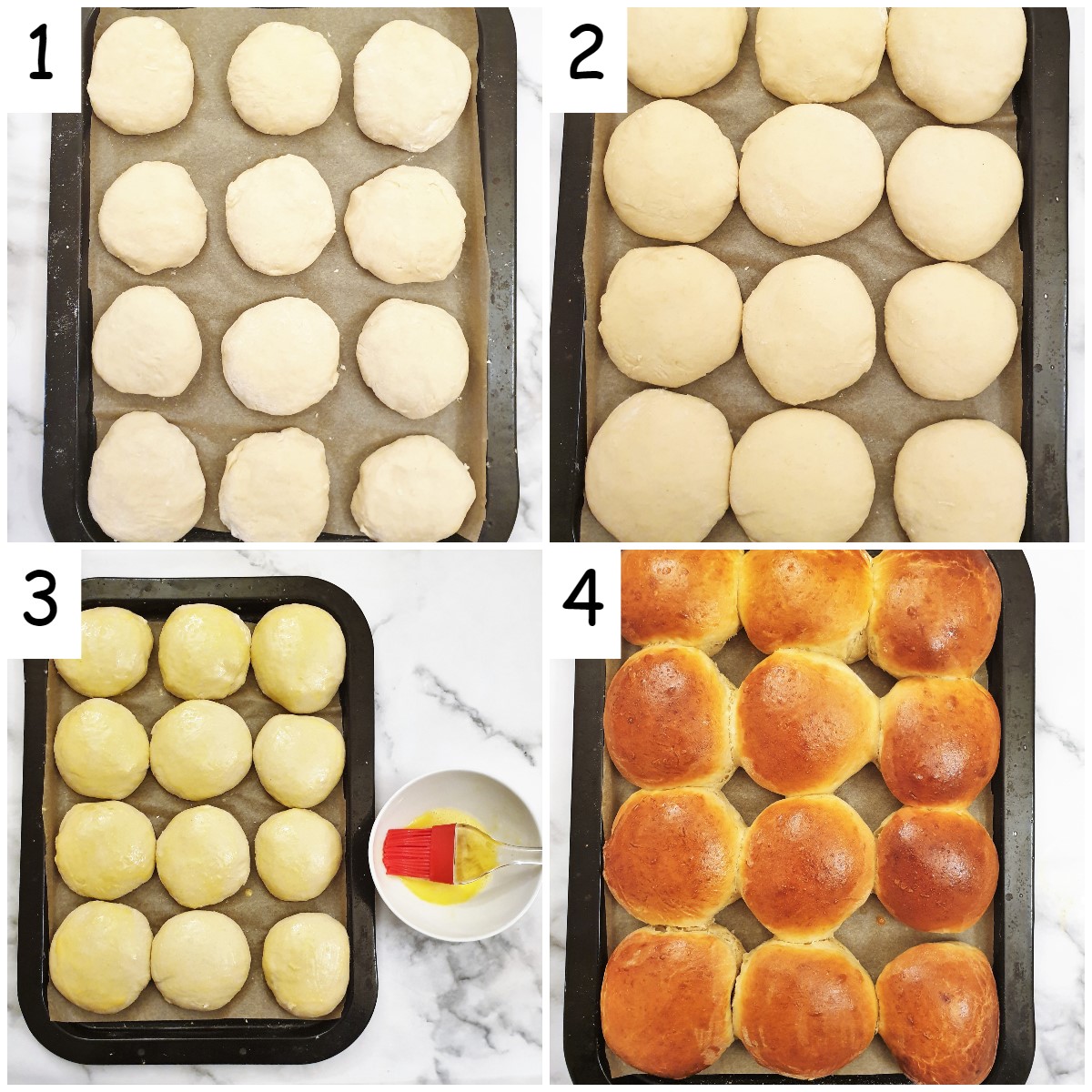 Roll each piece of dough into a ball then flatten slightly to about half an inch thick and place on a baking sheet. My baking sheet measures 25cm x 36cm (or 10″ x 15″). You may need to dust the dough with a little extra flour if it is too sticky to handle.
Cover with a clean tea towel and leave in a warm place to rise for 1 hour.
5 minutes before the hour is up, preheat the oven to 180C / 350F.
Brush the rolls with beaten egg and then bake them for about 20 minutes until nicely browned on top.
How long do they last?
These soft dinner rolls will stay fresh for 2 days, and any rolls leftover from dinner time can be turned into sandwiches for lunch the next day.
After 2 days they do tend to dry out somewhat.
However, because they are meant to be soft rolls, you can freshen them up by popping them into the microwave for about 15 seconds to rejuvenate them.
Store the rolls in a plastic bag to help keep them from drying out.
The cooled dinner rolls can be frozen in a plastic bag for up to 6 months. To use, allow them to defrost and then either warm them in the microwave or place them on a baking tray in a hot oven for about 5 minutes.
If you'd like to be notified of any new recipes, why not subscribe to my newsletter. As a thank you gift, you will receive a free recipe e-book containing some of my most popular cakes and desserts.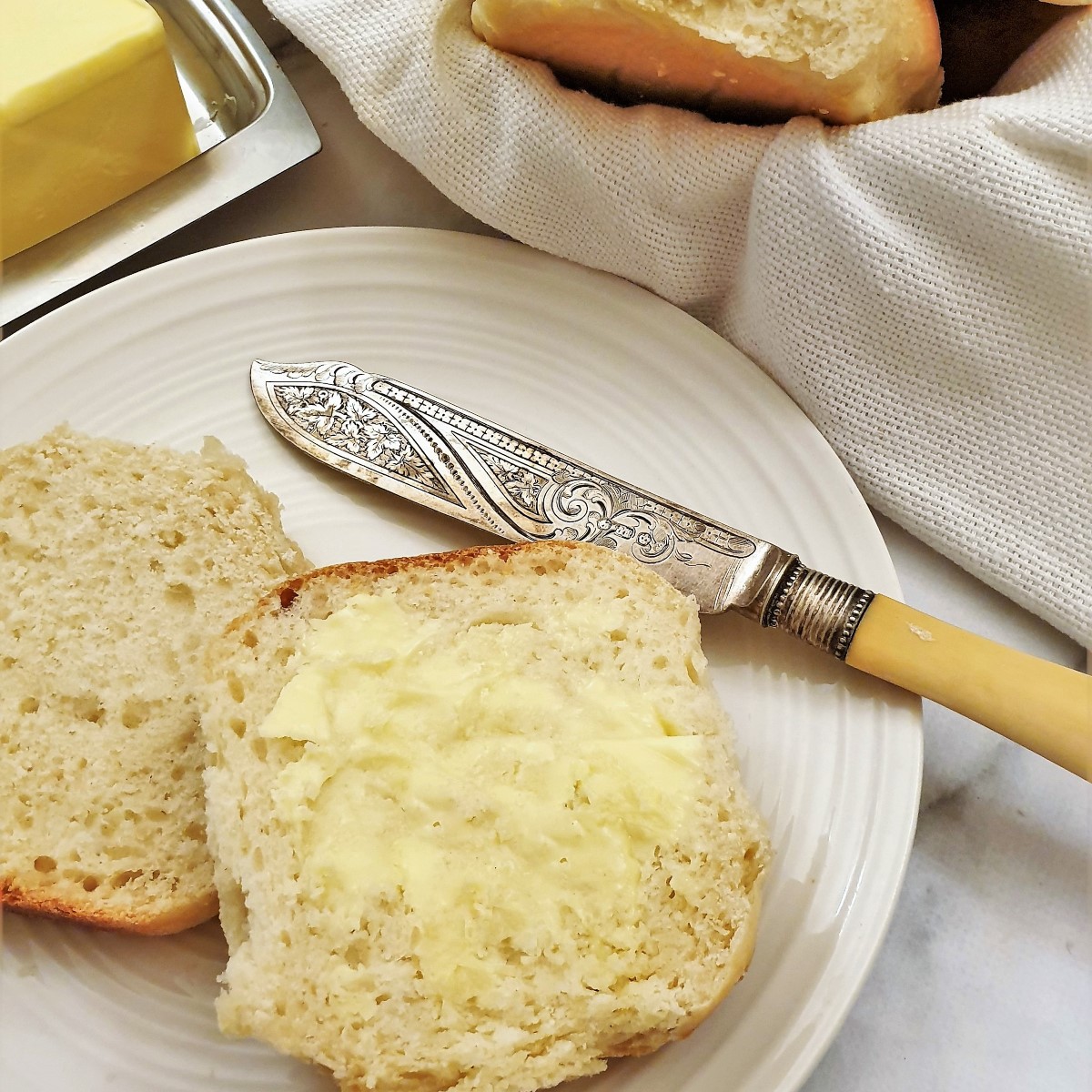 I have linked this recipe to #CookBlogShare week 10 run by Sisley & Chloe which was hosted this week by yours truly.