I love a good curry with a side dish of Bombay potatoes (Bombay aloo). My version of chicken bhuna combines chicken and potatoes to make it a quick and easy one-pan meal. And as a bonus I've included instructions for making your own naan bread to wipe the last remnants off your plate!
**As an Amazon affiliate, I earn from qualifying purchases.**
One-pan chicken bhuna and Bombay potatoes
Whenever I go to an Indian restaurant I always order a bowl of Bombay potatoes along with my main meal (plus the obligatory naan bread of course). I just love Bombay potatoes. But when it comes to making them at home it is so time-consuming, especially when you're making a curry at the same time. So when I made this chicken bhuna the other day I thought I'd try combining the curry with the potatoes. And guess what? It worked. All the flavours of the chicken bhuna, and the bombay aloo in one pan.
For those of you who do not know, Bhuna refers more to the way of cooking a curry, rather than the flavour of the spices. The spices are mixed to a paste, normally with peppers and onions, and gently fried to release the flavours. The meat is then added and cooked in its own juices, and the resultant dish has very little sauce. And because the chicken is cooked in the spices, all the flavours infuse into the chicken, giving you the most succulent and tender chicken.
Bombay potato is a curried potato dish, flavoured with lots of Indian spices, but like the Bhuna, it has very little sauce. So combining the two in one pan makes a lot of sense. Two dishes in one, but with half the effort.
And of course, you can't eat a curry without a slice of naan bread to mop up the juices. So I've included an easy recipe for homemade naan to round off your meal perfectly.
This chicken bhuna is quite a spicy dish, so if a hot curry isn't quite your thing, just adjust the chilli to your own taste. You'll still get all the lovely flavours, but without the heat.
Just look at how well these potatoes have turned into a thick Bombay aloo!
Ingredients you will need
**You can get the complete list of ingredients and full instructions on how to make this steak and kidney on the printable recipe card at the end of this post**
For the chicken bhuna you will need these ingredients.
Chicken Thighs
Two large thighs per person should be sufficient, unless you have a very large appetite, in which case, you will need three chicken thighs each. Try to get skinless thighs. If you can't, just remove the skin yourself before cooking. If you prefer to use boneless thighs, that is fine, or you can use thighs still on the bone. It doesn't really matter. You could also use chicken drumsticks.
Curry Paste
The secret to a good chicken bhuna is to make a paste of all the ingredients, using your food processor. If you don't have a food processor, you can just chop everything up very finely, but of course, it will take a lot longer.
Put all these ingredients into your food processor and pulse to a nice fine paste:
1 large onion – quartered
l red pepper – seeds removed
2 tomatoes – quartered
1 teaspoon chopped red chili – if you don't have fresh chili you can use chili paste or chili flakes. This is also where you adjust the heat of the curry, just use more or less chili to your own preference.
2 cloves garlic – if you don't have fresh garlic, use the equivalent amount of garlic paste.
A thumb-sized piece of fresh ginger, or you can use 1 teaspoon of ginger paste
2.5 teaspoon of garam masala,
1 teaspoon each of dried ground coriander and dried ground turmeric
2 teaspoons dried ground cumin
1 teaspoon salt
In addition to the curry paste you will need a tablespoon of fruit chutney and a teaspoon of sugar. The sweetness helps cut through the tartness of the tomatoes and really enhances the flavour.
You will also need sufficient potatoes for the number of people you are serving and 2 tablespoons of sunflower oil for frying the spices and a few sprigs of fresh coriander for stirring in at the end. For the potatoes, use a potato that will hold its shape and have a firm bite. Don't use potatoes that you would normally use for making mashed potatoes. I like to use russet potatoes. Remember, Bombay potatoes should have a nice firm texture.
This last ingredient is to my own personal taste and you can leave it out if you wish. I love a little sweetness with my curry, so I always tip in a handful of frozen peas 5 minutes before the end of the cooking time. Definitely not an authentic ingredient, but down to personal preference.
Naan bread
For the naan bread you will need the following:
140g self-raising flour. If you don't have self-raising flour you can use plain flour and add 2 teaspoons of baking powder.
2 tablespoons garlic salt or dried garlic flakes – of course, if you prefer plain naan bread you can leave the garlic out.
1/2 teaspoon salt
1 teaspoon sugar
25g butter
Half a cup of water (approximately)
How to make chicken bhuna with Bombay potatoes
Remove the skin from the chicken and trim off any visible fat.
Peel and chop the potatoes into approximately 1″ pieces and set them aside in a bowl of water until you need them.
Put all the ingredients for the curry paste into a food processor and pulse to a fine paste. The onions and peppers should be about the size of match heads (image 1 above).
Heat the sunflower oil in a large frying pan (with a lid) and then add the curry paste, and fry gently for about 3 minutes (image 2 above).
Now add 1/2 cup of water, one cup of passata, 1 tablespoon of fruit chutney and one teaspoon of sugar and stir through, then place the chicken pieces in the sauce. Cover with a lid and allow to simmer for 10 minutes (image 3 above). Check the moisture content. The end result should be quite a thick curry sauce. If you think you need more water you can add it at this stage. I found that I didn't need to add more water.
Drain the water from the chopped potatoes and add the potatoes to the curry in the pan (image 4 above). Cover with a lid and simmer for another 20 minutes until the potatoes are soft and the sauce has reduced. If the sauce is too runny, remove the lid about 5 minutes before the end of the cooking time so that some of the moisture can evapourate slightly.
If you are adding peas, this would be a good time to add them.
Chop up the fresh coriander, stir through, and serve.
How to make naan bread
A good curry deserves a good naan bread so you can mop up all the delicious juices.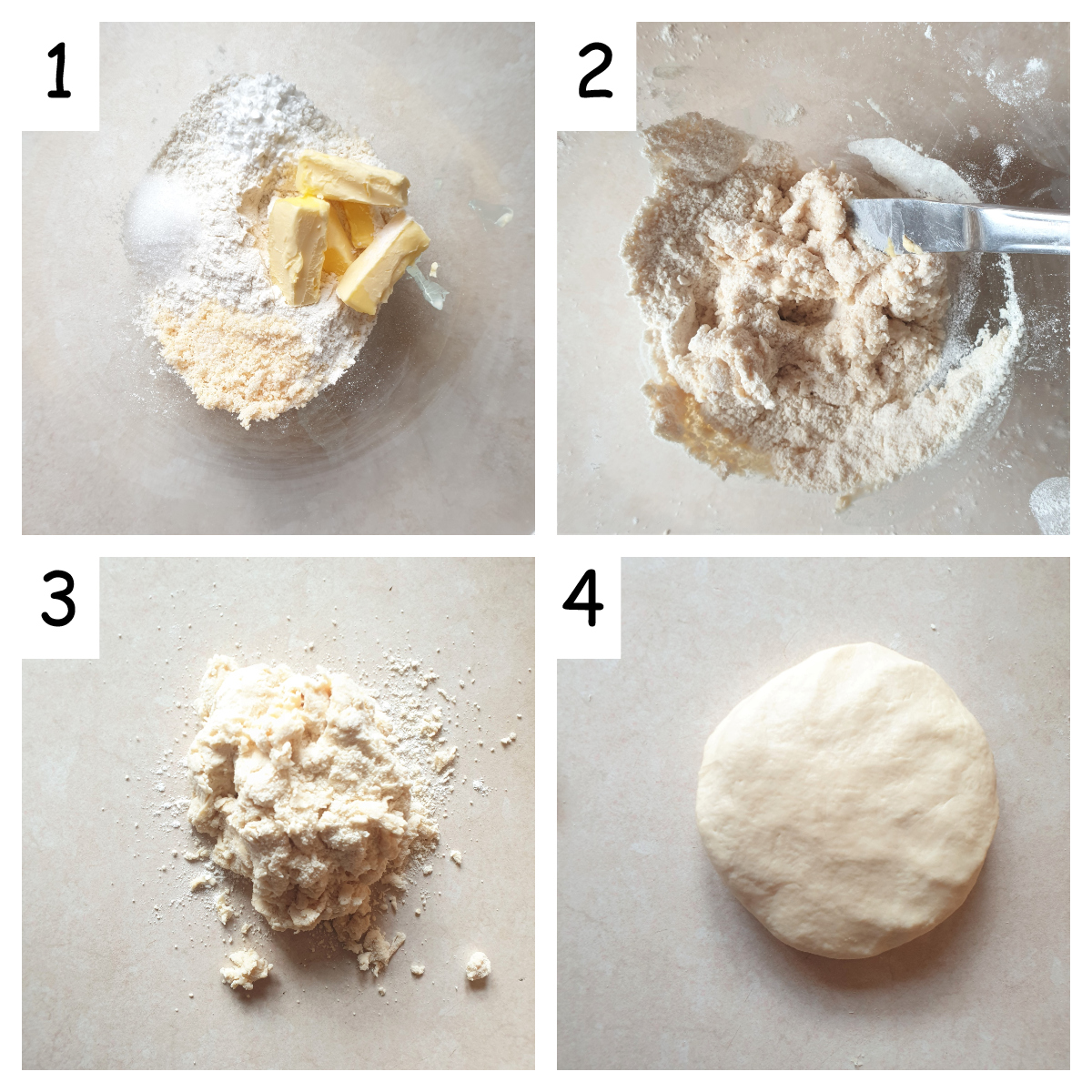 Place all the ingredients for the naan bread into a mixing bowl and rub together until it resembles fine breadcrumbs.
Add the water and mix with a knife until the mixture starts to come together.
Tip out onto a floured surface and knead for about 4 minutes until the dough forms a smooth ball.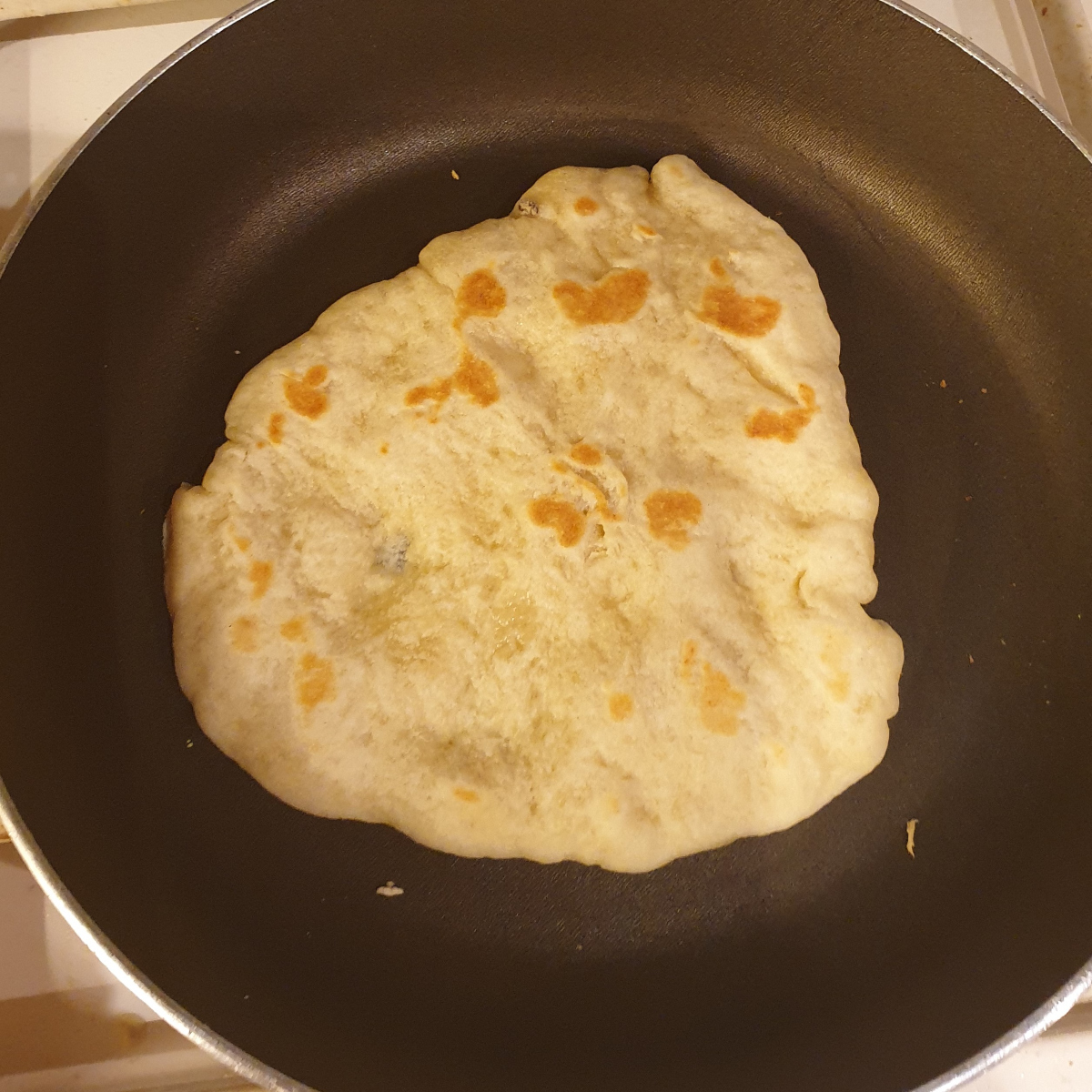 Break of golf-ball sized pieces of the dough, flatten with your hands until the dough is approximately 1/8 inch thick (about the thickness of a one pound coin) and then fry in a dry pan until brown on both sides and cooked through. If you place a lid on the frying pan while the naan is browning, the naan will be less crispy as the steam will keep the naan softer.
Brush with melted butter and serve.
If you'd like to be notified of any new recipes, why not subscribe to my newsletter. As a thank-you gift, you will receive a free recipe e-book containing some of my most popular cakes and desserts.
Pin for later
Why not pin this recipe for chicken bhuna so you can make it later.
Recipe – Chicken Bhuna with Bombay Potatoes and homemade naan bread
If you made this recipe and enjoyed it, I'd love it if you could give me a star rating in the comments below. And if you'd like to get in touch, you can email me at [email protected]. I'd love to hear from you. And don't forget to subscribe to my mailing list so you can grab yourself a copy of my FREE COOKBOOK!
If you'd like to continue browsing, just click on this link to all my recipes.