This easy version of chicken bhuna combines both chicken and potatoes in a thick flavourful sauce, so you can enjoy both curried chicken and Bombay potatoes all cooked in one pan!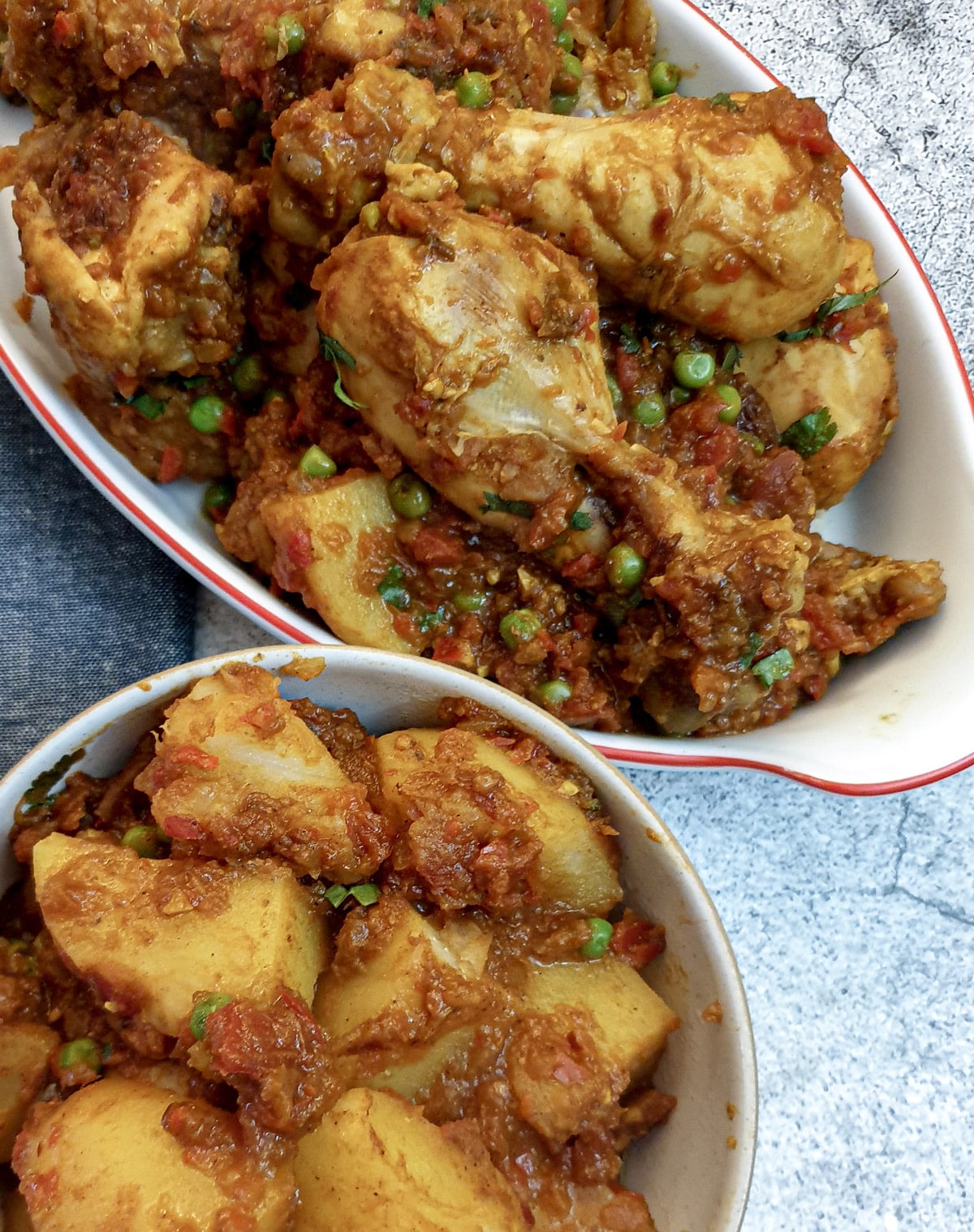 **As an Amazon affiliate, I earn from qualifying purchases.**
Jump to:
One-pan chicken bhuna and Bombay potatoes
Whenever I go to an Indian restaurant I always order a bowl of Bombay potatoes (Bombay aloo) along with my main meal (plus the obligatory naan bread of course). I just love Bombay potatoes. But when it comes to making them at home it is so time-consuming, especially when you're making a curry at the same time. So when I made this chicken bhuna the other day I thought I'd try combining the curry with the potatoes. And guess what? It worked. All the flavours of the chicken bhuna, and the Bombay aloo in one pan.
For those of you who do not know, Bhuna refers more to the way of cooking a curry, rather than the flavour of the spices. The spices are mixed to a paste, normally with peppers and onions, and gently fried to release the flavours. The meat is then added and cooked in its own juices, and the resultant dish has very little sauce. And because the chicken is cooked in the spices, all the flavours infuse into the chicken, giving you the most succulent and tender chicken.
Bombay potato is a curried potato dish, flavoured with lots of Indian spices, but like the Bhuna, it has very little sauce. So combining the two in one pan makes a lot of sense. Two dishes in one, but with half the effort.
And of course, you can't eat a curry without a slice of naan bread to mop up the juices. So if you'd like to make some naan bread to go with the chicken bhuna, here is my easy recipe for garlic butter naan (made with 2-ingredient dough.
This chicken bhuna is quite a spicy dish, so if a hot curry isn't quite your thing, just adjust the chilli to your own taste. You'll still get all the lovely flavours but without the heat.
If I'm serving this dish to company I like to separate the chicken and the potatoes into 2 separate serving dishes. If it's being served to the family then I leave it all in one pan 🙂
Just look at how well these potatoes have turned into a thick and flavoursome Bombay aloo!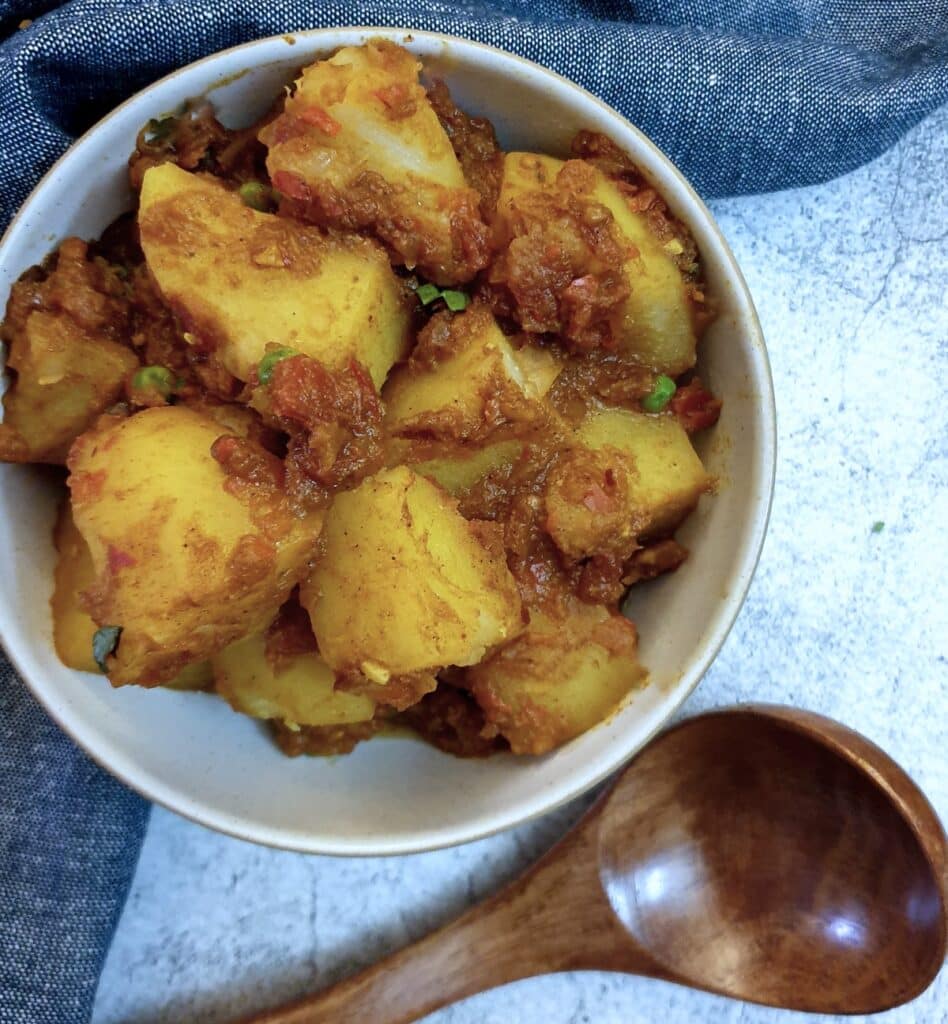 What you will need
Equipment
To make chicken bhuna (with Bombay aloo) you will need the following equipment:
Food processor - this is used to finely chop the red peppers and onions. If you don't have a food processor you can use a sharp knife and a chopping board, but be prepared for a lot of chopping to get the vegetables very finely chopped.
Saute pan or frying pan with a lid - which is used for making the sauce and cooking the bhuna. It needs to be large enough to hold all the ingredients - ie sauce, chicken and potatoes.
Ingredients
This recipe will feed 4 people.
**You can get the complete list of ingredients and full instructions on how to make chicken bhuna with Bombay potatoes on the printable recipe card at the end of this post**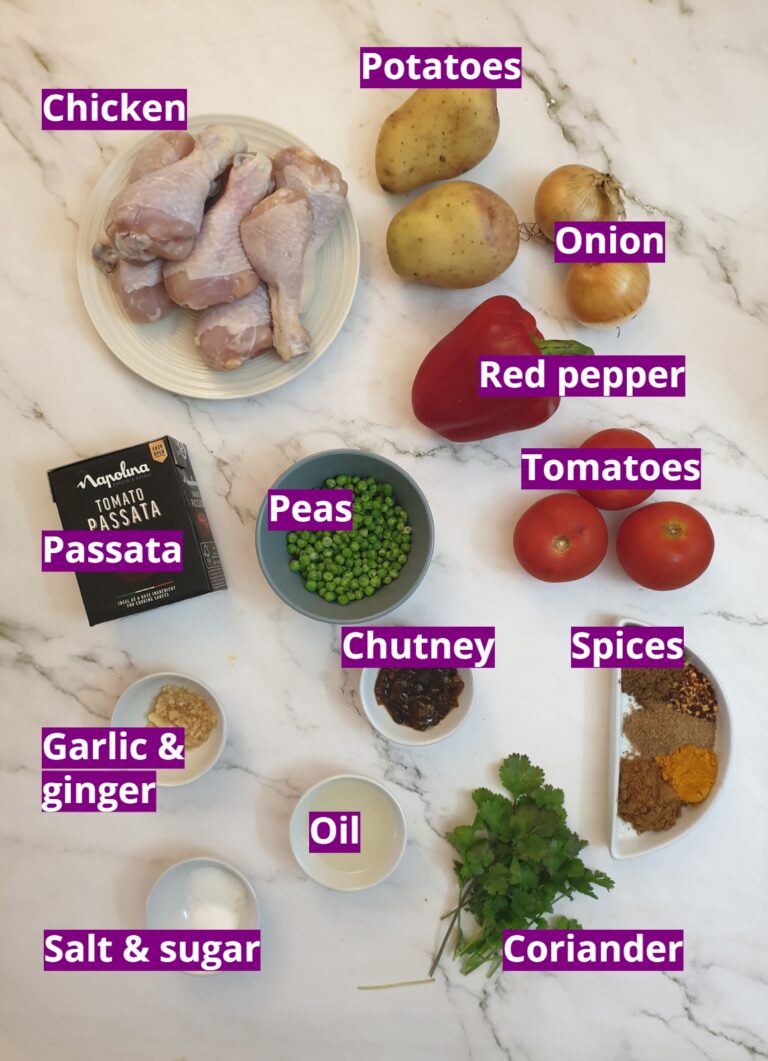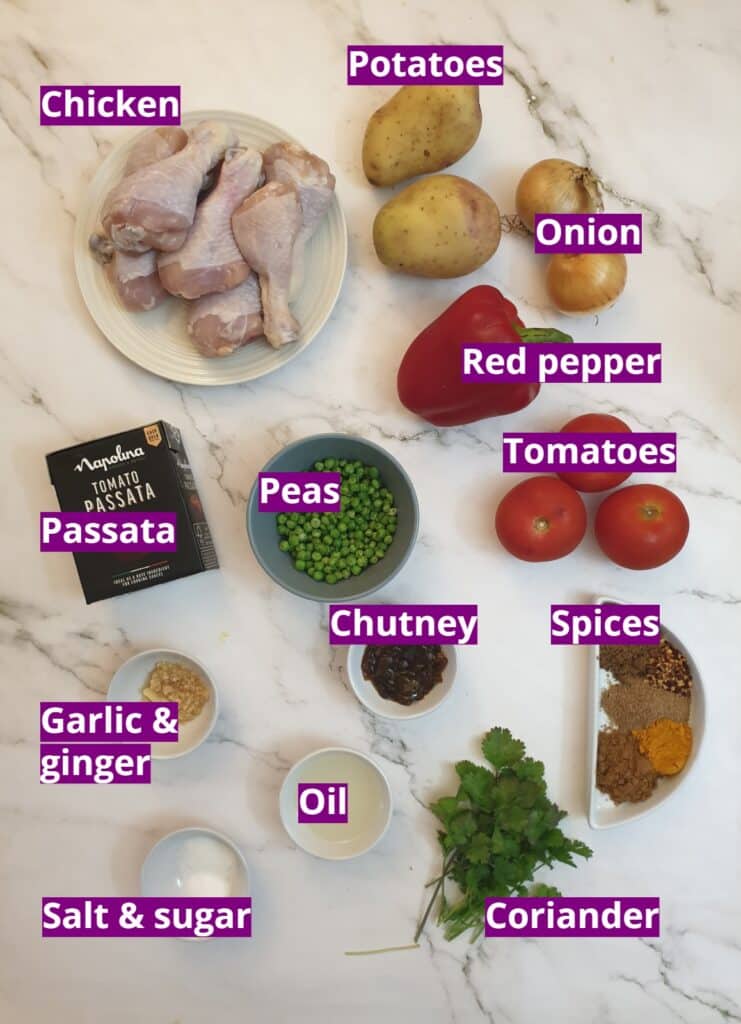 Chicken - I like to use either skinless chicken thighs or drumsticks. I find chicken breasts tend to dry out in the longer cooking time that this recipe requires.
Two large thighs or three drumsticks per person should be sufficient for each person. Try to get skinless chicken pieces. If you can't, just remove the skin yourself before cooking. If you prefer to use boneless thighs, that is fine, or you can use thighs still on the bone. It doesn't really matter.
Potatoes - use a potato that will hold its shape and have a firm bite. Don't use potatoes that you would normally use for making mashed potatoes (ie floury potatoes). I like to use russet potatoes, but Charlottes or Maris Piper work just as well. Remember, Bombay potatoes should have a nice firm texture.
Onions, red peppers and tomatoes - these are blended into a thick paste with the spices.
Passata - this is simply tomatoes that have been sieved to remove the pips and any bits of skin. You can buy it in cartons or in bottles alongside the canned tomatoes in supermarkets.
Chutney - this adds a little sweetness. I like to use my homemade green tomato chutney in this dish but you can use your favourite chutney. The fruitiness of mango chutney also works well.
Spices and flavourings - you could use your favourite blend of curry spice from the supermarket. I like to mix my own spices so that I can control the heat of the chilli.
ground coriander
ground cumin
garam masala
turmeric
dried chilli flakes
garlic and ginger - for convenience, I tend to use ready-minced garlic and ginger from a jar - if you prefer you can use the equivalent amount of fresh. Just make sure that both the garlic and ginger have been finely minced.
salt and sugar - to your own taste. I like to add a little sugar when cooking with tomatoes as I find it cuts through the tartness of the tomatoes.
Fresh coriander - finely chopped and used as a garnish.
Peas - I also like to stir a handful of frozen peas in at the end, but that is my preference. You can leave these out if you prefer.
And finally, you will need one or two tablespoons of sunflower oil (or other neutral-flavoured oil) for frying the curry paste.
What to do
Remove the skin from the chicken and trim off any visible fat. If you are removing skin from chicken drumsticks, I find it helps to pull the skin down the drumstick and then grip the skin with a piece of kitchen paper to help you pull it off the drumstick.
Peel and chop the potatoes into one to two-inch pieces and set them aside in a bowl of water until you need them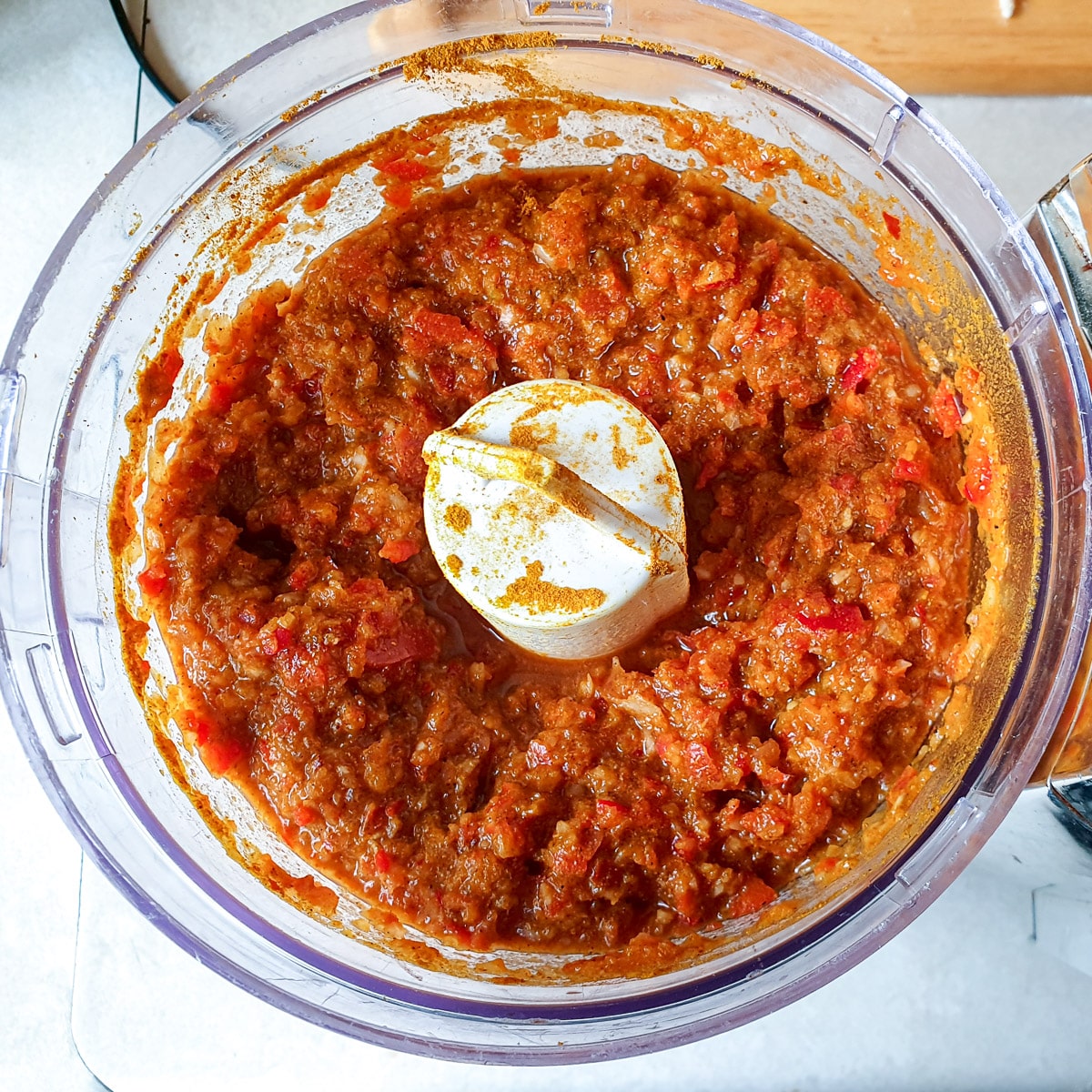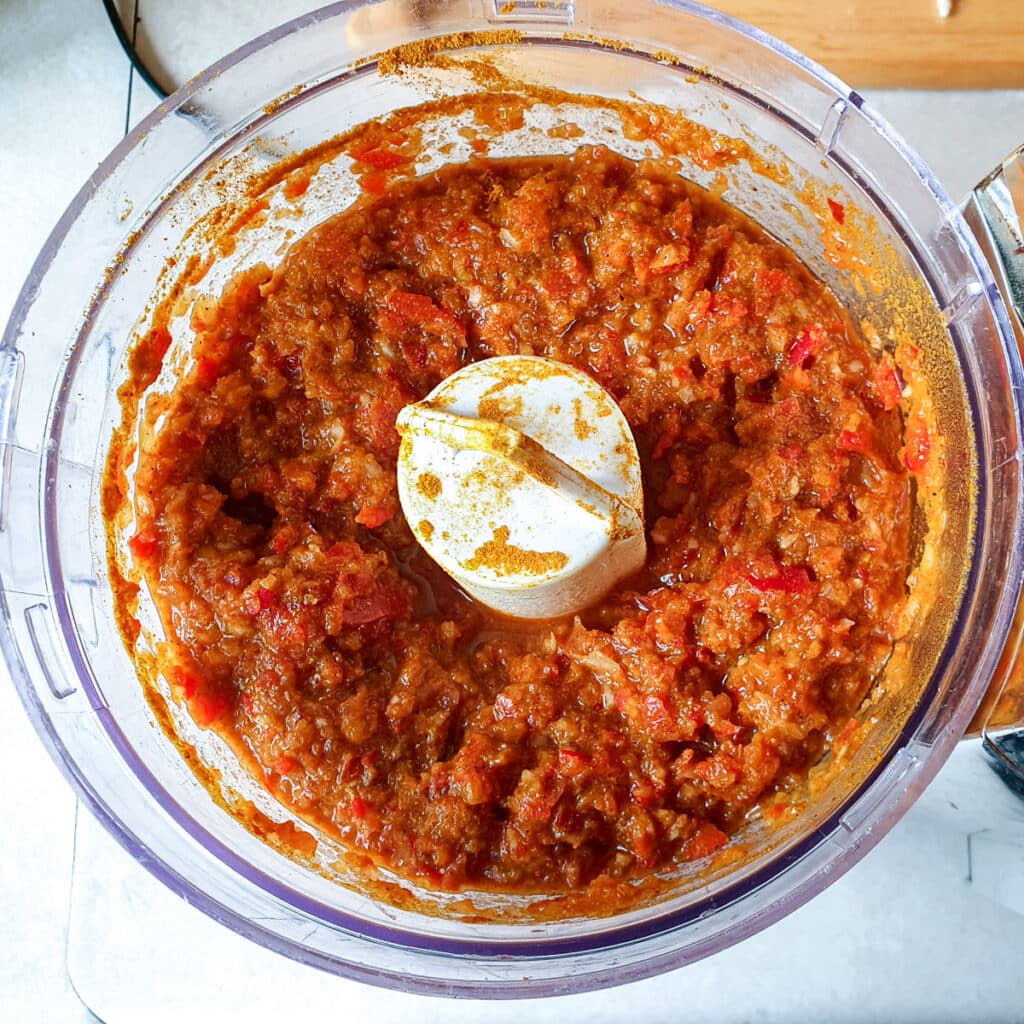 Using a food processor, blend the red pepper, onions, tomatoes and spices until you have a thick paste. The onions and red peppers should be the size of rice grains. If you don't have a food processor you can simply chop the vegetables very finely with a sharp knife and then combine them with the spices.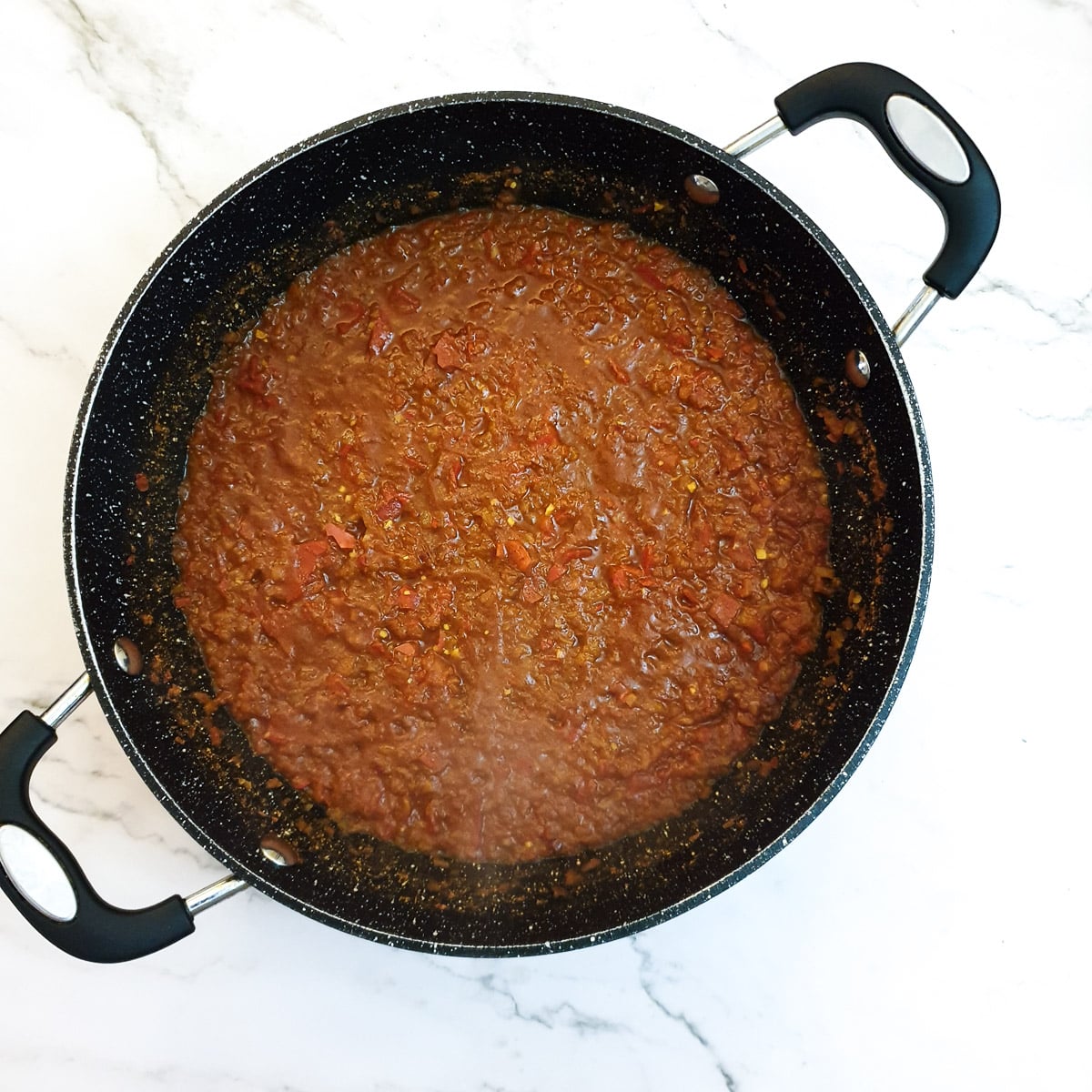 Heat the oil in a large pan and stirfry the paste over moderate heat for about 5 minutes. Stir in the passata, chutney, and sugar, plus approximately one-quarter cup of water and bring it to a boil.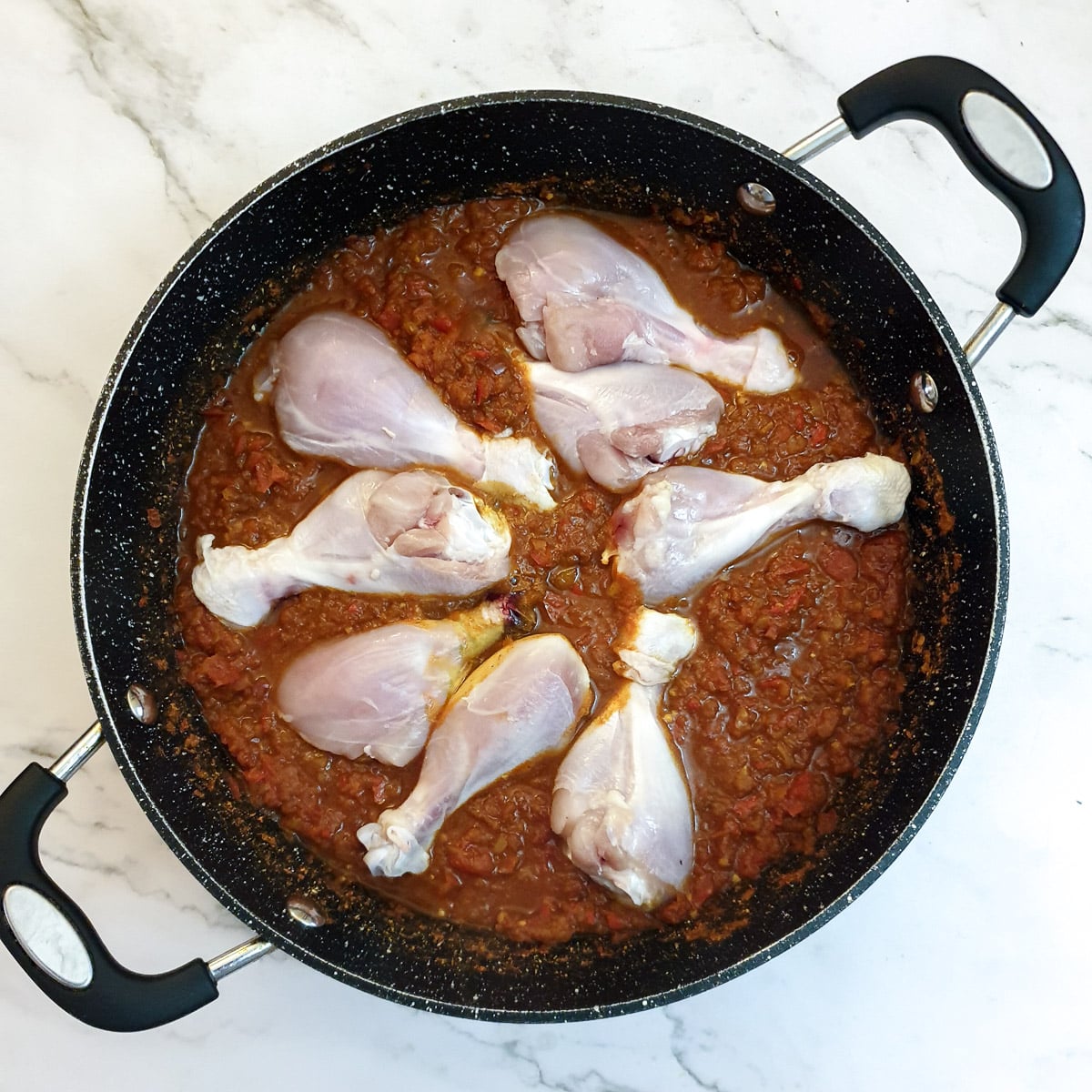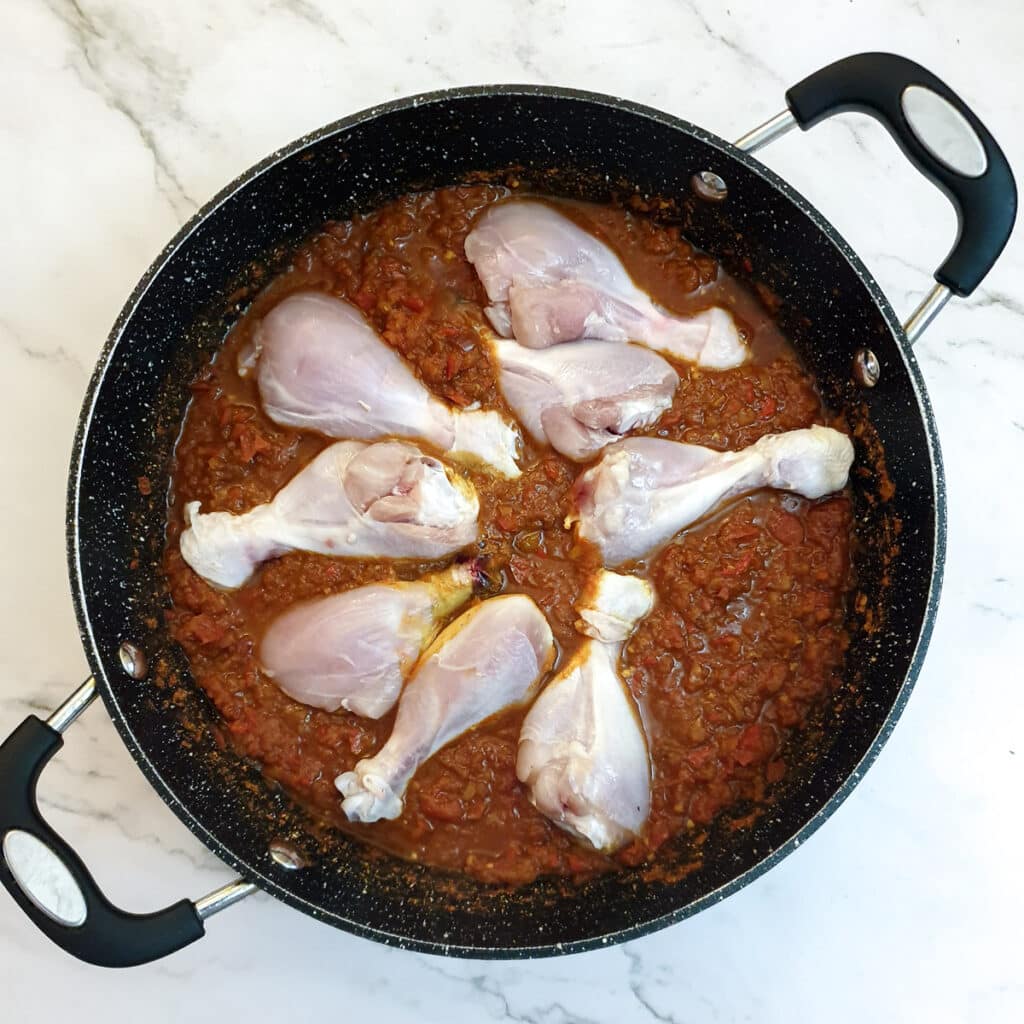 Nestle the chicken pieces into the sauce, cover the pan with a lid, turn the heat down to a simmer and leave for 10 minutes.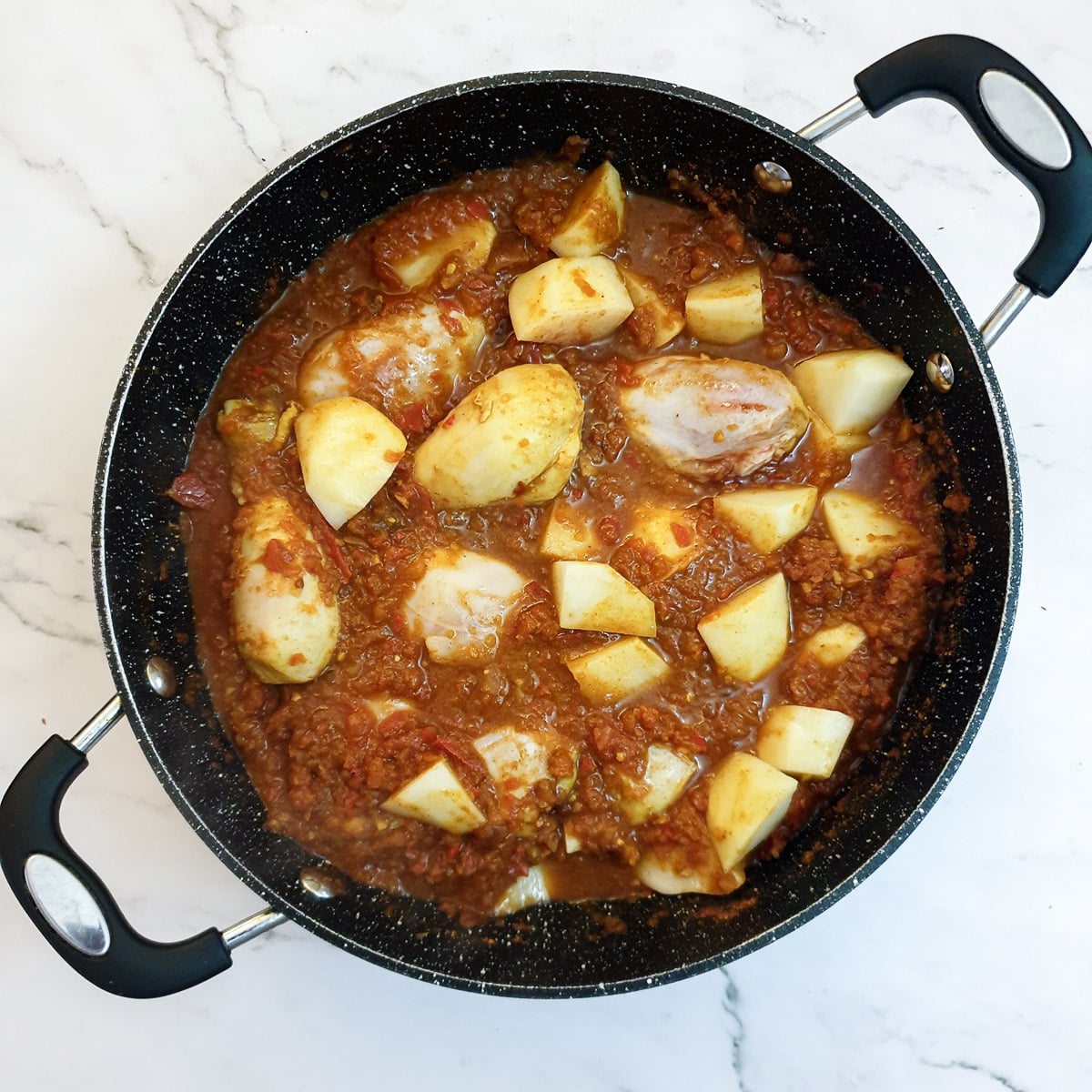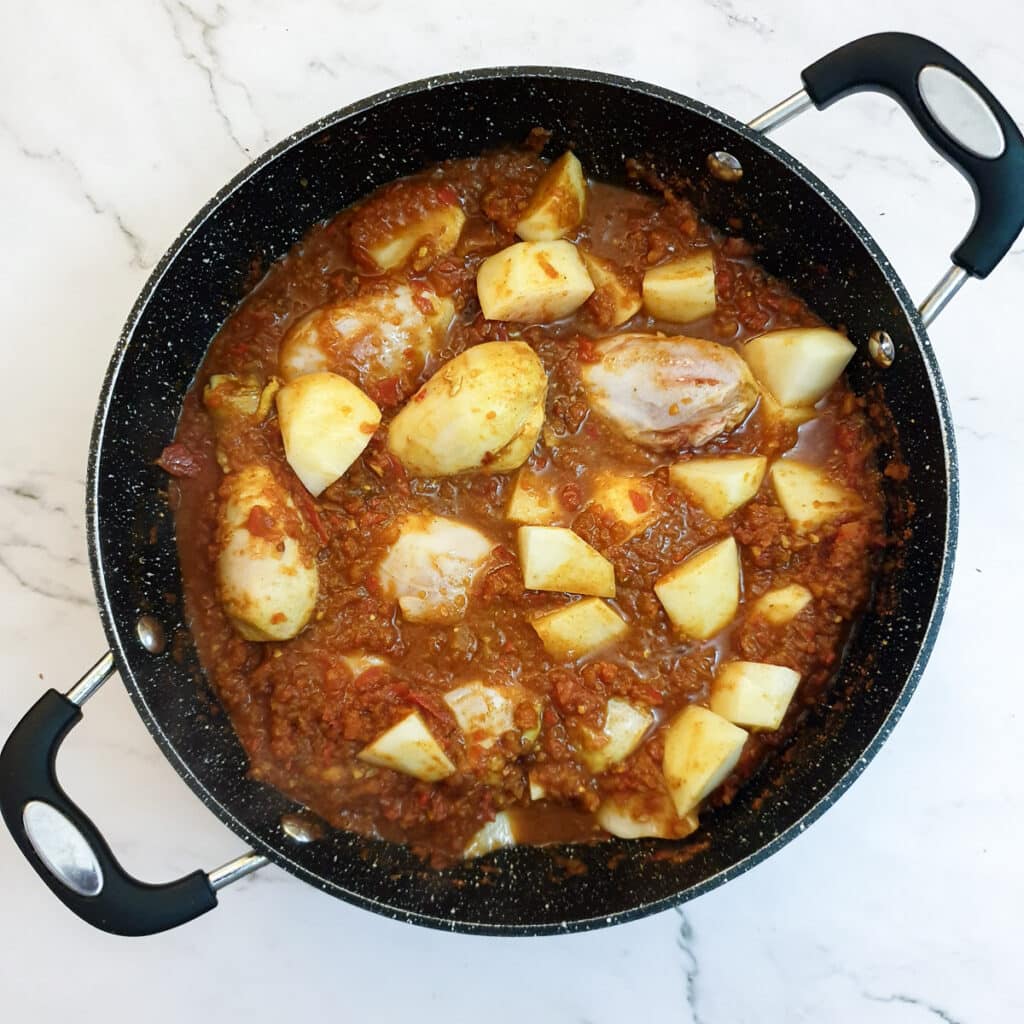 Check the moisture content. The end result should be quite a thick curry sauce. If you think you need more water you can add it at this stage. I found that I didn't need to add more water.
Drain the potatoes and add them to the pan. Cover with a lid and continue to simmer for 20 minutes or until the potatoes are soft.
The sauce should have reduced to a thick coating consistency. If the sauce seems too runny, remove the lid about 5 minutes before the end of the cooking time so that some of the moisture can evaporate slightly.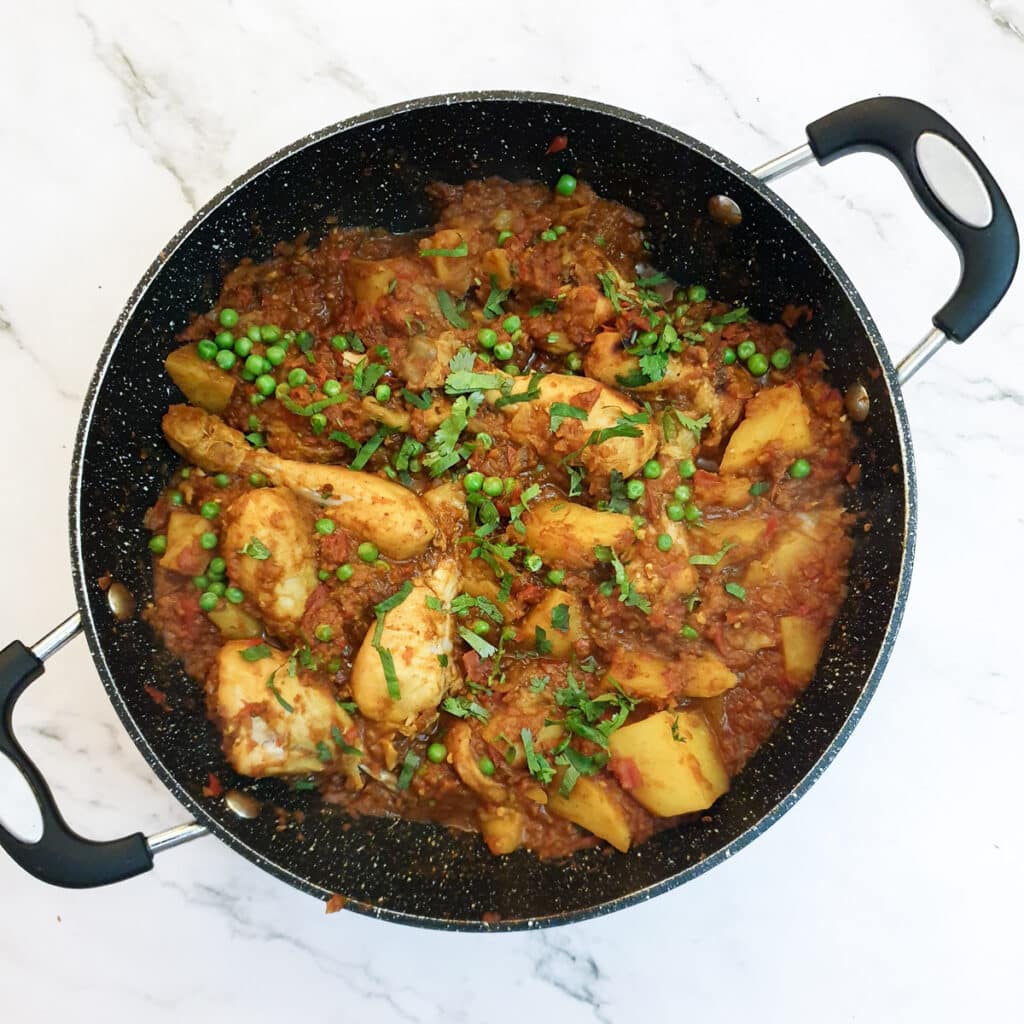 Stir in the peas and garnish with freshly chopped coriander. Serve hot with rice and naan bread.
If you'd like to be notified of any new recipes, why not subscribe to my newsletter? As a thank-you gift, you will receive a free recipe e-book containing some of my most popular cakes and desserts.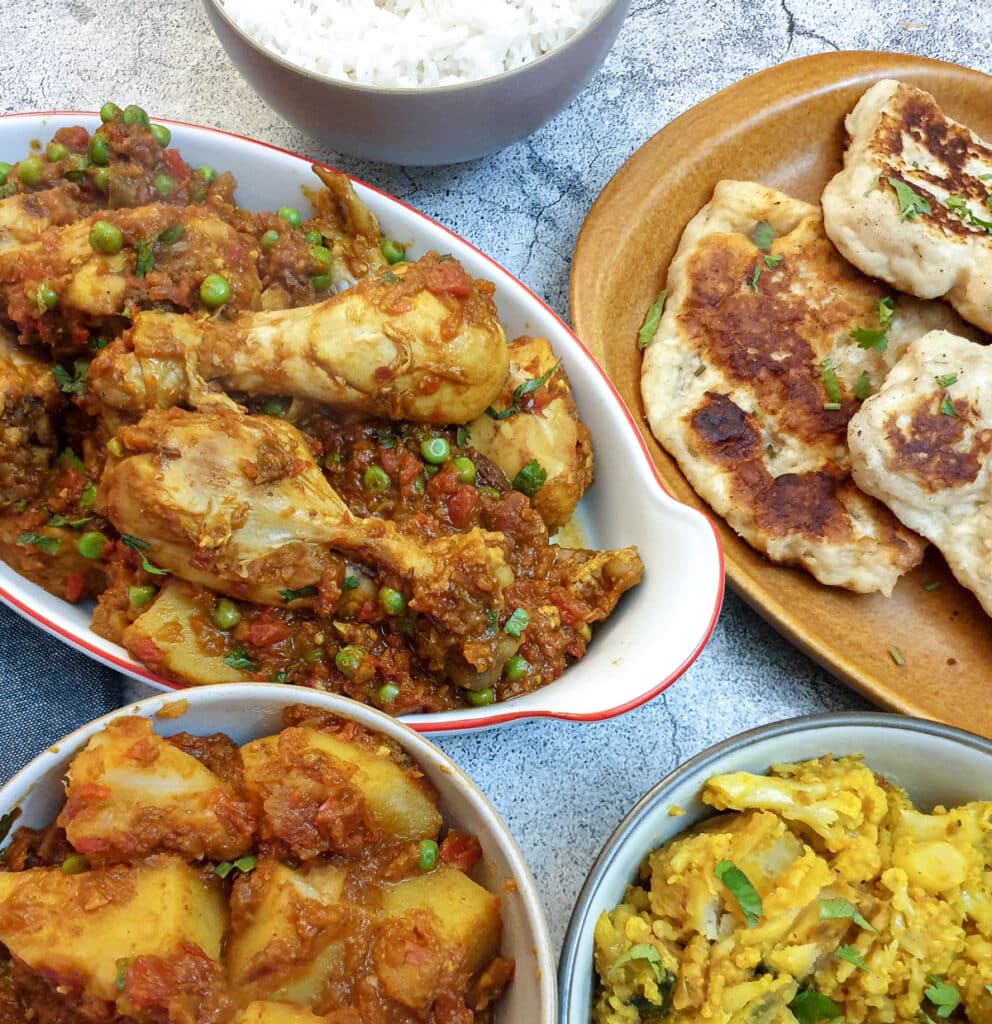 Chicken bhuna FAQ
Where can I get naan bread?
You can normally find naan bread in the Asian section of your supermarket, or sometimes in the bakery section. I always make my own naan bread using this recipe. It's so easy to make and takes hardly any time at all.
Can I freeze chicken bhuna?
Yes, you can freeze both the potatoes and the chicken, either separately or in the same container. The reason I would freeze them separately is that the chicken should be defrosted and eaten within 3 months, whereas the potatoes can be frozen for longer.
Defrost overnight in the refrigerator (or if you are in a hurry you can use your microwave) and then reheat in a pan on the stove until piping hot. Don't leave it to boil for too long though or the potatoes will turn mushy.
How long can I store leftovers in the refrigerator?
Leftovers can be stored in a covered container in the refrigerator for up to 3 days.
Is chicken bhuna a spicy dish?
If you were to order chicken bhuna in a restaurant, you would find that it would be somewhere in the middle of the mildest (korma) and spiciest (vindaloo) curries, and would probably score a 6 out of 10 on the heat scale. However, when you make it at home you can adjust the chilli content to make it as mild or as spicy as you enjoy.
Save for later
If you would like to try this chicken bhuna with Bombay potatoes yourself, why not pin the recipe to one of your Pinterest boards so you can find it easily? Just click on the image below.
Alternatively, you can save the recipe by clicking on the floating heart icon on the right-hand side of the screen.
Other curry recipes
If, like me, you are fond of a good curry, you might like to try these other curry recipes.
... and if you are looking for easy ways to cook rice, you'll find step-by-step instructions in these posts:
📋The recipe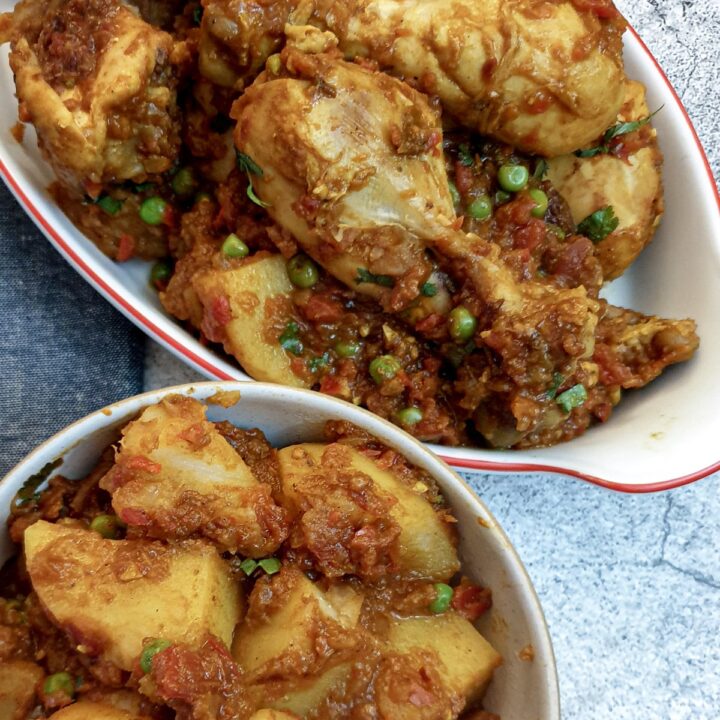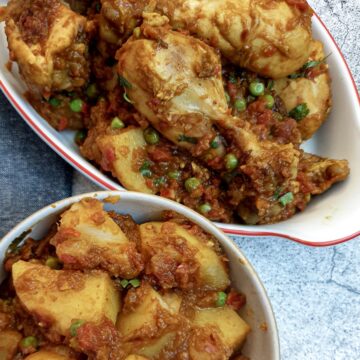 Chicken Bhuna with Bombay Potatoes
This easy version of chicken bhuna combines both chicken and potatoes in a thick flavourful sauce, so you can enjoy both curried chicken and Bombay potatoes all cooked in one pan!
Print
Pin
Comment
Bookmark
Saved!
(Click the stars to rate this recipe)
Ingredients
8 - 12

skinless chicken thighs or drumsticks

allow 2 to 3 pieces of chicken per person

2 - 3

large

potatoes

cut into 2cm chunks

1

large

red pepper

seeds removed and choppen into chunks

2

large

onions

quartered

3

medium

tomatoes

quartered

1

cup

passata

1

tablespoon

fruit chutney

1

teaspoon

sugar

2

tablespoons

sunflower oil

2

tablespoons

fresh chopped coriander

¼

cup

water

½ - 1

cup

frozen peas

optional

1

teaspoon

salt
Spices
3

cloves

garlic

peeled and finely chopped

1

inch

fresh ginger

peeled and grated

2

teaspoons

garam masala

2

teaspoon

ground coriander

2

teaspoon

ground cumin

1

teaspoon

dried chilli flakes

or to taste

1

teaspoon

turmeric
Instructions
Remove the skin from the chicken and trim away any visible fat or sinews.

8 - 12 skinless chicken thighs or drumsticks

Peel the potatoes and chop them into approximately 2cm pieces. Set them aside in a bowl of water.

Place all the ingredients or the spice paste into a food processor and blitz until finely chopped.

2 large onions,

1 large red pepper,

3 medium tomatoes,

3 cloves garlic,

1 inch fresh ginger,

2 teaspoons garam masala,

2 teaspoon ground coriander,

2 teaspoon ground cumin,

1 teaspoon dried chilli flakes,

1 teaspoon turmeric,

1 teaspoon salt

Heat the sunflower oil in a large frying pan (with a lid) and add the spice paste. Fry gently for 5 minutes, stirring all the time.

2 tablespoons sunflower oil

Add the water, passata, fruit chutney and sugar and stir. Bring to the boil.

1 tablespoon fruit chutney,

1 cup passata,

¼ cup water,

1 teaspoon sugar

Arrange the chicken pieces in the sauce and reduce the heat to simmer. Cover with a lid and simmer for 10 minutes.

Drain the potatoes and add to the pan. Cover and simmer for another 20 minutes until the potatoes are soft. If the sauce is too runny, remove the lid for the last 5 minutes to allow some of the moisture to evaporate.

If you are going to be adding frozen peas, stir them in now.

Garnish with chopped coriander.

2 tablespoons fresh chopped coriander
Notes
Thickness of the sauce - this curry is not supposed to have a runny sauce so I have only included a quater cup of water.  Keep your eye on the pan as it is cooking.  The evaporation will depend on how tightly your pan lid fits.  If you find it is boiling dry, you can add additional water. For the heat of the curry - adjust the amount of chilli you add.  You could substitute all the spices for store-bought curry powder if you prefer. Nutrition has been calculated without the naan bread, and is based on using 8 chicken thighs and 3 potatoes.
Nutrition
Calories -
883
kcal
|
Carbohydrates -
59.9
g
|
Protein -
91.8
g
|
Fat -
29.9
g
|
Saturated Fat -
6.9
g
|
Cholesterol -
260
mg
|
Sodium -
863
mg
|
Potassium -
2309
mg
|
Fiber -
11.2
g
|
Sugar -
10.5
g
|
Calcium -
125
mg
|
Iron -
7
mg
I am not a nutritionist. The nutrition information has been calculated using an on-line calculator, and is intended for information and guidance purposes only. If the nutrition information is important to you, you should consider calculating it yourself, using your preferred tool.
Unless otherwise stated, a cup is the standard US cup containing 240 ml. In all my recipes this cup is assumed to hold 140g of flour. For help converting other ingredients between cups, grams, ounces and other measures, see my recipe conversion calculator.
All my recipes are developed and tested at sea-level. For tips on adjusting recipes for high altitudes see my post on baking at high altitudes.
Tried this recipe?
If you made this recipe I'd love it if you could leave me a comment and let me know how it went!
Share on Facebook
Share on Twitter
If you made this recipe and enjoyed it, I'd love it if you could give me a star rating in the comments below. And if you'd like to get in touch, you can email me at [email protected]. I'd love to hear from you. And don't forget to subscribe to my mailing list so you can grab yourself a copy of my FREE COOKBOOK!
If you'd like to continue browsing, just click on this link to all my recipes.