Tandoori lamb chops are made from succulent lamb marinated in a spicy yoghurt and lemon marinade and fried to perfection. Serve with a dish of fragrant saag aloo and a slice homemade of buttery garlic naan bread for a curry night with a difference!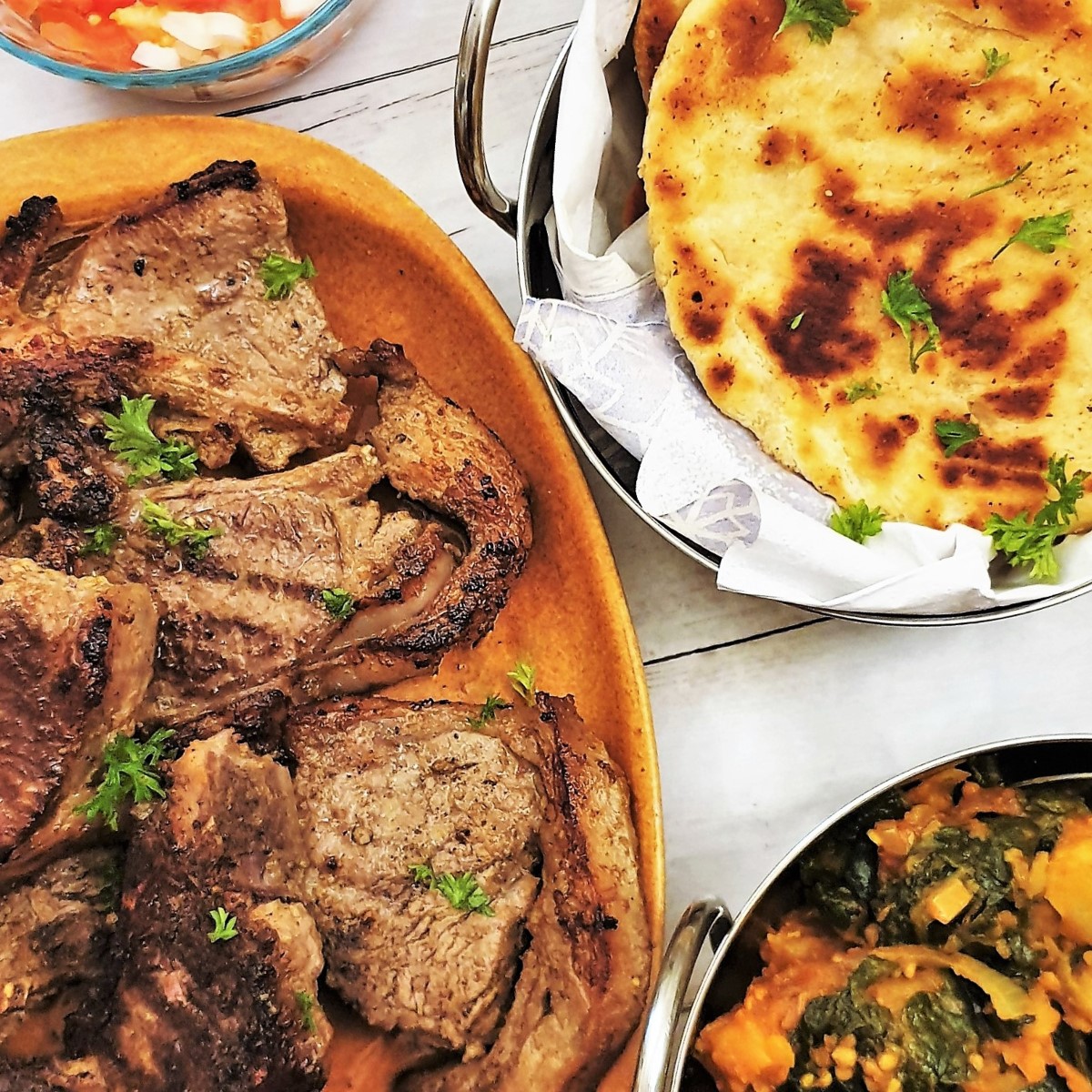 **As an Amazon affiliate, I earn from qualifying purchases.**
What is Tandoori?
The Tandoori style of cooking is a method that involves cooking food in a clay oven, or tandoor, at a very high temperature. Most people don't have access to such a clay oven and tend to use either a grill, or a very hot frying pan. For this recipe for tandoori lamb chops, I've chosen to use my cast iron griddle pan.
In Tandoori cooking, the meat is marinated in a yoghurt and citrus-based marinade, with spices such as paprika, cumin, coriander and garam masala. The heat for a tandoori marinade comes from cayenne pepper or chillies.
The combination of marinating the meat, and cooking it over a very high heat, results in tender juicy meat, that is absolutely packed with flavour.
These tandoori lamb chops make the perfect meal when served with a dish of saag aloo (curried potatoes and spinach) and fluffy homemade buttery garlic naan bread.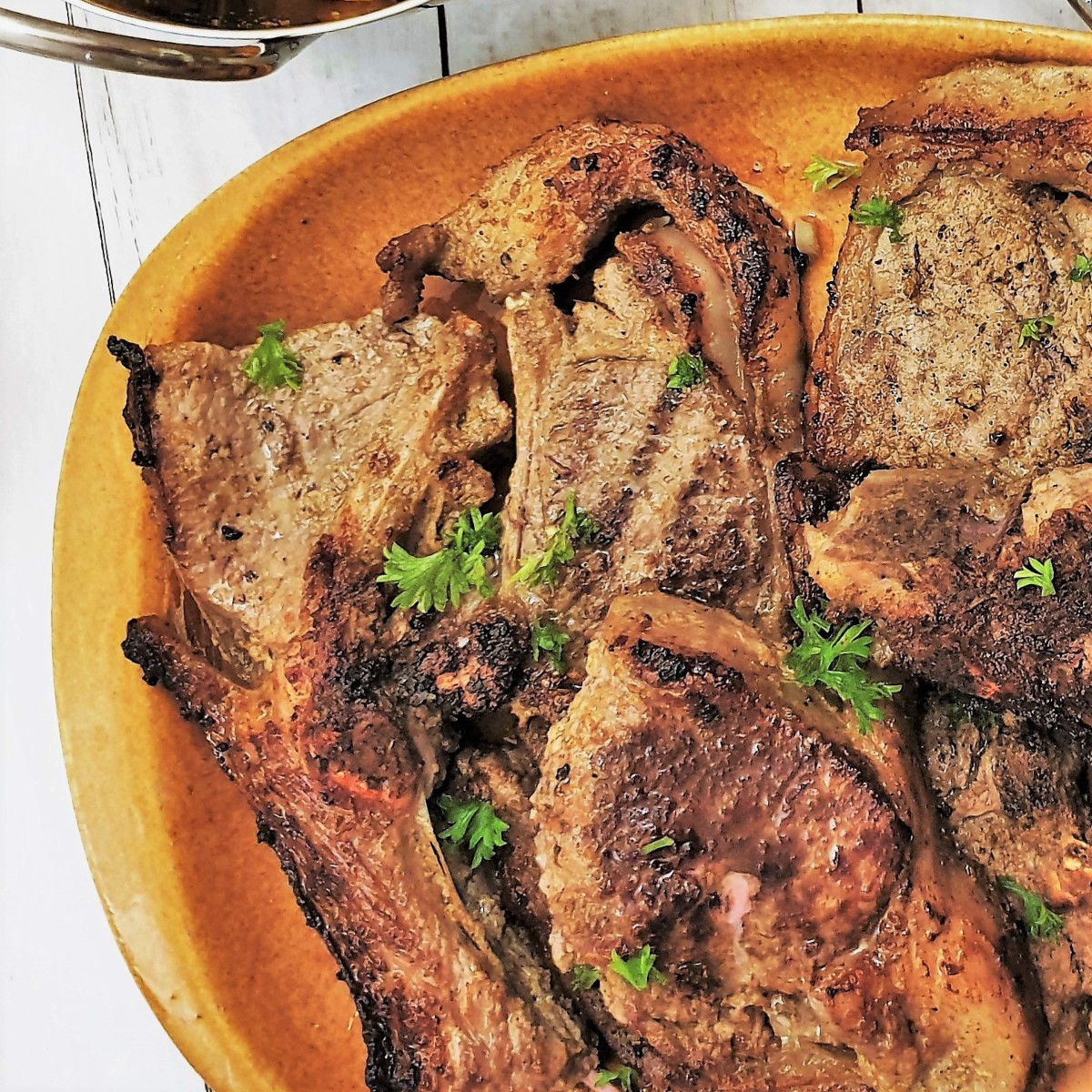 I want to make this, what do I need?
To make tandoori lamb chops you only need a few ingredients.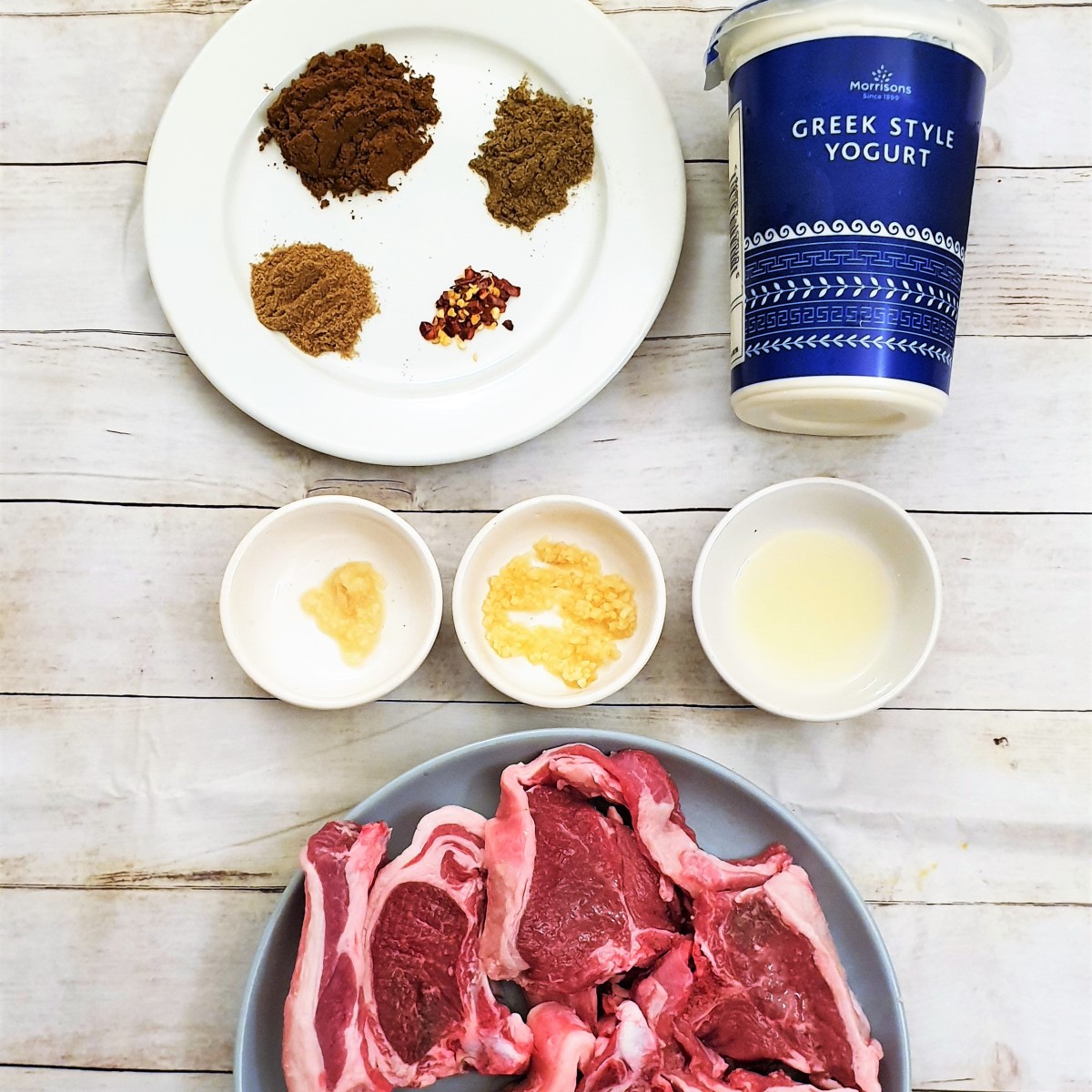 Of course, you will need lamb chops. Try to get rib or loin chops as they are perfect for the quick hot tandoori cooking style. See this article on the different types of lamb chops for an example of what these chops look like. Shoulder chops are not so tender, and therefore not really suitable as these chops will benefit from a longer, slower cook.
I have allowed 1 and a half pounds (680g) of lamb chops for 4 people, which is 6oz (170g) per person. This may sound like a lot of meat, but the lamb chops are on the bone, and most of the visible fat will be trimmed away which will reduce the weight. Depending on the size of the lamb chops, I tend to allow 2 to 3 per person.
You will also need a couple of tablespoons of sunflower oil, or any other neutral flavoured oil, for frying.
For the marinade…
Greek yoghurt – this is naturally thick and unflavoured. You can use Natural Thick yoghurt, but make sure it is unflavoured.
Lemon juice – this provides the citrus element.
Garlic and ginger – you can use freshly minced cloves of garlic and finely chopped freshly peeled ginger, but I prefer my favourite brand of crushed ginger and garlic from a jar, which is a lot more convenient and makes it easy to measure out the exact quantities you need.
For the spices you will need garam marsala, ground coriander, ground cumin, ground paprika (not pictured) and dried chillies or cayenne pepper for the heat.
Salt is optional and to your own taste, but I like to add half a teaspoon to the marinade.
How to make Tandoori lamb chops
There are two easy steps to making these tandoori lamb chops:
Prepare the marinade and marinate the chops
Fry the chops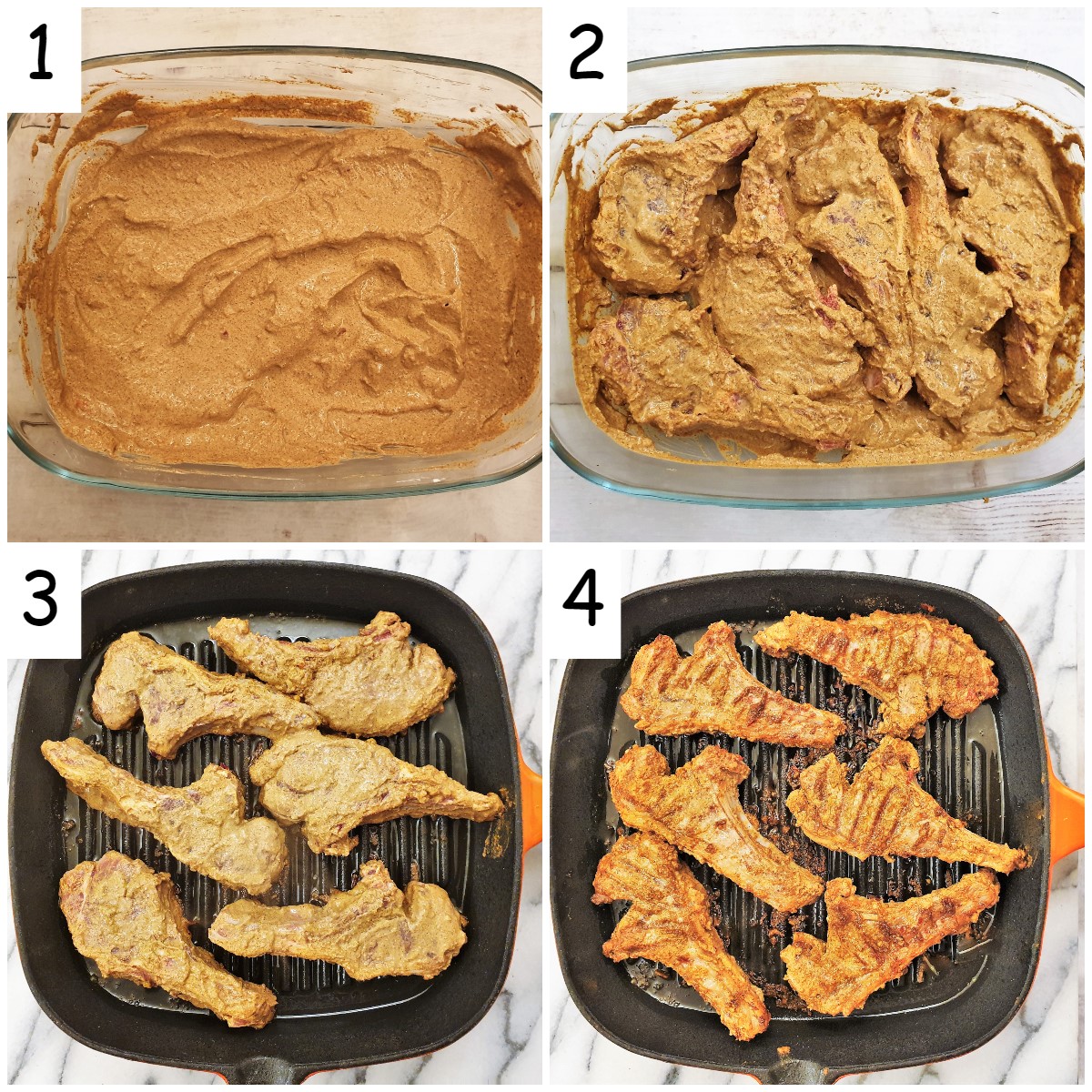 Place all the ingredients for the marinade into a shallow bowl, mix well and then submerge the chops in the marinade Take care to cover the chops completely.
Cover with plastic wrap and set aside in the refrigerator for at least half-an-hour to marinade. The longer you marinade the better – you can leave these for up to 3 days in the refrigerator before cooking.
Heat the sunflower oil in a cast-iron skillet, then take the chops out of the marinade.
Brush most of the marinade off the chops then place them in the hot skillet.
Fry the chops for 3 to 5 minutes per side (depending on the thickness of the chops) until they are nicely browned.
The cooking time is a matter of preference. Some people like their chops to be cooked 'well done', I prefer mine to be still slightly pink on the inside.
Place the cooked chops on a plate, cover with a sheet of aluminium foil and allow to rest for 5 minutes.
If preferred, you can heat any leftover marinade in a small saucepan until boiling, and serve either as a dipping sauce, or spooned over the lamb.
Serve with a dish of saag aloo and homemade naan bread.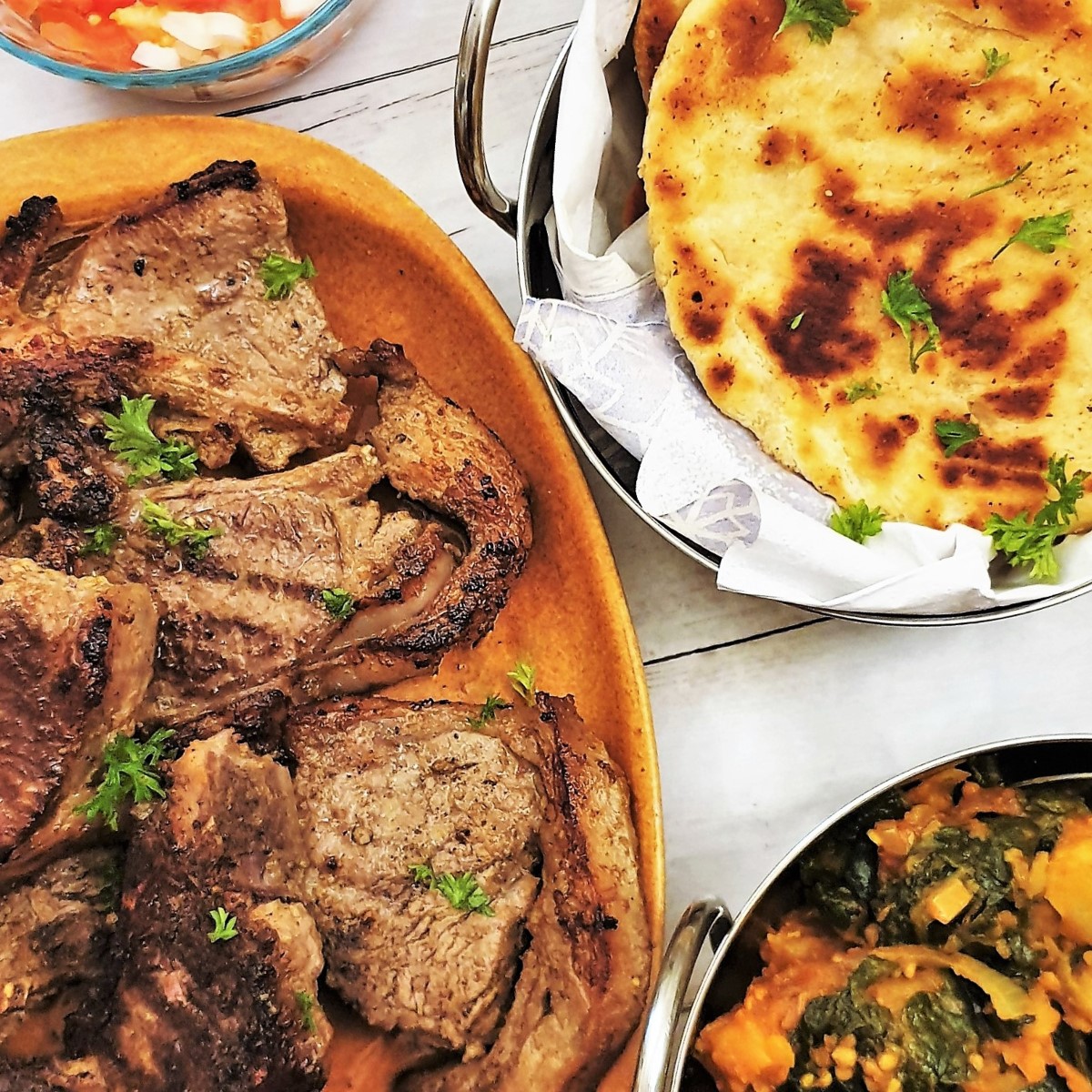 If you want to keep up-to-date with my latest recipes why not follow along on Facebook or Pinterest. And don't forget to subscribe to my mailing list so you can get your FREE COOKERY BOOK
Can I freeze tandoori lamb chops?
Yes, you can freeze the uncooked chops in the marinade. Transfer the chops and the marinade to a ziploc bag and freeze for up to 3 months.
To use, defrost overnight in the refrigerator, then remove the chops from the marinade and fry as per the recipe instructions.
Make in advance
Marinating the chops for a day or two really improves the flavour. You can store the marinaded chops, covered, in the refrigerator for up to 3 days.
To use, remove the chops from the marinade and fry as per the recipe instructions.
If you enjoyed this recipe for Tandoori lamb chops, you may also enjoy some of my other curry meals and sides.
Additional resources
Don't forget to check out my handy Cookery Conversion Calculator if you want to convert any of your recipe measurements from grams to cups, ounces, tablespoons or millilitres and vice versa. You can also use the calculator for converting oven temperatures between Fahrenheit, Celsius and Gas marks.
If you live at a high altitude you may find you need to adjust your baking recipes to compensate for this. You can read all about it in this post on baking at high altitudes.
If you made this recipe and enjoyed it, I'd love it if you could give me a star rating in the comments below. And if you'd like to get in touch, you can email me at [email protected]. I'd love to hear from you. And don't forget to subscribe to my mailing list so you can grab yourself a copy of my FREE COOKBOOK!
If you'd like to continue browsing, just click on this link to all my recipes.