Everyone's favourite Indian snack – spicy potato and onion bhajis. Now you don't need to visit your local takeaway – you can make these at home in next to no time.
Homemade potato and onion bhajis
Potato and onion bhajis have got to be my all time favourite Indian snack food. I always order them as a starter whenever I visit my favourite Indian restaurant. Unfortunately, with the current restrictions on social gathering, restaurants are temporarily closed so getting hold of a freshly cooked bhaji is difficult.
If you feel the same way, don't worry. I've got a recipe for the most delicious potato and onion bhajis. They are crispy on the outside and soft on the inside, and you can adjust the heat to your own taste. They are super simple to make, and you can mix and fry them up in minutes.
I like to serve potato and onion bhajis with a selection of dipping sauces. In the picture below I've got mango chutney (from a bottle), lime pickle (from a jar) and an onion and tomato relish that is simplicity in itself to make (recipe below the picture).
Of course, you can use whatever dips you like. Grated cucumber, yoghurt and mint makes a nice refreshing dip, especially if you've gone a bit overboard with the chili.
How to make the easiest tomato relish
I got this recipe from the chef at an Indian restaurant I visited a few years ago. It was one of the sambal dishes that was served with the obligatory popadums, and was absolutely delicious.
I asked the chef what was in it, and to my astonishment he told me it was only finely chopped onion, tomato ketchup and a pinch of sugar. Who'd have thought it? I was expecting a long list of exotic spices. But no, just three simple ingredients. Try it for yourself if you don't believe me!
Anyway – on to the recipe …
How to make potato and onion bhajis
You can get the complete recipe on the printable recipe card at the end of this post.
The ingredients you will need are equal qualtities of finely sliced onion, and grated potato.
You will also need a few spices – ground cumin, ground coriander, turmeric, garam masala and chili flakes. I also like to add crushed garlic and a little ginger. You can use fresh garlic and ginger, or if you don't have fresh, just use garlic and ginger from a jar.
A note on the chili – I used 1/2 teaspoon of dried chili flakes and the heat was just about right for my taste. You can adjust the heat to your own taste by increasing the amout of chili flakes that you add. Of course, if you don't like chili, you can leave it out entirely. You cn make these potato and onion bhajis as mild or as spicy as you like.
The other ingredients you will need are flour, water, salt (optional as always) and a neutral cooking oil such as canola or sunflower, for frying. Don't use olive oil for frying the bhajis as it won't get hot enough. You need to use sunflower or canola oil.
Mix the ingredients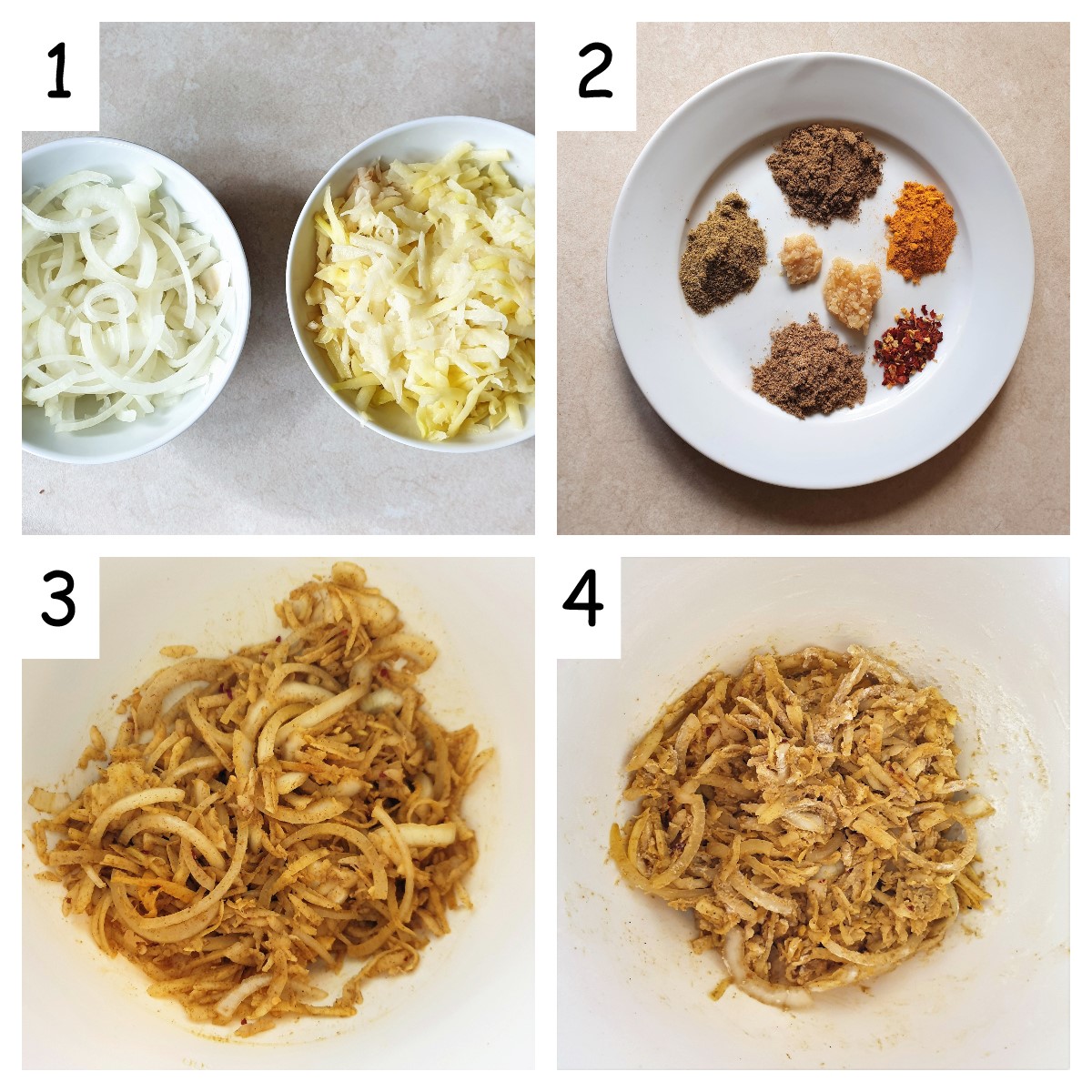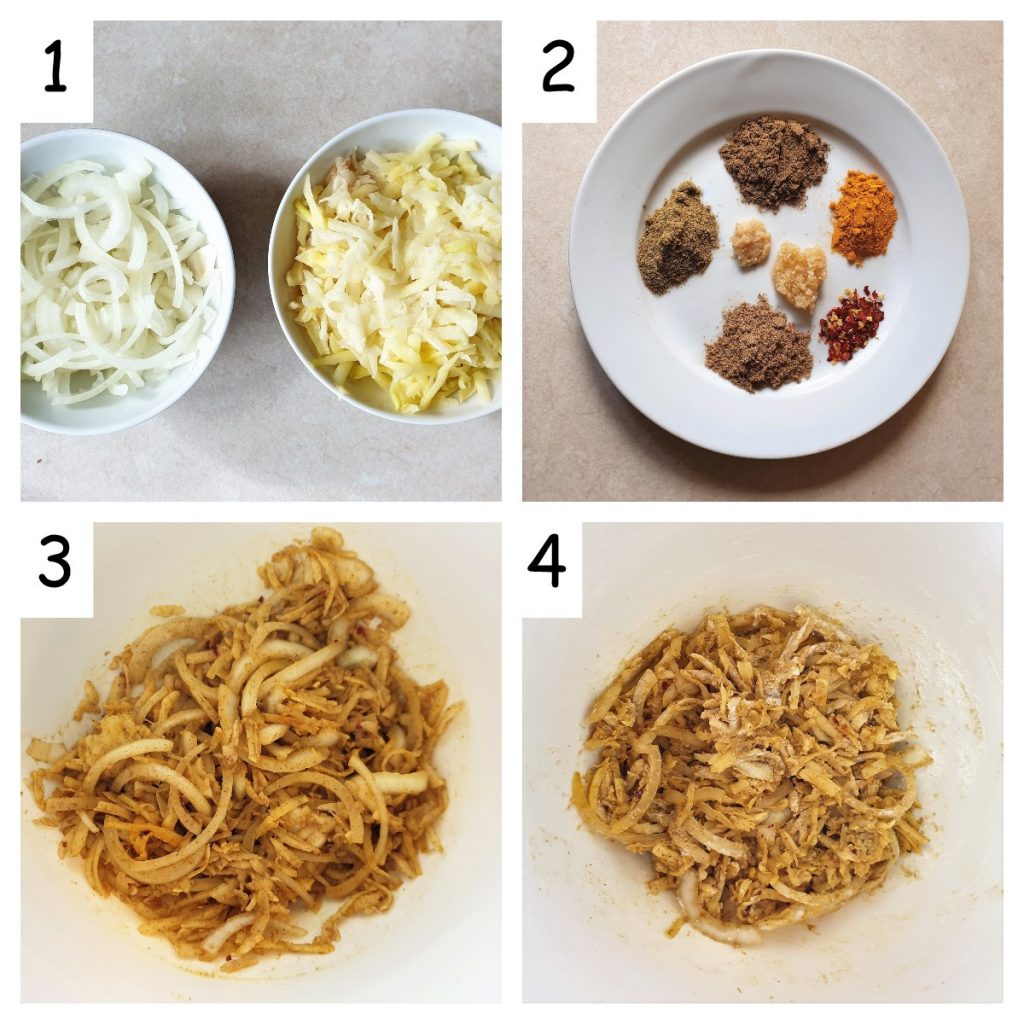 Firstly you will have to peel and finely slice a large onion, and peel and grate 2 medium potatoes. For 12 potato and onion bhajis you are looking at about 1 to 1.5 cups of each. It all depends on how large you make the bhajis.
Do not allow the potatoes to stand too long once they have been grated or they will start to discolour.
Place the onions and potatoes in a mixing bowl and add the spices. Stir with your hands until the spices are well distributed and the potato and onion are well coated (image 3).
Add 2 heaped tablespoons of flour (about 60g or 2 onces) and mix that through as well.
Fry the potato and onion bhaji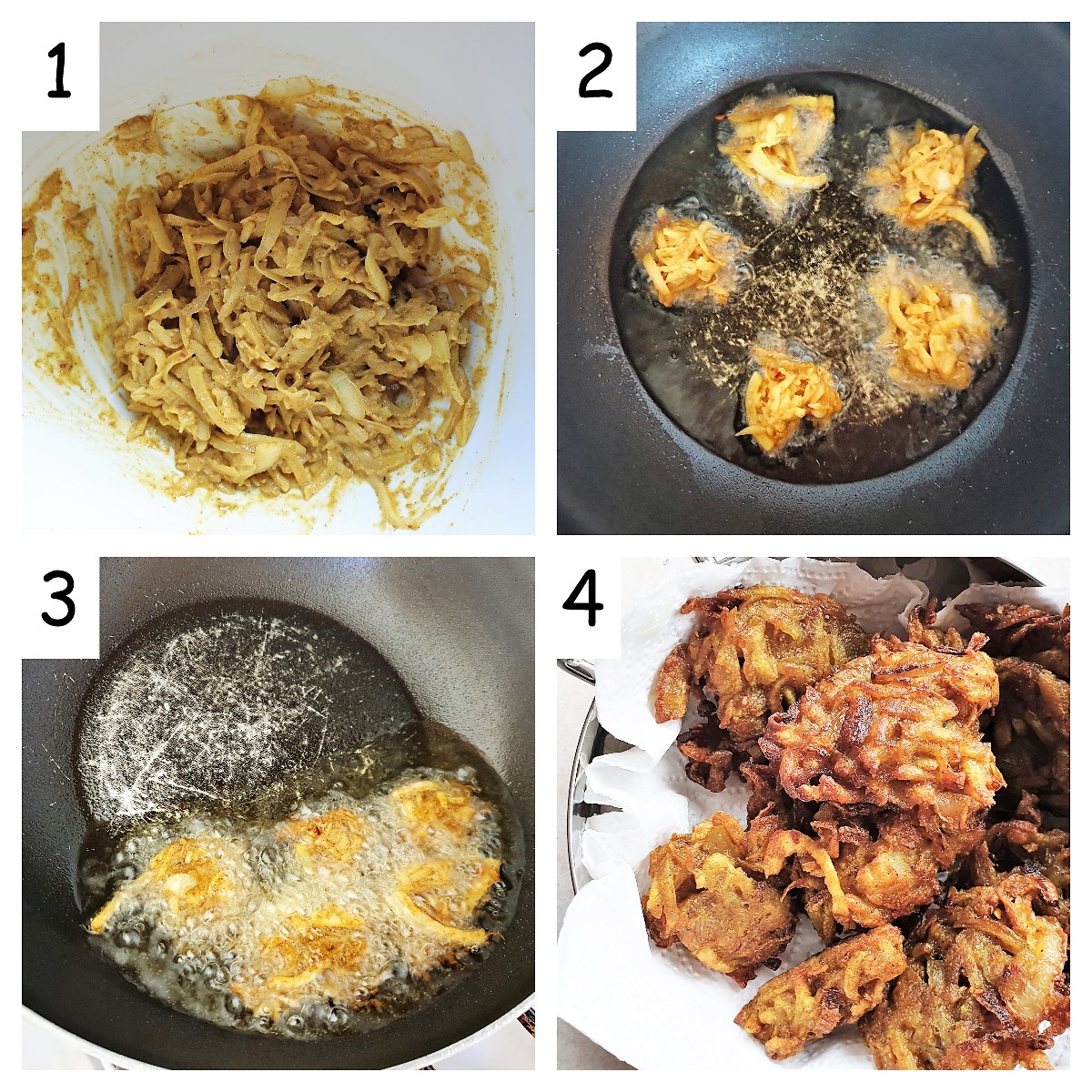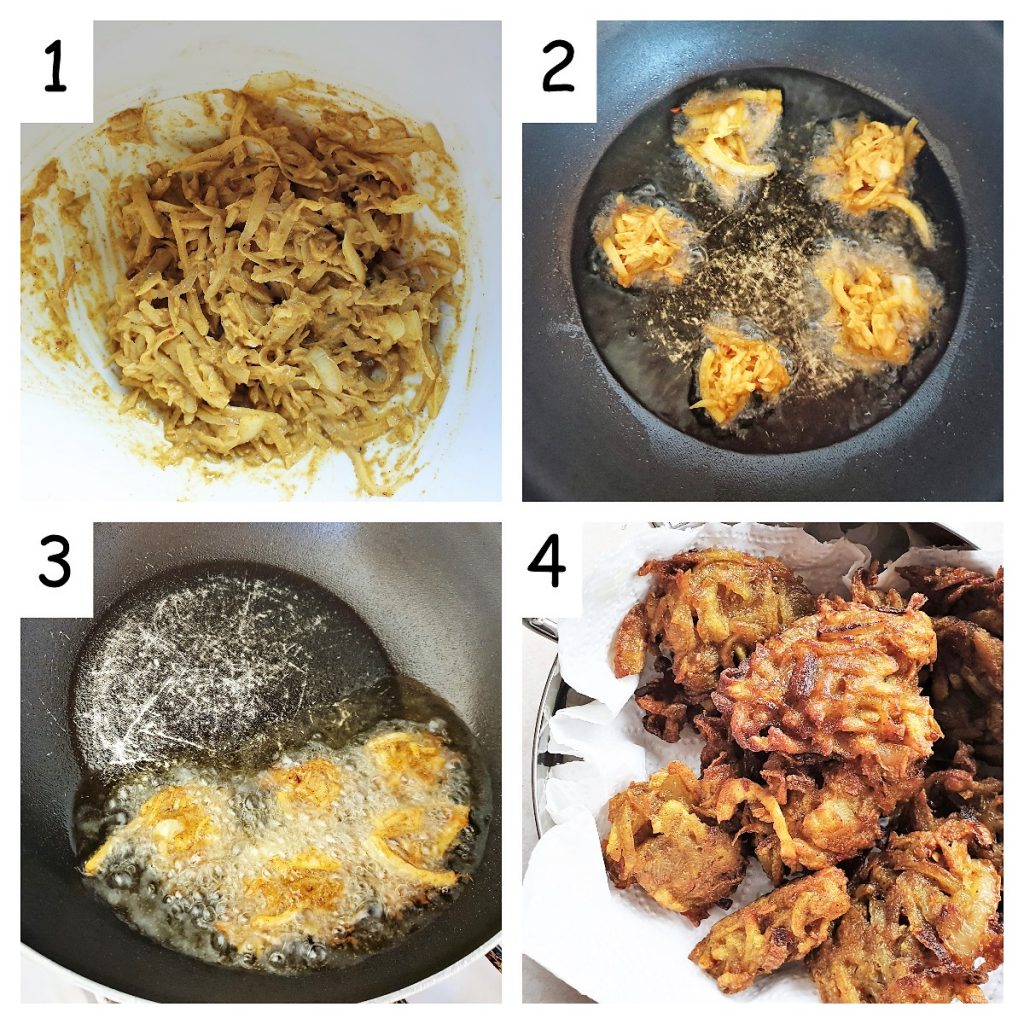 Finally you will need to add a small amount of water – just 2 or 3 tablespoons – and mix that through so that the flour is just moistened (image 1). Don't make the mixture too wet or the potato and onion won't stick together when you fry it.
Heat 1/2 to 3/4 cup of oil in a wok or large frying pan. The amout of oil you will need depends on the size of your pan. My wok has a narrow base, so 1/2 cup is ample. You need approximately 1/2″ of oil in the pan.
Drop a small piece of potato into the oil, and if it sizzles and rises to the top then the oil is hot enough. Don't let the oil get too hot or the bhajis will burn on the outside before the inside has had a chance to cook.
Now take a tablespoon and carefully drop spoonfuls of the potato/onion mixture into the hot oil. Don't overcrowd the pan, you should leave enough room so that you can easily turn the bhajis as they cook. Also, don't compress the potato and onion together. The mixture should be quite loosely packed when you put it into the oil (see image 2 above). You want to get lots of lovely crispy bits sticking out around the edges of the bjahi.
If you take a look at image 3 above, you will notice that the oil seems to be 'boiling'. This is actually the moisture content of the potatoes and onions that is boiling away, not the oil itself that is boiling.
Once the bhajis are nicely browned on the bottom, turn them over with a spatula and allow them to brown on the other side. Once they are golden brown all over, remove from the oil and place on kitchen towel to drain (image 4).
Serve hot as a starter, with a selection of dips of your choice. Or just serve as a side dish alongside your favourite curry meal.
Top tip – it you are not watching your weight 🙂 leave any leftovers on a plate covered with a clean towel and eat them for breakfast the next day. The outside will have turned soft and chewy, but you will still get the deliciously spicy flavours that to my mind intensify with standing!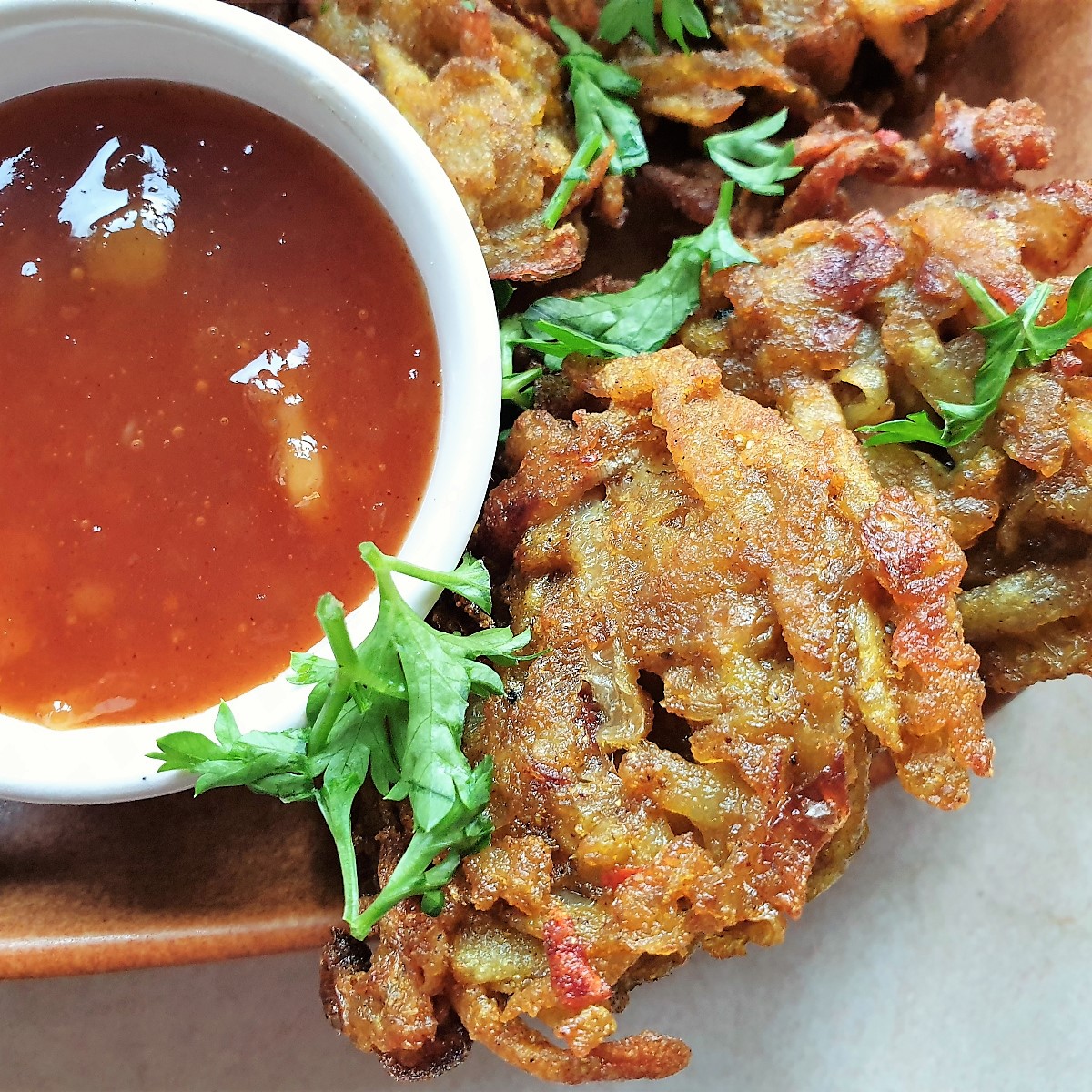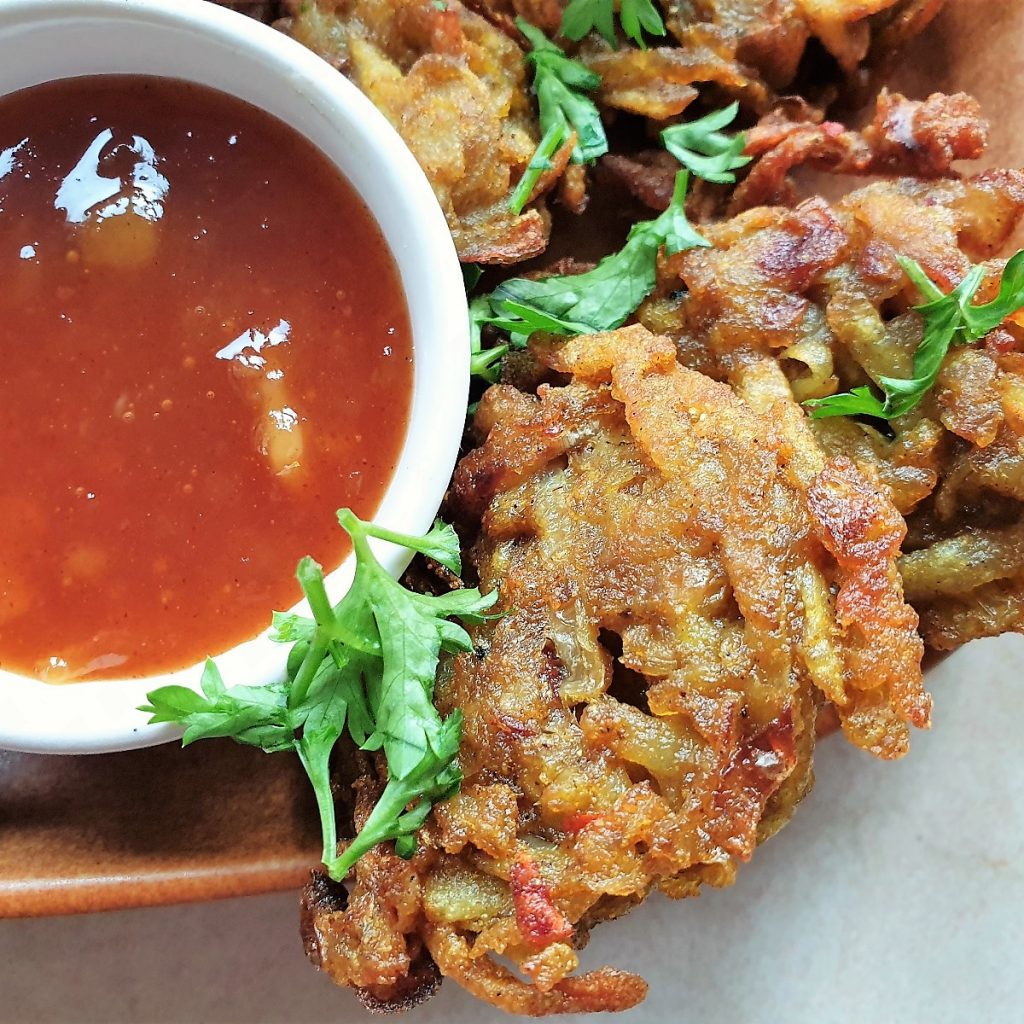 Can I make potato and onion bhajis in advance?
Yes, you can make potato and oion bhajis in advance. Just mix up all the ingredients, and then leave in a covered container in the refrigerator for a day, before frying.
If you plan on serving these hot as a starter, you should fry them just before serving, and serve immediately.
If you plan on having them cold as part of a buffet, you can fry them up to a day ahead and then leave the cooked bhajis covered in the refrigerator, in a dish lined with kitchen paper. Allow the bhajis to come back to room temperature before serving.
Can I freeze potato and onion bhajis?
Technically yes – you can freeze the cooked potato and onion bhajis. Just place them in a ziploc bag and freeze for up to six months.
However, they will not reheat back to their original crispness, so if you are planning on serving them hot, it would be better to make them from scratch.
If you are planning on serving them cold, just remove from the freezer, defrost in the fridge and then allow them to return to room temperature before serving with a selection of dips.
Can I double this recipe?
Yes you can double the recipe to make a bigger batch.
Just double the amount of the ingredients. But be careful with the chili. You may not want to double the amount of chili or it may make the bhajis too spicy.
Convert grams to cups
To help you convert your recipes, I have created a handy Cookery Conversion Calculator which will convert ingredients between grams, ounces, tablespoons, cups and millilitres. I hope you will find it useful.
If you live at a high altitude you may find you need to adjust your baking recipes to compensate for this. You can read about how to do this in this post on baking at high altitudes.
Recipe – potato and onion bhajis
Potato and onion bhajis
Crispy fried potato and onion balls, flavoured with a spicy curry.
Servings: 12 bhajis
Calories: 49kcal
Equipment
Sharp Knife

Grater

Mixing bowl

Wok or frying pan
Ingredients
1 large onion finely sliced
1 large potato grated
1 teaspoon ground cumin
1 teaspoon ground coriander
1 teaspoon turmeric
2 teaspoons garam masala
½ teaspoon chili flakes adjust according to how spicy you would like the bhajis to be
1 teaspoon crushed garlic
½ teaspoon crushed ginger
½ teaspoon salt optional
60 g (2 ounces) plain flour
2 tablespoons water
1/2 cup sunflower or canola oil
Instructions
Peel the potato and onion. Grate the potato and slice the onion into thin slices. Place i a mixing bowl.

Add all the spices, the ginger and garlic and the salt and mix well to coat the potato and onion thoroughly.

Add the flour and mix through.

Add 2 tablespoons cold water and stir thoroughly. You may want to use your hands to mix this really well.

Heat the oil in a wok or large frying pan until a piece of potato sizzles and rises to the top when dropped into the hot oil.

Drop tablespoons of th mixture into the hot oil and fry for about 3 minutes on each side, until nicely browned and cooked through.

Remove from the oil and place on kitchen paper to drain.

Repeat until all the potato/onion mixture has been used.

Serve as a starter with a selection of dips.
Notes
Adjust the chili according to your own taste.
If you are doubling the recipe to make a larger quantity, you can double up on all the ingredients, but be careful with the chili – you may not want to double this, or it may make the bhajis too spicy.
Once the potatoes have been grated, do not allow them to stand uncovered for too long or they will start to discolour.  Mix them immediately with the onions and spices.
When frying the bhajis, do not allow the oil to become too hot or they may burn on the outside before the inside is cooked through. 
The calories do not take into account the oil used for frying. 
I am not a nutritionist. The nutrition information has been calculated using an on-line calculator, and is intended for information and guidance purposes only.  If the nutrition information is important to you, you should consider calculating it yourself, using your preferred tool.
If you made this recipe and enjoyed it, please don't forget to give me a star rating in the comments below. And if you'd like to get in touch, you can email me on foodleclub1@gmail.com. I'd love to hear from you.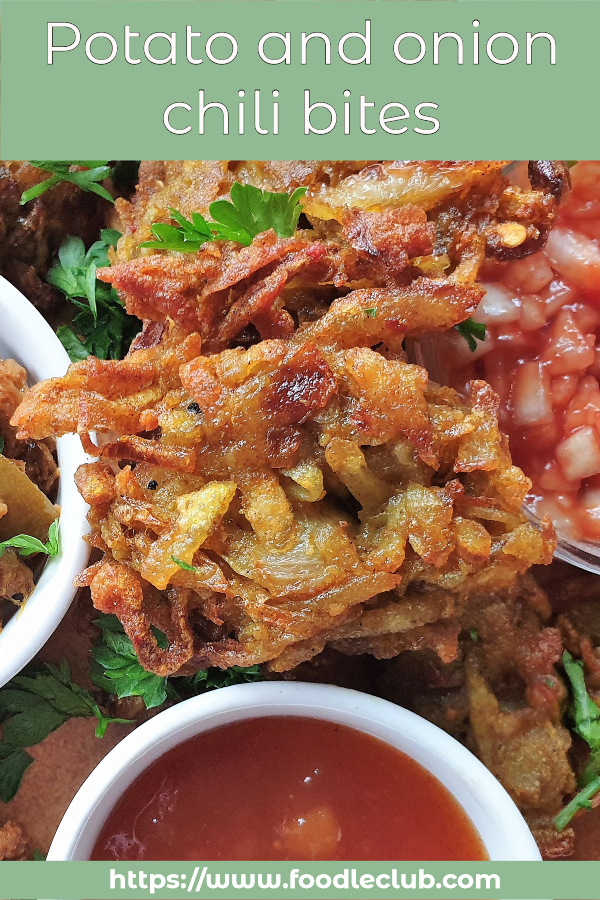 You can click the buttons below if you'd like to save the recipe to Pinterest or your Yummly recipe box. And don't forget to subscribe to my mailing list so you can grab yourself a copy of my FREE COOKBOOK! If you'd like to continue browsing, just click on this link to all my recipes.