Saag aloo, made with tender baby spinach and creamy potatoes cooked with a mixture of Indian spices is the perfect side dish to any curry.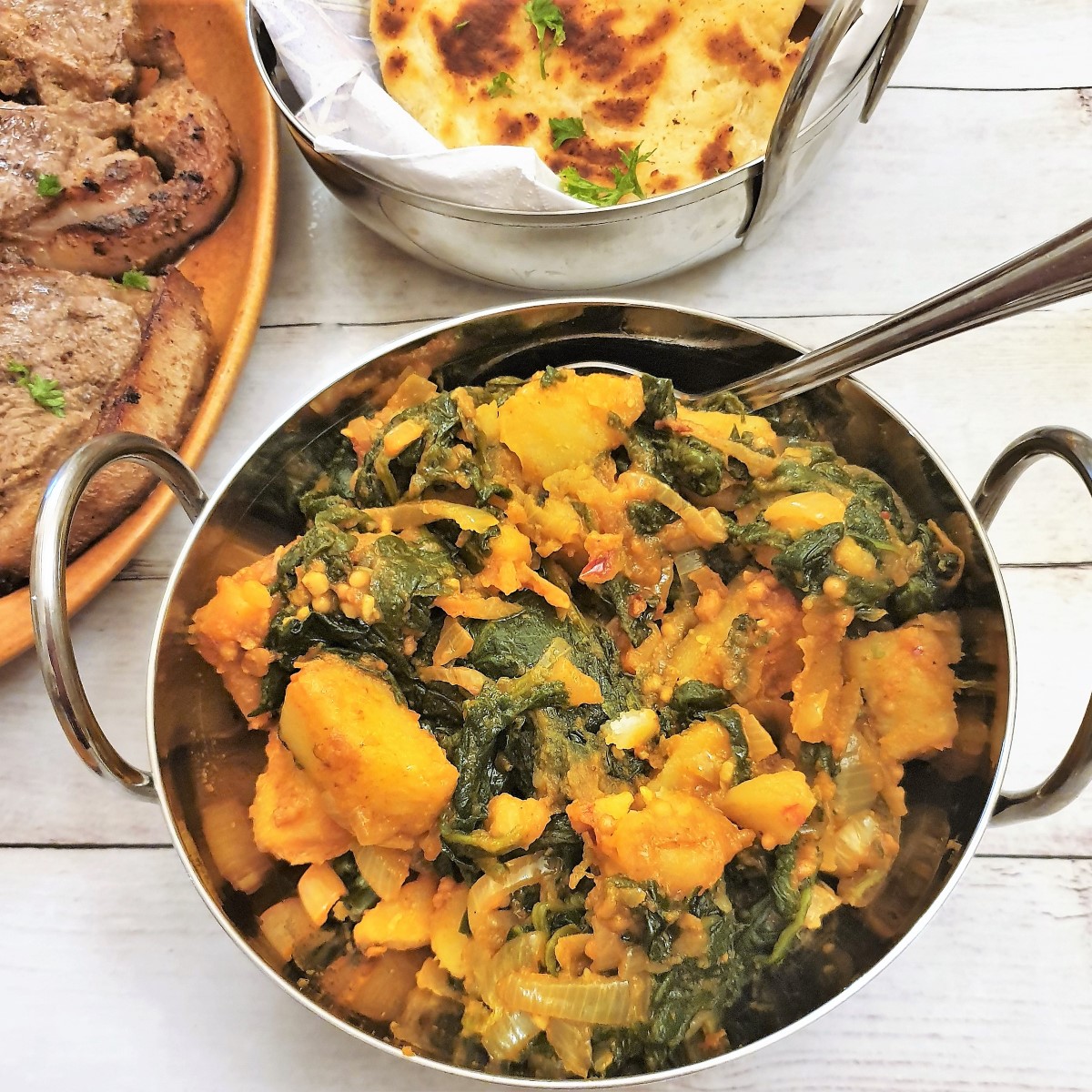 What is saag aloo?
Saag aloo is a dish of Indian origin, consisting of spinach (saag) and potatoes (aloo) cooked in a mixture of fragrant aromatic spices. I like to use baby spinach in this dish because it is less bitter than the larger crinkly leaves of the savoy spinach, and it adds a touch of sweetness that really makes this dish zing!
You'd be hard-pressed to find an Indian restaurant that doesn't feature this spicy spinach and potato curry on its menu of side dishes. It stands alongside bombay aloo (curried potatoes) and aloo gobi (potato and cauliflower curry) as one of the most popular choices. It's my go-to side of choice whenever I visit my favourite Indian restaurant.
This might be a restaurant dish, but saag aloo is so easy to make at home. And my recipe is so simple, you don't even have to par-boil the potatoes. This recipe for saag aloo is a true one-pot dish!
You can eat saag aloo either as a complete vegetarian meal, along with a bowl of lentil daal (from my friend Karen over at Larder Love) and a slice of fluffy garlic naan bread, or as a delicious side dish to any curry. I like to serve it with my Tandoori lamb chops. The spinach and potatoes make the perfect accompaniment to the juicy lamb.
What ingredients do I need?
You can get the exact quantities and full instructions for making this recipe on the printable recipe card at the end of this post.
To make saag aloo you will need baby spinach, potatoes and an onion.
You will also need some tomato puree. In the UK, tomato puree comes in a tube and is very highly concentrated. I believe the equivalent in the US is tomato paste.
Sunflower oil or other neutral oil for frying.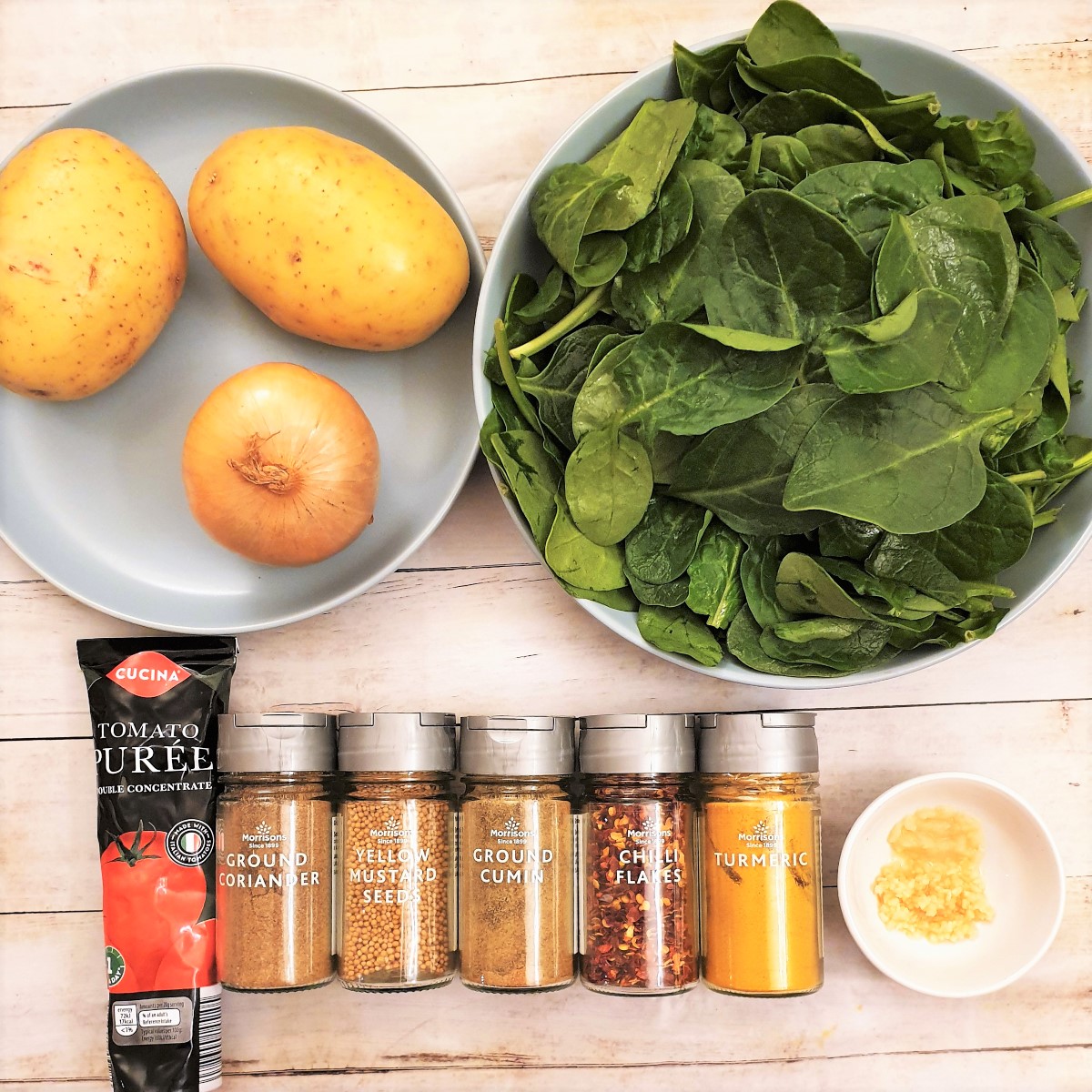 For the spice mix you will need:
Ground coriander
Ground cumin
Garam masala
Yellow mustard seeds
Turmeric
Dried chilli flakes
Crushed garlic
And of course, you will need salt to taste. If you don't use salt in your recipes you can omit this.
How to make saag aloo
Preparation
Peel the potatoes and cut into 1″ (1 and a half cm) cubes.
Peel and thinly slice the onions.
Rinse the spinach in a colander under cold running water.
Measure all the spices into a small dish.
Heat the sunflower oil in a wok or large frying pan and then fry the potatoes on a low heat until they start to soften and turn brown (image 1 above). Frying the potatoes in this way crisps and seals the outside of the potato giving then a lovely firm texture.
Add the onions and continue to fry over a low heat until the onions soften. This will take about 5 minutes. To speed the process up, put the lid on the pan, but do stir occasionally.
Now mix in the spices and the tomato paste (and salt if using), and fry gently for another minute, stirring continuously, until the spices release their aroma and the potatoes and onion are well coated.
Add the spinach and 4 tablespoons (1/4 cup) water. Stir well, cover with a lid and leave on a low heat for about 5 minutes or until the spinach has wilted.
Taste a potato piece of potato to see whether it is fully cooked. If it still a little hard, replace the lid on the pan and continue to simmer until the potatoes are softened. The actual time to cook will depend on how large the pieces of potato have been cut.
If it starts to dry out, add another splash of water, but be careful – this is not a wet dish and there should be no liquid remaining in the pan when the vegetables are cooked.
Transfer to a serving dish and serve with your favourite curry.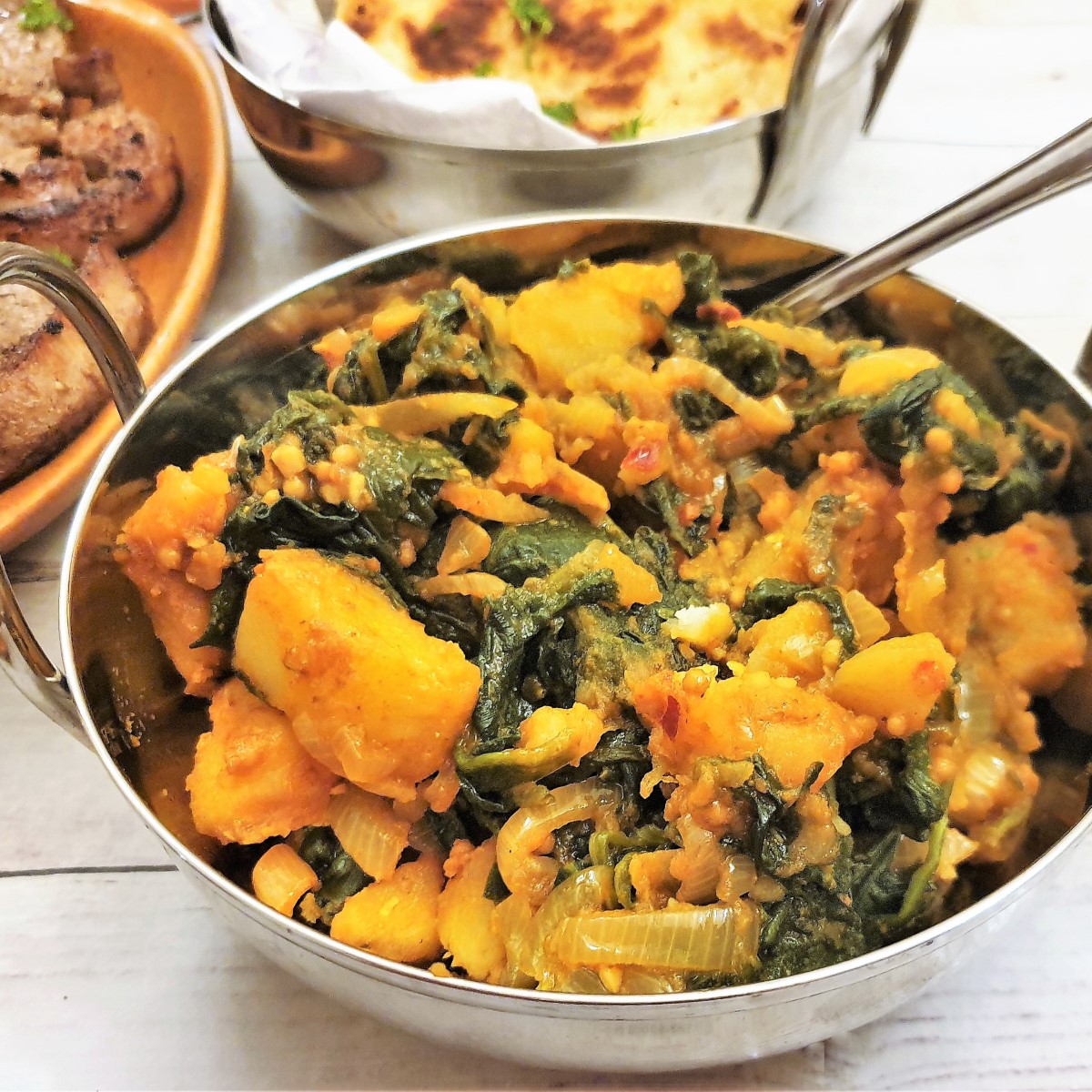 If you want to keep up-to-date with my latest recipes why not follow along on Facebook or Pinterest. And don't forget to subscribe to my mailing list so you can get your FREE COOKERY BOOK
Can I freeze saag aloo?
Yes, you can freeze dish dish. Just pack it in meal-sized portions into ziploc bags and freeze for up to 6 months.
Allow it to defrost and then tip it into a saucepan and heat gently until piping hot.
You may notice that once defrosted the saag aloo has drawn water. This is as a result of the water that is held in the cells of the vegetables, being frozen. As this water defrosts it detaches itself from the vegetables. You can pour this water away before reheating, or you can just mix it through once the saag aloo is hot.
Can I make it in advance?
You can make this spinach and potato curry up to 3 days ahead of time and store it covered in the refrigerator.
Reheat in the microwave or in a saucepan on the stove.

If you enjoyed this saag aloo recipe, you may also enjoy some of my other curry recipes:
Convert grams to cups
To help you convert your recipe measurements, I have created a handy Cookery Conversion Calculator which will convert ingredients between grams, ounces, tablespoons, cups and millilitres. I hope you will find it useful.
If you live at a high altitude you may find you need to adjust your baking recipes to compensate for this. You can read about how to do this in this post on baking at high altitudes.