Peppermint Crisp Fridge Tart is the ultimate in sweet indulgence. Luscious whipped cream mixed with caramelised condensed milk, layered on coconut biscuits and covered in grated peppermint chocolate. As a bonus there is no cooking required. Just let it set in the fridge for an hour or two before eating – if you can wait that long!
Quick Links
My daughter came to visit this week and we got to chatting about things that are commonplace in South Africa, but not readily available in England. One of the things we came up with was the most iconic of all South African desserts – a Peppermint Crisp Fridge Tart.
Just the thought of it set our taste-buds tingling, and we just had to make one. Unfortunately, 2 out of the 4 main ingredients are not available in the shops in the UK so we had to improvise with local substitutes, but I think it turned out pretty well. #EatentoomuchnowIfeelsick.
---
What is a Peppermint Crisp Fridge Tart?
A Peppermint Crisp Fridge Tart is a decadent, sweet, creamy dessert, made by mixing whipped cream and caramelised condensed milk with grated peppermint crisp chocolate and layering between crispy coconut biscuits.
South Africa is well known for its fridge tarts, and this is one of the easiest fridge tarts to make. It literally takes 15 minutes from start to tart. The hardest part is waiting for it to set in the fridge afterwards.
A peppermint crisp is a chocolate bar filled with cylinders of mint-flavoured cracknel, which was invented in South Africa by Wilson/Rowntree and is now made by Nestle. It is only sold in the shops in South Africa, Australia and New Zealand but it is available in the UK on Amazon.
Even though Amazon offers free next day delivery with Prime, we couldn't wait, so we decided that a Peppermint Aero would have to suffice as a substitute. Taste-wise the Aero works a treat, but the crackle that you would get from the peppermint crisp is missing.
The next ingredient we needed was Bakers Tennis Biscuits. These biscuits have a lovely coconut/caramel flavour. The nearest substitute we could find was a packet of Nice biscuits so we used those instead.
---
How to make Peppermint Crisp Fridge Tart
Ingredients
This recipe is sufficient for 2 x 9-inch foil pie dish. I used round ones but you can also use square ones of a similar size. You can obviously also make this in your favourite baking dish – I used disposable foil dishes because my daughter was taking them home with her.
You will need the following ingredients:
2 x 284 ml Double Cream
1 x 397 g Caramel condensed milk
3 x 35g bars Peppermint Crisp chocolate (substitute with Peppermint Aero)
2 packets Bakers Tennis Biscuits (substitute with Nice biscuits)
Peppermint essence
---
Steps
Whip the cream until soft peaks form. Don't over-whisk or you will end up with butter.
Next mix in the caramel condensed milk. Don't use normal condensed milk – this won't give the right taste or consistency. You need to get the tin that has been pre-caramelised. If you don't have caramel condensed milk to hand, you can make from normal condensed milk by following these instructions on how to Make Caramel from Sweetened Condensed Milk, but honestly it's so much easier (and safer) to buy it ready made.
Grate one of the peppermint crisp / aero bars and mix in.
Mix in 1/2 teaspoon peppermint essence and taste to make sure the flavour of the peppermint comes through. I used Morrison's own brand American Peppermint Essence and 1/2 teaspoon was just about right.
Place a layer of Tennis/Nice biscuits on the bottom of your dish. Break the biscuits as needed to cover the base completely.
Layer half of the cream/caramel mix over the biscuits.
Repeat with another layer of biscuits and the remaining cream/caramel mix.
Grate the other 2 chocolate bars and sprinkle on top of each tart.
Put the tarts in the fridge and leave to set for at least 2 hours. This will ensure that the biscuits have time to soften and swell slightly in the cream mixture.
For those of you who are watching your weight, look away now. I calculated the calorie count using an on-line nutrition calculator and it works out at 330 calories per slice based cutting each tart into 8 slices.
---
Equipment
To make a peppermint crisp tart you will need the following equipment:
Mixing bowl – I like these bowls because they have a lip for easy pouring
Baking dish – I used a disposable foil dish because my daughter wanted to take it home with her. The oblong one in below would be ideal.
Hand mixer – for mixing
Peppermint Crisp (you can substitute with mint aero)
Join Amazon Prime and get free delivery on all items displaying the Prime logo
As an Amazon Associate I earn from qualifying purchases. These are affiliate links which means I get a small commission (at no additional cost to you) if you click through and make a purchase.
---
Watch how to make it
If you want to keep up-to-date with my latest recipes why not follow along on Facebook or Pinterest
---
Recipe – Peppermint Crisp Fridge Tart
Peppermint Crisp Fridge Tart
Cream and caramel combined with peppermint chocolate, layered between coconut biscuits. The ultimate indulgent dessert.
Ingredients
2

284 ml tubs

(10 fl oz each) Double Cream

1

397 g tin

Caramel Condensed Milk

2

packets

Nice biscuits

(original recipe uses Tennis biscuits)

3

35g bars

Peppermint Aero

(original recipe uses Peppermint Crisp)

½

teaspoon

Peppermint Essence
Instructions
Whip the cream until soft peaks form

Add caramel and peppermint essence and mix together

Grate 1 of the chocolate bars and mix in.

Arrange a layer of biscuits on the bottom of 2 tart dishes

Spread half the cream/caramel mixture evenly across both dishes

Repeat with a second layer of biscuits and the remainder of the cream/caramel

Grate the remaining bars of chocolate and sprinkle over the top

Allow to chill in the fridge for at least 2 hours
Notes
I used 2 round 9-inch foil pie dishes, but you can use square ones of a similar size. Be careful not to overwhip the cream or it will turn into butter.  You are looking for a soft-peak consistency. Taste the mixture after adding the peppermint essence to ensure you have sufficient peppermint flavour.  If you need more you can add 1 drop at a time until the desired flavour is reached.   This has to chill in the fridge for at least 2 hours (preferably overnight).  This will give the biscuits time to soften in the cream mixture. The calorie information is per slice based on 16 slices  (8 slices per tart).
The calorie count has been calculated using an on-line calculator and is provided for information purposes only.  If the calorie count is important to you, you should consider calculating it yourself, using your preferred tool.
If you made this recipe and enjoyed it, please rate it in the comments below. I'd love to know how it went.
---
Related Recipes
If you want more sweetness you can browse my other dessert recipes. These are my particular favourites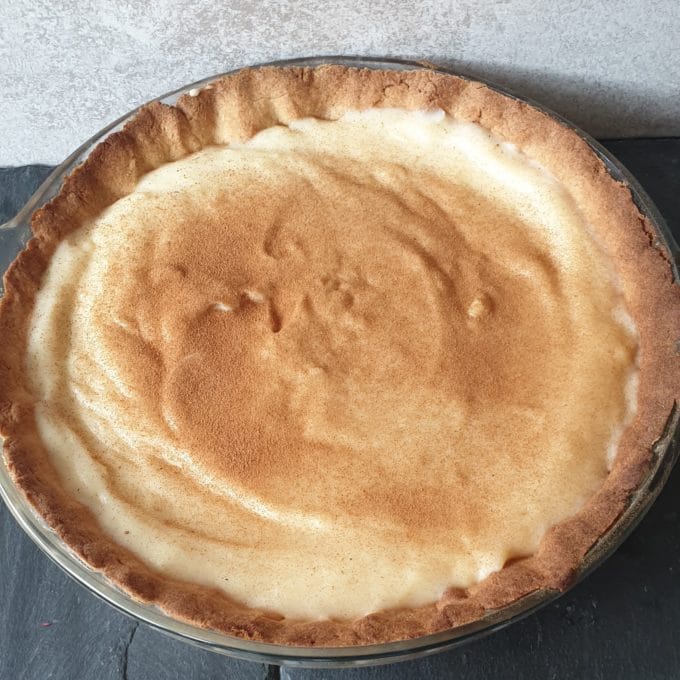 ---
Fudgy base, covered with creamy ganache and topped off with a layer of super soft sponge. All made out of one batter mix.
---
Light-as-a-feather choux pastry, filled with whipped cream and dusted with icing sugar.
Why not pin this recipe for later, or save it to your Yummly recipe box. And don't forget to subscribe to my mailing list so you can grab your FREE COOKBOOK!