The most delicious citrus cheesecake with greek yoghurt takes only 10 minutes to make, but it tastes like you spent hours. It's tangy, creamy and mouthwateringly good, packed with citrus flavours of lemon, lime and orange. If this doesn't get your taste-buds tingling then nothing will!!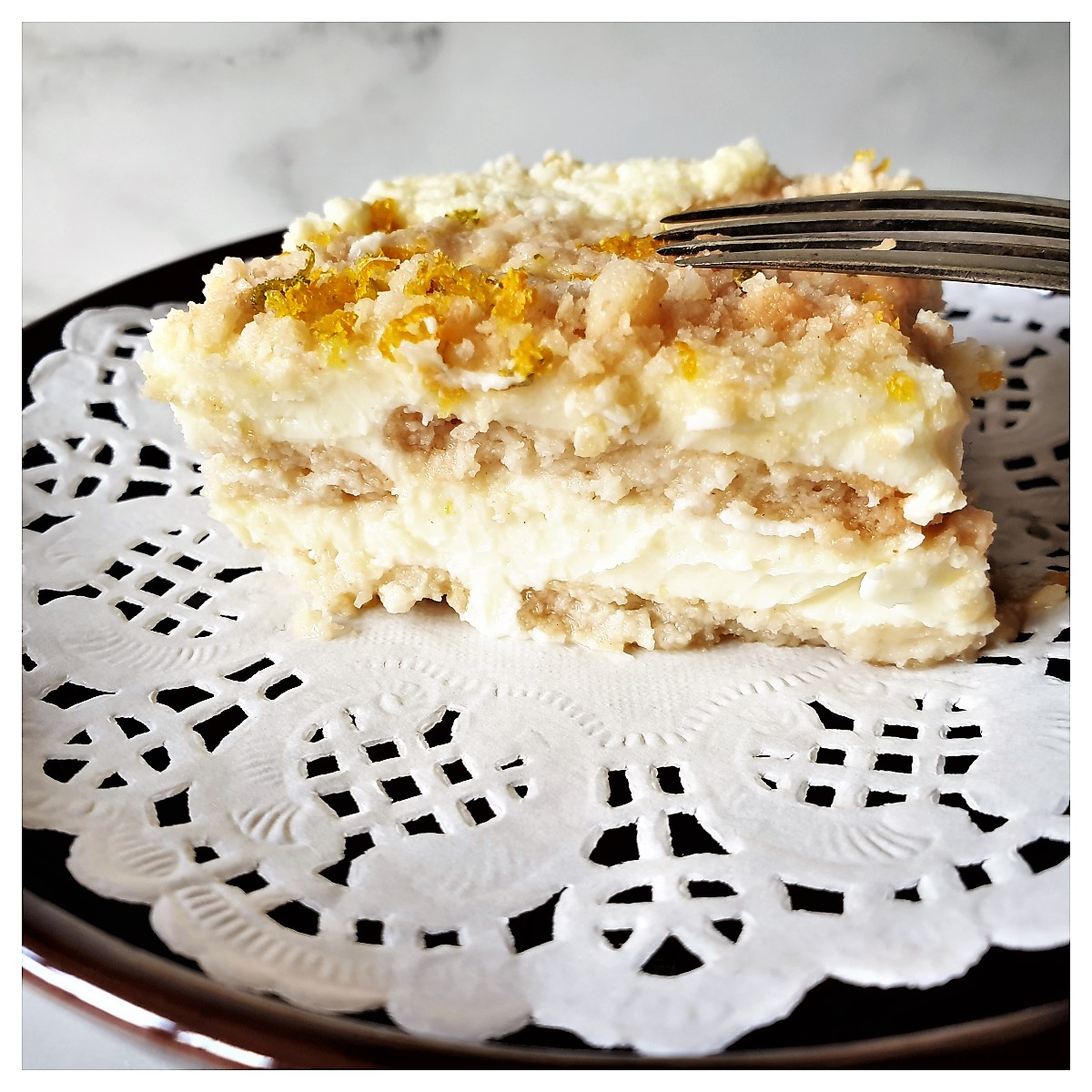 **As an Amazon affiliate, I earn from qualifying purchases.**
Easy citrus cheesecake
When I say this recipe is easy, I'm not kidding. The basic recipe has only 3 main ingredients, with one or two extra for flavouring. Once you've mastered the basic recipe you will never be at a loss for a dessert again. Just change the flavouring ingredients, and the sky's the limit.
For this citrus version I've added the juice and zest of a small orange, a lime and a lemon for extra zing.
This is the creamiest, tastiest cheesecake ever – and it doesn't even have any cheese in it. It's made with a tin of condensed milk mixed with lemon flavoured Greek yogurt, layered between crispy Nice biscuits. And the best thing is that it's only 371 calories per slice so you can eat it without feeling guilty.
The citrus fruits cut through the sweetness of the condensed milk, providing a delightfully tart taste which is so refreshing after a heavy meal.
This citrus cheesecake recipe is definitely a keeper. You will probably have all of the ingredients in your pantry. So you will never have to wonder again 'what shall I make for dessert?'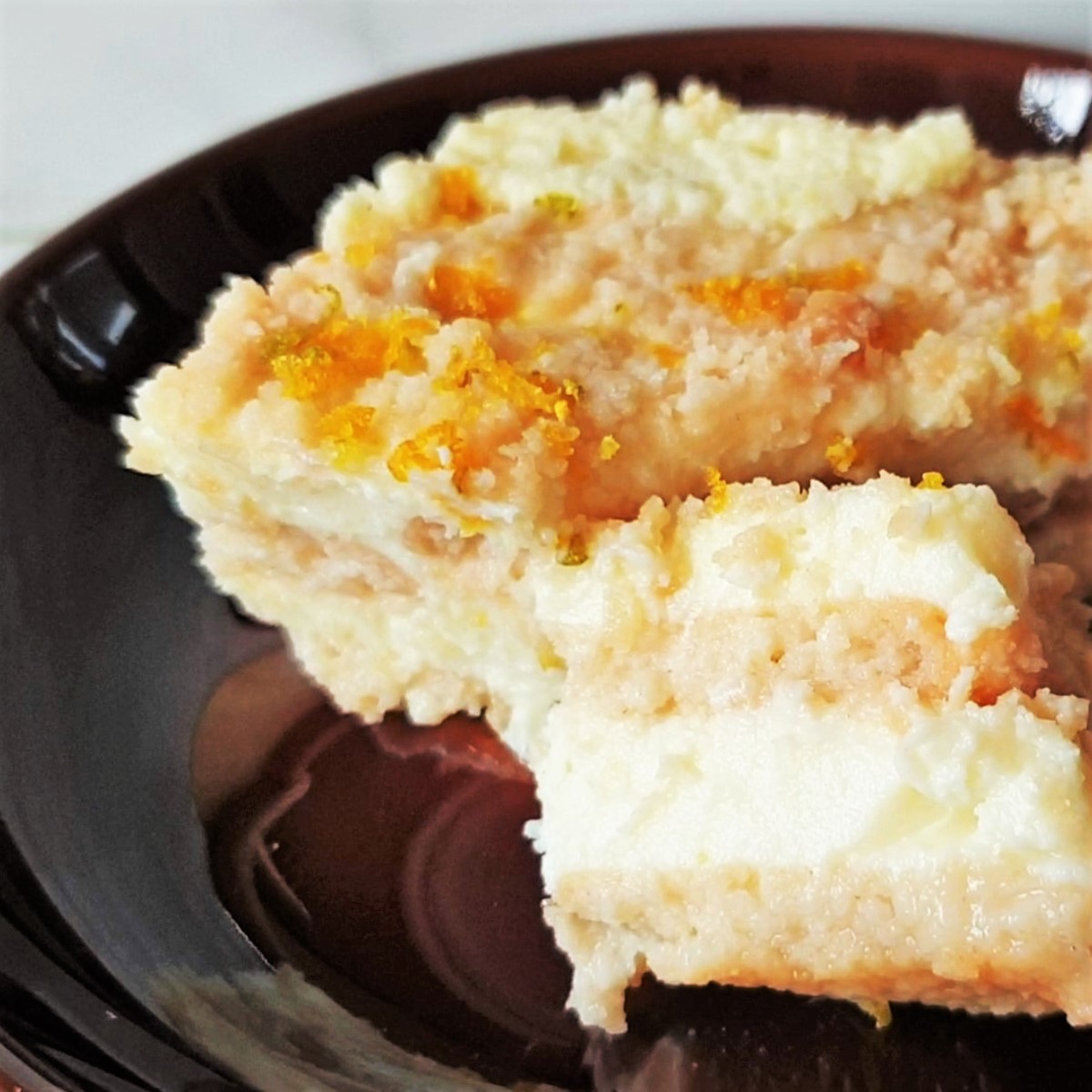 Ingredients for citrus cheesecake
Whenever I read a recipe I like to have a look at the ingredients to see whether I have everything I need. To make it easy for you – I've listed the ingredients below. You can get the complete list of ingredients and full instructions for making this citrus cheesecake on the printable recipe card at the end of this post.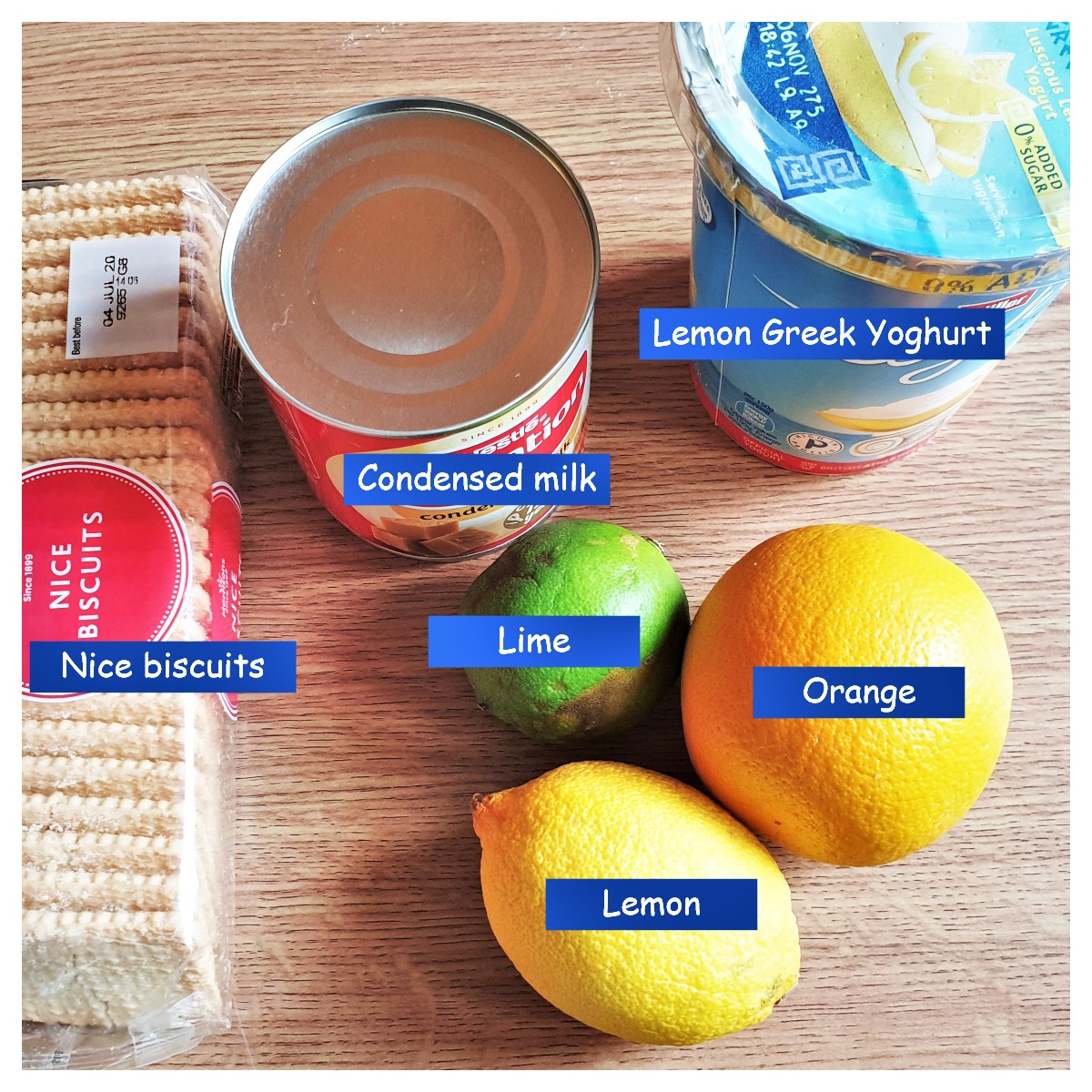 Lemon-flavoured Greek Yoghurt – you can use light or full-fat. If you can't get the flavoured Greek yoghurt you can use plain – the flavour from the citrus fruits will compensate. It must be the thick Greek yoghurt though, don't try and use the normal flavoured yoghurt you get in the supermarket – it won't set properly.
Condensed milk – condensed milk is very sweet, but the tanginess of the lemon and other citrus cuts through it perfectly.
Nice biscuits – these are the biscuits stamped with the word 'Nice'. They absorb the filling nicely. 'Marie' biscuits, or 'Rich Tea' biscuits would work just as well. Don't try and make this with shortbread or digestive biscuits – they won't absorb the filling very well.
Juice and zest of 1 orange, 1 lemon and 1 lime – you need about 2 tablespoons of juice from each fruit to mix with the filling, and about 1 teaspoon of zest from each for the topping.
How to make citrus cheesecake with Greek Yoghurt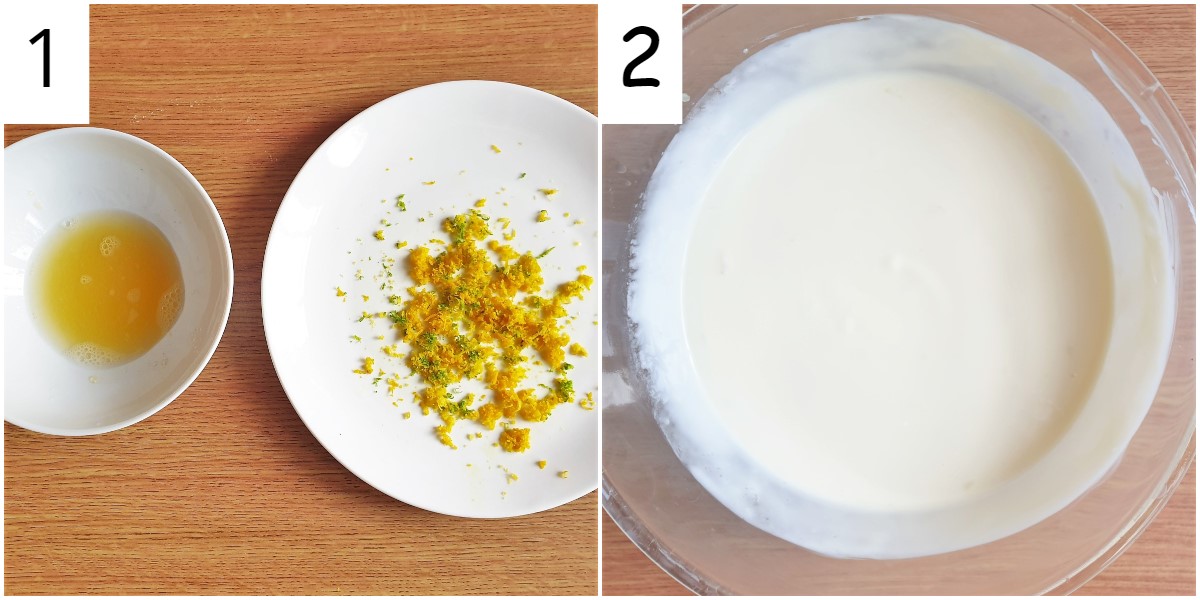 Prepare the filling
Wash the orange, lemon and lime then grate about 1 teaspoon of zest from each. Make sure you only get the coloured zest as this is where all the flavour is (image 1 above). Try not to get any of the white pith from under the zest as this is inclined to be bitter. Set this aside to sprinkle on top of the assembled tart.
Squeeze approximately 2 tablespoons juice from each fruit.
Pour the greek yoghurt and condensed milk into a mixing bowl. Add the citrus juice and mix to combine (image 2 above).
Assemble the tart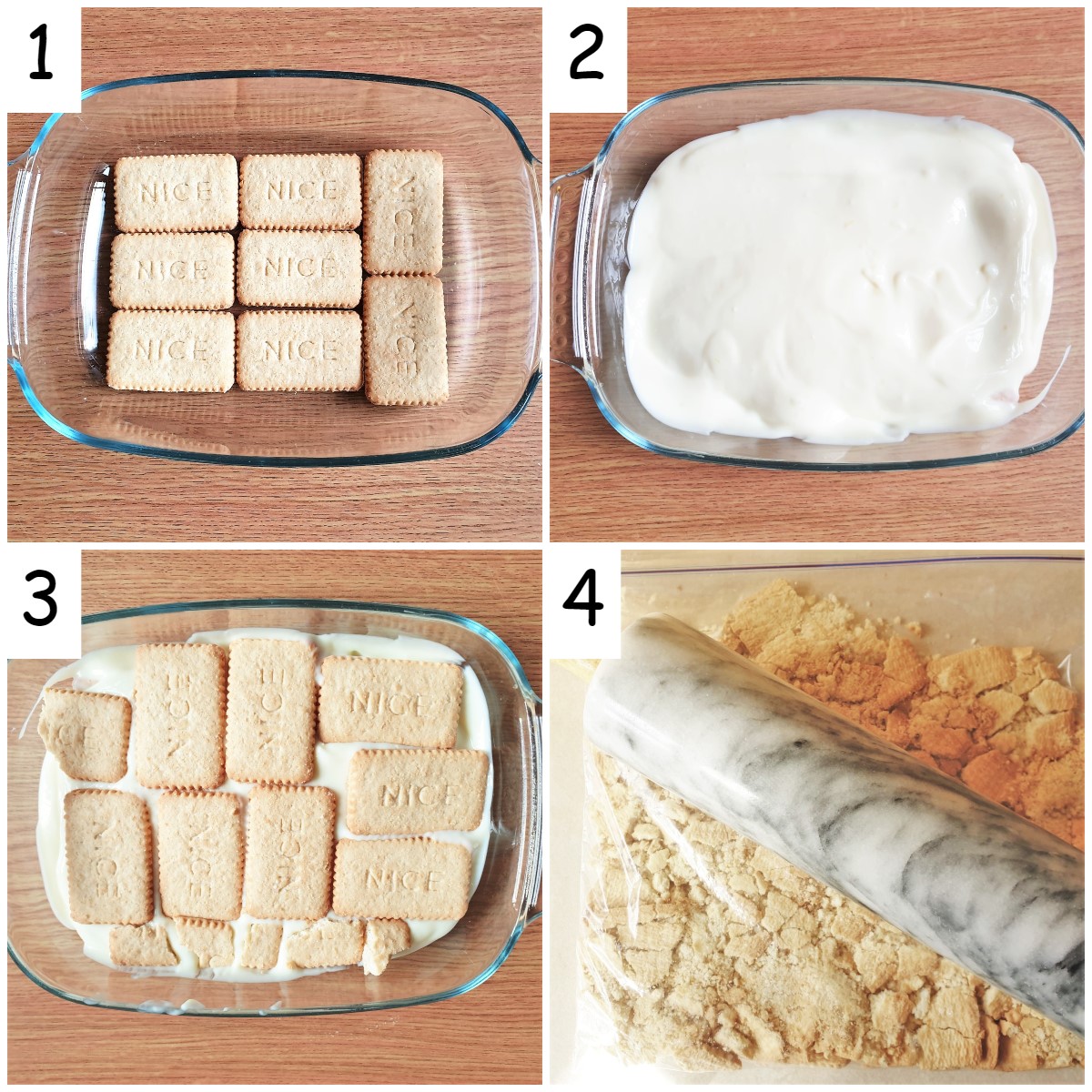 You will need a 6″ x 9″ (15cm x 24cm) dish.
Place a layer of biscuits into the base of the dish (image 1 above).
Cover the biscuits with half of the filling mixture (image 2 above).
Top with another layer of biscuits. You may have to break some of the biscuits to fit into all the spaces. This is absolutely fine – it won't show in the finished dish (image 3 above).
Pour the remaining filling mixture over the biscuits.
Crush the remaining biscuits into fine crumbs (image 4 above). If you used a 200g packet, and the correct sized baking dish, you should have about 4 or 5 biscuits left over. The easiest way to crush the biscuits is to put them in a plastic bag and hit gently with a rolling pin.
Use a tablespoon to sprinkle the crumbs over the top of the filling.
Sprinkle the citrus zest over the top of the biscuit crumbs.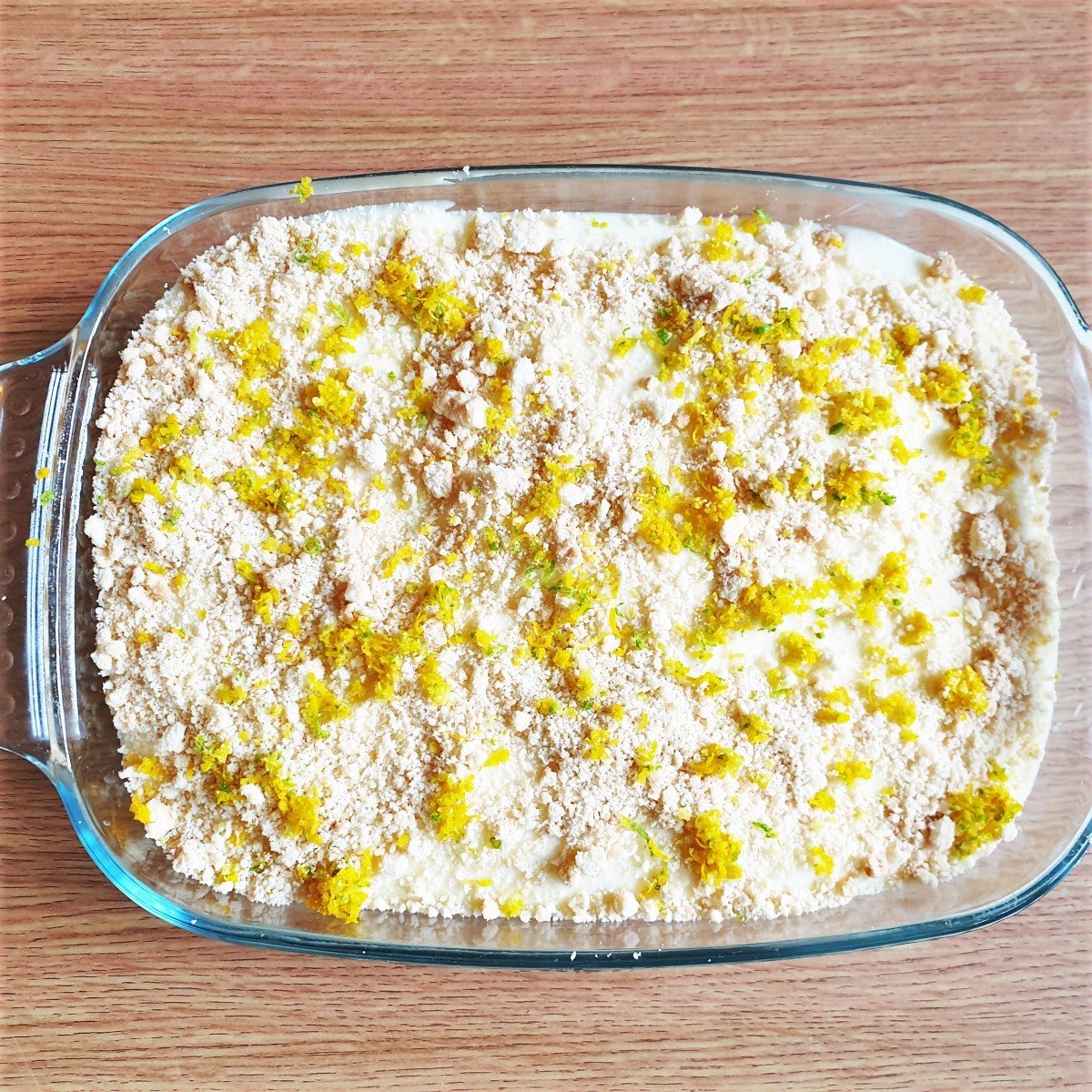 Microwave
Place the dish in the microwave and cook on maximum power for 4 minutes.
This brings the condensed to the boil, which will allow the tart to set and hold its shape when you cut it.
Allow to cool, then place in the fridge until you are ready to serve. This tart is best served cold.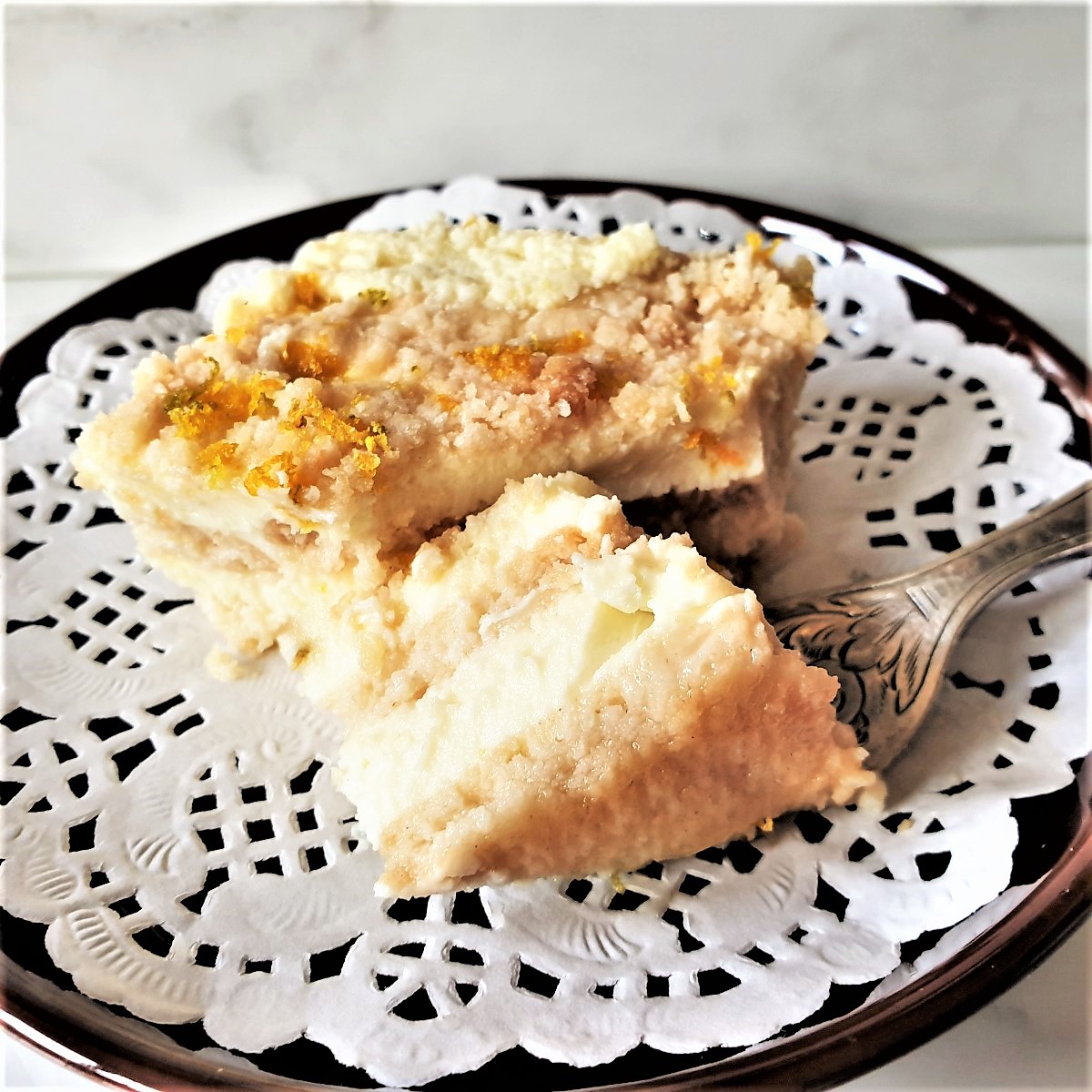 If you'd like to be notified of any new recipes, why not subscribe to my newsletter. As a thank-you gift, you will receive a free recipe e-book containing some of my most popular cakes and desserts.
Your questions answered
Can I freeze citrus cheesecake?
Unfortunately this recipe does not freeze well. However, it is so quick and easy to prepare you could put this together in the time it would take to defrost!
Can I make it ahead of time?
Yes,you can make this ahead of time, and it will stay fresh for up to a week. Just cover it with cling film and store in the refrigerator.
Can I make this no-bake?
Putting the citrus cheesecake in the microwave for a few minutes does make the filling set properly.
However, because the biscuits are layered through the filling (instead of just being crushed as a base), they will absorb moisture from the filling and swell up making the tart quite thick.
Because of this, if you don't microwave the tart, it will still set, but not quite as much, and you will end up with a much softer tart.
What other fruit could I use besides citrus?
You can use any soft fruit in this dish. Replace the lemon-flavoured Greek yoghurt with either plain yoghurt or use your flavour of choice. Here are some ideas to get you started.
Mix in a small tin of Granadilla pulp
Add a cup full of crushed tinned pineapple pieces. Just be sure to drain well first.
Replace the citrus with a handful of fresh blueberries before putting it in the microwave.
Mix in a handfull of chopped strawberries and replace the crumb topping with sliced fresh strawberries.
If you'd like to be notified of any new recipes, why not subscribe to my newsletter. As a thank-you gift, you will receive a free recipe e-book containing some of my most popular cakes and desserts.
Pin for later
Why not pin this recipe for citrus cheesecake so you can make it later.
Recipe – Citrus Cheesecake with Greek Yoghurt
If you made this recipe and enjoyed it, I'd love it if you could give me a star rating in the comments below. And if you'd like to get in touch, you can email me at [email protected]. I'd love to hear from you. And don't forget to subscribe to my mailing list so you can grab yourself a copy of my FREE COOKBOOK!
If you'd like to continue browsing, just click on this link to all my recipes.
This post has been shared on #cookblogshare