Baileys chocolate truffles make the perfect after-dinner treat. There's no baking involved – just mix, roll and coat and you have the perfect ending to a festive dinner party or a romantic dinner for two. Or why not whip up a batch and package them in a pretty box for a homemade gift with a difference.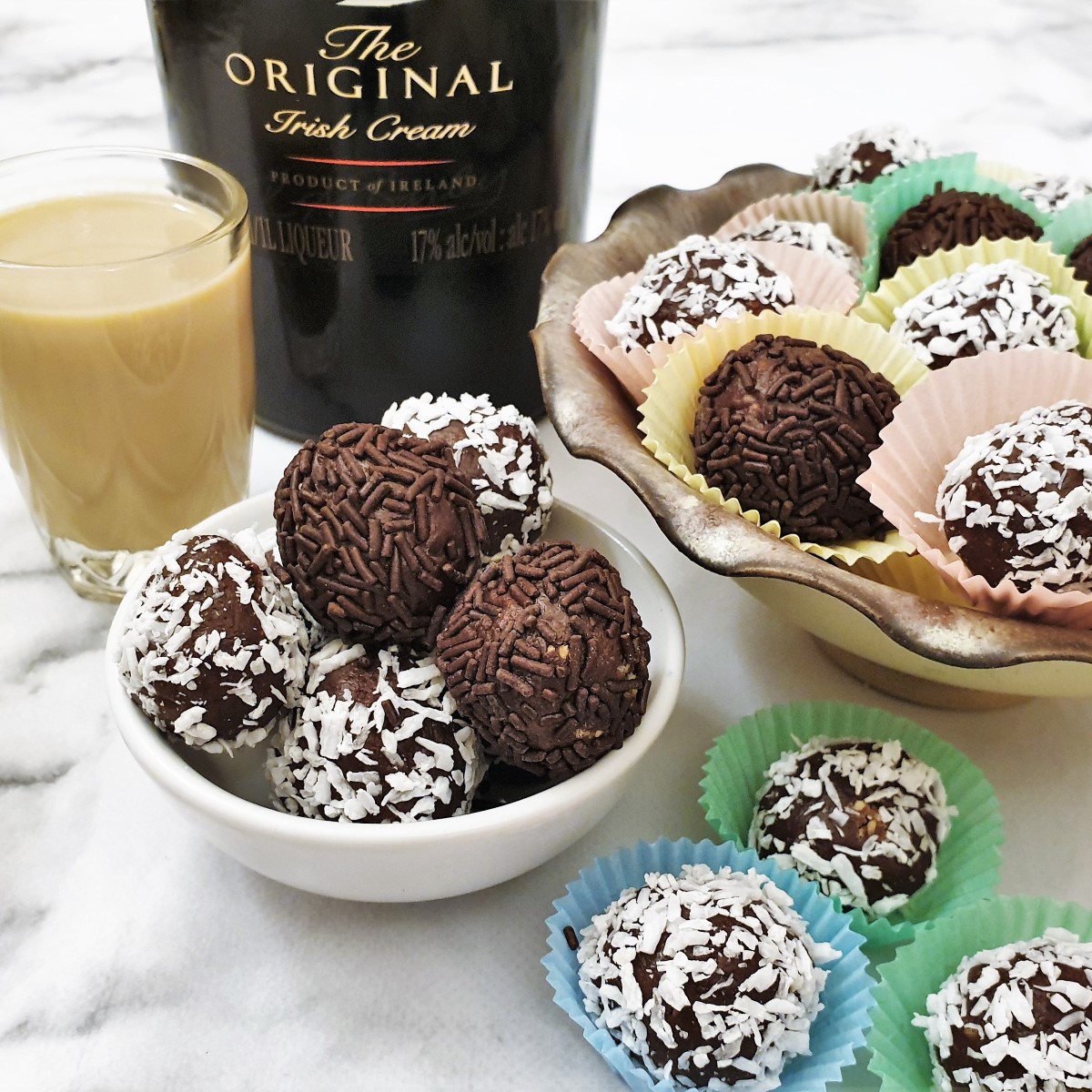 **As an Amazon affiliate, I earn from qualifying purchases.**
The perfect after-dinner treat
Let's face it, there's so much work involved in the kitchen during the festive season that anything that helps cut down on the cooking is bound to be welcomed with open arms.
When you've been cooking up a storm, preparing canapes, appetisers and mains, you don't want to be spending any more time making a dessert than you need to. That's where these delicious little truffles come into their own. You can prepare them a few days in advance and just keep them in a covered container in the refrigerator. And when the guests have eaten their fill you can just bring out a plate of these.
These chocolate truffles have quite a dense texture, and they are not too sweet. They are flavoured with just a hint of Baileys, which makes them the perfect after-dinner chocolates.
I think you are going to love these Baileys chocolate truffles:
they are easy to make;
they don't need any baking;
the kiddies can help with the rolling and coating;
they make the perfect light make-ahead dessert;
and they are incredibly moreish.
And let's not forget the youngsters. Just swap out the Baileys for a couple of tablespoons of cream, cover with coloured sprinkles and the kiddies can tuck in too.
A bit like brandy balls
When I was little, I remember my Dad bringing home brandy balls from the local German delicatessen. These were much larger than these truffles but had the same texture and they were covered in chocolate sprinkles. My Mum cut off a small piece for me to taste, but I didn't like them very much. My tastes have changed since those days, and I have to say, I LOVE these Baileys truffles 🙂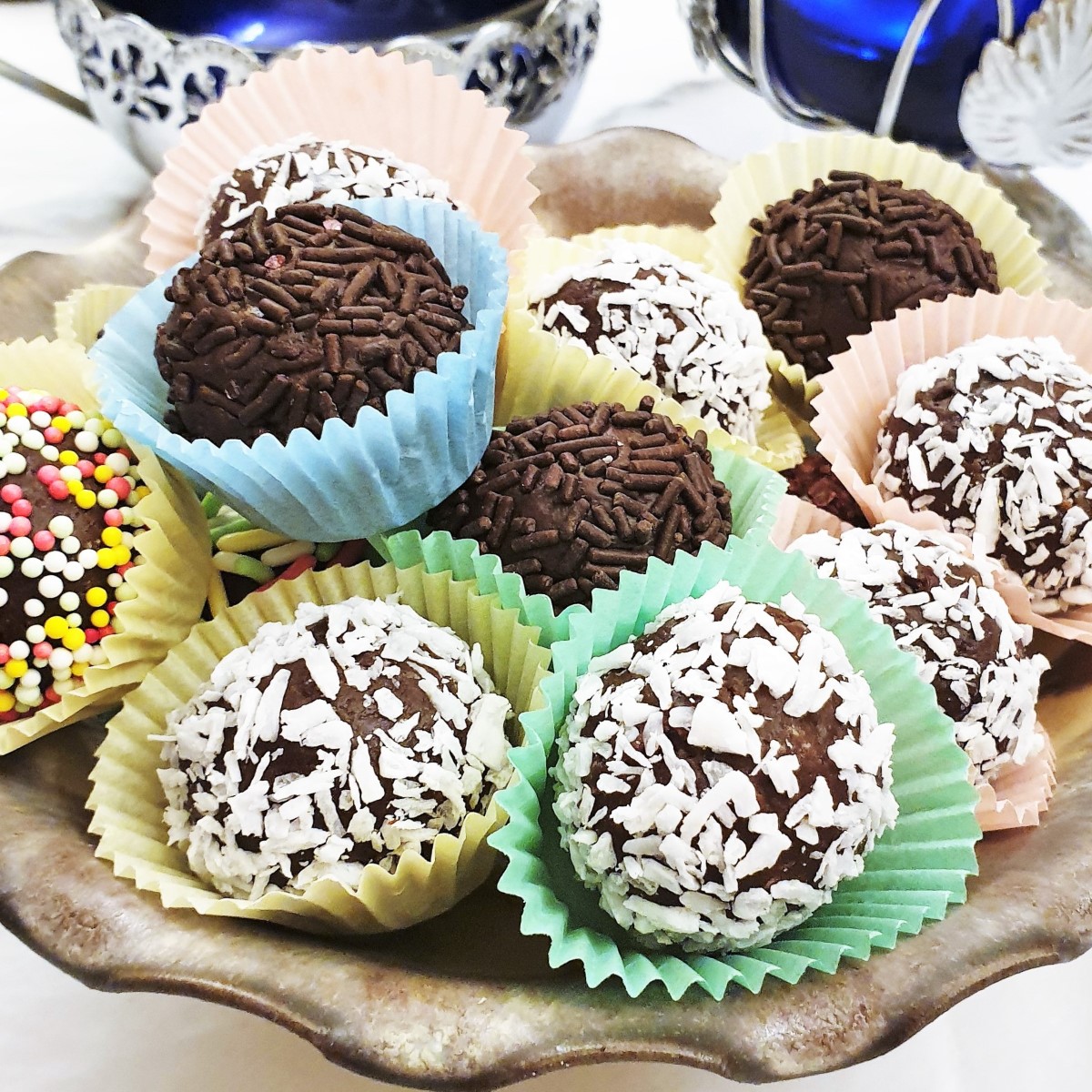 What do you need?
To make these Baileys chocolate truffles, you only need 4 main ingredients plus coconut and sprinkles for covering.
biscuits – the choice is yours. I live in the UK and I used Nice biscuits, but you can use any plain sweet biscuit. If you can get hold of a packet of Biscoff, these would work well. And if you live in the US, I believe graham crackers would be the ones to use. South African readers can use Tennis biscuits, or even a packet of Marie biscuits.
cocoa powder – for the chocolate flavour you will need cocoa powder. I used cocoa powder from the supermarket, labelled 'for drinking and baking'. It doesn't need to be anything special.
condensed milk – this binds everything together and provides the sweetness.
Baileys liqueur – I used the original flavour, but chocolate Baileys would add extra chocolate flavour to the truffles. If you are making these for children, substitute the Baileys with heavy or double cream.
Shredded coconut and sprinkles – for coating the truffles.
Quick tip – If you have forgotten to buy Baileys (eek!) you can make your own too. My friend Karon has a great recipe for homemade Irish Cream Liqueur on her website. Why not give it a try.
How to make them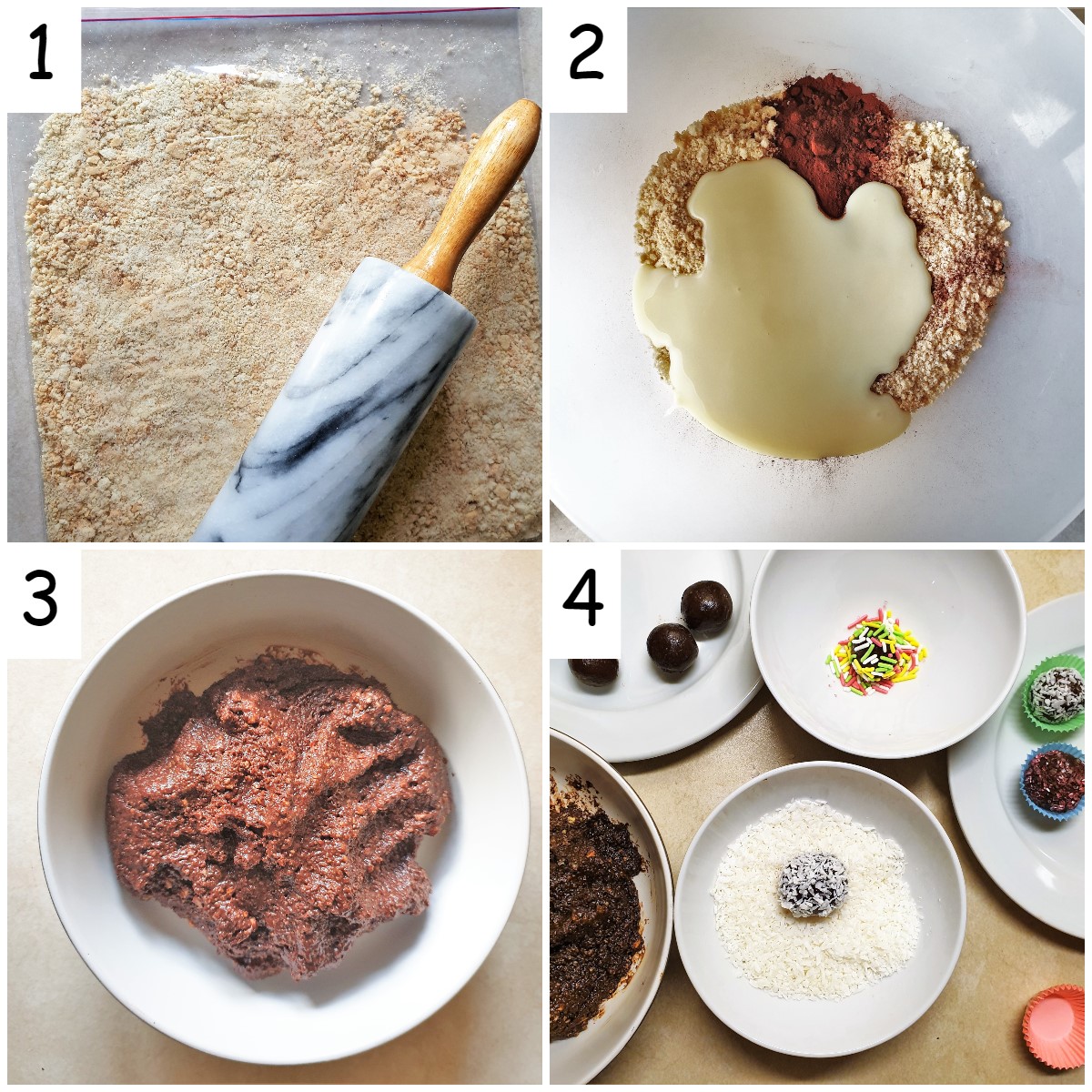 Start off by placing the biscuits in a plastic ziploc bag and crushing them with a rolling pin until they are well crumbled. If you have a food processor you can just whizz them around in there instead.
Transfer the crumbs to a mixing bowl. If you are going to be making some for the youngsters, divide the crumbs between 2 mixing bowls.
Now add the cocoa powder and the condensed milk. Once again, if you are making these for children just divide the cocoa powder and condensed milk between then two bowls. Then add either the Baileys, or the cream.
At this point, you need to get your hands in and mix everything together very thoroughly. You will end up with a ball of sticky dough that sticks to your hands. Place it in the refrigerator to harden for half an hour or so. You will find it easier to roll into balls if you do this.
Once the dough has chilled, remove it from the refrigerator and roll it into balls, about the size of glass marbles. Roll the balls in either coconut, chocolate sprinkles or coloured sprinkles. I normally roll the adult version (with Baileys) in coconut or chocolate sprinkles, and leave the coloured sprinkles for the kiddies version (with cream).
Place each ball into a small paper case, then refrigerate in a covered container until ready to serve. You can keep these in the refrigerator for up to a week. Just let them come to room temperature before serving.
As you will see from the image below, my biscuit crumbs still had tiny bits of biscuits in them. This is perfectly OK – as the truffles stand, the condensed milk and Baileys (or cream) will soak into the crumbs and soften them.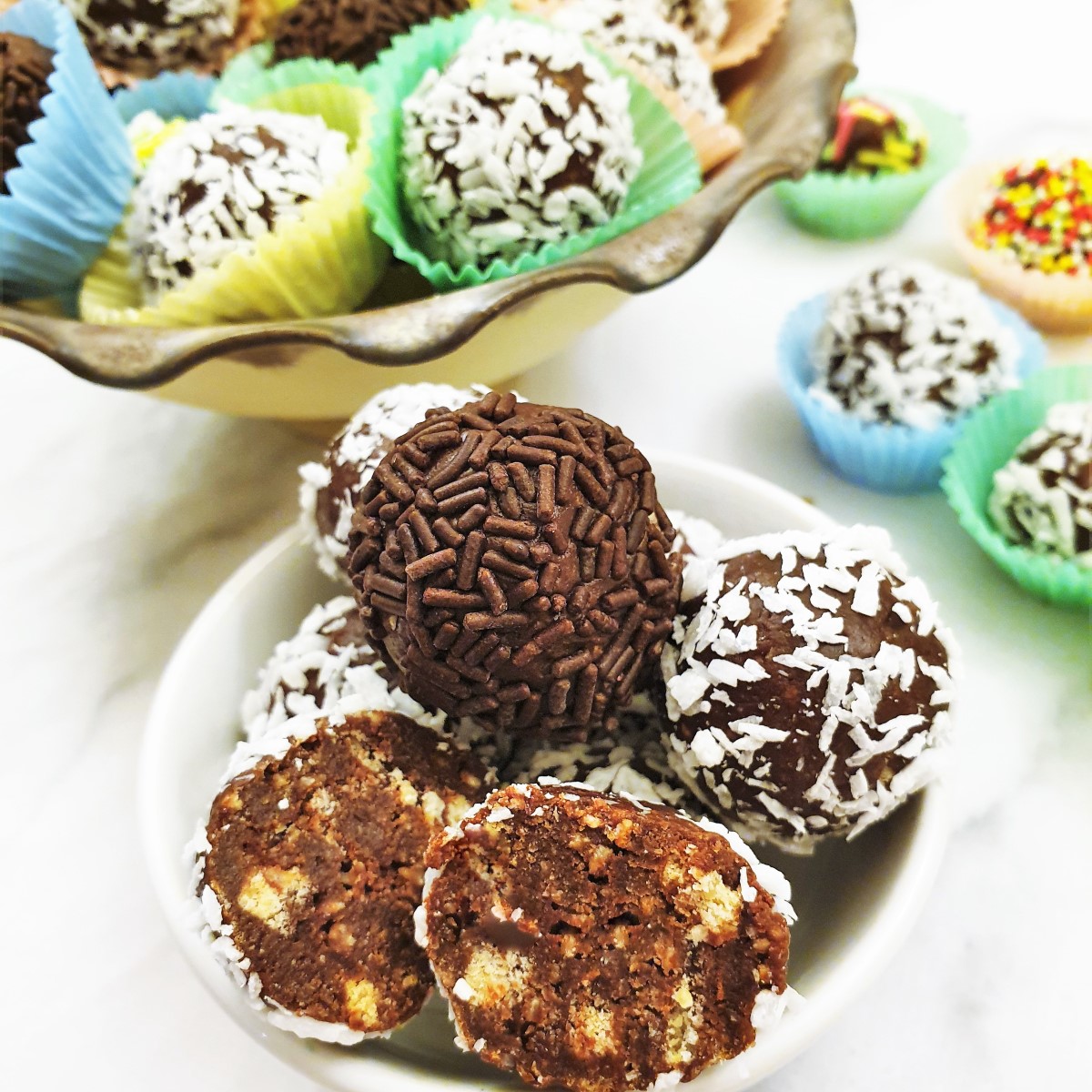 If you'd like to be notified of any new recipes, why not subscribe to my newsletter? As a thank-you gift, you will receive a free recipe e-book containing some of my most popular cakes and desserts.
Your questions answered
Do these truffles freeze well?
To be honest, I've never tried to freeze them – they always get eaten too quickly! However, there's no reason why they wouldn't freeze nicely.
I would place them in layers in a rigid plastic container (Tupperware) with a sheet of baking parchment between the layers. They will freeze for months.
To use, remove from the freezer, place uncovered on a plate and let them defrost at room temperature.
Word of warning, they might turn sticky on the outside once defrosted, due to condensation.
How do I store the truffles?
I store mine in an airtight tin in the refrigerator. They last for weeks.
Can I make them with something other than Baileys?
Oh yes. You can make these with any cream liqueur.
Frangelico would be particularly nice, as it would give a hazelnut flavour.
And chocolate flavoured Baileys would be perfect.
Other recipes
If you enjoyed these chocolate truffles, why not try some of my other sweet treats?
Pin for later
Why not pin this recipe for Baileys chocolate truffles to your Pinterest board so you can make it later. Just click the image below.
Baileys chocolate truffles recipe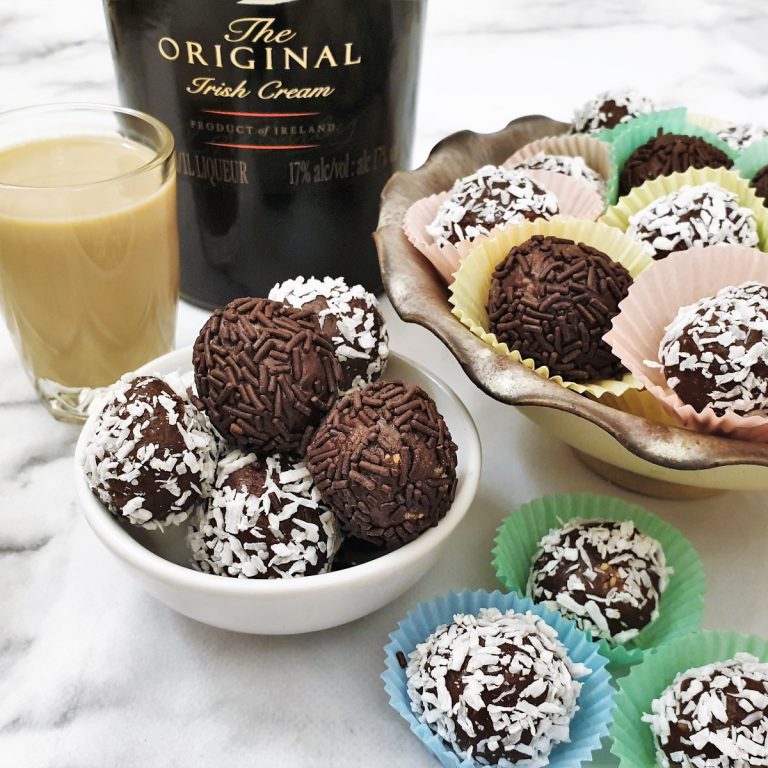 No bake Baileys chocolate truffles
Baileys chocolate truffles make the perfect after-dinner treat. There's no baking involved – just mix, roll and coat and you have the perfect ending to a festive dinner party. Or why not whip up a batch and package in a pretty box for a homemade gift with a difference.
Print
Pin
Comment
Bookmark
Saved!
(Click the stars to rate this recipe)
Ingredients
400

g

biscuits

Nice / Biscoff / Graham Crackers / Tennis

1

can

(

13oz / 375g

) condensed milk

1/3

cup

(

50g

) cocoa powder

4

tablespoons

Baileys original cream liqueur

See note 1

1/2

cup

coconut

for coating the truffles

1/2

cup

chocolate sprinkles

for coating the truffles
Instructions
Place the biscuits into a large ziploc bag and crush into crumbs with a rolling pin. Alternatively whizz the biscuits around in a food processor until they form crumbs.

Transfer the crumbs to a mixing bowl.

Add the condensed milk, cocoa powder and Baileys to the crumbs. See note 1.

Mix thoroughly with your hands to combine.

Chill for 30 minutes in the refrigerator.

Remove from the refrigerator and form into glass-marble sized balls.

Roll each ball into coconut or chocolate sprinkles and place in paper cases.

Chill, covered, in the refrigerator until ready to serve.
Notes
Note 1 – if you are making half of these truffles for children, split the crumbs into two mixing bowls and divide the cocoa powder and condensed milk between the two bowls.  Use only half the Baileys for one batch, and use the same amount of heavy or double cream for the second batch.  Mix each batch together separately and coat the Baileys batch with coconut or chocolate sprinkles and the cream batch with coloured sprinkles.
Nutrition
Calories –
76
kcal
|
Carbohydrates –
10.5
g
|
Protein –
1.2
g
|
Fat –
3
g
|
Saturated Fat –
0.9
g
|
Cholesterol –
3
mg
|
Sodium –
11
mg
|
Potassium –
46
mg
|
Fiber –
0.4
g
|
Sugar –
5.3
g
|
Calcium –
19
mg
I am not a nutritionist. The nutrition information has been calculated using an on-line calculator, and is intended for information and guidance purposes only. If the nutrition information is important to you, you should consider calculating it yourself, using your preferred tool.
Unless otherwise stated, a cup is the standard US cup containing 240 ml. In all my recipes this cup is assumed to hold 140g of flour. For help converting other ingredients between cups, grams, ounces and other measures, see my recipe conversion calculator.
All my recipes are developed and tested at sea-level. For tips on adjusting recipes for high altitudes see my post on baking at high altitudes.
Tried this recipe?
If you made this recipe I'd love it if you could leave me a comment and let me know how it went!
Share on Facebook
Share on Twitter
If you made this recipe and enjoyed it, I'd love it if you could give me a star rating in the comments below. And if you'd like to get in touch, you can email me at [email protected]. I'd love to hear from you. And don't forget to subscribe to my mailing list so you can grab yourself a copy of my FREE COOKBOOK!
If you'd like to continue browsing, just click on this link to all my recipes.