A Dom Pedro is a luscious cocktail made with ice cream and Baileys. It's great for serving at parties, and it makes the perfect easy dessert too.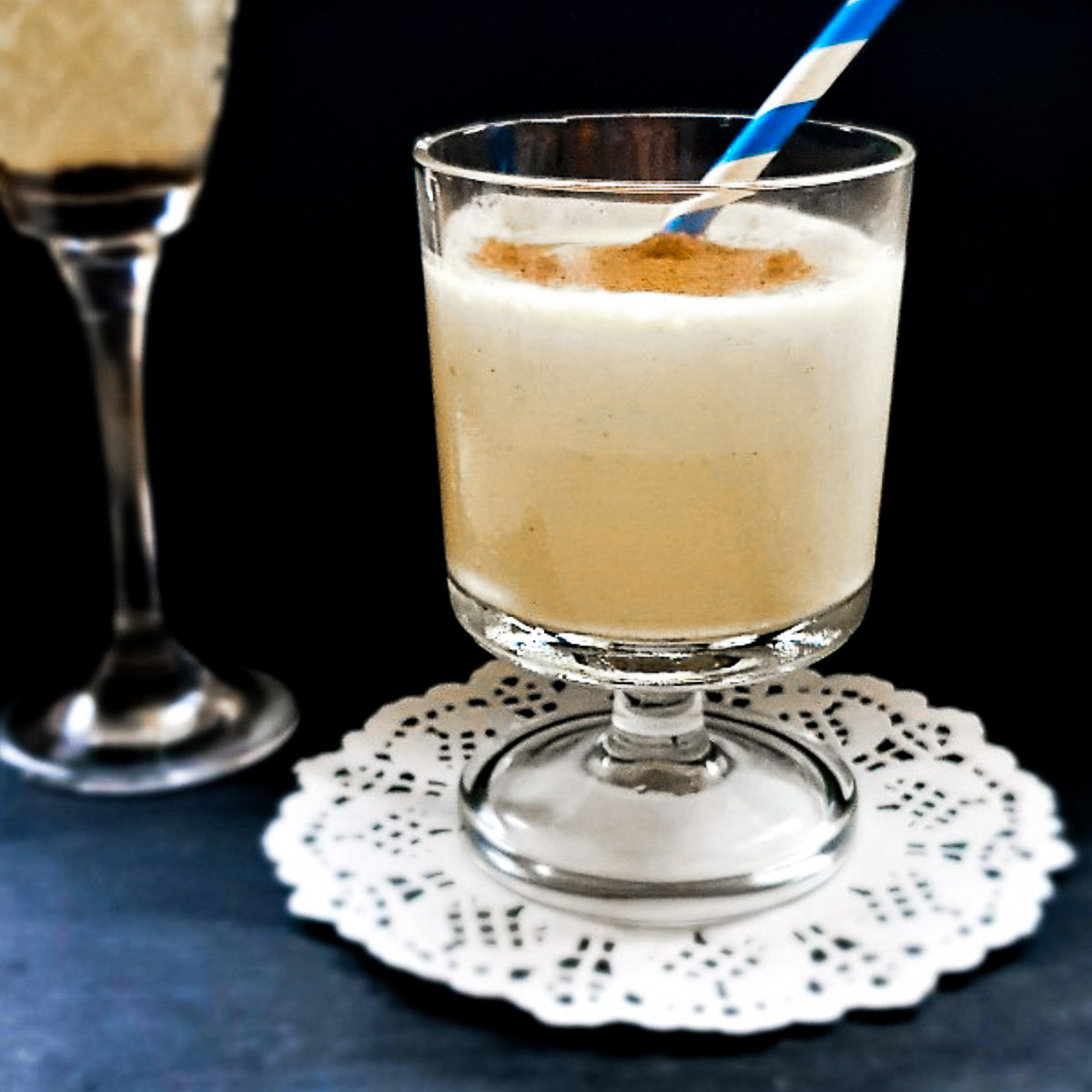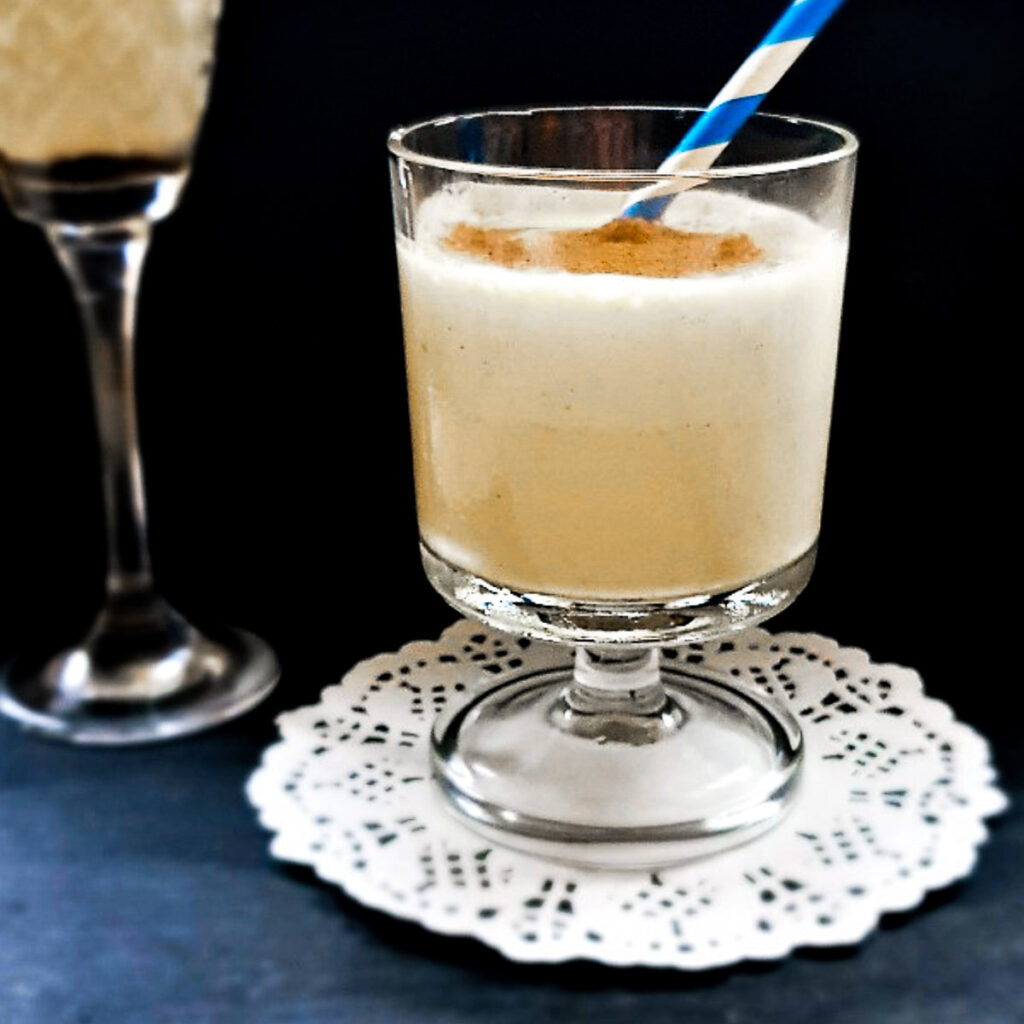 **As an Amazon affiliate, I earn from qualifying purchases.**
What is a Dom Pedro Cocktail?
A Dom Pedro is a popular South African cocktail. Most restaurants in South Africa have a selection of Dom Pedros on their menu and you would typically order one after your meal. A Dom Pedro is normally found on the drinks menu, but more often than not it is ordered as a dessert.
This is not your average cocktail. It is made with a mixture of ice cream and cream, laced with a shot of your favourite cream liqueur, and sprinkled with chocolate. It's the perfect drink to see you through the festive season.
A Dom Pedro is normally served in a wine glass, with a straw wide enough to allow the bits of ice cream to flow through.
There is a always a bit of a discussion as to the spelling of Dom Pedro. Some people spell it Don Pedro, with an 'n'. It doesn't really matter – say it fast enough and you won't hear the difference.
Graham's first Dom Pedro
I remember the first time Graham tasted a Dom Pedro. We were on holiday in Uvongo on the south coast of Kwa Zulu Natal two Christmases ago. My son and daughter-in-law (thanks again Willem and Megan) from Australia had very generously organised us a meal out at one of the well-known fish restaurants as a Christmas present.
We had the most amazing platter of fish and shellfish, and after polishing off the ENTIRE platter, we were feeling more than a little bloated. In fact, as I recall, Graham's exact words were 'I shall never eat again'.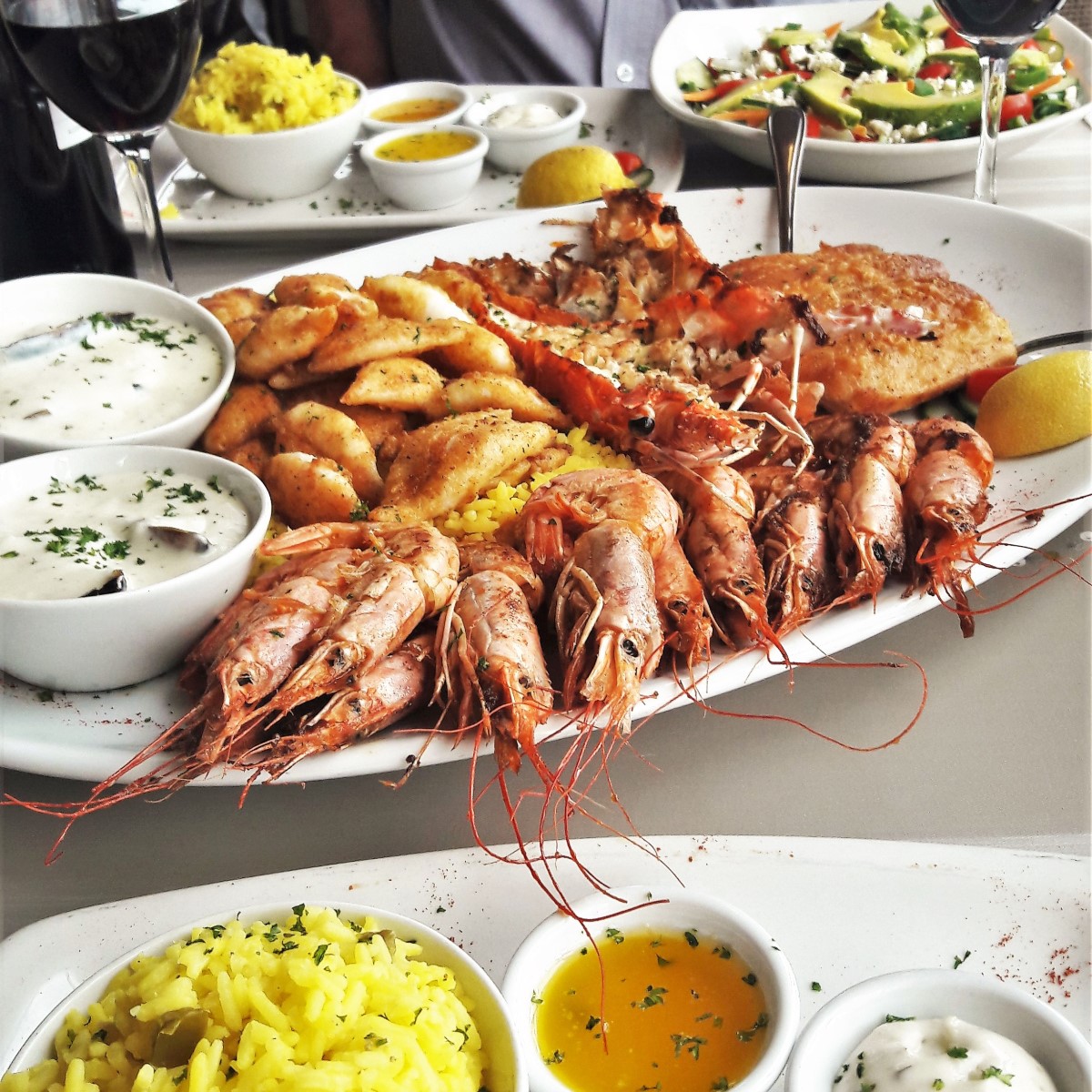 To be honest, I felt the same way. However, there was no way we were leaving without dessert. It's not every day of the week I get spoiled rotten and I was going to make the most of it.
I told Graham that a Dom Pedro would be the perfect dessert, and after a short, heated discussion 'I already told you I couldn't eat another mouthful', I ordered us one. Each.
The next photo is unfortunately a little out of focus. The light from behind coupled with the bottle of wine that had preceded the photo didn't help. But I'm sure you get the idea. The thumbs-up says it all. So we ordered another one. Each.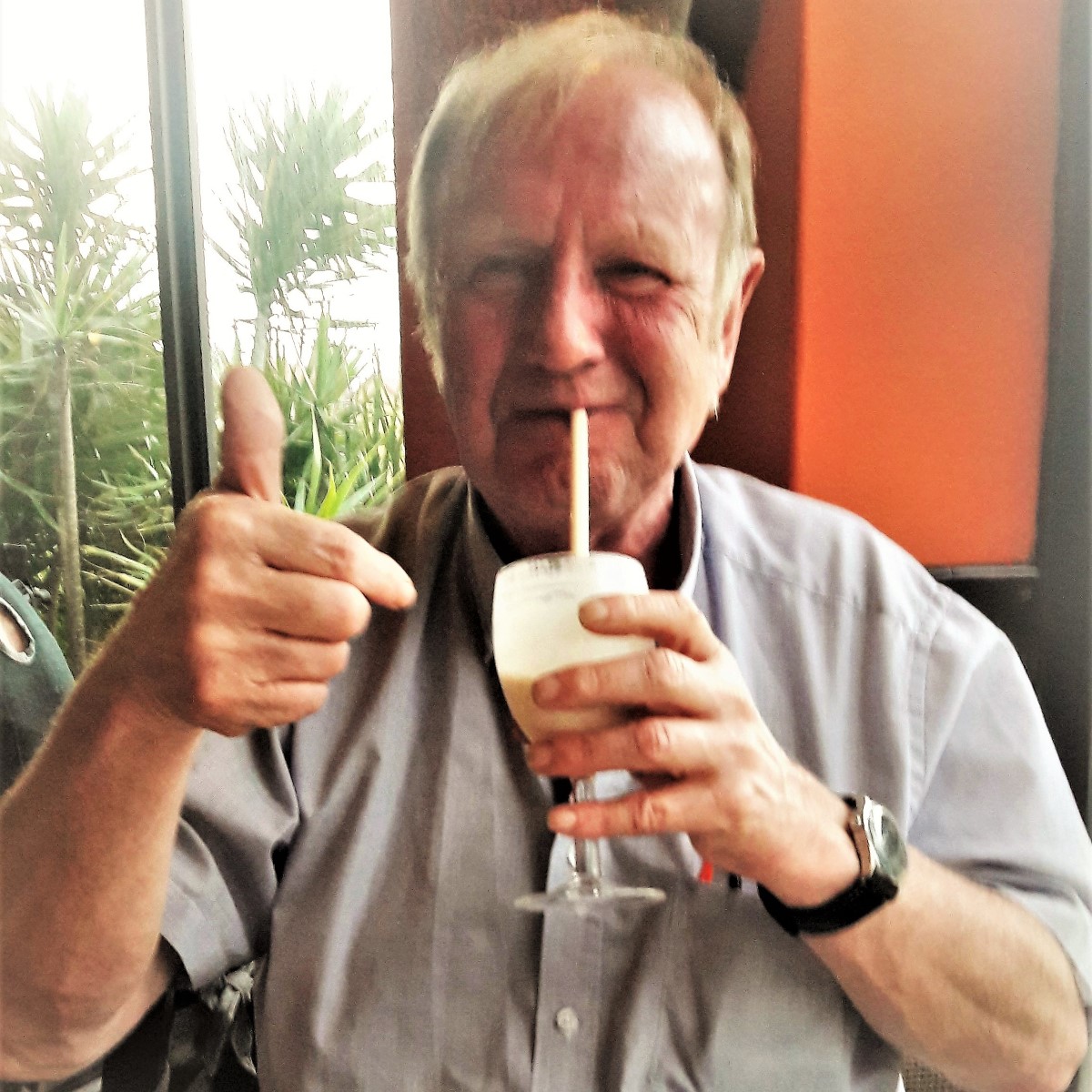 How to make a Dom Pedro Cocktail
To make a Dom Pedro place 2 scoops of soft ice cream with 50 ml Baileys Cream Liqueur and 50ml cream per person into a blender. If you don't have cream on hand you could substitute the cream with the same quantity of milk.
Whizz it around until the ice cream is chopped up but not totally melted. There should still be little pieces of ice cream floating about. If you don't have a blender then just mush it all up in a large jug, using a fork.
You should still get bits of ice cream in your mouth when you take a drink, so the ice cream should be chopped up small enough for it to fit through a wide straw.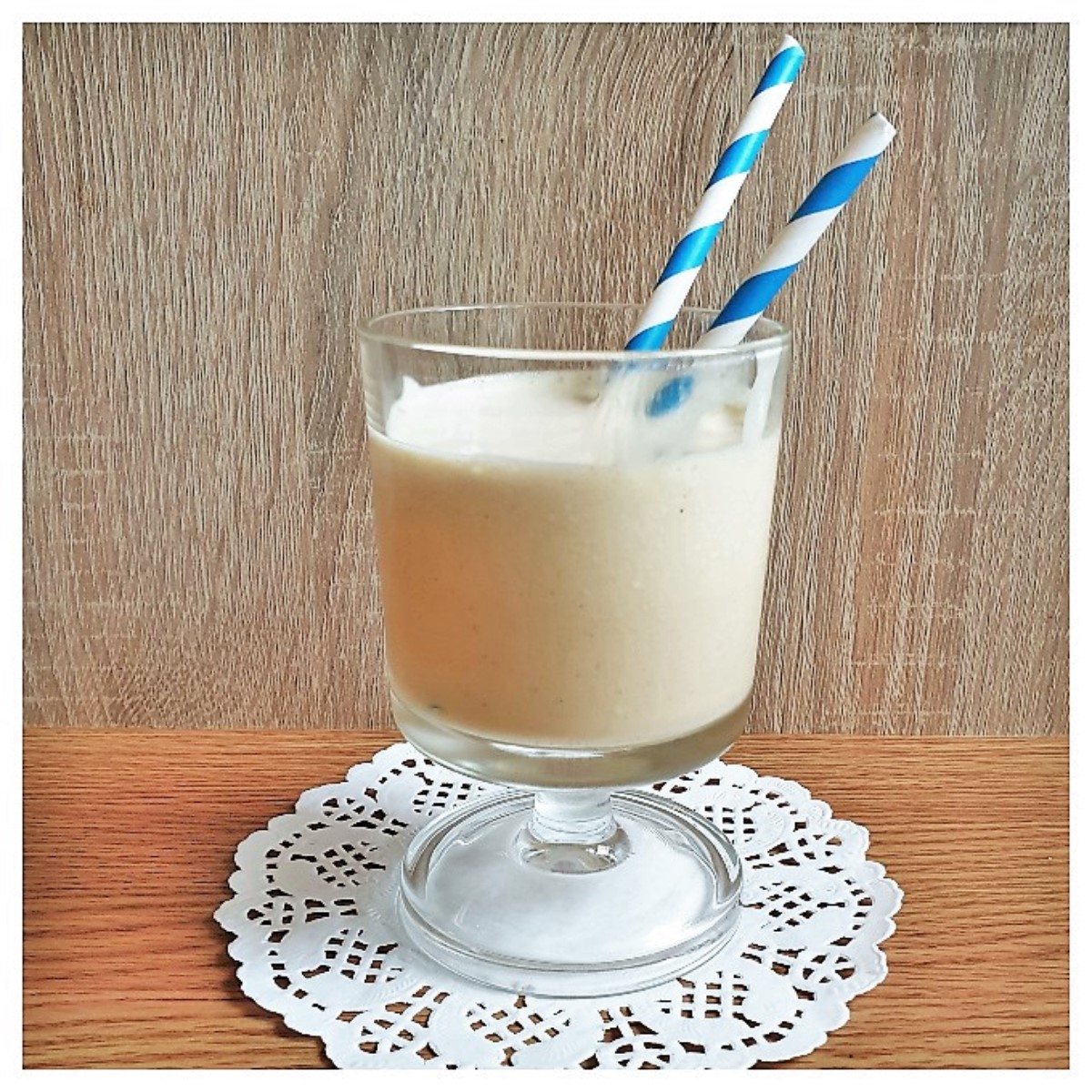 Use real ice cream – not sorbet
Don't try and economise by using sorbet you won't get the same taste. Sorbet also tends to liquidise more than real ice cream so you don't get the proper consistency.
Pour into a glass and sprinkle with grated chocolate. A crushed up Flake is ideal for this, or you could sprinkle on a little cocoa powder. Add a straw, drink and enjoy.
Timesaving tip – make more than you think you will need. It WILL get drunk, believe me.
Variations
There are loads of variations you can made with this. Any cream liqueur works. You don't have to stick to vanilla ice cream either, try some of these combinations with your favourite ice cream flavour.
Kahlua Pedro – made with coffee liqueur for an alternative after dinner coffee.
Jamaican Pedro – made with spiced rum
Tropical Pedro – made with Malibu, which is a coconut flavoured rum
Chocolate Pedro – made with a chocolate liqueur and chocolate ice cream
African Pedro -made with South African Amarula cream
Heavenly Pedro – made with Frangelico and hazlenut flavoured ice cream
I've even heard that Jaegermeister makes a great Dom Pedro, but I haven't tried that one yet. Hmmm!
If you'd like to be notified of any new recipes, why not subscribe to my newsletter. As a thank-you gift, you will receive a free recipe e-book containing some of my most popular cakes and desserts.
Pin for later
Why not pin this recipe for Dom Pedro so you can make it later. Just click on the image below.
This recipe was number 7 on my top 10 recipes for December 2019.
Recipe – Dom Pedro
If you made this recipe and enjoyed it, I'd love it if you could give me a star rating in the comments below. And if you'd like to get in touch, you can email me at [email protected]. I'd love to hear from you. And don't forget to subscribe to my mailing list so you can grab yourself a copy of my FREE COOKBOOK!
If you'd like to continue browsing, just click on this link to all my recipes.