Are you looking for a quick and easy dinner party dessert, or just something to spoil the family with? Impress everyone with this really simple boozy Black Forest Trifle recipe with cherries and cream. Lace it with cherry brandy for the adults or use cherry syrup for the youngsters. Trifle isn't just for Christmas!!!!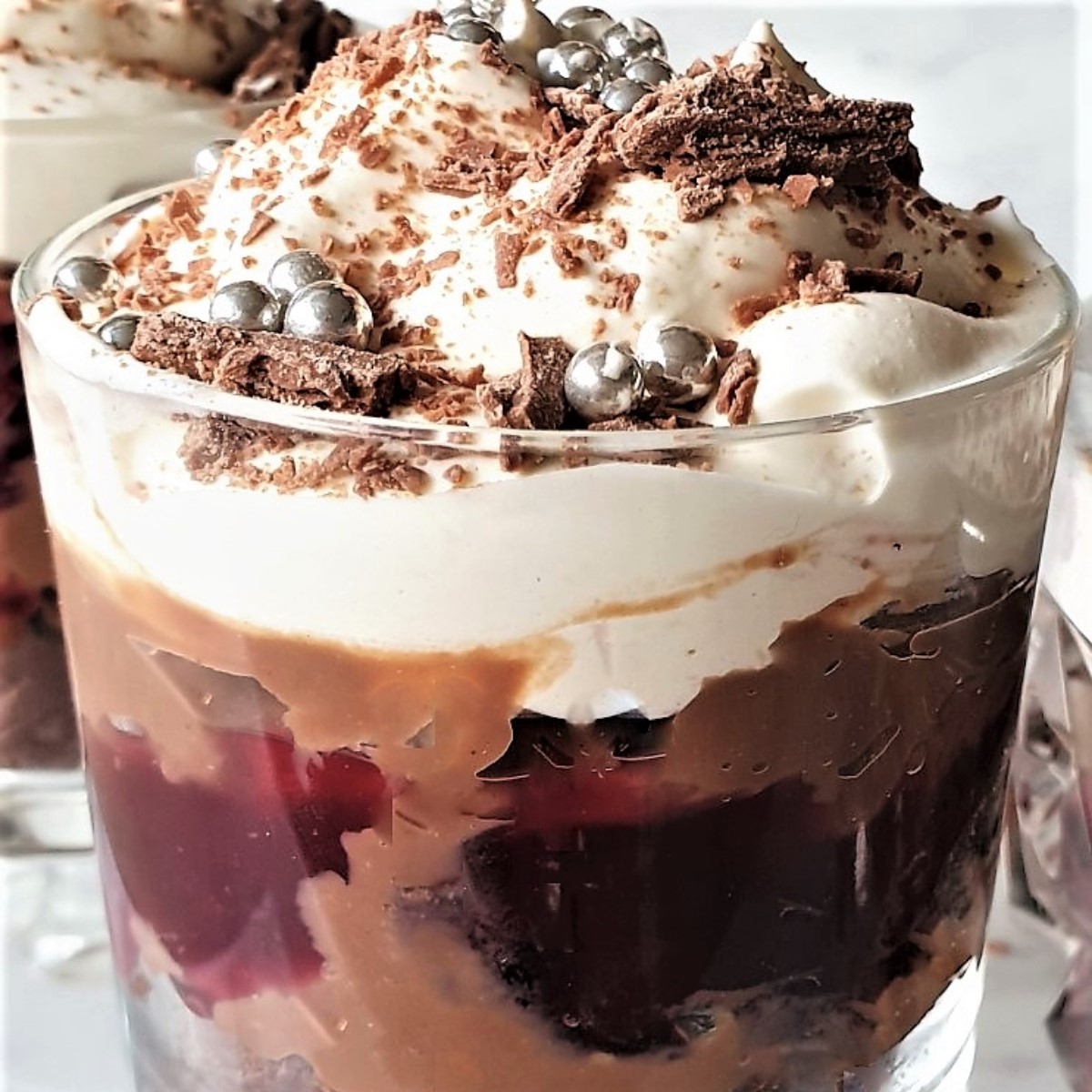 **As an Amazon affiliate, I earn from qualifying purchases.**
Black Forest Trifle
This boozy black forest trifle ticks all my boxes as far as desserts go. In my book a dessert isn't really a dessert unless it's got chocolate, cream and preferably some sort of booze! And this trifle has it all. It's made with slices of cherry-brandy-soaked chocolate swiss roll, sandwiched between layers of homemade chocolate custard and cherry pie filling. And the whole lot is topped with whipped cream, and decorated with chocolate and cherries.
The best part is, it takes less than 30 minutes to make.
A traditional sherry trifle made with tinned fruit, jelly and custard has always formed part of our Christmas menu. But we always end up eating the leftovers for days afterwards, before tipping the remains into the bin. This year I decided to try something different, so I made a black forest cherry trifle. And guess what – it was DEVOURED!!!
Serve it all year round
The nice thing about this black forest trifle is that you don't only need to serve it at Christmas. Change the name to black forest cherry dessert and you can serve it at a dinner party, or even at a family get-together.
And you don't have to use cherry brandy either. If you are making this for people who don't drink alcohol, just make individual portions in pretty glasses and substitute the cherry brandy with cherry syrup or marachino cherry juice.
You can also decorate it according to the occasion. For my Christmas trifle I decorated it with cherries scattered with silver balls. I made it again for a New Years Eve dinner party and decorated it with chocolate flakes.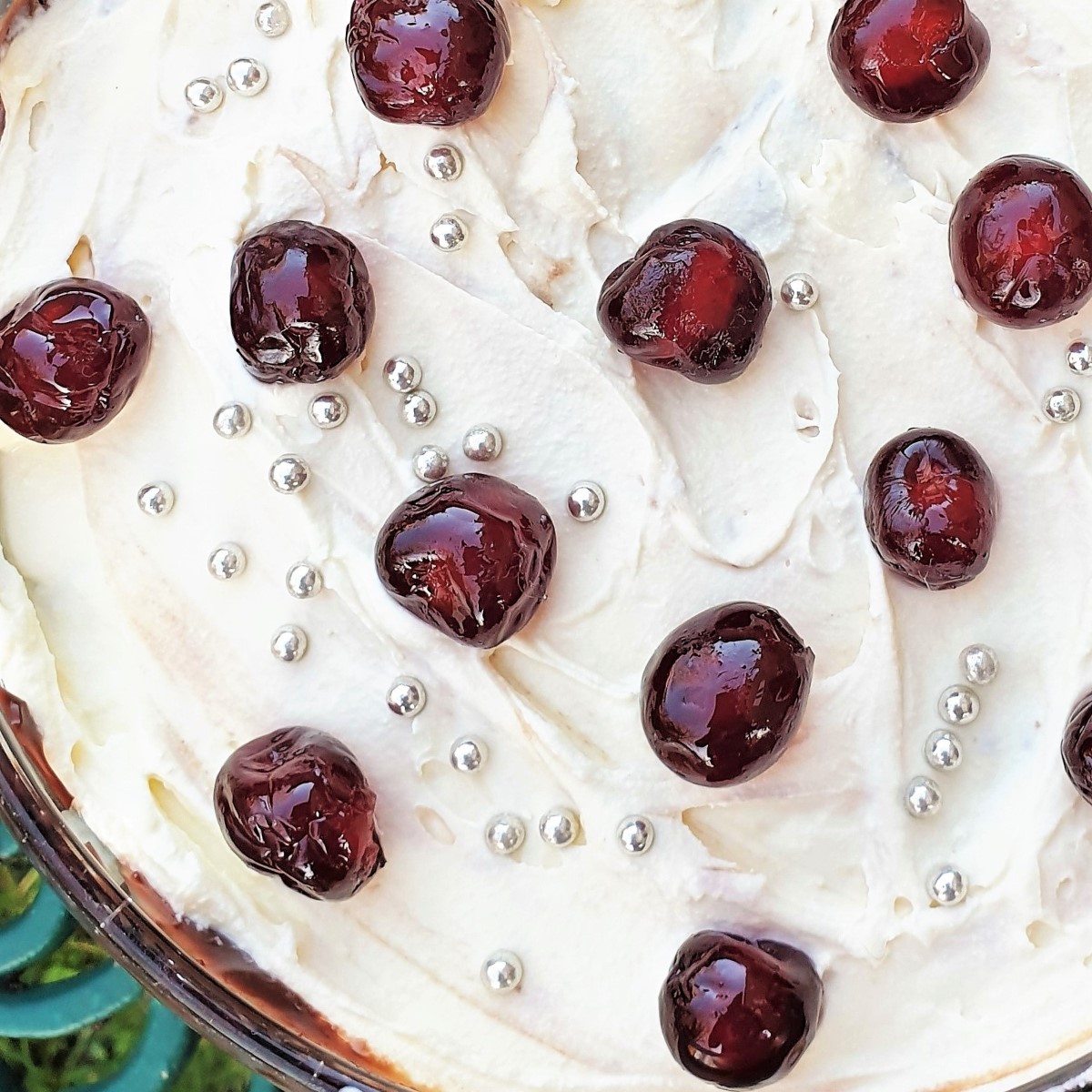 How to make Black Forest Trifle
Ingredients
Chocolate Swiss Roll
I buy a ready-made chocolate swiss roll from my local supermarket. You can substitute the swiss roll with slices of plain chocolate cake if you prefer. Years ago I was given a recipe for a 'one-cup' microwave chocolate cake which is basically 1 cup of everything mixed together.
Bonus recipe for one-cup microwave chocolake cake
To make a one-cup chocolate cake you place 1 cup of plain flour, 1 teaspoon baking powder, 1 heaped tablespoon cocoa powder and 1 cup of sugar into a mixing bowl. Add 1 egg and 1 cup of milk and 50ml suflower oil. Mix well to combine and stir to make sure there are no lumps.
Tip the mixture into a deep microwave-safe bowl and microwave on high for between 8 to 10 minutes. Check after 8 minutes and if it isn't quite set put it back for another minute or two. Make sure the bowl is deep enough to allow the cake to rise. The first time I made it I used a bowl that wasn't large enough and the whole thing over-flowed all over the inside of my microwave!
Let it cool and then use slices for the black forest trifle instead of swiss roll.
Milk
This is a dessert, so full-fat milk preferable. You can use semi-skimmed if that is all you have in the fridge.
Cherry Pie Filling
Use any cherry pie filling from your local supermarket. You will need a 385g size tin (approximately). The cherries should be in a thick sauce, not in thin runny juice.
Custard powder
I use Birds custard powder, but you can use your favourite brand. Make sure you get the custard powder that you have to cook on the stove – don't use instant that you just mix with boiling water. This won't work. You need to get your custard really thick. For the same reason, a carton of pouring custard won't work either.
Cocoa powder
Use unsweetened cocoa powder or your custard will be too sweet.
Cream
You need cream that you can whip to soft peaks. Double or whipping cream is perfect. Don't use single cream – no matter how long you beat it for, it won't thicken.
Cherry Brandy
Some people call this Kirsch or Kirschwasser and it does contain alcohol. If you are making this for children, or for people who don't drink alcohol, you can substitute with cherry juice. You could also use blackcurrant juice, although this would alter the flavour of the trifle somewhat.
Decorations
The choice is up to you. For festive occasions I like to put marachino or glace cherries on top and sprinkle with silver balls. Or you could crumble up a chocolate flake bar and sprinkle that over the cream.
You don't have to put any decorations on it you don't want to. You could just serve it plain, covered in cream.
Steps to make black forest trifle
Make the custard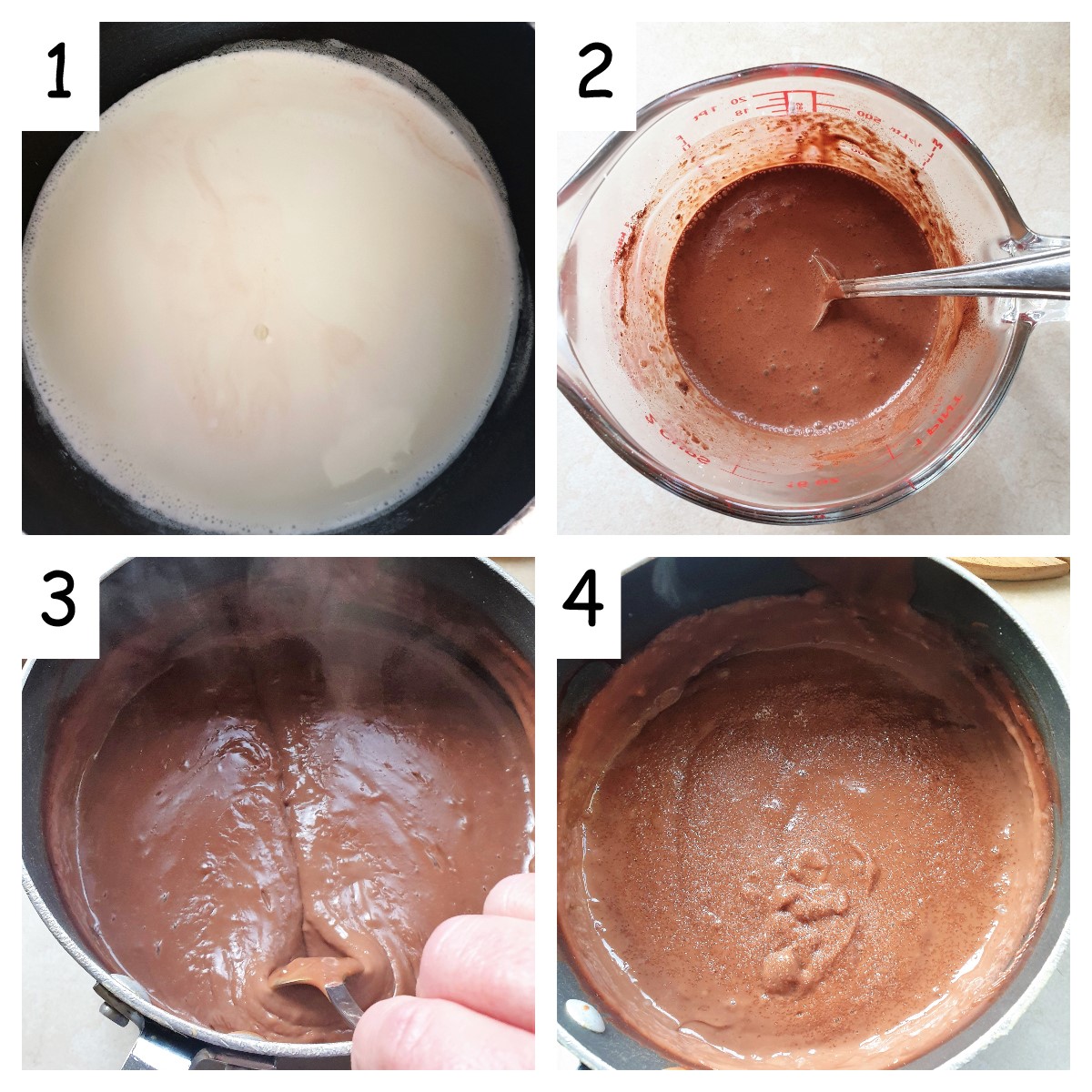 Put the milk in a saucepan and bring to the boil (image 1).
While the milk is coming to the boil mix 75ml custard powder and 50ml cocoa powder with 100 ml cold milk. Make sure there are no lumps (image 2).
Once the milk comes to the boil, remove from the heat and stir in the custard powder mixture.
Return to a low heat and stir continuously until the custard is thick. The custard must not be runny. It will be thick enough when it leaves a trail as you draw a spoon through it (image 3).
Sprinkle the top of the custard with a little sugar to prevent a skin forming and allow to cool (image 4).
Assemble the black forest trifle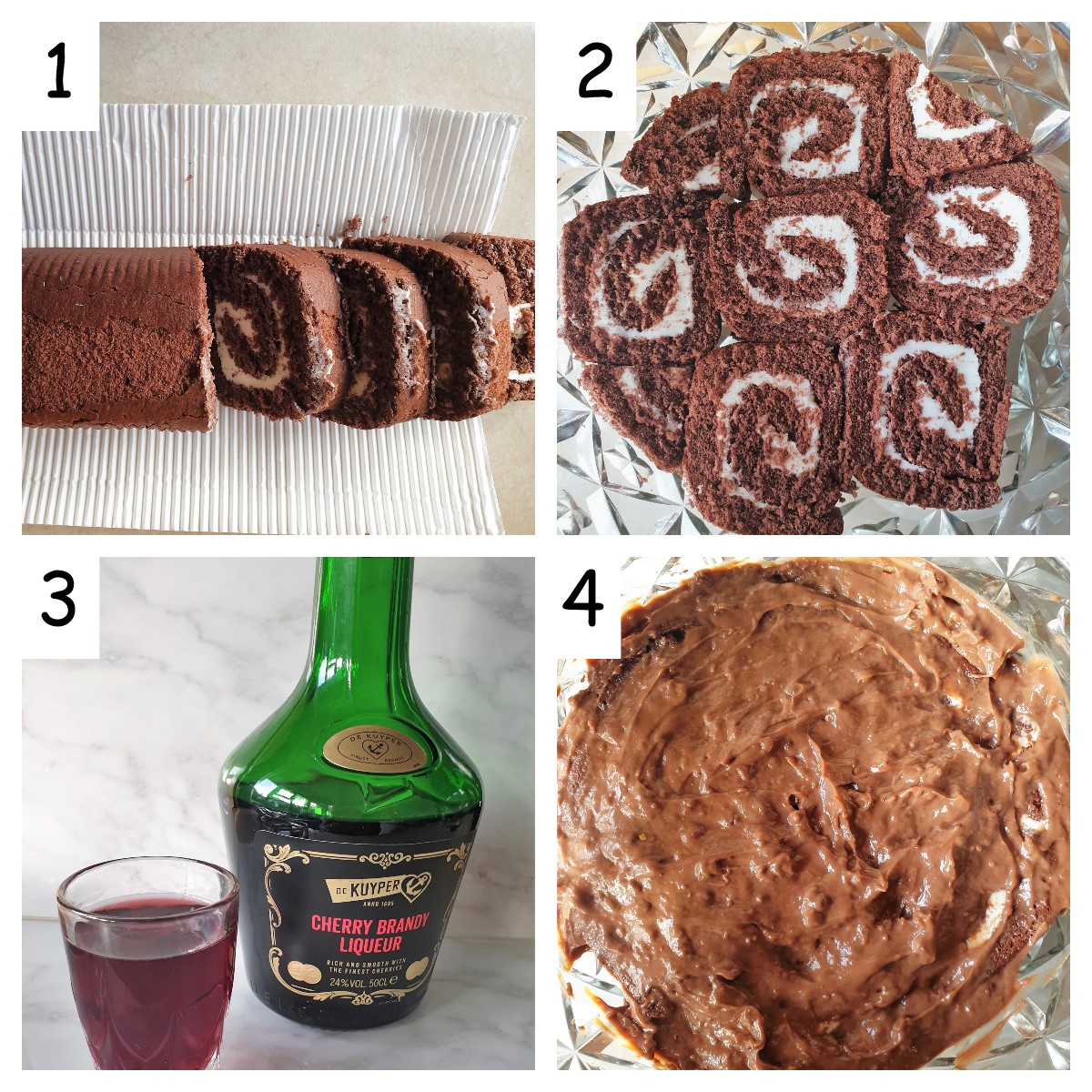 Slice the swiss roll into 1cm (1/2 inch) pieces and arrange in the bottom of a dish (image 1 and 2 above).
Sprinkle the cake with about 30ml cherry brandy or non-alcoholic cherry juice (image 3 above).
Spread half of the custard over the cake (image 4 above).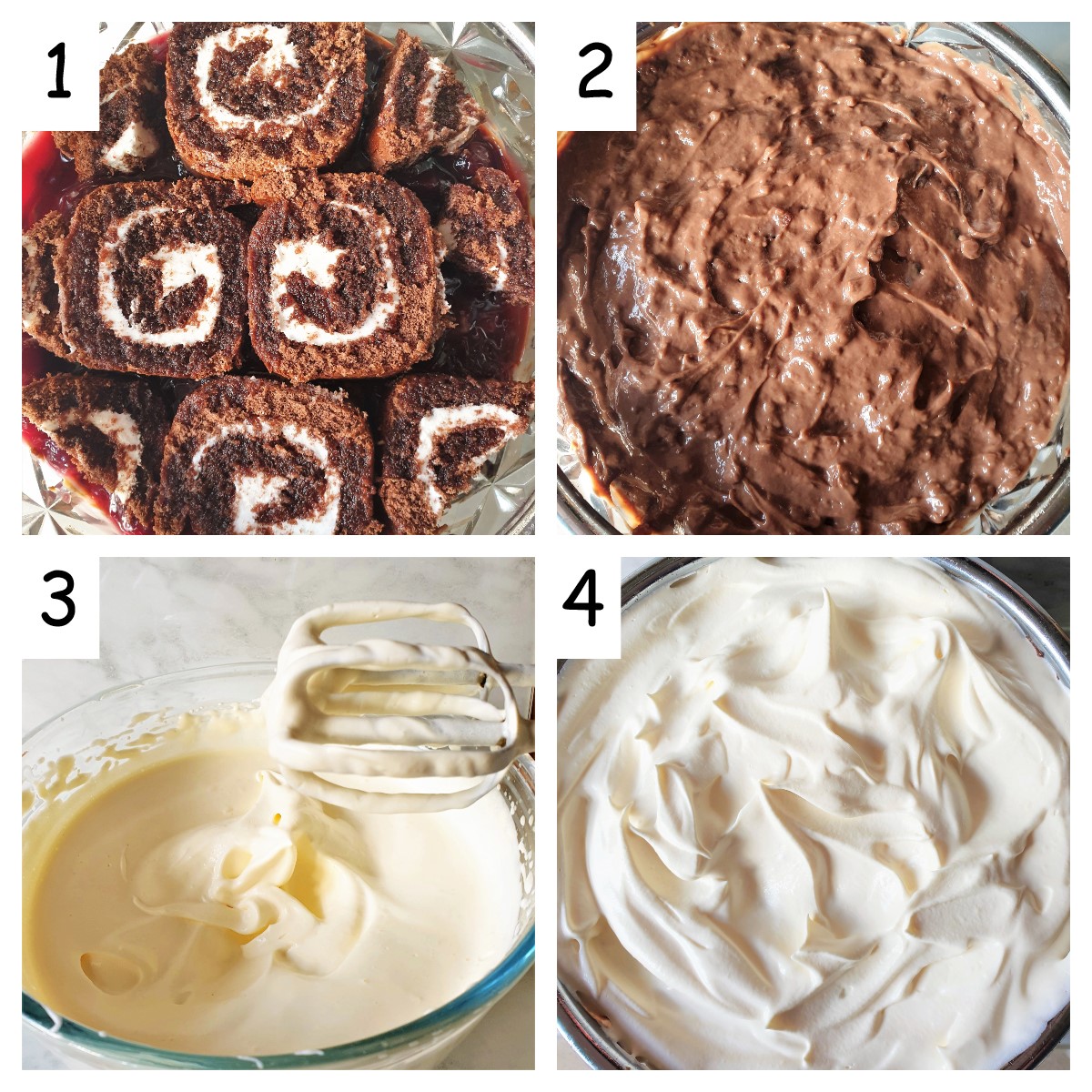 Add the tin of cherries, including the sauce and spread over the custard (image 1 above).
Arrange another layer of swiss roll on top of the cherries and sprinkle with another 30ml cherry brandy (or cherry juice).
Spread the remaining custard on top (image 2 aboe).
Whip the cream until soft peaks form (you do not need to add any sugar to the cream) (image 3 above).
Cover the trifle with the cream (image 4 above).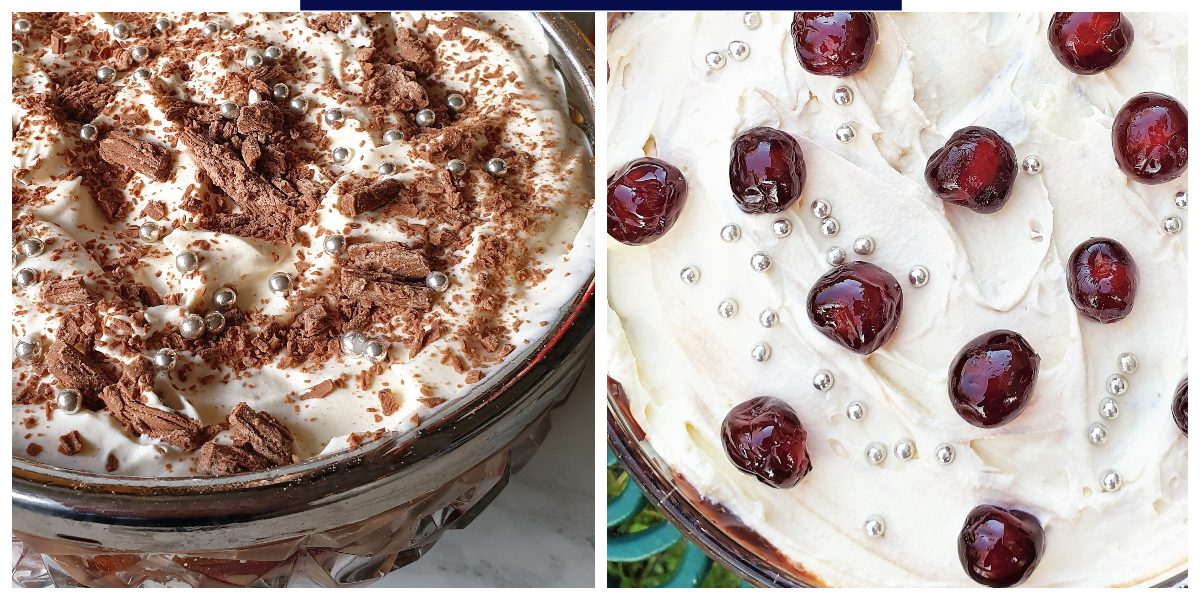 Decorate as desired, with cherries or chocolate flakes.
Place in the refrigerator to chill.
Serve chilled.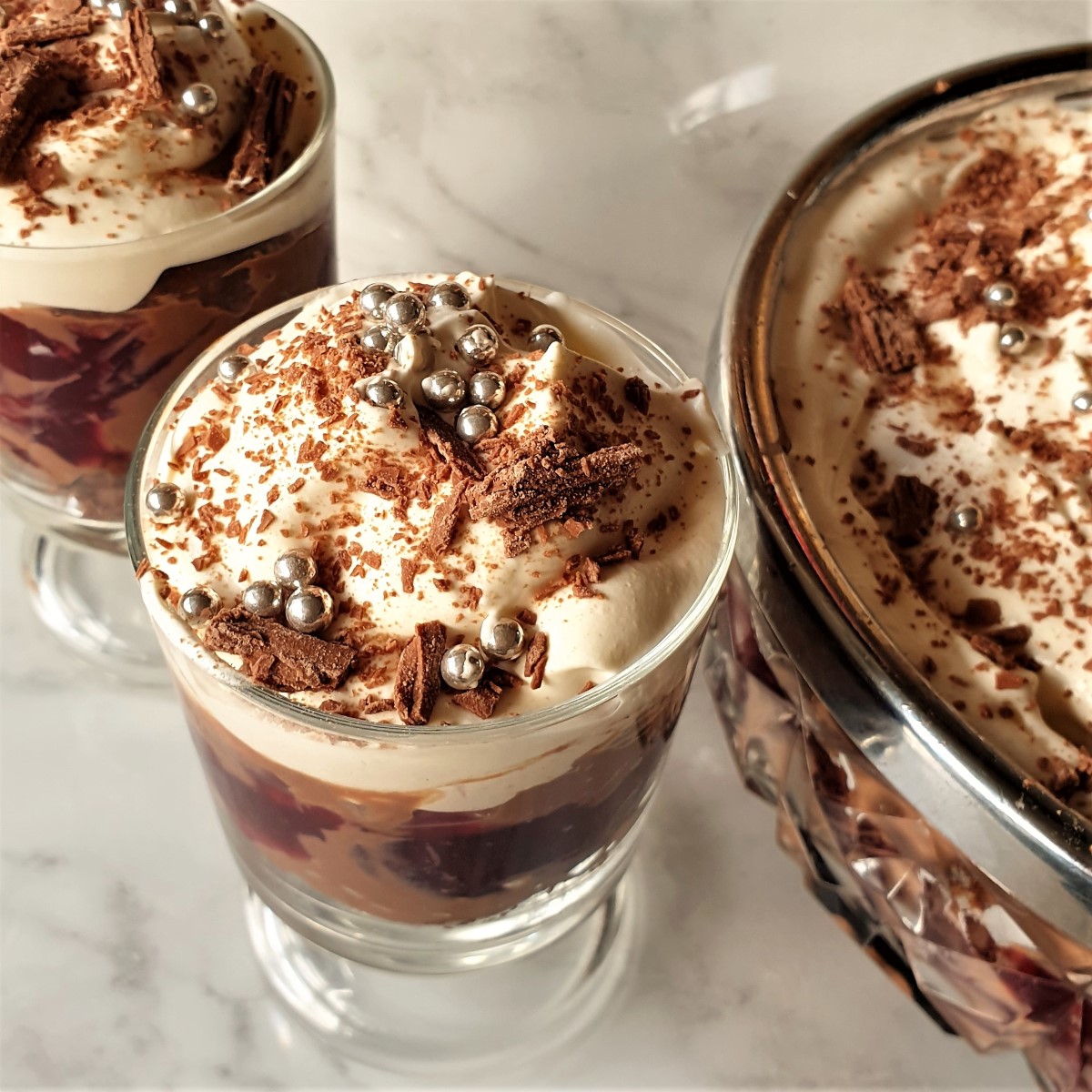 If you'd like to be notified of any new recipes, why not subscribe to my newsletter? As a thank-you gift, you will receive a free recipe e-book containing some of my most popular cakes and desserts.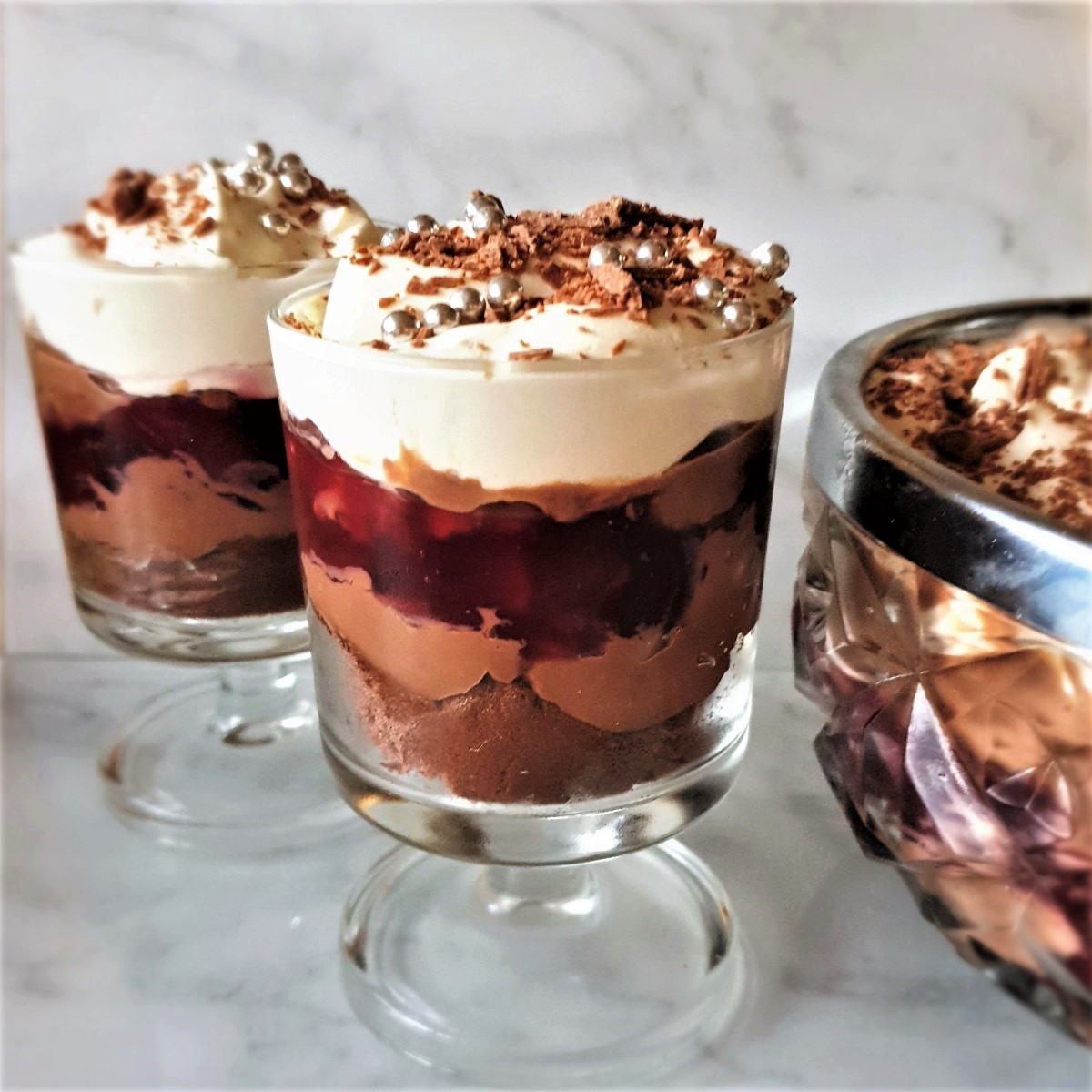 Pin for later
Why not pin this recipe for black forest trifle so you can make it later.
This recipe was number 8 on my top 10 recipes for December 2019.
Recipe – Boozy Black Forest Trifle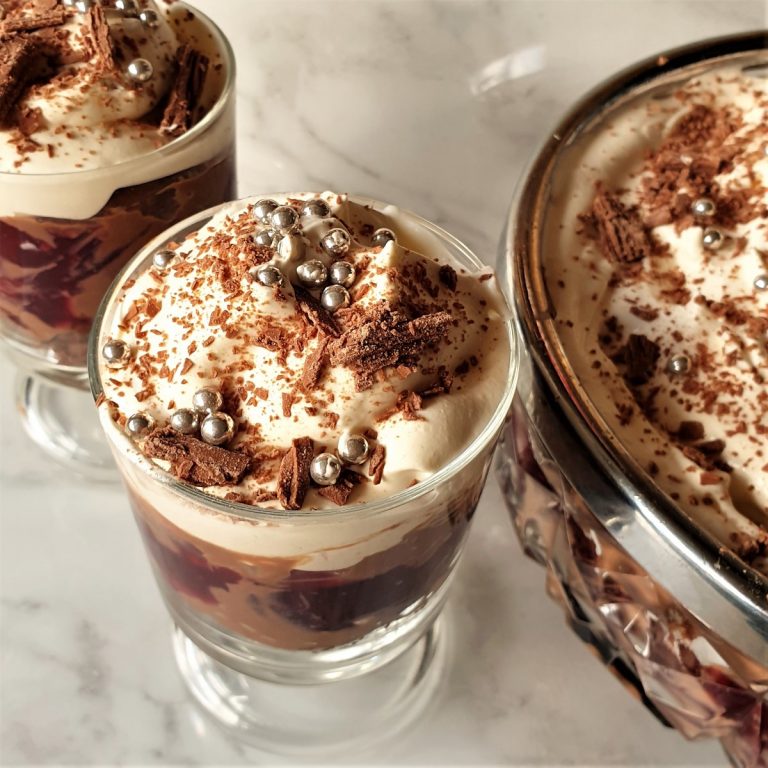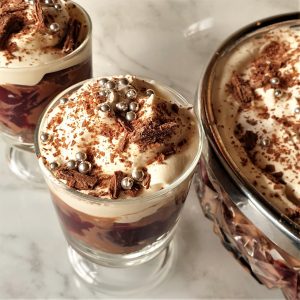 Boozy Black Forest Trifle
Impress family and friends with this really simple boozy Black Forest Trifle recipe with cherries and cream. Lace it with cherry brandy for the adults or use cherry syrup for the youngsters. Trifle isn't just for Christmas!!!!
Print
Pin
Comment
Bookmark
Saved!
(Click the stars to rate this recipe)
Ingredients
1

Chocolate Swiss Roll

shop-bought

1

can cherry pie filling

4

tablespoons

cherry brandy

1

cup

double cream
Custard
2

cups

(

1

pint) milk

½

cup

milk (additional)

⅓

cup

(

75g

) custard powder

6

tablespoons

(

40g

) cocoa powder

5

tablespoons

(65g) sugar

1

tablespoon

sugar

for sprinkling on the custard
Instructions
Make the chocolate custard
Pour the

2

cups milk and the sugar into a saucepan and bring to the boil.

Mix the custard powder and cocoa into the additional milk and stir well to remove the lumps.

When the milk in the saucepan has boiled, take approximately 1/2 cup of hot milk and mix into the cold milk and custard powder.

Then add this mixture back to the hot milk in the saucepan.

Bring back to the boil, stirring continuously. Then reduce the heat to a simmer and stir until the mixture has thickened.

Remove from the heat, sprinkle with 1 tablespoon sugar to prevent a skin forming on top, and allow to cool.
Assemble the trifle
Cut the chocolate swiss roll into slices and arrange in a serving bowl.

Sprinkle with half of the cherry brandy.

Spread half the custard over the cake.

Add the cherries and spread on top of the custard.

Add another layer of cake and sprinkle with the remaining cherry brandy.

Cover with the remaining custard.

Whip the cream until soft peaks form and spread on the top of the trifle.

Decorate with either cherries or crushed chocolate.

Place in the refrigerator until ready to eat. Serve chilled.
Notes
The custard must be very thick.  You should be able to spread it with a knife onto the cake. You can substitute the cherry brandy with cherry juice, or blackcurrant juice, if you don't want to use alcohol. Make sure you use double or whipping cream.  Single cream will not thicken properly. You should buy cherry pie filling, not cherries in juice. You can substitute the chocolate swiss roll with any plain chocolate cake.  See post for a recipe for plain chocolate cake made in the microwave.
Nutrition
Calories –
217
kcal
|
Carbohydrates –
26.8
g
|
Protein –
3.2
g
|
Fat –
10.3
g
|
Saturated Fat –
6.2
g
|
Cholesterol –
48
mg
|
Sodium –
51
mg
|
Potassium –
211
mg
|
Fiber –
1.5
g
|
Sugar –
8.9
g
|
Calcium –
84
mg
|
Iron –
1
mg
I am not a nutritionist. The nutrition information has been calculated using an on-line calculator, and is intended for information and guidance purposes only. If the nutrition information is important to you, you should consider calculating it yourself, using your preferred tool.
Unless otherwise stated, a cup is the standard US cup containing 240 ml. In all my recipes this cup is assumed to hold 140g of flour. For help converting other ingredients between cups, grams, ounces and other measures, see my recipe conversion calculator.
All my recipes are developed and tested at sea-level. For tips on adjusting recipes for high altitudes see my post on baking at high altitudes.
Tried this recipe?
If you made this recipe I'd love it if you could leave me a comment and let me know how it went!
Share on Facebook
Share on Twitter
If you made this recipe and enjoyed it, I'd love it if you could give me a star rating in the comments below. And if you'd like to get in touch, you can email me at [email protected]. I'd love to hear from you. And don't forget to subscribe to my mailing list so you can grab yourself a copy of my FREE COOKBOOK!
If you'd like to continue browsing, just click on this link to all my recipes.