The easiest ever Coconut Pie. Just mix all the ingredients together, pour into a pie dish and bake. It forms a delicious soft pastry base with a creamy custard filling and a crunchy coconut topping. Eat a slice by itself or top it with whipped cream or ice cream for extra indulgence.
---
Easy Coconut Pie
It's been a hectic couple of weeks at Foodle Club. We had two family weddings in one week, with family and friends arriving from South Africa and Australia to join in the celebrations.
We had a houseful. 4 people sleeping over at our house and another 4 in nearby hotels because we didn't have enough room. And everyone turning up at our house for meals. It was a huge task making sure everyone was fed and watered. But I loved it. It was the first time in nearly 14 years that myself and my three children had been together in one place.
Luckily my daughter from South Africa reminded me of this delicious coconut pie. This is ideal for large gatherings, because it is quite a large pie and it only takes 5 minutes to throw together. As it bakes it forms the most deliciously soft pastry base, with a creamy custard filling and a crunchy coconut topping. And it's big enough for everyone to have a slice (or two slices because it tastes so good).
I've tried to capture the layers in the following photo. You should be able to make out the pastry layer at the bottom, with the custard filling sitting above it, with the crunchy coconut layer on top.
---
How to make an easy Coconut Pie
Ingredients
You will need the following ingredients: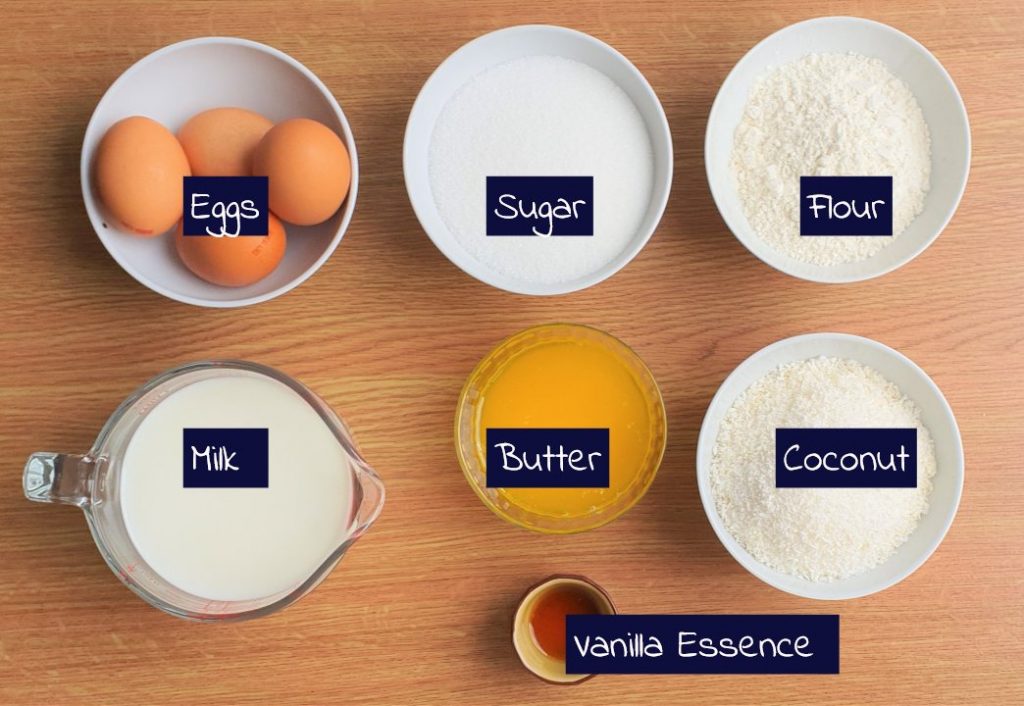 Eggs – you need 4 large eggs. If you don't have large eggs, medium will do.
Sugar – 1 cup white sugar. You can cut this down to 3/4 cup if you want a dessert that is less sweet.
Flour – 1/2 cup. Use plain flour, not self-raising. This recipe does not need any baking powder.
Milk – 2 cups – I used full fat, but you can use semi-skimmed if you like.
Butter – 1/2 cup. Melt it in the microwave first, and let it cool down a bit before using. Don't add hot melted butter to the mixture or you stand a chance of cooking the eggs.
Coconut – 1 cup. Use sweetened desiccated coconut from a packet from the supermarket.
Vanilla extract or essence – this is optional but adds a nice flavour.
---
Steps
Place all the ingredients into a mixing bowl

Give it a quick mix to combine

Pour into a greased 12″ pie dish

Place in the oven at 350F/175F

It may develop cracks on top but these will minimise as it cooks

You can sprinkle icing sugar on top to disguise the cracks
Sift the flour into a bowl and then add the rest of the ingredients.
Give it a quick mix to combine. The mixture will be very loose and runny but don't worry this is perfectly normal. As the pie cooks, a pastry base will form at the bottom with a custard layer above that and a crunchy coconut layer on top.
Pour into a greased 12″ pie dish and place in a pre-heated oven (350F / 175F) for 1 hour.
Keep your eye on it towards the end of the cooking time. The pie will be cooked when it feels firm to the touch and no longer 'jiggles'. The top will be golden brown.
You may find that the pie cracks on top as it cooks. Don't worry – as the pie cools and settles the cracks will sink back together. You can sprinkle icing sugar on the top to disguise any remaining cracks.
---
Equipment
You will need the following equipment to make this recipe.
Mixing bowl – you need quite a large one for mixing all the ingredients
12″ Pie Plate – I like to use a ceramic dish rather than metal because it looks prettier if you serve the pie directly from the dish.
Spatula – a silicone spatula will not scratch your mixing bowl
Did you know that you can get free delivery from Amazon on any item displaying the Prime logo. Join Amazon Prime today and save on your next purchase. They'll deliver right to your door, the very next day. Or you can specify an 'Amazon Day' and all your orders will arrive together on the same day.
As an Amazon Associate I earn from qualifying purchases. These are affiliate links which means I get a small commission (at no additional cost to you) if you click through and make a purchase.
If you want to keep up-to-date with my latest recipes why not follow along on Facebook or Pinterest. And don't forget to subscribe to my mailing list so you can get your FREE COOKERY BOOK
---
Recipe – Easy Coconut Pie
Print Recipe
Easy Coconut Pie
Easiest ever coconut pie. Mix all the ingredients in one dish and as it bakes it forms a crust at the bottom with a custard filling and a crispy coconut topping.
Ingredients
½

cup

(80 g) plain all purpose flour

1

cup

(100 g) desiccated coconut

1

cup

(240 g) white sugar

½

cup

(140 g) butter

melted

4

medium

eggs

2

cups

(1 pint) milk

2

teaspoons

vanilla essence
Instructions
Preheat oven to 350°F / 175°C

Sift the flour into a large mixing bowl.

Add all the remaining ingredients.

Pour into a greased 12" baking dish.

Place in the pre-heated oven and bake for approximately 1 hour.

Remove from the oven and allow to cool in the baking dish.
Notes
The mixture will be very runny.  Don't worry – it's supposed to be.  Just pour it into a large pie dish and wait for the magic to happen in the oven.
You may find the top of the pie will crack as it cooks.  Once again, don't worry – the pie rises quite a lot in the oven, but it sinks back into shape as it cools and the cracks come together nicely.
The coconut is the normal desicated coconut that you buy in packets in the supermarket.  You don't have to shred a fresh coconut.
This recipe does not need baking powder.  For this reason you should use plain flour, not self-raising.
My oven takes approximately 1 hour to bake this pie.  Other ovens may vary.  The pie is cooked when it is golden brown on top and no longer 'jiggles'.
Don't set your oven higher than 350F / 175C.  The pie needs a long baking time to allow the layers to separate.
Calorie count is per slice – estimated at 12 slices.
The calorie count has been calculated using an on-line calculator and is provided for information purposes only.  If the calorie count is important to you, you should consider calculating it yourself, using your preferred tool.
If you made this recipe and enjoyed it, please don't forget to give me a star rating in the comments below. And if you'd like to get in touch, you can email me on [email protected] I'd love to hear from you.
---
This recipe has been shared with CookBlogShare
---
Related Recipes
If you enjoy baking I have lots of other recipes on my baking recipes page.
These are my particular favourites:
Peppermint Crisp Fridge Tart
Cream and caramel combined with peppermint chocolate, layered between coconut biscuits. The ultimate indulgent dessert.
View recipe
Homemade Cream Puffs
Feather-light choux pastry buns filled with whipped cream and dusted with icing sugar
View recipe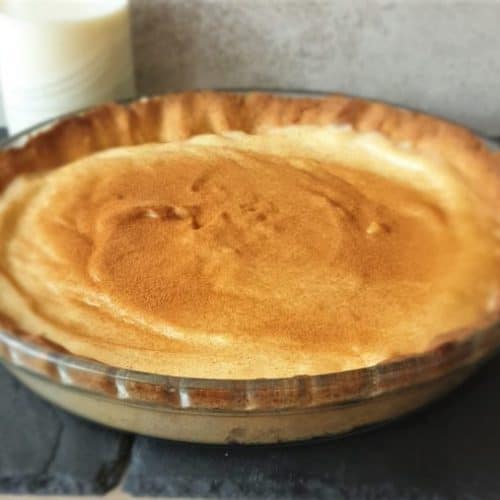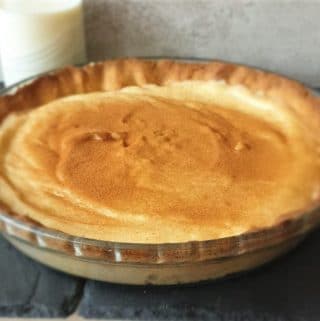 Milk Tart
Milk Tart, a creamy South African custard dessert. Delicious served cold from the fridge.
View recipe
Why not pin this recipe for later, or save it to your Yummly recipe box. And don't forget to subscribe to my mailing list so you can grab your FREE COOKBOOK!