This all-in-one apple cake tray bake is the best apple cake recipe I have ever tried. As it bakes, the juice from the apples combines with the cake batter to form a delicious custardy inside. Combine this with cinnamon and plump juicy sultanas and you have the best apple cake ever!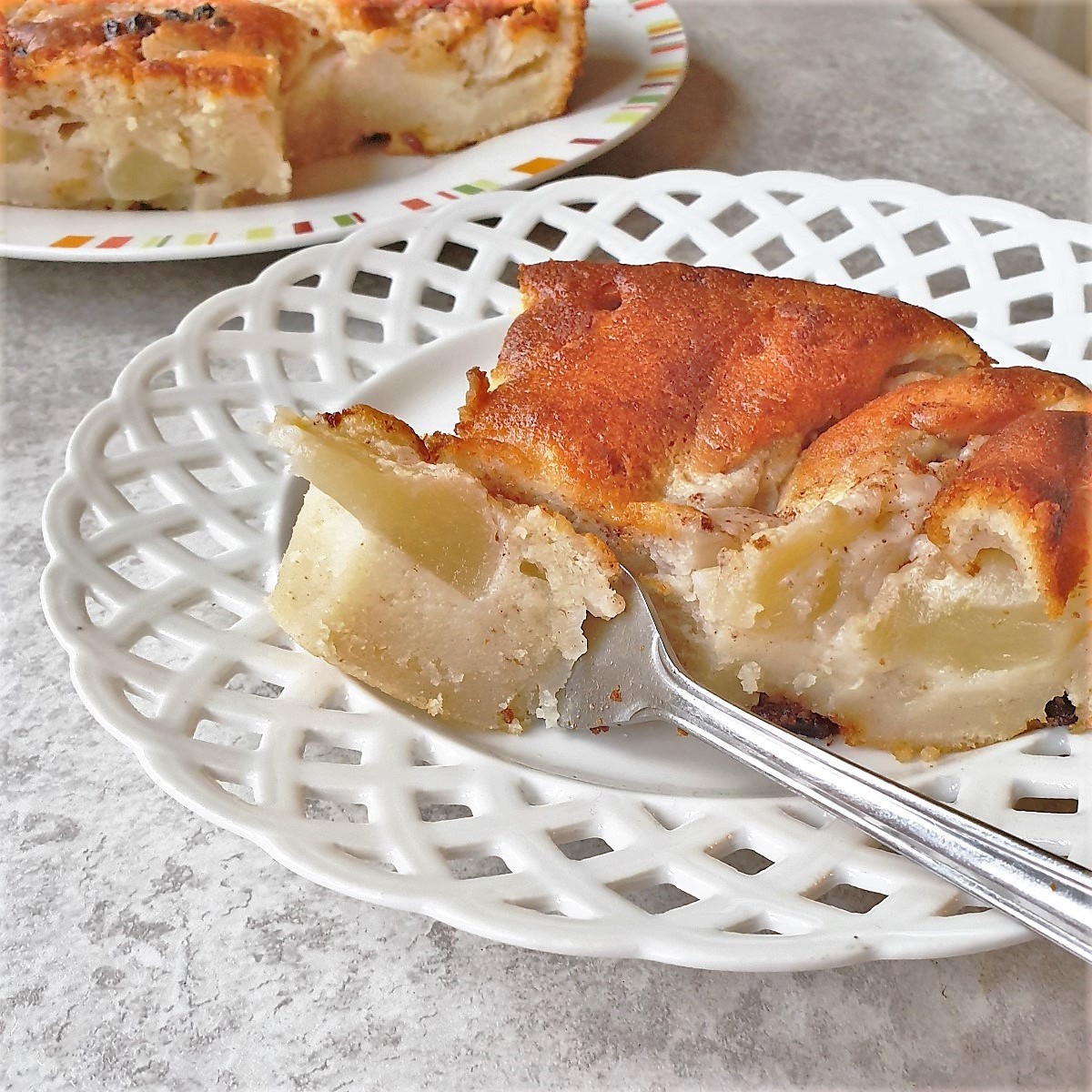 Easy apple cake tray bake
What can I say about this easy apple cake tray bake? I could tell you that it is deliciously moist apple cake, with a creamy custardy filling, packed with apples, cinnamon and sultanas. Or I could tell you that it is such an easy to make apple cake that even a child could bake it. I could even tell you that it does double-duty, and you could serve it either as a cake or as a dessert.
But I'm not going to tell you any of those things. What I am going to tell you is that I have been making this easy apple cake tray bake for years, and I can safely say it has never failed once. I call it my one cup apple cake because you basically just need one cup of everything. It's moist, it's custardy and best of all it's delicious.
It's one of those recipes that everyone should have up their sleeve for when they need a quick cake in a hurry. Like for those times when hubby says 'Did I tell you my mother is coming round or tea this afternoon?' or when child number 2 says just before bedtime 'But Mummy, I told you last week I needed a cake for school tomorrow'. If you add this easy apple cake recipe to your repetoire you'll never need to panic again.
The magic ingredient is a can of sliced apples. As long as you remember to keep this on your regular grocery list, you will be able to whip up this easy apple cake in 5 minutes and then relax while it bakes.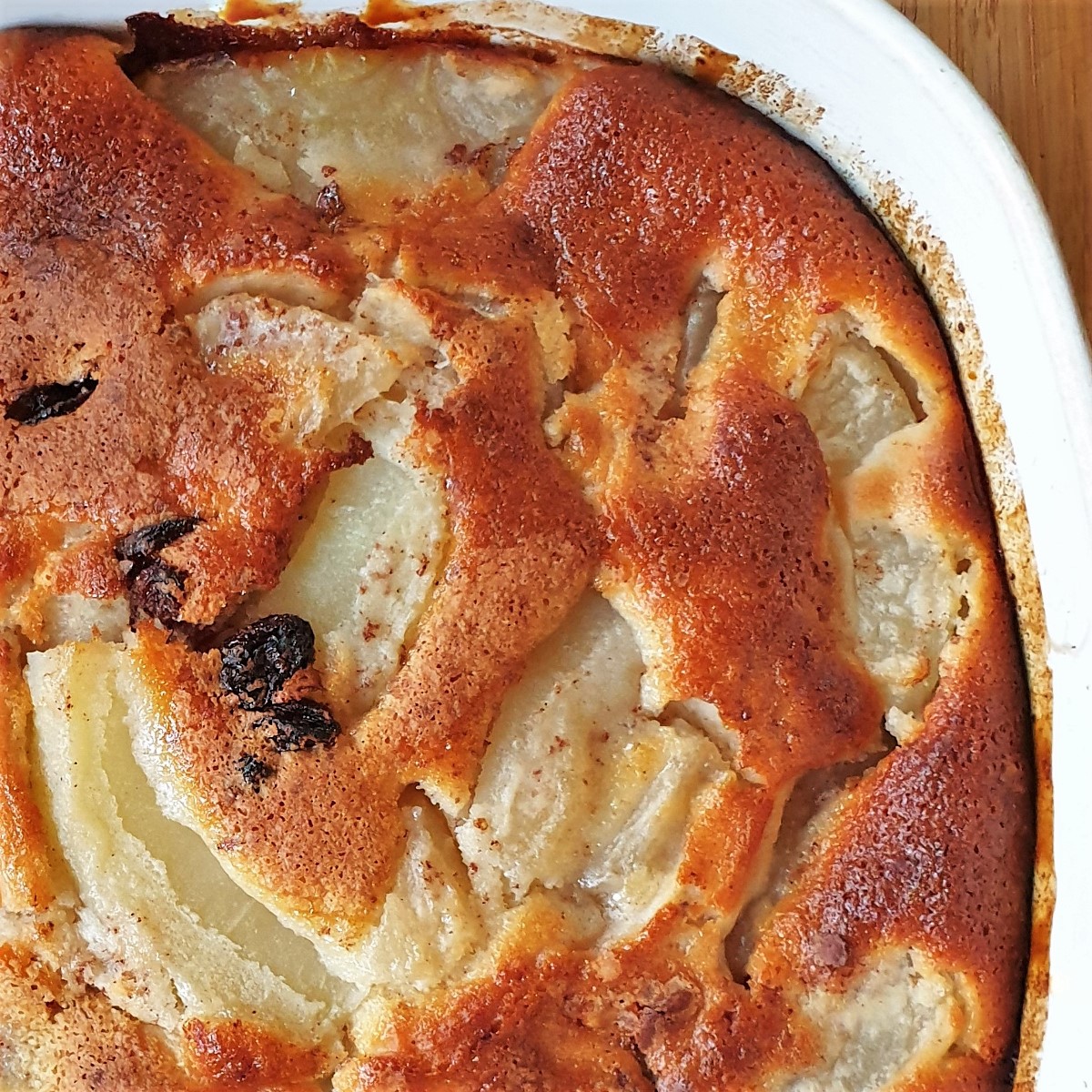 What you need to make an all in one apple cake
You can get the complete set of instructions and ingredients to make this apple cake from the printable recipe card at the bottom of this post.
You need 6 main ingredients. And they are so easy to remember. With the exception of the oil, you need one measure of each ingredient.
Sliced apples – 1 x 385g can. Don't buy apple puree – that won't work at all. You need nice firm apple slices.
Self-raising flour – 1 cup. Using self-raising flour means you don't have to use baking powder. Of course, if you don't have self-raising flour you just add 1 teaspoon baking powder for each cup of plain flour.
Sugar– 1 cup. You can use either granulated or caster sugar.
1 large egg
Milk – 1 cup. Either full-fat or semi-skimmed is fine.
Oil – this apple cake is made with oil rather than butter, and this is the only exception to the 1 cup rule. You will need 25ml of sunflower oil. I have a Jaegermeister shot glass which is marked off at 25ml so I just use one of those 🙂
Cinnamon sugar -1 tablespoon. You could cheat and add a little more if you prefer a sweeter cake. You can make your own cinnamon sugar by mixing 1 cup of white sugar with 1 tablespoon ground cinnamon spice. Store it indefinitely in a screw-top jar in your cupboard. Cinnamon sugar is great for sprinkling on crepes or pancakes too.
Sultanas – 1 handful. You just need enough to sprinkle over the apples. If you don't like sultanas you can leave them out.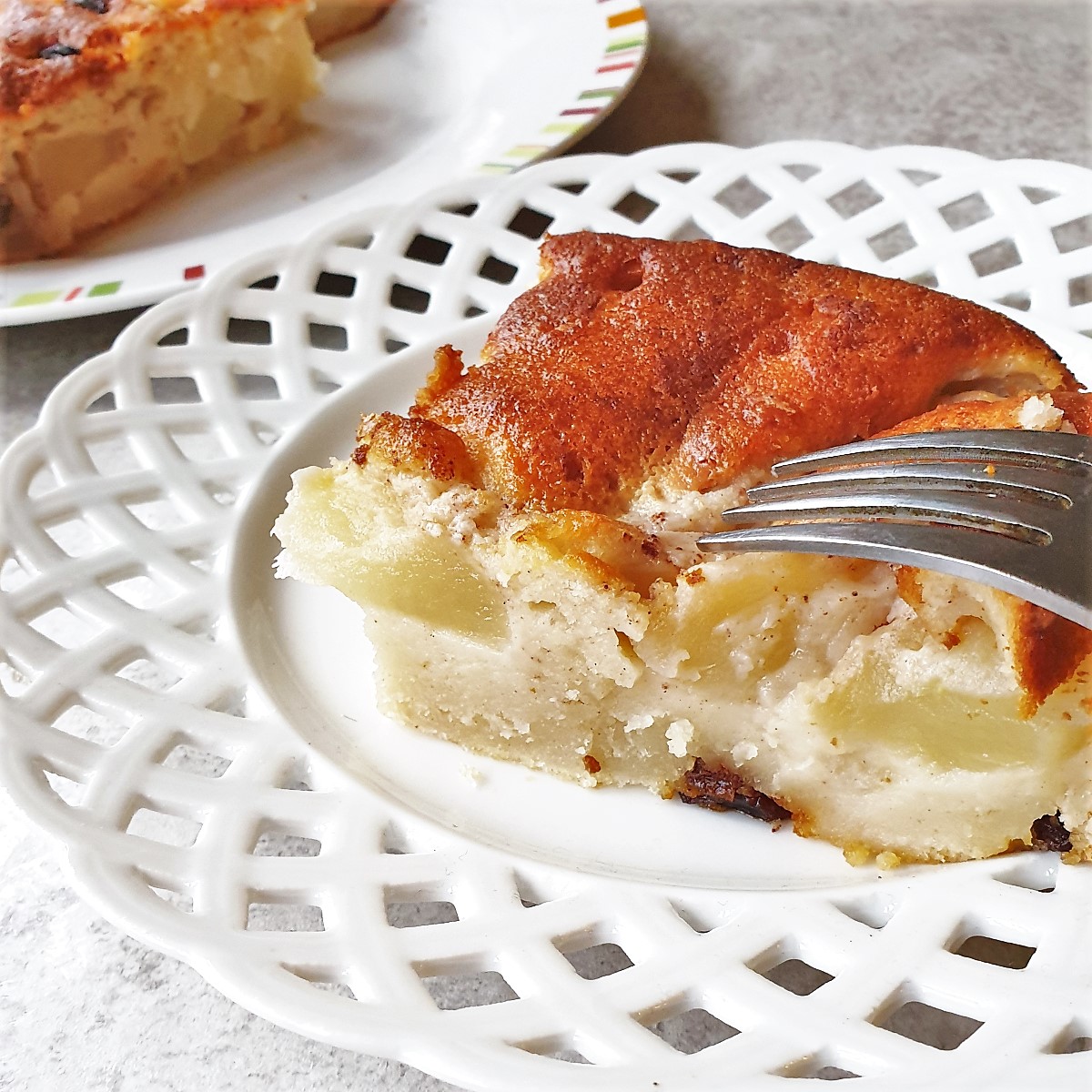 How to make an all in one apple cake
Note – The batter for this cake is quite thin – much thinner than a normal cake mixture. Don't worry if it seems too thin. As it sets around the apples it forms a custard-like filling which is moist and creamy – not a dry cake crumb in sight!
Preheat the oven to 190C / 375F
Grease an 8 x 8 inch baking dish with a little butter. I sometimes forget this step and my cake has never stuck. To be honest I think the oil in the batter prevents the cake from sticking to the dish, but better safe than sorry!
The dish should be deep enough to hold both the apples and the batter.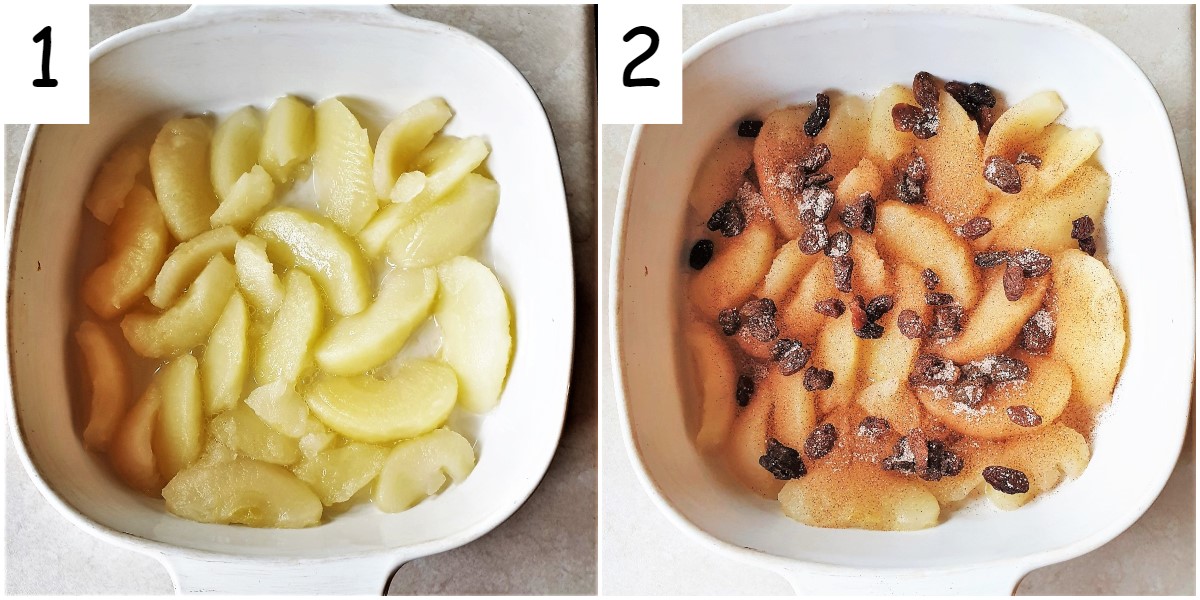 Open the tin of apples and arrange them in a layer on the bottom of the baking dish. You will find the apples float up during baking and distribute themselves throughout the cake.
Sprinkle the apples with a small handful of sultanas and then sprinkle with a tablespoon of cinnamon sugar
Mix the batter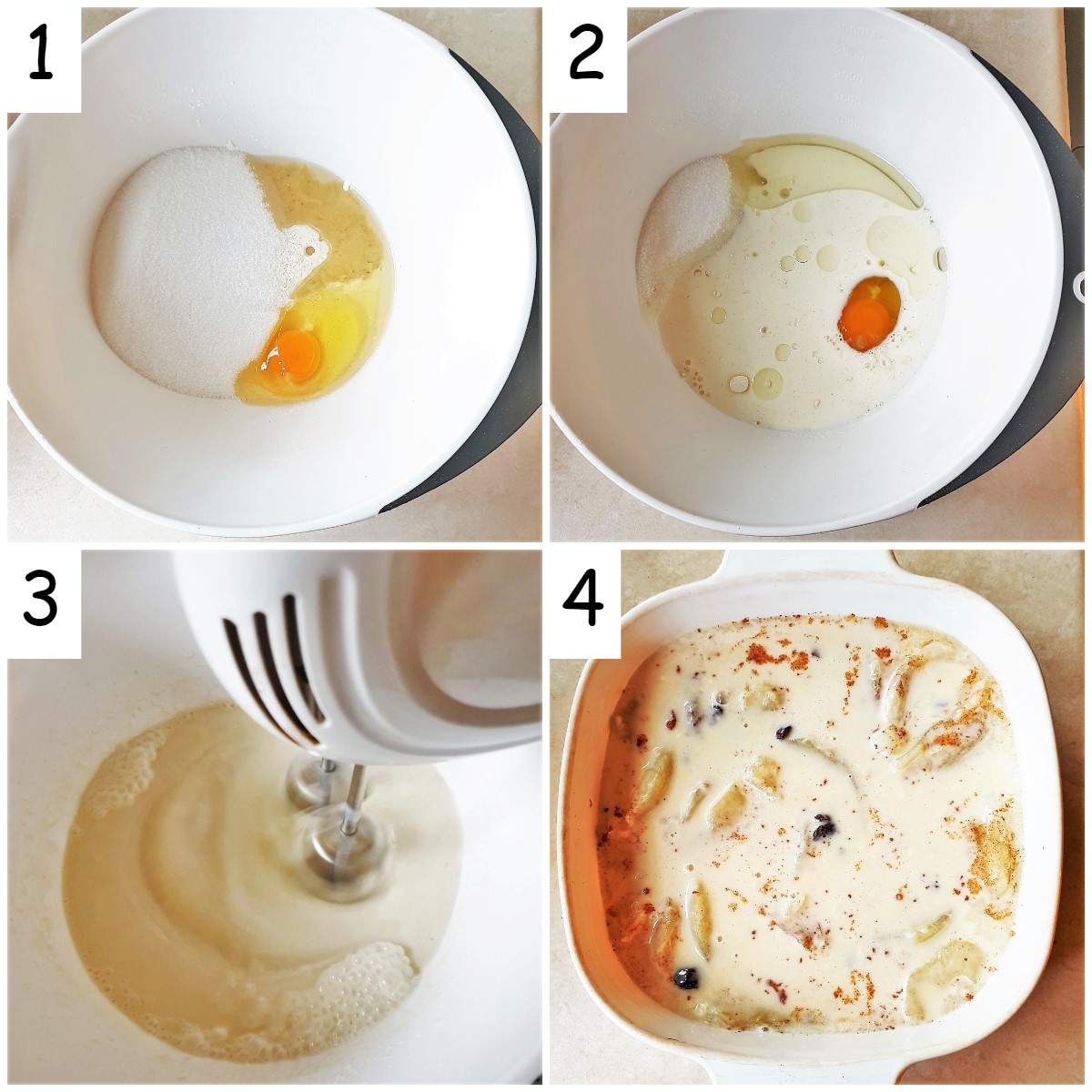 I told you this was the easiest cake recipe ever. All you have to do is sift the flour into a mixing bowl and then add the sugar, egg, oil and milk. Whisk until there are no lumps, and that's it. The batter is ready!
The batter will be very runny and much thinner than a normal cake batter. Don't worry – this is perfectly normal.
Pour the batter over the apples in the baking dish.
Bake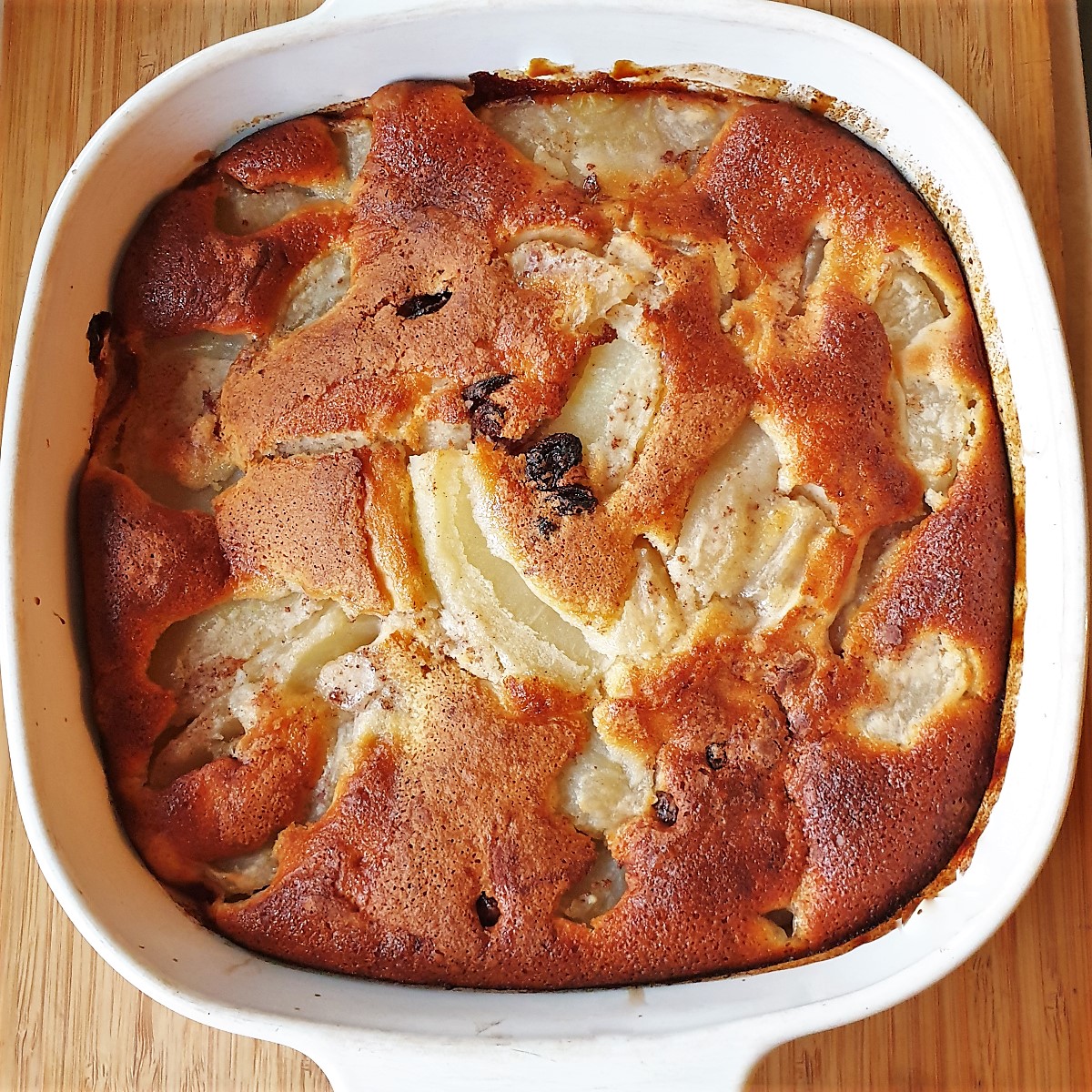 Place the cake into the pre-heated oven (190C / 375F) and leave it for 40 minutes.
The cake will be cooked when it is firm to the touch. It should not jiggle when you press the middle of the cake with your finger. If it does jiggle, just leave the cake in the over for another few minutes, but keep your eye on it so it does not burn.
The surface of the cake should be nicely browned, with pieces of apple showing through.
When the cake is cooked, remove from the oven and if your baking dish has a lid, cover with the lid. If you don't have a lid on your dish, cover with a piece of tinfoil until the cake is cooled. This will help to make the top of the cake nice and gooey.
What do I serve with apple cake
This apple cake is so moist and tasty that it doesn't really need anything with it. A single slice of this is perfect served as a tasty tea-time snack. The taste and texture remind me of a creamy Danish pastry.
If you want to make a dessert out of it, you could serve it with a scoop of vanilla ice-cream, or drizzle it with custard.
Can I freeze apple cake?
To be honest, I have never tried to freeze it. However, I have frozen cooked apples successfully before, so I don't think there will be a problem.
If you want to freeze it, let it cool completely then remove it from the baking dish by sliding a knife around the edges to loosen the cake. Place a large plate over the dish and invert it. The cake should drop down onto the plate.
Wrap the cake a layer of tin-foil and then wrap in cling-film and place in the freezer. It should keep for up to six months.
When you are ready to use it, remove the packaging and pop it back into the baking dish to defrost. Once defrosted you can either eat it cold (maybe served with a dollop of ice cream), or pop it into a hot oven for a few minutes to warm it. You can also warm it in the microwave.
If you want to keep up-to-date with my latest recipes why not follow along on Facebook or Pinterest. And don't forget to subscribe to my mailing list so you can get your FREE COOKERY BOOK
Convert grams to cups
To help you convert your recipes, I have created a handy Cookery Conversion Calculator which will convert ingredients between grams, ounces, tablespoons, cups and millilitres. I hope you will find it useful.
If you live at a high altitude you may find you need to adjust your baking recipes to compensate for this. You can read about how to do this in this post on baking at high altitudes.
Pin for later
Why not pin this recipe for apple cake to your pinterest board so you can make it later. Just click the image below.
Recipe – Apple Cake tray bake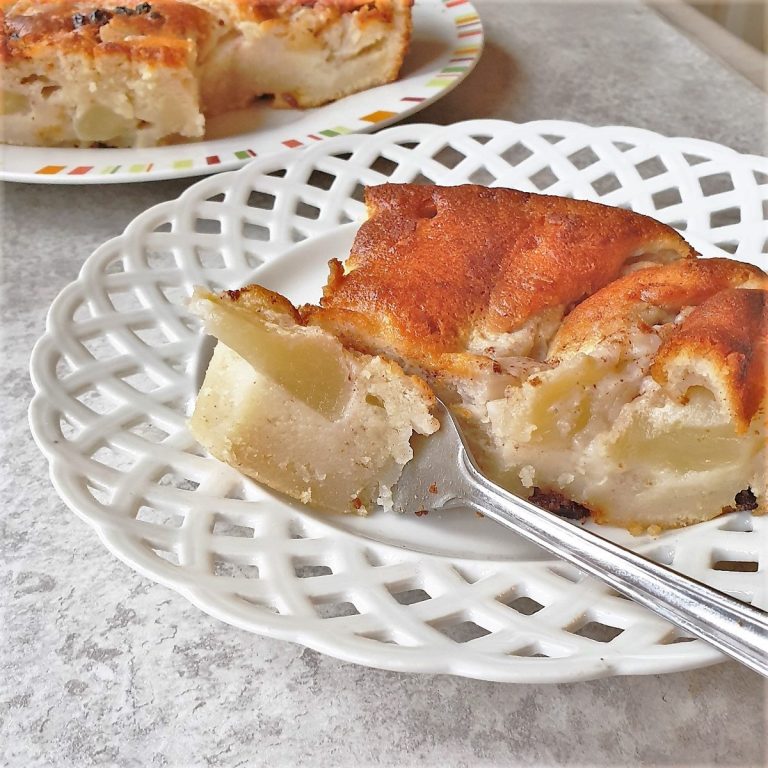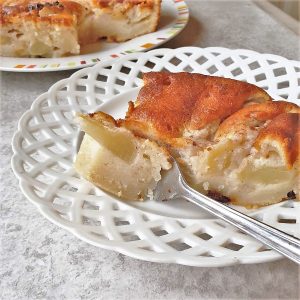 Easy Apple Cake tray bake
Servings
9
squares (sliced)
A deliciously moist apple cake – serve as a tasty tea-time treat, or add a scoop of ice cream for a mouthwatering dessert
Print recipe
Leave a comment
Equipment
8" x 8" Baking dish

Mixing bowl

Spatula or hand mixer

Measuring cups or kitchen scales
Ingredients
14

oz

(385g) Can sliced apples

1

cup

self-raising flour

140g / 250ml

1

cup

sugar

200g / 250ml

1

large

egg

2

tablespoons

(25 ml) sunflower oil

1

cup

milk

1/2 pint /250 ml

1

tablespoon

cinnamon sugar

1

small handful

sultanas
Instructions
Preheat the oven to 190°C / 375°F

Grease an 8 x 8 inch baking dish with a little butter

Arrange the apples in a layer in the baking dish

Sprinkle with the sultanas and cinnamon sugar

Sift 1 cup flour into a mixing bowl and then add 1 cup sugar, 1 egg and 25ml oil

Whisk or mix with a spatula to remove combine all the ingredients and remove any lumps.

Pour the batter over the apples

Place the cake in the oven and bake for 40 minutes

Remove from the oven and allow to cool covered with a lid or a sheet of tinfoil
Video
Notes
Nutrition
Share on Facebook
I am not a nutritionist. The nutrition information has been calculated using an on-line calculator, and is intended for information and guidance purposes only. If the nutrition information is important to you, you should consider calculating it yourself, using your preferred tool.
If you made this recipe and enjoyed it, please don't forget to give me a star rating in the comments below. And if you'd like to get in touch, you can email me on foodleclub1@gmail.com. I'd love to hear from you. And don't forget to subscribe to my mailing list so you can grab yourself a copy of my FREE COOKBOOK!
If you'd like to continue browsing, just click on this link to all my recipes.
This recipe has been shared with #CookBlogShare