What do you when your Australian grand-daughter asks you for a recipe for cinnamon buns? You dig out your recipe for chelsea buns of course! Fluffy and light, with a soft rich pastry and a brown sugar and cinnamon filling, packed with sultanas, these homemade chelsea buns taste amazing. For extra sweetness they are covered with a simple icing sugar glaze.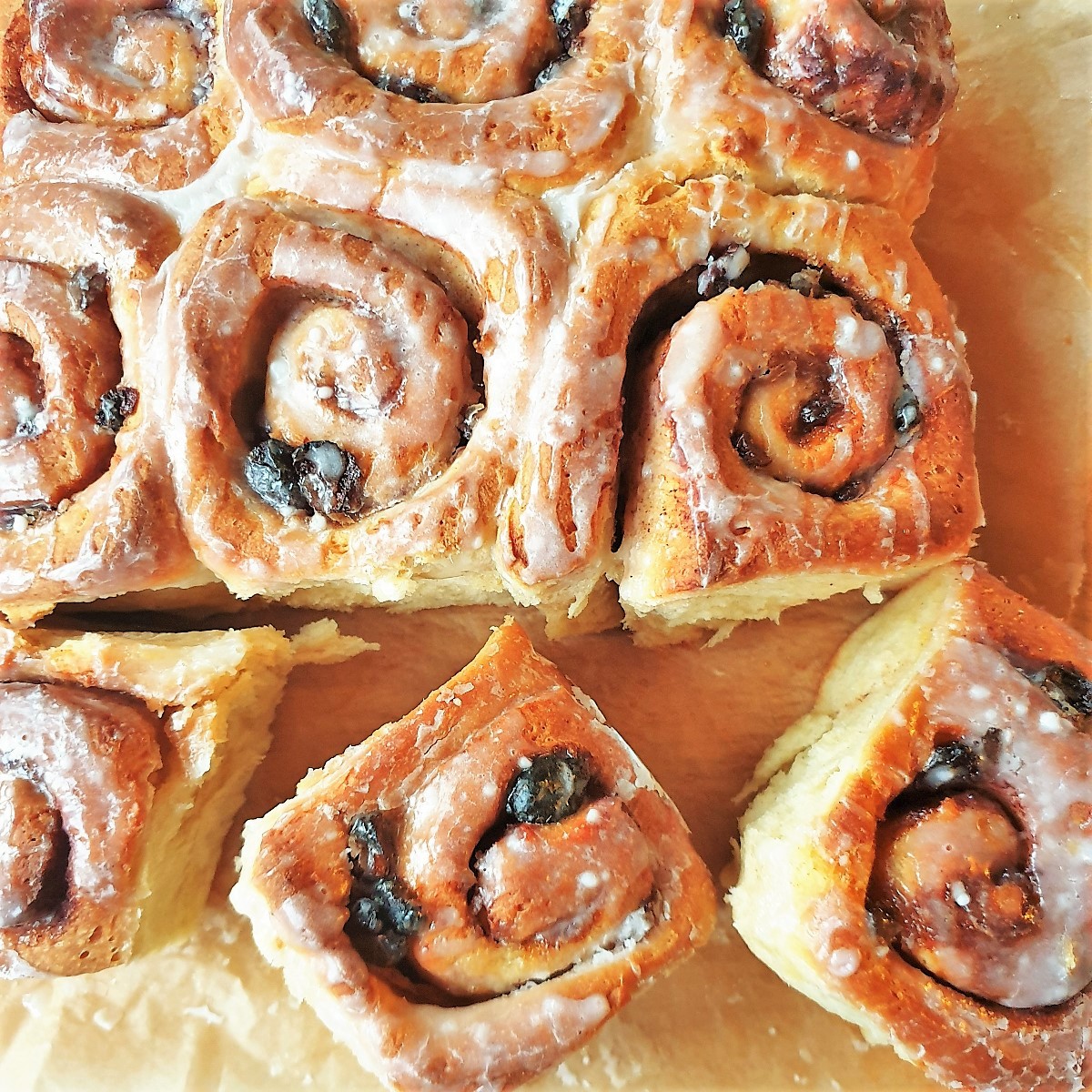 **As an Amazon affiliate, I earn from qualifying purchases.**
Chelsea buns or cinnamon buns?
I used to make these Chelsea buns at home all the time when my children were younger – they are perfect for packing in lunch boxes, or as an after school snack. And they are especially delicious eaten warm, straight out of the oven. But once my family grew up and left home I stopped making them.
The other day my grand-daughter messaged me on Facebook asking if I had a recipe for cinnamon buns and I remembered this recipe.
I think Chelsea buns and cinnamon buns are both pretty similar, it just depends where in the world you are, as to what you call them. But there are a few subtle differences:
In a Chelsea bun, the cinnamon is optional
In a cinnamon bun the sultanas (or other dried fruit like raisins and currents) are optional
A cinnamon bun has a thick glaze, sometimes made with cream cheese, whereas a Chelsea bun has a much thinner glaze, made with icing sugar, which is poured over while the buns are still hot from the oven, so it sinks into the warm dough and becomes almost invisible.
Chelsea buns originated from Chelsea in London
Cinnamon buns originated in Sweden, when they are called 'kanelbulle', and the 4th October each year is celebrated as Cinnamon Bun Day.
My recipe calls for both cinnamon and sultanas, go I guess it is a bit of a combination of both. Nevertheless, as Shakespeare so aptly put it in Romeo and Juliet –
What's in a name? That which we call a rose
By any other name would smell as sweet

Spoken by Juliet, Romeo & Juliet, Act 2 Scene 2
So this is my interpretation of a Chelsea bun / cinnamon bun. I hope you enjoy it.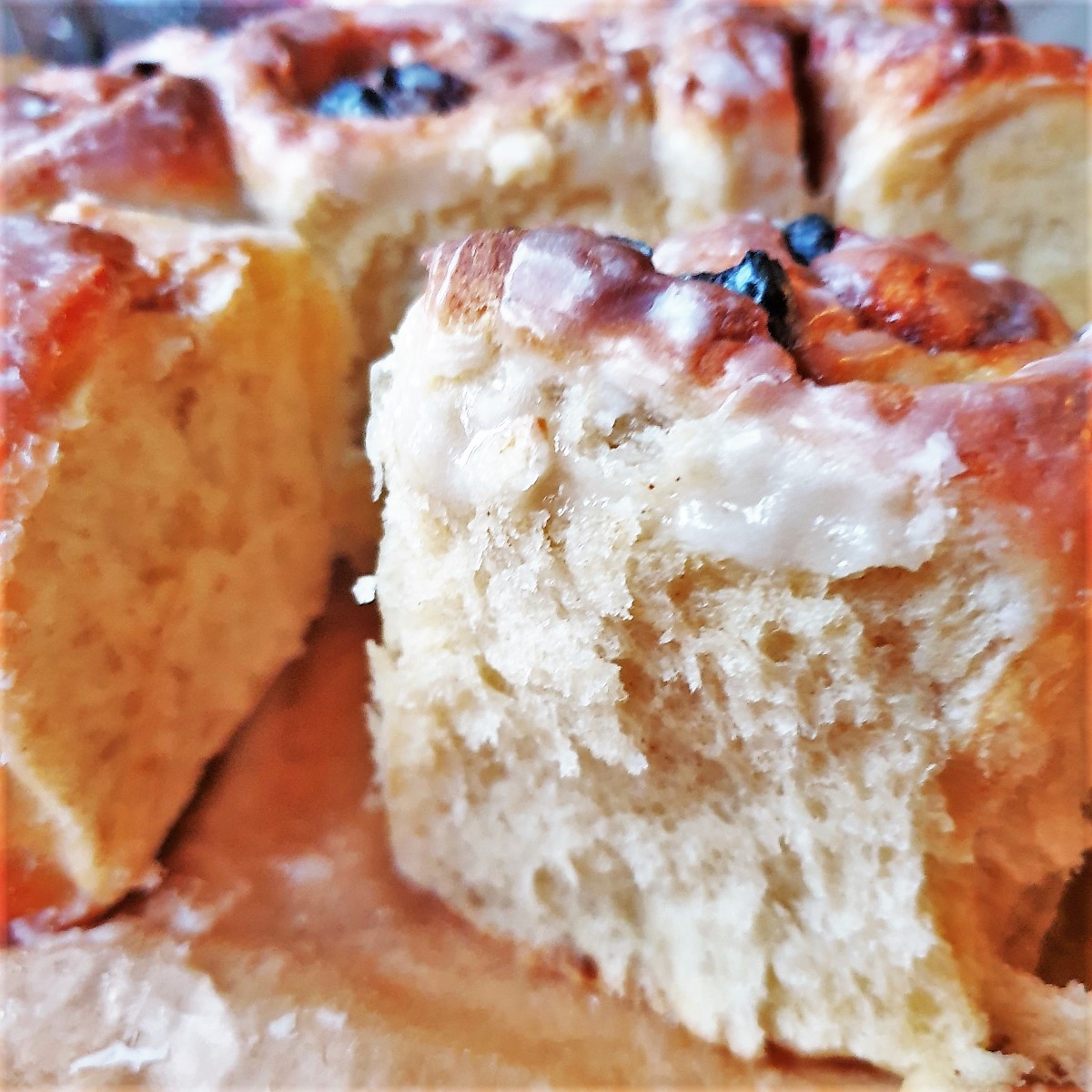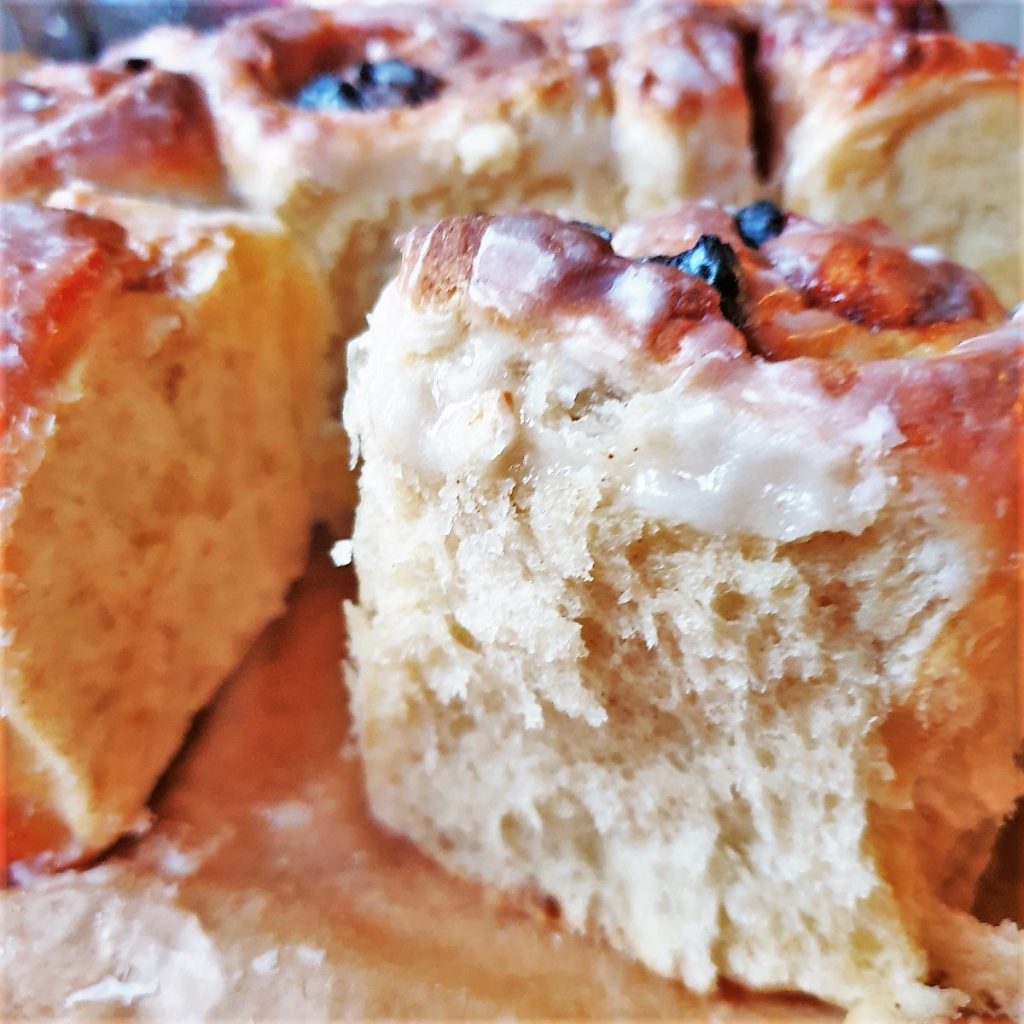 The dough
Just look at the texture of the dough. The secret is to add an egg to the mixture. This enriches the dough and helps to form the characteristic soft chewy texture.
The dough for Chelsea buns also contains yeast. But don't let this put you off making them. The yeast is instant yeast, which comes in pre-weighed 7g packets, and you just sprinkle the granules in with the flour. There's no need to mix it with water and sugar and wait until it froths before using it. This recipe is instant baking at its best.
Update – I've adapted this recipe to make a Christmas version of Chelsea buns – called Fruit Mincemeat Star Bread – which is a cross between a Christmas mince pie and a giant Chelsea bun. Perhaps you'd like to try that one – I promise you, you won't be sorry!
Recipe information
Prep time – 25 minutes
Rising time – 1 hour and 30 minutes
Cooking time – 25 minutes
Yield – 9 buns
Calories – 460 per bun
Main equipment

Mixing bowl – you will need a bowl large enough to hold all the flour plus the other ingredients. I like this earthenware bowl (my Granny had one similar so maybe that's why I like it – brings back memories). Also, it comes in different sizes so you can pick the size that suits your needs.
Stand mixer – of course, you don't have to knead these Chelsea buns by hand, if you have one, you could use a stand mixer fitted with a dough hook, similar to this mixer. I've had mine for years and it really does make short work of kneading dough.
What you will need to make Chelsea Buns
You can get the complete list of ingredients and detailed instructions for making these Chelsea buns on the printable recipe card at the end of this post.
For the dough
Plain flour – don't use self-raising flour, this dough gets its rise from the yeast.
Milk and butter – these should be warmed together in the microwave or a few seconds. The warmth from the warm ingredients will help to activate the yeast. Don't let the butter melt completely, it should just be nicely softened.
Sugar – this is to add a bit of sweetness to the dough.
Egg – to help form the distinctive texture.
Yeast – as I mentioned, you need instant yeast, which comes in granule form.
Salt – just to add a little more flavour. You can leave this out if you wish.
For the filling
Butter – this is spread on the rolled out dough before the sugar and cinnamon are added. It helps keep the finished buns soft on the inside. If you are using it out of the fridge you can soften it in the microwave for a few seconds to it spreads easily.
Brown Sugar – you can use white sugar if you don't have brown, but brown sugar does give a nicer flavour.
Cinnamon – this is sprinkled onto the dough with the sugar.
Sultanas – you can use either raisins or currents if you prefer. I like sultanas because they are so plump and juicy in the centre of the buns.
For the glaze
Icing sugar – that's what we call it in England. Other parts of the world may reer to it as powdered sugar, or confectioner's sugar.
Milk – not too much, just enough to turn the icing sugar into a runny paste.
How to make Chelsea Buns
Make the dough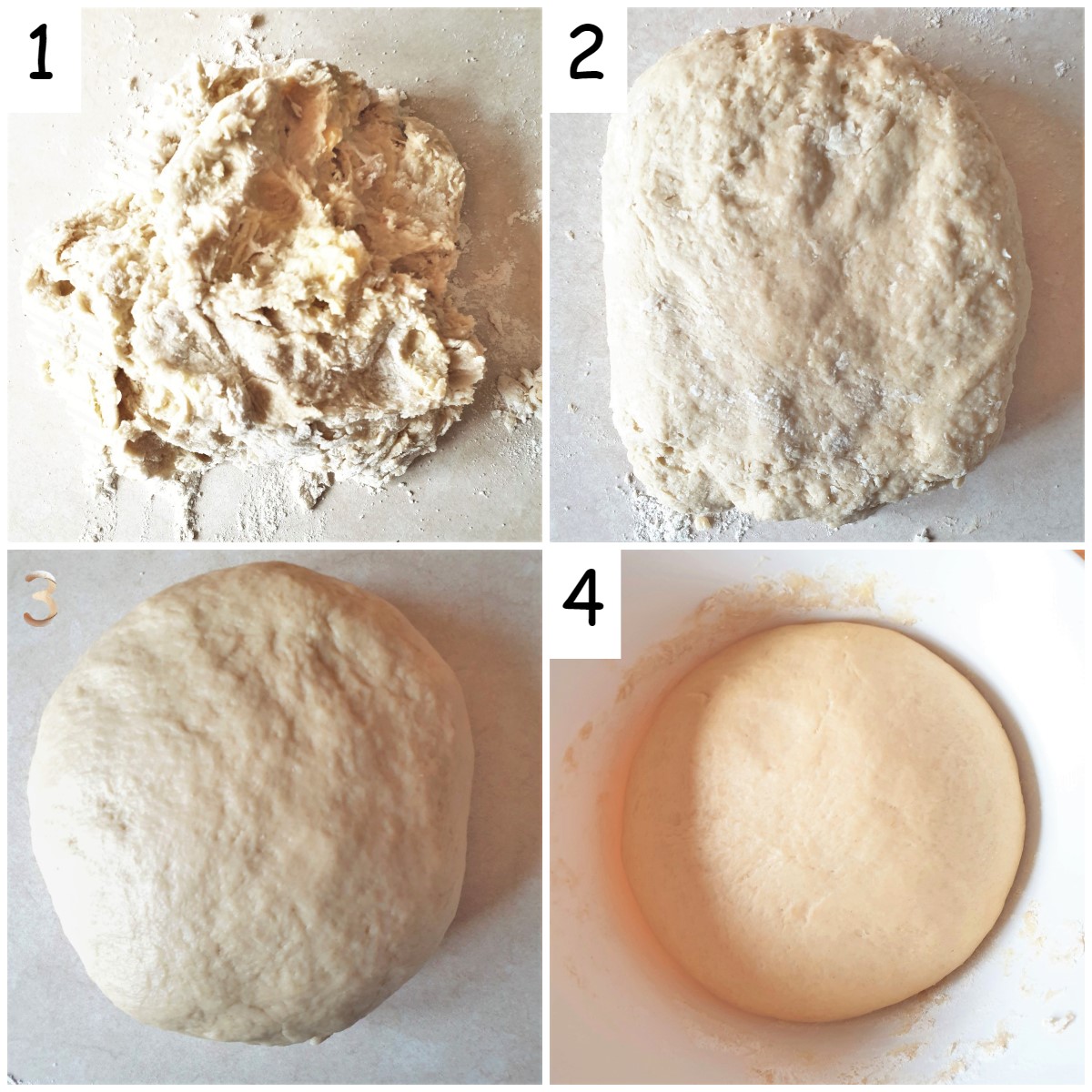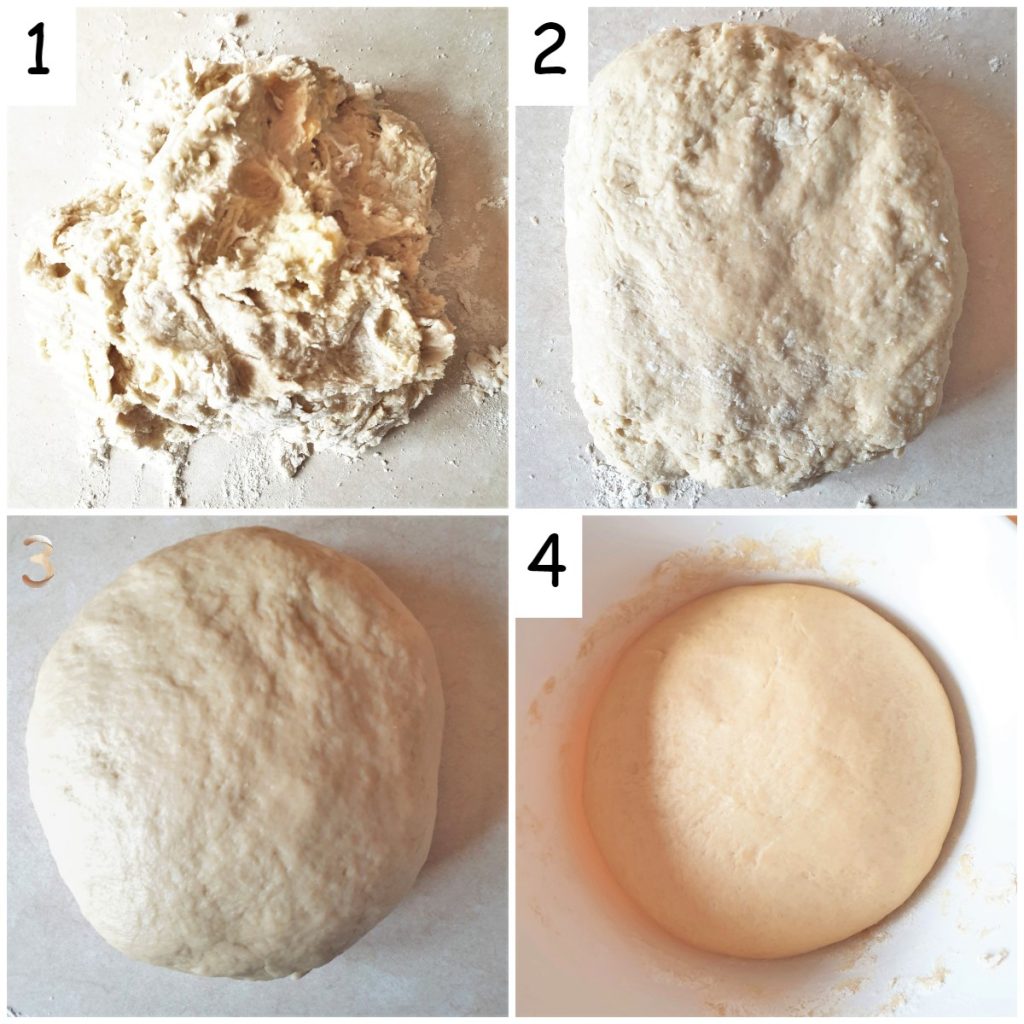 Pour the milk into a container and add the butter. Place in the microwave for about 30 seconds to warm. Don't melt the butter, it should just be soft. Yeast likes a warm environment and if the milk and butter are just out of the fridge they will be too cold and the yeast will take longer to activate and start rising.
Place the dry ingredients into a mixing bowl, mix lightly to combine then add the egg and the warmed milk and butter.
Using a flat knife, or wooden spoon, mix the ingredients until they are just combined. There will still be lumps of butter in the dough. This doesn't matter. They are going to be combined in the next step.
Tip the contents of the mixing bowl onto a clean work surface and knead lightly with your hands until the mixture forms a ball and all the butter has been incorporated. You should not need to add any extra flour, but if the dough is very sticky you can add a small amount.
Now knead for 5 to 10 minutes until the dough is soft, smooth and pliable.
Place the ball of dough back into the mixing bowl, cover with a clean cloth and leave to rise for about an hour until doubled in size.
Mix in a stand mixer – if you have a stand mixer you could use this for mixing the dough instead. Just add all the ingredients to the bowl, fit in the dough hook and mix on slow for 2 minutes to combine, then increase the speed to medium and allow it to run for 5 minutes. Cover the dough and allow to rise as per recipe.
Add the filling to the buns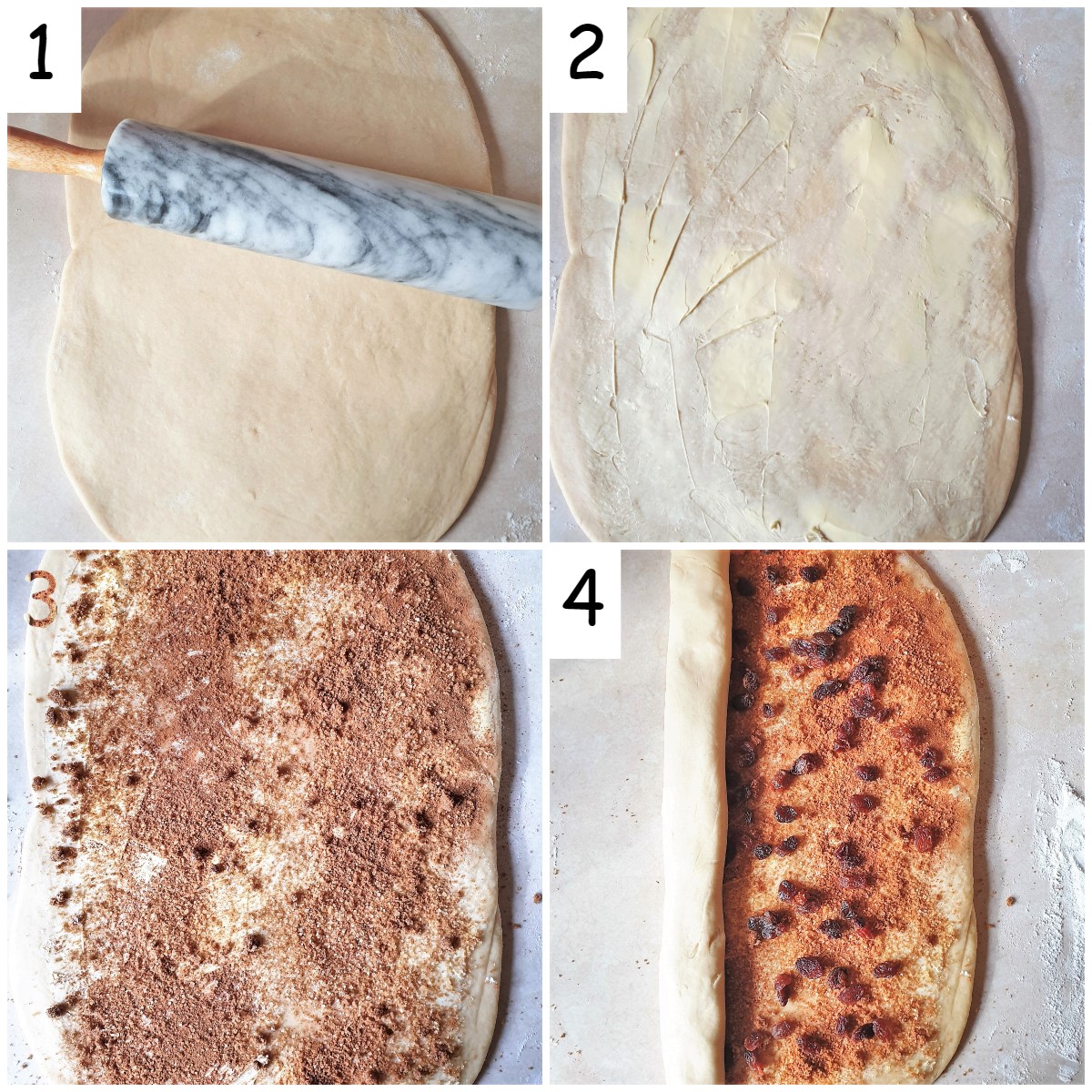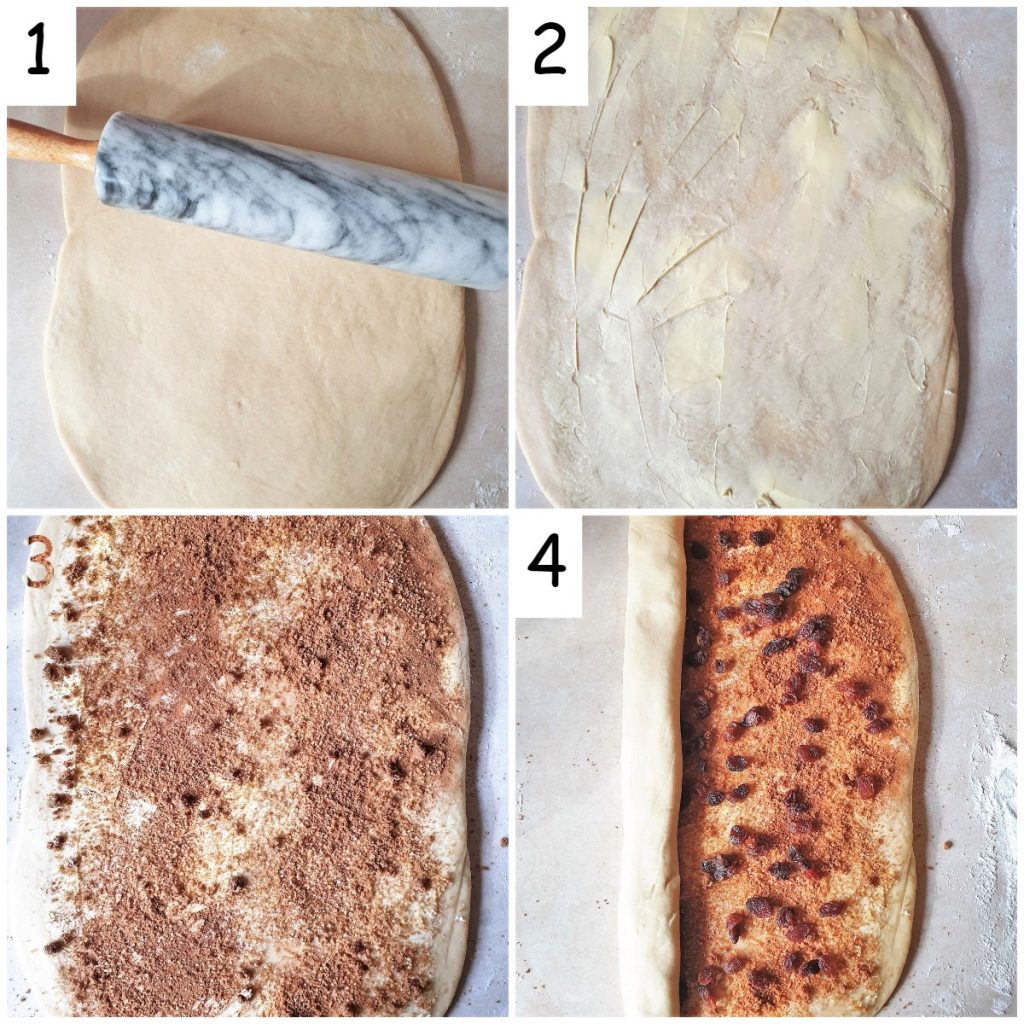 Once the dough has risen, remove it from the mixing bowl and place it on the work surface. Form it into a ball and then roll out into a rectangle, about 12″ x 15″ in size.
Spread with softened butter then sprinkle with brown sugar and cinnamon, and then sprinkle with the sultanas.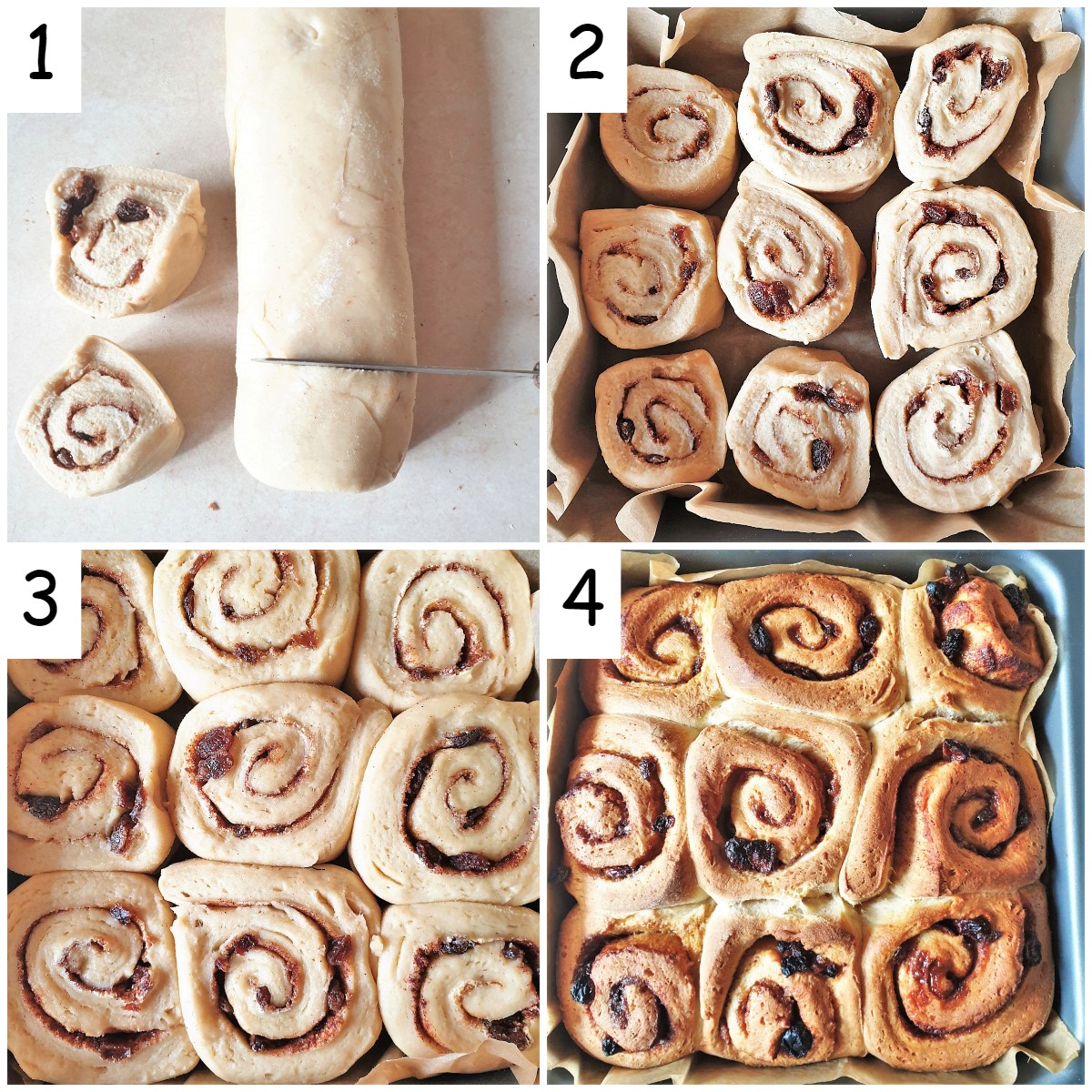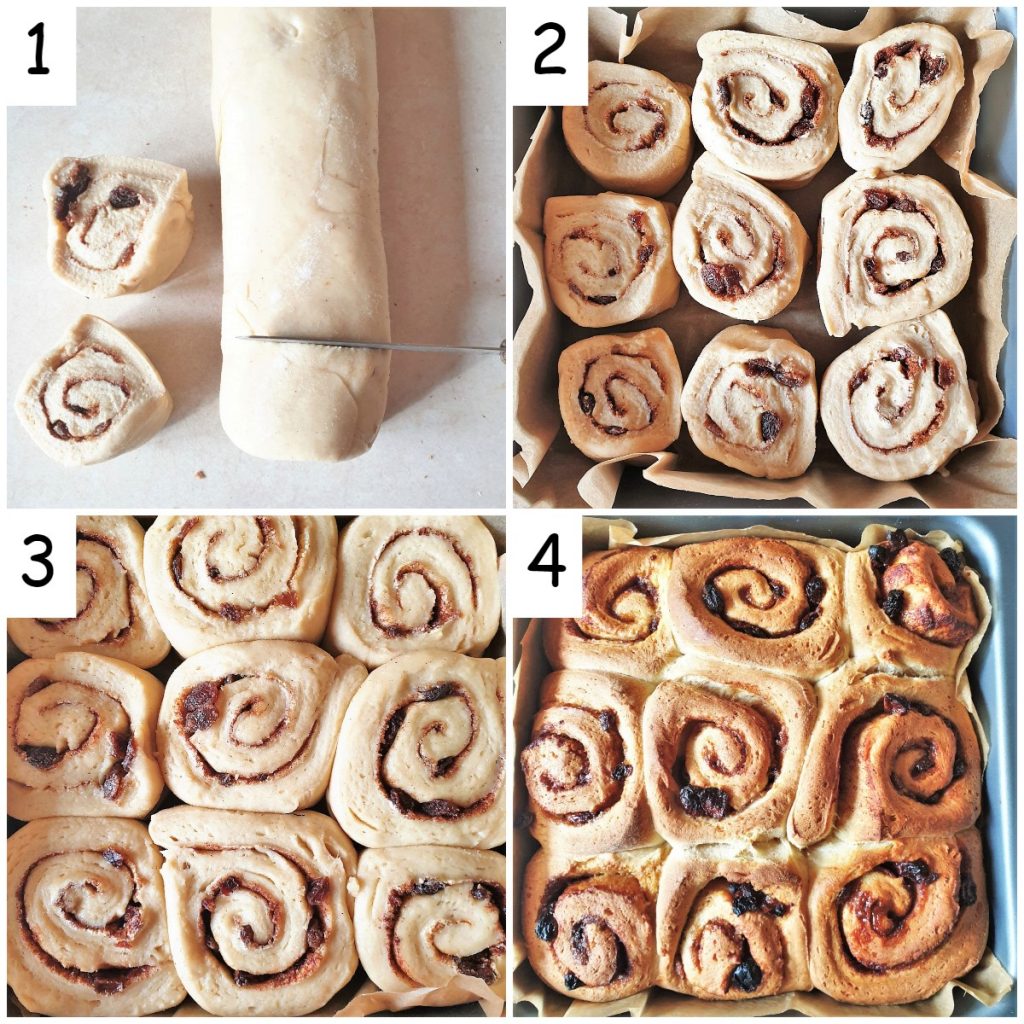 Starting at the long end, roll the dough into a tight cylinder. Cut away the ends to straighten it up and remove the bits of dough that may not have any filling.
Slice the cylinder into 9 equal pieces, about 2 to 3 cm wide.
Arrange the slices of dough in a 9″ baking tin lined with parchment paper. Leave a slight gap between each one. This gap will close up as the buns rise.
Cover and leave in a warm place for about 30 minutes to rise for a second time.
Once the buns have risen they should be tightly packed together. This means when you separate the cooked buns, each side will be nice and soft.
Pre-heat the oven to 190C / 375F and place the tray of Chelsea buns on the middle shelf in the oven.
There is no need to brush with milk or eggwash, the buns will brown nicely because of the butter in the dough, and the glaze will soften the top when you pour it over.
Bake for about 25 to 30 minutes until they are golden brown.
Remove from oven and pour over the glaze while they are still hot.
Make the glaze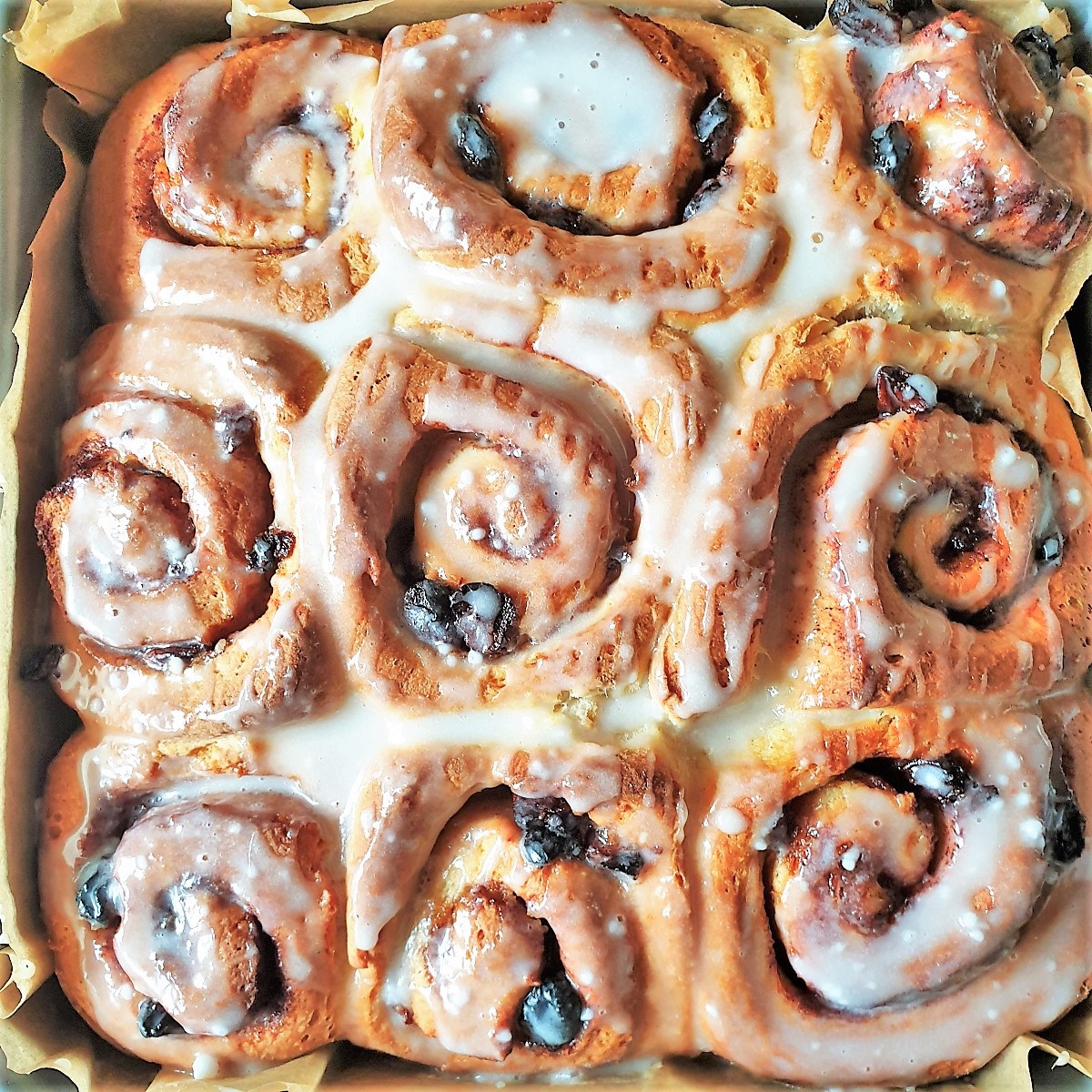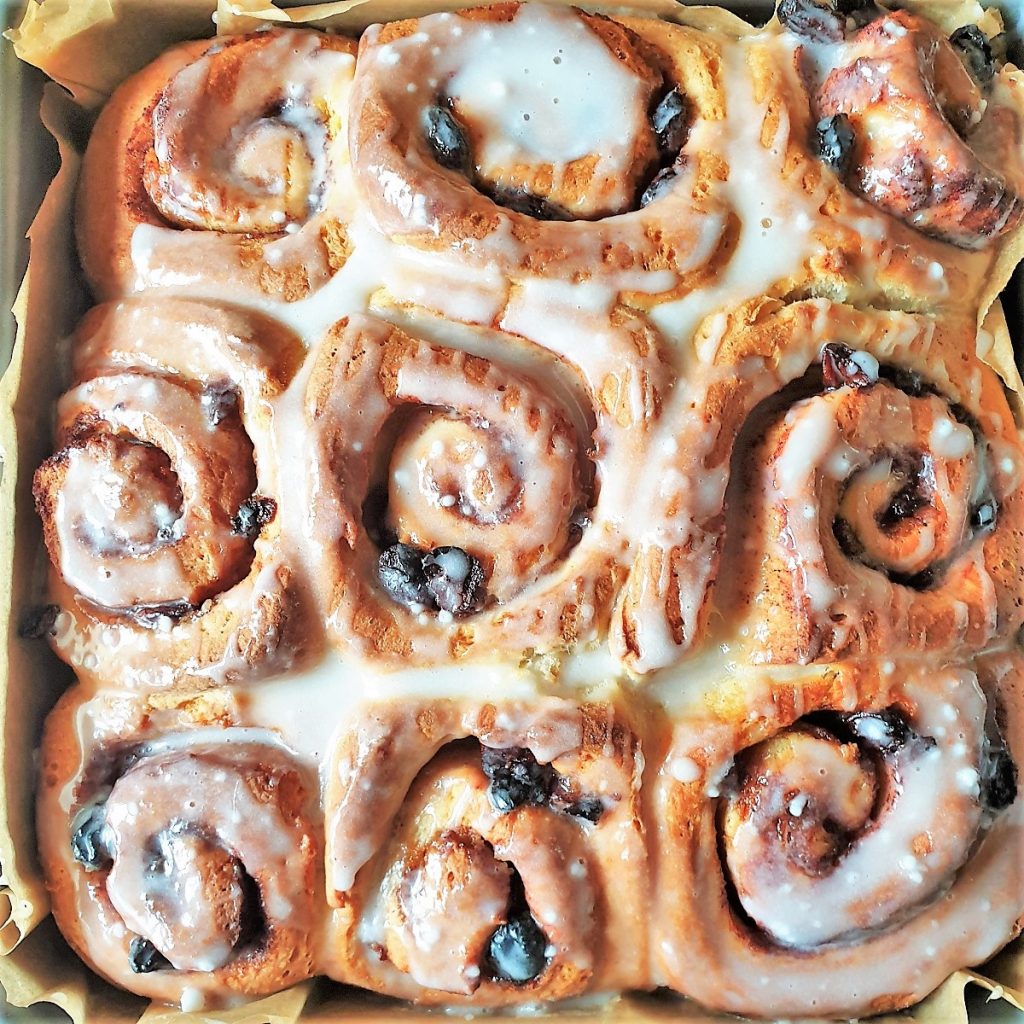 Make the glaze while the Chelsea buns are in the oven.
Put the icing sugar into a bowl and add just enough milk to make a pourable paste.
Mix well to remove any lumps
Pour over the Chelsea buns while they are still hot from the oven. The glaze will melt and sink into the buns, leaving just a thin coating on top.
I've cut one of the Chelsea buns in half so you can see what the texture looks like. It should be soft, moist, chewy and even if I say it myself, absolutely delicious.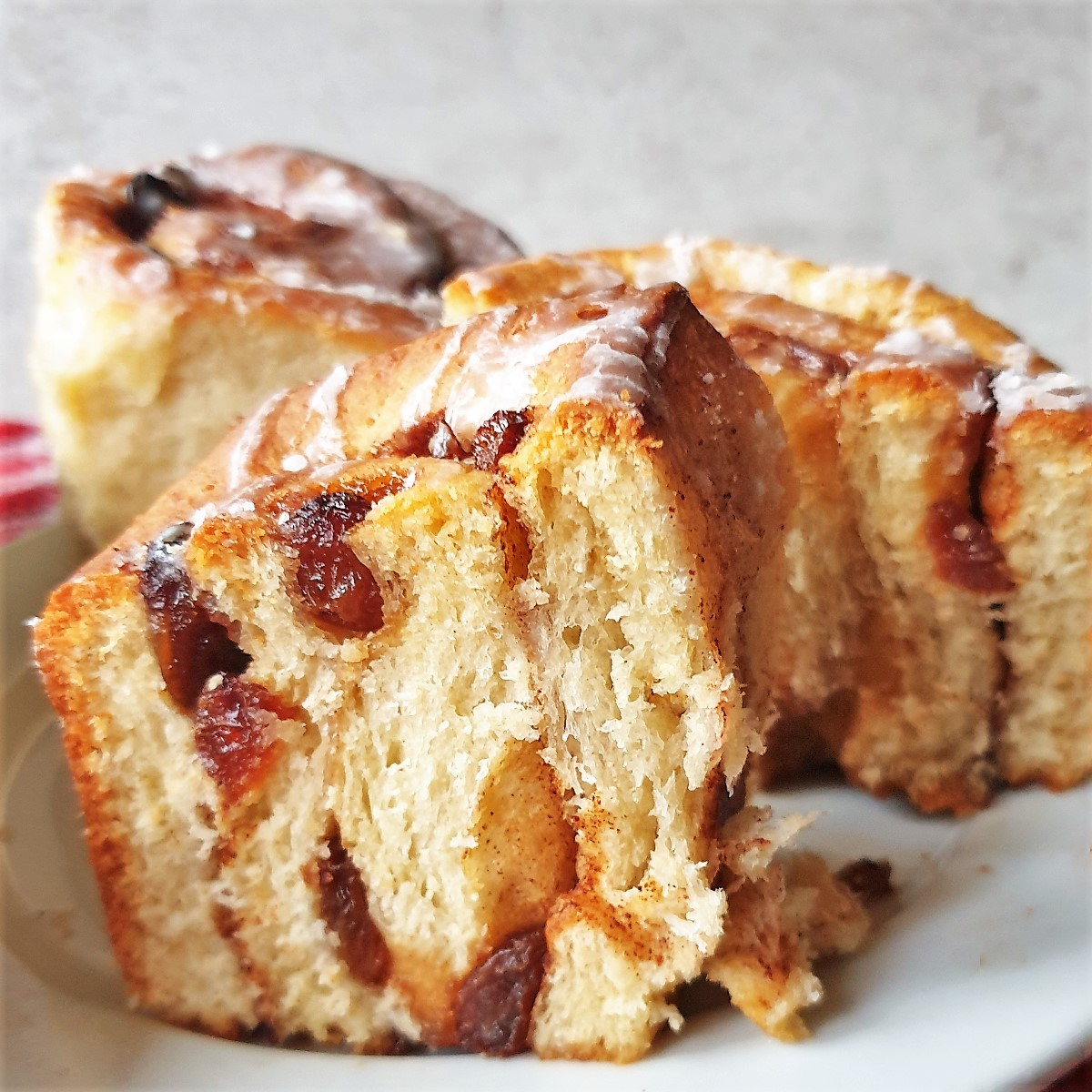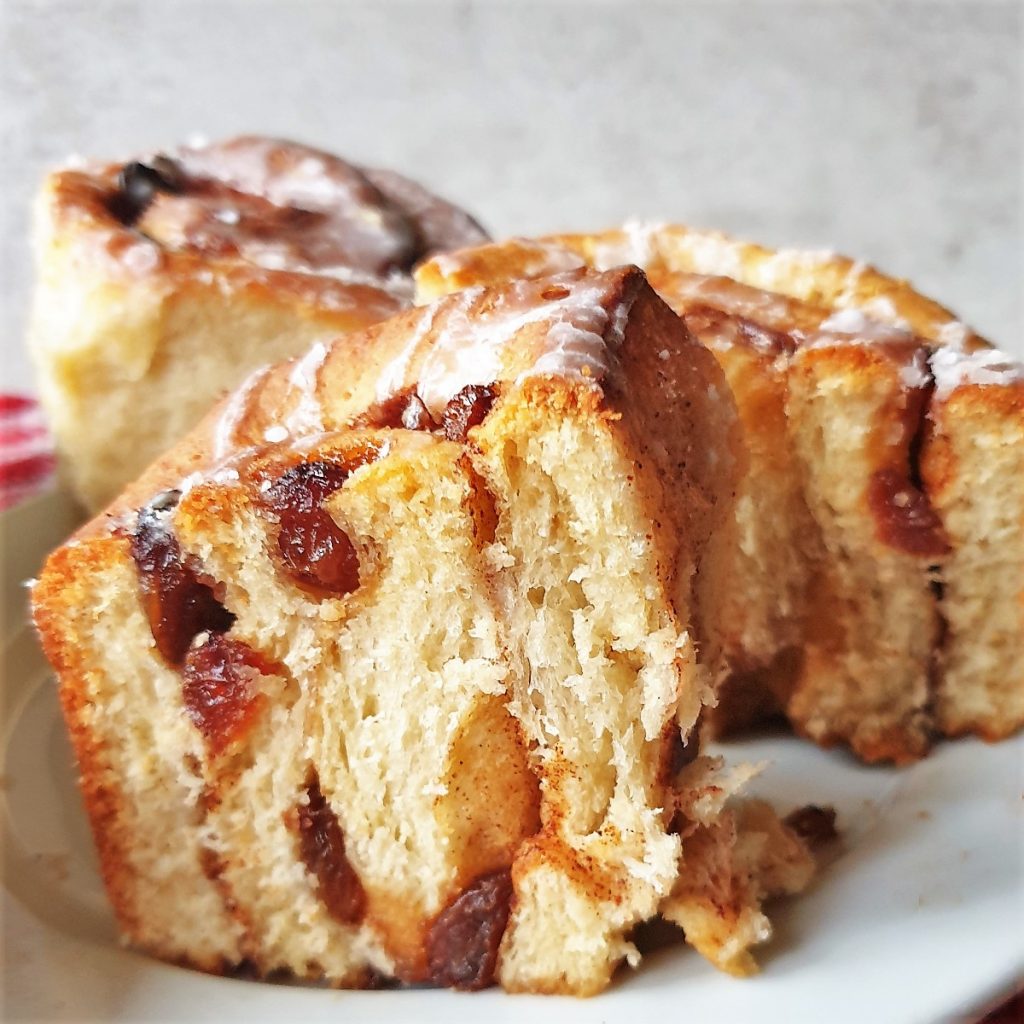 How do I serve Chelsea buns?
Chelsea buns can be eaten at any time.
Try having one for breakfast.
Pop one into a lunch box for a sweet treat.
Slice and spread with butter for a tea-time snack.
You could even pour a helping of custard over and have it for a tasty dessert!
Chelsea buns will stay fresh in an airtight container for up to 3 days.
Can I freeze Chelsea buns?
If you want to freeze uncooked Chelsea buns, arrange the slices in a tin-foil container and allow to rise. Cover with clingfilm, then place them in a large plastic bag and freeze until you are ready to bake them.
To bake, remove from the freezer and allow to defrost. Once they are defrosted, discard the wrapping, place in the oven in the tinfoil container and bake as per the recipe instructions. Then make the glaze and pour over the hot buns.
Baked Chelsea buns (with the glaze) can be wrapped in tin-foil and then covered with clingfilm and then frozen for up to six months.
To re-heat, remove from the freezer and allow to defrost then remove from the wrapping. Reheat them either in the microwave, or place in a hot oven for a few minutes.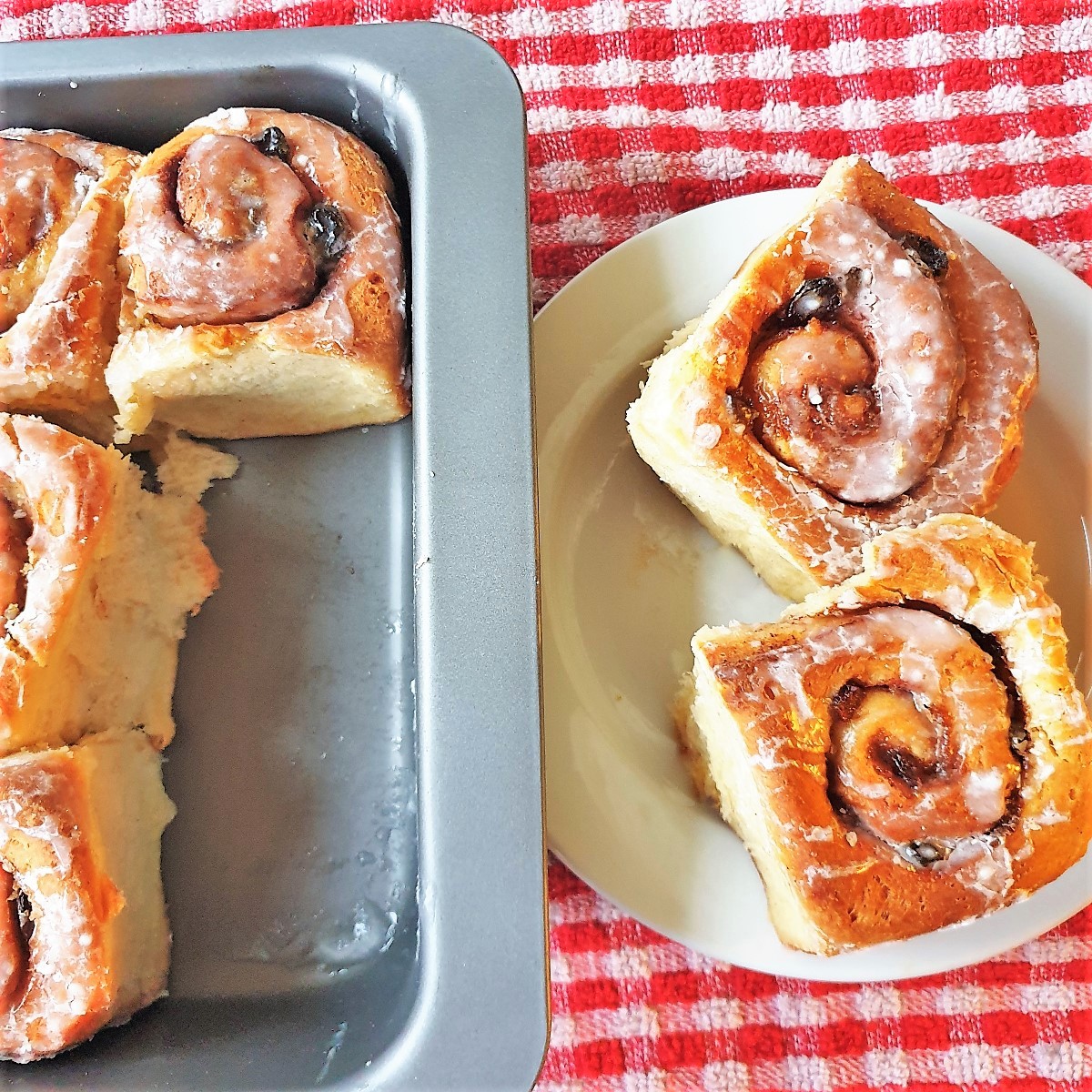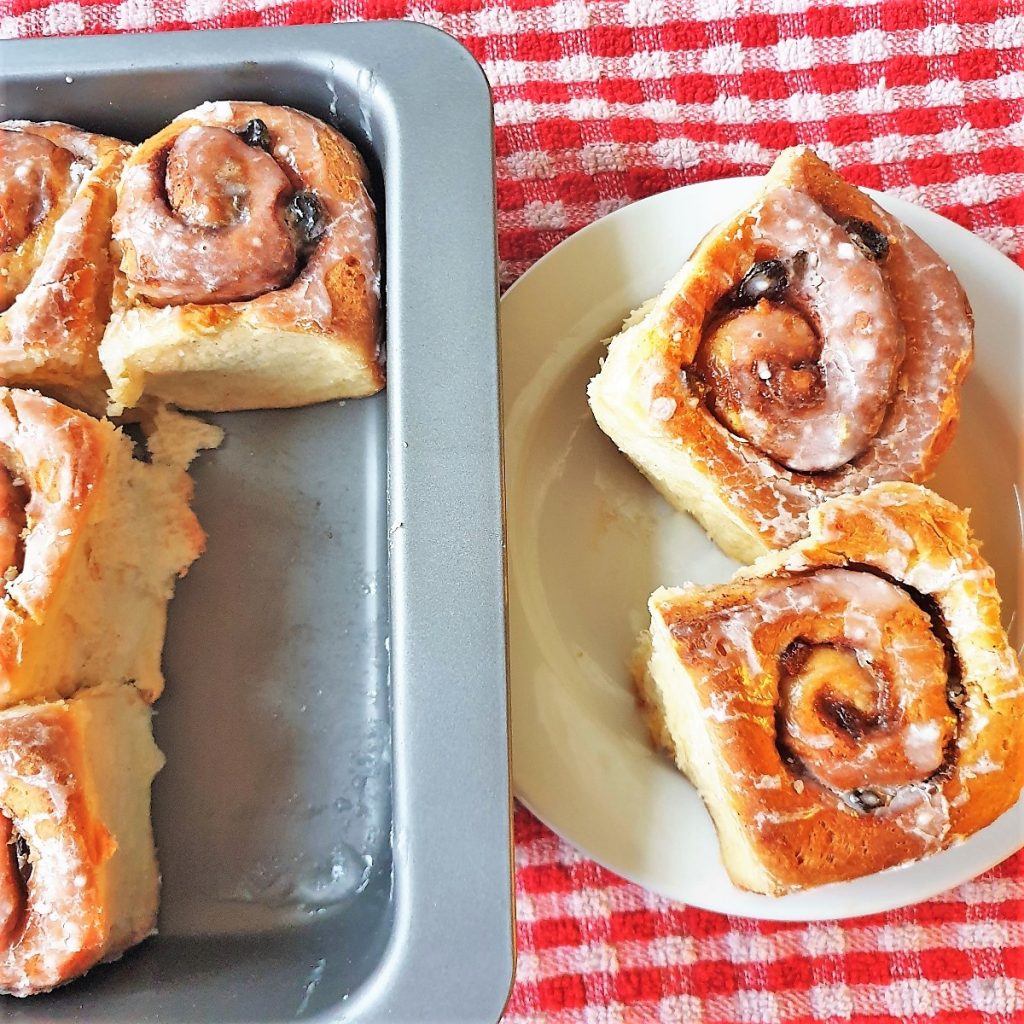 If you'd like to be notified of any new recipes, why not subscribe to my newsletter. As a thank you gift, you will receive a free recipe e-book containing some of my most popular cakes and desserts.
Pin for later
Why not pin this recipe so you can make your own chelsea buns later.
Recipe – Chelsea Buns
If you made this recipe and enjoyed it, I'd love it if you could give me a star rating in the comments below. And if you'd like to get in touch, you can email me at [email protected]. I'd love to hear from you. And don't forget to subscribe to my mailing list so you can grab yourself a copy of my FREE COOKBOOK!
If you'd like to continue browsing, just click on this link to all my recipes.