These easy coconut macaroons are absolutely divine. Apart from the chocolate and coconut you only need 2 other ingredients. Read on to find out how to make these delicious morsels for yourself.
**As an Amazon affiliate, I earn from qualifying purchases.**
Chocolate-coated coconut macaroons
My friend Mel (who came for supper when I made homemade South African bunny chows) gave me this easy recipe for coconut macaroons. She topped her macaroons with a cherry, but as I couldn't find glace cherries in my local supermarket, I had to make do with a chocolate coating. And I think they turned out pretty well.
The inside is soft and juicy, without being too sweet. The texture of the macaroons is slightly chewy with a soft, juicy inside and a crispy exterior. And the chocolate topping makes these macaroons taste like a bounty bar.
There are so many recipes for coconut macaroons out there on the internet. Some of them use condensed milk, which to my mind makes them too sweet. Others say to beat the egg whites to stiff peaks which is far too labour-intensive for me. This recipe neither uses condensed milk nor requires lot of beating.
Because they are so easy to make, these coconut macaroons with a chocolate topping make the perfect recipe for youngsters who are learning to bake.
Read on to see how to make coconut macaroons the easy way.
How to make easy coconut macaroons
You can get the complete list of ingredients and full instructions on how to make this recipe on the printable recipe card at the end of this post.
Apart from the chocolate, you only need 3 ingredients to make these coconut macaroons. These are sugar, coconut and egg whites. And you don't need loads of sugar either – just enough to make them sweet, without being over-poweringly so.
Separate the eggs and put the egg whites into a mixing bowl (tip – use a mixing bowl larger than you think you will need – coconut has a way of escaping and scattering itself all over your counter top). This recipe is also a great way of using up any left-over egg whites.
Do not discard the egg yolks, use them to make your own homemade mayonnaise, or add them to a creamy pasta sauce, or even use them to bind meatballs.
Add the coconut and sugar to the egg whites.
Use a spoon or a spatula to mix all the ingredients together. Then get your hands in and give it a bit of a squeeze until everything comes together in a tight mass.
Now line a baking tray with baking parchment. You need to do this to prevent the macaroons sticking to the tray. You can grease the tray with a little butter or a spray of cooking oil if you don't have baking parchment, but that might make the bottoms of the macaroons brown too much. If you have a silicone baking mat, this would be ideal.
Wet your hands
This mixture is STICKY. For the next step you need to wet your hands in cold water to prevent the coconut sticking to your hands.
This recipe will make 8 golf-ball sized macaroons, unless you are like me, and just take a handful of mixture to mould into shape (I got 7 macaroons).
Press your hand into the mixture (in the mixing bowl) to divide it in half, then divide in in half again, so you have 4 quarters of mixture. Take half of one of the quaters and mould in your fingers to form a pyramid (or a cone) shape. Place this on the parchment-lined baking tray. Then repeat until you have 8 pyramids.
Bake the coconut macaroons
Now put the baking tray in a pre-heated oven and let them bake for 25 to 30 minutes until they are golden brown. The oven should be set to 180C / 350F.
Keep you eye on them and don't allow them to get too brown. I had to turn my tray around after 20 minutes because they were browning too quickly at the back.
You might also find the macaroons brown a little faster on the top because they are a bit thinner on top. That's fine, they will just have a lovely toasty coconut flavour.
Remove the macaroons from the oven and let them cool on the tray.
Coat with melted chocolate
Now take some baking chocolate (if you are feeling flush, you can take a bar of normal milk chocolate) and break off a few squares into a glass or ceramic bowl.
Microwave on high for 30 seconds.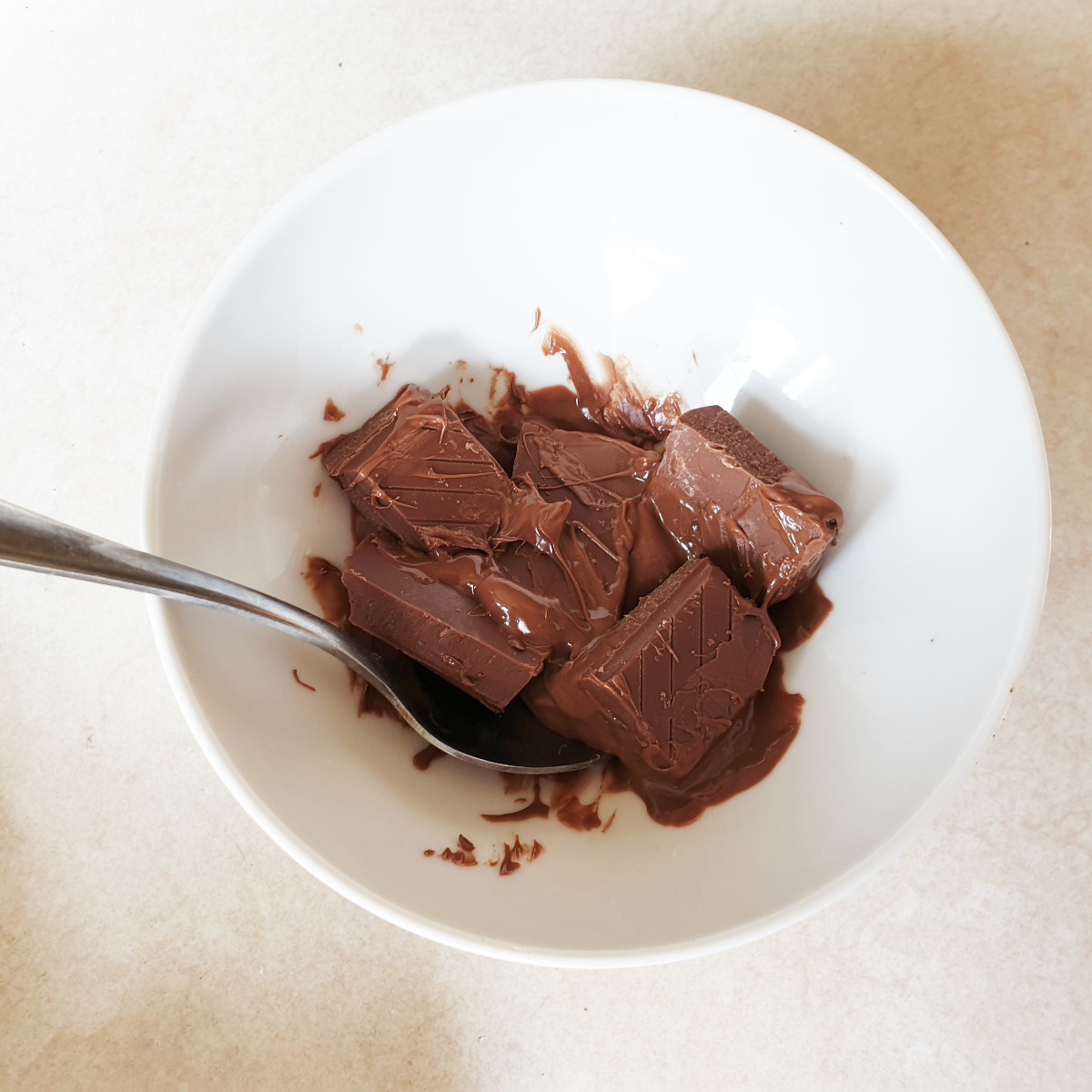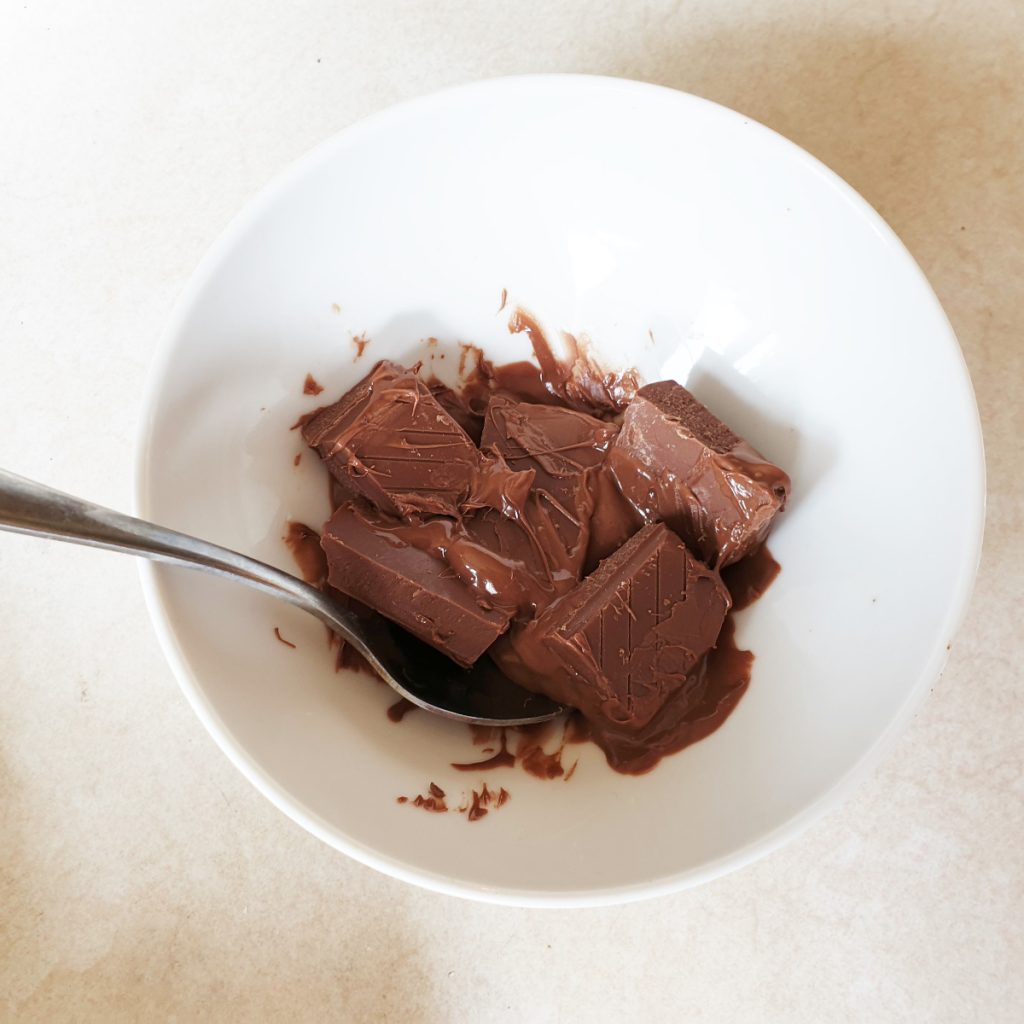 Remove from the microwave and give it a mix. It will not be completely melted. Return to the microwave for another 30 seconds.
Remove from the microwave and mix again. It should be completely melted.
Note – you can also melt the chocolate in a bowl placed over a pan of simmering water. Just be careful not to get any water into the chocolate or it may form hard lumps and not melt properly.
Now take a cooled macaroon and dip it in the chocolate. You need to let the macaroons cool completely before dipping in chocolate, otherwise the chocolate will just melt and run off.
I made the mistake of putting a chocolate button on the top because I wanted them to look fancy. Unfortunately they didn't, and they ended up looking like chocolate-coated pepper shakers!
So I removed the chocolate buttons ….
Can I freeze coconut macaroons?
Yes, you can freeze these. Just pack them into a rigid container (tupperware maybe), seal and freeze indefinitely. To use, allow to defrost in the container, let them come back to room temperature and enjoy.
They will also last for 3 or 4 days stored in an air-tight container in the kitchen.
Variations
When I made these I was looking for a replacement for glace cherries, and so just dipped the tips into melted chocolate. I think these would be super-special if they were completely coated in chocolate.
You could, of course, just pop a glace cherry on top as per original coconut macaroons.
When I phoned Mel and told her I couldn't get hold of glace cherries, her response was 'Well, just pop a malteser on top'. I think that would be rather nice.
If you want to keep up-to-date with my latest recipes why not follow along on Facebook or Pinterest. And don't forget to subscribe to my mailing list so you can get your FREE COOKERY BOOK
Additional resources
Don't forget to check out my handy Cookery Conversion Calculator if you want to convert any of your recipe measurements from grams to cups, ounces, tablespoons or millilitres and vice versa. You can also use the calculator for converting oven temperatures between Fahrenheit, Celsius and Gas marks.
If you live at a high altitude you may find you need to adjust your baking recipes to compensate for this. You can read all about it in this post on baking at high altitudes.
Pin for later
Why not pin this recipe to your pinterest board so you can make it later. Just click the image below.
Recipe – Easy coconut macaroons with chocolate topping
Easy coconut macaroons with chocolate topping
Sweet and chewy on the inside, crispy on the outside and topped with chocolate – I think you will love these coconut macaroons.
(Click the stars to rate this recipe)
Print recipe
Pin me for later
Leave a comment
Equipment
Spatula

Egg separator

Baking sheet

Baking parchment
Ingredients
½

cup

(

100g

) white sugar

2

cups

(

150g

) desiccated coconut

2

large

egg whites

½

cup

(

75g

) chcolate chips or baking chocolate
Instructions
Pre-heat oven to 180°C / 350°F

Separate the eggs. Place the egg whites in a mixing bowl. Save the egg yolks for making mayonnaise or to enrich a pasta sauce.

Add the sugar and the coconut to the egg whites

Mix well with a spatula or a spoon to combine, then use your hands to squeeze the mixture together.

Using wet hands, divide the mixture into 8 and then for each piece into a pyramid or cone shape and place on a baking parchment-lined baking sheet.

Place the baking tray in a preheated oven and bake for 25 to 30 minutes until golden brown.

Remove from the oven and allow to cool.

Melt the chocolate in the microwave, or in a bowl placed over a pan of simmering water. Do not allow any water to get into the chocolate.

Dip the tips of the macaroons in melted chocolate and leave until the chocolate has hardened.
Notes
Do not throw away the egg yolks – use them to make homemade mayonnaise, or add them to a pasta sauce. To prevent the coconut sticking, wet your hands before shaping the macaroons.
Nutrition
Calories –
225
kcal
|
Carbohydrates –
22.6
g
|
Protein –
2.9
g
|
Fat –
14.9
g
|
Saturated Fat –
12.7
g
|
Cholesterol –
2
mg
|
Sodium –
23
mg
|
Potassium –
150
mg
|
Fiber –
3.4
g
|
Sugar –
18.8
g
|
Calcium –
23
mg
|
Iron –
1
mg
I am not a nutritionist. The nutrition information has been calculated using an on-line calculator, and is intended for information and guidance purposes only. If the nutrition information is important to you, you should consider calculating it yourself, using your preferred tool.
Share on Facebook
If you made this recipe and enjoyed it, I'd love it if you could give me a star rating in the comments below. And if you'd like to get in touch, you can email me at [email protected]. I'd love to hear from you. And don't forget to subscribe to my mailing list so you can grab yourself a copy of my FREE COOKBOOK!
If you'd like to continue browsing, just click on this link to all my recipes.