Banana oat cakes are the perfect way to use up those old over-ripe bananas that are lurking at the bottom of your fruit bowl. They are packed with oats and coconut for texture, and honey for sweetness. For an additional treat, add a handful of chocolate chips.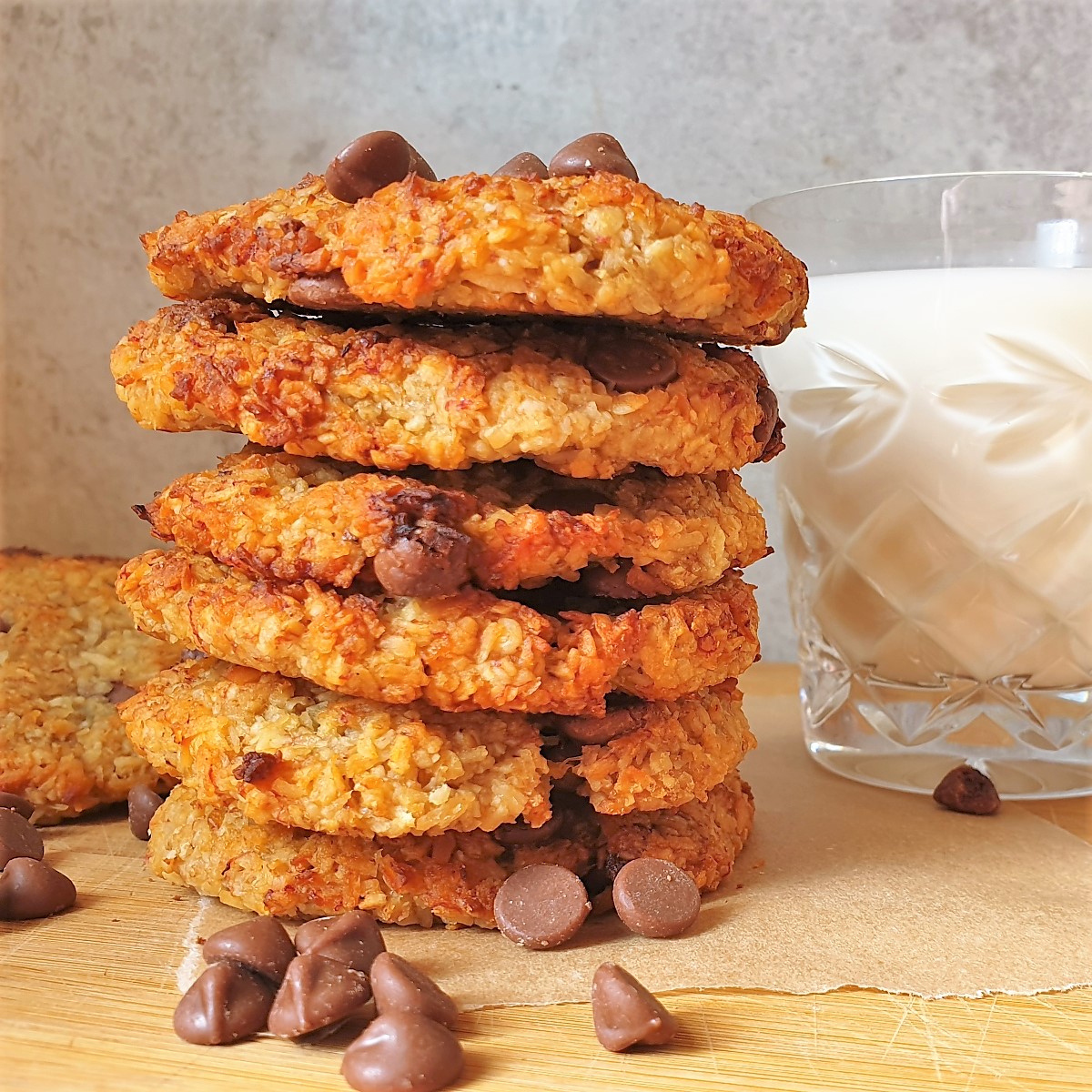 Banana oat cakes
I originally wanted to call this recipe banana oat cookies, but because of the texture I decided to go with banana oat cakes. Cookies (or biscuits as we call them in the UK) are supposed to be crispy, whereas the texure of these cakes is a little softer than a biscuit.
This is the ideal recipe for using up over-ripe bananas that are on the verge of being thrown out. And they are so simple to make. The basic ingredients are oats, honey, butter, and of course some ripe bananas. You don't need any flour, sugar, eggs or milk. If you happen to have coconut or chocolate chips in your pantry you can add these too, but don't worry if you don't, you can make the recipe without them.
No eggs, no flour, no sugar, no milk – how on earth can you make cakes without those ingredients? Well, you can, and here's why it's possible. The oats and honey replace the flour and the sugar, and the butter combines with these 2 ingredients during baking, to give the structure. The moisture content is provided by the bananas.
Fresh from the oven, the texture of these little cakes is a soft and chewy inside, with a slightly crispy exterior. By next day you will find they have softened on the outside too, but they will still taste great. I actually prefer them this way to be honest.
Because they are packed with oats and honey they are ideal for a quick breakfast-on-the-go. A couple of these will easily keep you going until lunchtime. They are healthy too, as they are full of fibre. And if you are watching your weight they only contain 141 calories (if you make them without the coconut and chocolate chips this goes down to 124 calories).
These are very similar to my oat crunchies – if you enjoyed this recipe you may enjoy those too.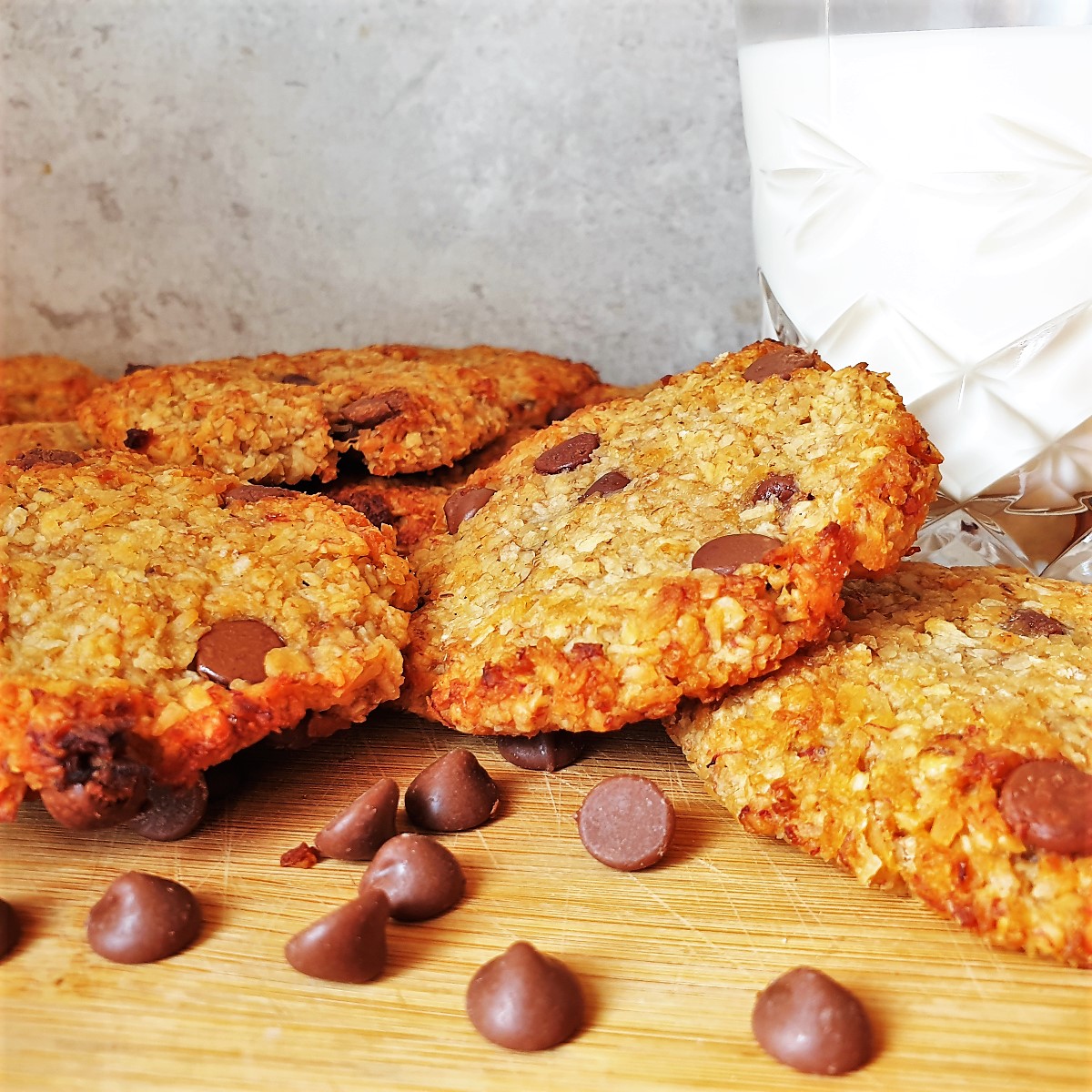 How to make banana oat cakes
You can get the complete list of ingredients and full instructions on how to make this recipe on the printable recipe card at the end of this post.
You will need the following ingredients:
Bananas – for 12 cakes you will need 2 ripe (or over-ripe) bananas. The riper the bananas the better. These will get mashed up to almost liquid form so the ripest bananas are perfect to use.
Oats and coconut – you will need 2 cups combined oats/coconut in total. I like to use both oats and coconut in equal quantities, so I use 1 cup of each. You could use all oats, in which case you will need 2 cups of oats, or you could use 1.5 cups of oats and half a cup of coconut. The choice is yours. Just don't use less than 1 cup of oats though or the texture will be wrong.
Honey – this is the sweetener element. You will need 4 tablespoons of runny honey.
Butter – you can use butter or a butter soft spread, and this has to be completely melted before being added to the mixture.
Chocolate chips – these are optional, but they make a nice addition. I normally add about 50g.
Salt – once again, this is optional. If you are using salt you will need 1/2 teaspoon, added along with the oats.
Step-by-step instructions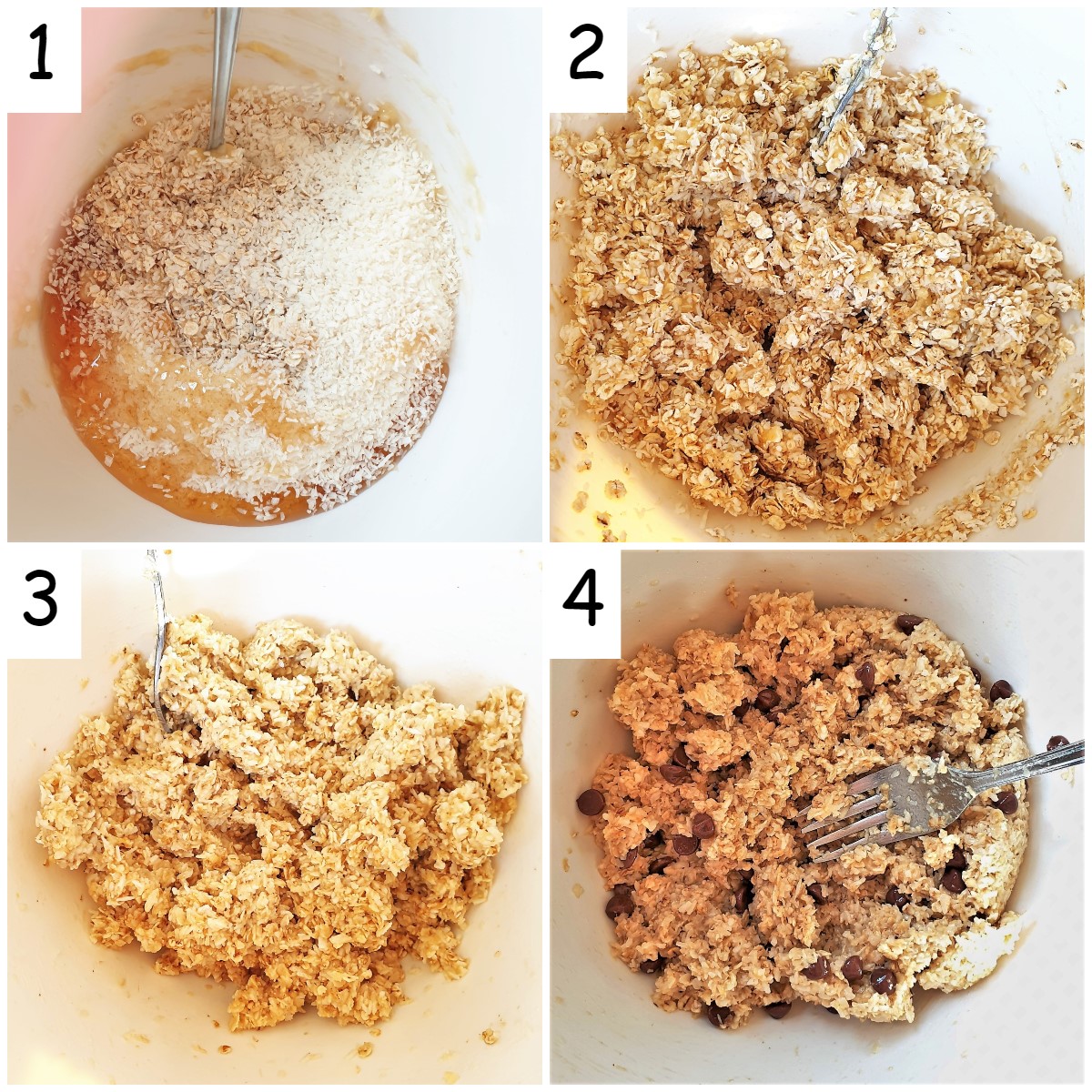 Mash the bananas with a fork until they are nice and runny.
Place the bananas in a bowl with the oats, coconut and honey and salt.
Mix well to combine
Heat the butter in the microwave or on the stove until completely melted, then stir into the mixture
Finally mix in the chocolate chips.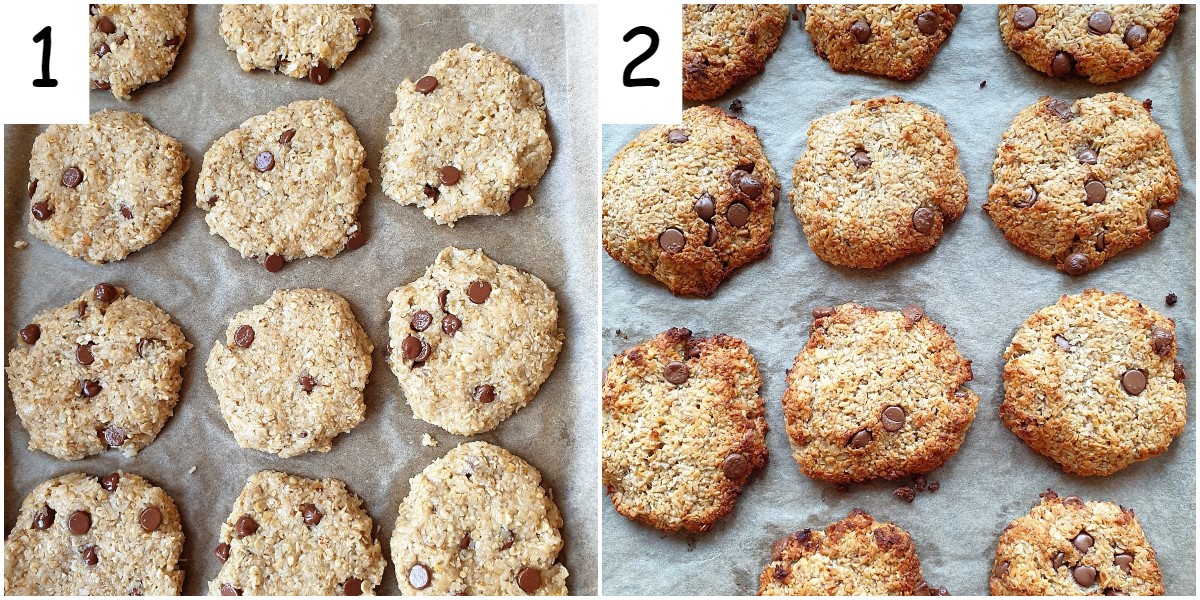 This recipe makes 12 cakes. I didn't portion mine out quite evenly, so I only got 11!
To make sure you get 12 cakes, divide the mixture in the mixing bowl into quarters – each quarter will give you 3 cakes.
Take 1/3 of each quarter and roll into a ball in your hands. If you rinse your hands under cold water before forming the balls the mixture will not stick to your hands.
Flatten each ball slightly and place on a baking tray lined with baking parchment paper. If you don't have baking parchment you could just lightly grease the baking tray with a little butter or margarine.
Repeat until you have rolled all 12 cakes.
Preheat the oven to 170C / 325F and bake the cakes for 20 minutes until they are golden brown
Remove from the oven and allow to cool.
Note – because there is no sugar in this recipe, these banana oat cakes do not turn out crispy like a biscuit. The texture is softer, due to the honey content, so don't worry if they are soft when they come out of the oven they are supposed to be like that.
You can store these in an airtight container for up to 3 days.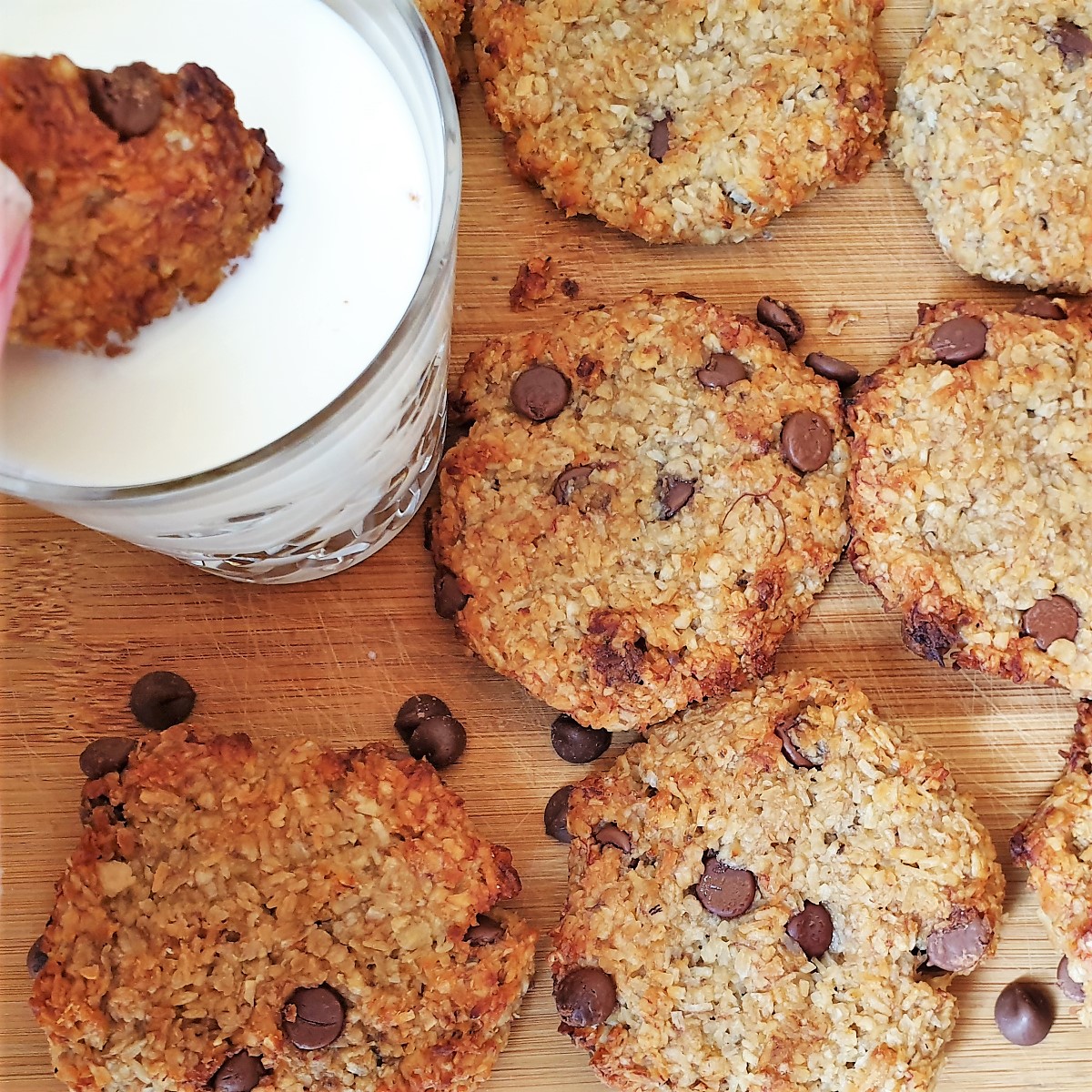 If you want to keep up-to-date with my latest recipes why not follow along on Facebook or Pinterest. And don't forget to subscribe to my mailing list so you can get your FREE COOKERY BOOK
Convert grams to cups
To help you convert your recipes, I have created a handy Cookery Conversion Calculator which will convert ingredients between grams, ounces, tablespoons, cups and millilitres. I hope you will find it useful.
If you live at a high altitude you may find you need to adjust your baking recipes to compensate for this. You can read about how to do this in this post on baking at high altitudes.
Pin for later
Why not pin this recipe to your pinterest board so you can make it later. Just click the image below.
Recipe – Banana oat cakes
Banana oat cakes
No egg, sugar or flour required for these delicious banana oat cakes .
Equipment
Mixing bowl

Baking sheet

Baking parchment

Spatula OR wooden spoon
Ingredients
2

ripe

bananas

1

cup

oats

126g / 250ml

1

cup

coconut

100g / 250ml

4

tablespoons

honey

1/4

cup

melted butter

50g / 60 ml

1/4

cup

chocolate chips

50g / 60ml

1/2

teaspoon

salt
Instructions
Peel and mash 2 bananas. Mash finely with a fork.

Add 1 cup of oats and 1 cup of coconut.

Melt 50g butter and add the melted butter

Mix in 50g chocolate chips

Divide into 12 pieces and form each piece into a ball. Flatten and place on a baking tray lined with baking parchment.

Bake in a preheated oven (170°C / 325°F) for 20 minutes until nicely browned.

Remove from oven and allow to cool.
I am not a nutritionist. The nutrition information has been calculated using an on-line calculator, and is intended for information and guidance purposes only. If the nutrition information is important to you, you should consider calculating it yourself, using your preferred tool.
If you made this recipe and enjoyed it, please don't forget to give me a star rating in the comments below. And if you'd like to get in touch, you can email me on foodleclub1@gmail.com. I'd love to hear from you. And don't forget to subscribe to my mailing list so you can grab yourself a copy of my FREE COOKBOOK!
If you'd like to continue browsing, just click on this link to all my recipes.