These pistachio butter biscuits taste amazing. They are packed with chopped pistachio nuts for extra crunch, and the texture of the cookie is so buttery and light and crispy that it just melts in your mouth.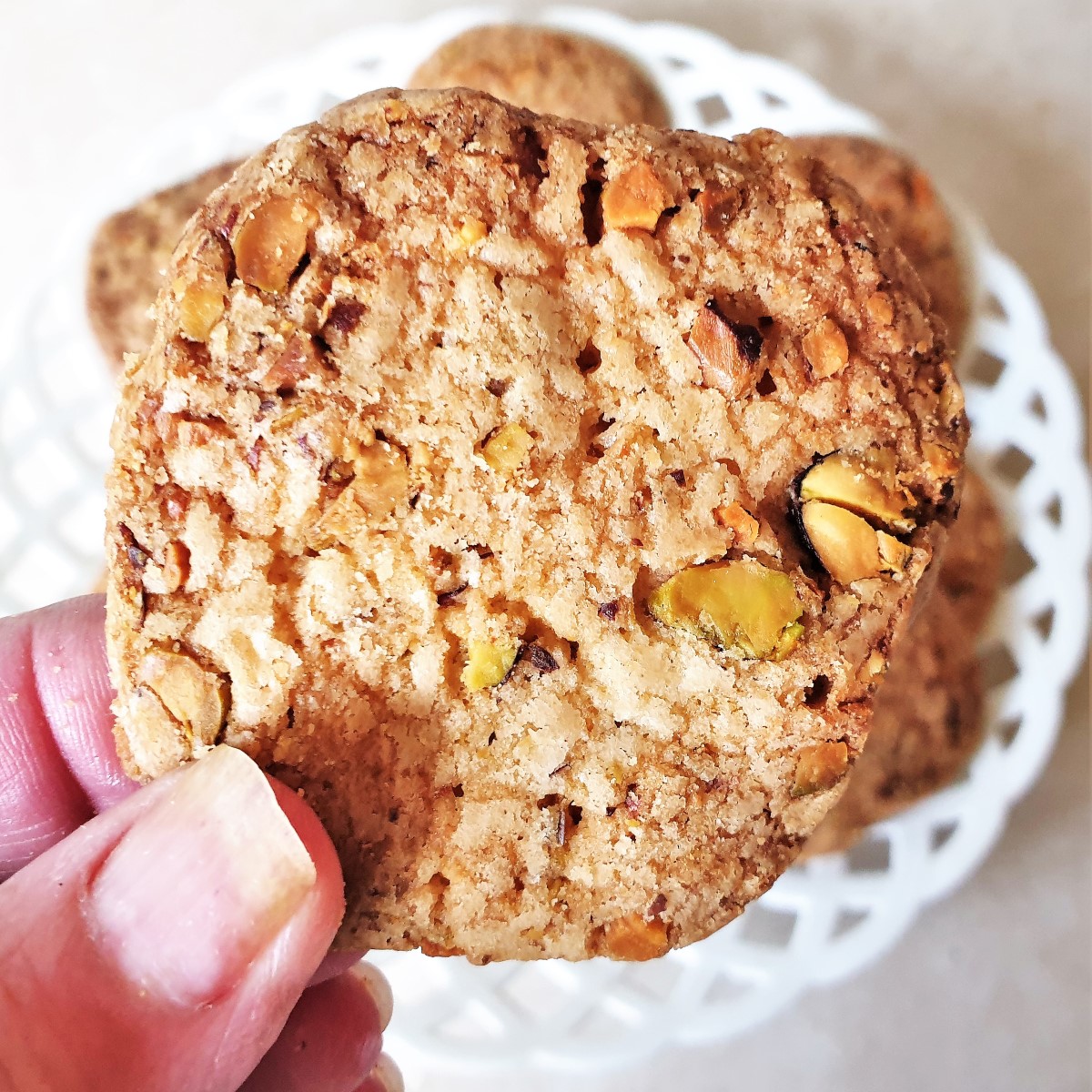 Pistachio butter cookies
Take one bite of these crunchy pistachio butter cookies and you'll never look at biscuits in the same way again. These cookies are light and crispy and packed with the flavour of pistachios, yet they are so buttery they just melt in your mouth.
I've had many attempts at making the ultimate crispy cookie, and while they all tasted really good, they didn't have that crispy crunch that I was looking for.
Some turned out chewy, and while others started out crispy, they didn't retain their crispness for very long. But after lots of experiments, I think I've come up with a recipe for a really crispy biscuit that provides a satisfying 'crunch' when you bite into it.
These pistachio butter biscuits my favourite and I'm sure they are going to become yours too.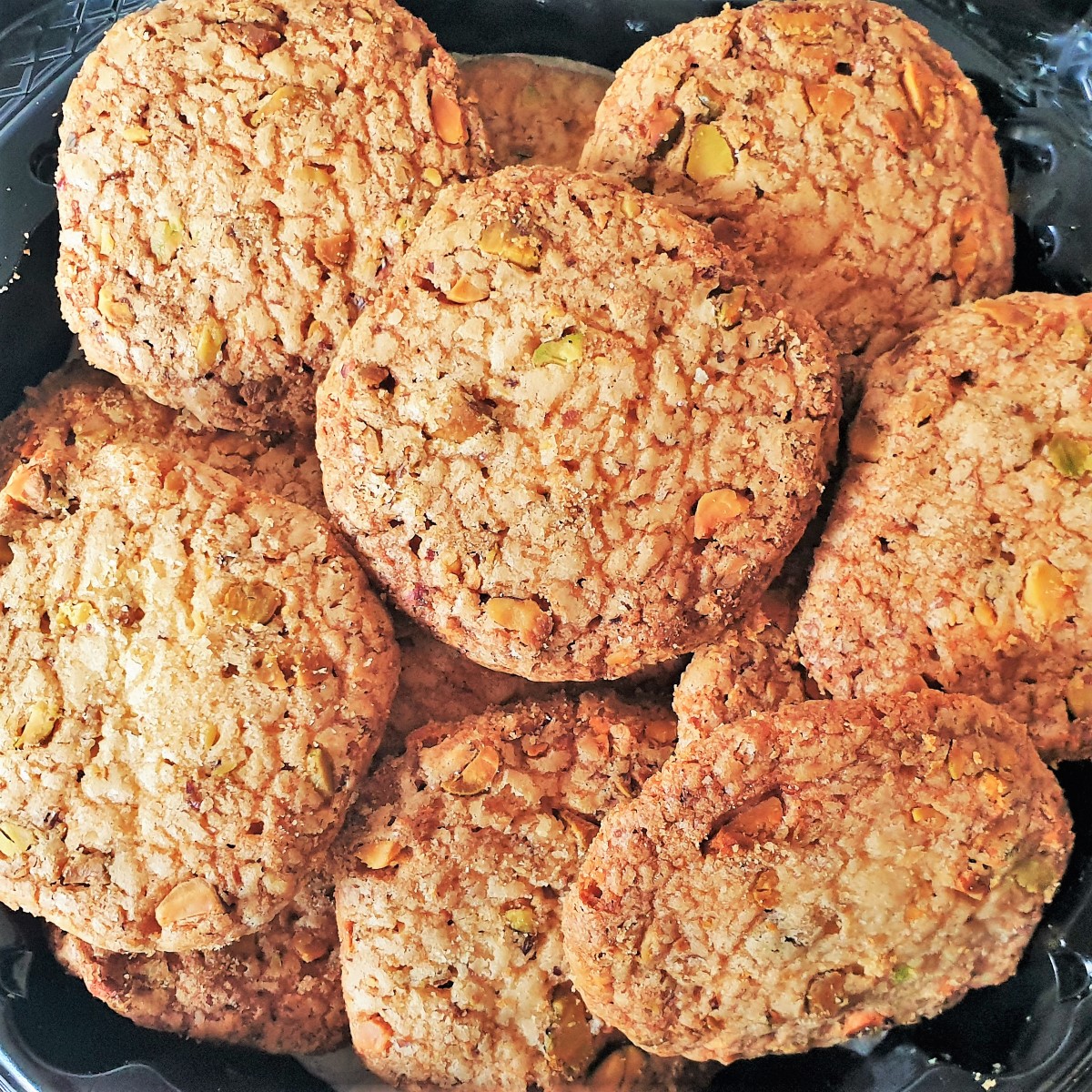 Secrets for a crispy butter biscuit
All biscuits are made with similar ingredients – flour, sugar, butter or shortening and eggs, but it's the way you use the ingredients that makes all the difference.
For the crispiest biscuit we need to inhibit the production of gluten. Gluten is formed when the proteins in flour come into contact with moisture. Its formation is further enhanced by mixing and handling such as kneading in dough making. It is gluten that provides the chewy texture in bread and the soft structure in cakes. Therefore, for crispy biscuits we clearly need to reduce the moisture content, and handle the dough as little as possible.
Flour – you need to use a plain all-purpose flour (or cake flour if you live in South Africa). Bread flour has a higher protein content than all purpose flour and should be avoided when making biscuits.
Sugar – use a sugar with the lowest possible water content. Less water equals a crispier biscuit. Icing sugar, (or confectioner's sugar if you live in the US) provides the perfect sweetener as it has a much lower water content than granulated or caster sugar.
Butter – instead of creaming the butter and sugar together which will release moisture from the sugar, these biscuits use the rubbing method of mixing. The butter is rubbed into the flour which coats the flour molecules with fat and inhibits any moisture from penetrating the flour cells to create gluten.
Eggs – only use egg yolk to bind your mixture together. Egg whites have a higher moisture content, so using only yolks will also help prevent the formation of gluten.
The gluten that is formed during mixing also relaxes on resting, so for these biscuits we leave the dough in the fridge for half an hour before baking.
So – to summarise – for a really crispy biscuit:
Keep the moisture content to a minimum
Coat the flour with butter
Handle the dough as little as possible
Let the dough rest in the fridge before baking.
How to make crispy pistachio butter biscuits
This recipe is very easy to make, and will yield 18 biscuits. You can get the complete list of ingredients and full instructions for making these pistachio butter biscuits on the printable recipe card at the end of this post.
Mix the dough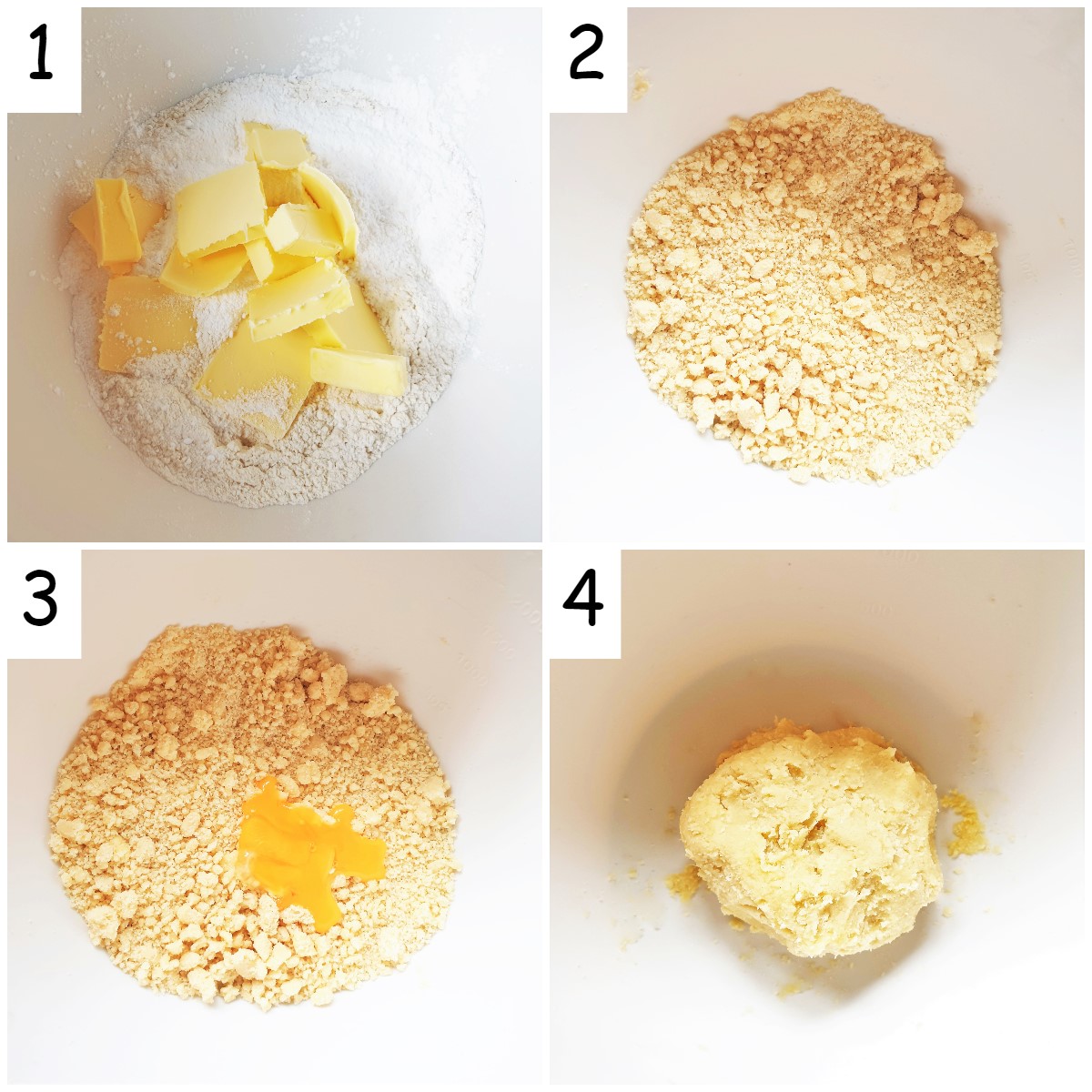 Start off by measuring the flour and icing sugar into a mixing bowl. Cut the butter into cubes and add (image 1 above).
Using your finger-tips, rub the butter into the flour until the mixture resembles breadcrumbs. There is a lot of butter in this recipe in relation to the flour, so you may find that the mixture looks as though it is clumping together even though it has been thoroughly rubbed in (image 2 bove).
Add the egg yolk (image 3 above), mix with a flat-bladed knife until it starts to come together, then get your hands in and press together until it forms a ball of dough (image 4 above). Handle the dough as little as possible, and do not knead.
Add the pistachio nuts and allow to rest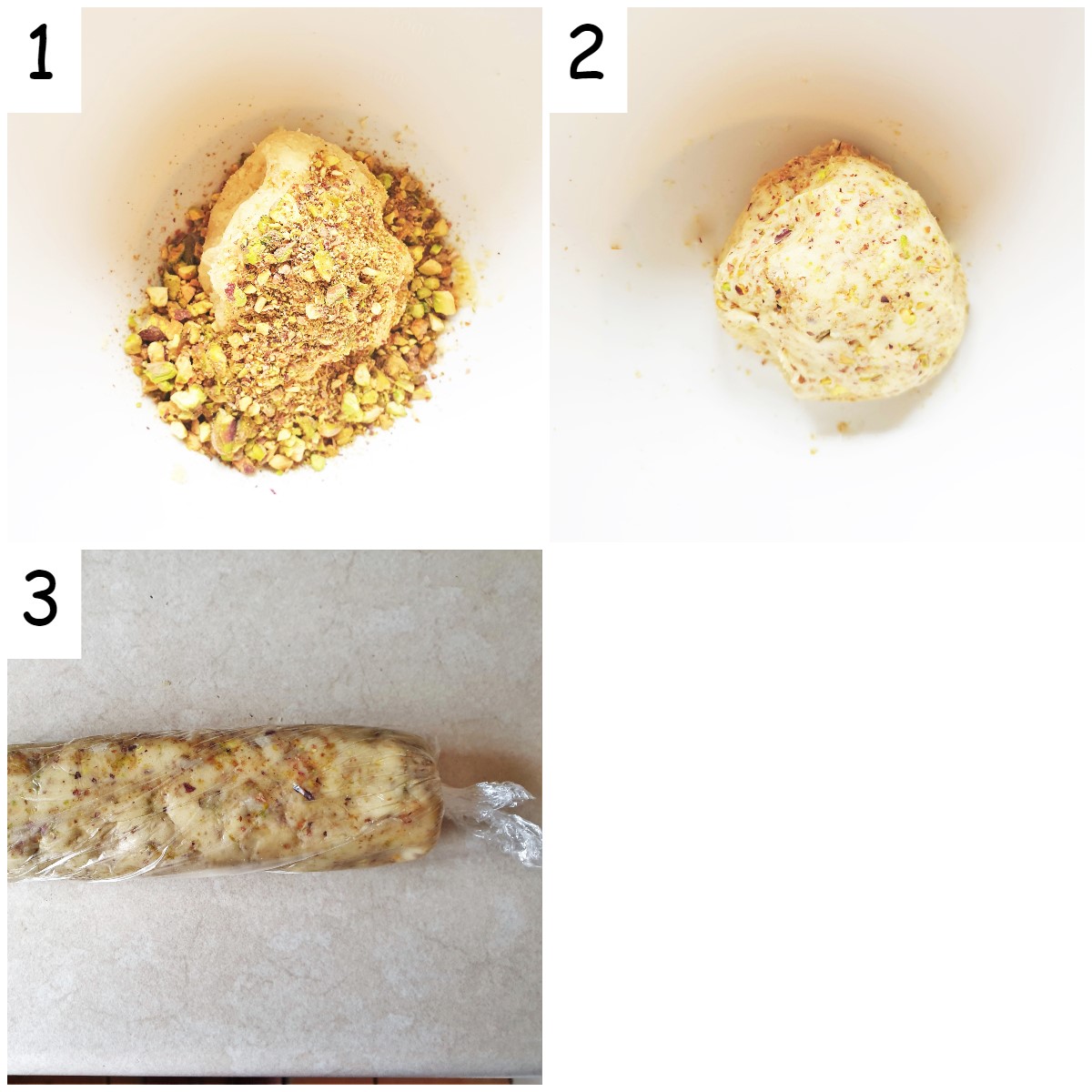 Place the pistachio nuts in a food processor and whizz around to chop them up slightly. Don't over-process them. You want to have some largish pieces of nuts in the biscuits. If you don't have a food processor don't worry. You can chop these nuts by hand using a sharp knife and a chopping board.
Pour the chopped nuts into the mixing bowl with the dough (image 1 above) then gently work then through, so that they are evenly distributed into the dough (image 2 above).
Roll the dough into a log shape, wrap in clingfilm or plastic wrap (image 3 above) and place in the refrigerator for about 30 minutes to allow the dough to rest. The butter will harden up again during this time, making the dough easy to slice through.
Slice and bake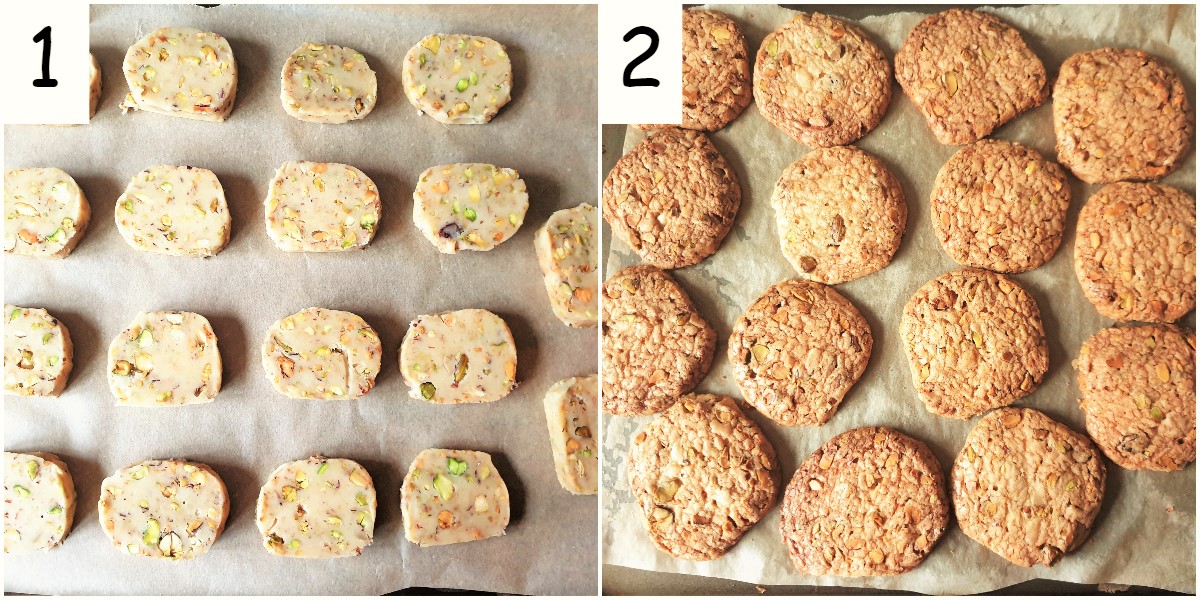 Take the cold dough from the refrigerator and remove and discard the plastic wrap. Slice the dough into thin slices, approximately 1/2 cm thick. Arrange the biscuit slices on a baking tray leaving a space between each to allow for expansion as they bake (image 1 above).
Place the baking tray in a pre-heated oven (185F / 365C) for approximately 15 minutes, until the biscuits are slightly browned around the edges (image 2 above).
Remove from the oven and allow to cool. Store the butter biscuits in an air-tight tin once cooled. The biscuits will stay crispy for up to 4 days, if you can leave then that long!!!!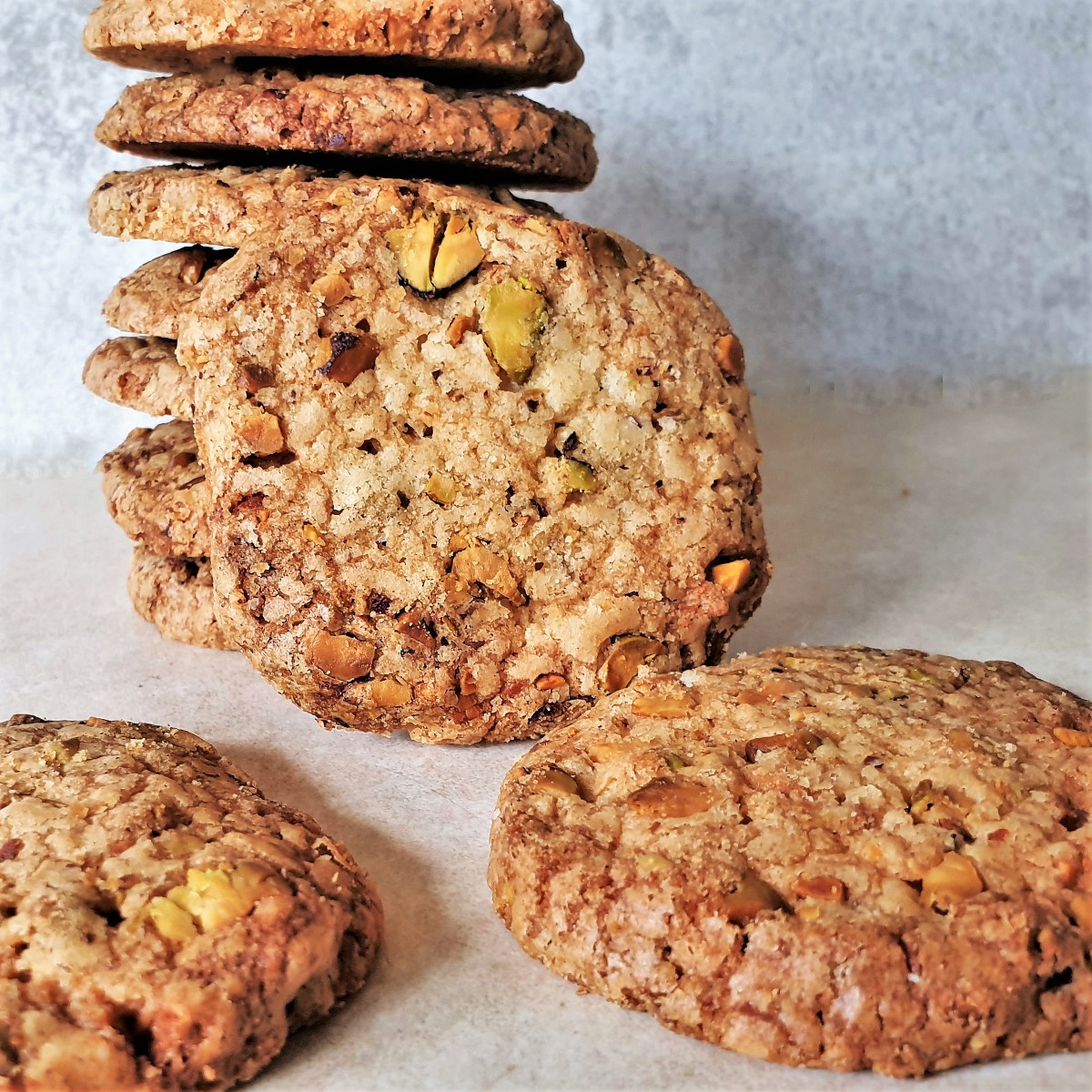 Can I freeze pistachio butter biscuits?
You can freeze the wrapped log of raw dough for up to 6 months. Just place the clingfilm wrapped dough inside another freezer bag before freezing.
To bake, remove the dough from the freezer and let it defrost at room temperature until the dough is soft enough to slice through.
Slice the cold dough and arrange the biscuits on a baking sheet as per the recipe and bake for the time and temperature given in the recipe.
Can I make a larger batch?
Yes, you can double or even triple the quantities of the ingredients in this butter biscuit recipe.
Why not make a large batch and freeze a few logs so that you can bake these biscuits whenever you feel like them.
Can I make the in advance?
Yes, you can mix up the dough for these biscuits in advance. Once you have wrapped the log of pastry in clingfilm you can leave it in the refrigerator for up to 4 days before baking.
Just allow the log to soften at room temperature sufficiently to enable you to slice through it, then slice and bake as per the recipe instructions.
Variations
Instead of using pistachio nuts, why not substitute the nuts for chocolate chips and make extra crispy chocolate chip cookies?
You could also substitute the pistachios for these ingredients:
desiccated coconut
currents
chopped walnuts or hazelnuts
chopped glace cherries
Just substitute any of the above for the same quantity as the pistachio nuts.
What flavours would you use?
If you want to keep up-to-date with my latest recipes why not follow along on Facebook or Pinterest. And don't forget to subscribe to my mailing list so you can get your FREE COOKERY BOOK
Convert grams to cups
To help you convert your recipes, I have created a handy Cookery Conversion Calculator which will convert ingredients between grams, ounces, tablespoons, cups and millilitres. I hope you will find it useful.
If you live at a high altitude you may find you need to adjust your baking recipes to compensate for this. You can read about how to do this in this post on baking at high altitudes.
Pin for later
Why not pin this recipe for crispy pistachio butter biscuits to your pinterest board so you can make it later. Just click the image below.
Recipe – Pistachio butter biscuits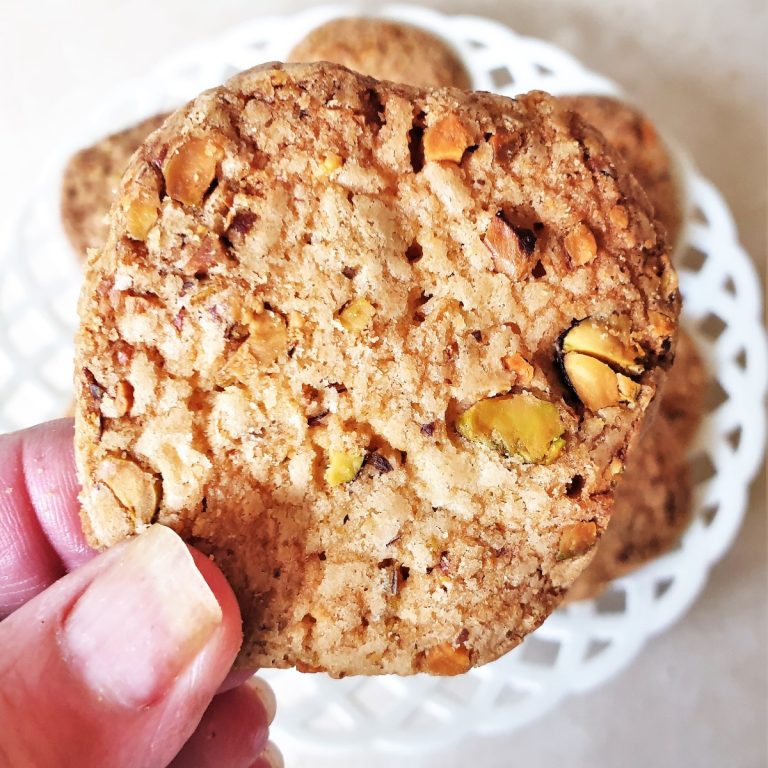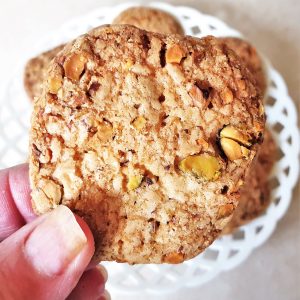 Equipment
Mixing bowl

Spatula or flat-bladed knife

Baking sheet

Sharp knife and chopping board OR food processor
Ingredients
¾

cup

(105g) plain all purpose flour

¾

cup

(90g) confectioner's sugar (icing sugar)

¾

stick

(85g) butter

1

large

egg yolk

½

teaspoon

salt

optional

½

cup

(60g) chopped pistachio nuts
Instructions
Sift the flour and confectioner's sugar (icing sugar) into a mixing bowl

Cut the butter into small blocks and add to the flour and sugar

Using your fingertips, rub the butter into the flour and sugar until the mixture resembles breadcrumbs

Add the egg yolk and using a spatula mix to combine, then press the dough together with your fingers to form a ball.

Add the chopped pistachio nuts and gently work them into the dough.

Form into a log or sausage shape, wrap in clingflim or plastic wrap and place in the fridge for 30 minutes to rest and harden.

Pre-heat the oven to 185°C / 365°F

Remove the hardened log of dough from the fridge and slice into ½cm thick rounds.

Place the biscuits on a baking tray lined with baking parchment and bake in the pre-heated oven for 15 minutes until the edges start to turn brown.

Remove from the oven and allow to cool. Store in an airtight tin in the kitchen.
Notes
To ensure a crispier biscuit, handle the dough as little as possible.
To make a larger batch just double or even treble the ingredients.
It is important to rest the dough in the refrigerator to give it time to harden before slicing.
Wrapped dough can be frozen for up to six months.  Just allow the frozen dough to defrost then follow the recipe instructions to slice and bake. 
Wrapped dough can be kept in the refrigerator for up to 4 days.  Just remove from the refrigerator then follow the recipe instructions to slice and bake. 
Store the biscuits in an air-tight container to maintain crispiness.
Calories have been calculated per biscuit on the assumption that you will make 18 biscuits.
Nutrition
Share on Facebook
I am not a nutritionist. The nutrition information has been calculated using an on-line calculator, and is intended for information and guidance purposes only. If the nutrition information is important to you, you should consider calculating it yourself, using your preferred tool.
If you made this recipe and enjoyed it, please don't forget to give me a star rating in the comments below. And if you'd like to get in touch, you can email me on foodleclub1@gmail.com. I'd love to hear from you. And don't forget to subscribe to my mailing list so you can grab yourself a copy of my FREE COOKBOOK!
If you'd like to continue browsing, just click on this link to all my recipes.
This post has been linked with the following web sites. Why not pop by and see what everyone else is sharing.