Treat the family to these chocolate chip and brazil nut cookies. They are chocolatey, they are nutty, and with only 5 ingredients, they are super simple to make too. If you like shortbread, I'm sure you are going to love these cookies.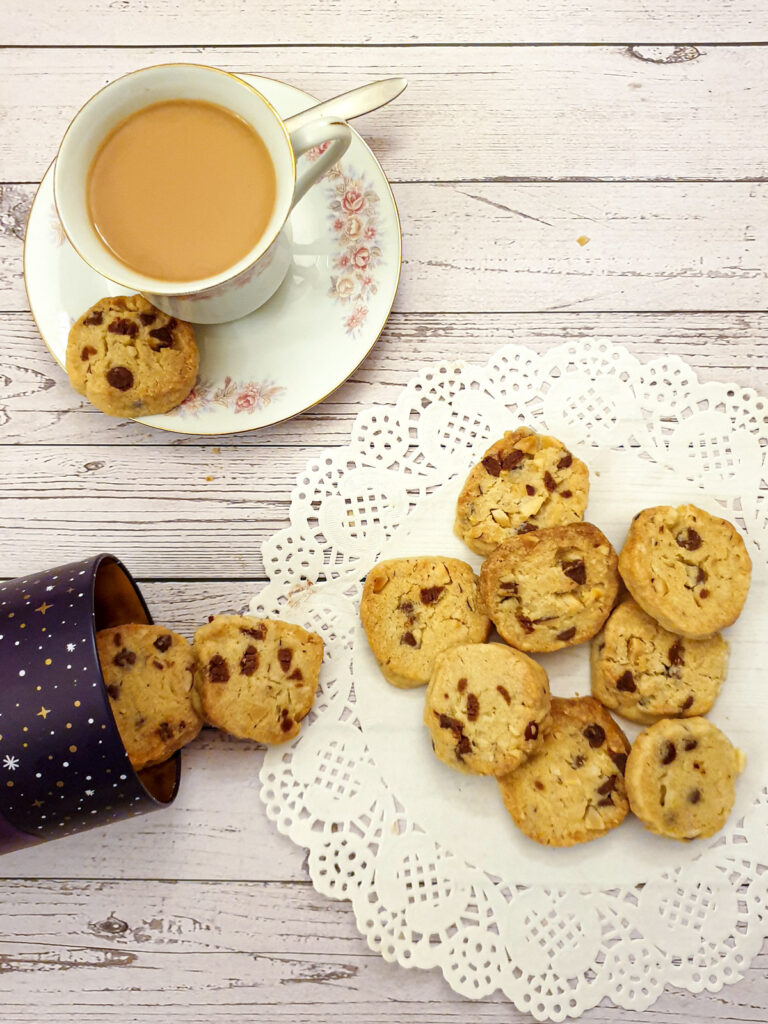 **As an Amazon affiliate, I earn from qualifying purchases.**
Easy shortbread cookies
Just take a bite of one of these little chocolate chip and brazil nut cookies and I think you'll love them as much as I do. Not only do they make the perfect tea-time treat, but they are ideal for snacking on when the sweet cravings hit.
They are packed with chocolate chips and chopped brazil nuts, which pair beautifully with the buttery shortbread base.
Chocolate and brazil nuts go so well together (I'm thinking here of the chocolate-coated brazil nuts that you can find in supermarkets if you're lucky). I always snap up a bag of them when I can find them. And it got me thinking – what would this combination be like in a biscuit?
Well, I'm here to tell you now that the combination of chocolate chips and brazil nuts works so well, and they couldn't be easier to make.
With only 5 ingredients, including the chocolate and nuts, these cookies practically mix themselves!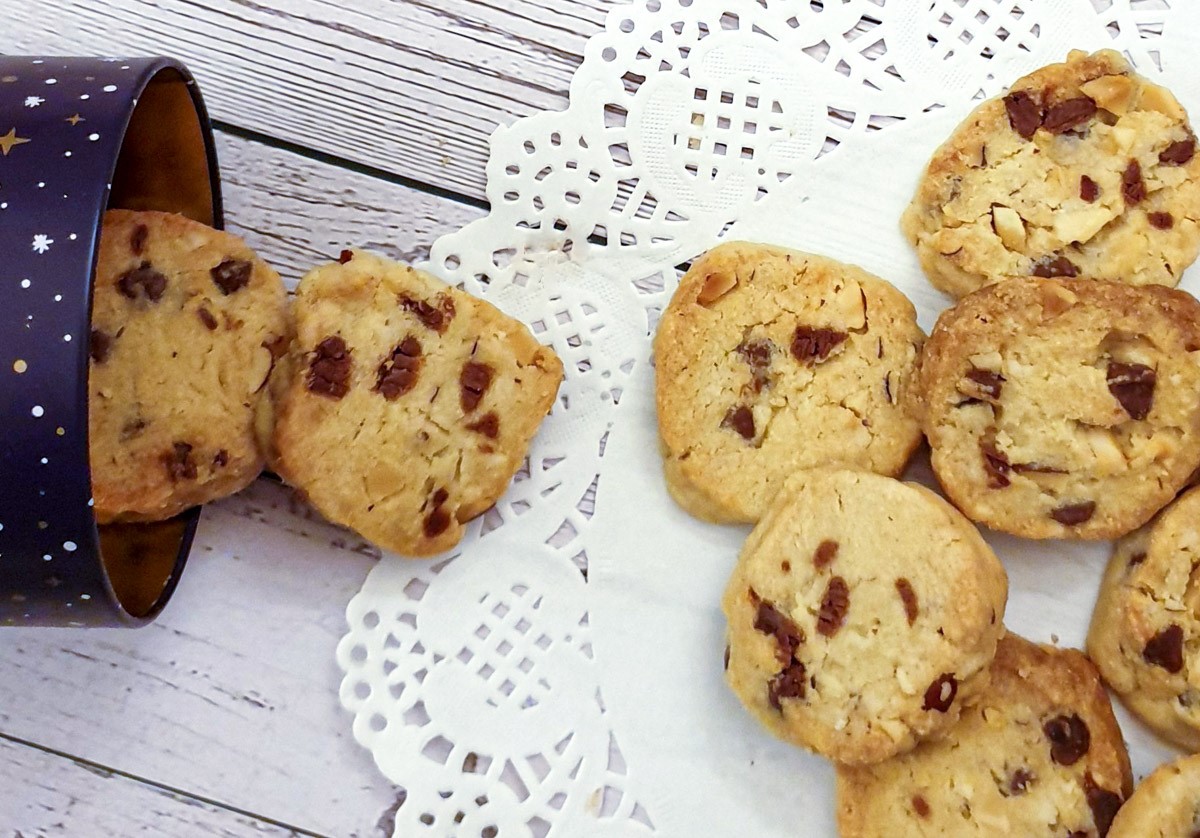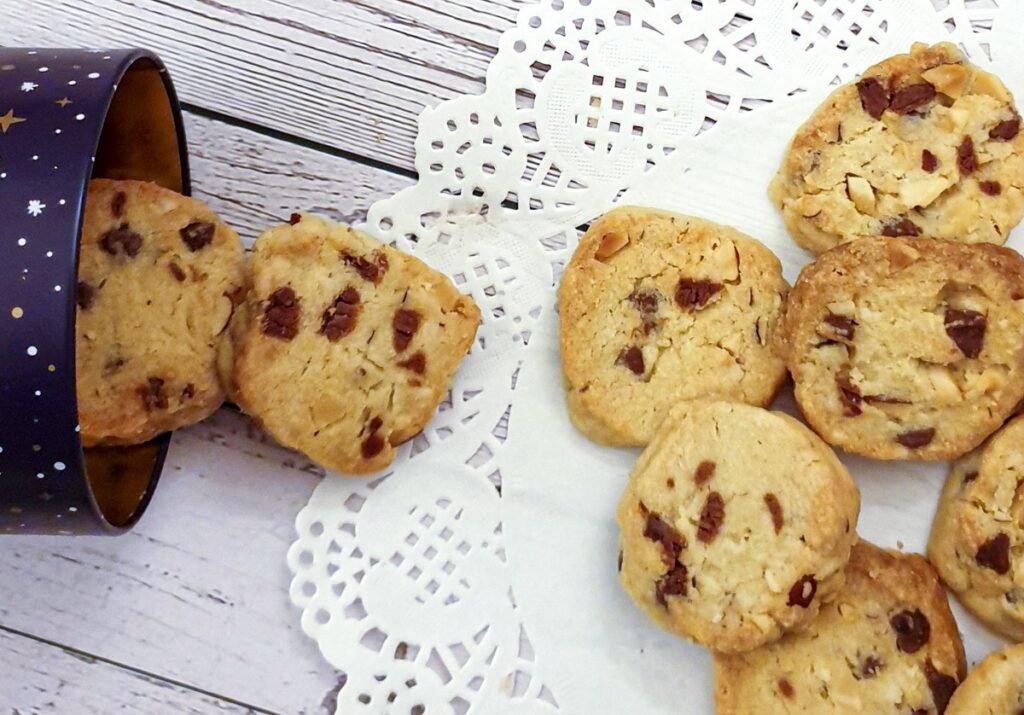 Ingredients
**You can find the complete recipe for chocolate chip brazil nut cookies, including exact ingredient measurements and full instructions on the printable recipe card at the end of this post**
This is the equipment you will need:
Mixing bowl
Food processor – this is used for mixing the flour with the butter. If you don't have a food processor you can rub the butter into the flour using your hands instead.
Baking sheet – unless you have a really large baking sheet you will probably need 2. Or you can cook two batches of cookies one after the other.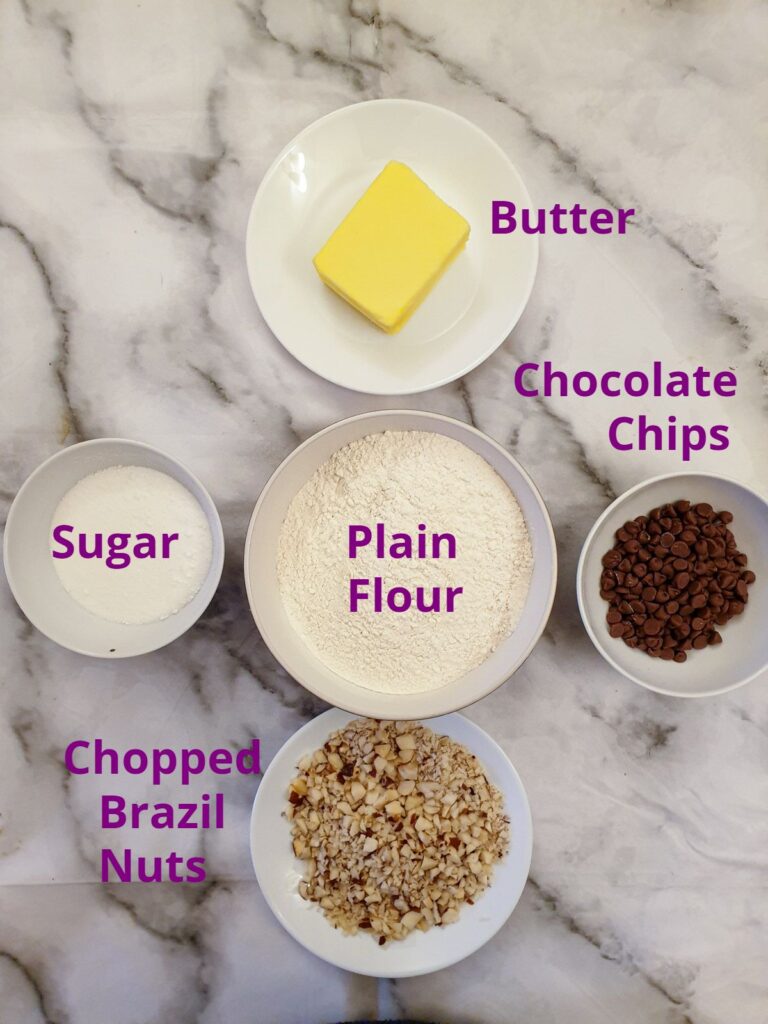 Flour – this is plain flour – there is no levening agent in these cookies.
Sugar – caster sugar is preferred as it dissolves more easily but you can substitute with granulated sugar.
Butter – to add the buttery flavour to the shortbread. If you use unsalted butter then you may like to add half teaspoon of salt to the recipe. For easy mixing, ensure the butter is at room temperature.
Chocolate chips – these are found in the baking aisle of any supermarket.
Brazil nuts – these should be coarsely chopped. You can substitute with other unsalted nuts such as pistachios or pecans.
What to do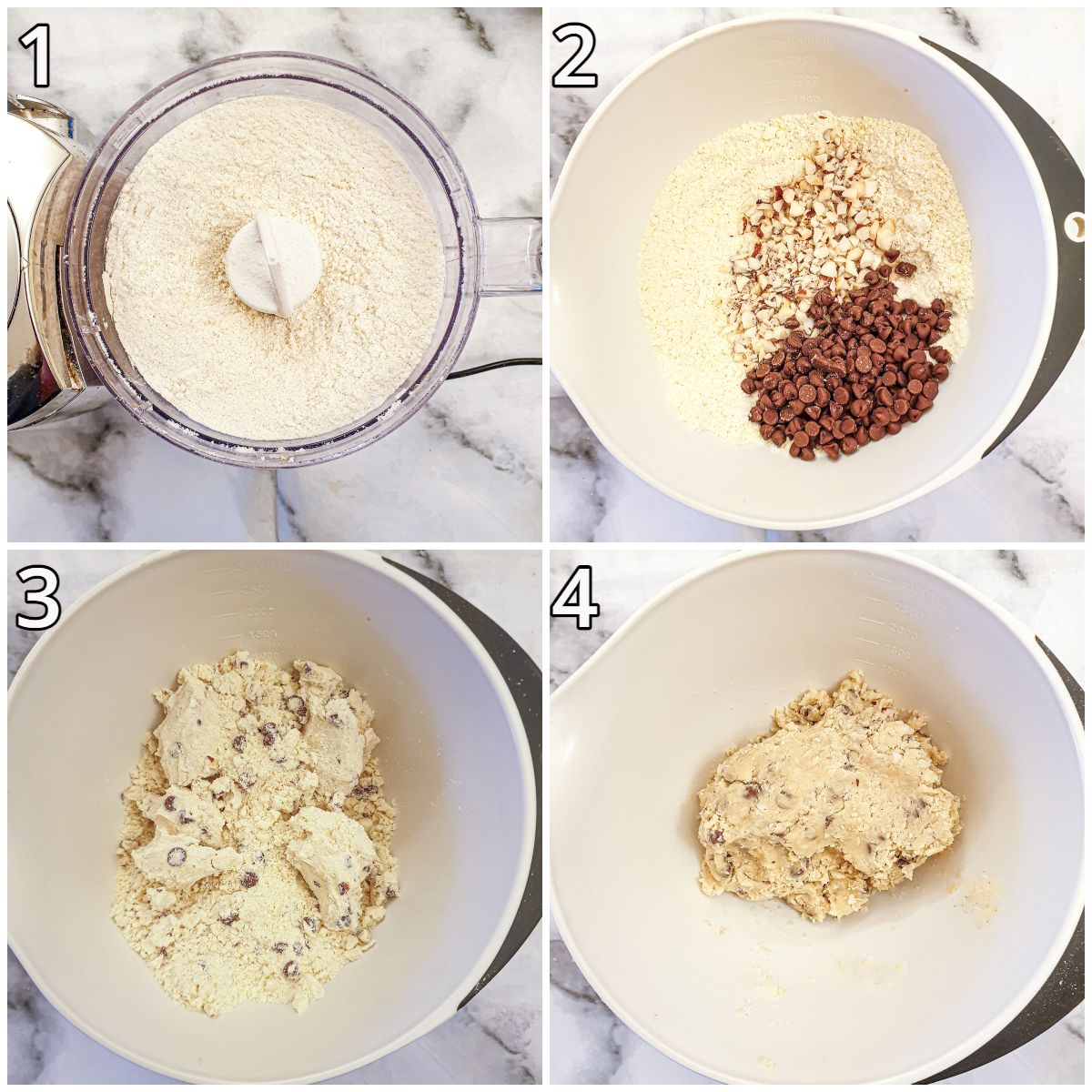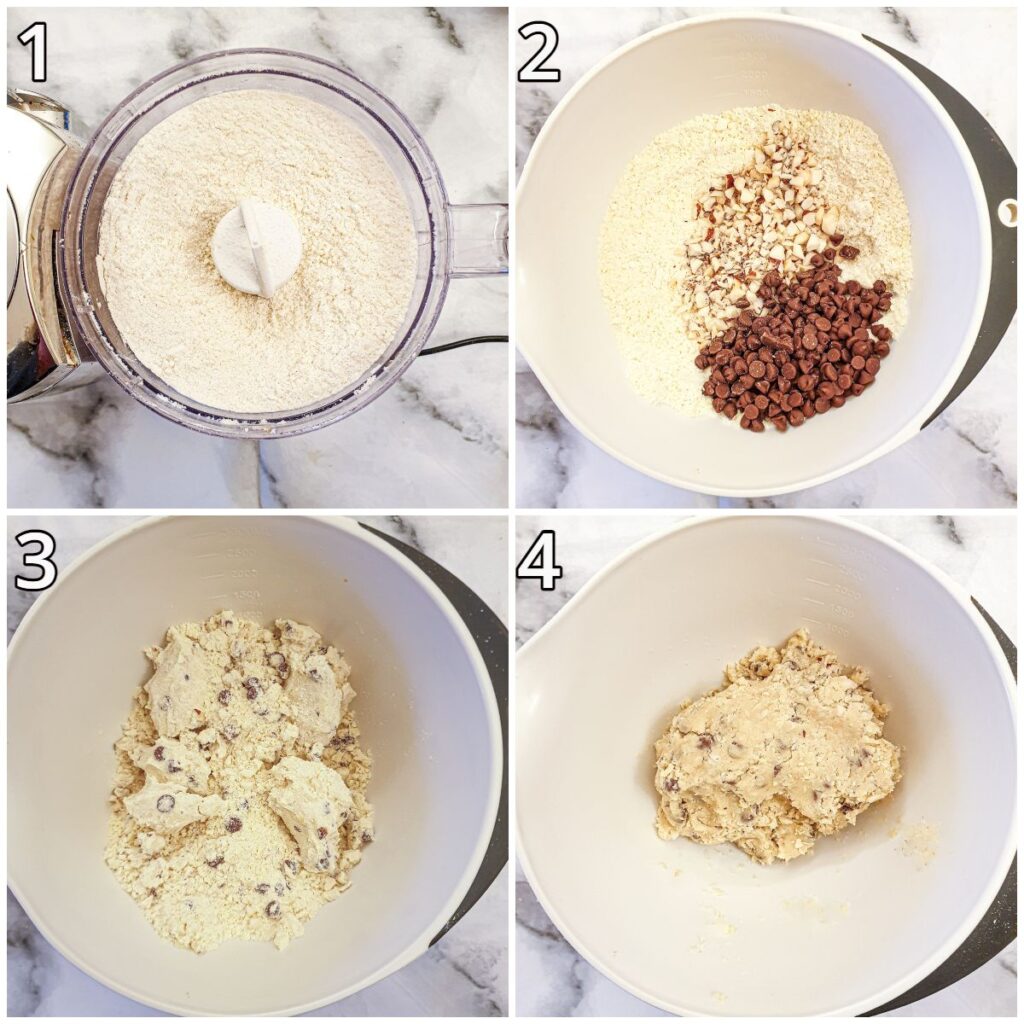 Step 1 – Mix
Place the flour, sugar and butter into a food processor fitted with a metal blade and process until all the butter hStep 1 – as been incorporated and the mixture resembles fine breadcrumbs. If you don't have a food processor you can use your fingers to rub the butter into the flour and sugar.
Tip the mixture into a mixing bowl and add the chocolate chips and the nuts.
Now you need to get your hands in and squeeze the dough until it starts to come together and hold its shape. You may think it will never come together, but just persevere and it will form a dough eventually.
If you are struggling to get the dough to come together, add water, one tablespoon at a time, but don't overdo it. The dough should be very firm, and not at all sticky.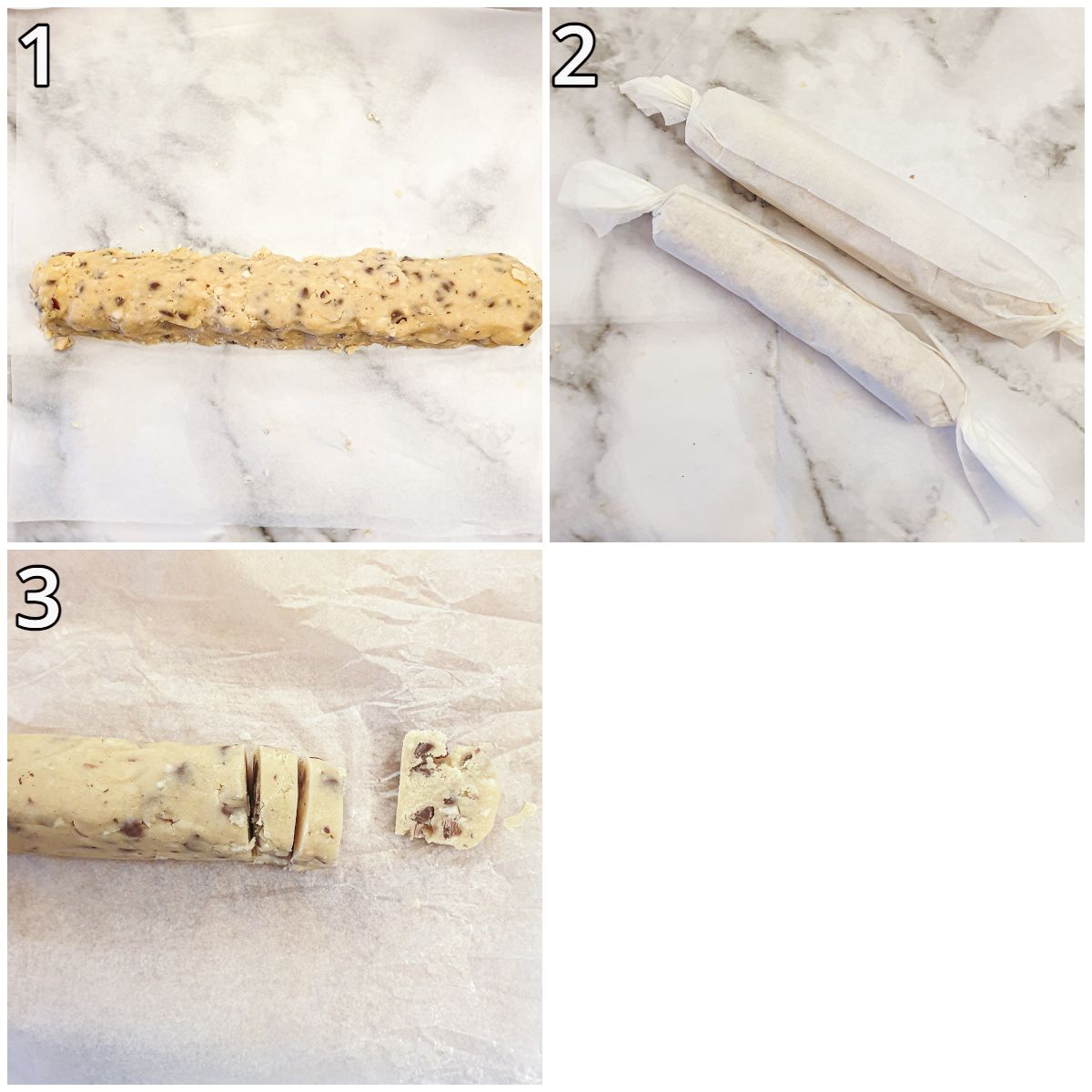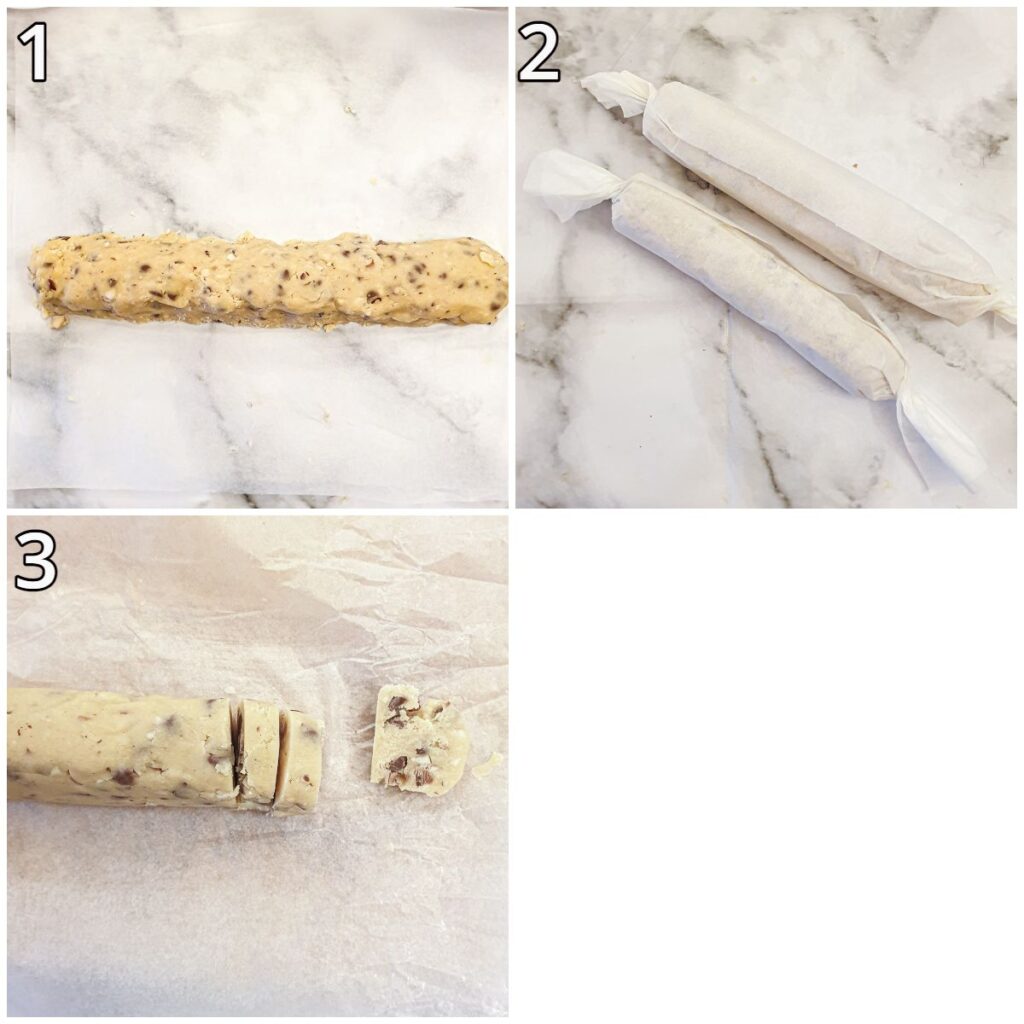 Step 2 – roll and slice
Divide the dough in half and roll each piece into a sausage shape.
Wrap each sausage in greaseproof paper or clingfilm and place in the refrigerator to chill for 30 minutes.
This step is important as it allows the butter time to firm up.
Once the dough has chilled, unroll the wrapping and cut the dough into approximately 1cm slices. You should get 30 cookies from this mixture, depending on how thick you make the sausage shape. Mine rolls were about 1.5 inches in diameter.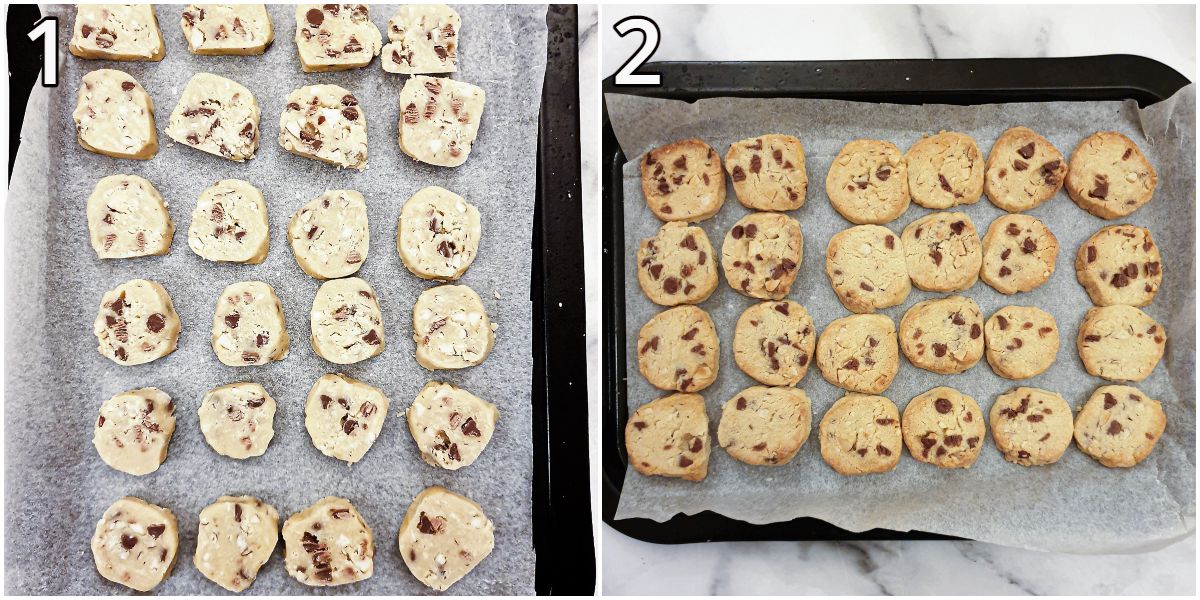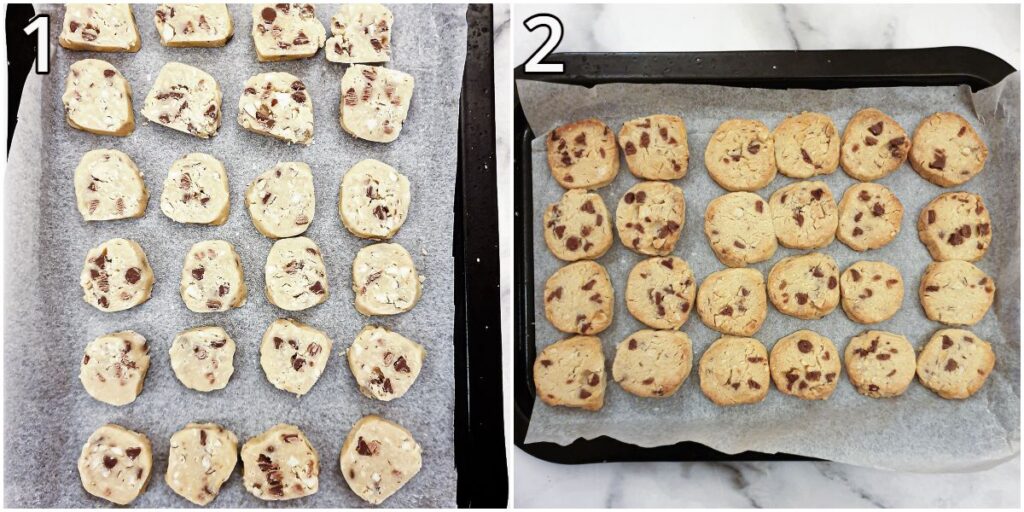 Step 3 – Bake
Arrange the cookies on a baking tray lined with baking parchment. If you don't have baking parchment rub the tray with a little butter or oil to prevent the cookies from sticking.
Place the baking tray into a preheated oven (190 degrees Celsius / 375 dgrees Fahrenheit) and bake the cookies for 12 to 15 minutes. They will be done when they start to turn brown around the edges.
Remove the tray from the oven and transfer the cookies to a cooling rack until they are cold. They will harden on cooling.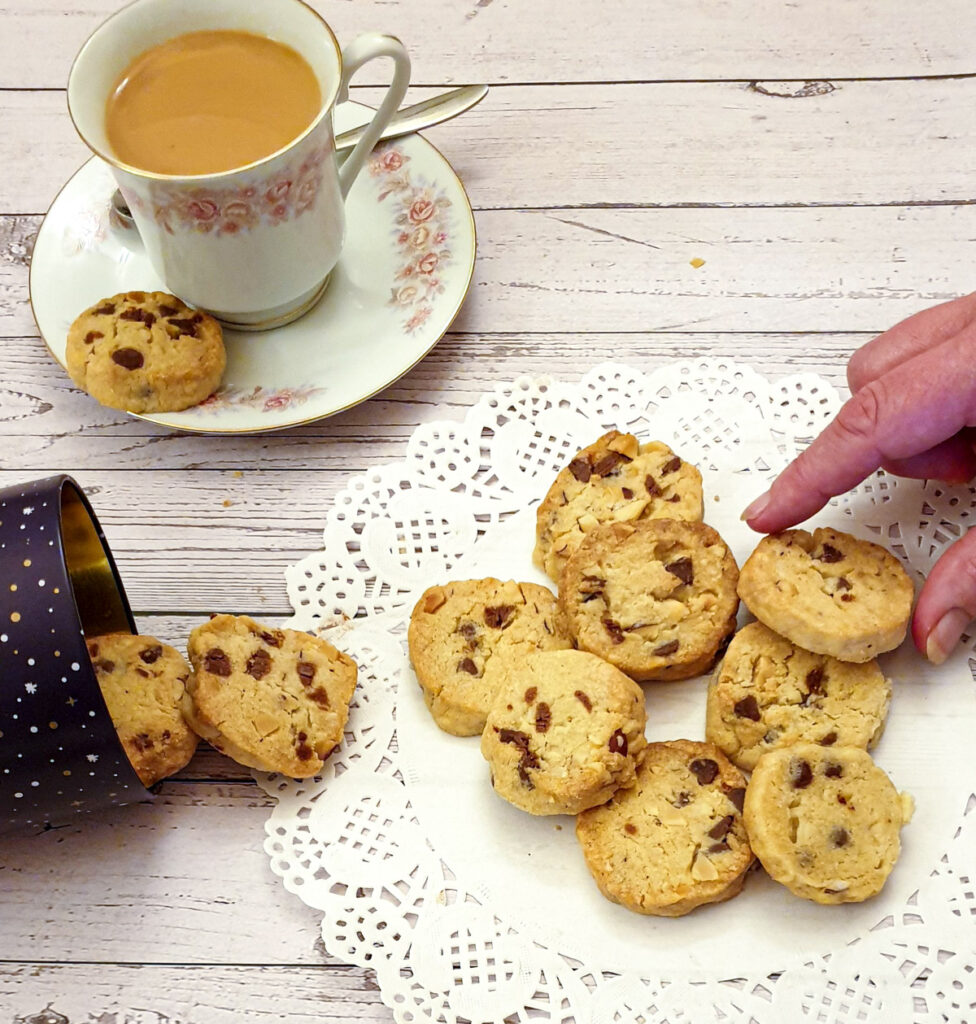 If you'd like to be notified of any new recipes, why not subscribe to my newsletter. As a thank-you gift, you will receive a free recipe e-book containing some of my most popular cakes and desserts.
Freezing and storage
The unbaked cookie dough can be frozen for up to 4 months.
Place the wrapped rolls of dough into a plastic bag before freezing.
To use, allow to defrost on the counter and then slice and bake as per the recipe instructions.
Store the baked cookies in an airtight container. They will stay fresh for up to 5 days.
Pin for later
If you would like to make these chocolate chip brazil nut cookies, why not save the recipe to one of your Pinterest boards so you can find it easily. Just click on the image below.
Other baking recipes
If you enjoyed this recipe, here are some other cookie recipes you may like to try:
The recipe
If you made this recipe and enjoyed it, I'd love it if you could give me a star rating in the comments below. And if you'd like to get in touch, you can email me at [email protected]. I'd love to hear from you. And don't forget to subscribe to my mailing list so you can grab yourself a copy of my FREE COOKBOOK!
If you'd like to continue browsing, just click on this link to all my recipes.